We use affiliate links. If you buy something through the links on this page, we may earn a commission at no cost to you. Learn more.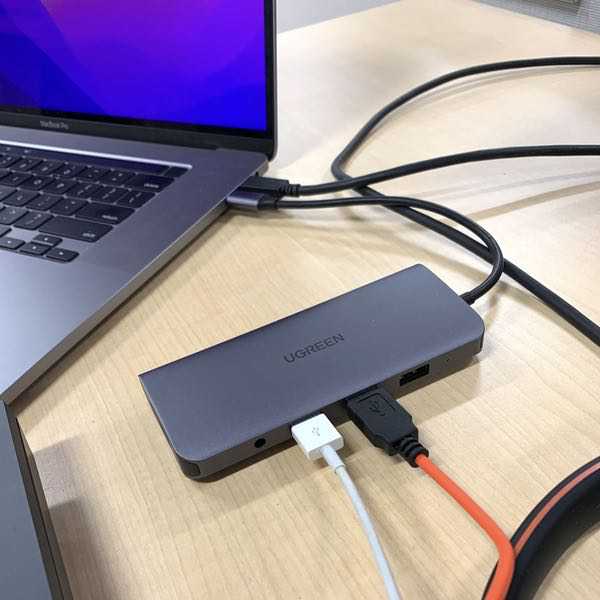 REVIEW – A good portable multiport adaptor is an essential part of my kit for connecting to peripherals and charging devices. I think I have one in every bag and at least 3 of them around the house. Here's where the UGREEN USB-C Multiport Adaptor joins the party. This multiport hub provides 10 (TEN!) different ports to connect you to all the things. How does it do? To the review!
What is it?
The UGREEN USB-C Multiport Adaptor is a 10-in-1 multiport hub/docking station.
Hardware specs
5″ L by 2″ W by 0.75″ thick
8″ cable
Gigabit Ethernet
Type C PD charging port
4K HDMI port (3840 x 2160 at 30 Hz)
1080P VGA port
3 USB 3.0 Ports
SD/TF card reader
3.5mm audio jack
100W power delivery with pass-through USB-C charging port
Design and features
The UGREEN USB C Multiport Adapter is a sleek looking hub. It's decked out in that aluminum cladding & black trim finish that's common to these adaptors, with some pleasant contoured lines for a sleek look. An 8″ USB-C cable connects the adaptor to your laptop or tablet.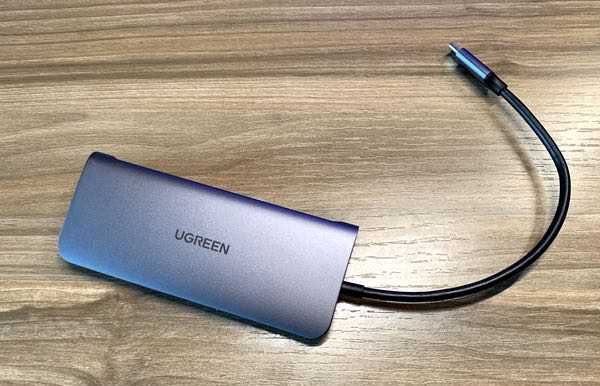 The big draw for this particular adaptor is the "10-in-1" adaptor capability, and you will find ports in every corner of this little fellow. #1 is the USB-C port next to the cable, which also enables continuous 100W fast charging of your primary device.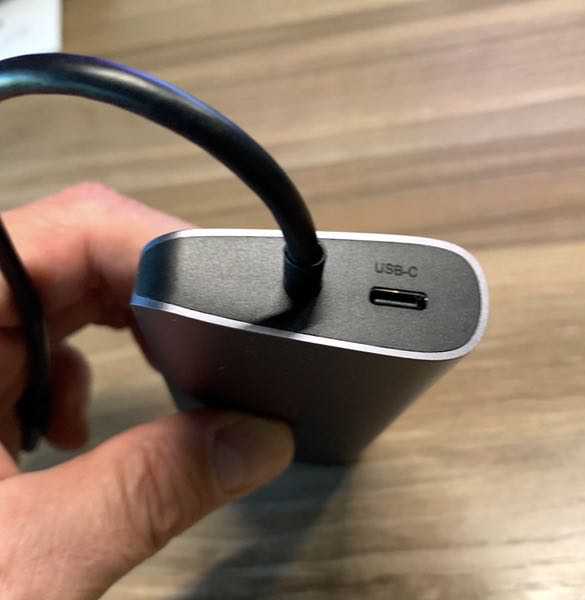 You'll find an SD and a TF port on the opposite end, which is handy if you're a photographer.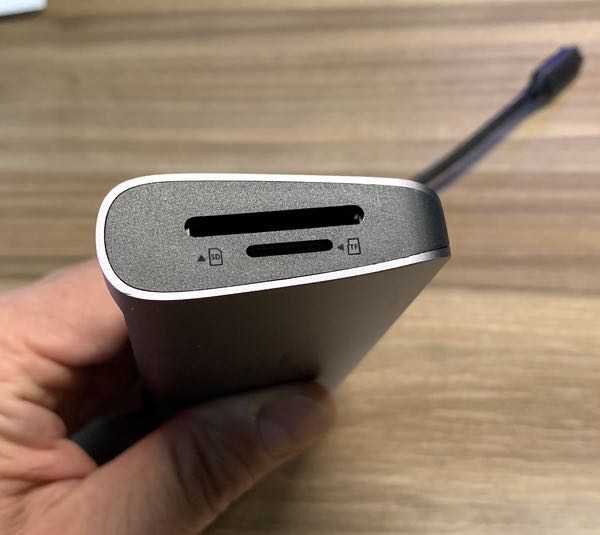 The back side of the adaptor is where you'll find the HDMI port, a 9-pin 1080 P VGA port, and an ethernet port. The inclusion of the 9-pin VGA and Ethernet port is particularly appealing if you're a road warrior and you don't know what kind of tech you'll encounter in your travels.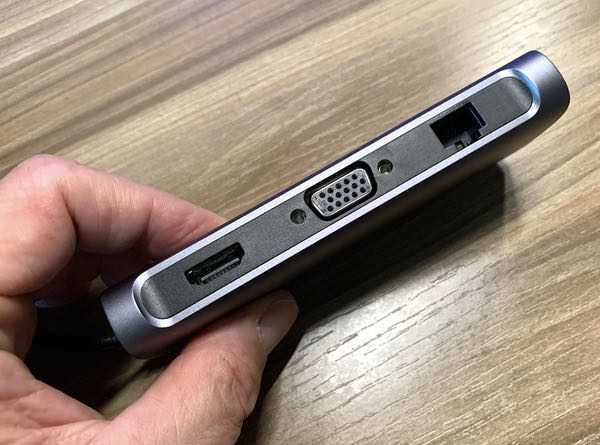 The front face of the adaptor provides 3 USB ports and a 3.5mm audio jack.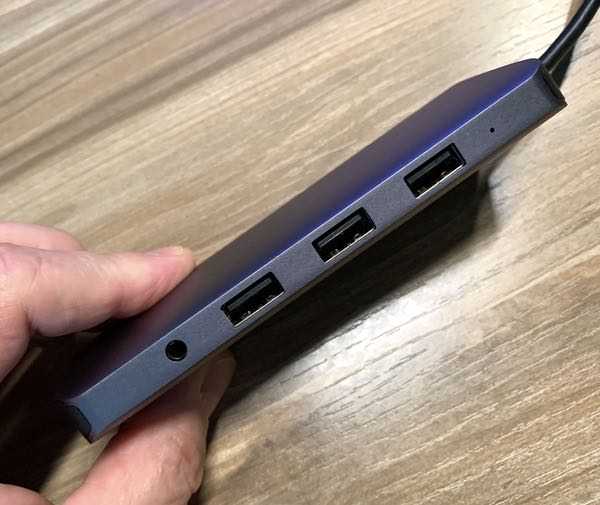 According to UGREEN all of these ports can be accessed and used simultaneously. The USB-C port can be used for both incoming power or outgoing connections to additional peripherals.
Performance
The UGREEN USB C Multiport Adapter is well-built and rugged enough for travel. I use a Tom Bihn organizer for all my adaptors and cables, but the UGREEN also works just fine stashed in random pockets in my bag.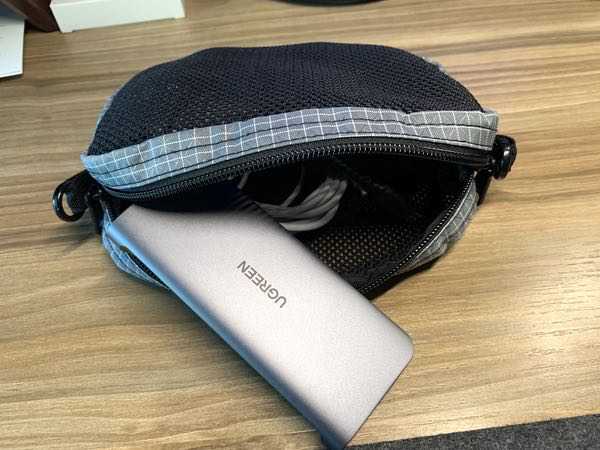 When I'm working from home I don't use a traditional docking station, so the UGREEN's 10 different port options come in handy! Here I have my power brick running into the adaptor, which is then plugged into my laptop. I have my HDMI cable run through the adaptor to my primary monitor while my 3 USB ports are available for connecting & charging my assorted peripherals.
Here's a shot from the office, where we don't have assigned seating. Each workstation has a USB cable that connects to the monitors, so I keep the adaptor plugged in to charge my phone and my headphones. Note that the USB-C port on the adaptor can be used here to charge my iPad as well.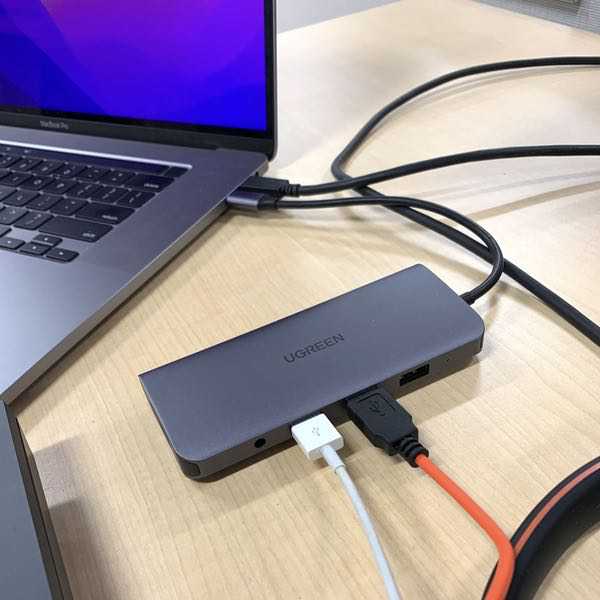 The USB and USB-C ports work just fine, as do the SD and TF ports. Performance is great, and having the ability to load them all up at once is handy in a pinch. The 3.5mm audio port is a bit wonky, however. It works just fine when I'm plugged into my laptop to connect to my old-school earbuds or an external speaker… but I get this weird thing when I'm connected to my iPad Pro. See that error? It seems to think that the iPad is connected to an external monitor when the audio jack is connected.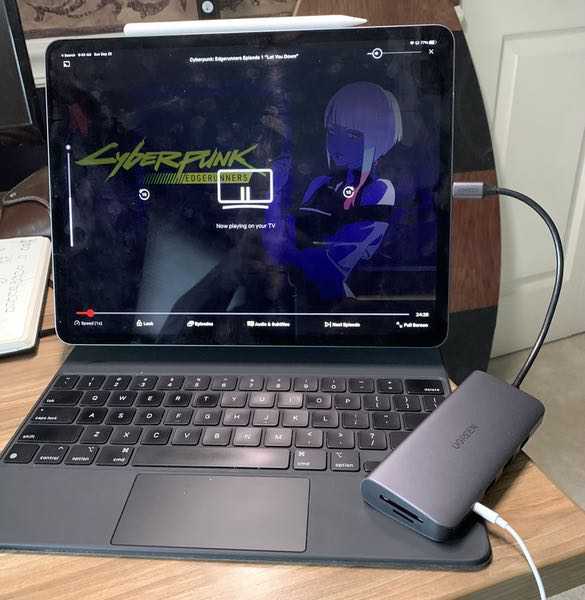 I should note that I can plug the hub into my iPad Pro and use it to charge my devices through the USB ports. I can also do screen mirroring from my iPad to my monitor through the HDMI port.
UGREEN does claim that the UGREEN USB C Multiport Adapter can also do dual-screen displays using both the 9-pin VGA port and the HDMI port, but I was not able to make that happen on my MacBook. Here I have the 9-pin adaptor plugged into the monitor on the right…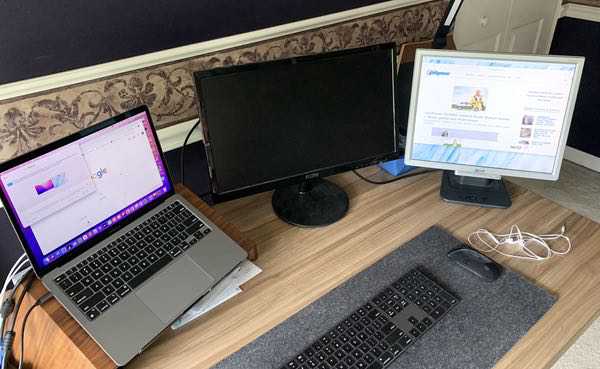 …but when I plug in the HDMI monitor, the 9-pin monitor disconnects. This seems to be a specific issue related to MacBooks from what I have read.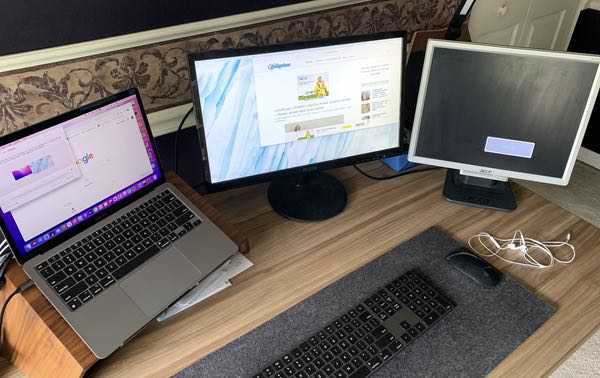 Other than those little oddities I have had no issues to report with the UGREEN USB C Multiport Adapter. You may not think the 9-pin VGA adaptor and ethernet port would be particularly useful… unless you travel to a lot of different offices. Ever been in that situation where you're in a conference room trying to connect for a presentation, or a hotel with bad wifi but old-school ethernet on the desk in the room? They do exist. And having the extra connections make for a great backup option.
If there is one thing I'd like to see here, I'd prefer an extra USB-C port to swap out for one of the USB ports. I find a lot more of my peripherals are running off of USB-C, so that would be handy.
What I like
Many, many ports to connect to all the things
Rugged and right-sized for portability
What I'd change
The tablet connection to the audio port seems to be flaky
Would like one more USB-C port
Dual monitor option doesn't seem to be available on the MacBook
Final thoughts
I'm enjoying my time with the UGREEN USB C Multiport Adapter. It's nice to have all of those connection options and backup options if you're traveling, and this unit saves me a ton of space in my bag by replacing a bunch of adaptors with one device. The extra ports for ethernet, 9-pin VGA, SD/TF cards, and 3.5mm audio may be overkill based on your intended use, however.
Price: $53.99
Where to buy: Amazon
Source: The sample of this product was provided by UGREEN.