We use affiliate links. If you buy something through the links on this page, we may earn a commission at no cost to you. Learn more.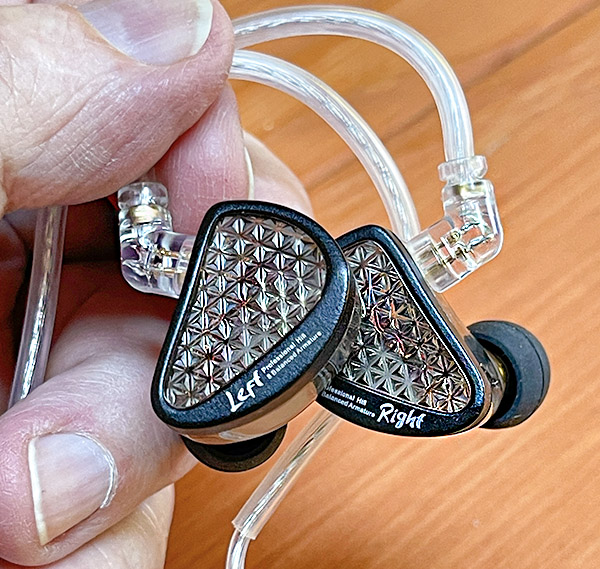 REVIEW – In 2010, I reviewed one of the best professional earphones I have ever heard. 12 years later, The JH Audio JH/13 pro earphones remain my go-to earphones for musical detail, spaciousness, and all-around fun factor. Each custom-molded JH earphone contains 6 tuned armature speakers for a total of 12 speakers. Though the clear acrylic shell has dulled and the speaker cord has oxidized over the last decade, they still sound as good now as they did then. The downside was that the JH/13's were so expensive at $1,100—in 2010! Things have changed (progressed?) quite a bit since then. Today, I am reviewing a pair of KZ Acoustics KZ-AS16 Pro earphones—with eight armature speakers per ear—at a fraction of the cost! Do they measure up?

What is it?
The KZ Acoustics KZ-AS16 Pro earphones are wired universal-fit earphones for stage musicians and music lovers who don't mind being wired to their music source as opposed to going wireless. Note that the AS16s are not custom molded, but made to fit all ears.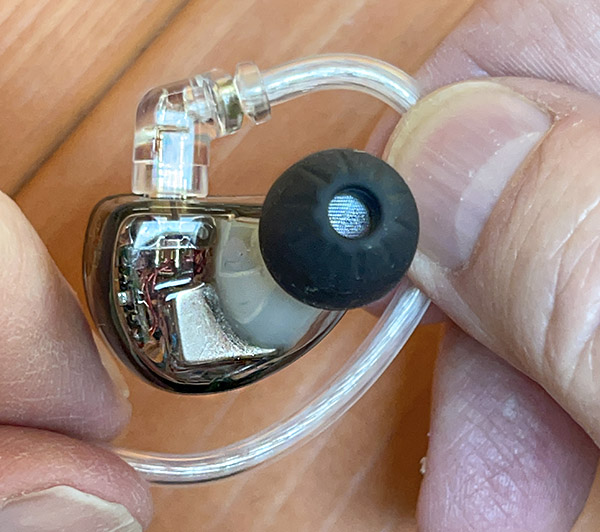 Each earphone contains 8 specifically-tuned armature speakers: 4 high frequency, 2 middle frequency, and 2 low-frequency speakers.
An armature speaker is a tiny speaker that comes from the hearing aid industry. It can be tuned for specific frequencies and combined with other differently-tuned armature speakers—as in the KZ-AS16 Pros.
The 8 speakers are grouped together inside a hard form-fitted plastic shell. The wiring connects at the "top" of the earpiece with the cord wrapping around the ear. This setup helps keep the wiring out of the way and also cuts down on microphonics, that thumping or rustling sound from touching an earphone's cord. I've gotten used to microphonics, but it can be really annoying for some.
The KZ Acoustics AS16 Pro earphone's cord is made with a high-purity silver coating, which can help reduce signal transmission loss. Whether or not this is audible is debatable, but silver also helps prevent oxidation of the cord's metal.
The shell has an attractive diamond pattern mated to a clear half that shows off the interior layout of speakers and wiring. As a result, the KZ-AS16 Pros are quite attractive.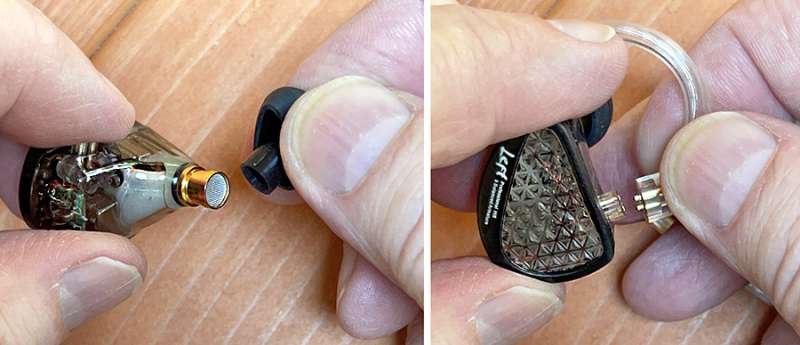 The KZ-AS16 Pros use a 2-pin rather than the increasingly common MMCX connectors. I worry about the 2-pin's long-term reliability. However, KZ has tucked the pins under a covering that looks proprietary. The cord uses a standard mini-plug audio connection that is set at a sturdier and space-saving right angle.

Specs
Balanced armature speakers
Frequency: 20-40000Hz
Impedance: 18Ω
Sensitivity: 114dB
Pin type: 0.75mm
Plug type: 3.5mm
Cord length: 45 in.

Design and features
When I first tried out the KZ Acoustics KZ-AS16 Pro earphones, my first thought was that they would be better suited for stage work rather than personal use. After a couple of weeks of listening, I haven't changed my mind. Why do I say that? Accuracy.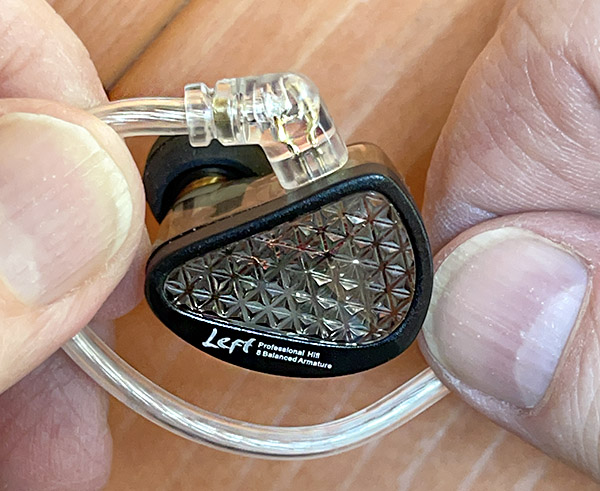 The  KZ-AS16 Pros are extremely detailed. To my ears, this makes them less attractive for sheer musical enjoyment. Believe it or not, earphones can sound too accurate—which becomes a bit fatiguing after a couple of hours of listening. Music that can be enjoyed for hours (headphones/earphones) usually has a slight bass boost added that gives your favorite songs warmth and presence. Detail and warmth may sound like silly audio terms, but they can describe how music sounds.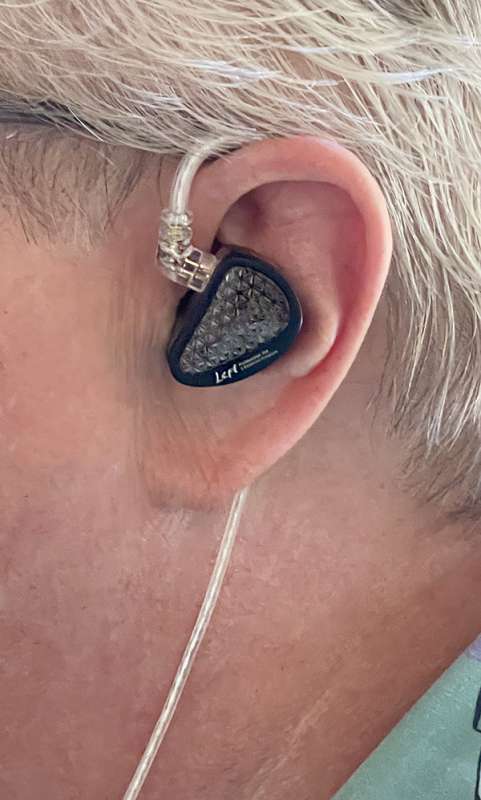 The issue I have with the KZ Acoustics AS16 Pro earphones is that KZ has 4 high-frequency speakers compared with only two mid and low-frequency speakers. The result is a brighter sound that somewhat overshadows vocals and bass. Both the mids and lows can be enhanced in an equalizer (EQ) setting thus improving the sound, but there are always audible tradeoffs. For instance, increasing the bass in EQ may muffle any clarity a song might have. This is why I like to leave my EQ either off or set to flat.
Please take everything I just said with a grain of salt. Comments are mine and your musical tastes may differ. If you prefer a brighter sound, the KZ-AS16 Pros could be your perfect pair of earphones. There are no right or wrong audio preferences.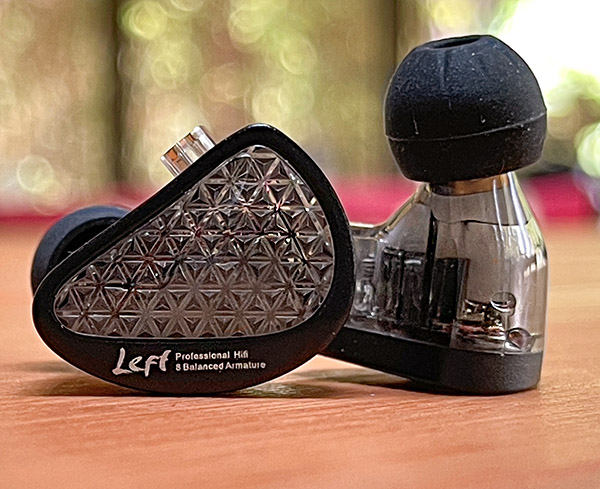 Having said that, the KZ-AS16 Pro's accuracy makes them a great pair of in-ear stage monitors—which have a different listening criterion. My son is a worship pastor. Playing music is his full-time job (I don't play an instrument) and we've talked about in-ear monitors vs earphones for stage work. While some monitors can double as earphones, some should remain monitors only. My recommendation is that the KZ-AS16 Pros are great monitors.
Now, let's deal with the most important fact regarding the KZ-AS16 Pro earphones: Price. They sell for $56 – $73—for an 8-speaker earphone! Only a few years ago, this was unheard of. Granted, the AS16 Pros are not custom-molded, but come on! I've seen many universal fit earphones costing from hundreds to thousands of dollars. The KZ-AS16 Pros are a steal. You could buy a pair for everyone in your band or worship team and have money left over for other stage gear. Price trumps any shortcomings the AS16 Pros might have. And like I said, if you prefer a brighter sound, they could be perfect for you.

What I like
That price!
Well made
Nice cord
Good, detailed sound
What I'd change
Sound is too bright for my tastes
No MMCX connectors

Final Thoughts
For many reasons, the KZ Acoustics KZ-AS16 Pro earphones would not be my choice for earphones. First, they are not wireless—I have become spoiled over the years as wireless earphones now rival wired in sound quality. Also, the KZ-AS16 Pros sound is too bright for my tastes. I prefer a more vocal-centric sound, but that's me. If I was a musician who couldn't afford (or just refused to pay for) a custom pair of in-ear monitors, the KZ-AS16 Pro earphones could be the perfect choice for stage work. For their cost, you could buy more than 10 pairs for what a single pair of JH Audio JH/13's costs. I'm stunned.
Price: $73.00
Where to buy: Amazon
Source: The sample of this product was provided by KZ Acoustics