We use affiliate links. If you buy something through the links on this page, we may earn a commission at no cost to you. Learn more.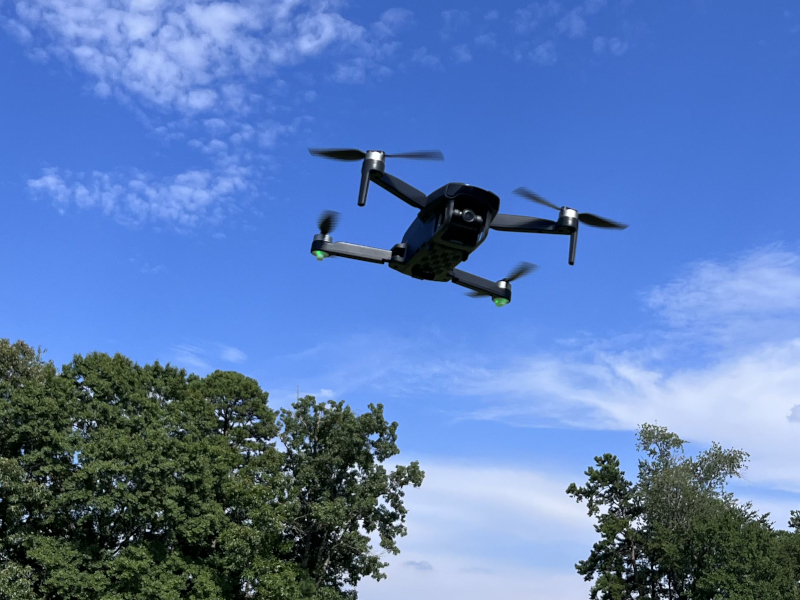 REVIEW – Have you ever watched a YouTube channel where they do this cool zooming out video with a drone?  You know, the one where they start close up, then fly the drone up and out until there's this huge panorama shot of where they are.  I want to do that.  Not because I'm a YouTuber—I'm not—but because my wife and I go hiking a lot, and I think it would be cool to have some videos of the places we've visited.  I've been looking for a good drone to help me out, one that is easy to control (since I'm not very experienced) and is lightweight (since I'll have to haul it wherever we go hiking).  I'm hoping that the Ruko F11 MINI will be the drone that I am looking for!
What is it?
The Ruko F11 MINI is the smallest drone in Ruko's line of F11 drones.  It has 60 minutes of flight time (spread over two batteries), is controlled via a remote controller and an app on the phone, and has built-in 5 GHz WiFi.  It can take 4k photos and shoot 2.7k video at 25 fps.  The F11 MINI is targeted at beginners.  Ruko is a Chinese company whose motto is "every day with you."
What's in the box?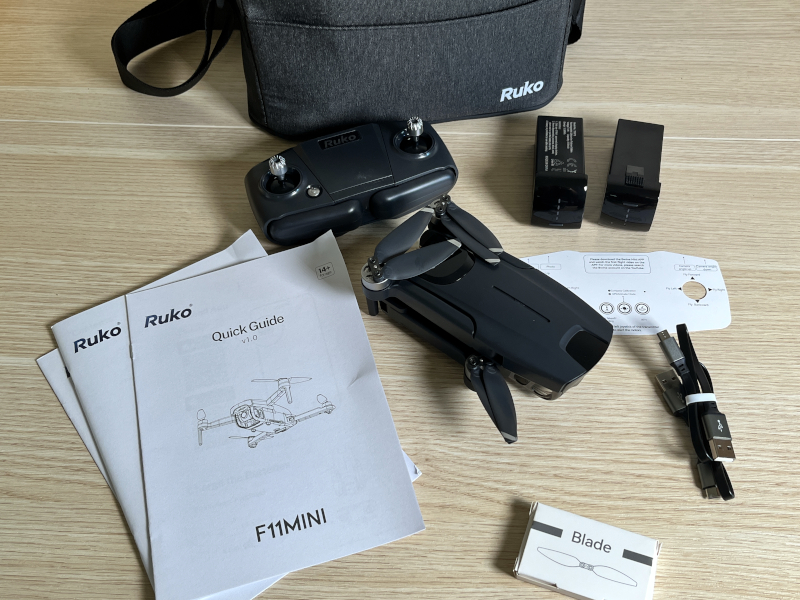 Ruko F11 Mini Drone
Remote controller
2 batteries
2 USB cables
Shoulder bag
8 spare propellers (a full set)
10 spare screws
4 spare screw covers for the propellers
Documentation (quick start guide, user manual, disclaimer & safety guidelines)
Guide card
Note:  The user manual says that it includes a small screwdriver that can be used to replace the blades, but this was missing.  Any very small Phillips screwdriver should work.
Hardware specs
Photo resolution:  4K (4096 x 3072) as JPG
Video resolution:  2.7K (2688 x 1512) at 25 FPS as MP4
Card:  Micro SD, max size is 128 GB, formatted as FAT32
Battery type:  2100 mAh lithium
Battery life: 30 minutes each
Battery charge time:  3.5 hours each
Dimensions: 12 x 10 x 2 inches (when fully extended)
Weight: 8.6 oz
Max Control Range:  1640 feet
Transmitter:  2.4 GHz
Motor:  1503 brushless motor
Speed:  Low is 11.5 feet/second; high is 23 feet/second
Wind resistance:  Class 4
Note that a micro SD card is not included.
Design and features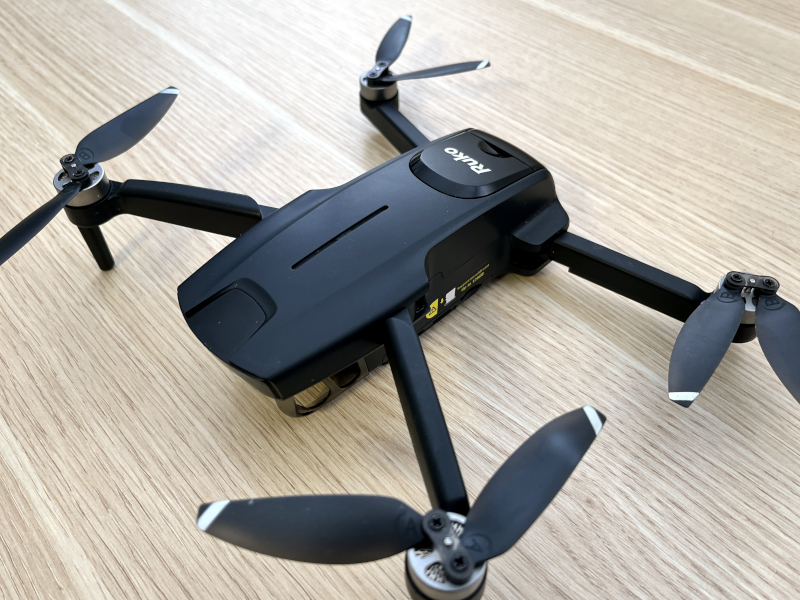 The body of the Ruko F11 MINI looks like a small, squat, rectangular, grey box with a camera peeking out one end and a battery inserted into the other.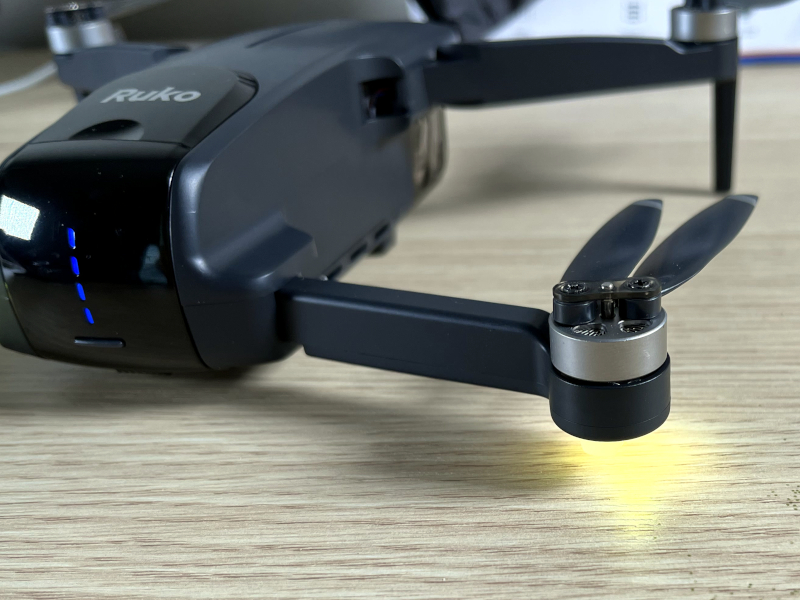 It has four arms that jut out at obtuse angles from the body, each with a pair of propellers on top and a small light on the bottom.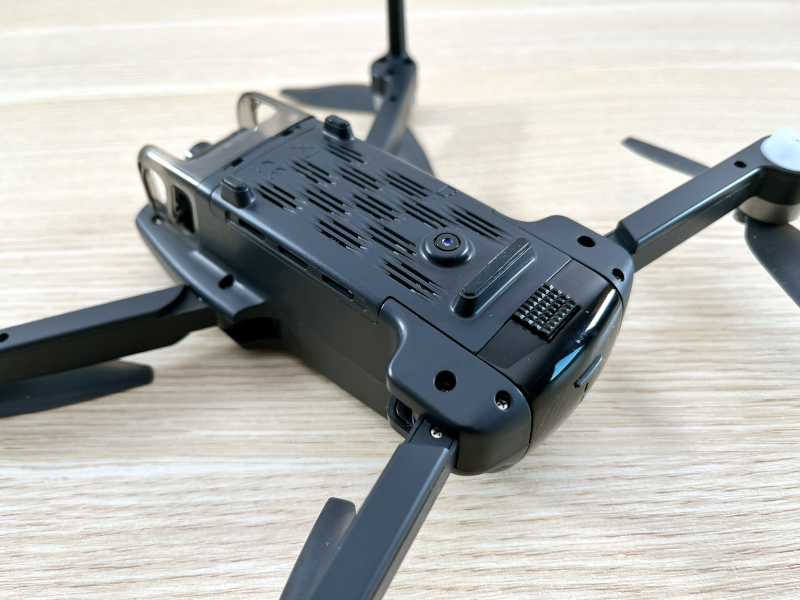 The Ruko logo is on top, small rubber pads are on the bottom for landing, and a slot is marked on one side for the microSD card.  It's not a beautiful design, but it is both practical and typical for entry-level drones.
Installation and setup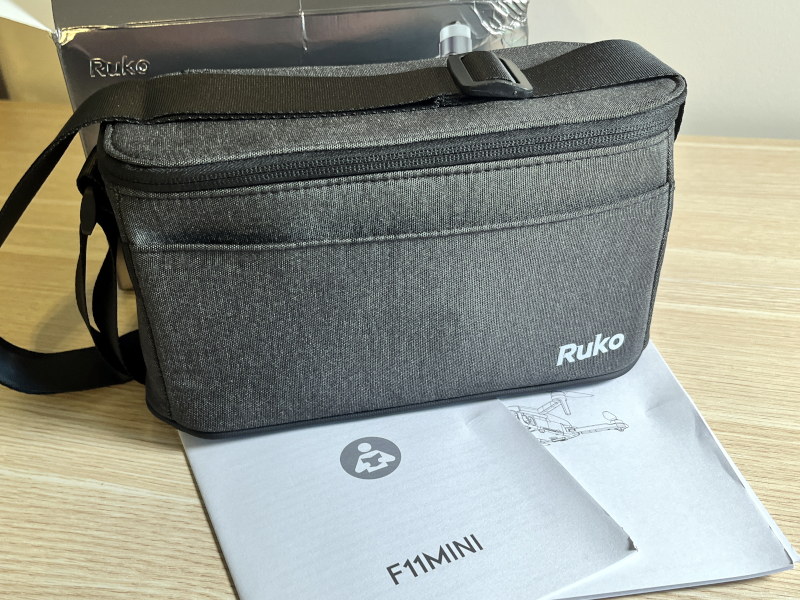 MINI is an apt name for this little drone.  I didn't appreciate how small it would be until I pulled it from the case.  I removed the packaging and found that the Ruko F11 MINI drone comes already assembled; no need to add arms or propellers.  There were, however, three things that I needed to do.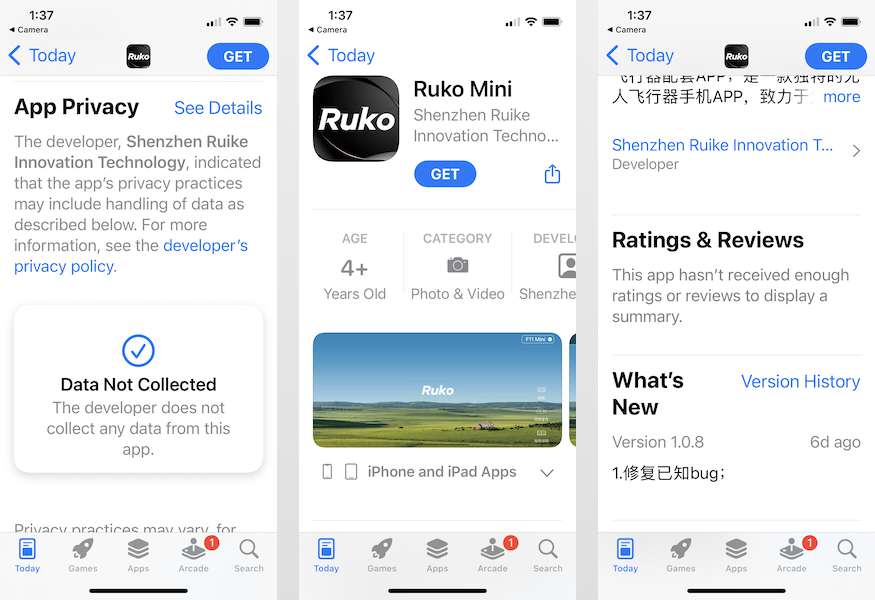 Step one was to install the Ruko app from Apple's app store onto my iPhone.  It looks to be new, as there are no ratings yet, and it claims that it doesn't collect any data, which is awesome.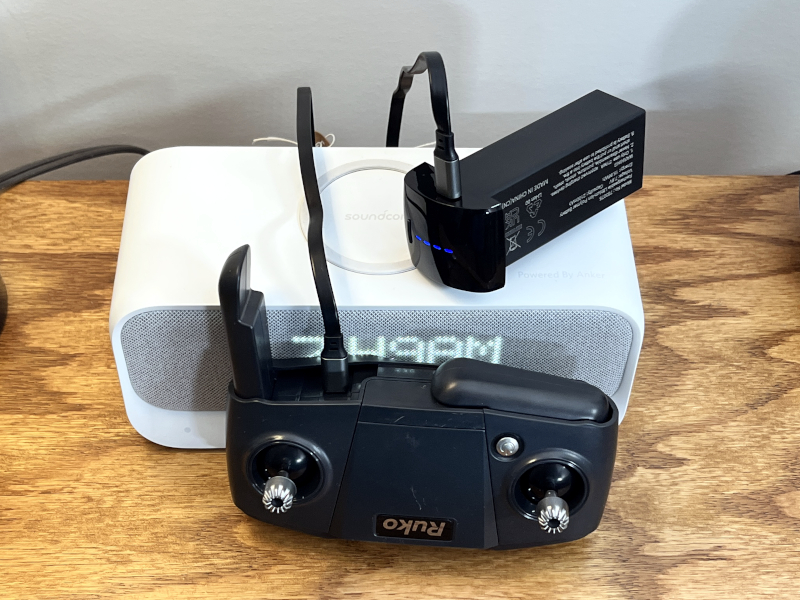 Step two was to charge the batteries and the controller using the ridiculously short (10 inches) USB-A to USB-micro cables.  The Quick Start guide shows the cables being plugged into the body of the F11, but that's a mistake.  The charging ports are actually on the batteries, not the drone.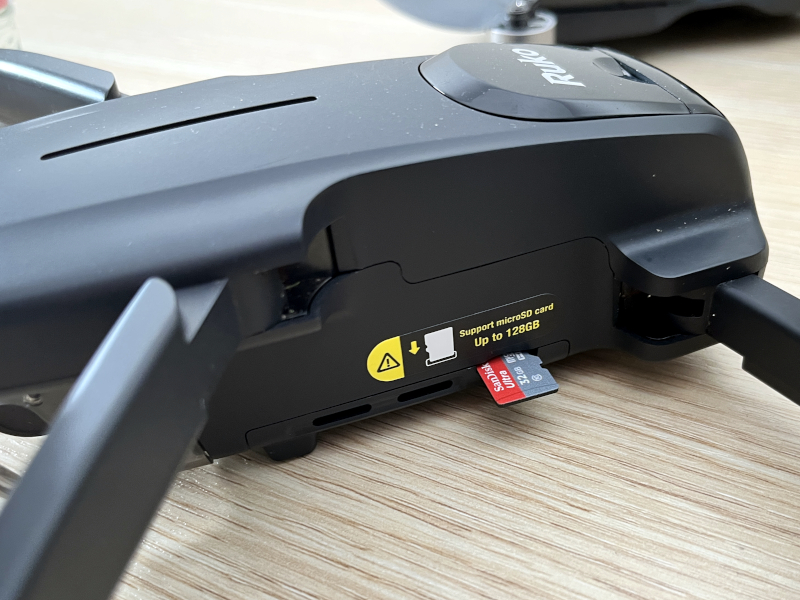 Step three was to insert a micro SD card into the slot on the side.  The card must be formatted as FAT32.  The sticker on the drone says the max size is 128 GB, but the manual says the max size is 32 GB.  I'm not sure which one is right, so I used a 32 GB.  Now it was ready to head outside.
I live in the US, which means the FAA oversees the rules for flying drones where I live.  The FAA's "Getting Started" page is a helpful place to begin.  As the F11 MINI is under 0.55 pounds, I don't have to register it, but I do still need to take the TRUST test.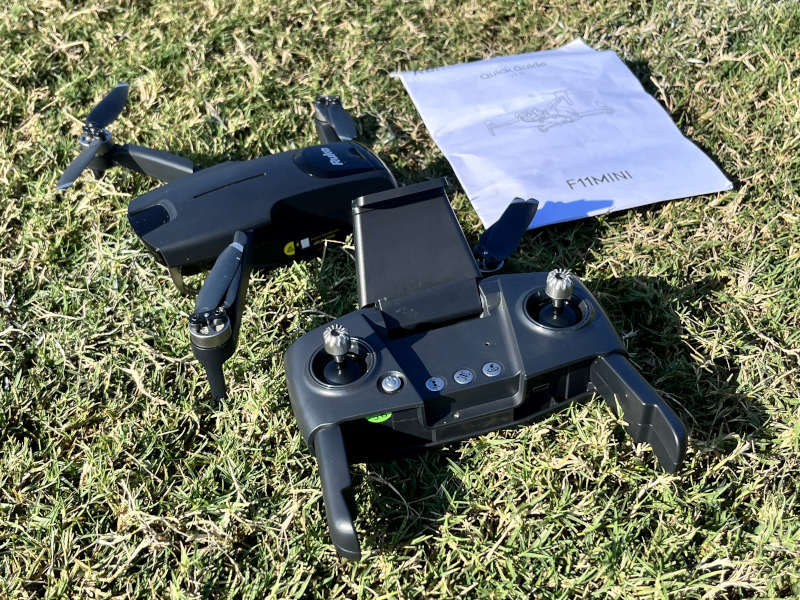 The Quick Start guide gives a succinct set of steps for prepping the drone for flight, but I found it helpful to read the entire User Manual and make a few extra notes in the Quick Start guide.  (The English is rough in both documents, but it is understandable.  You can find both documents online here.)  The Quick Start guide encouraged me to check out the Flight Guide, which is available in the Ruko app.  Unfortunately, the links to "Instructional Videos" and the "App Guide" in the app are both disabled.  Similarly, the User Manual provides a QR code to watch tutorial videos, but the only video was a marketing one.  Ruko is targeting this drone at beginners, but they have failed to provide any help at all for beginning drone pilots.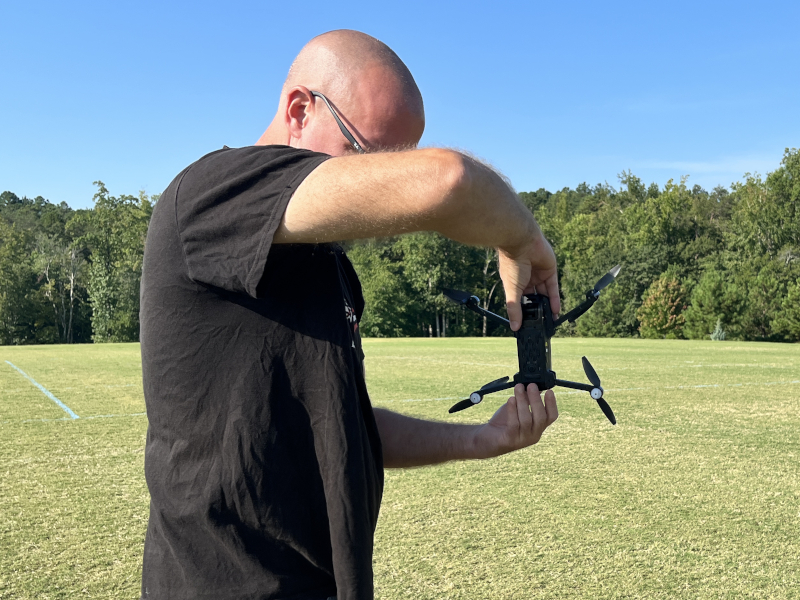 Before I can fly the drone, there's a set of procedures that I have to follow every time; these include pairing the controller with the drone, connecting to the drone's WiFi network, and calibrating the drone.  I struggled with compass calibration.  One challenge was Ruko's documentation.  The Quick Start guide directs me to rotate one direction, but the User Manual is just the opposite, which is horribly confusing.  The bigger problem, however, is with the GPS satellites, or more precisely, the lack of them.  For whatever reason, half the places that I went to test the drone, including my front yard, didn't have good GPS reception.  This makes calibration anywhere from hard to impossible.  The Ruko app requires me to do compass calibration every time I fly, so if I go somewhere where I can't get GPS reception, I may not be able to fly.
Performance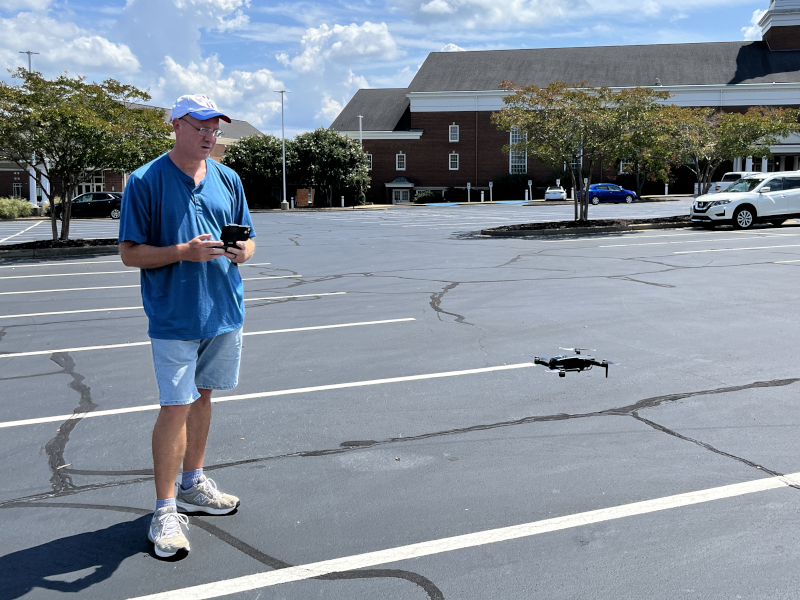 After finishing the preparatory procedures, pushing the left controller up launched the Ruko F11 MINI drone into the air.  We had liftoff, and we were flying!  The drone is responsive; there's very little lag between pressing the joysticks and the response of the drone.  I had no problem flying it around over a soccer field.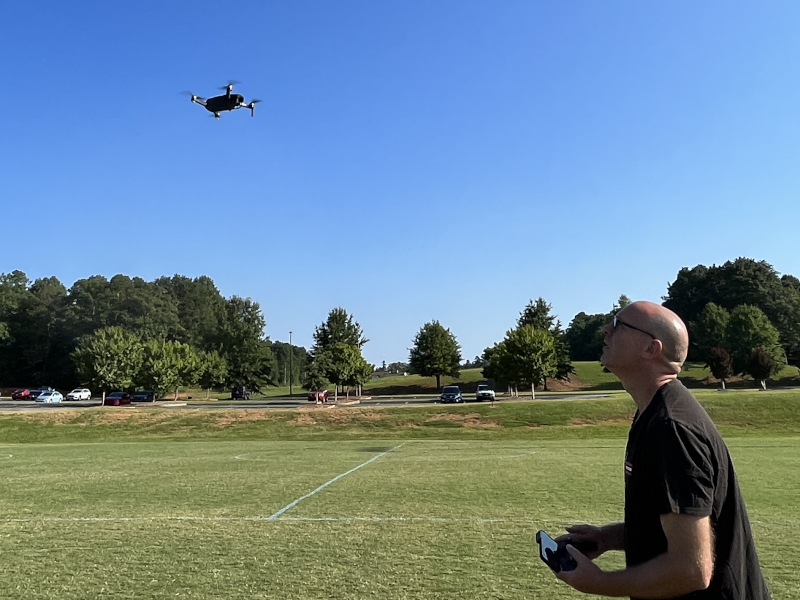 After multiple sessions of flying this drone, here are some of the lessons that I learned:
Having a pair of 30-minute batteries is great.  That's a lot of flying time, and it really makes it worth going somewhere and bringing the drone along for some fun.
This drone is very susceptible to less-than-perfect GPS conditions.  Maybe the internal antenna is small, due to the drone's small size.  Whatever the reason, I know I can't even bother trying to fly without strong GPS signal (green bars).
While the F11 MINI has a hover-in-place feature, as most drones do, it doesn't work very well.  I found that this drone is blown all around when there is even the slightest breeze; it constantly wandered away from me.  For experienced pilots, this won't be a problem at all, but for newer pilots, this means that we have to be constantly adjusting and controlling its location.  Additionally, it's best flown in wide open space like a soccer field without obstacles like telephone poles or trees.
This drone is not only really small, it's really short.  One time I tried to take off from grass mowed at a normal height, and the propellers caught in the grass.  The drone flipped over, and a pair of propellers popped off.  This drone needs a flat, hard surface to take off from, and I found out that the drone bag will work in a pinch!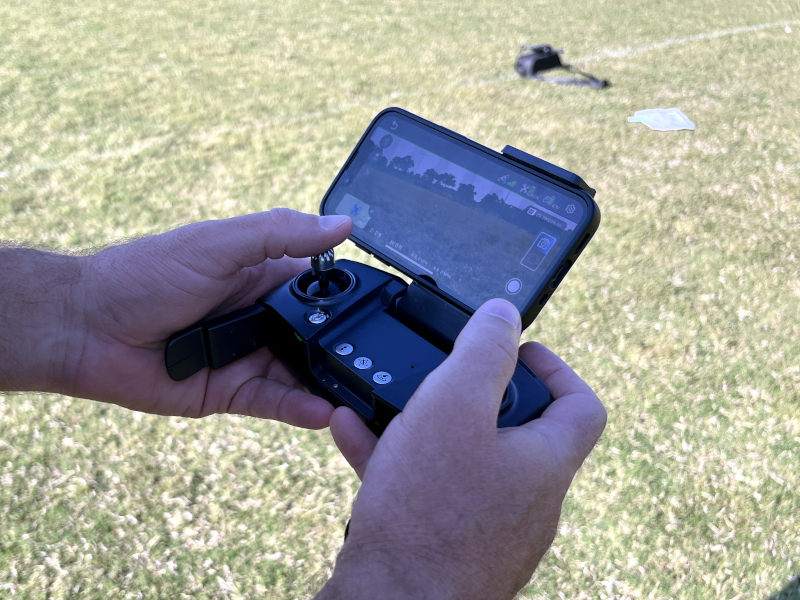 The controller has a design that's fairly standard for drones.  The left joystick controls up/down and rotate, and the right controls forward/backward and left/right.  There are a host of buttons that act as shortcuts to important features:
Return to home (RTH) — Pressing this button automatically returns the drone to the location where it took off. It sends the drone soaring 65 feet into the air, flies it back to the takeoff point, and then slowly and gently lands it.  This feature works really well, and I found that the landing point is always within three feet of the takeoff point.
Automatic take off and land — Pressing it once causes the drone to take off, and pressing it again causes it to land. The landings aren't always as gentle as the RTH feature, but they work.  I found this to be a very handy feature when the drone was blown off course, and I was uncertain if I could control it.
Take a picture — Each press takes a photo.
Take a video — Pressing this once starts taking a video; pressing again stops.
Adjust camera up — This button angles the camera upward; at max it looks straight forward.
Adjust camera down — This one angles it downward; at max it looks straight down.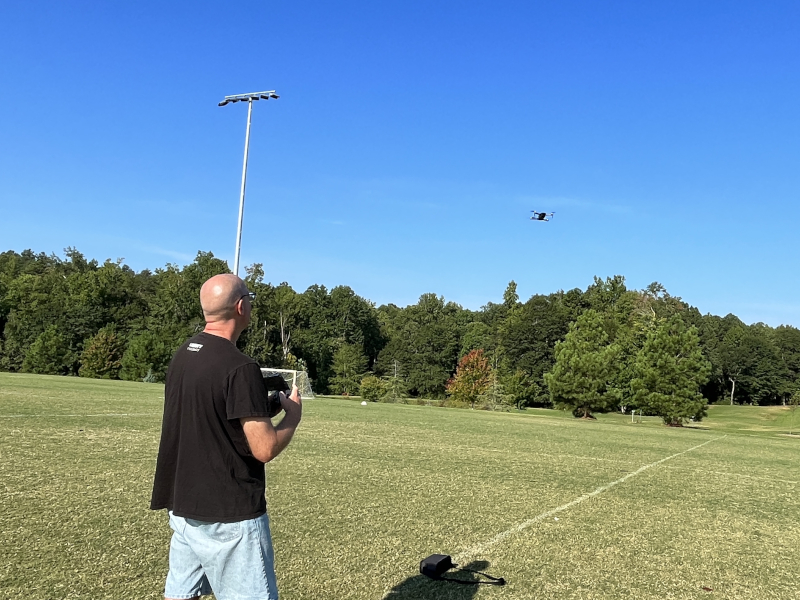 I tested two of the drone's intelligent flight modes:
Follow mode — In this mode, the drone attempts to maintain a constant altitude, stay within 25 feet of the phone with the Ruko app, and keep the camera pointing at it.  It's not perfect, but it does a decent job.  At a walking speed, it didn't have much problem keeping up.  This feature is rather flakey in the app, as this mode often would not engage until I pressed the button several times.
Surround mode — In this mode, the drone constantly circles around the controller while keeping the camera pointed at it.  The drone generally had no problems circling around me, though I found it struggled to keep the camera on me.  Also, surround mode is not also follow mode; if I move away, the drone will keep circling the original spot.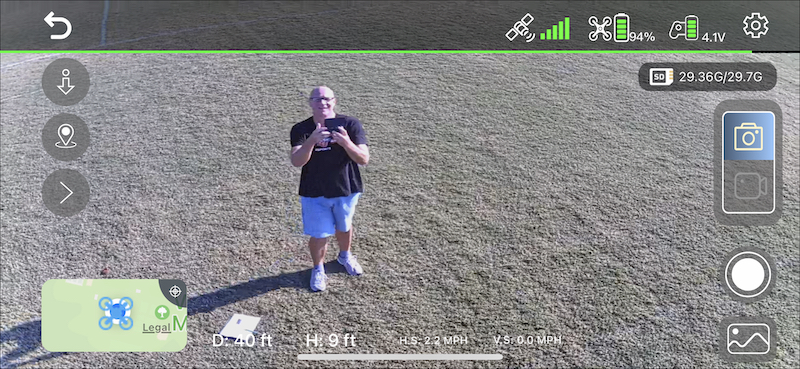 The F11 MINI requires the Ruko app to work, and it must be used to access some of the advanced features, such as the intelligent flight modes.  Once set up, it sends a video feed to the app, so that I can always see what the camera is looking at.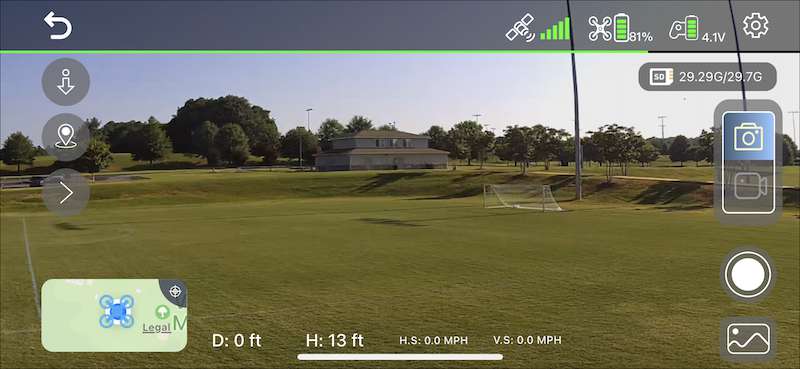 This is definitely handy if I'm trying to get a particular shot with the drone.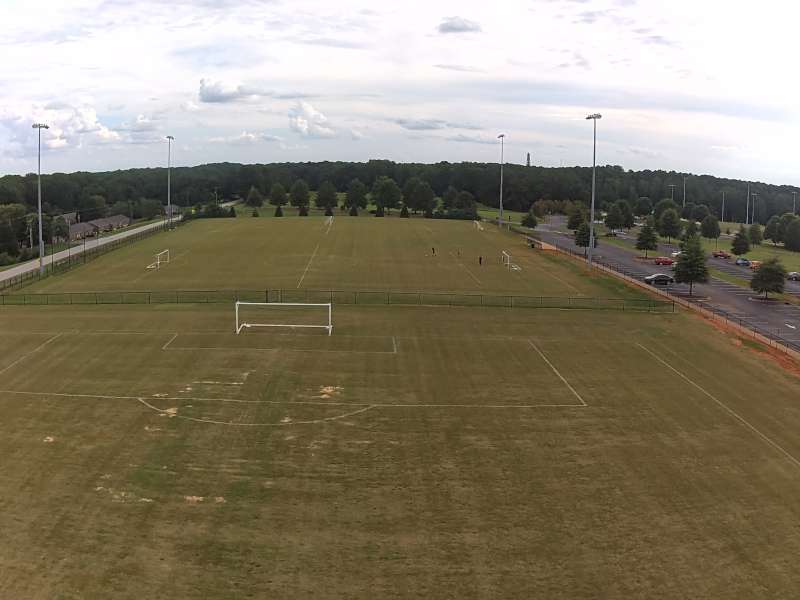 Although the resolution of the photos is just as good as my iPhone 13 Mini, the quality of the photos is not as high.  Even so, they are not too bad, especially for an entry-level drone.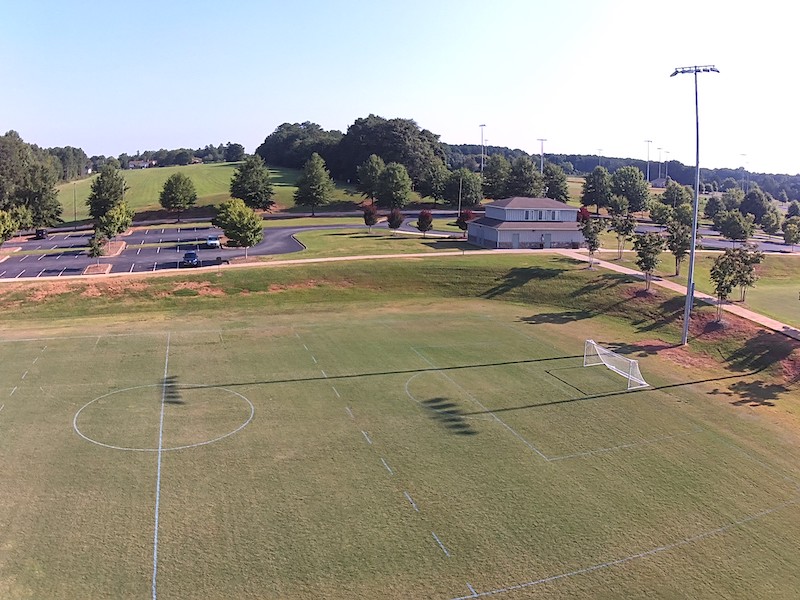 The drone allows me to get shots I could never get otherwise!
The quality of the video is also not as good as my iPhone.  If I touch the camera body, it moves gently and then falls back into place, indicating that Ruko has added a mechanical image stabilization; there's no indication in the documentation that it has software image stabilization like action cameras do, and I think the video quality suffers from this.  There's no audio with the video.
Here's a two-minute YouTube that I created using video shot from the drone itself:
(This video is 1080p.)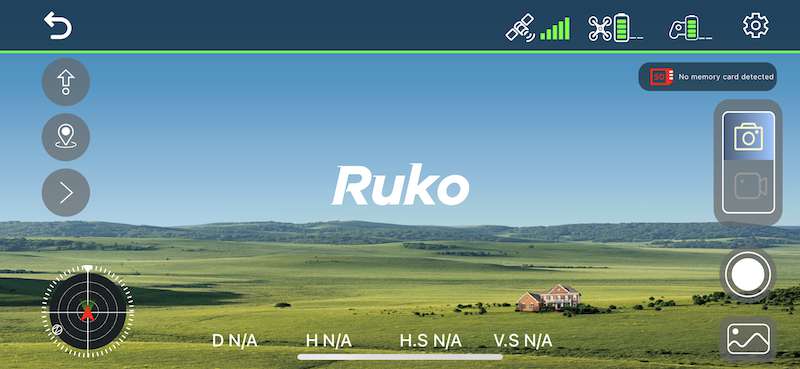 The Ruko app is organized well and is easy to use.  Along the top are indicators of the strength of the GPS satellites and the batteries.  The right side controls the photos and videos.  Along the bottom are the flight status indicators, such as how high the drone is and how fast it's flying.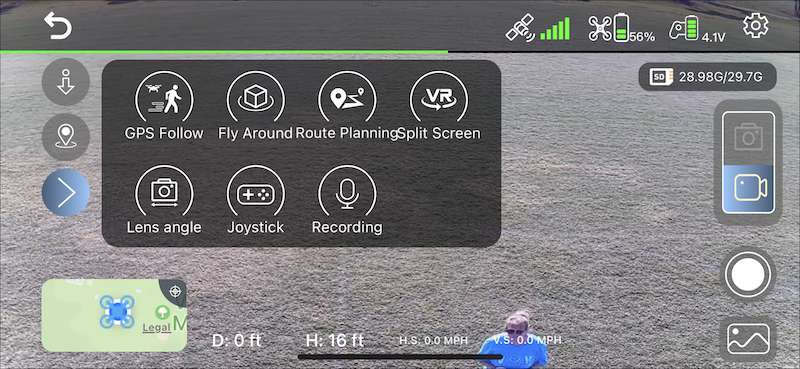 The left side has flight controls, such as RTH and the intelligent flight modes.  Overall, I like this app.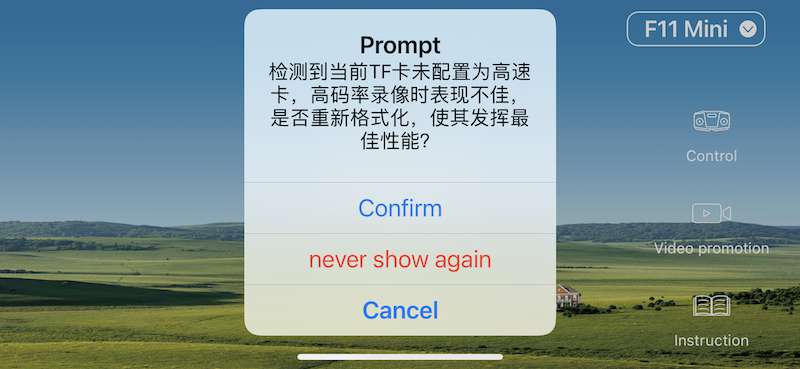 Ruko still needs to do a little more work on their app, however, as some screens are only in Chinese.  This is rather scary, as I don't really know what the app is asking for.  My best guess is that it wants access to my photos, or it wanted to format the micro SD card.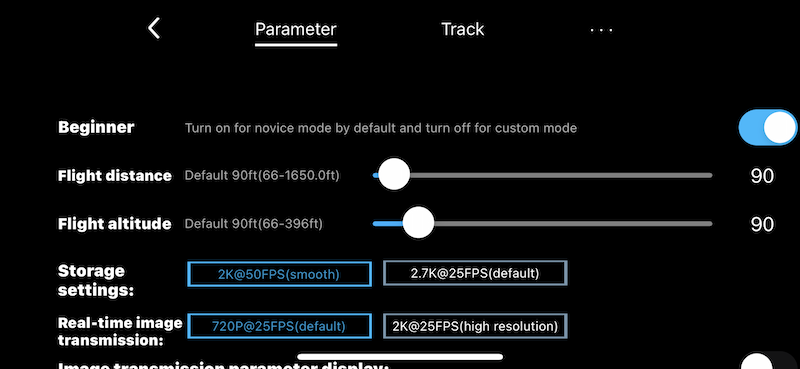 The Ruko F11 MINI drone has additional features to help beginners.  In the System Settings, I can limit the max flight distance and altitude, which prevents the drone from getting too far away from me when I'm not controlling it very well.  Unfortunately, this page does not scroll up and down in the app, so there are additional features that I cannot see or set.  The F11 has two flight speeds, and by default, it's set to the slower one, which gives me more time to react.  This can be changed using the controller.
Extra Features
Ruko has a solid set of FAQs for this drone, which can be found by clicking the various icons on this support page.
If the MINI isn't the right drone for you, Ruko has several other in their lineup.  This handy web page compares them all side-by-side.
What I like
Small size
Great battery life
Easy to fly
Decent app
Handy carry bag
What I'd change
Fix the mistakes (and contradictions) in the User Manual and Quick Start guide
Improve the GPS receptivity and the hover-in-place feature
Add tutorials
Finish the app so that all screens are in English and links are not disabled
Final thoughts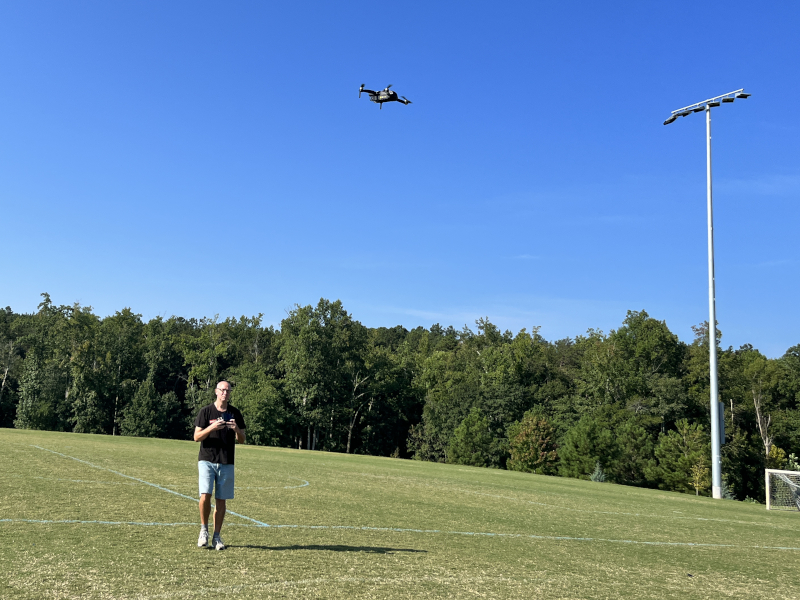 The Ruko F11 MINI is an entry-level drone that is small in size and light in weight.  It fits easily into the included small shoulder bag and is the perfect drone to bring along any time you're heading off the beaten path.  With two batteries, the F11 has a nice long flight time of 60 minutes.  The controller has a typical design, and the app is functional, though Ruko still needs to smooth out some of the rough parts.  Ruko is targeting this drone at beginners, but I'm not convinced that it is a good choice for newbie aviators.  In my testing, I found that the F11 struggles with GPS reception and doesn't hover-in-place very well when there is a breeze; and despite their marketing, Ruko has not provided any tutorials or training for new pilots.  Experienced flyers, however, will find that it works just fine.  If you're a capable pilot, and you're looking for a drone so small that you don't need to register it with the FAA, then I recommend you take a look at the Ruko F11 MINI.  If you're a newer pilot, then I recommend looking for a drone that does a better job hovering in place.
UPDATE (Sept 16, 2022):  We received a response from Ruko wherein they acknowledged the various issues listed in the review above and pledged to address each of them.  I appreciate the fact that Ruko cares enough to take the time to carefully read a review and decide on the best way to improve their gadget.  I hope and expect that the F11 MINI will be a better drone for it!
Price:  $219.99
Where to buy:  Amazon or Ruko's online store
Source: The sample for this review was provided by Ruko.