We use affiliate links. If you buy something through the links on this page, we may earn a commission at no cost to you. Learn more.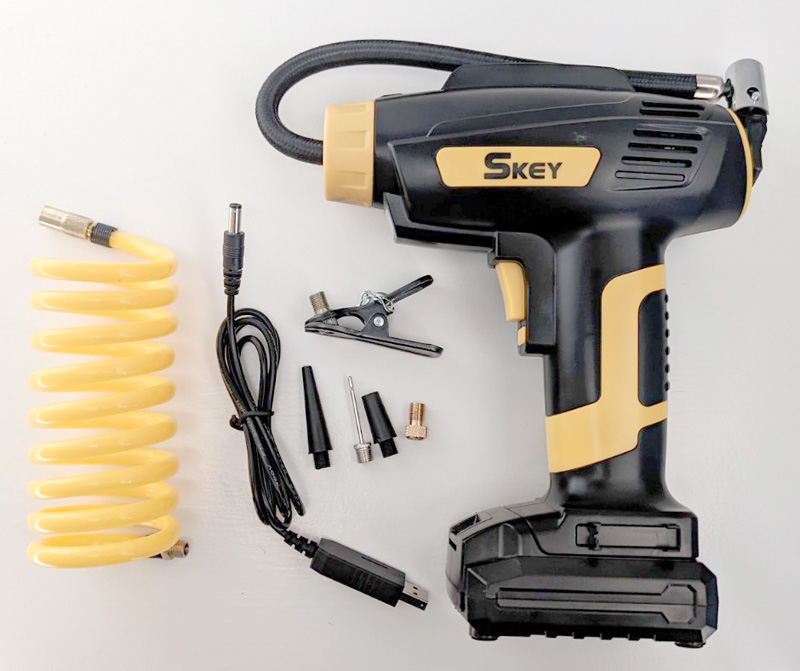 REVIEW – In my household, we have 2 vehicles, 2 electric bikes, a regular bike, numerous pool inflatables, and various footballs, soccer balls, etc. So we have lots of things that need to be filled with air on a regular basis.  Especially the pool inflatables during the summer.  Good Lord, I am tired of blowing those things up. Up till now the only inflator tools that I have had is a small portable air compressor that plugs into the cigarette lighter in the car, and one of those old school hand pumps for a bike that you put your feet on and lift the handle up and down a hundred times, which as you know is annoying to use.  And it's a hassle having to be close to a car with a cigarette lighter socket to use the air compressor. So it was time to try one of these fancy cordless inflator tools. Let's check out the $39.96 UNIZLIJM (don't ask me to pronounce it!) Tire Inflator Portable Air Compressor.
What is it?
The UNIZLIJM Tire Inflator Portable Air Compressor is a cordless air compressor that is the same form factor and size of a regular cordless drill, with a carrying bag, and various accessories to inflate car and bike tires, inflatable toys like footballs and soccer balls, and balloons for the next birthday party.
What's in the box?
The UNIZLIJM Tire Inflator Portable Air Compressor, a zippered canvas carrying bag, a yellow coiled extension air hose, 1 needle adapter, 2 air nozzle cones, 1 Presta to Schrader adapter, 1 valve adapter clamp, and a USB-A charging cord.
Hardware specs
Power: 120W, 22 cylinder motor with 18,500 rpms
Run time: 30 minutes
Charging time: 3 to 6 hours
Battery: 6,000mAh (3 lithium batteries of 2,000mAh each)
Maximum inflation pressure: 150PSI & 10.3BAR & 1034KPA & 10.5kg/cm2
Automatic shutoff when desired pressure reached
Accuracy: ±0.5psi
Air volume: 20L/min
Length of air hose: approximately 10 inches
Yellow extension hose: Approximately 5 ft when fully extended
LCD display showing real-time pressure, battery indicator, target pressure, etc.

Design and Performance
The first thing you'll notice when you take the UNIZLIJM Tire Inflator Portable Air Compressor out of the box is that it fits nicely in the hand, just like a cordless drill, and it's made a cheap plastic.  Honestly, I am not sure how long this thing is going to last with the kind of use that we are going to put this through. It just feels cheap, like a toy.  And because of that, it is very light, so it's not heavy at all.
You'll notice that the 10 inch air tube comes out of the front and it folds over the top and snaps into a slot on top when not in use. On the end of the air tube is the standard connector that you would expect with the folding lever on it that locks tight onto the air tube connector on your tire/football/etc. Right under the nose of the device (where the air tube comes out) is a light that turns on when you activate the air pump, which is a nice touch.  I mean, you are probably going to be using this thing on the side of the rode at night or in the back corner of your garage that has minimal lighting, right?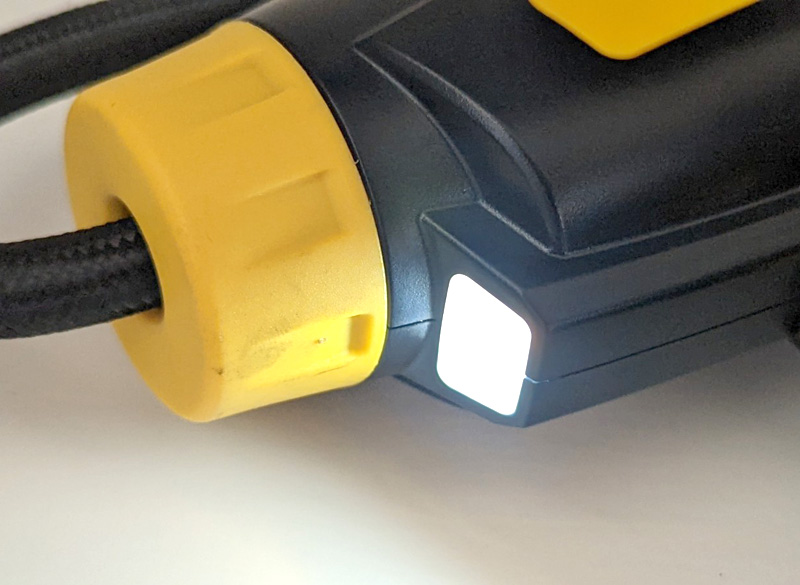 On the back of the UNIZLIJM Tire Inflator Portable Air Compressor, just above the handle, you'll see the LCD display that has a round power button below the panel that's used to turn the unit on, and a + and – button to either side of the power button. You can change the indicator on the screen by repeatedly pressing the power button to show you various types of readings, such as psi, BAR, KPA, and kg/cm2, so they obviously sell this internationally. You use the + and – buttons to set the desired pressure that you want, and then when you use the air pump it will automatically shut off when you reach that pressure. Again, nice touch.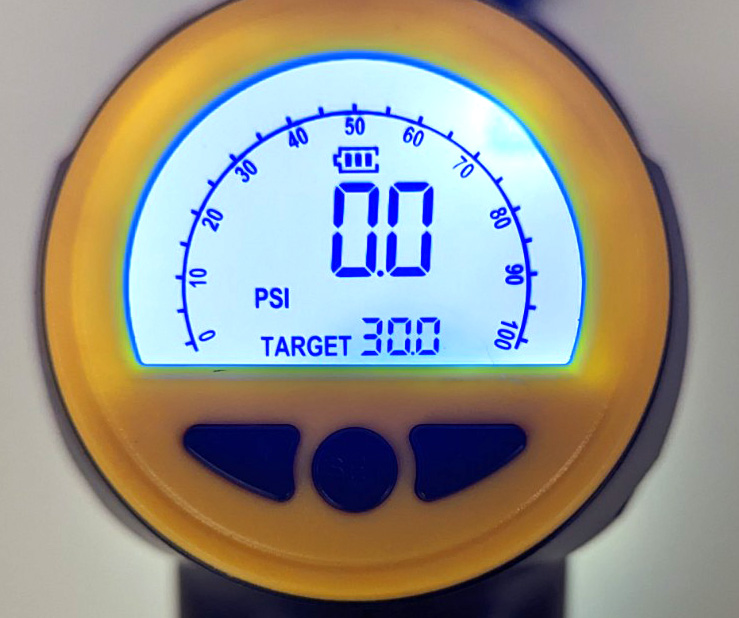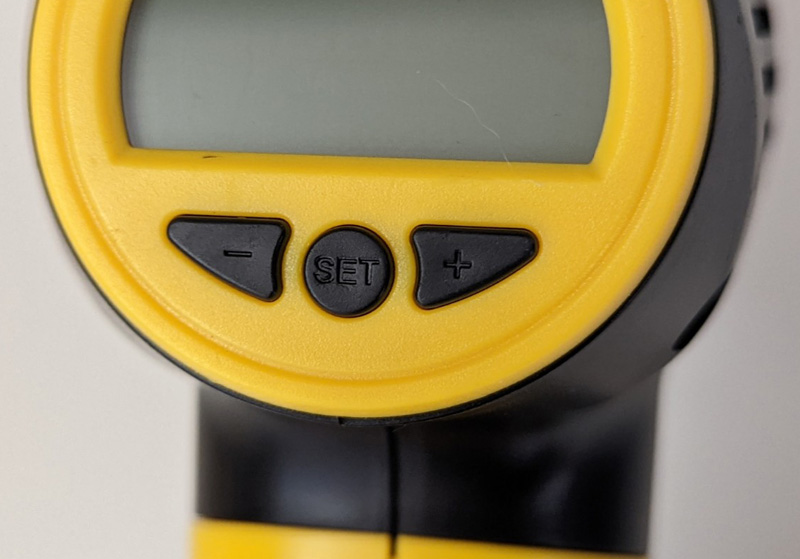 The battery is detachable and it sits on the bottom of the unit. Right above the battery, on either side of the handle, you'll find 2 places to snap an accessory, like the needle adapter and one of the cone adapters. Nice touch. The trigger on the unit that you press to activate the air pump has a sliding lock button just below it so that you can lock that trigger to prevent accidentally turning it on.  Handy.
When reviewing products we always take into consideration the specs that the manufacturer states to see if they are actually true or not.  For example, UNIZLIJM says that the pump should last about 30 minutes on a full charge and you should be able to inflate 4 car tires from 0 to 35 psi on 1 charge.  I did not find that to be the case. The 4 tires on my car are supposed to be 33psi (front) and 38psi (rear), and the other day my car said that each one was about 5 lbs lighter. So I used the tire inflator to get all of them up to snuff, and it took about 10 min. At the end of the 10 min the battery indicator showed that it was almost dead, and it was so hot to the touch that it caught my attention. So I doubt this thing will last 30 minutes and I don't think it can realistically inflate 4 car tire from completely flat. I will also say that UNIZLIJM states that the pressure reading on the unit is going to be +/- .5 psi compared to the actual pressure in the tire. After I finished inflating my 4 car tires, I noticed that when the reading on the car showed the correct tire pressure was reached, the UNIZLIJM was showing the pressure reading on the display to be 1 to 2 psi smaller. When I inflated my wife's pool float she likes to use, it took about 10 min to inflate it, and the air pump got hot again.
Now, having said all that. Using the UNIZLIJM Tire Inflator Portable Air Compressor was a breeze. The automatic shutoff was nice so that I didn't have to watch the pressure reading and worry about turning it off in time. And the various adapters are nice so you can fill just about anything with air.  And finally, it comes with zippered canvas case to keep everything together.
What I like
Nice carrying case
Easy to use
Automatic shutoff
Very affordable
What I'd change
It feels a little cheap, so I wonder how long it will last
It didn't perform as long as the specs indicate it should
Final thoughts
When I look at other competing products in this space, I notice that every other product is more expensive.  So UNIZLIJM is aiming to come at this with an unbeatable price.  And despite some of the performance things I mention above, for the price you pay this is not a bad deal.  It's portable, so I can take it anywhere and not worry about being tied to a vehicle or a power outlet. But then again, that means it only lasts as long as the battery will allow, so you won't be using this for very long before it needs to be charged, and it takes around 4 hours to charge.  So there is a place for this product as long as you know that.  For example, if you run a bike shop or sell car tires for a living, this isn't going to work for you, and you aren't the target market anyway.  I am the target market, with my inflatable pool toys that my wife just has to have at the pool.  And now, I can carry the UNIZLIJM Tire Inflator Portable Air Compressor to the pool and I don't have to get dizzy trying to blow them up! And in a pinch on the side of the road at night when you need to add some air to a tire so you can get to a repair place, it will do the job.
Price: $39.96
Where to buy: Amazon
Source: The sample of this product was provided by UNIZLIJM