We use affiliate links. If you buy something through the links on this page, we may earn a commission at no cost to you. Learn more.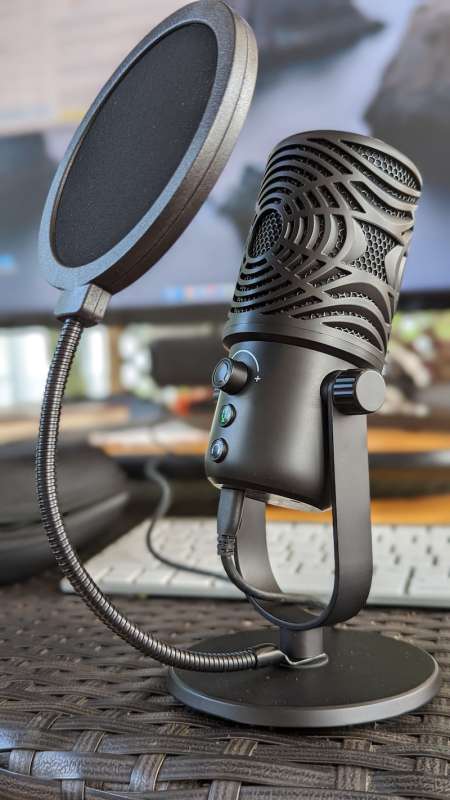 REVIEW – Did you know that poor audio is one of the biggest complaints about remote meetings?  Zoom and Teams are great, but if you can't hear or understand your colleagues, it creates a frustrating experience for everyone. To make it worse, most people never hear themselves on a meeting, so you often have no idea if your sound is bad or not.  If you are using the microphone built into your laptop, or the one built into an external webcam, chances are good that you sound bad.  A dedicated microphone is a wise investment, and doesn't have to be an expensive one.  The OneOdio FM1 microphone proves that.   
What is it?
The OneOdio FM1 is a USB condenser microphone designed for remote work, podcasts, and gaming.  It's plug-and-play with all the computers I tested it with (mac, PC, and chromebook), and includes a headphone jack. 
What's in the box?
OneOdio FM1 Microphone

Detachable base

USB-A to USB-C cable

Detachable Pop filter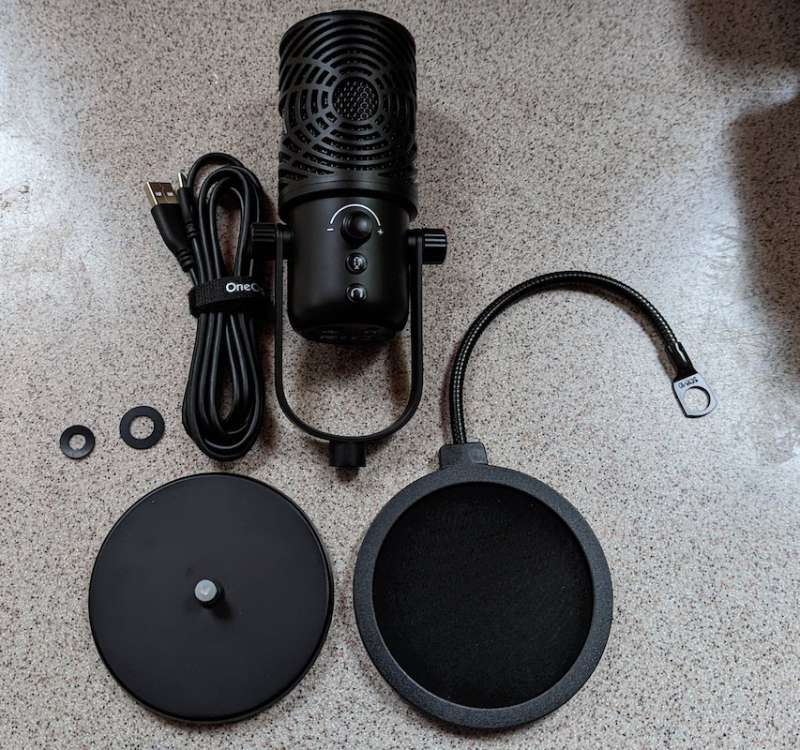 Hardware specs
Type: Condenser

 Polar Pattern: Cardioid

 Sampling Rate: (44.1 to 48) kHz / 16 bits

 Frequency Response: 20 Hz – 20 kHz

 Sensitivity: -38 dB ± 2 dB

 Maximum SPL: 110 dB

 Signal-to-Noise Ratio: ≤ 91 dB

 Total Harmonic Distortion: ≤ 0.5 ﹪ (1 kHz)

 Monitor Output Type: 3.5 mm

 Monitor Output Impedance: 32 Ω • Monitor Output Power: 10 mW

Operating Voltage: (5 ± 0.5) VDC

Operating Current: 500 mA
Design and features
The OneOdio FM1 microphone has some nice features for the price point. Starting from the bottom, the base is heavy.  That's a good thing because microphones are often a bit tippy and I have at least one that is constantly falling over.  Not so with this one. That base also has little silicon "feet" that help to isolate the microphone from vibration, like if you were typing during a meeting.  A pop filter on a flexible stalk attaches between the base and the microphone.  If you like to be close to the mic, this will prevent odd sounds when you pronounce your P's and S's.  The bottom of the microphone has two ports; a USB-C port, and a 3.5mm headphone back.  The fact that the USB cable is detachable is great – this allows you to use a cable length specific to your application, or to replace a damaged one.  The included cable is generously long at 2M (6 feet), and includes a velcro cable keeper.  The controls on the microphone are unique at this price point.  A large knob controls microphone gain (basically, how loud the mic is).  Below that are two buttons; a mute button, and a monitor button.  The monitor button allows you to hear (or not hear) the microphone audio through the headphones.  Headphone audio is still enabled even if the monitor is off.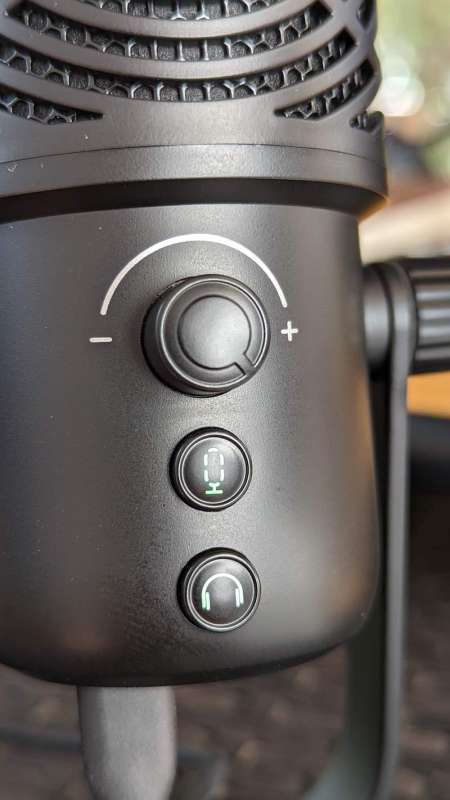 Performance
The performance of the OneOdio FM1 microphone is good.  It's not rock-star good, but it's probably a big step up from the mic built into your camera or computer.  It's hard to describe in text, so check out the audio example below, in comparison to other common microphones (Logitech webcam microphone, Macbook Air built-in microphones).  
One thing I did notice is that the OneOdio FM1 microphone is very good at screening out background noise.  I did the test outside on my patio, where I generally work all summer.  While testing, there were cars going by and a lawnmower in the distance.  The OneOdio mic did not pick those up, while they are present on the other two in the test.  
What I like
Nice pop filter, with a very flexible stalk

Heavy base with silicon feet – it's not falling over

Mute button and monitor / headphone jack

USB cable is included, long, and has a velcro cable keeper

Good value, big difference in audio quality over what you're probably using now
What I'd change
Nothing that I've noticed yet
Final Thoughts
Communication is critical to so much that we do, but we often don't give much thought to the tools we use.  If you work from home, are a content creator, or a heavy gamer, a stand-alone microphone is a good investment.  The OneOdio FM1 will step up your audio game without breaking the bank. 
Price:  $49.99
Where to buy: OneOdio or AliExpress
Source: The sample for this review was provided by OneOdio