We use affiliate links. If you buy something through the links on this page, we may earn a commission at no cost to you. Learn more.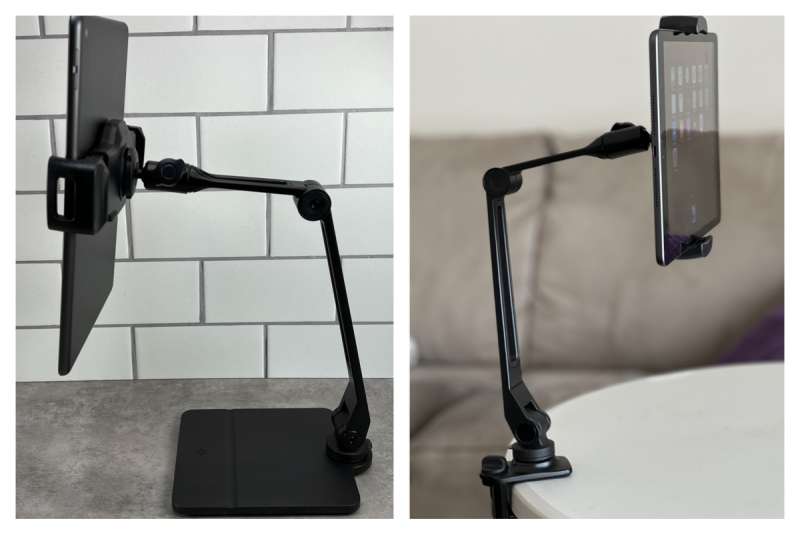 REVIEW – Ever since iPads came into our lives, there have been countless accessories to hold them. This time, I get to take a look at the TwelveSouth HoverBar Duo tablet holder. I was excited because I know TweleveSouth for their Apple accessories. Does the product live up to the name?
What is it?
The Twelve South HoverBar Duo is a device holder that can be mounted on a tabletop or used as a clamp.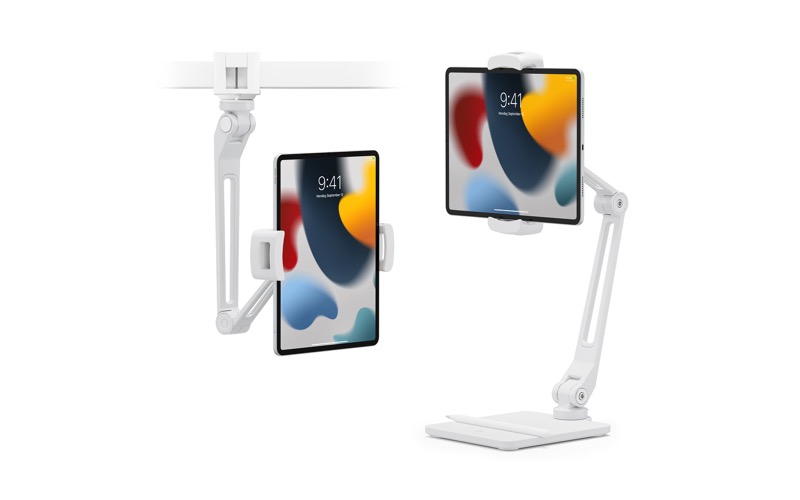 What's in the box?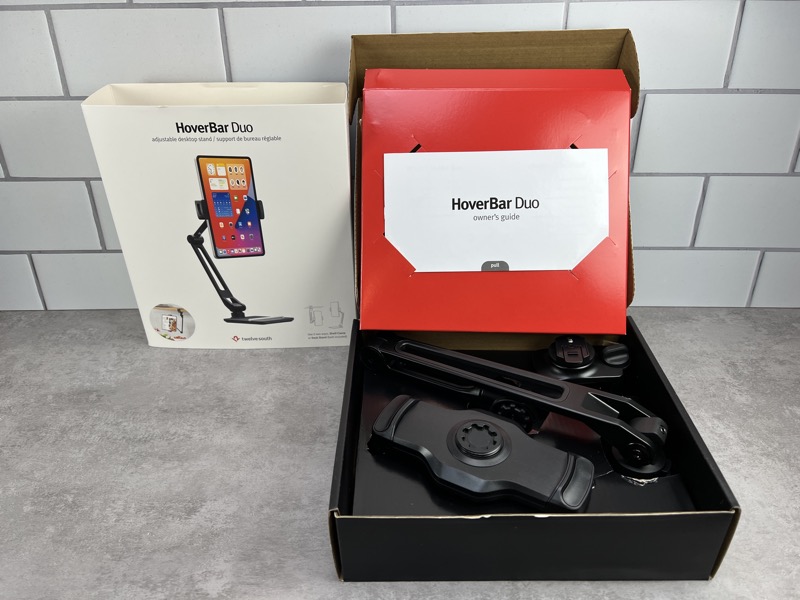 The Twelve South HoverBar Duo tablet stand came nicely packed with the following contents:
Hardware specs
iPad Clip Maximum Width: 220mm (8.68 inches)
iPad Clip Minimum Height: 127mm (5 inches)
Shelf Clamp Maximum Width: 34mm (1.4 inches)
Shelf Clamp Minimum Width: 10mm (0.4 inches)
Fully extended arm length: 15 inches
Design and features
The head of the arm attaches to the clip as shown. It can rotate freely.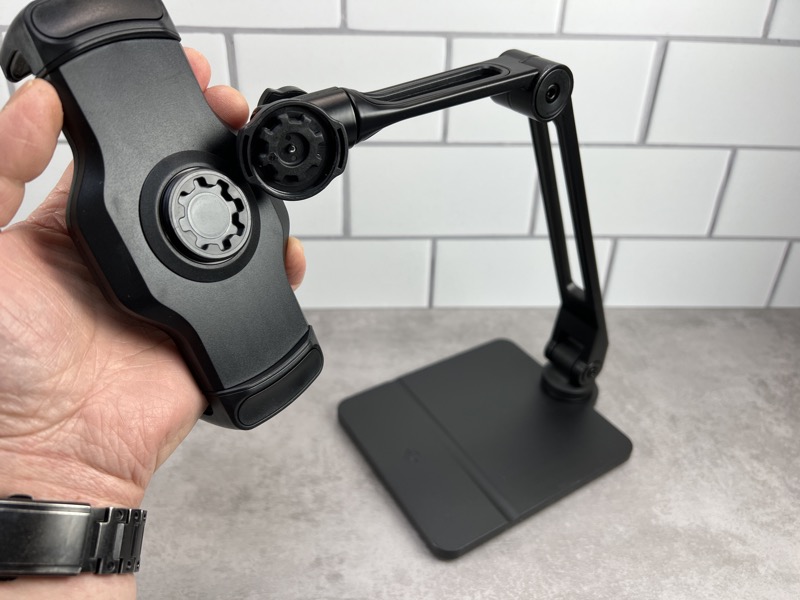 Here's the spring-loaded clip. Per the specs, it'll grab devices from 5 inches to 8.68 inches.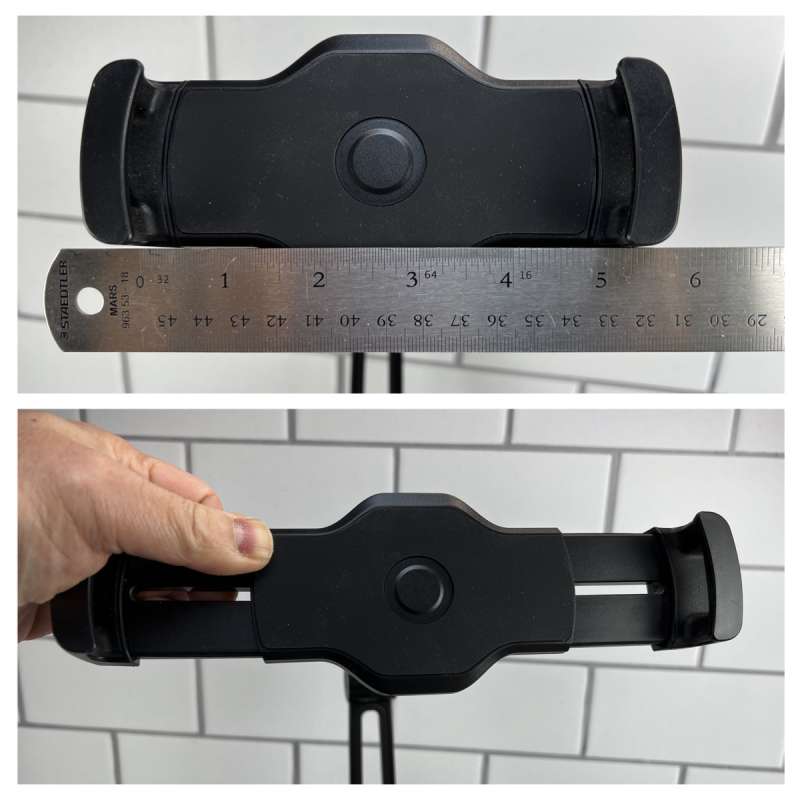 The Twelve South HoverBar Duo's detachable base has a little heft to it. It weighs in at 1 lb, 10 oz.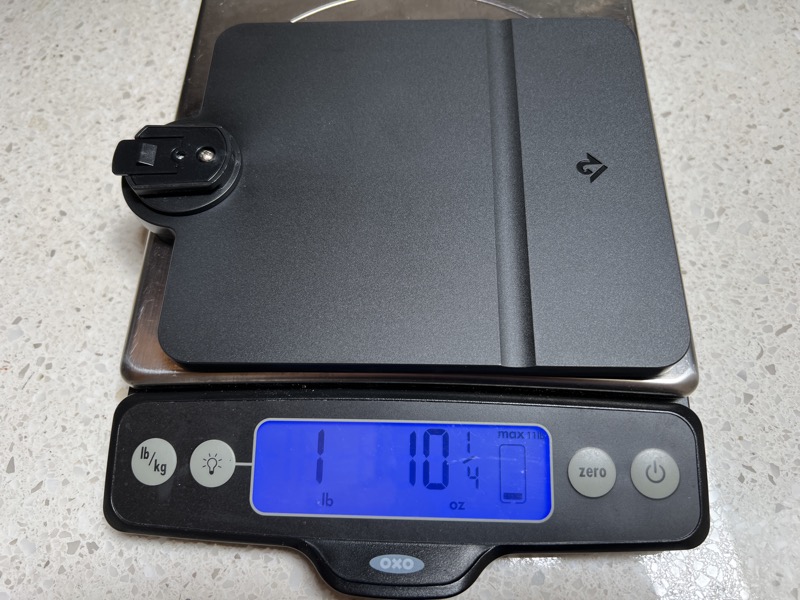 The Duo name comes from the ability to be used as a desk mount or a clamp mount. Here, the arm detaches from the base by pressing a clip and sliding the arm out.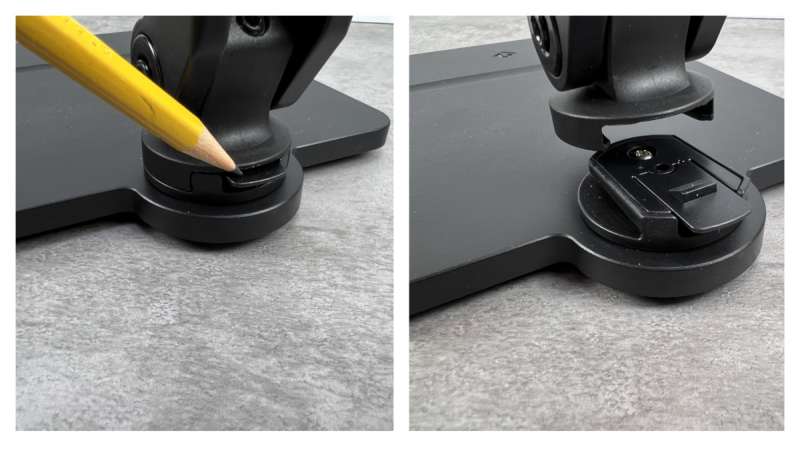 The shelf clamp will fit a range of 0.4 inches to 1.4 inches.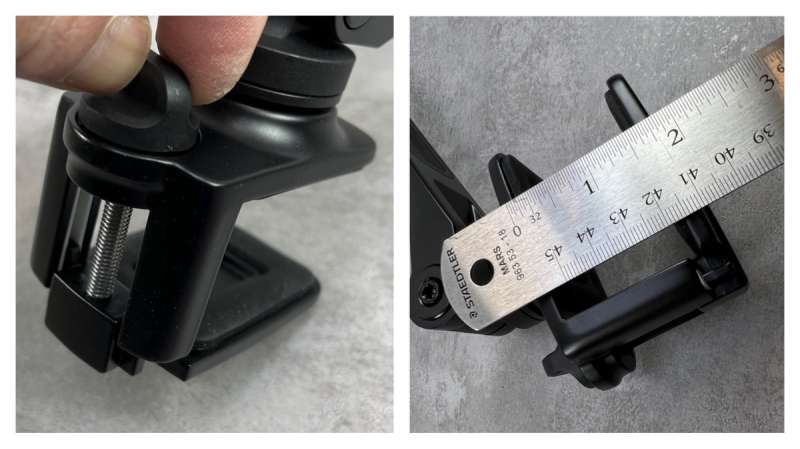 This is the assembled HoverBar Duo in "clamp" mode.
Setup
There are a few adjustments to increase or decrease tension. The included hex keys come in handy.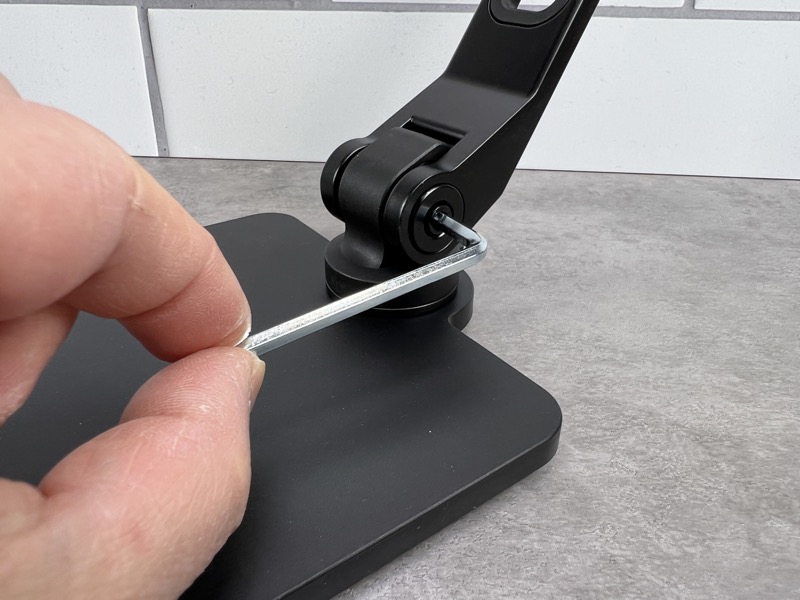 There is also a knob at the clamp to adjust the mount's ball joint.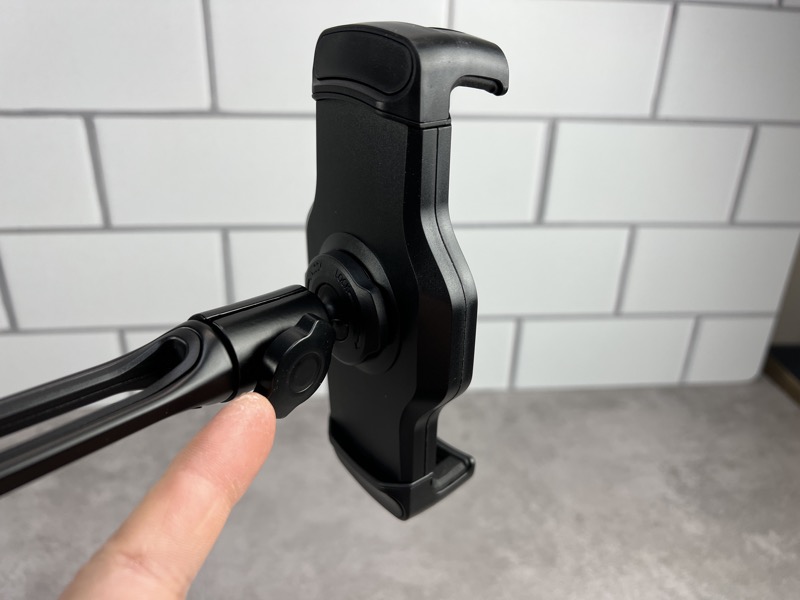 The jointed arm permits a variety of viewing positions. Here's the HoverBar Duo with the tabletop mount.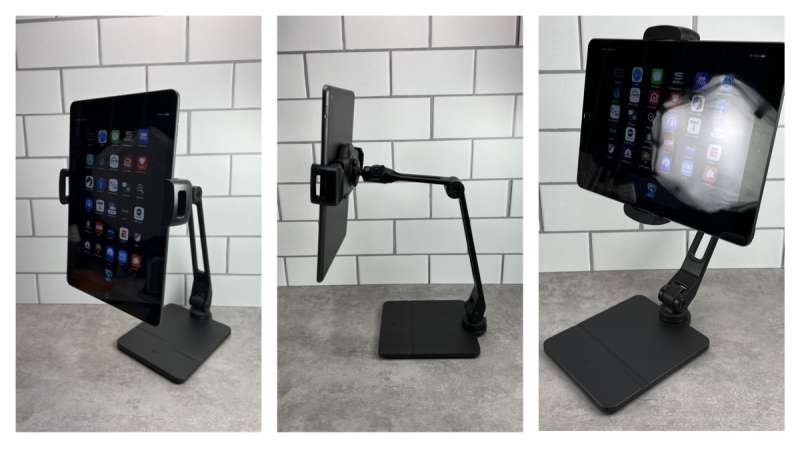 This side view shows the Twelve South HoverBar Duo in its tallest position.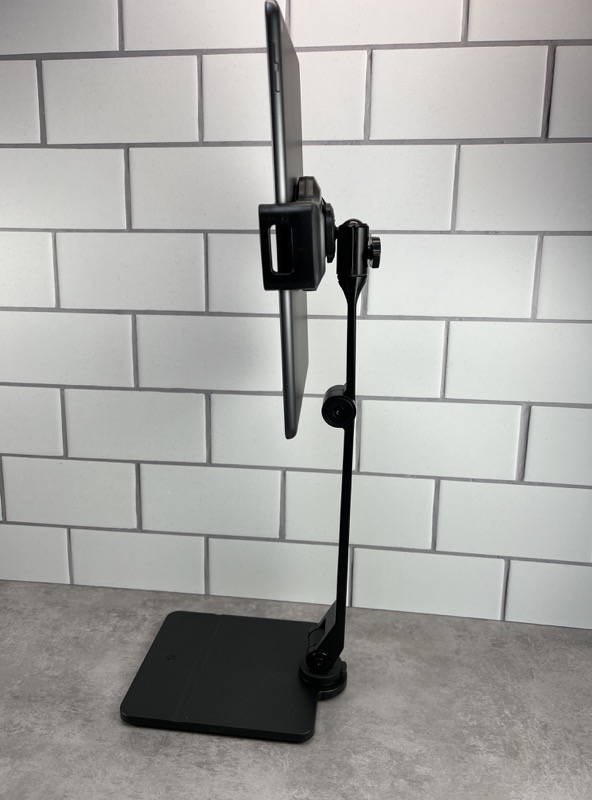 The clamp allows the HoverBar Duo to attach to desk edges, as well.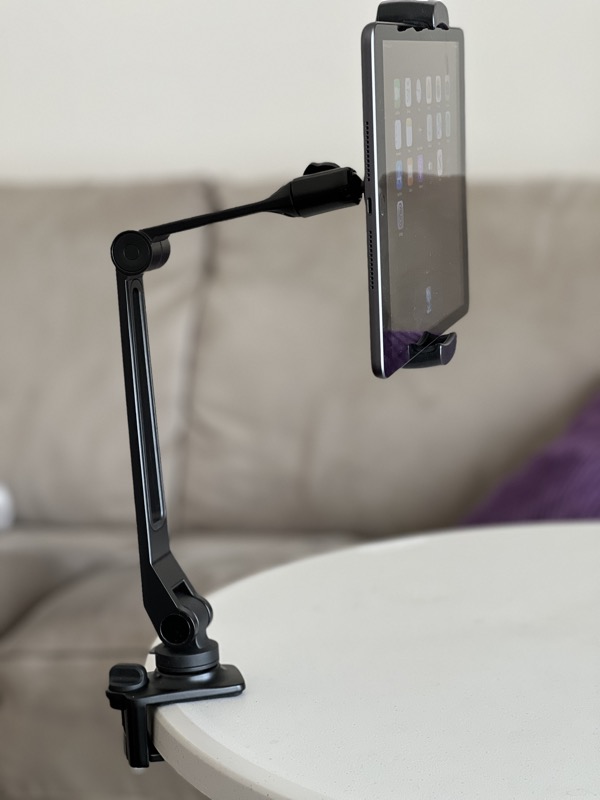 In this example, I looked for a spot in the kitchen. It would not fit under the cabinets but it fit just fine on a shelf.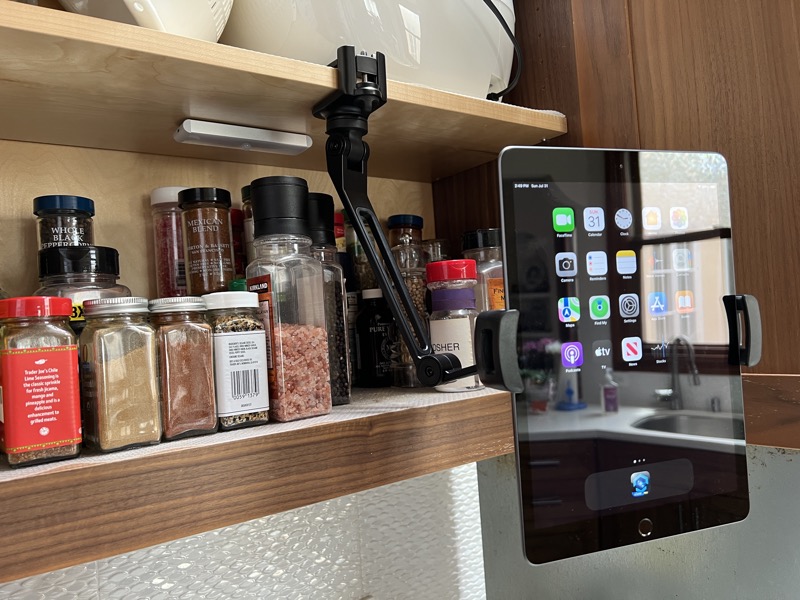 The Twelve South HoverBar Duo tablet holder solved a problem I had: How to mount an iPad as a display. I finally found a spot on a wall shelf where it holds my iPad at an angle next to my desk. It would have taken up valuable desk space!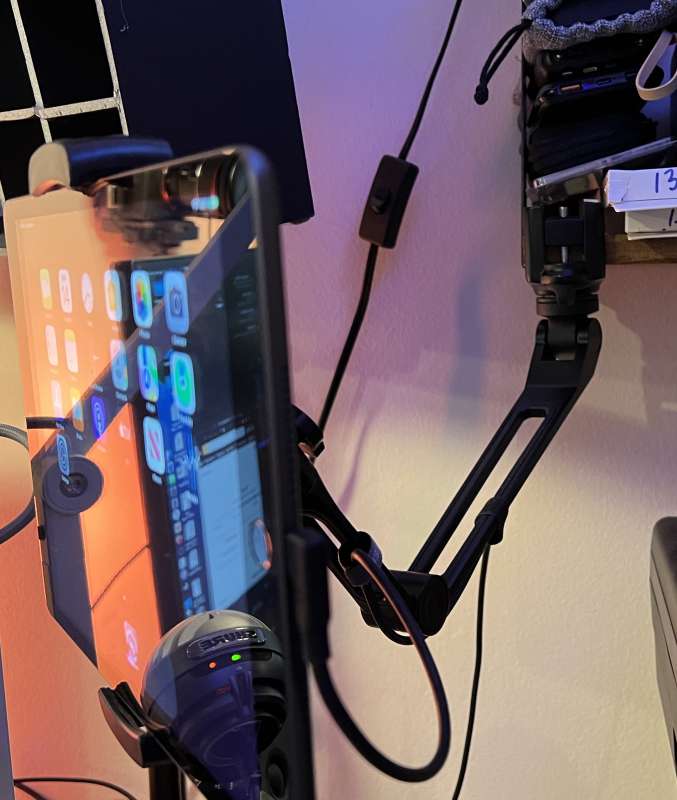 What I like
Flexible mounting (desk or clamp)
Quality hardware
Comes in black or white
What I'd change
Slightly pricey
1.4″ desk clamp may not be enough for everyone
Would be nice if it sold as clamp-only (but then it wouldn't be a "Duo")
Final thoughts
My search for a shelf-mounted iPad stand is now over! My iPad hasn't moved an inch since I mounted it on the Twelve South HoverBar Duo and it's nice to reclaim the space that a desk-mounted stand took up.
Price: $79.99
Where to buy: TweleveSouth and Amazon
Source: The sample of this product was provided by TweleveSouth.