We use affiliate links. If you buy something through the links on this page, we may earn a commission at no cost to you. Learn more.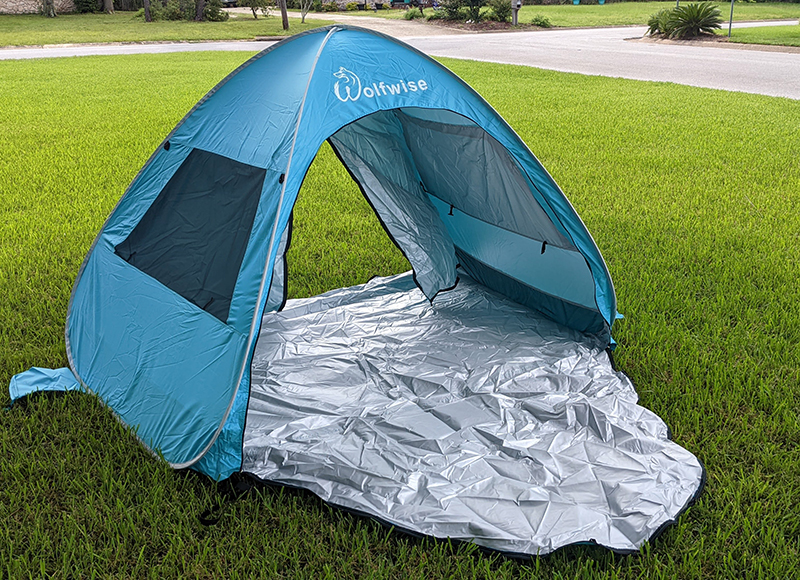 REVIEW- The WolfWise UPF 50+ Easy Pop-Up Beach Tent is a small beach tent for up to 3 people that's relatively simple to set up and a quick way to get some shade
What is it?
The WolfWise UPF 50+ Easy Pop-Up Beach Tent. The name pretty much says it all.  The WolfWise site states it's big enough for 2 adults and 2 kids, or 3 adults if they aren't tall.  Well, that leaves me out.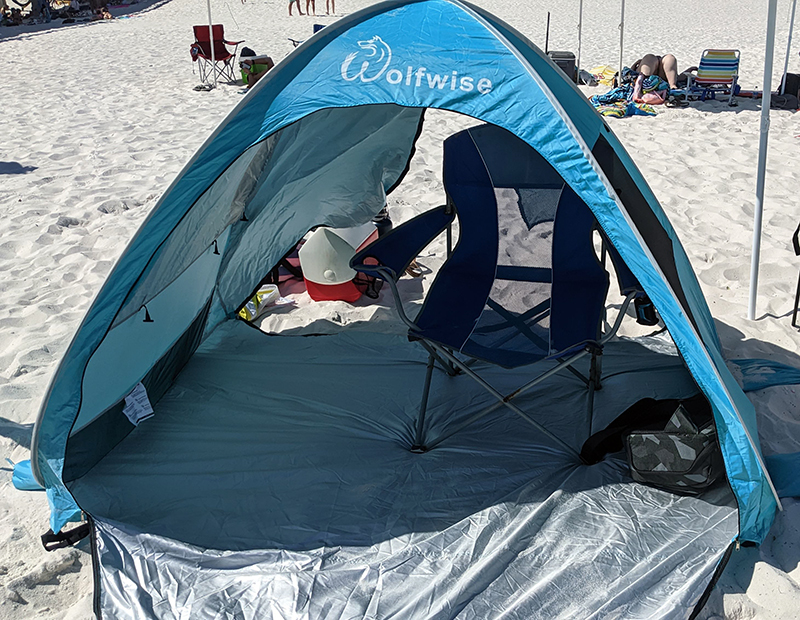 What's in the box?
WolfWise UPF 50+ Easy Pop Up Beach Tent with four sandbags attached
10 plastic tent stakes
4 separate sandbags with wind ropes
Carry bag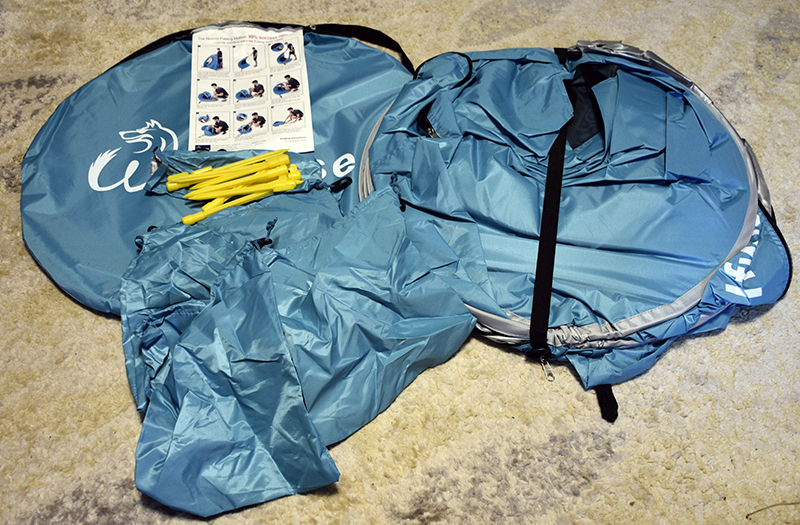 Hardware specifications
Open size: 78.74″ L x 59.06″ W x 53.15″ H with a 39.37″ front porch
Folded Size: 24″ L x 24″ W x 1.97″ H
Weight: 4.96 pounds
Galvanized steel frame
UPF 50+ & Water Repellent
190T Water-repellent Polyester construction
Design and features
On one of our last trips to the beach here in NW Florida, our beach umbrella suffered a catastrophic failure due to the wind, so we needed a replacement. The WolfWise UPF 50+ Easy Pop Up Beach Tent seemed like a good idea, so I opted to give it a shot. It came in a large flat box, like a big pizza. Of course, the tent and all the accouterments were inside the carry bag.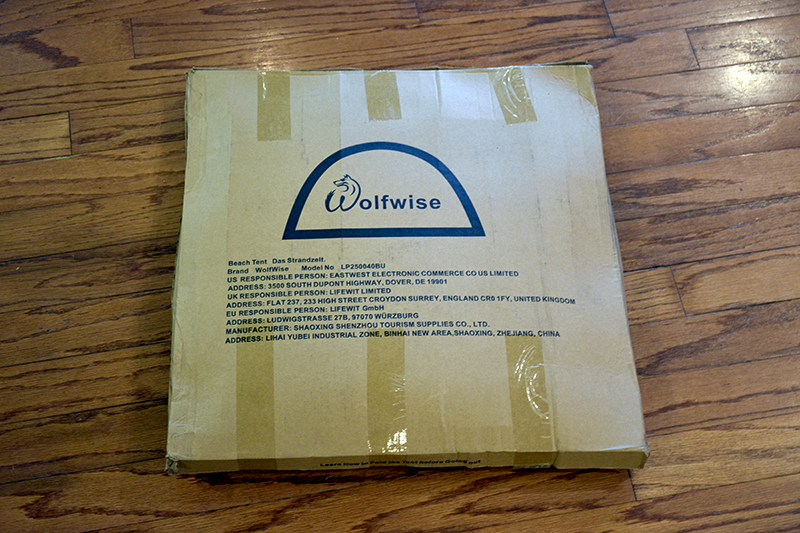 Here's what it looks like when removed from the box.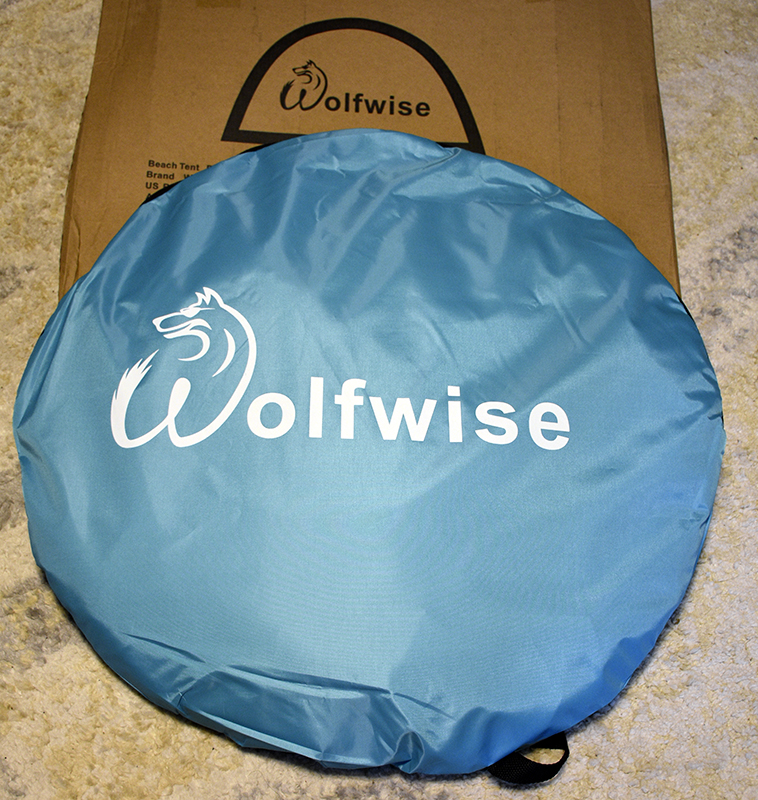 A nice addition is they added their support information on the reverse of the bag.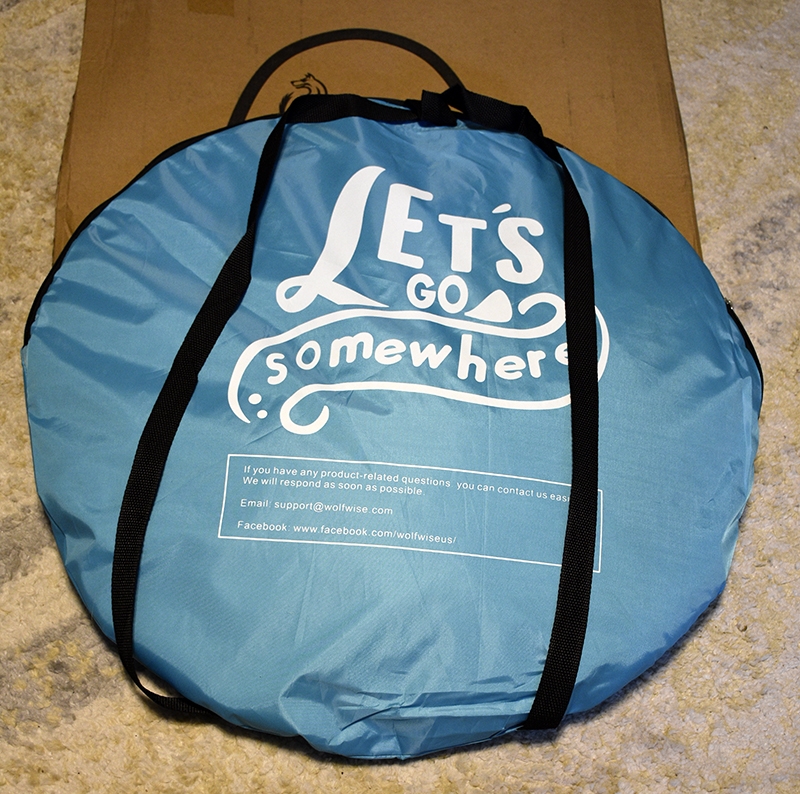 When removed from the bag, the tent looks like a windshield sunscreen and operates the same way as one. Remove the elastic band, let go, and stand back. On the WolfWise website, there's a picture showing a silhouette of a woman throwing it into the air with it landing perfectly upright.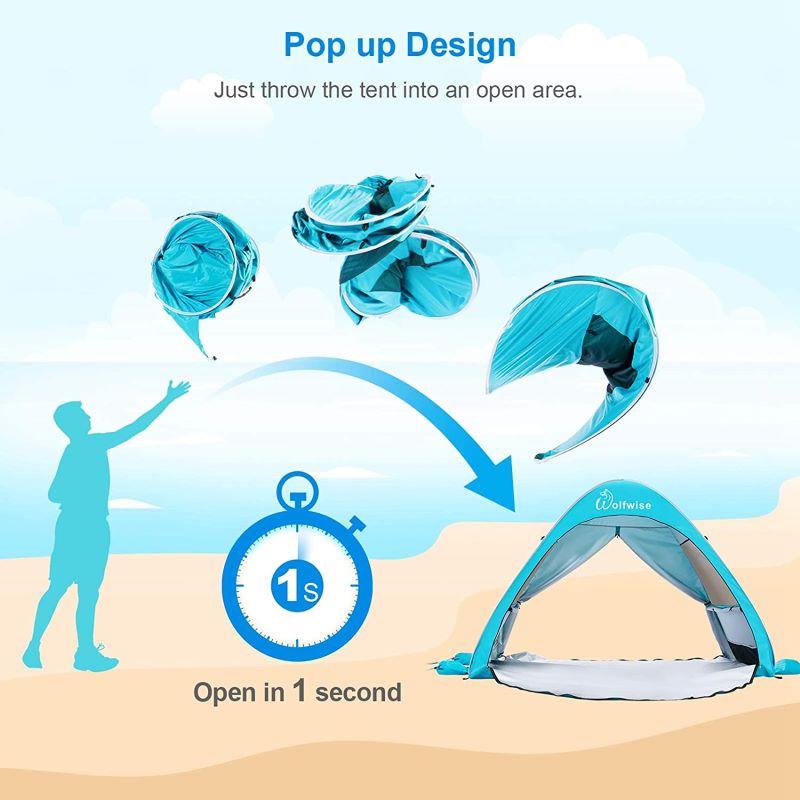 Now I knew better, but if there's any confusion about it, I included a video showing you what to expect when I tried it.
WolfWise UPF 50+ Easy Pop-Up Beach Tent – Transform!
I tried it out in the front yard just to get a feel for it. The polyester material is quite thin, so I'm worried about how it will hold up over time. And I have to say, I was a little disappointed in the size. If I got in with a chair, there was little to no room for my wife. Looks like this tent was going to be for my teenagers' use.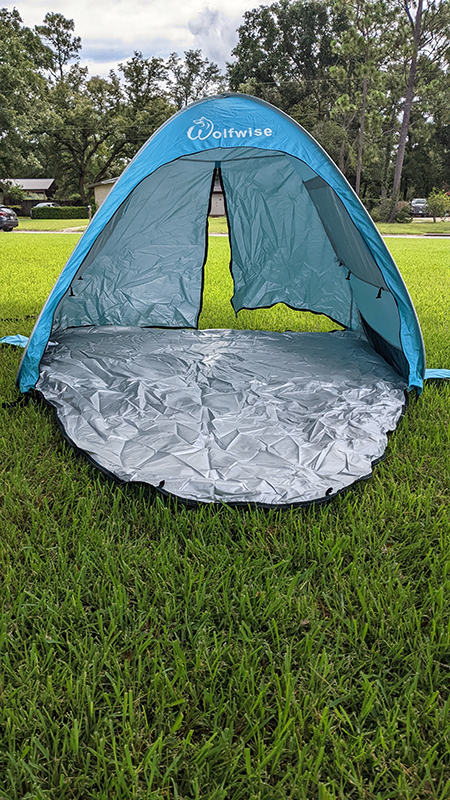 My next step was to take it to the beach for my "real" test. It can get very windy with a steady breeze coming out of the Gulf of Mexico. Remember, I've already lost an umbrella that was only a few years old. Luckily, the wind wasn't as strong making it easier to set up the tent without worrying about having to chase it down if I let go of it for a second. You can see though, even with the light wind, it was leaning to one side.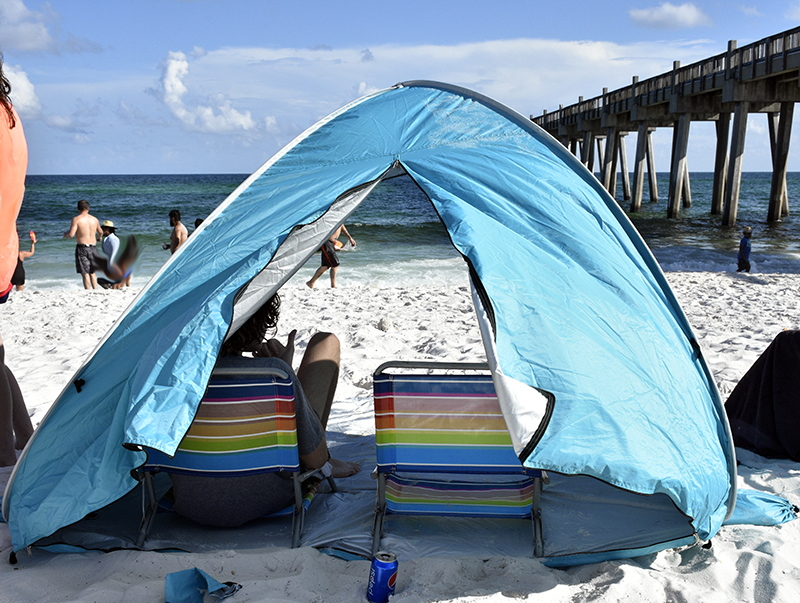 I started with just trying the tent stakes in the corners of the tent, but after popping a stitch and the stake pulling back out, I decided on trying the attached sandbags. This was definitely a better solution. My youngest helped me fill the bags, and I stretched their strings out to stake down. Due to the size of the crowd, I didn't feel comfortable using the other bags since they would cause us to take up a larger footprint and present a trip hazard.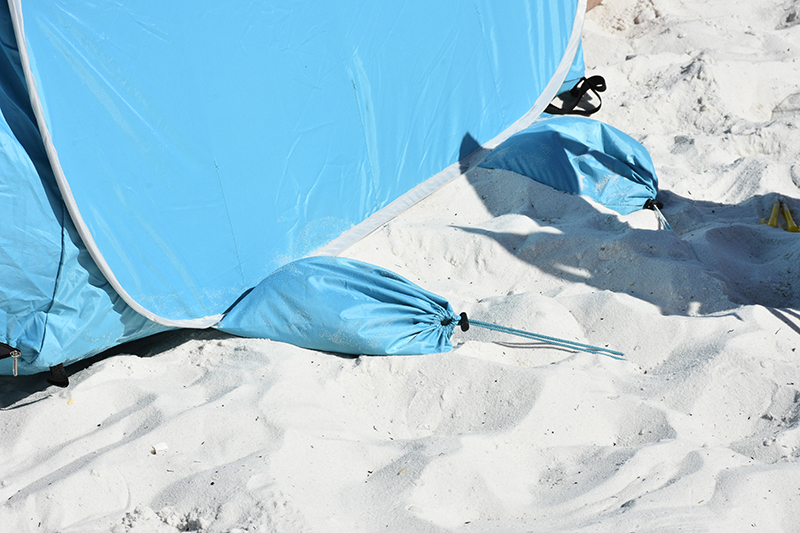 Knowing I couldn't use it I got it set up for my kids. I unzipped the rear door to allow the breeze to go through and put up one window shade to keep out the western sun. Then staked down the front door/porch.
I guess you can say 3 of my 4 giant kids were able to use it. My daughter used one low beach chair and the boys stretched out on the floor. They had no complaints. My worry is how long will it last.  The sun is notoriously tough on these types of material, and due to the thinness, I don't expect it to last long.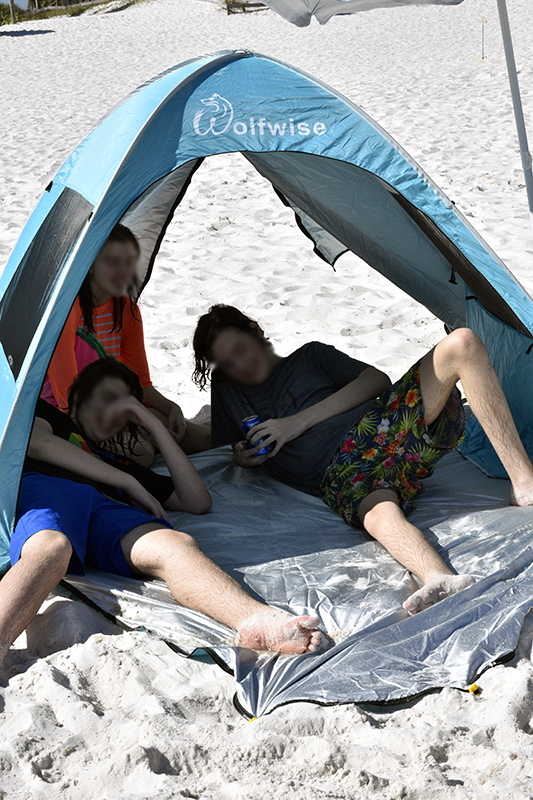 After a few hours, the kids were ready to leave. So begins the packing up ritual. Taking the tent down is not hard to do, and following the instructions sewn into the carry bag, I had no issues folding it.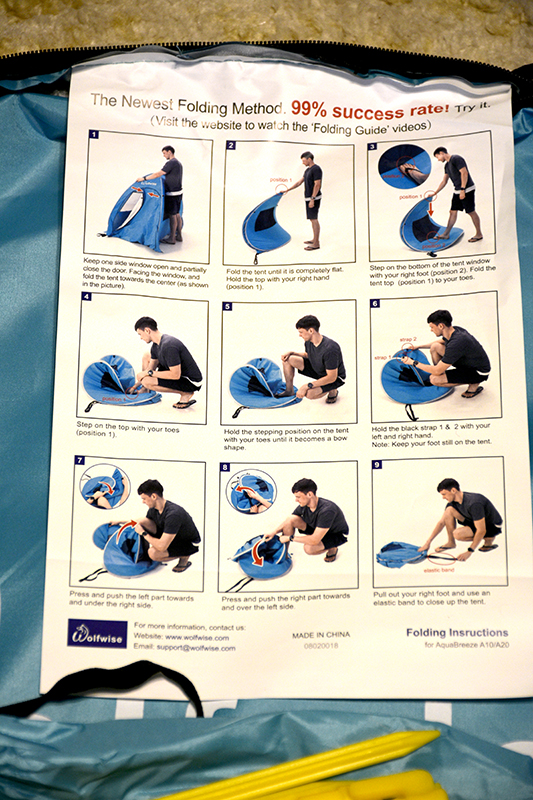 The problem I had is with the amount of sand in the bottom of the tent, especially the wet sand. To get the tent to fold up perfectly, the bottom needs to fold up inside. That wasn't happening today. I made do, got it folded, and secured it with the elastic band. Next was getting it in the bag. My wife had to help with poke, prod, and zip the bag closed.  We got everything back in it, including the majority of the sand that stayed in the bottom.
All in all, the tent performed as advertised. The setup was easy and it kept the sun off the kids. Taking it down was hard either, but both were much easier with an extra pair of hands.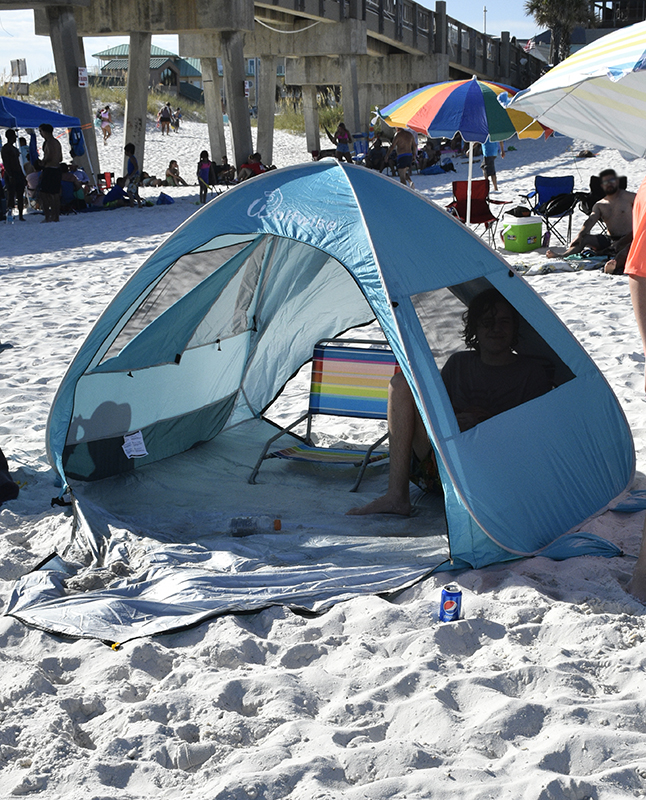 What I like
Ease of setup
Small footprint when in the bag
Folding instructions permanently attached to the bag
8 sandbags to secure it
What I'd change
Final Thoughts
I think the WolfWise UPF 50+ Easy Pop Up Beach Tent is better suited for families with small children than for my family of giants.  I also think it's more suited for playing out in a backyard or sitting in the grass at a concert. For my purposes, I just don't think it'll hold up.
Price: $49.99
Where to buy: Amazon
Source: The review sample was provided by WolfWise