We use affiliate links. If you buy something through the links on this page, we may earn a commission at no cost to you. Learn more.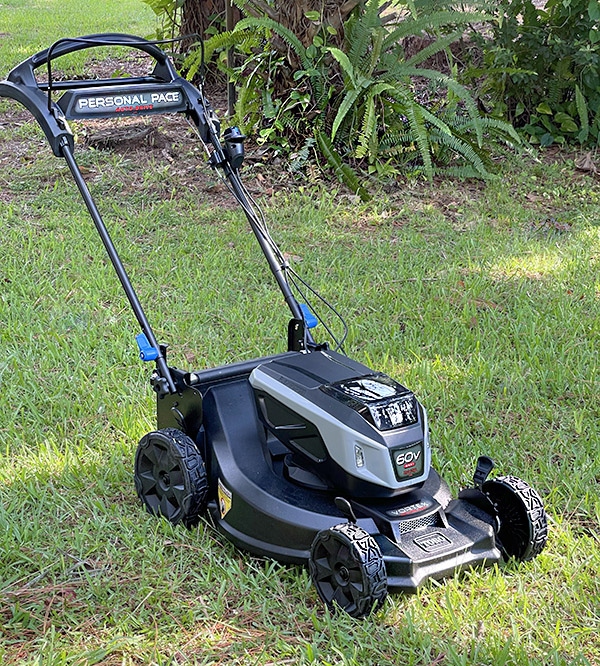 REVIEW – A few years ago, I bought—and really liked—the TORO Super-Recycler gas mower. Then I killed it. In a move too stupid to admit in public, I neglected to check the oil after a year of use. One day as I was pulling the string, it seized—never to start again. I  had to revert to an older mower I despised. It was smelly, loud, and not fun to use. Then Toro came out with a 21" 60V Battery Personal Pace Super Recycler lawn mower that even I couldn't screw up.

What is it?
The Toro 21" 60V Battery Personal Pace Super Recycler lawn mower is the newest mower in Toro's growing array of battery-powered mowers. It is designed much like the gas version, but with an electric battery-powered motor.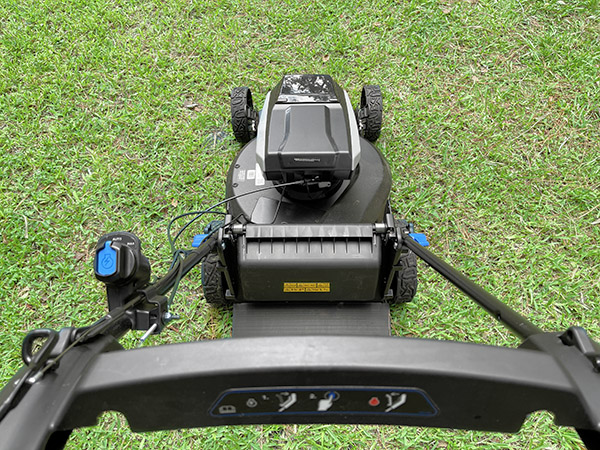 It uses what Toro calls Personal Pace Auto-Drive self-propel technology. The speed of Personal Pace is dependent on how fast you walk (up to 4mph) while mowing. The handle slides forward as you walk. It's an ingenious system that's been included on gas Super Recycler mowers for years. I love it. There is no jerky movement as the mower ramps up to speed. It works smoothly as you begin to walk faster.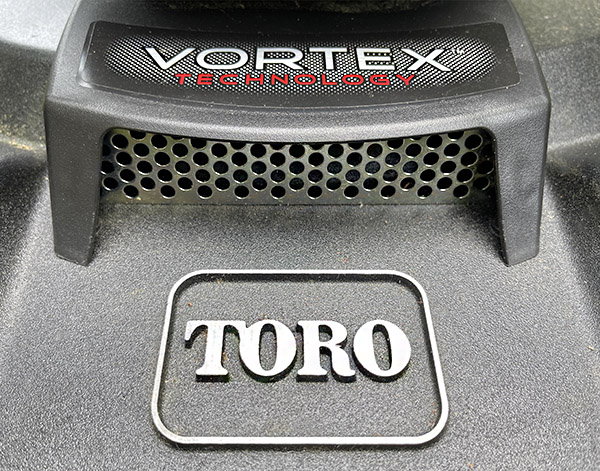 The 60V Super Recycler lawn mower has a cast aluminum deck that's a bit heavy, but solid and rust-free. Toro has what they call Vortex that creates high-speed rotation under the deck, reducing grass clippings to smaller pieces for improved fertilization. If you choose to bag clippings, Vortex's smaller clippings make bagging less frequent. Even so, I never bag clippings. My yard needs all the help it can get.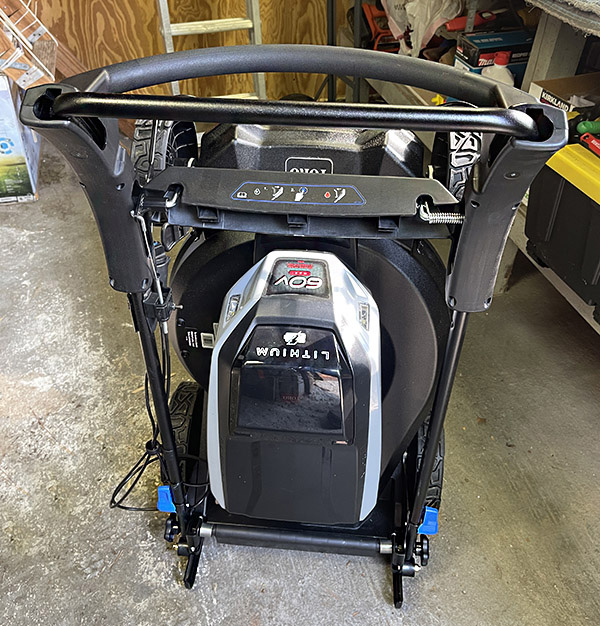 Note that the Toro has SmartStow. Its handle folds over the motor and the mower can stand up vertically taking up much less room in a garage—and since it's battery-powered, there's no gas to leak out!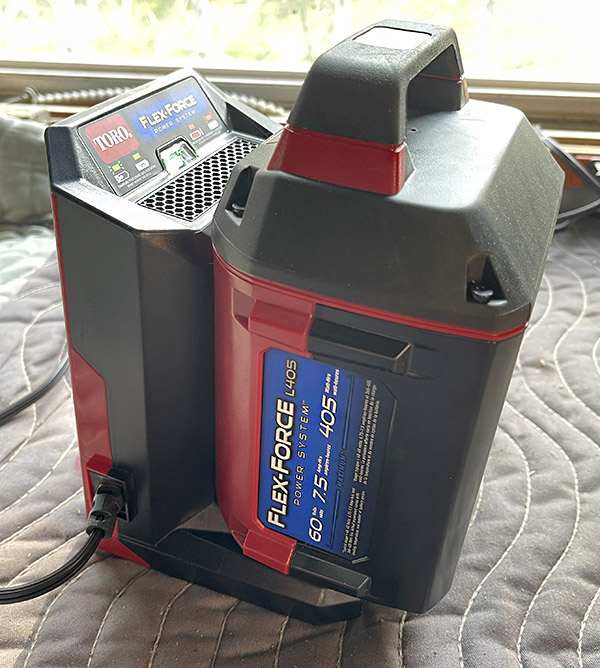 The battery that comes with the mower is interchangeable with all other electric Toro yard tools. The more Toro tools you have, the more Toro batteries you can swap around. The 7.5 ah 60V battery that comes with the mower is heavy but packs some serious power.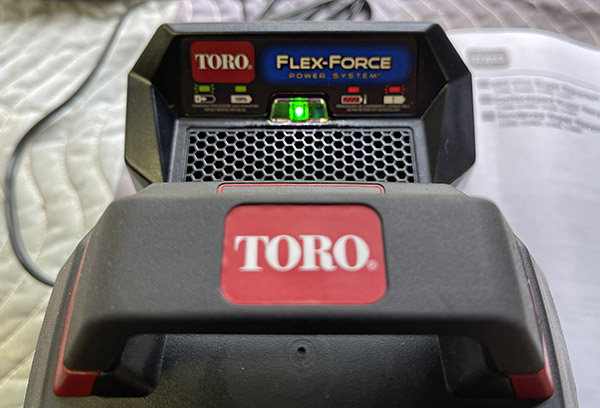 It will last for 50 minutes—enough battery life for standard suburban lawns. My backyard is over an acre, so the Toro battery will not cut the entire yard on a single charge. Toro includes a 2 amp charger for the battery.

Specs
Engine: Brushless DC

Power: 60V 7.5 ah Battery

Charge time: 180 minutes

Mowing speed: Up to 4.8 MPH

Cutting width: 21″

Height of cut: 1.25″ – 4.25″ / 3.2 – 10.8 cm

Run time: 50 min.

Drive system: Personal Pace

Deck material: Cast aluminum

Mulch, rear bag

Handle type: SmartStow, 1 Piece, Adjustable Height

Wheel height: 8" Front and rear

Design and features
Before we get into the review, let's go over some gas vs. battery info.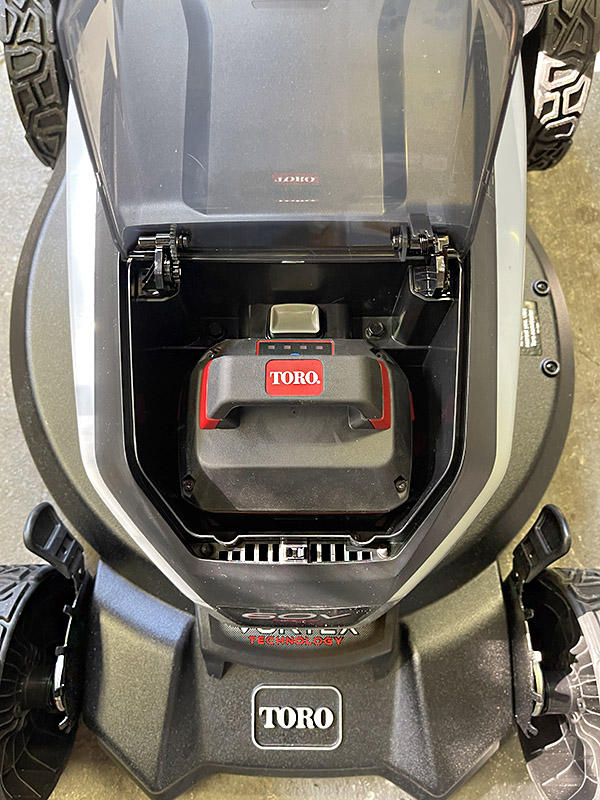 For today's homeowners, battery-powered lawn mowers are every bit as powerful as gas versions with many advantages. There's no gas to buy, no exhaust fumes, no carburetor, much less noise, and no oil to check (yea!). Plus, the battery provides full power up until the time it needs recharging.
There are also some real disadvantages to battery-powered lawn mowers. Batteries will only go so far before needing to be recharged—which can easily take an hour or more to charge. If your property has more than a half-acre, you will need to either recharge before finishing or have an extra battery on hand—an expensive proposition.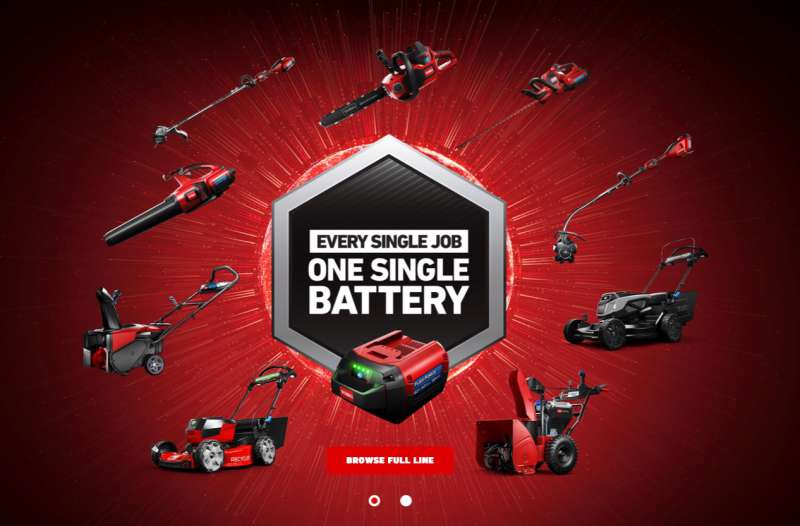 Also, choose a brand wisely if you decide to go electric with yard tools. Once you buy a tool, you are locked into that brand's ecosystem. All yard tool batteries are proprietary. This means that while you can swap batteries among tools (a great feature), they will only fit that brand of tools. If you have one brand of mower and another brand of trimmer, you cannot trade batteries because they have a completely different designs. However, all gas tools use the same gas. In a perfect world, all brands would use the same battery design (like AA batteries), but we all know that will never happen.
Despite all the negatives of battery power vs. gas, I have completely transitioned my tools to battery. Now that battery tools match the power of gas, I will never look back. I dislike the hassles of gasoline engine maintenance that much.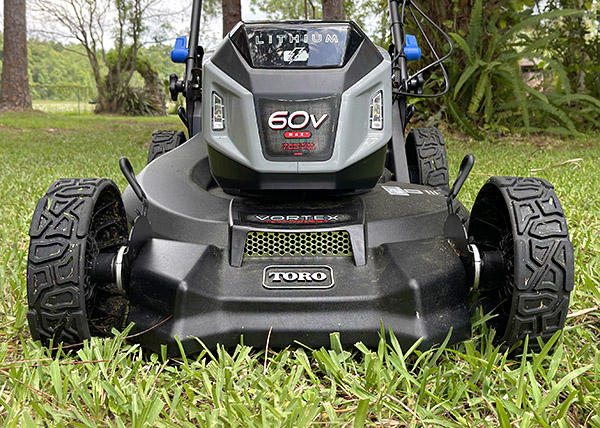 Toro has done a good job making an electric version of their Super Recycler. It has a sports car-like design that looks cool as you mow. It even has high-powered headlights that will actually let you see at night as you mow. I don't use this feature, because, in humid Florida, the night is when the bugs really come out.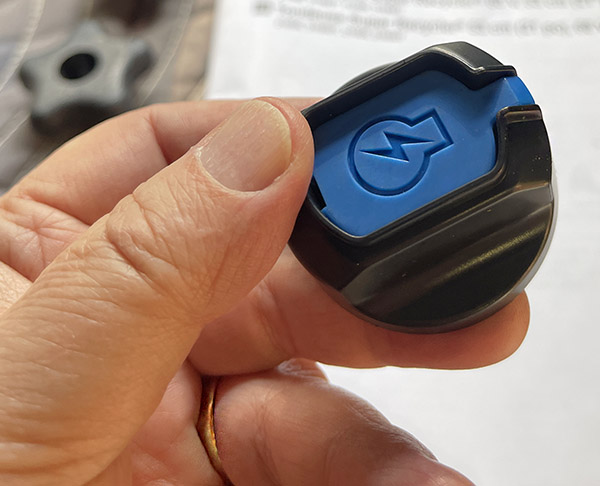 There's not much to set up with the mower. A couple of knobs have to be unscrewed so the handle can be placed on some bolts. Once the knobs are screwed back into place the handle is good to go. One negative with the Toro is that the wiring is exposed. Some mowers have the wiring in a conduit strapped the handle. The exposed wiring is more vulnerable and looks cheap.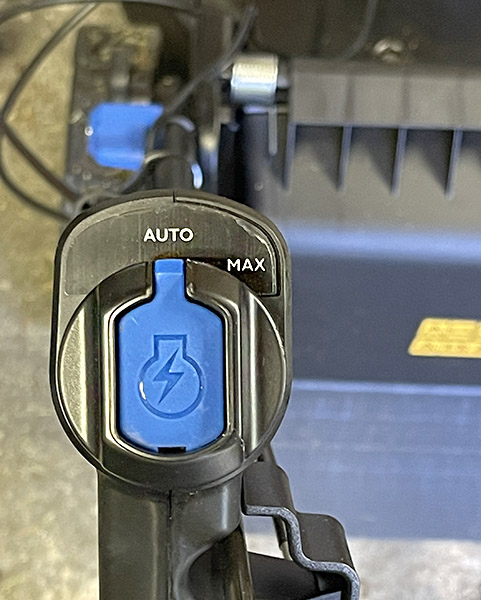 The start button fits on the left side of the handle. It requires a separate "key" that fits over the hole. This key is required to start the mower. Lose it and you're out of luck. A few other mowers have this key setup, but I don't understand the logic behind it.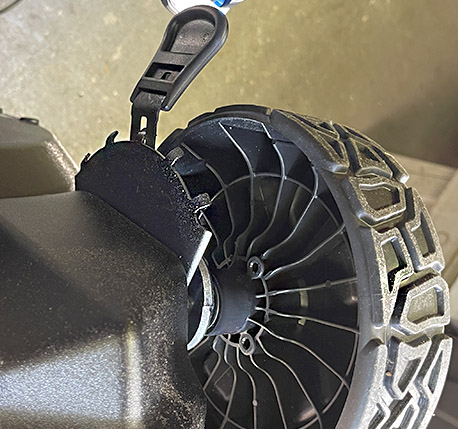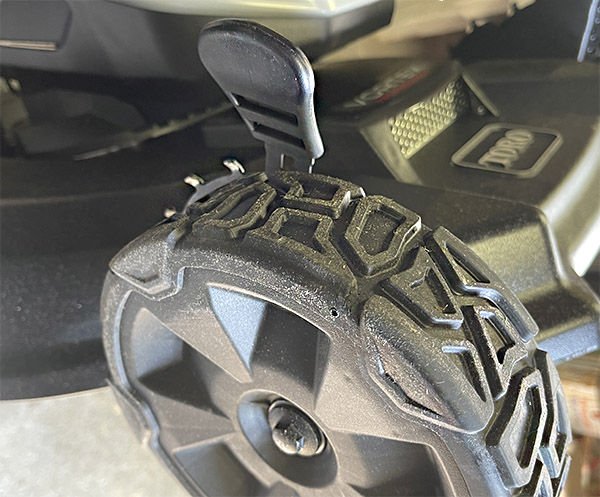 Another thing I don't understand is adjusting mower height. Each wheel is independently adjusted—exactly the same method as with my older gas Toro. It's 2022. Toro needs to adopt a single lever height adjustment feature so many other mowers have. Adjusting each wheel is a pain—especially if you need different heights in your yard.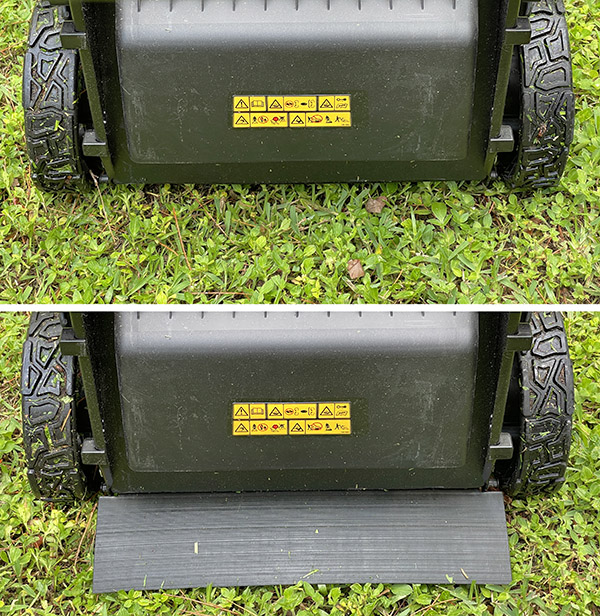 Another thing I've come across is that at a lower deck height, the ground-level protective flap at the back rear of the mower will pull under when backing up but won't reset itself when I proceed forward. It sometimes remains tucked under the deck which creates a drag on the mower. Usually, it will eventually right itself, but should do so quicker.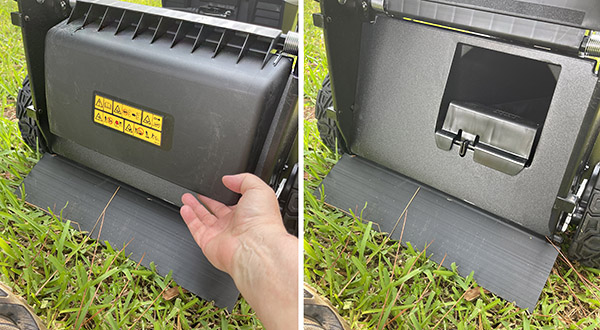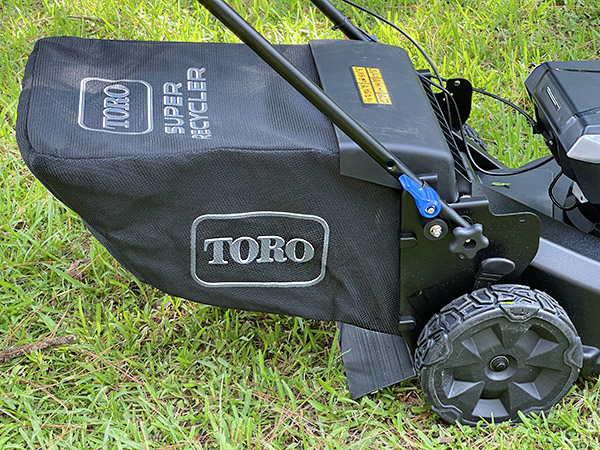 The Toro comes with a large rear bag for catching clippings. I don't use a bag unless I have a neglected area where grass has been overgrown. I will need to bag later in the year when the back part of my yard dries out. Currently, it is under 3 inches of water from all the rain we've gotten overfilling an adjoining lake. It happens. Removing, emptying, and re-attaching the bag is easy to do. What's not easy is removing the mulching plug when the bag is used. Unless you're bagging, the plug must be in place at all times.
Starting the Toro 21" 60V Battery Personal Pace Super Recycler lawn mower is as easy as pulling the bar back to the handle, pressing the key, and walking. No string-pulling! As I said earlier, the Personal Pace self-propelled system works as fast as you do. It is by far, the best self-propelled method on the market. It must be patented because no one else does it this way.
My motes-Operandi for mowing is to wear earplugs and get lost in an audiobook while mindlessly walking back and forth. The Toro is about half the volume of a gas mower, so my earphone volume can be set lower. It's also possible to carry on a conversation without yelling while mowing. And because of the lower motor noise, you can cut earlier in the morning without waking the neighbors.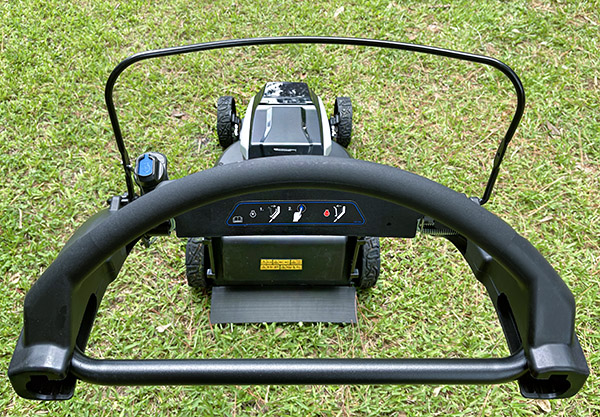 One unsung feature of the Toro is the ability to immediately back up without the wheels locking. When you come to a stop with some self-propelled mowers, the wheels stay in forward mode for a couple of seconds, making it hard to back up or turn without the drive wheels digging into the grass. The Toro Personal Pace system frees the wheels immediately after stopping, so reversing can be done without any delay.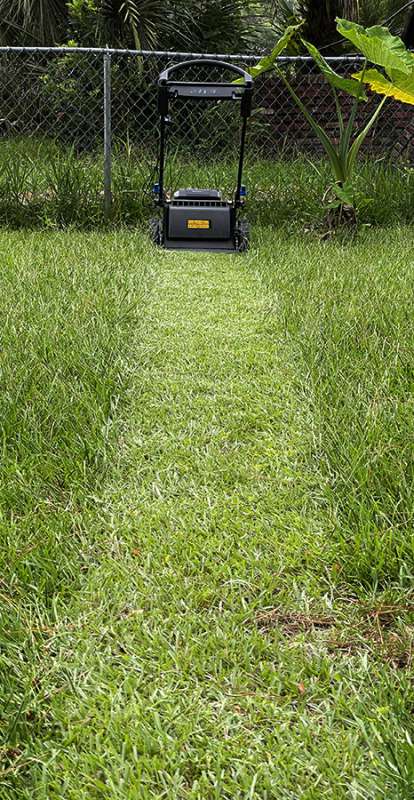 Because of Florida's high ground-water levels, we have a septic mound in our backyard. There's always plenty of self-propelled power, so the Toro navigates up and down the slope of the mound with no problem. Cut quality is really good, but I would expect that on a new mower with a sharp blade. The Vortex system works well. I had no clumping and almost no discernible larger clippings.
Its self-propelled system has two modes: Auto and Max. Auto adjusts the motor's power based on how thick the grass is, so you will hear a difference in the noise level. Max is all-out all the time. Max will shorten battery life. I leave it on auto because the grass is not as thick for most of my yard.

What I like
Personal Pace is the best self-propelled system I've ever used
Aluminum deck
2 power modes
Bright headlights
SmartStow
Reliable push-button starting
Bag easy to use
Looks cool
What I'd change
Individual wheel height adjustment needs to go
The mulching rear plug is a pain to use
The start key can be lost

Final Thoughts
The new Toro 21" 60V Battery Personal Pace Super Recycler lawn mower has all the cool features I loved about the gas version I owned a few years ago. If I hadn't stupidly killed it, it would probably still be happily mowing today. This is a solid mower that's built well and a breeze to use—not counting the individual wheel adjustments. As I said, the Personal Pace system is the best … period. when you add in the stealth look, powerful battery, and the motor's auto mode, you have a mower that can make mowing—dare I say—pleasant. It is deja vu, all over again!
Price: $749.00
Where to buy: Home Depot
Source: The sample of this product was provided by Toro.