We use affiliate links. If you buy something through the links on this page, we may earn a commission at no cost to you. Learn more.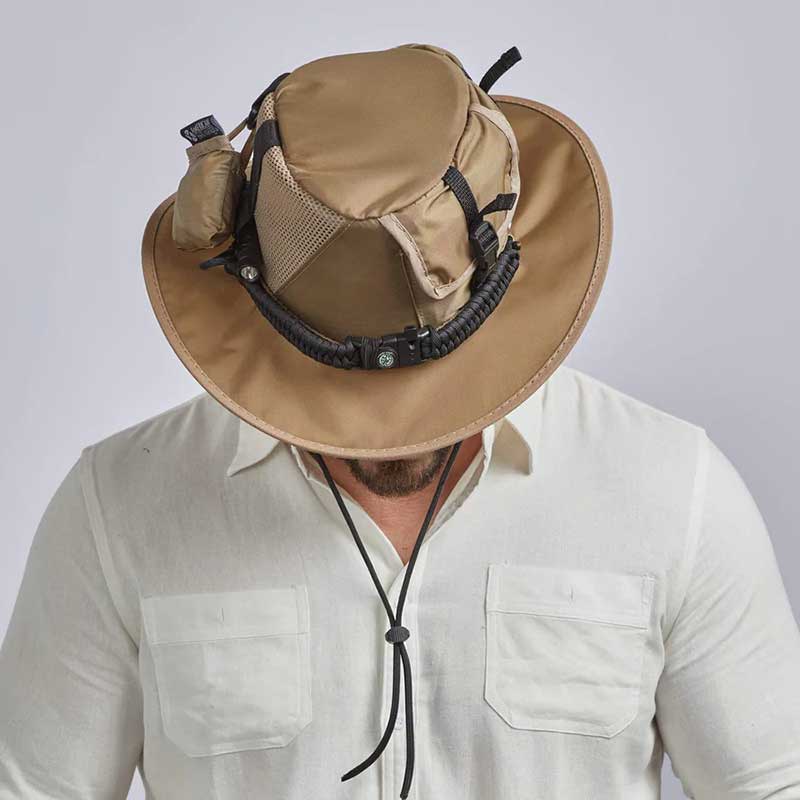 NEWS – Why stuff all your EDC gear in your pocket when you can carry everything on your head?! Yeah, that's right, there are hats that can hold your gear, and today I'm going to show you 5 of them. Make sure you check out all of them because the number 5 looks like the ultimate EDC gear hat. Let me know if you agree.
1. Gone For a Run Ultra Pocket Cap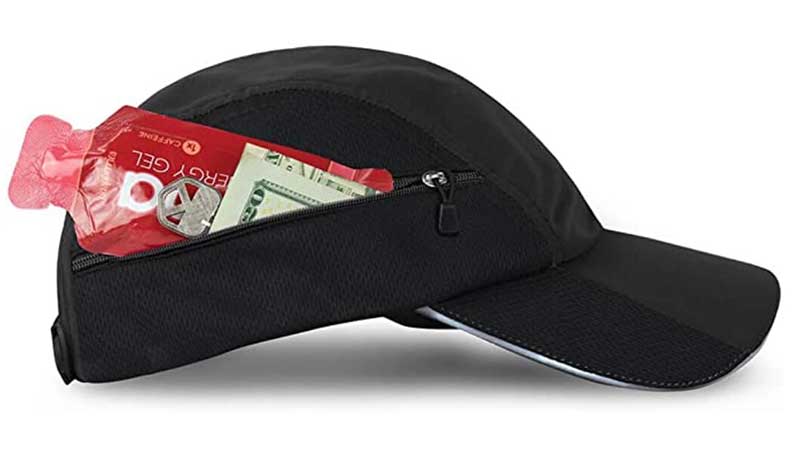 This basic style cap is available in a variety of colors and features moisture-wicking fabric for the dog days of summer. The cap also features a reflective brim if you like to run at night. Of course, the feature you're here to read about is how you can use this hat to hold your gear. The Gone For a Run Ultra Pocket Cap has a zippered pocket on each side that is large enough to hold extra cash, some keys, a small flashlight, knife, etc.
Price: $34.99
Where to buy: Amazon
2. SCOTTeVEST TEC Cap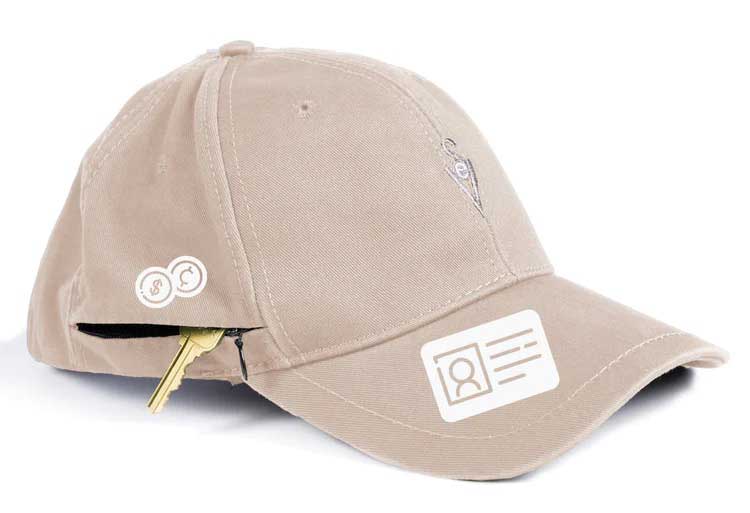 From SCOTTeVEST, the OG of storage clothing comes the TEC cap. This isn't a new item by any means. But it's one of the first caps that featured a zippered pocket for small items like keys, cash, etc. The latest version of the TEC cap has a pocket under the brim and one on the side. The TEC cap is made of 100% cotton and is available in 3 colors with and without the SeV logo.
Price: $29.00
Where to buy: SCOTTeVEST.com
Read our SCOTTeVEST TEC Cap review from way back in 2005.
3. Wazoo Cache Cap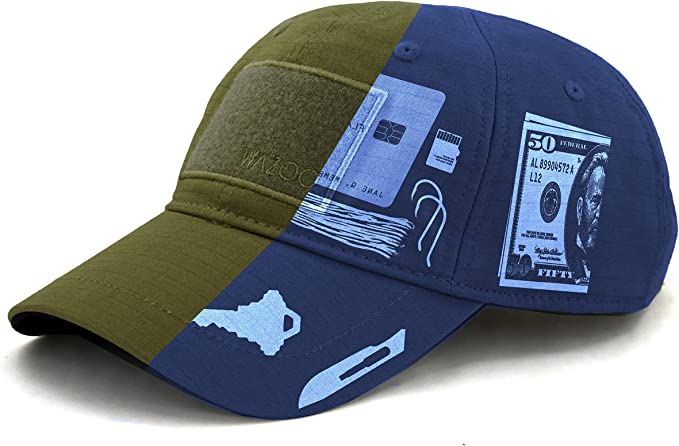 This cap is made of rip-stop cotton polyester fabric and features 6 hidden pockets for even more storage options. The Wazoo Cache Cap is available in 2 colors and has a 2 x 3 inch panel on the front that can be used to customize the cap with your favorite patches.
Price: $32.50
Where to buy: Amazon
4. Nathan Run Hat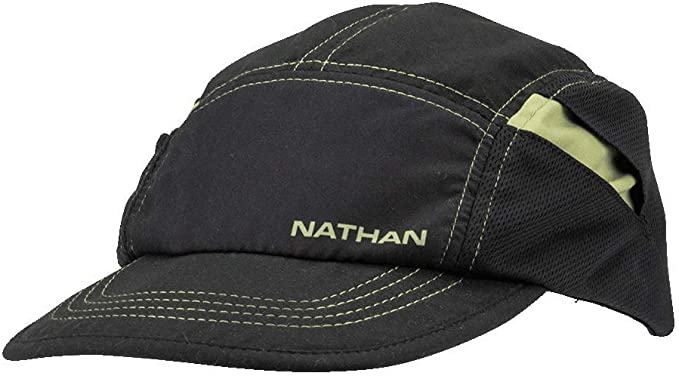 Made of dry tech mesh that will keep your head cool in the glaring sun, the Nathan Run Hat is available in 2 colors and features an open pocket on each side.
Price: $19.06
Where to buy: Amazon
5. Tactical Extreme Survival Prepper Sun Hat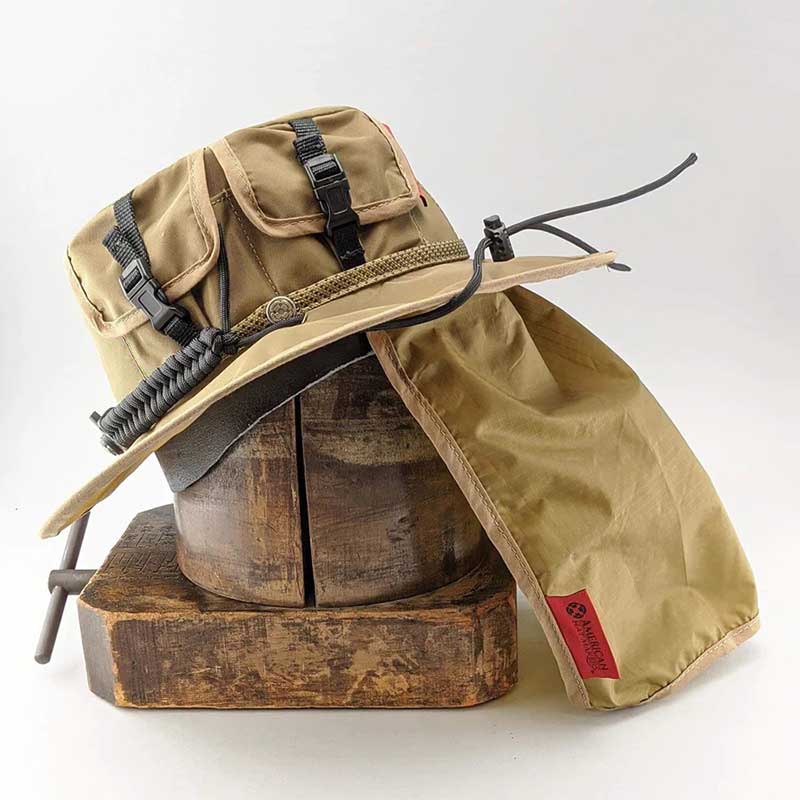 Now, this hat takes EDC storage to the extreme! You'll be able to leave your gear bag at home if you buy the Tactical Extreme Survival Prepper Sun Hat because it has pockets on the outside of the hat and pockets on the inside. It even comes with survival gear like fire tinder, flint and striker, compass, emergency blanket, fishing line, paracord, an emergency whistle, a flashlight, and a phone charger. I realize that this hat is very expensive, but it's made in the US and it comes with a lifetime warranty.
Price: $277.00
Where to buy: American Hat Makers