We use affiliate links. If you buy something through the links on this page, we may earn a commission at no cost to you. Learn more.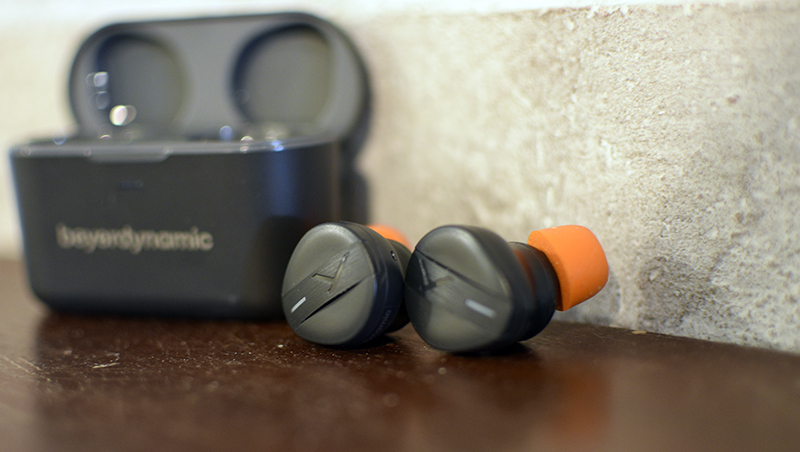 REVIEW- I listen to music on an almost daily basis, usually with wired Over the Ear headphones or wired in-ear earbuds because of problems I've had in the past with Bluetooth versions. Being interested to see if current true wireless buds over Bluetooth could change my mind, I wanted to review the Beyerdynamic Free Byrd True Wireless In-ear headphones
What is it?
The Free Byrd True Wireless In-ear headphones are Beyerdynamic's first foray into true wireless Bluetooth in-ear headphones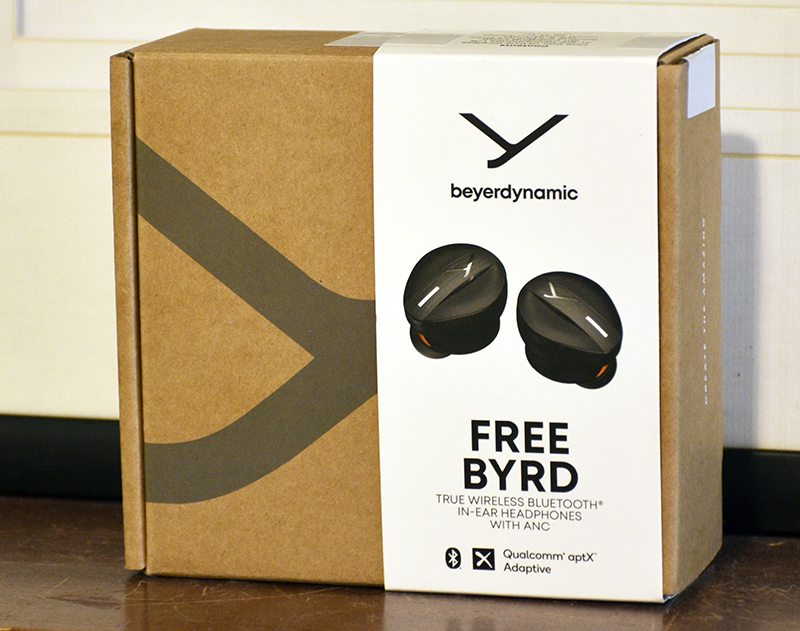 What's in the box?
Beyerdynamic Free Byrd True Wireless In-ear headphones
Charging case
5 differently sized silicone ear tips
3 differently sized foam ear tips
USB C to USB A charging cable
A packet with User guides in numerous languages
Hardware specifications
Earphone

Transducer type – Dynamic
Operating principle – Closed
Frequency response – 10 Hz– 22,000 Hz
Weight (per earphone) – 7 g

Charging Case

Dimensions W X H X D – 43 x 68 x 30 mm

Battery/Charging

Battery type – Lithium-ion
Runtime music – 11 hrs. (1:10 hrs. after charging for 10 min.)
Talk time – 8:30 hrs.
Charging socket – USB-C

ANC/Transparency Mode

ANC topology – Hybrid (Feed-Back and Feed-Forward)
Transparency mode available – Yes

Microphone

Signal-to-noise ratio – 64 dB
Microphone type – MEMS, omnidirectional

Bluetooth®

Bluetooth® version – 5.2
Speech enhancement – Qualcomm® cVc™ (8. Gen.), 2 mics
Google Fast Pair – Yes
Amazon Alexa® built-in – Yes
Firmware update possible – Yes (via App)
Low Latency Mode – Yes

Environmental Conditions

Degree of protection – IPX4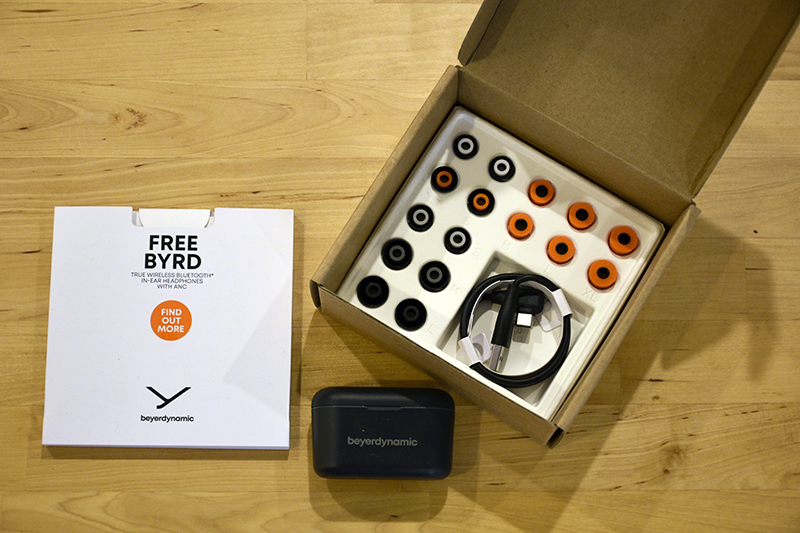 Design and features
The Beyerdynamic Free Byrd True Wireless In-ear headphones are the company's first offering in the true wireless space, and they boast a modern design with legendary audio, outstanding voice quality, and digital active noise reduction.
The design of the earphones resembles a guitar pick which sets them apart from their competitors that I've seen.  That's cool but I only get to see it when I'm not using them. I like their looks better than those with the stems that hang down out of your ears.  I also prefer the design over my pair of Cambridge Audio Melomania 1s which look like you shoved a marker in your ear. To be perfectly honest, I wouldn't buy any earphones based on looks. I want them to sound like they deserved to be priced at what they are.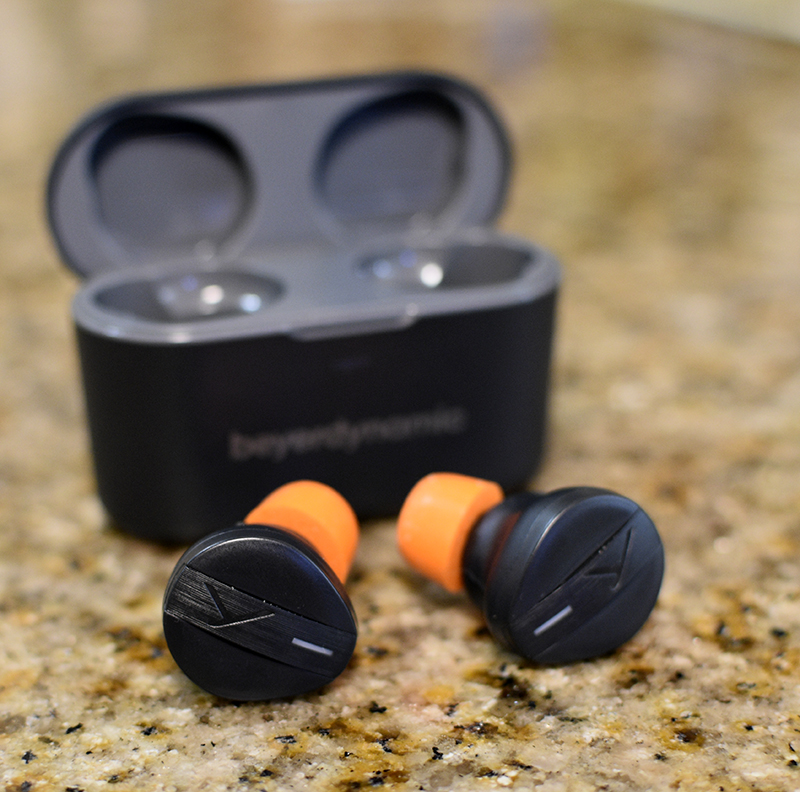 How do they sound? Well, I had three sources to compare them to. I used my Audio-Technica ATH-M50X over-the-ear headphones, Shure in-ear earphones (sorry, these are so old I can't remember the model), and the Cambridge Audio Melomania 1 so there's no true audiophile equipment involved.
The first thing I did was pair the Beyerdynamic Free Byrd True Wireless In-ear headphones with my phone and download the MIY Beyerdynamic app. Initially, I was provided a link to download a beta version since the Free Byrds weren't supported on the current version.  They are now.  My Pixel 4a immediately recognized them when following the information in the Quick start guide.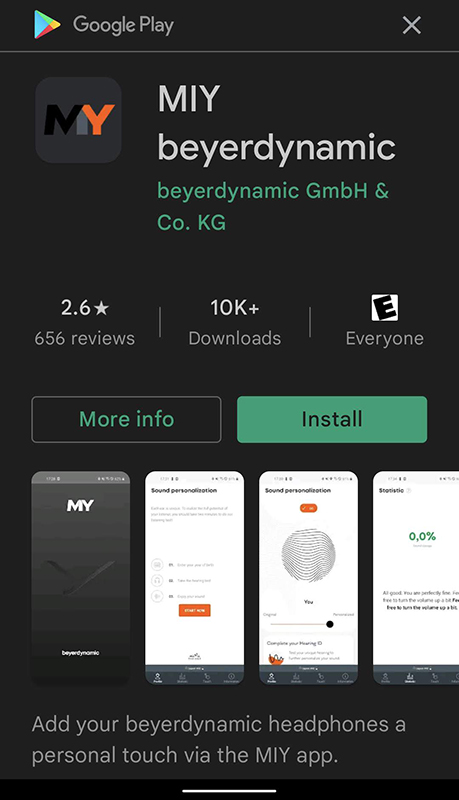 When you open the app, it will determine if the Free Byrds are connected. If not, you'll see this screen.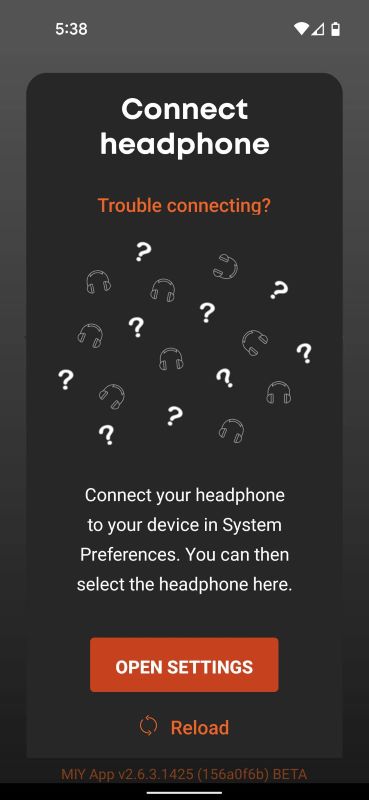 So, you can only use the app when connected which makes sense, I guess unless you're just wanting to review the touch controls or the like. Luckily, the user guide has those, and I needed to refer to them often. Do I need one tap, tap and hold, two taps, two and hold, three? I also had to get used to tapping lower than I wanted to. I kept tapping too high and missing the strip down the center that registers the touch. It's a learning curve but it doesn't take long. Here's what the touch controls look like in the app.

The app also will let you know if there's a firmware update available and allow you to update the Free Byrd directly from the app.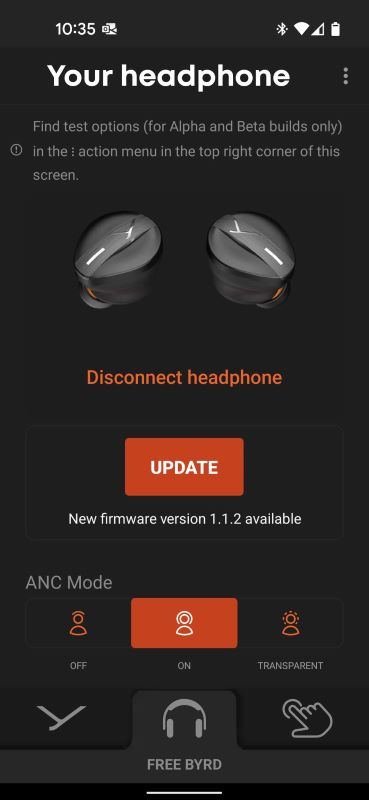 It's pretty much as simple as choosing Update,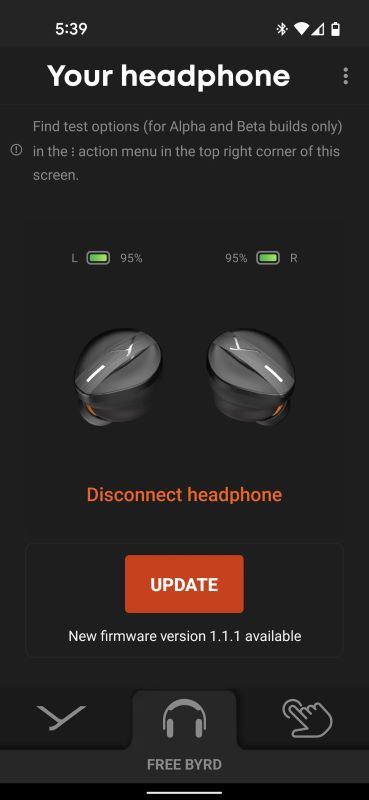 then install now,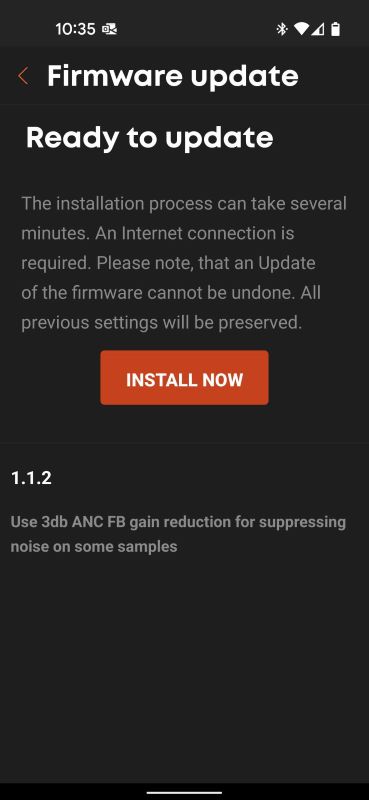 and letting it do its thing. It downloads the update.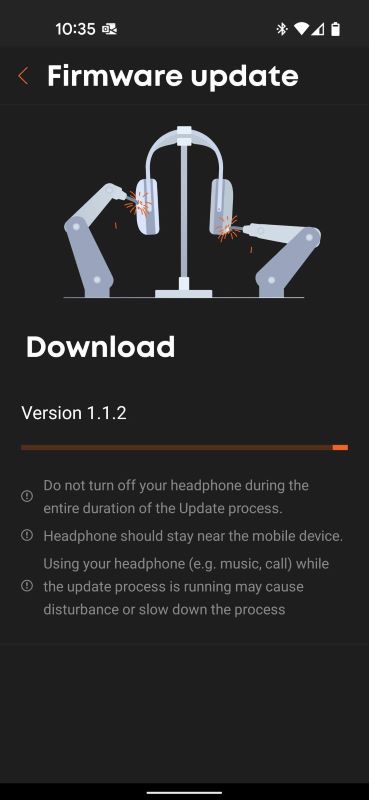 Installs the update.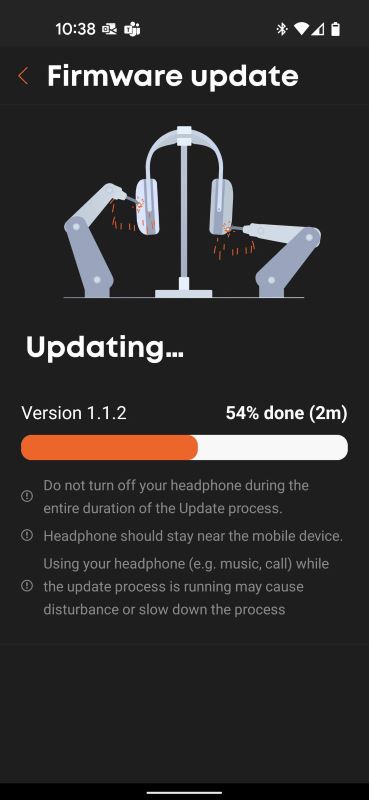 And lets you know when it's done.  That simple.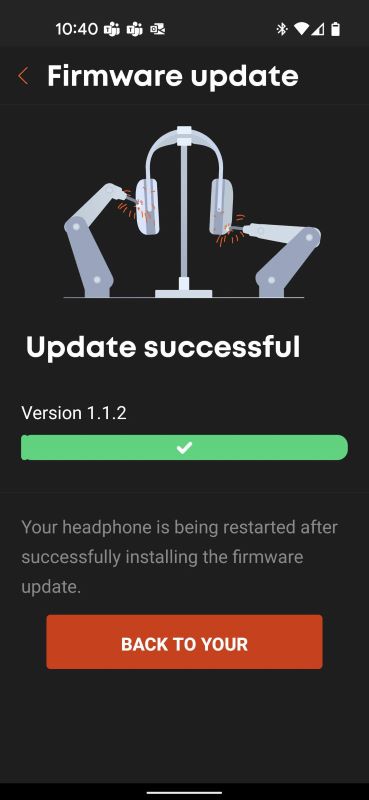 Without messing around with any settings in the app, I started listening to music on my phone. I was immediately impressed. The sound stage enveloped my head and the default EQ setting, entitled Original and equals flat, had everything I was looking for.  The highs were crisp without being tinny, the mids were perfectly clear even for music where the lead singer was too far back in the mix, like Scott Weiland in the Stone Temple Pilots album No.4, and the bass was full without being overbearing or rattling your brain around. They sounded great but a little quiet.  I was a little surprised at how high I had to crank the volume to hear what I wanted. That was before I set up a personalized sound profile in the app. In the app, you touch the orange Settings to the left of the Sound Profile title just below the Low Latency Mode section.

The app will walk you through a hearing test. First, you select the year you were born.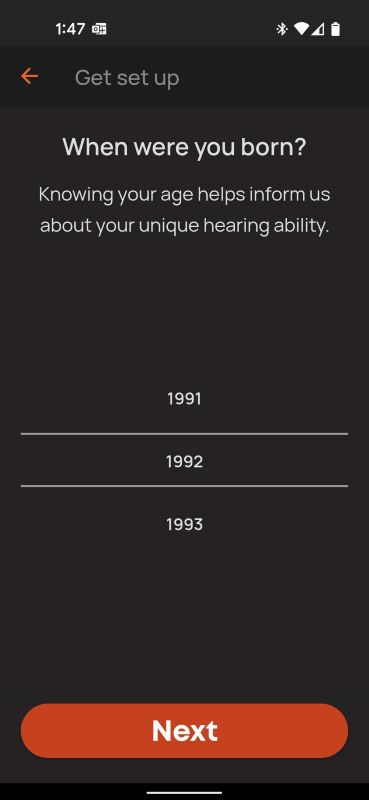 Next, it asks you to make sure that Do Not Disturb is ON and any Audio Effects like the noise cancellation is turned off. Once you click next, you take an active role.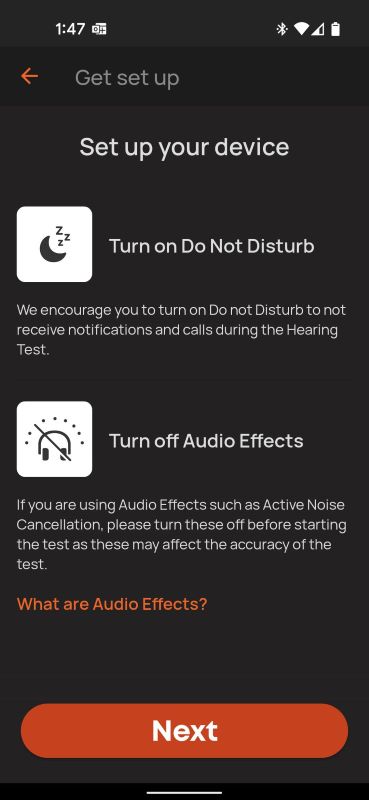 First, it will play white noise and ask you to adjust the volume to a comfortable level. Next, the app "trains" you by telling you to press hold the button on the screen when you begin to hear a series of beeps and release it once you no longer hear it.  This is done for both ears. So that was practice. Now the real test begins. It starts with your left ear and plays a series of beeps the same way it did before. It does this several times increasing the frequency of the beeps each time. It then repeats the process for the other ear. Once complete, you'll get personalized results, like these.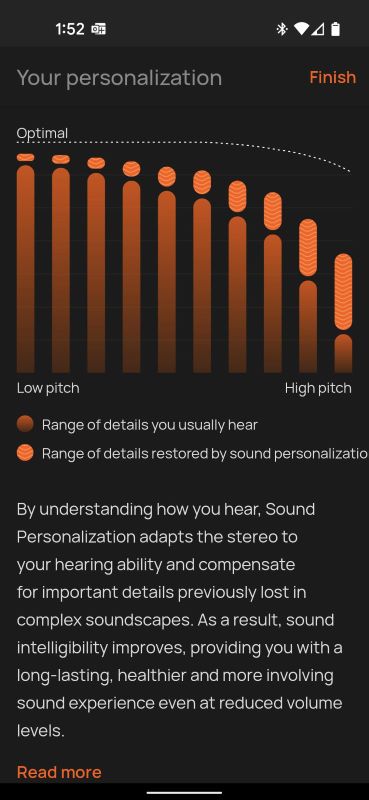 It takes a few minutes to complete the test, but man is it worth it. It really opened these buds up for me.
I listen to all kinds of music; rock, country, R&B, metal, folk, old-school gangsta rap, so a good mix. I didn't find a single genre that didn't sound fantastic thru the Beyerdynamic Free Byrd True Wireless In-ear headphones. They probably won't appeal to bass heads but if you like to hear all the music on a track, these more than fit the bill if you can get a good seal. I guess I have weird ear canals because I can never get a good seal on my right ear regardless of the type of ear tip I use. Most of the time, regardless of silicone or foam, the ear tips slowly work their way out of my ears. I will say I got a better fit with the foam even though they seem a little short. I don't think they go far enough in the canal for me to get a good seal. But that's me. You may have a different experience. Beyerdynamic includes all the different sizes saying you might need to use two different sized tips to get the seal you're looking for. I just wish there was a case provided for storing them.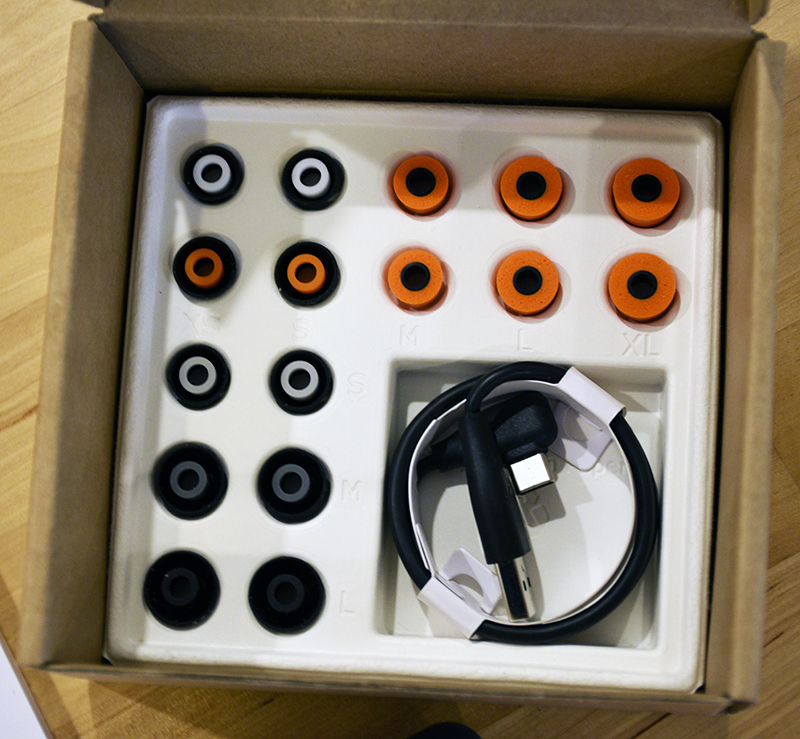 Here's one experience I had I want to share with you.  After getting my personalized settings I was listening to music on my phone when Disturbed's live version of their cover of The Sound of Silence with Myles Kennedy started playing. Whenever I hear any song where there's good harmony between singers, I get goosebumps. With the Beyerdynamic Free Byrd True Wireless In-ear headphones, I was able to hear much more of Myles Kennedy's higher harmony than I ever had with any of my other headphones. I basically had goosebumps for the entire 4 minutes and 53 seconds of the song. Let me just add, that I got better sound from my phone since it supports the newer Bluetooth version than I did from my laptop which doesn't. The use of the apt X and AAC codecs makes a difference.
Sound quality for phone calls and teleconferencing using the Beyerdynamic Free Byrd True Wireless In-ear headphones?  I have no complaints about cell phone calls. I could hear and be heard just fine.  With MS Teams calls, however, there was the complaint of an echo effect. Considering the amount of, ahem, quirks I've experienced with Teams; I won't blame the Free Byrds.
I tested the buds with movies too, stuff like Blade Runner 2049, The Matrix, 300, Dune, and others. I was impressed with the sense of surround I got with them.  One example is the lobby scene in The Matrix where Neo and Trinity go to rescue Morpheus. When the action goes slow-mo and the shell casings are bouncing off the marble floor, you clearly hear the ting as each hits and bounces around you.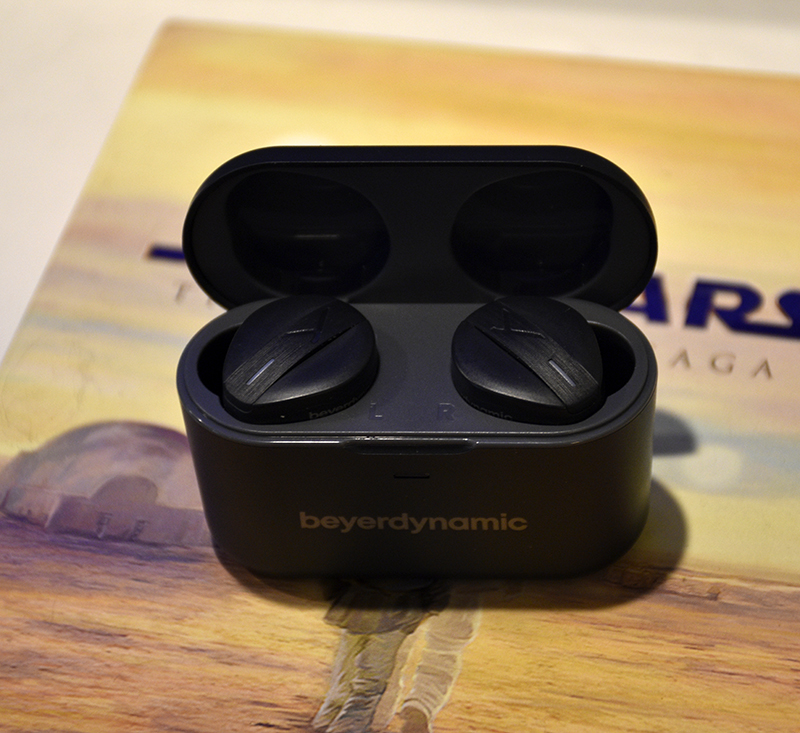 Automatic Noise Cancelling and Transparency mode are nice to have. I keep the ANC on to keep the ambient noise of my home office to a minimum. I don't like switching to Transparency mode to hear my wife simply because of the touch controls.  It's easier for me to tap once and pause the music. I can see where it would be useful if I had to navigate busy city life. ANC doesn't seem to work all that well right now but it's most likely due to my ears and not getting a proper seal. If that's not the case, maybe a future firmware fix can resolve it. I've gotten 2 updates since I first started using them.
Let's talk about battery life. Beyerdynamic says you can get 11 hours of playtime while listening to music and 8 ½ hours of talk. I can't attest to that.  I have used them while working from home for up to 7-ish hours, but my ears tend to start hurting at around 6. This is with any earphones I use, so I never got to the 11th hour.  And as far as I can tell, you can't just take the Beyerdynamic Free Byrd True Wireless In-ear headphones out and let the music play. As soon as you remove one with media playing, it automatically pauses. A neat feature in my book. I was able to easily get a full workday without them dying on me. To recharge them, simply plop them in the charging case and let it go to work. Once the case gets low, just connect to any USB connection via the included USB C to USB A cable.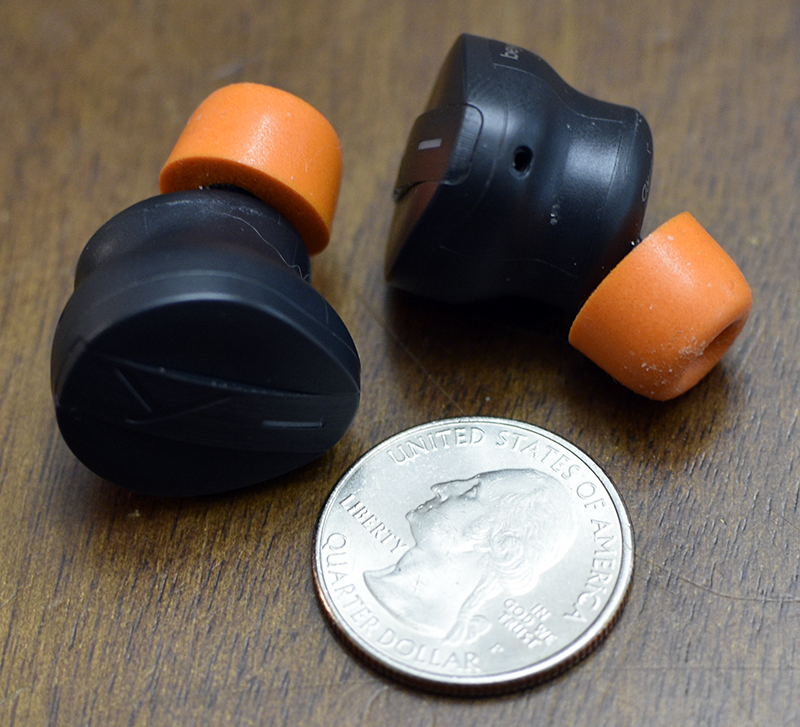 What I like
The sound
Personalized to my hearing via the app
Good battery life
USB C charging port
Firmware updates via the app
What I'd change
Simpler touch controls if possible
A case to store all the extra ear tips
Final Thoughts
I know this review is kind of long. I hope I covered everything you wanted to read. If not, feel free to leave questions in the comments and I'll respond. I can't say enough about the Beyerdynamic Free Byrd True Wireless In-ear headphones. I love them. With my personalized sound profile, I'm hearing things I never heard before in my favorite music and movies with, in my opinion, the perfect mix. I hope Beyerdynamic keeps updating the firmware. It'll be interesting to see if they can improve on how great the Free Byrds already are.
Price: $249.99
Where to buy: Beyerdynamic and Amazon
Source: The review sample was provided by Beyerdynamic