We use affiliate links. If you buy something through the links on this page, we may earn a commission at no cost to you. Learn more.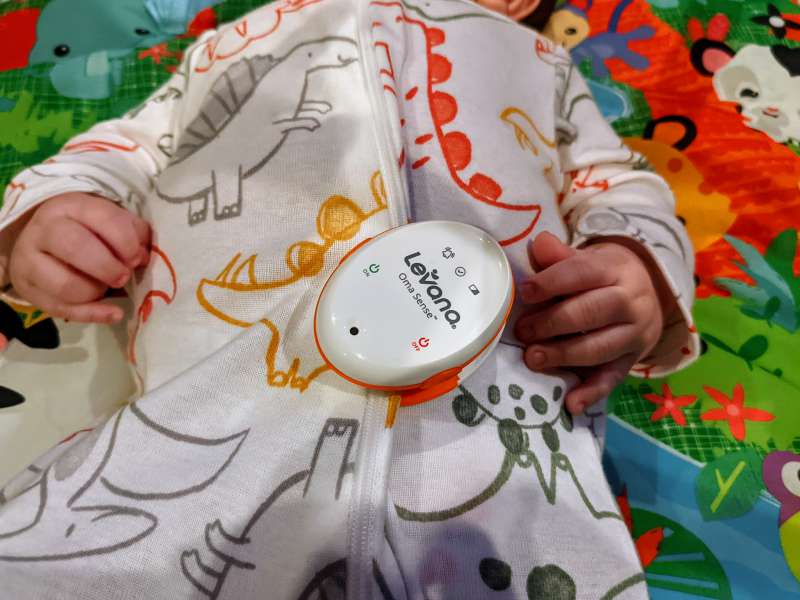 REVIEW – New parents have so much to worry about these days, from getting proper formula to deciding on whether or not to get their baby vaccinated against COVID-19. Along with these new concerns come old standbys like is that rash normal, why hasn't he/she pooped today, and is the baby sleeping safely?
Technology might not be able to help much with poop regularity, but there are devices that can help check if a baby is sleeping safely at night. The Levana Oma Sense Baby Movement Monitor is one such device. While it's quite expensive at $174.99 and doesn't have a slew of features, it does its job properly and is currently working hard monitoring my tiny test subject's naps and bedtimes.
What is it?
The Levana Oma Sense Baby Movement Monitor is a small, standalone, battery-powered sensor that, when attached properly, continually monitors infant abdominal movement and alerts caregivers when no movement is detected.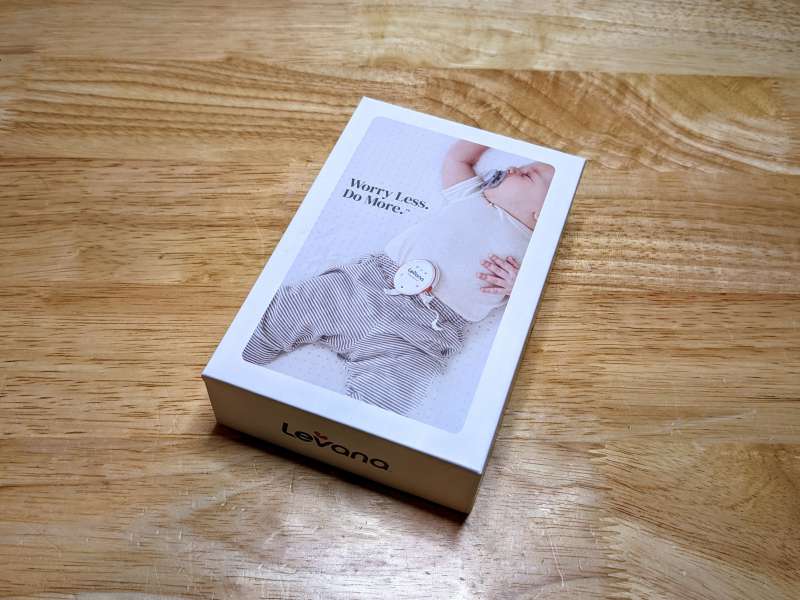 The Oma Sense ships in a small white box featuring a picture of a cute slumbering little one on the front and Levana branding on the sides. The unit is kept safe, contained in its plastic carrying case inside the box.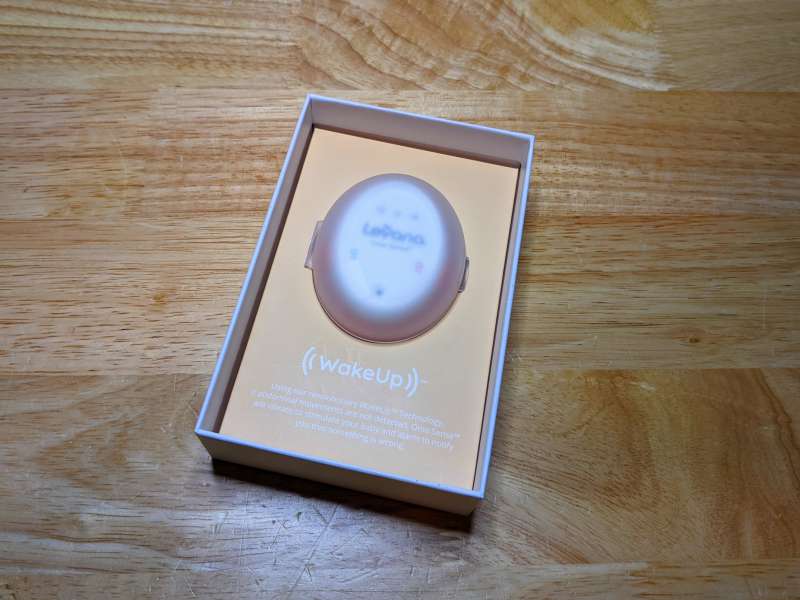 What's in the box?
Levana Oma Sense Baby Movement Monitor

1 x Panasonic CR2450 Battery

Carrying Case
Quick Start Guide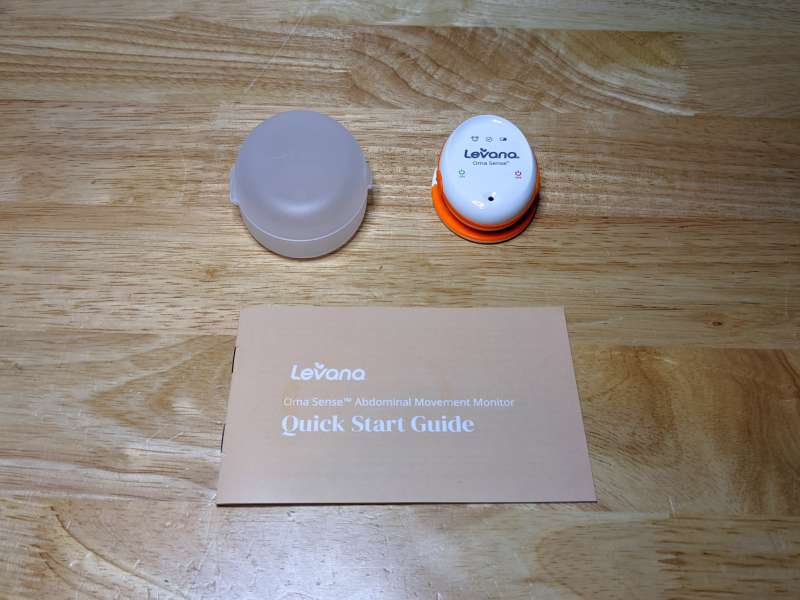 Hardware specs
Size: 2.4 in. (61.2 mm) H x 1.92 in. (48.8 mm) W  x 1 in. (25.4 mm) D
Weight: 11 oz. (31.4 g)
Materials: Medical-grade ABS plastic and TPE polymers
Battery: Panasonic 3V CR2450, 620 mAh
Battery life: Up to 30 days (with normal usage)
Alerts: Vibration & Audible
Sound Output:

70 decibels at 4 in. (10 cm)
60 decibels at 12 in. (30 cm)

Water and Dust Rating: IP53
Suitable Ages: 0-6 months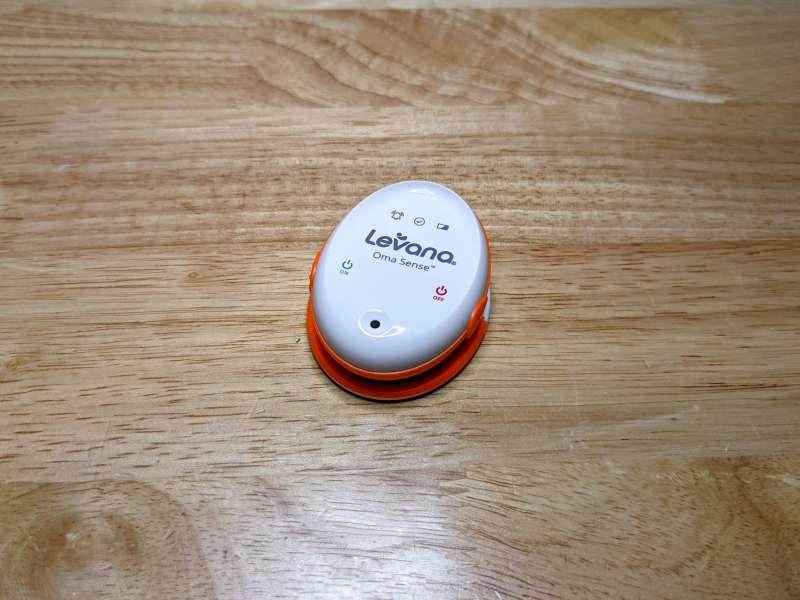 Design and features
The Oma Sense has a simple, but effective design. The device itself is colored white and orange for easy visibility and made of medical-grade materials so while skin contact isn't required it is completely safe. The Oma Sense has a water and dust rating of IP53 which means it's splash resistant but not waterproof so it should not be submerged in water.
The front face of the Oma Sense has LED indicators for alerts, reassurance, and battery life as well as a small hole for the alarm speaker.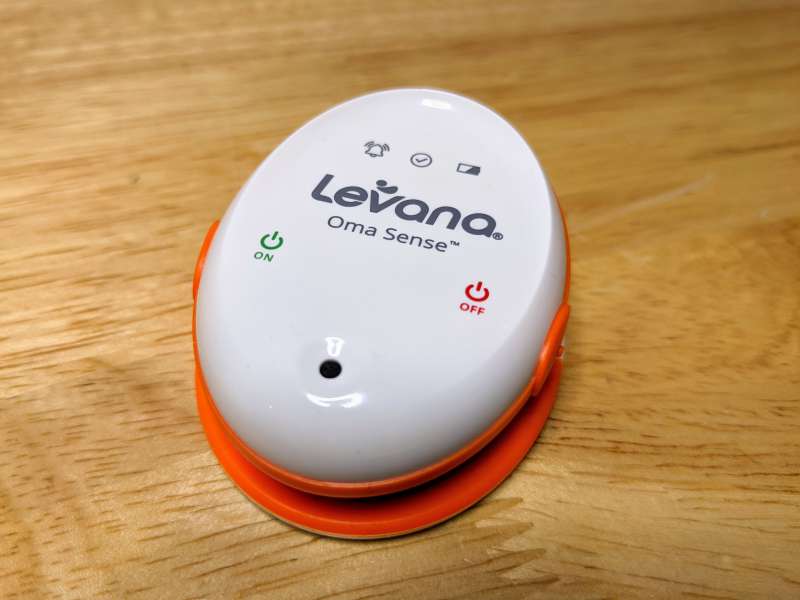 The leftmost light is the alert light which flashes red if no movement is indicated for 15 seconds while randomized vibrations and audible alerts are initiated to stimulate the baby. If there still isn't movement after five more seconds the light continues flashing red, vibrations continue, and an audible emergency alarm is initiated to notify caregivers. The alarms continue until the device is powered off.
The reassurance indicator is the middle light and flashes blue every thirty seconds to indicate that all is well and baby's abdominal movements are normal. The device checks for movement every 80 milliseconds. Each time an alert occurs the reassurance light will flash every 3 seconds for the first 30 seconds and then will return to every 30 seconds.
The rightmost light is the battery level indicator. This light flashes green when there is sufficient power and red when the battery is low and needs to be replaced. The Oma Sense uses an included Panasonic CR2450 battery which lasts about thirty days with regular use.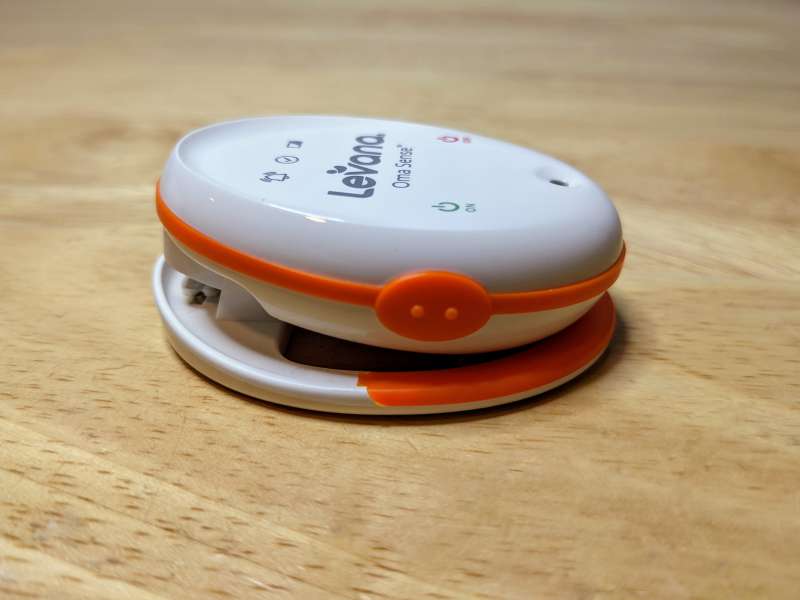 There are only two buttons on the Oma Sense, a power-on button on the left of the unit and a power-off button on the right. The buttons are textured and have a good clicky feel to them. There are also corresponding On and Off markings on the face of the unit.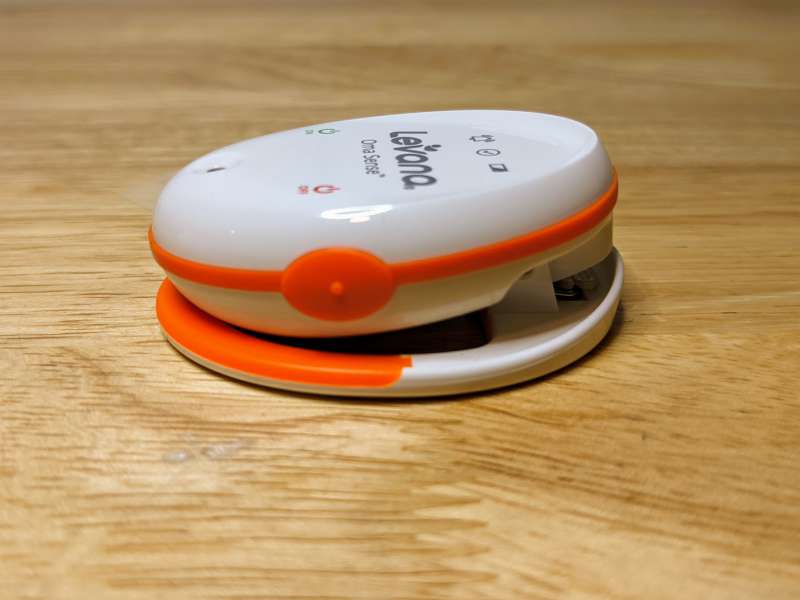 The Oma Sense attaches to an infant's clothing with a one-handed clip. The clip is easy to open yet attaches securely to a baby's onesie, pajamas, or pants.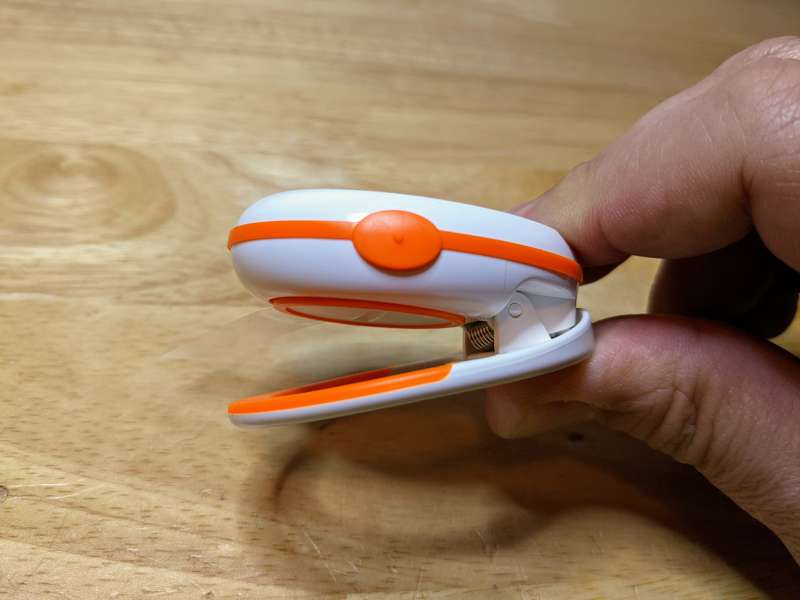 The battery compartment for the unit is under the clip on the back of the Oma Sense.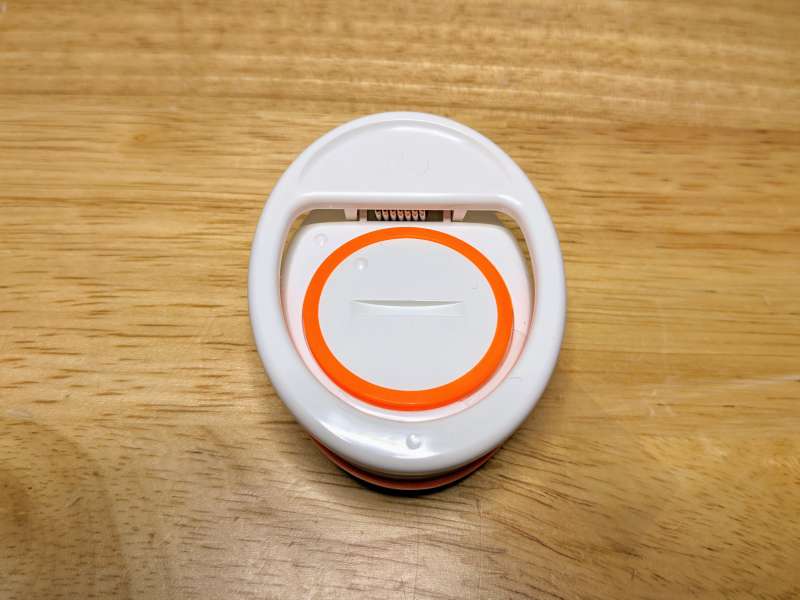 The battery compartment opens easily with a coin and is encircled with the same bright orange material found on the face.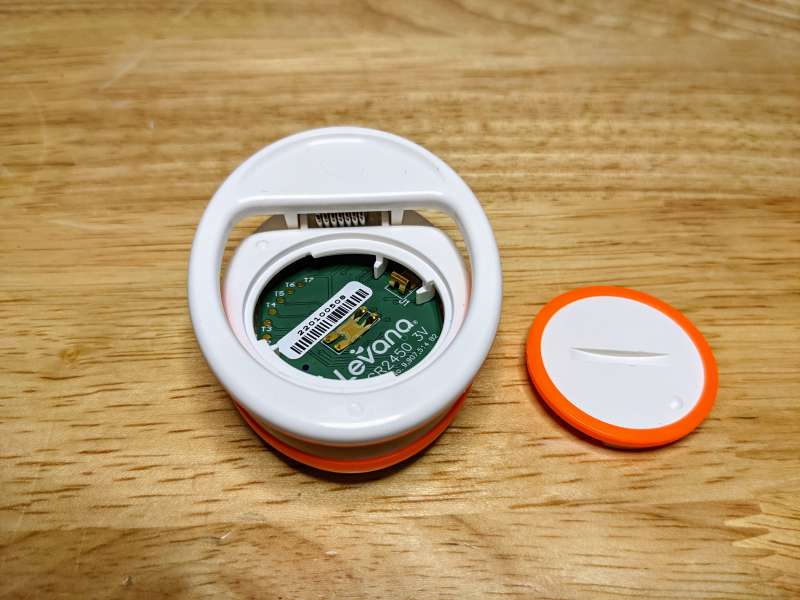 The Oma Sense comes with a small plastic carrying case for when baby is on the go.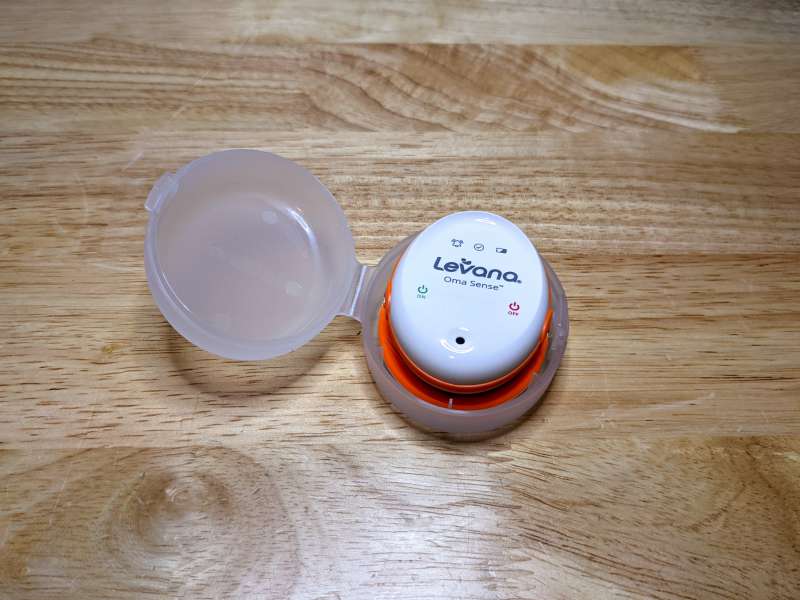 The case is useful for keeping the expensive unit clean and protected when it's thrown in a diaper or travel bag along with all of the baby's accouterment.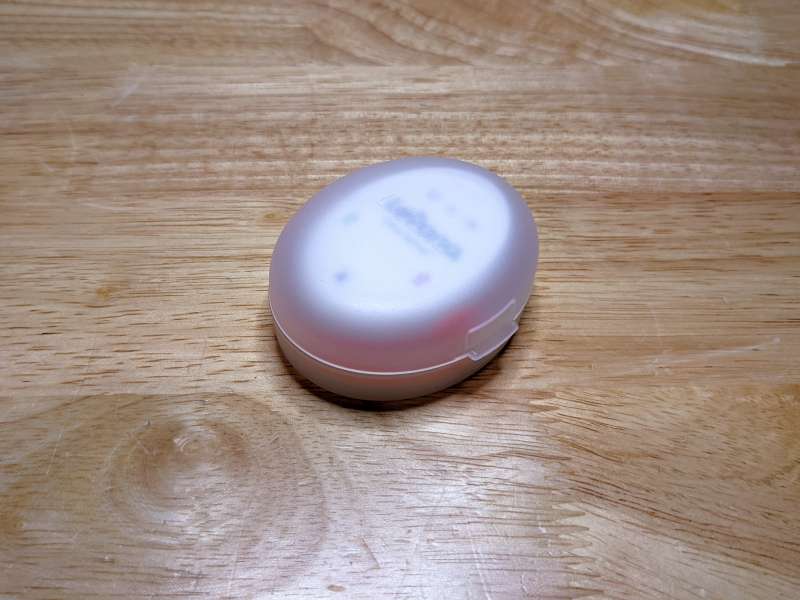 Setup
The most important setup task for the Oma Sense is making sure that the unit has a fresh CR2450 battery installed properly. Open the battery compartment, pop in a fresh battery, and then secure the battery door back on the device.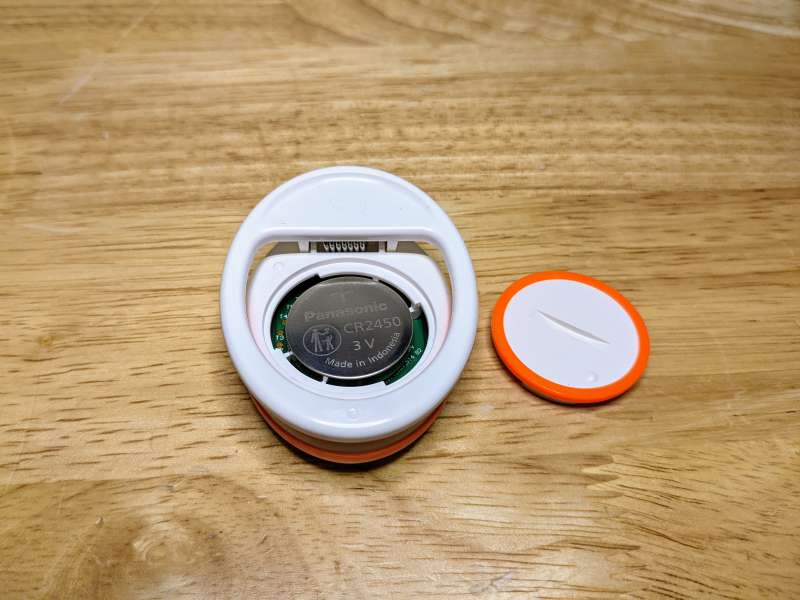 The next important setup step is to test the device before placing it on the baby. When you first turn on the Oma Sense it will go through a self-test and activate all indicator lights, vibrations, and sounds in a random sequence. Then to fully test the Oma Sense you simply set it on a flat surface without moving it for 15 seconds. If the alarm sounds then the test was successful and the unit can be powered off and then powered on again for use.
Now that the unit is powered and confirmed working it's time to place it on the infant. Optimal placement is vital to the success of the Oma Sense. If the device is placed incorrectly it will result in false alarms.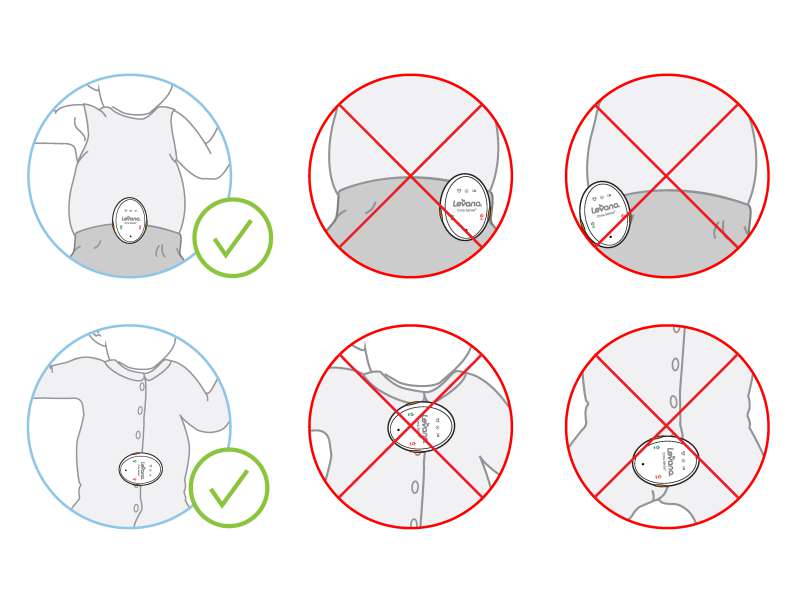 Levana suggests placing the Oma Sense above the naval area where maximum abdominal movement can be detected. Since the Oma Sense monitors the baby's core movement, proper placement is key. Clip the Oma Sense on the baby's clothing on the center of the baby's core. When the baby is wearing a onesie just fold the center of the onesie and clip the unit on.
Levana also recommends only using the Oma Sense on babies younger than six months since from six months and on the baby may start rolling over onto their belly. Because of the sensitivity of the sensors, the Oma Sense also only works when used in a motionless bed as opposed to a car seat, stroller, swing, or other mobile carrier.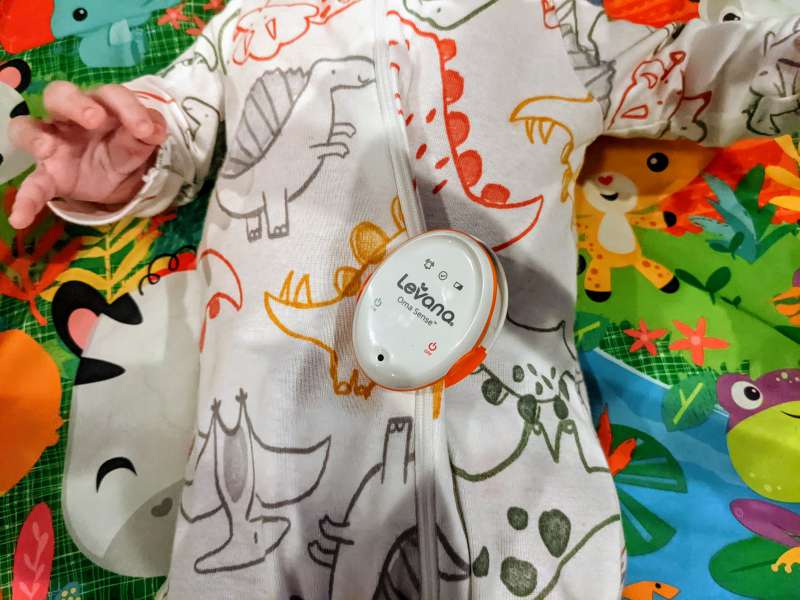 As with any baby, whether using the Oma Sense or not, always follow these sleeping guidelines:
Always place your baby alone and on their back to sleep
Use a crib that meets current safety standards with a firm mattress that fits snugly in the crib and is covered with only a tight-fitting crib sheet
Do not put anything soft, loose, or fluffy in your baby's sleep space, this includes pillows, blankets, comforters, bumper pads, stuffed animals, toys, or other soft items
Use a wearable blanket or similar type sleeper instead of traditional blankets to keep your baby safe and warm
Avoid falling asleep with your baby in your bed, couch, or armchair
Never allow your baby to sleep on any soft surfaces such as adult or child-sized beds, sofas, chairs, waterbeds, pillows, cushions, comforters, sheepskins, or anything similar
Do not use pillows, wedges, or positioners to prop your baby up, keep them on their backs, or prevent them from rolling
Performance
The Oma Sense performed well on our tiny test subject for about a month with only a few false alarms that were mostly due to poor placement by sleepy parents. Luckily, there have been no actual emergencies that would have triggered the unit's alarm.
The main gripe though is how hard it would be for parents or caregivers in another room to hear that alarm. The device, even at its loudest, is difficult to hear in the same room at times. Levana seems to acknowledge this shortcoming by suggesting that the Oma Sense be used in conjunction with a baby room monitor. But, instead of relying on another device, I feel like it would've been preferable to make the alarm louder.
The other issue found with the Oma Sense is the battery life and the fact that the unit isn't rechargeable. Thirty days go by quickly and having to locate and change batteries is just one more task for an already busy parent or caregiver. It would be much easier to simply plug the device in to recharge or drop it in a recharging dock when not in use.
Additionally, for the high price of the Oma Sense it'd be nice to be able to monitor it from a cell phone and see some statistics on the baby's sleep patterns, but this is not possible. So while the Oma Sense performed well, there are better-featured options out there.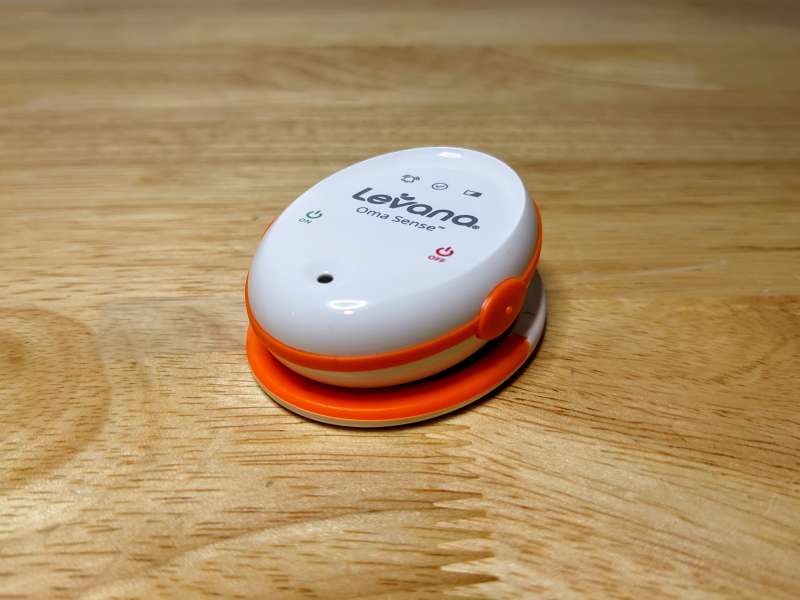 What I like
Easy to use
Well-designed
Does provide some peace of mind
What needs to be improved
Audible alarm is not loud enough
No rechargeable battery
For such a high price should have more features
Final thoughts
The Levana Oma Sense Baby Movement Monitor does function as intended. When an infant the unit is properly attached to stops moving an alarm will sound. Unfortunately, that alarm is a bit too low to wake a soundly sleeping, tired parent or caregiver. While it's suggested that the Movement Monitor be used in conjunction with a Baby Room Monitor that doesn't justify the high price tag. Additionally, at the price of $174.99, it's really disappointing that the Oma Sense doesn't have more features like a tracking app or a rechargeable battery. While the ease of use, function, and design of the Oma Sense are fine, there are a lot of similarly priced devices with more features and lower-priced ones with the same features.
Price: $174.99
Where to buy: Levana and Amazon (currently $49.99)
Source: The sample of this product was provided by Levana