We use affiliate links. If you buy something through the links on this page, we may earn a commission at no cost to you. Learn more.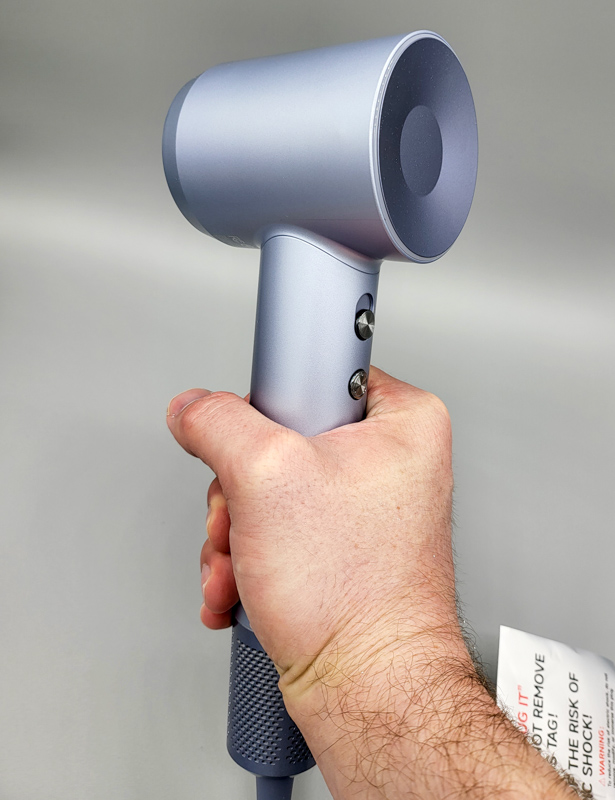 REVIEW – A hair dryer has been a boring but essential part of my daily routine ever since I made the mistake of going to a barber a few years ago. I'd been using a $30 hair dryer I grabbed at Walmart for years which did the basic job of drying hair, but it was quite loud and probably was damaging my hair as well. I never thought I'd be reviewing a high-end hair dryer like the Laifen Swift hair dryer, but here we are. Will it prove a worthwhile upgrade, or does a ~$200 hair dryer get you just fancier aesthetics?
What is it?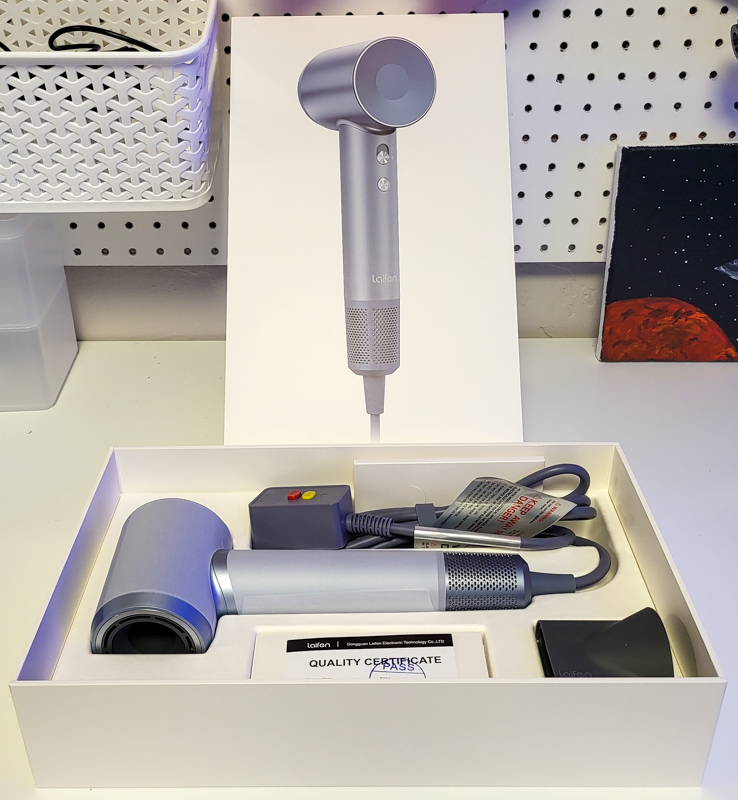 The Laifen Swift hair dryer is a fast-drying compact hair dryer, with technology to reduce the noise levels while retaining air flow and drying power. It looks like some hair dryers that cost $600+, and has similar technology like air intake on the handle and N-ion generation.
What's in the box?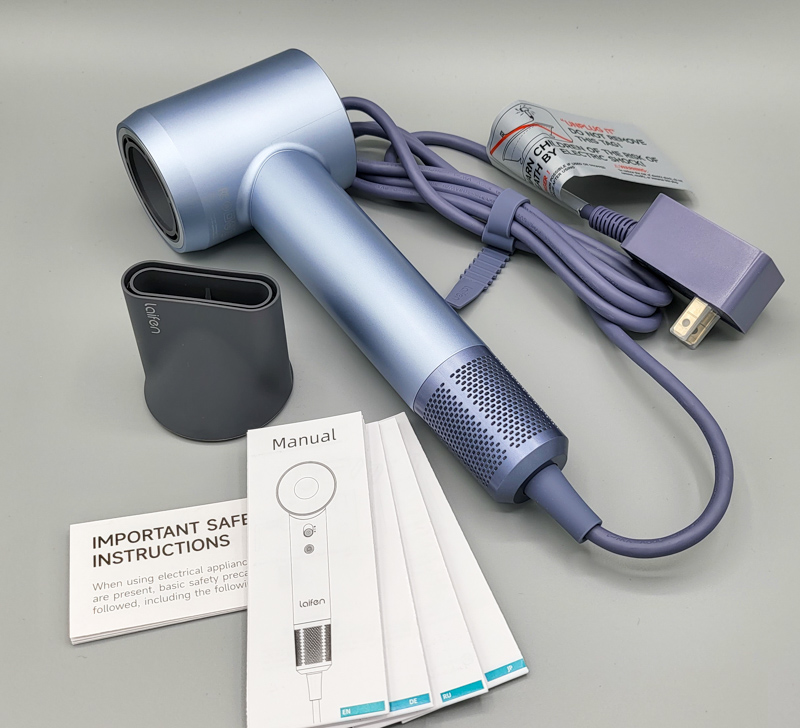 Laifen Swift hair dryer
Smooth nozzle
Manuals (English, German, Russian, Japanese)
Hardware specs
Power: 1600 W
Voltage: 110/220V (different voltage/plug type options)
Dimensions: 10.9 x 2.8 x 3.5 inches (277 x 70 x 89 mm)
Net Weight: 407 g (for hair dryer body, not including cord)
Cord length: 5.9 feet (1.8 meters)
Design and features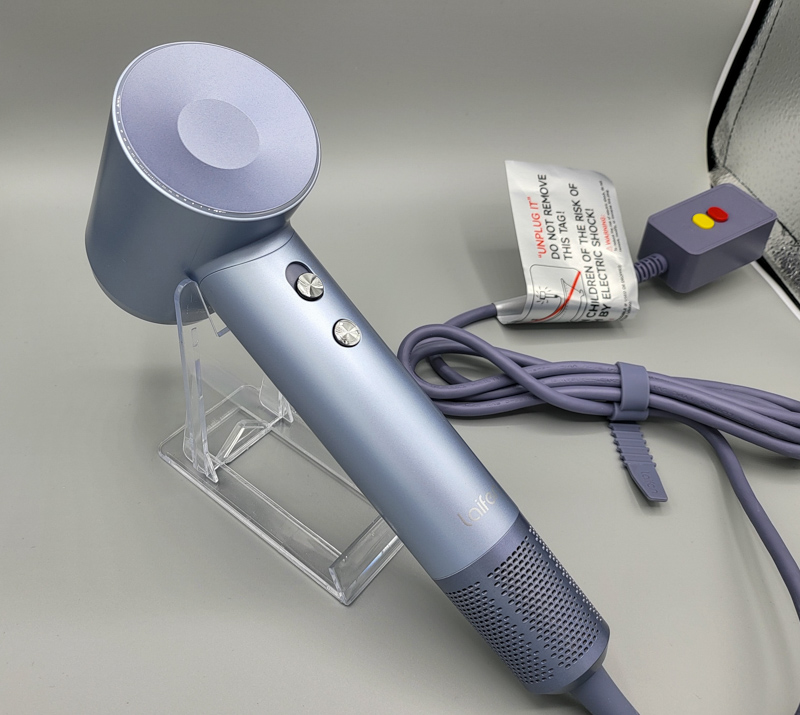 The Laifen Swift hair dryer has a sleek minimalist design. The exterior is a mix of plastic and metal (aluminum is my guess), and feels high quality. Air is pulled in through a filter at the bottom of the handle rather than straight through the business end.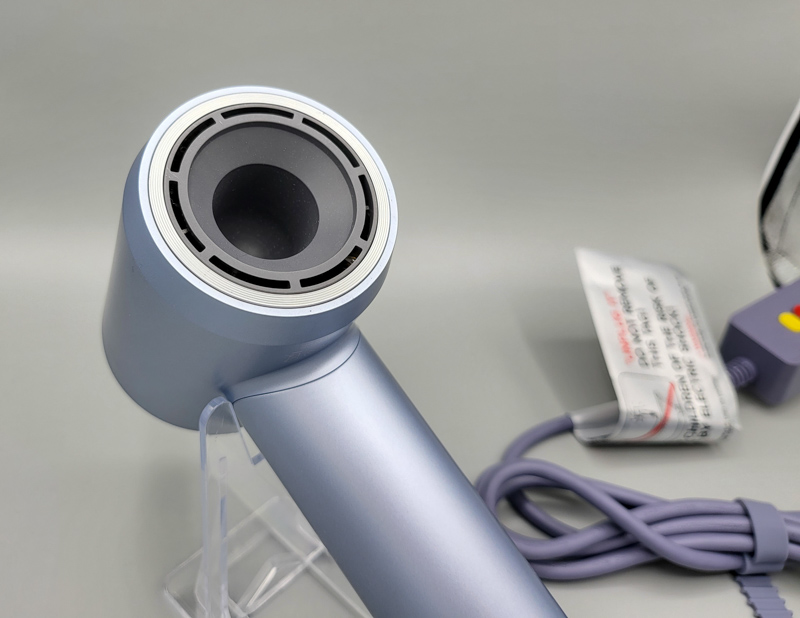 Speaking of, above is the business end. The air is pushed out the small ring of openings. The resulting airflow is even and strong. A metal ring allows for magnetic attachments to snap on and off easily.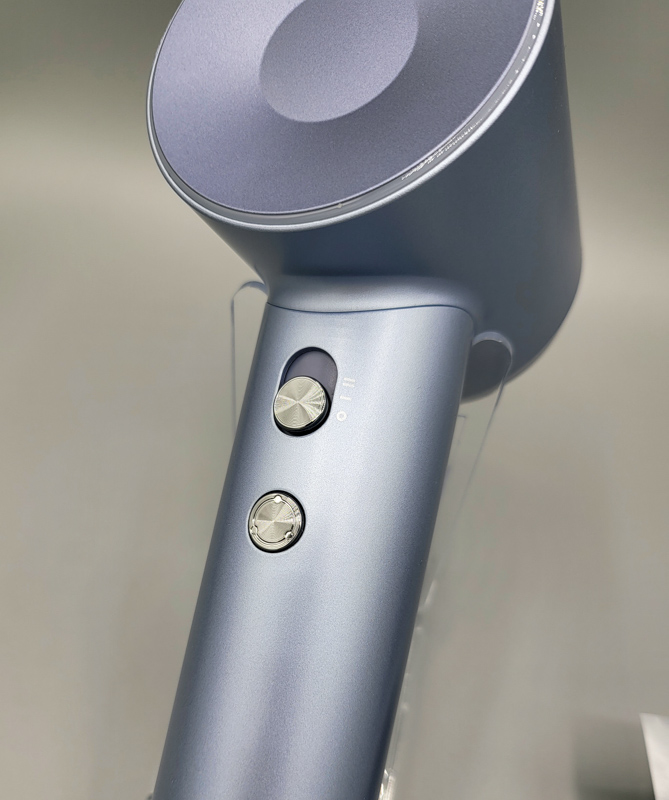 The buttons don't feel cheap. This is my baseline requirement for buttons, they should simply work, and not feel like they're going to break. The top button is the Off/Low/High switch, while the bottom cycles between Cool/Warm/Hot air modes.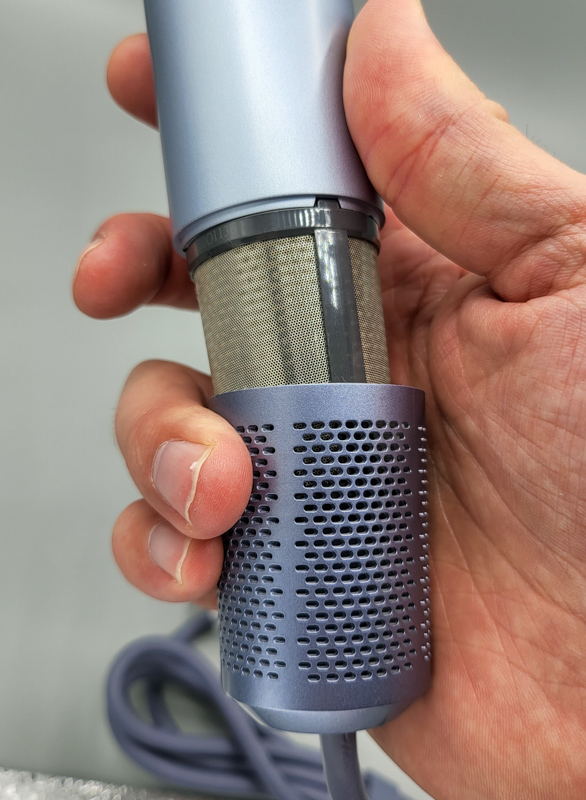 The bottom of the handle has an air filter that prevents dust and hair from being pulled into the motor. The cap for this is simply held by magnets, but it never came off during use, thankfully.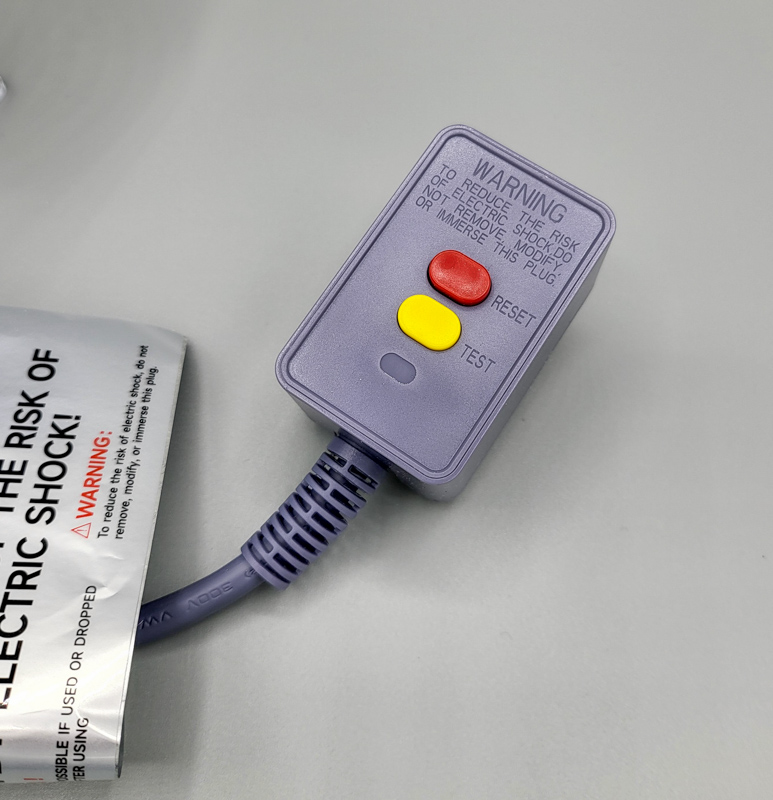 As with all hair dryers, short-circuit protection is built-in to prevent electrocution. The cord feels heavy duty, I don't have any worries about this fraying and causing a danger.
Performance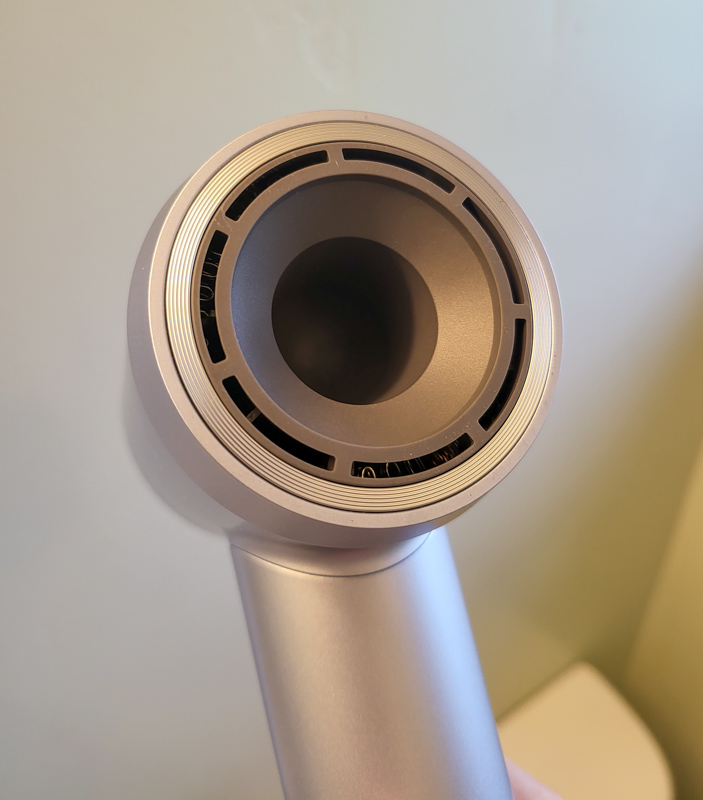 As exciting as hair-styling videos would have been, I decided to focus more on the product and less on my face and beard in this review. Suffice it to say, I have a decent mane of semi-curly hair, and a 6 inch beard that gets wild without heated drying and a comb each morning. Switching from my old cheap hair dryer to this one for the weeks of the review was a dream, and the old one is headed to the landfill now. The handle stays very cool (I think the air being pulled through the handle helps with this), and the head end does heat up on the hottest setting, but never so much I was worried about burning things.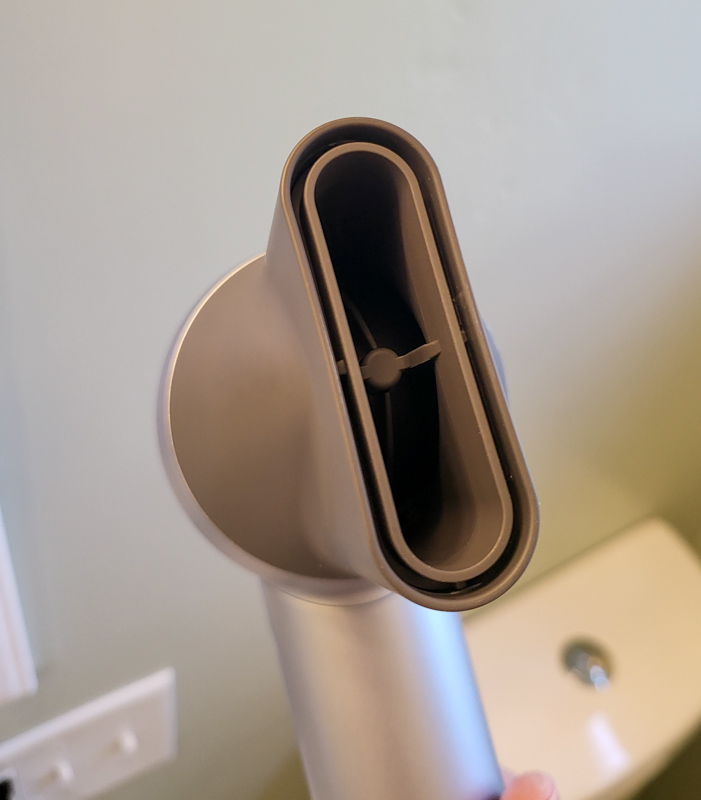 The included blade-style attachment pops on easily with magnets, which is a delight after using a friction-style blade attachment on my old dryer.  With this attachment, I can easily straighten my beard each day, and apply some direction to my wild mane up top as well. I also bought a diffuser attachment, and it's easy to switch between them or use no attachment for different purposes.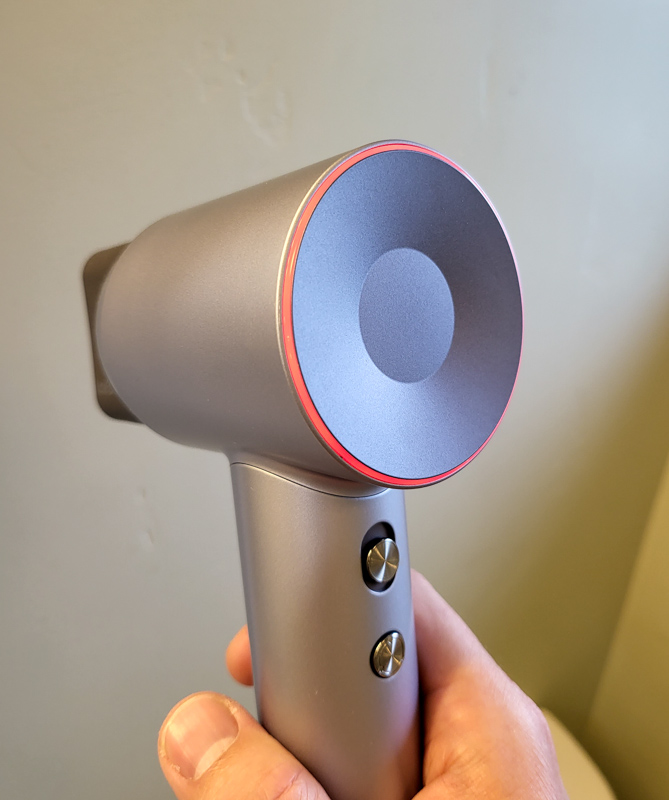 I start the drying routine each day on high heat for the beard to reduce curls and hold the combed style in place. Next, I switch to warm to give my curly head-hair some direction, and finally, I pop off the blade and hit the rest of the top with a bit of cold air to finish. This all worked better and faster than my old cheap dryer. The Laifen Swift hair dryer was also lighter and quieter, and switching attachments was easier. Overall, it's a great experience, the only detractor I could think of is that I often bump the temp-change button. I wish this had been a slider style button rather than a push button, it would have prevented these frequent unwelcome temperature changes.
What I like
Quiet, light, and ergonomic
Easy to see color LED ring for heat
What I'd change
Placement of heat change button gives me a lot of accidental presses – this might be better as a slider switch like the Off/Low/High switch.
Final thoughts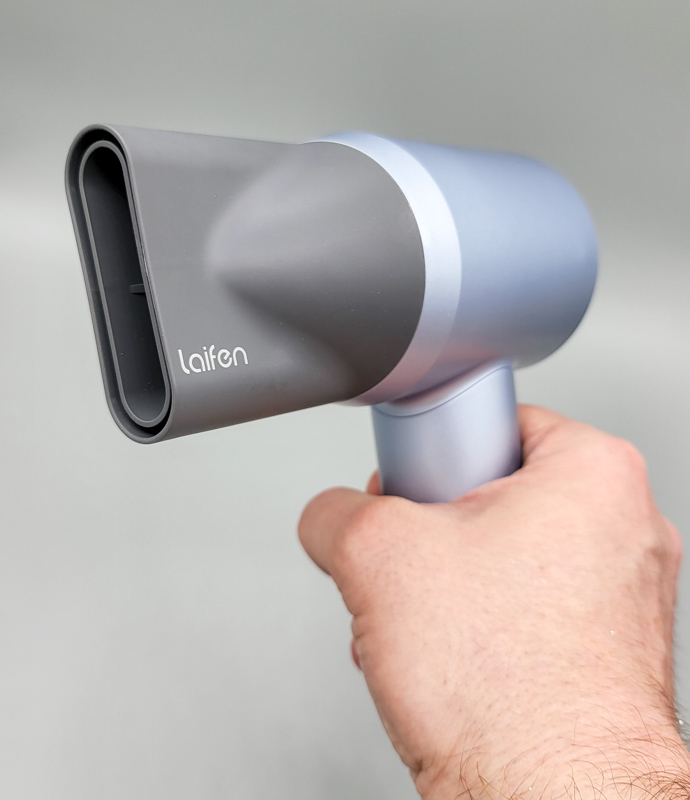 While I didn't expect a big difference between my old dryer and the Laifen Swift hair dryer, I was surprised by how much the little things improved my daily routine. Quieter operation means I don't have to pause my audiobook or podcast while I dry each day, quicker results mean less time holding a dryer above my head, and being lighter and smaller means less sore arms after the whole routine.  Add that to sleek styling and fast-change magnetic attachments, and call me converted. I even purchased the sold-separately Diffuser attachment to keep my hair curlier on top as is my wont. There is a version of the same dryer with more attachments, so if you're looking for those, check out the Laifen website!
Price: $159
Where to buy: Laifen or Amazon
Source: The sample for this review was provided by Laifen