We use affiliate links. If you buy something through the links on this page, we may earn a commission at no cost to you. Learn more.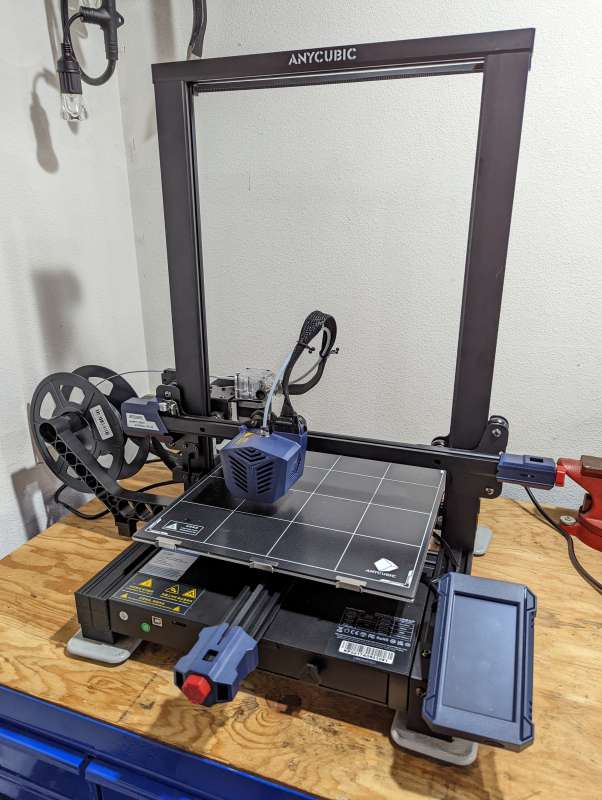 REVIEW – I have been 3D printing for a little while now and am definitely not an expert but with the help of online resources I have been able to make respectable prints on my older and smaller filament printer but I was limited on the size of prints I could make. Let's see if the ANYCUBIC Kobra Plus can help me step up my printing game.
What is it?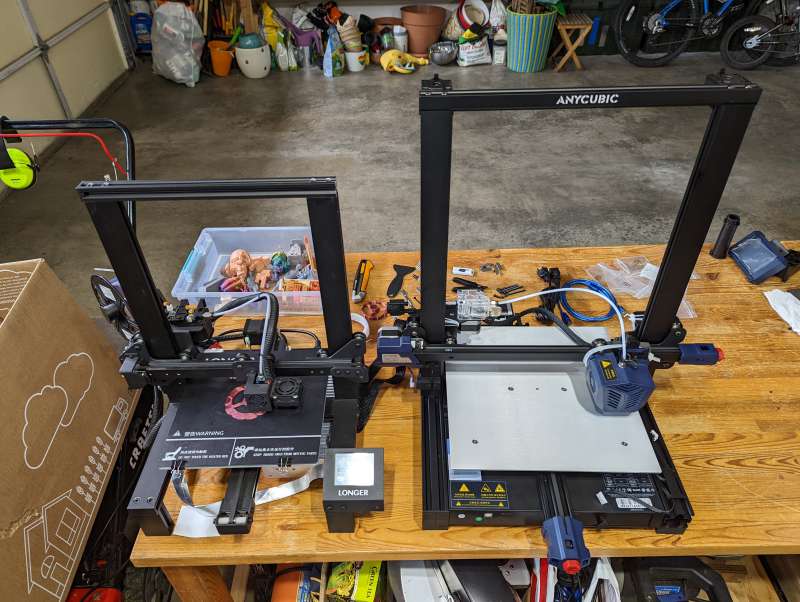 The ANYCUBIC Kobra Plus is a mid-size filament 3D printer that slots nicely between ANYCUBIC's smaller Kobra (22x22x25 cm) and larger Kobra Max (40x40x45 cm) with a maximum print size of 30x30x35 cm.
What's in the box?
ANYCUBIC Kobra Plus frame and base

Glass plate

Plastic filament holder

Instruction manual

8GB microSD card (preloaded with slicing software, e-manual, and sample prints) and USB card reader 

10 meter sample filament

4.3 inch LCD touchscreen

Tool kit

Extra 0.4mm nozzle

Required bolts and washers for assembly plus spares

Data cable

Grease (for maintenance)

Power cord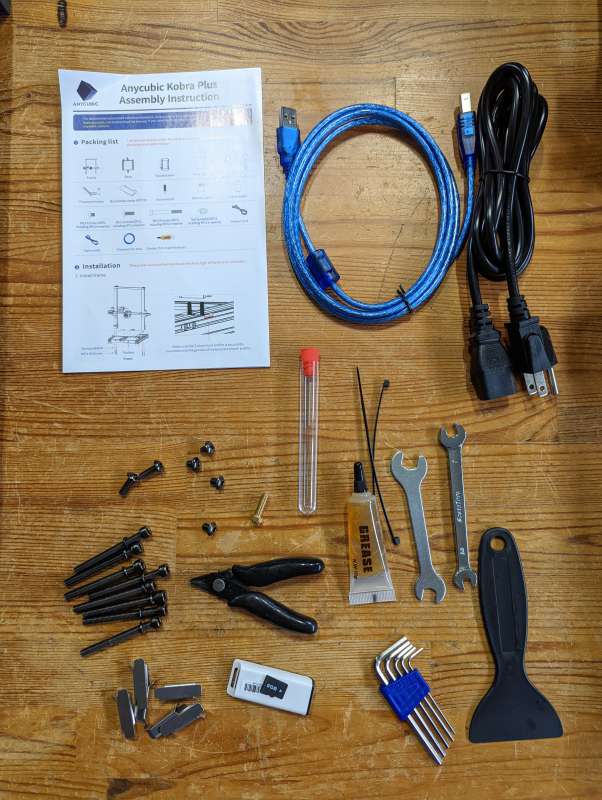 Specifications
Model Name: Kobra Plus

Printing Methods: Micro SD card, network cable

Z-axis with double threaded rods

Filament run out detection

Nozzle max temperature: 260 °C

Bed plate max temperature: 90 °C

Nozzle type: Volcano style

Build Size: 300x300x350mm

Leveling: 25 point auto leveling bed

Bed material: Carborundum glass

Touch Screen: 4.3 inch LCD touch screen

Printing speed: 18cm per sec

Printing accuracy: ±0.1mm

Layer thickness: 50-300 micrometers

Operating noise level: ± 59dB

Compatible Filament: PLA, ABS, PETG, TPU

Weight: 30lb

Overall dimensions: 560 x 546 x 605 mm
Design and features
The ANYCUBIC Kobra Plus was well packaged to prevent any damage during shipping and I was able to get everything laid out and then review the instruction manual. Assembly was pretty straightforward with four bolts to attach the frame to the base and another three bolts to attach the LCD panel. Removed a bunch of zip ties (make sure you get the one under the build plate) and attached all the cables to their correct spots. Extra bolts were provided as well as grease, a nice little tool kit, and an extra 0.4mm brass Volcano nozzle (more on that later.)
I took my time during the assembly of the ANYCUBIC Kobra Plus 3D printer to make sure I got everything nice and snug and I checked all roller guides for play and I did have to adjust a few. The bed plate has six roller guides due to the size and expected weight larger prints will require. I made sure all the belts were good which were easy to adjust with external knobs, then booted it up which was pretty quick, ran the auto-leveling program, and fed in the 10M of included white filament. I inserted the microSD card and started the preloaded owl test print. With stock settings, it came out pretty well with just some light stringing at the ears. It took 2 hours and 50 minutes to print. That used up all the white test filament but ANYCUBIC was kind enough to send a roll of silver PLA+ filament which has a suggested print temperature range of 200-230 °C however I ran a few temperature test towers and found it did better at 200 °C and even 190 °C so I ran some extraction test towers at those temps and was able to determine that a 4mm retraction at 50mm per second worked best at those temperatures so I printed a few 3DBenchy's at different resolutions and was although there was still some stringing I didn't want to use up all the filament running more tests because I had something big in mind next.
And that's what this printer is for, to make big prints, and for my first big print, I chose a full-scale Mandalorian helmet that I found on Thingiverse that when printed would measure 292mm high, 293mm wide, and  293mm deep with 6-7mm thick walls.
I did have to angle it on the build plate to fit but it did fit. Halfway through printing, I noticed some vibration occurring as the helmet got higher but I was able to use the LCD panel to slow the print speed down a little which helped.
It took 80 hours and about 750 grams of filament to print. The ANYCUBIC Kobra Plus can definitely handle big prints with the right settings and next time I will slow the nozzle travel speeds down a little to reduce vibrations as the print gets taller and heavier. Now although I am going to slow the travel speed I think I can reduce print time overall using a larger 0.8mm nozzle and it would have been nice if ANYCUBIC included one rather than another stock 0.4mm as the dual drive Bowden style extruder and Volcano style hotend are more than capable of handling the larger diameter and that could potentially cut print times in half.
Also with the amount of filament required for bigger prints which could take 2 or 3kg it would have been nice if the Kobra Plus came with a spool holder that could actually hold the larger rolls. If you are going to use larger rolls you'll have to print a new holder or make other modifications since they just don't fit on the included spool holder. You can easily find one to print but you shouldn't have to.

What I like
Bigger build plate without taking too much desk space

Pretty quiet while printing

Auto level worked great

Easy belt tightening

Built in tool drawer
Built in light on the nozzle that you can turn on and off
What I'd change
Include a larger 0.8mm nozzle

Larger capacity spool holder  

Z-axis braces to add stiffness and reduce vibration
Final thoughts
The bigger ANYCUBIC Kobra Max has a 400x400x450mm bed plate with a larger price to match at $569. At $281 the smaller 220x220x250mm Kobra is a capable printer but the $399 ANYCUBIC Kobra Plus for me is just right and sits in the quality/price/size sweet spot if you are looking to make some larger prints on a budget but not quickly outgrow the printer's abilities and have to upgrade at some point.
If it came stock with a 0.8mm spare nozzle and a larger capacity spool holder this would be a perfect setup right out of the box but those minor inconveniences in no way take away from the excellent capability and usability of the ANYCUBIC Kobra Plus. If you have been interested in getting into 3D printing or are already a seasoned 3D printing veteran looking to add to your quiver the ANYCUBIC Kobra Plus is worth a very serious look. 
Price: $399 to the first 2,000 buyers starting 15 June 2022 at 10 am EDT and $499 after that.
Where to buy:  ANYCUBIC and you can find many of their printers on Amazon
Source: The sample for this review was provided by ANYCUBIC.