We use affiliate links. If you buy something through the links on this page, we may earn a commission at no cost to you. Learn more.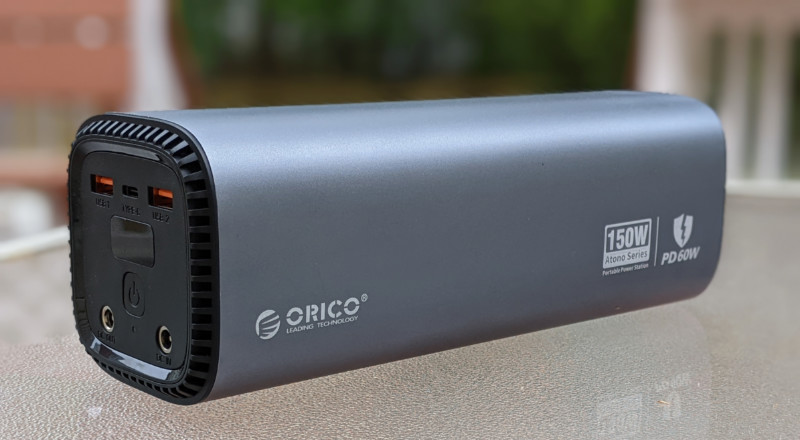 REVIEW – The Orico AT150 outdoor portable power station. Is it weatherproof? Well, no, but it is otherwise a nice power source for multiple, simultaneous device charging or operation. And it has an AC outlet so you can use your shaver on Zoom calls while you're camping! 
We review some honkin' big power stations around here and this isn't one of them. And that may be its advantage. The Orico AT150 outdoor portable power station could fit in a backpack or suitcase. At 3 pounds, it can certainly fit in a briefcase, but you may not find it super comfortable to carry that way. I'll show you how I used the Orico Power Station and you can see if it would be handy for you.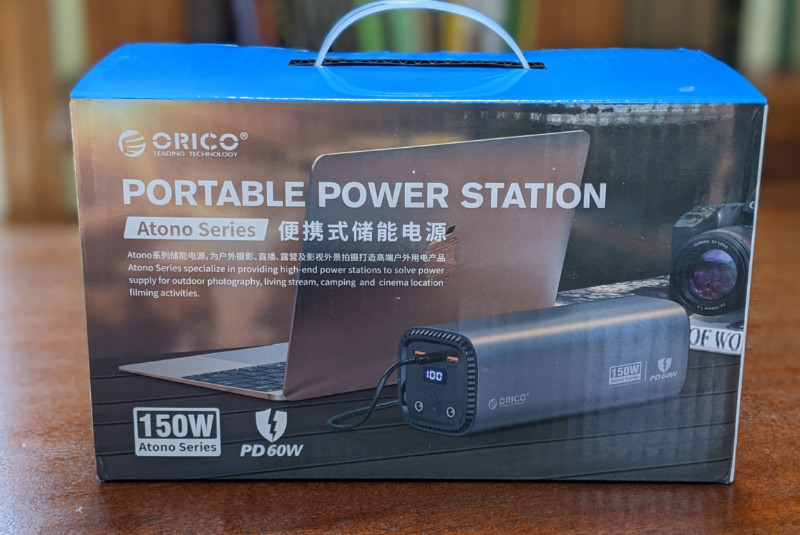 What is it
The Orico Outdoor Portable Power Station is a high capacity, rechargeable power brick. It's 3 pounds of power with several output ports that can handle the needs of laptops, a small desk lamp, a camping fridge and most device recharging requirements. All those at once? Maybe, but they may not run all night.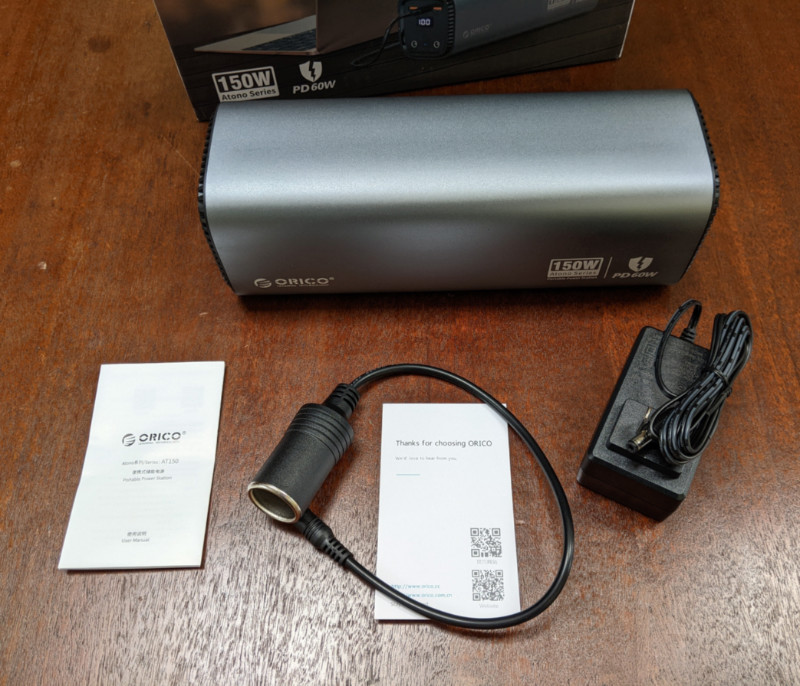 What's in the box
The Orico Power Station, AC charging cord/charger, car accessory outlet cable, and instructions. (The Orico website indicates a cable is included for charging the power station from car power. Such a cable was not in the review item package.)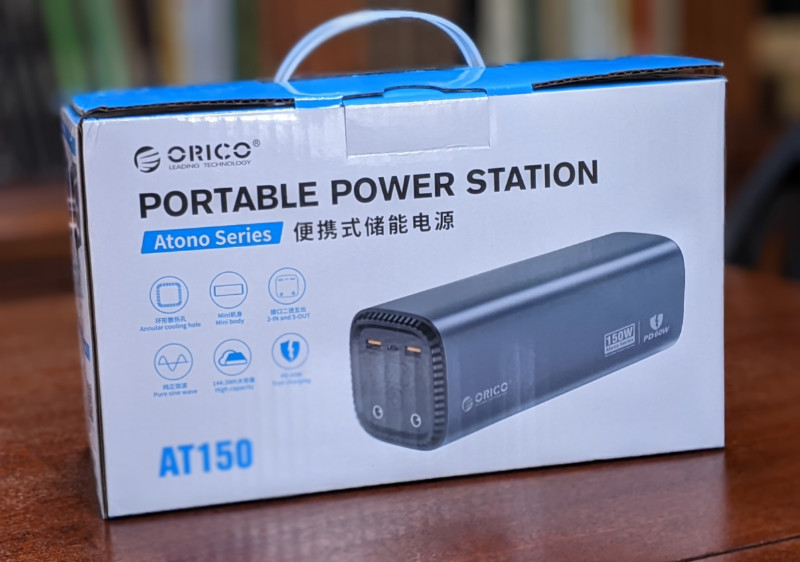 Hardware specs
Product Model

ORICO-AT150

Material

Aluminum Alloy + ABS + PC

Rated Total Power

142.3Wh (product is stamped '144.3Wh')

Rated Capacity

39000mAh (3.7V)

Total Power

150W MAX (Pure Sine Wave)

AC/Inverter Output

One socket, AC110V/50Hz/150W/170W / AC230V/50Hz/150W/170W

Cell Chemistry

Lithium ion bank of size 18650 batteries, 3.7V, 2600mAh each

USB-A Output

Two ports, 5V3A,9V2.0A,12V1.5A,18W

Type-C Output

One port, PD60W (5V/3A,9V/3A,12V/3A,15V/3A,20V/3A) 12-22V/2A;

Input

Adapter (Included):15V2A(30W)

Certification

FCC/UL/PSE/RoHS/UN38.3/MSDS

Charge Temperature

0-113ºF

Weight

3 lb. 1.9oz

Dimensions

9.125" L x 3.125" W x 3.125" H

Design and features
PD 60W two-way charging

'Pure sine wave power'

Aluminum alloy exterior

High thermal capacity

Two USB-A ports

One USB-C ports

One grounded AC plug

One DC input port (for the supplied charger)

One DC output port (if your laptop or other devices support the barrel style port size

Automatic internal cooling fan

5 hour recharge time if fully depleted. (Via AC charger or car charger.)

Overcharge, overload, short circuit and high temperature protection

Device turns off when it is being charged. It cannot output power while charging.
Installation and setup
The Orico AT150 outdoor portable power station came charged to 100% so it was ready to use right out of the box.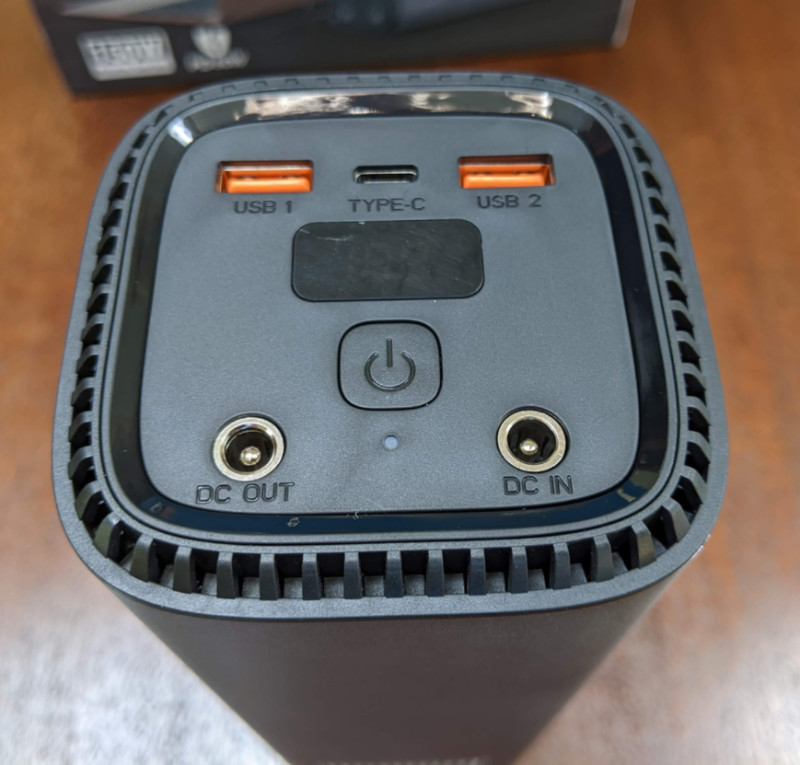 Testing and observations
Size
The size and 3 pound weight of the Orico Power Station may limit its portability for some users, yet to have its 39,000 mAh capacity it would need to have a fair amount of weight. It is not stressful to move it around. It just needs a handle.
Construction
The exterior of the Orico Power Station is a matte finished aluminum alloy. It has an attractive appearance, but is a bit slippery to the grip. I may rig up a DIY handle. Where's my bike inner-tube and zip ties?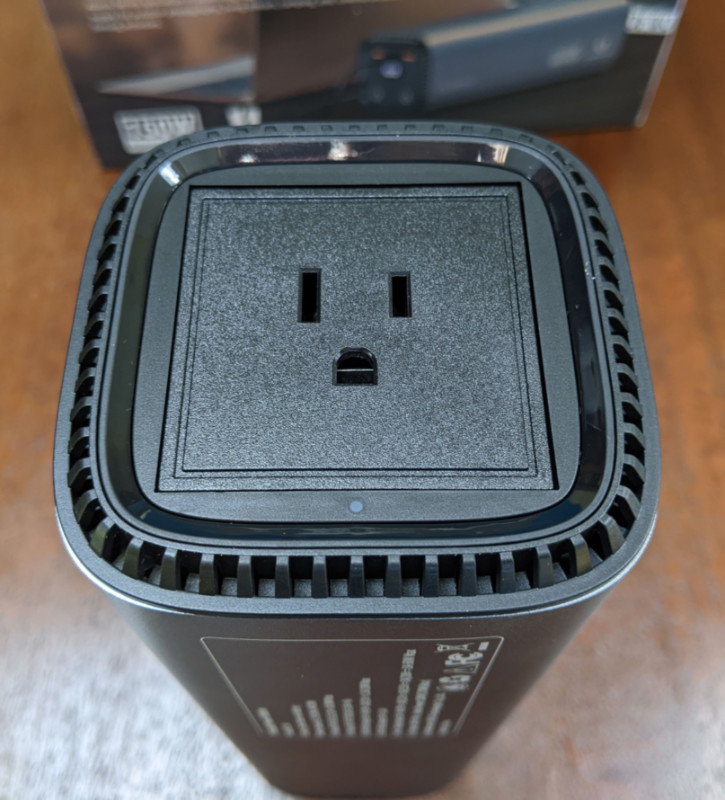 Durability
The Orico AT150 outdoor portable power station has that 'Outdoor' designation, but it does not have an IP rating. There are no product claims included in the package or at the website indicating it's weatherproof. The construction is solid but I don't see any weatherization that's been done to the shell. I recommend keeping it very dry.  It will need to be your fair weather friend.
Not meaning to pile on but, I think it's pretty risky to call this item 'outdoor'. I would not want mine to get wet. It has openings on either end to accommodate passive and active airflow (when the fan comes on) and those would be water inlets, as would be the ports and plugs.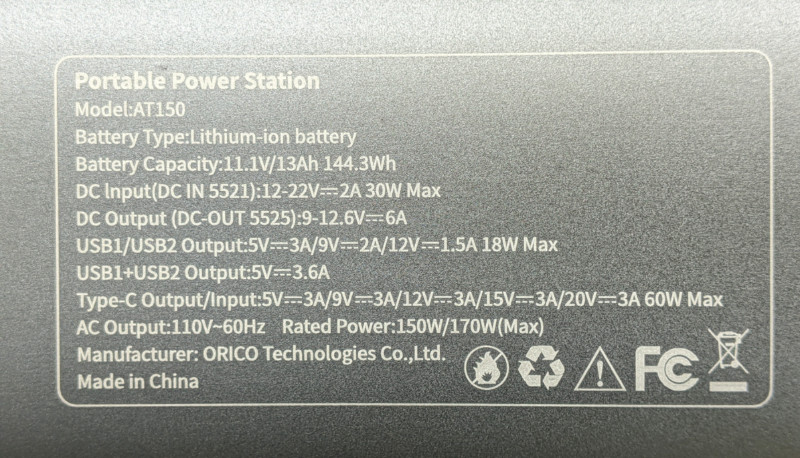 Capacity
The website indicates the Orico Power Station has 39,000 mAh capacity at 3.7 volts. The capacity stamp on the unit shows "11.1V/13Ah 144.3Wh" (11.1 volts / 13 amp hours 144 watt hours).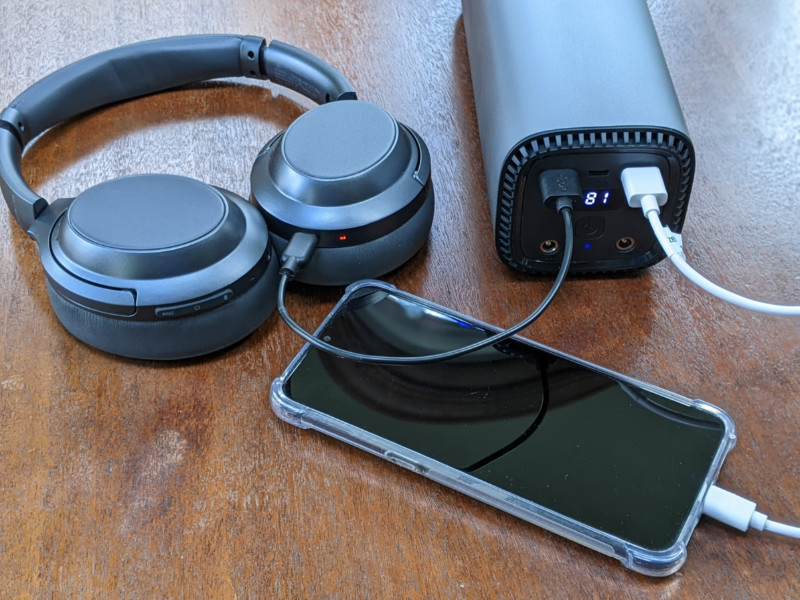 Operation
The Orico Power Station works via one-button as its only slightly moving part. A short press of the power button activates all DC power output ports. A long press of the button activates the AC power socket and the DC ports. DC and AC devices can be charged simultaneously. When the Power Station is on, a single brief button push turns off the DC ports, and a long press turns off the AC plug and DC ports. 
I charged my 3700 mAh cellphone battery from 50% to 100% with the Orico Power Station in about 65 minutes. The station depleted from 100% to 91% in the process. 
I charged my 4280 mAh Chromebook laptop battery from 50% to 100% in about an hour and the Orico dropped about 10% on this task as well. 
The 'wall wart'/plug body of the supplied charger gets very warm during charging of the Orico Power Station. I measured the plug body at 124 degrees with a digital cooking thermometer. But 124 degrees is not too hot to handle nor, in my opinion, is dangerously hot. I'm just reporting the observation. 
When using devices plugged into the Orico's AC power plug, the fan activates and runs almost full-time. In an office it is not an unpleasant sound. I clocked the fan volume with a sound meter phone app at ~45 dB at its front-end and ~58 dB at the AC plug-end. The app calls those levels 'quiet library' and 'quiet office'. Outdoors it's barely audible. I did not note the fan coming on while charging one or two small devices through the USB DC ports. 
My wife and I would use the Orico Power Station indoors (gasp) when watching movies and three of our devices needed charging at once. The Orico Station put all the charging power we needed for two phones and an iPad within easy reach so we could keep our devices close and continue watching British cops solve crimes.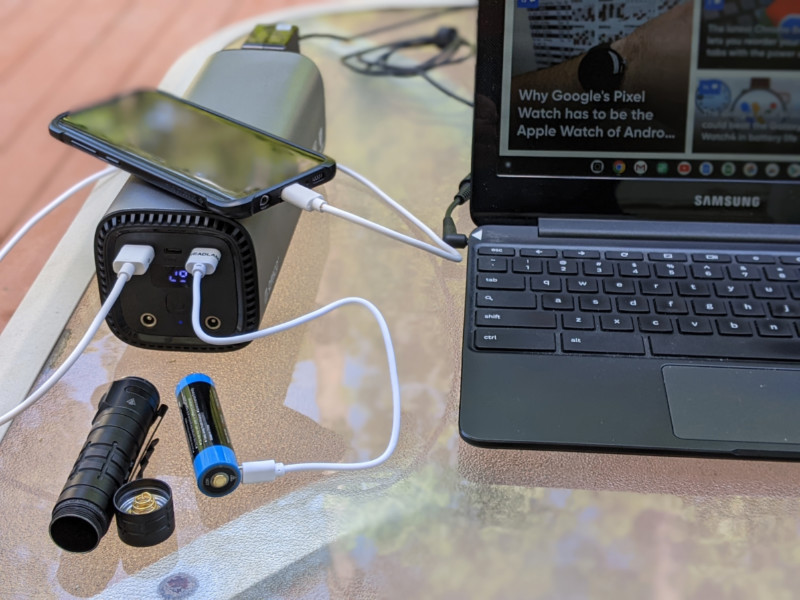 What I like
The ports are types I use (except for the DC output one).

The unit is solidly and professionally made. 

Capacity was quite good for my multiple device charging needs. 

The device worked flawlessly during my testing. 
What I'd change
Make a wrap-around handle for easier carry.

Remove the 'Outdoor' designation in the product name unless it gets an IP rating.

The car accessory plug ('cigarette lighter') included with the Orico Power Station is referred to on the Orico website as a 'car charger'. It is actually an output cable and plug assembly, and cannot charge the Power Station. It can power devices that would plug into a car's accessory plug.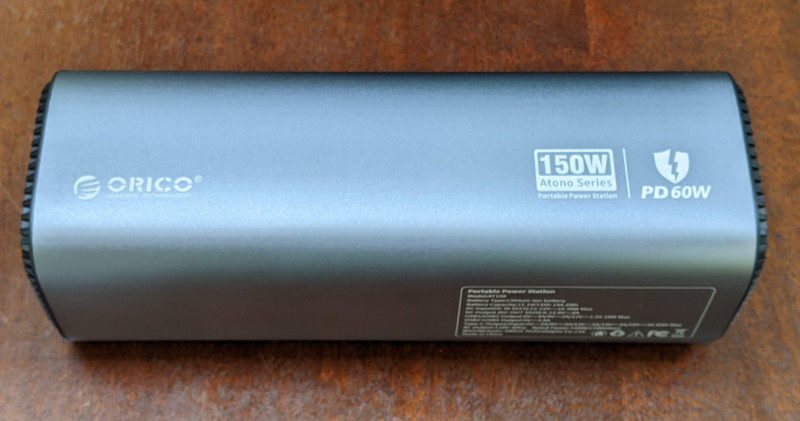 Final thoughts
The Orico Outdoor Portable Power Station would be a useful addition to anyone's camping or road trip supplies. Whether it's needed during a power outage, or as a convenient, central power station for multi-device use when you're off-grid, it can meet those challenges.
Update 3/8/23
The review AT150 model worked perfectly for a eleven months, but on a recent occasion, at the 44% power level, it stopped receiving a charge and stopped delivering power to items it should have charged. Support said there is no way to reset the AT150. Had it been a purchased unit, I could have returned it for service or replacement.
I gave the AT150 an 8 hour charge and several hours passed before the display changed from 44% power on the display. Eventually the display reached 100% and the unit now seems back to normal.
Price: $119.99
Where to buy: Newegg (use code: MKTC9S to save $50) and Amazon (clip 20% coupon)
Source: The sample for this review was provided by Orico.