We use affiliate links. If you buy something through the links on this page, we may earn a commission at no cost to you. Learn more.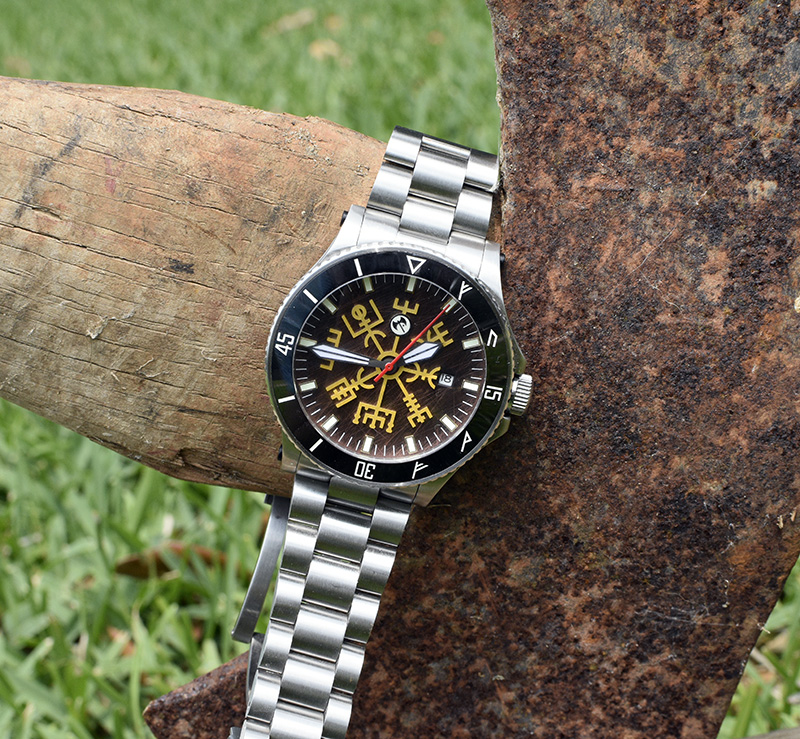 REVIEW – The Vegvisir Adventure is a luxury dive watch by Gunhild, built in Heimdall's workshop, right here in the US.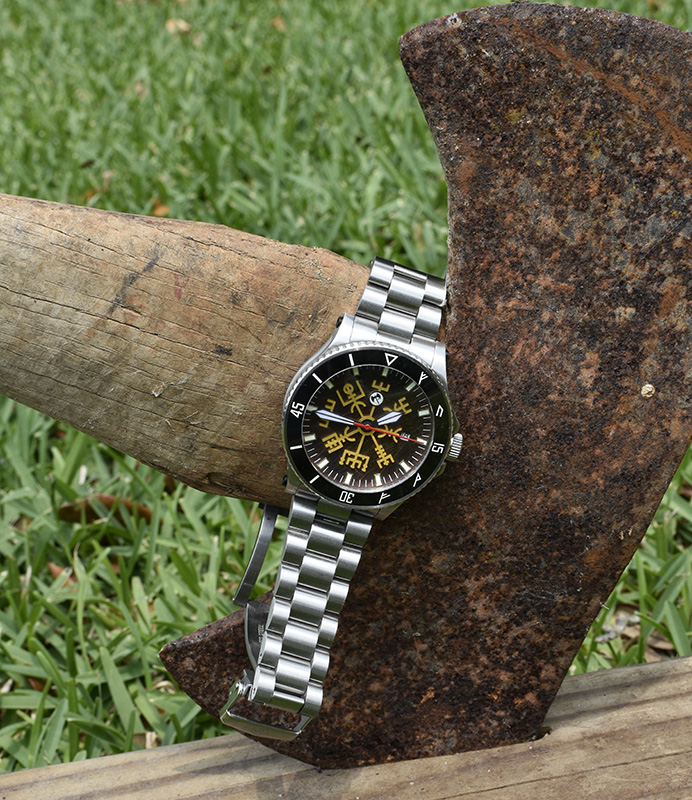 What is it?
The Gunhild Vegvisir Adventure is a unique dive watch with an Icelandic Viking flare.
What's in the box?
Gunhild Vegvisir Adventure dive watch
Tool for adjusting and maintaining the watch (I think. More on that later)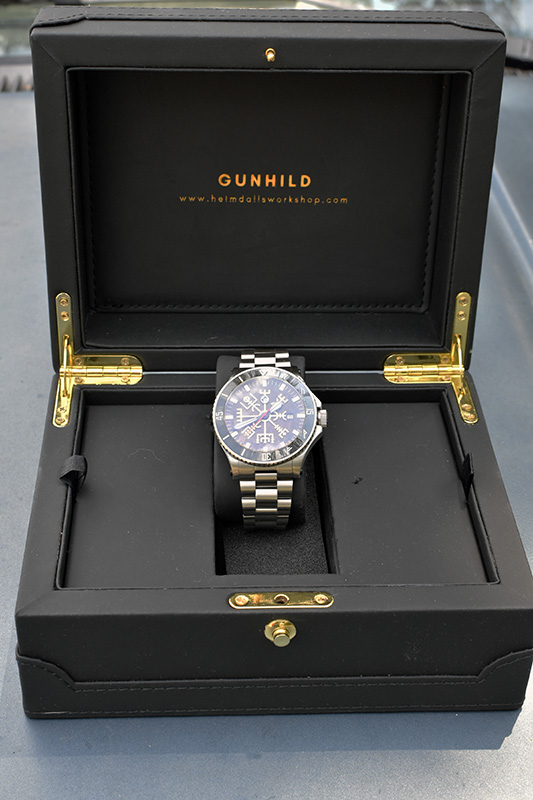 Hardware Specs
Case Material – Stainless Steel
Dial – Antique Ancient Brass
Movement – Automatic Miyota 9015 Cal
Bracelet – Stainless Steel – With micro-adjustment
Glass – Double Domed Sapphire Glass
Strap Material – Stainless Steel
Clasp – Double Lock w/ push-button release & V- Security
Water Resistance – 660 Feet
Case Diameter – 43.5 mm without crown
Case Thickness – 15mm
Crown – Screw Down
Caseback – Screw Down with Gunhild Axe Insignia
Lume – Super Swiss Lume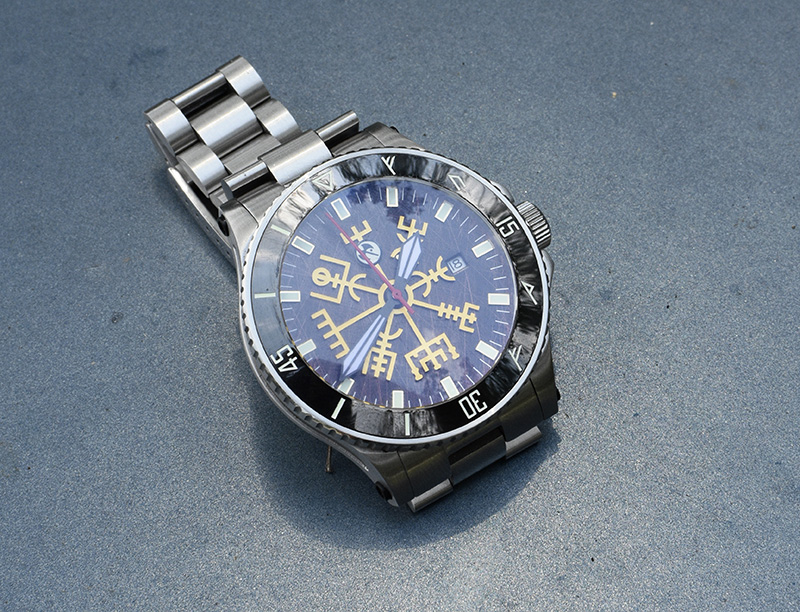 Design and features
Let me start by saying, I am by no means a watch aficionado or expert, nor do I play one on TV. In fact, I didn't even wear a watch until a couple of years ago when I got a smartwatch. The reason? In a previous position with my company, I worked with my hands and practically destroyed the watches I owned.
I do, however, love mechanical (analog?) watches and when the opportunity came to review this watch, I jumped as quickly as possible. It is by far, the nicest watch I've ever worn.
The Gunhild brand from Heimdall's Workshop builds its watches, in-house, in North Carolina.  They use Viking and Scandinavian folklore, Military History, and weaponry in their designs.
Gunhild? Heimdall? Vegvisir? Don't worry, I wasn't familiar with these terms either and I watched the entire Vikings series twice!  So briefly, Gunhild was a Danish Queen consort and wife to King Harald Bluetooth.  Heimdall is a Norse god who guards the Rainbow Bridge, watching for invaders and the onset of Ragnarok. And the Vegvisir is an ancient Icelandic symbol intended to help the bearer find their way through rough weather. According to my quick internet searching, the Vegvisir means, "if this sign is carried, one will never lose one's way in storms or bad weather, even when the way is not known."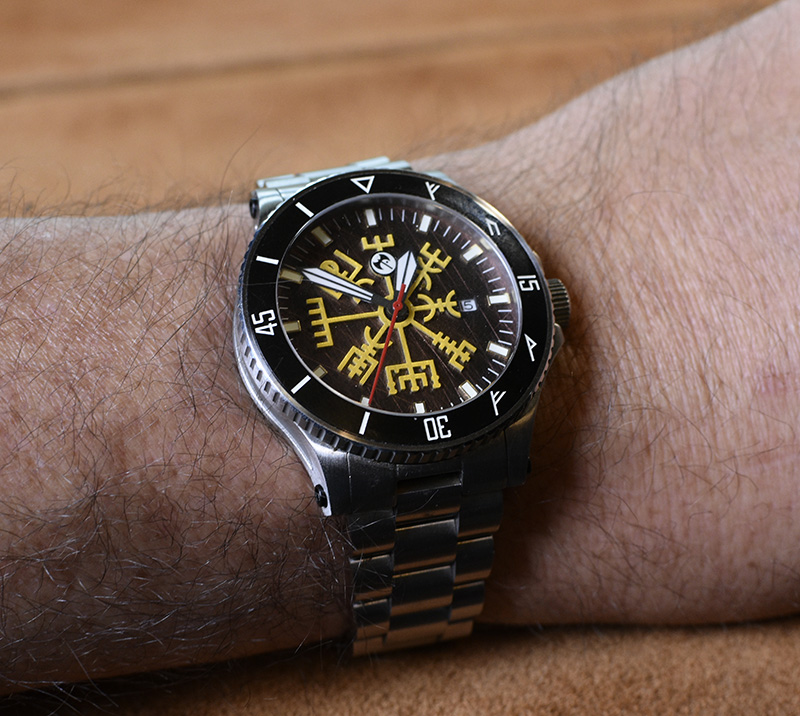 With that in mind, let's look at the Gunhild Vegvisir Adventure dive watch. The Vegvisir is prominently displayed on the watch face in what they call Antique Ancient Brass, and I think it looks fantastic.  The Viking runes used on the bezel, as best as I can tell, represent wealth, strength, and joy. The face, crown, and case back include the Gunhild logo of a double-bit battle axe.  You know what they say, go big or go home!
The watch arrived in a box, within a box, within a box, within a luxury watch case. Yes, really. I think there was supposed to be a tool included for watch maintenance but was missing from mine. I say this because one is visible in the pictures of the watch in the case on their website.  Definitely not a deal-breaker for me, but I had to remove a couple of the links in the band and would've liked to use what they typically include.
Speaking of removing the watch band links, I'm not sure how typical it is with these types of high-end dive watches, but the pins were actually screws, making it incredibly easy to do myself. I thought that was a great feature based on the design theme of the Vegvisir Adventure.
My first impression of the Gunhild Vegvisir Adventure watch when I picked it up was how heavy it was.  I honestly thought it would bother me since my smartwatch is significantly lighter. Once I sized it for my wrist and got it on, all my misgivings disappeared. The weight doesn't bother me in the least.
The second thing I noticed was my perception of the build quality, again no expert.  It seems to be built with the utmost attention to detail and tolerances. To me, it screams quality workmanship. The stainless steel case and bracelet complement the watch design very well.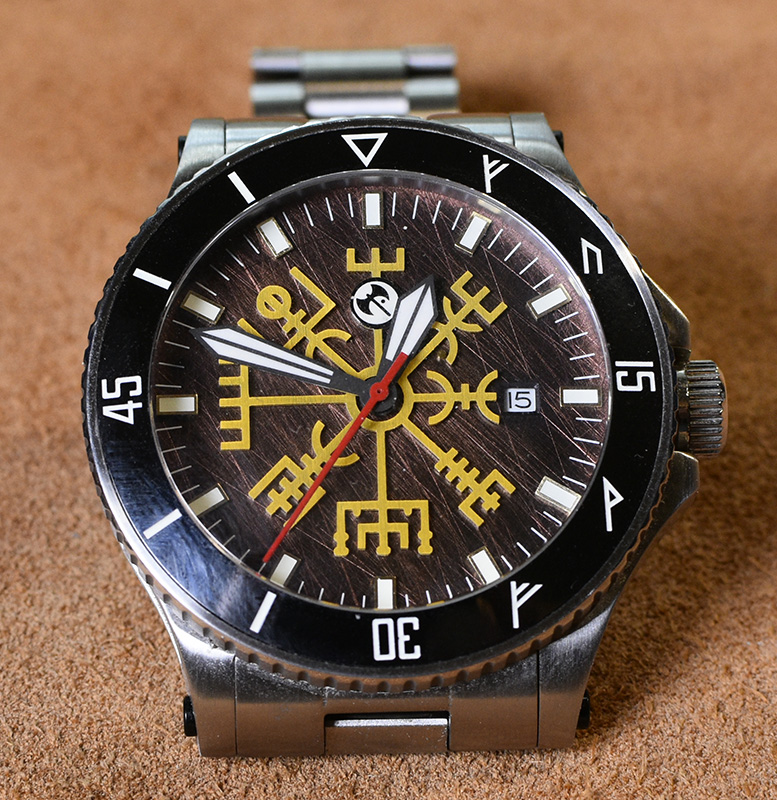 The watch face, oh man, that watch face. I was captivated by the Vegvisir design made in brass, with a background that looks bronze in color. It really pops in the sunlight.  It may be too masculine for some, but I really like it.
The Gunhild Vegvisir Adventure uses an automatic Miyota 9015 Cal movement which winds itself as you wear it. Other watches from Gunhild use Swiss movements. I'm ignorant of watch movements, so I hope this helps someone.  All I know is this thing keeps time with no loss of time since I started wearing it.
The double domed sapphire glass is oh so slightly convex and being sapphire glass, I'm assuming extremely scratch resistant. So far, so good. No scratches on the dome from me.
The other watches from Gunhild look just as striking. If you like this one, you should really check them out. They currently have a Kickstarter campaign for a new line called the Range Day Collection. The first offering from this line is in dedication to our heroes in the military and law enforcement. It's the V1 M4 Carbine, limited to 300 pieces, and ends in a few weeks.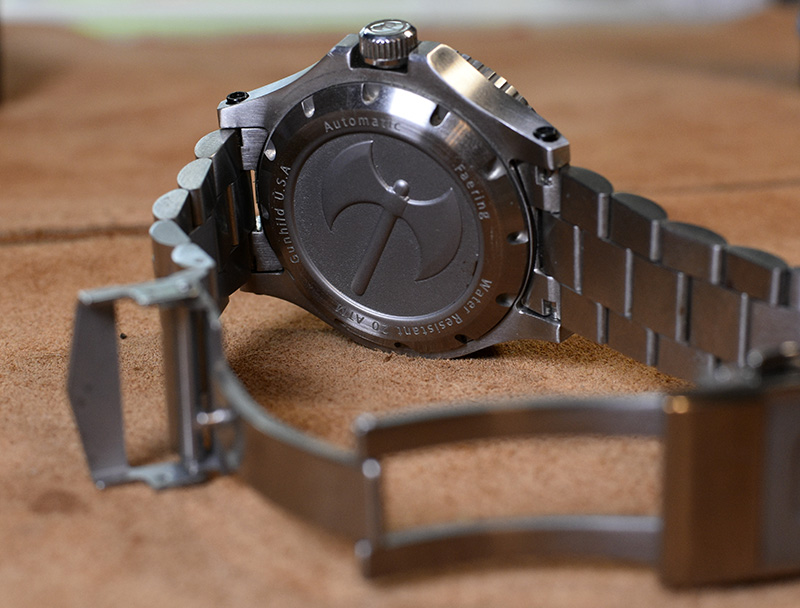 Ok, now for a couple of issues I had with the review sample.  I don't want to say mine was dirty when I received it, but there were some spots on the bracelet and case that needed a little cleaning.  I can't tell you why.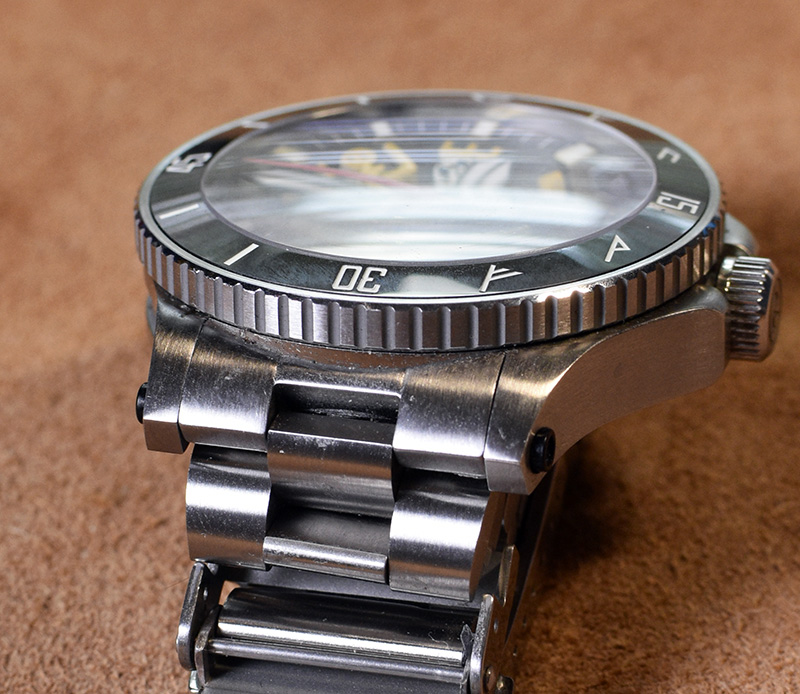 Maybe this was used as a display before it got shipped to me?  I'm sure this is a one-off situation.  With a little soap and water, it cleaned right up.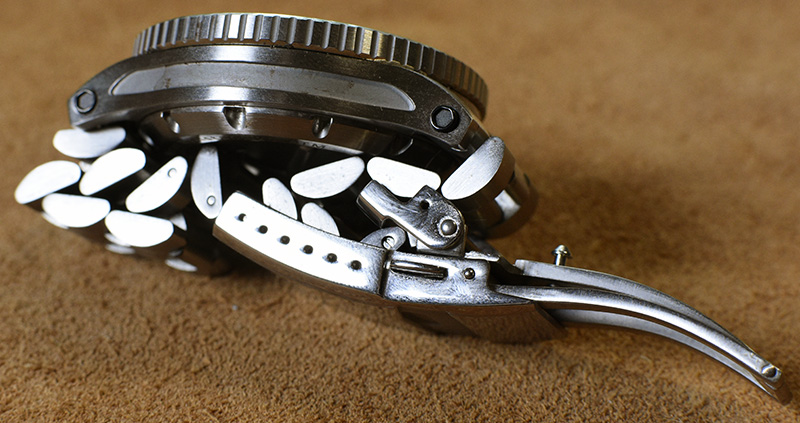 Next, there are slight scratches on the bracelet. It's not a big deal for me, but to someone else, it might be. Finally, the missing tool. I don't know if it was supposed to be included. There is a place in the watch case for it and I did see it pictured on the website.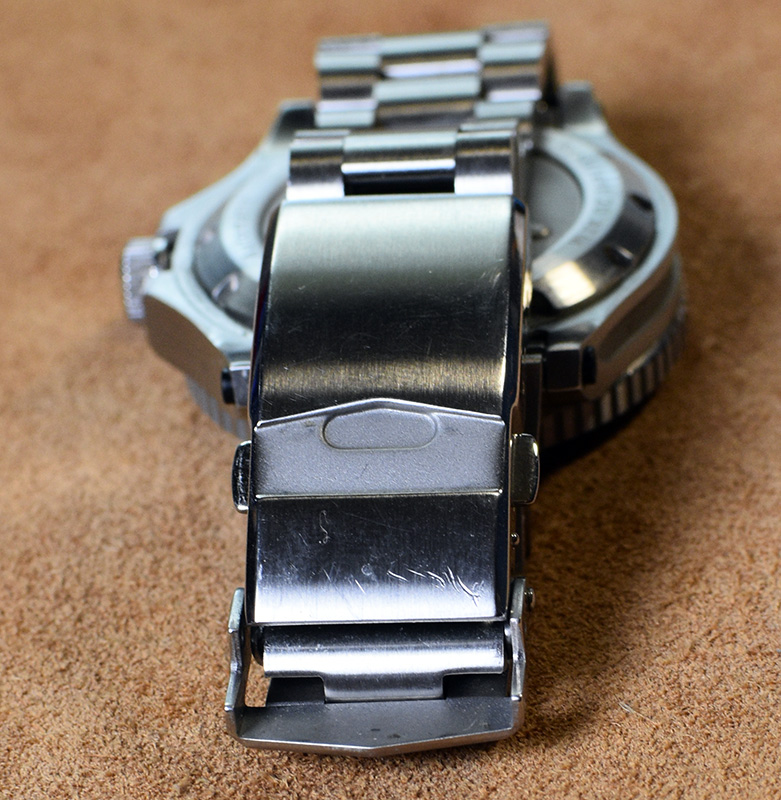 What I like
The Icelandic Viking design
The feel of this high-quality machine on my wrist
It's built right here at home
What I'd change
Final thoughts
I really enjoy wearing the Gunhild Vegvisir Adventure. I like the aesthetic, the build quality, and the fact it's built here in the US. And with the Vegvisir symbol with me at all times, I can find my way through the storm. Trust me, I can use all the help I can get.
Don't forget to check out their Range Day Collection, V1 M4 Carbine Kickstarter campaign too.
Price: $495
Where to buy: Heimdallsworkshop.com
Source: The review sample was provided by Heimdallsworkshop.com