We use affiliate links. If you buy something through the links on this page, we may earn a commission at no cost to you. Learn more.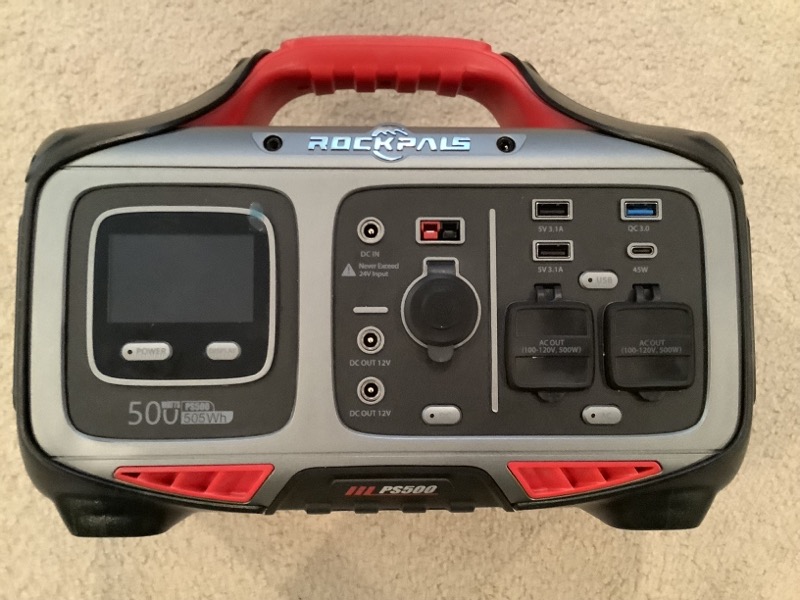 REVIEW – Perfect for camping, picnics or brief power outages, the ROCKPALS Rockpower 500W portable power station can come in handy in these and many other situations where 500 watts of power is needed. Let's take a look at what this stylish and very capable unit has to offer.
What is it?
The ROCKPALS Rockpower 500W portable power station is at its simplest a rechargeable 505 W/hr battery, electronics to generate 500 watts of pure sine wave AC, circuitry to provide standard USB-A & USB-C with 45 watt power delivery, as well as regulated 12V DC outputs.  The unit is capable of being charged with AC, DC, USB-C and/or solar panels if you have access to a set.
This is a small and capable power station that can just about power any typical electronic setup. It flawlessly concurrently powered my 55" LG HD TV, Xfinity cable box, Apple TV, Bose speaker bar and my APC UPS.  This entire setup only required a combined 133 watts as displayed on the unit's built in display.
Specifications
Capacity 504.44 Wh/140,400mAh
Dimensions 12.0" x 9.0" x 6.1"
Weight 12.3 lb
Input DC Port: DC Port: 24V @ 3A, 72W
Input USB C PD Port: USB-C PD Port: 5V @ 3A, 9V @ 3A, 12 @ 3A, 15V @ 3A, 20V @ 2.25A
Solar Panel: Solar Panel: 11-24V 120W Max
Car Port: 12V @ 10A
2 x 5mm DC Port: 12V@5A
2 X AC Output: 100-120V 60Hz (500W Rated, 750W Peak)
2x USB Output: 12V@5A
USB-A QC Output Port: 5V @ 3A, 9V @ 1.5
USB-C PD Output Port: 5V @ 3A, 9V @ 3A, 12V @ 3A, 15V @ 3A, 20V @ 2.25A
Battery Cell Type: Lithium-ion
Lifecycles: ≥ 500
Working Temperature: Charge Temperature: 0° C – 40° C, Discharge Temperature: -10°C-40°C
Safety Protection: Overheating Protection, Over Current Protection, Over Voltage Protection, Short Circuit Protection
The ROCKPALS Rockpower 500W portable power station can power just about anything electronic and is perfect for all handheld electronics, laptops, TVs, portable speaker systems, etc. Anything that combined draws less than 500 watts.
It should be noted that it is not designed to power big appliances such as full-size refrigerators and freezers, microwave ovens, space heaters, toasters, hair dryers, etc. It is perfectly sized for just about everything else. While I did not take the unit camping, I see it being perfect for more primitive campsites where access to AC, DC and comprehensive USB charging is required.
What's in the box?
My ROCKPALS Rockpower 500 portable power station sample arrived in a visually appealing, designed for the store-shelf, box. I would have liked to see this unit shipped in something that is a little more discrete. Depending on where you live, this box screams "Steal Me" from the curb. That said, the box contained the unit, an AC charging brick as well as a DC charging cigarette lighter plug and three small pieces of documentation: User Guide, Safety Precautions, and a Quick Start Guide.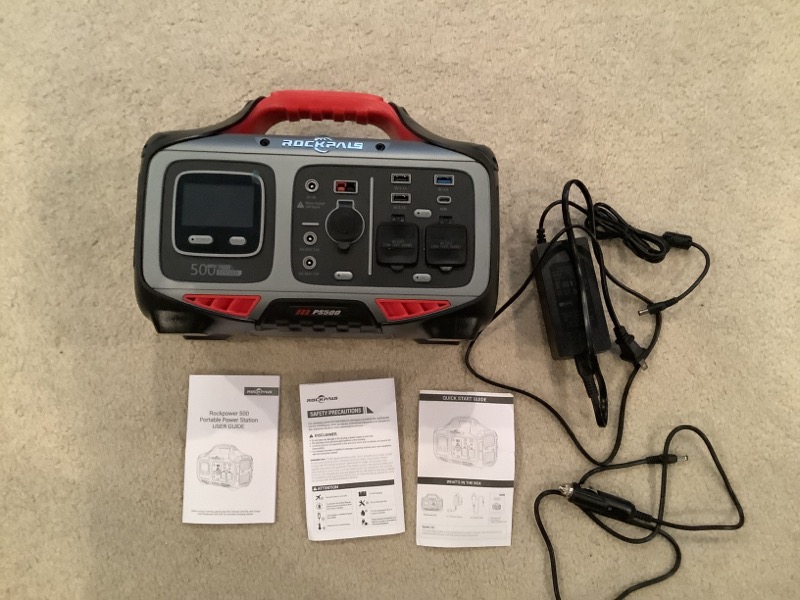 What's in the box.
The unit arrived with a state of charge equal to 59%.  Before using, I fully charged the unit to 100% as suggested by the documentation using the included AC adapter. The unit's fan will trigger on during charging.  That top-off charge took about 3 hours and 35 minutes.  Once the unit is fully charged, the unit will shut itself off, along with the fan.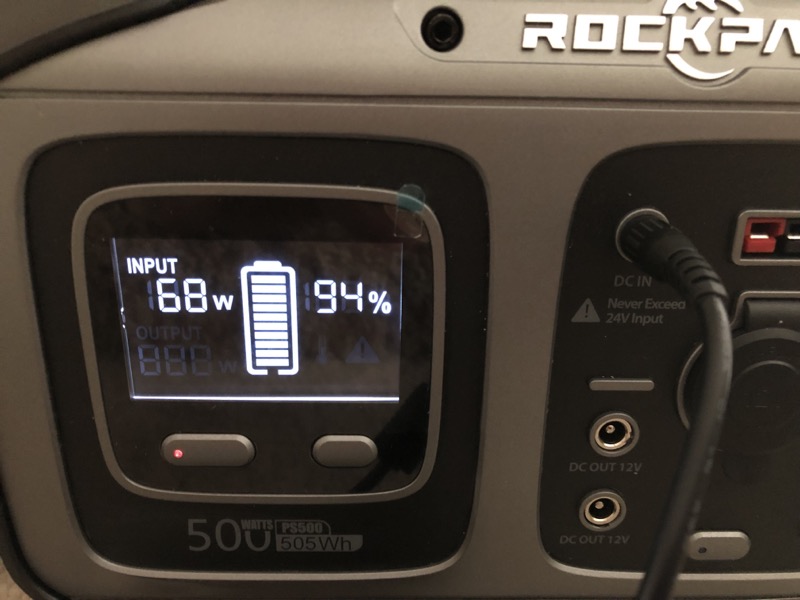 Charging with AC
Design and Features
In my opinion the ROCKPALS Rockpower 500 portable power station, a grey box, with red and black accents is visually appealing, at least to me. The unit has a very nice display which can be turned off and communicates all you need to know while the unit is operating, be it charging, discharging, or both.
There are four different methods to charge the unit. As mentioned earlier, the unit can of course be charged via the included AC Adapter which charges at a rate of 68-watts.  You can charge with USB-C PD at a rate of 45-watts, and the unit can be charged with the included DC cigarette adapter at a rate of 54-watts, at least that is what my car provided.
One thing that initially was a little bit of head scratcher is that the unit does not seem to be able to charge some of the newer external battery packs that use USB-C for charge and discharge.  When you plug in one of these battery packs, the external battery pack begins charging the unit, vs the unit charging the external battery pack. I can tell you that charging the ROCKPALS Rockpower 500W power station with an external battery pack really drains the external battery pack pretty quickly.  This is the situation of the glass being used to fill the pitcher, vs the pitcher being used to fill the glass.
Of course, I am sure the reason that the ROCKPALS Rockpower 500 portable power station's USB-C port accepts power for charging is to accommodate a USB-C power source as a charging option, such as a power brick that accompanies say a laptop. This functionality will also allow one to quickly charge the unit, using both the provided AC charging adapter and the power provided by a USB-C laptop brick simultaneously. In fact using both AC and the output of my M1 MacBook Pro brick I achieved 107 watts going into the device, vs the 67 watts that the AC charging brick provided on its own.
In addition to the unit, ROCKPALS shipped one of their very nice 100W portable solar charging panels. On a clear morning, the solar panels provided the same charging capacity as the included AC adapter, charging at a 68-watt clip.  I am sure in an even more perfect orientation; you will get something closer to the 100W rating of the solar panel. Unlike the shipping container of the unit, the solar panels arrived in a plain brown box which did not bely the contents within.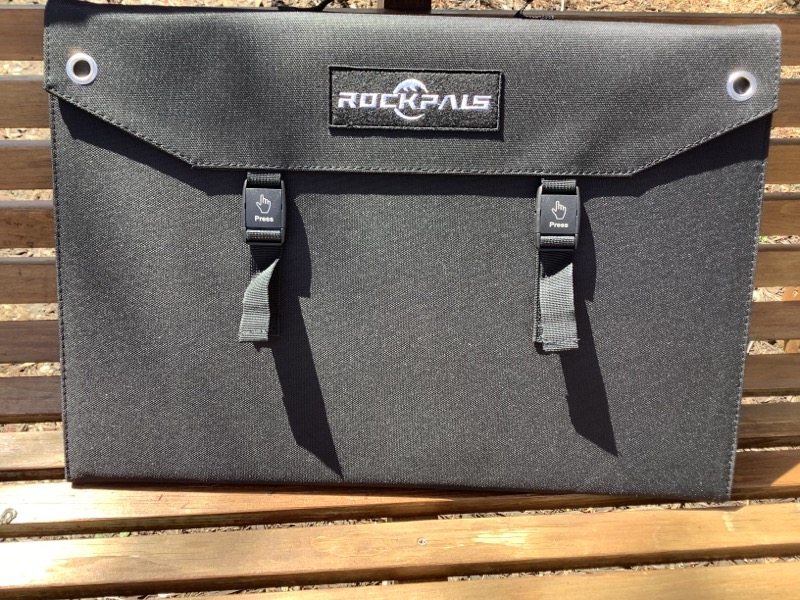 100 watt solar panel in transport mode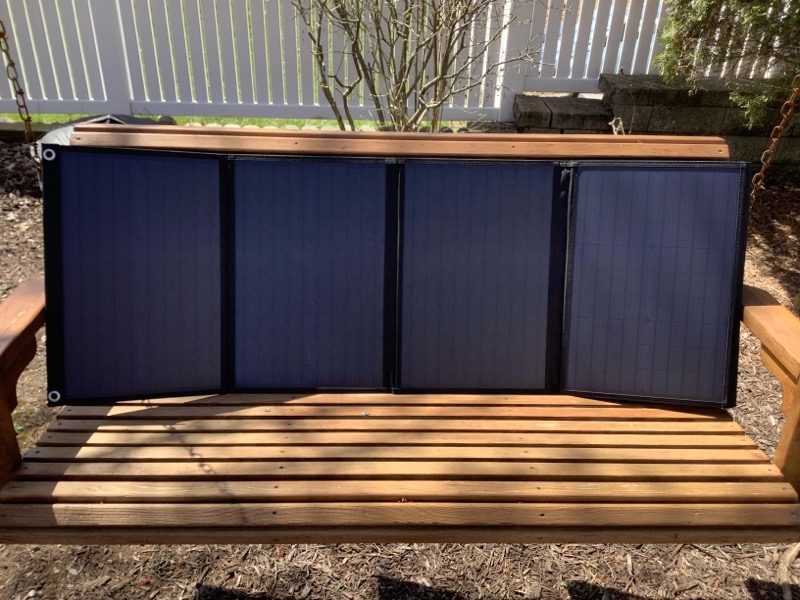 Solar Panel fully opened up.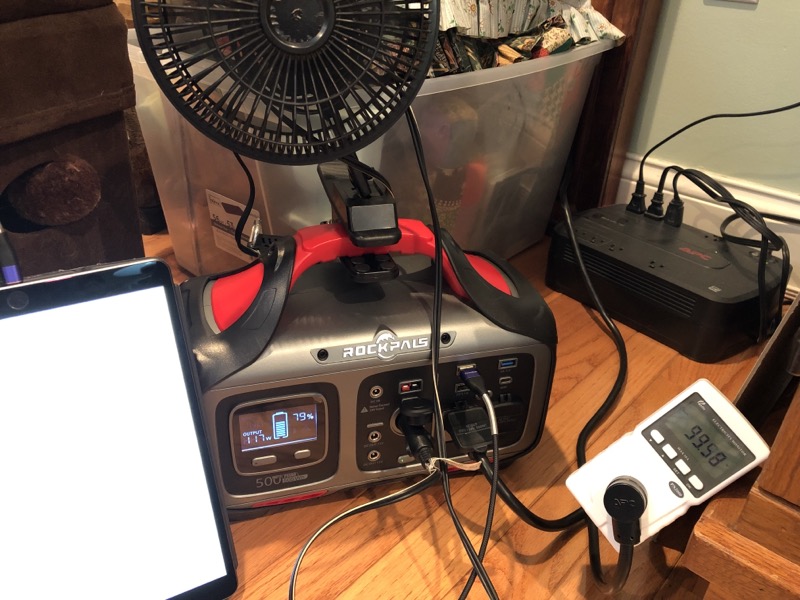 Unit concurrently powering, AC, DC, USB @ 117 watts
The unit has four separate power buttons.  A main one, one for the pure sine wave inverted AC, one for the DC section which controls the 12V DC ports, cigarette socket, and lastly one for the USB ports.  Note that all three sections can be providing energy at the same time. So you could be powering an AC fan, while at the same time powering a portable DC refrigerator and charging your phone, iPad, or even your laptop (AC or USB-C).
There is a slight caveat with charging in that the unit can only accept and deliver energy on the DC portion of the unit.  The AC pure sine wave inverter will shut itself off anytime you try to charge the unit at the same time it is providing AC power, regardless of the source of charging power (AC, solar, USB-C, DC car adapter) being applied to charge the unit.  This means the unit will not be able to power your AC home electronics while accepting a charge.  Thankfully one can recharge USB devices, and even power a DC appliance or two while charging from the solar panel for a reported total of 117 DC watts.
I could not load the ROCKPALS Rockpower 500 portable power station to a full 500 watts and I tried. I had a halogen work lamp that drew a little over 500 watts in the highest setting and this reset the unit. The best I could do is hook up a bunch of stuff to get the unit drawing 450 watts, really cool. When doing this it appears that a decrease in state of charge of 10% happens in about five and a half minutes.  If you do the math, factoring in that the unit will not operate AC loads below 10%, the unit should be able to power that load for almost 50 minutes. Creating a load like this is really a contrived situation. Again, the unit is really designed in my opinion to power typical electronic equipment, portably, so I just do not see it having an issue powering the kinds of things it is sized to power.
One thing that was a little disappointing was the loudness of the fan. Since the dissipation of heat is I am sure a big deal, this might not be something that can be totally avoided.  The fan is activated both while charging and discharging with any load above say 40 watts.  I could not locate an exact spot.  The fan's speed is load dependent (both charge and discharge) as it will speed up as the load gets higher, turning off when the load drops below a certain threshold. I think I noticed three different speeds. It is worth mentioning that there is no fan operation when using the unit to provide energy on USB, again if it is not overloaded with heavy USB loads.  So completely quiet operation in this mode.
Setup
Depending on your planned use, I would just make sure the ROCKPALS Rockpower 500 portable power station is fully charged before you attempt to use it heavily. Depressing the main power button for a couple of seconds wakes the unit up, and it displays the battery's state of charge.  You can then activate any of the three separate power delivery sections, AC, DC or USB. Each button has an embedded LED so you can easily see what portions of the unit are powered.
Another thing to keep in mind is that the unit will prevent AC loads from being used once the battery state of charge reaches 10%.  It is worth noting that the DC and USB circuits remain active below 10% state of charge.  I had an iPad at 57% and it charged it to full, with 6% of charge remaining.  Recharging the unit from 6% on AC to full required a little over 7 hours.
Another test I performed was with my M1 MacBook Pro.  I ran the laptop battery down to 38% and decided to see how the ROCKPALS Rockpower 500W portable power station performed in this scenario. The ROCKPALS had a state of charge of 44% to start the test.  The laptop stopped charging at 80% (The Mac OS manages charging of the  laptop to extend the laptop's battery life) via USB-C and the ROCKPALS was at 38%.  Doing a little math, this is about what would be predicted based on the size of both the ROCKPALS battery and the size of the laptop battery.  Like charging a phone, the laptop did not produce enough energy to trigger the fan to go on, so the laptop charge was performed quietly for the entirety of the test.
Finally, here is a set of images showing the ROCKPALS Rockpower 500 portable power station being charged by the sun. This whole charging by the sun thing is very cool and I just had to include some pictures.  This was my first exposure to this, and it just feels good charging the unit via the sun.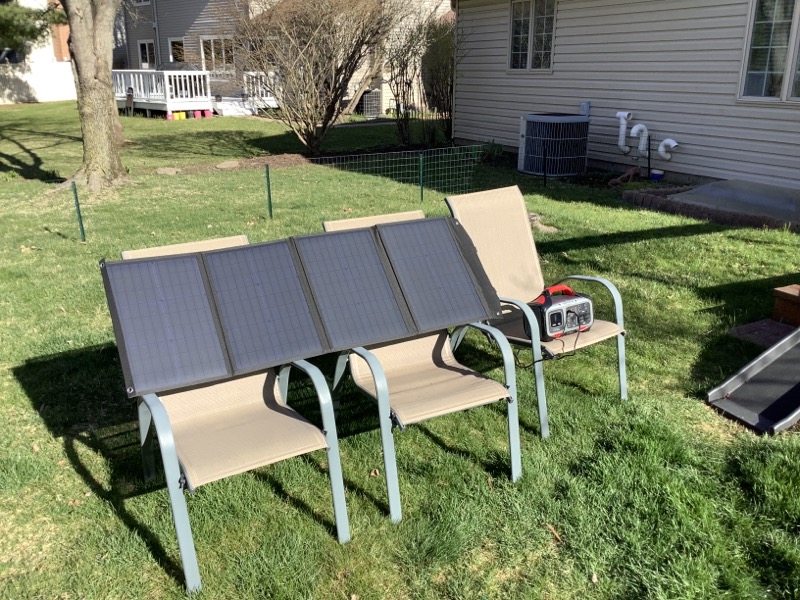 Solar array charing the unit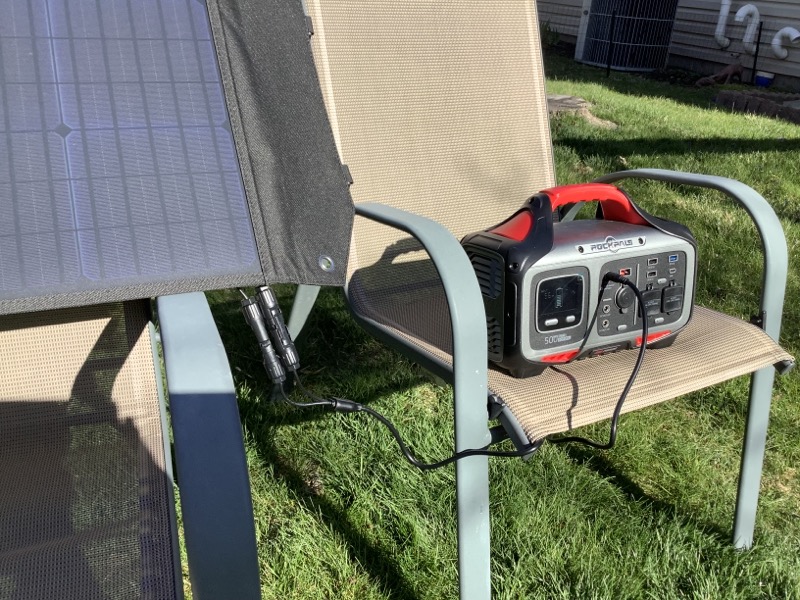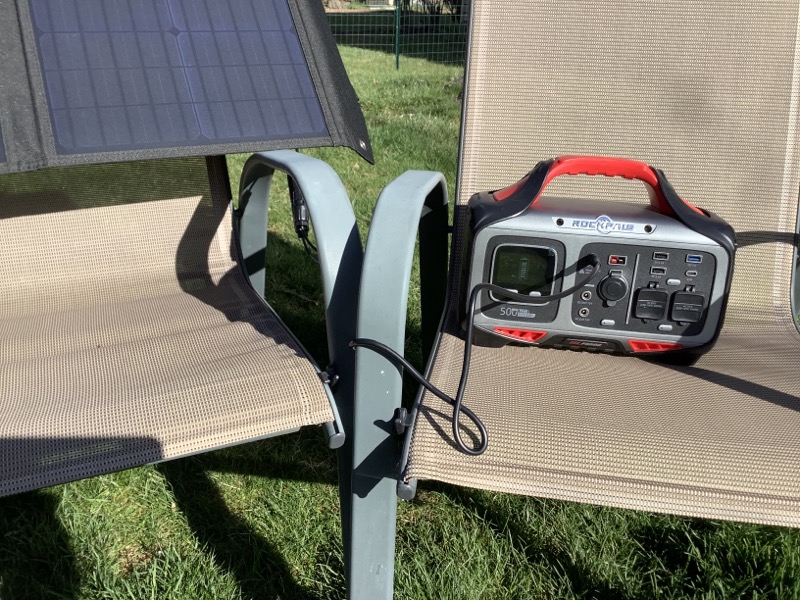 What I Like?
Love the rugged looks, convenient size and weight of the unit.
The display tells you everything you need to know and can be turned off if needed.
The construction seems very solid.
The number of outputs and the flexibility of charging options.
What I'd Change?
I would like the fan to be quieter.
It would be great to accept energy while powering AC loads.
Final Thoughts?
Back in the 80's when I had a popup camper, I had an external 12V car battery and a very industrial looking 200 W non pure sine wave inverter. The camper battery would be charged while pulling the camper, and this setup would provide enough juice to power two small fans or a small TV a little over the weekend. I never really used the TV much, and never had any idea of how much charge I had remaining. Enter the ROCKPALS Rockpower 500W portable power station.  Not only does the ROCKPALS provide more power, in more different ways, it displays exactly how much power is left and it is a heck of a lot easier to lug around and charge then the 12V car battery and inverter back in the day. In short, the ROCKPALS Rockpower 500W portable power station is compact, smart looking, and very capable for what it is designed to do. Like the 12V battery above, it can easily be charged while driving to your destination, and if you add a solar panel then you can recharge it at your destination hassle free, using the power of the sun. You can't beat that.
Price: $344.99
Where to buy: Amazon
Source: The sample for this review was provided by ROCKPALS.