We use affiliate links. If you buy something through the links on this page, we may earn a commission at no cost to you. Learn more.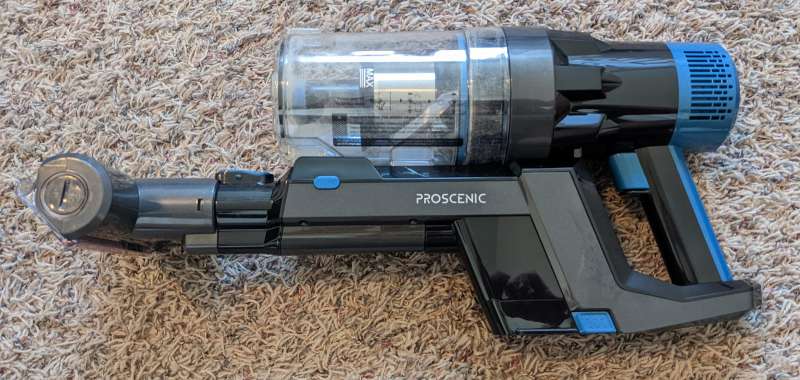 REVIEW – The Proscenic P11 Smart is a cordless "stick" vacuum cleaner that never seemed like a necessity to me. Prior experience with cordless vacuums showed me the batteries never lasted very long and they were never powerful enough to be useful. I was content to just be stuck with my heavy plug-in floor vacuum to get the job done until now.  After using the Proscenic P11 Smart cordless stick vacuum cleaner I will be reaching for this a lot more often.  Battery technology and brushless motor advancements have turned this cordless vacuum into a must-have for me now.
What is it?
The Proscenic P11 Smart is a cordless handheld "stick" style vacuum cleaner with up to 60 mins runtime, auto power adjustment, and smart app integration.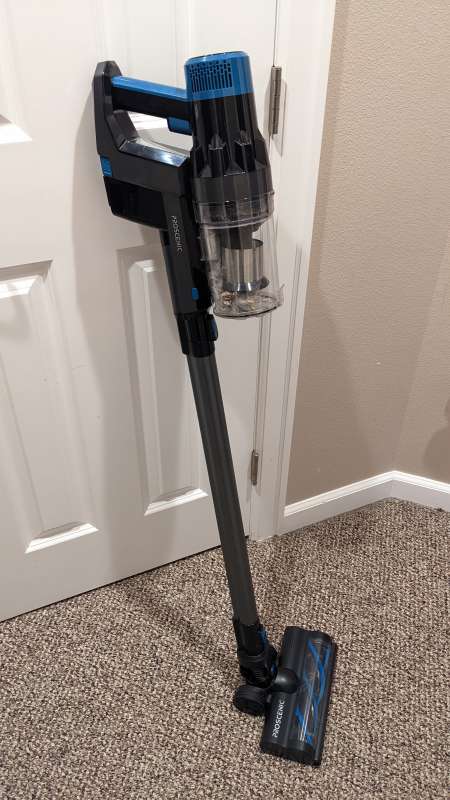 What's in the box?
• Proscenic P11 Smart cordless stick vacuum cleaner
• 1x electric floor brush with LED lights
• 1x mini motorized tool
• 1x round dusting brush
• 1x metal extension tube
• 1x crevice brush
• 1x cleaning tool
• 1x power adapter
• 1x wall mounted charging stand installation kit
• 1x user manual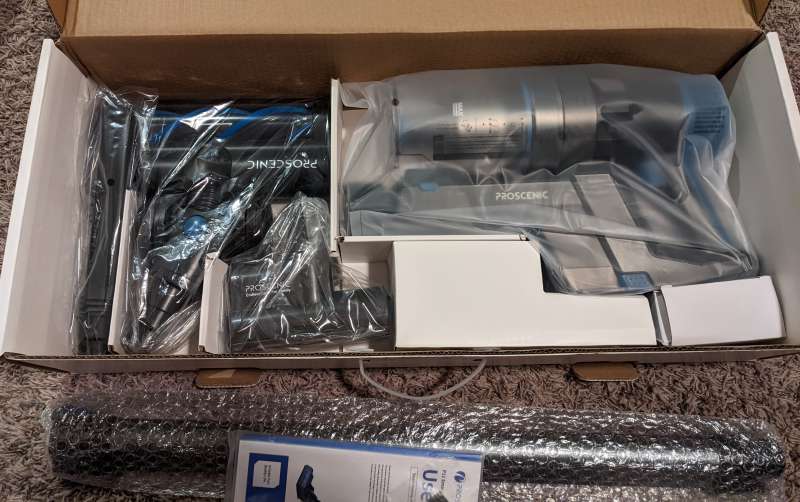 Everything came well packaged and protected.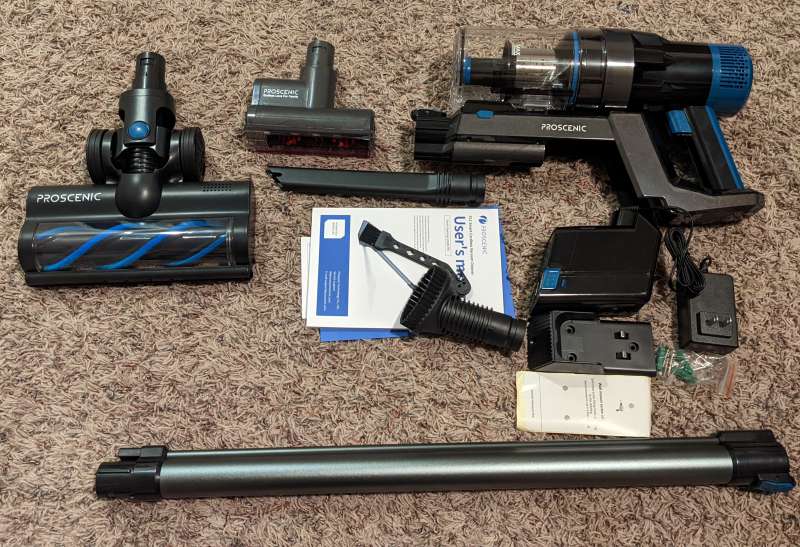 The Proscenic P11 Smart cordless stick vacuum cleaner came with a good assortment of accessories but I found the electric floor brush and crevice brush (although it is just a tube without bristles) the most useful.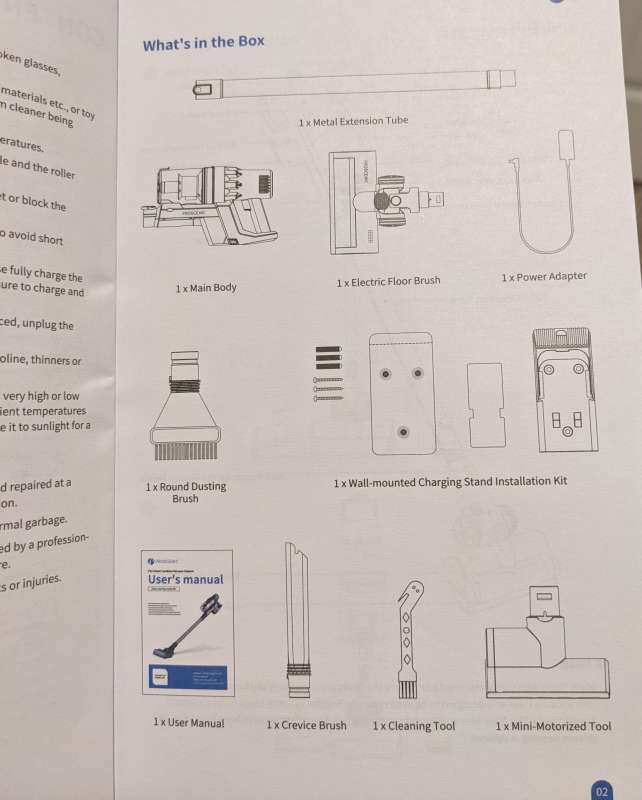 A clear and easy to read user manual is included.
Specifications
Weight: 3 lbs 12 oz (main vacuum body + battery)
Suction power: up to 30k Pascal
Run time: 60 mins (ECO), AUTO (30 mins), and MAX (15 mins)
Dustbin capacity: 650ML
Noise: Max 77 decibels
Battery: 1x 2200mAh lithium-ion battery is included with replacement batteries are available Amazon, ASIN: B09MTJ364G $49.00)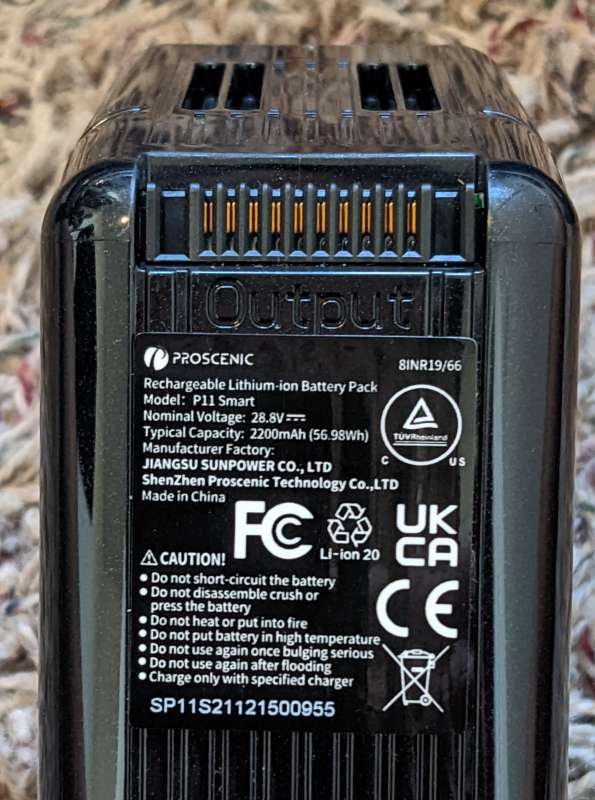 Charge time: 3 hours from fully drained
Filtration: 4 stage HEPA filtration system
Dimensions: L 15in H 9in W 4in
Power: 450W brushless motor was advertised but the data sticker states 350W rated power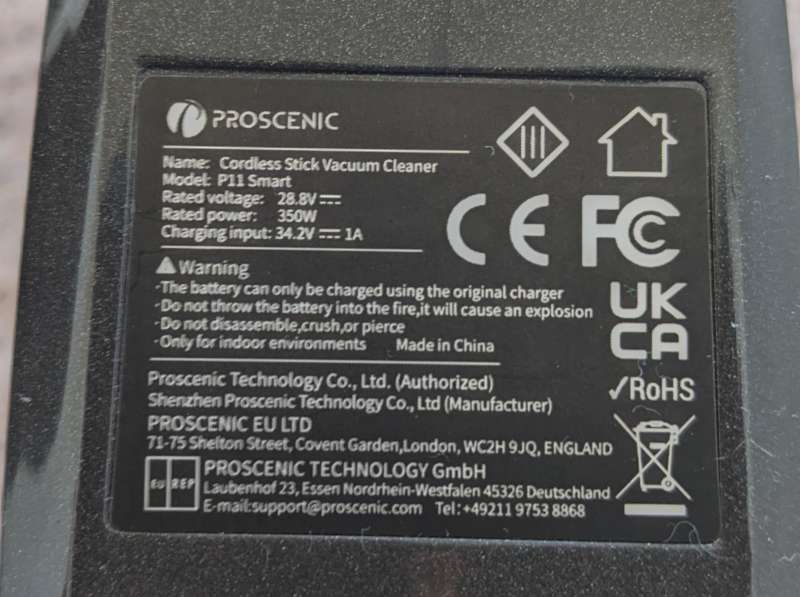 Design and Features
The Proscenic P11 Smart cordless stick vacuum cleaner is a very close lookalike to many other cordless vacuums of this style and looks almost identical to the Ultenic U11 vacuum previously reviewed on the Gadgeteer so this particular model may be sold under different brand names. It has decent specifications such as a 60 minute run time (on ECO mode), a 450w brushless motor, 650ML dustbin capacity, 30,000 Pa of suction, LED smart display, and smart app integration.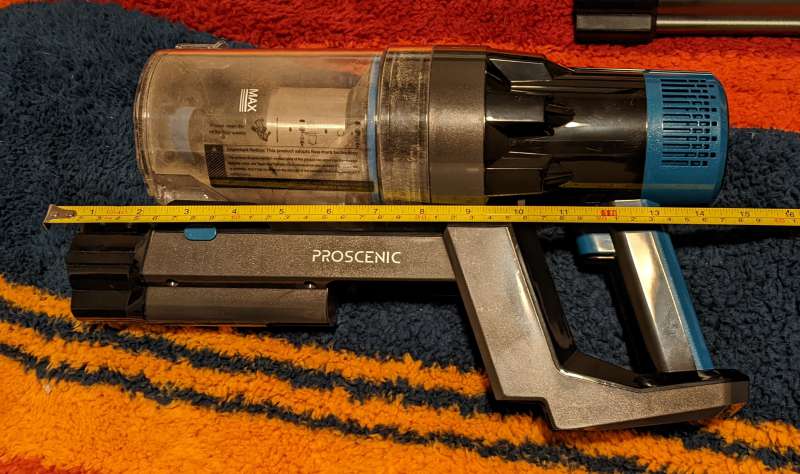 The main body is 15 inches long, 9 inches tall, and, 4 inches wide so not too bulky.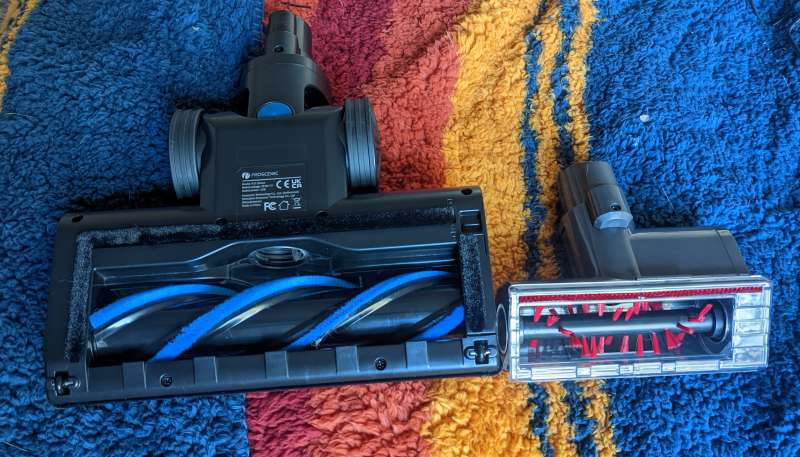 On the left is the electric floor brush that I pretty much used for all my floors and even ran over the couches and the cat beds.  The mini motorized tool on the right and the round dusting brush worked great in the cars.
The Proscenic P11 Smart has 3 modes, ECO (60 mins), AUTO (30 mins), and MAX (15 mins). I have been using it daily for the past few weeks where normally I would have used a broom and dustpan just because my big vacuum is too much trouble to get out.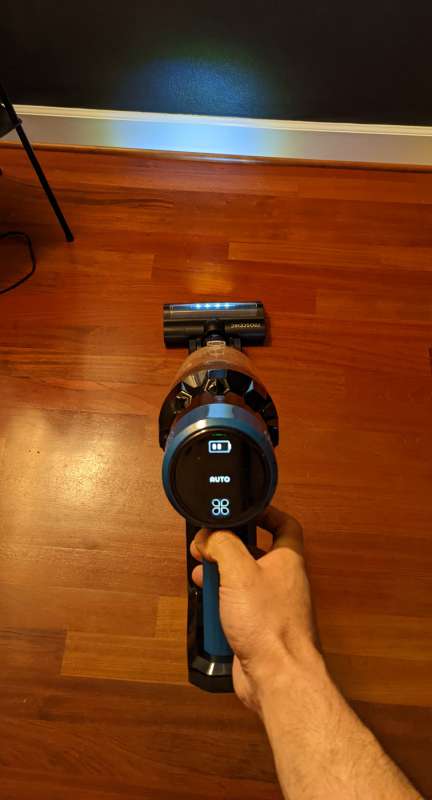 4 LEDs on the electric floor brush projected a useful swath of light.
I tended to leave the Proscenic P11 Smart cordless stick vacuum cleaner set on Auto using the floor brush for most vacuuming because it adjusted to the surface automatically so when on carpet it got stronger and when on hardwood it lowered the power by itself. Eco mode was great for collecting spider webs and general dusting duty. I didn't find the need to use the Max setting very often because Auto seemed to do the job just fine but I did test it out in the car with the mini motorized tool and it worked great to get all the little crumbs and debris out of the carpets and from between the grooves in my all-weather floor mats. The Proscenic P11 is lightweight (3lbs 12oz) and can easily be maneuvered with one hand and the noise level is considerably lower than my plug-in floor vacuum. I don't feel like I need to wear earplugs when it is running.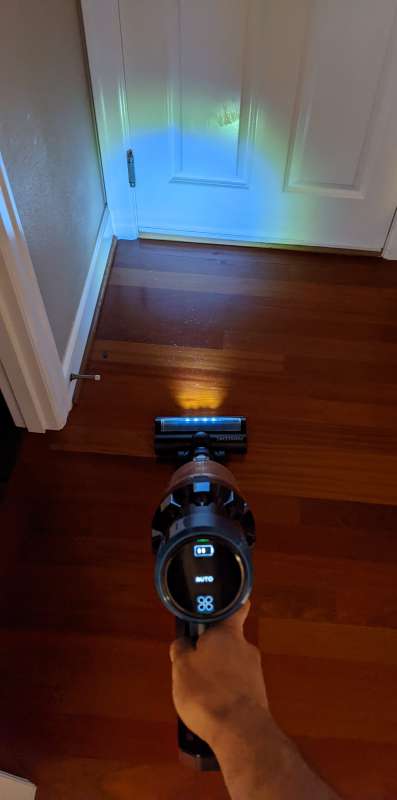 In relative darkness, the LEDs provided excellent light and the low angle was actually better to detect dust and debris on the floor rather than turning on the overhead house lights so I ended up seeing more dirt after turning all the house lights off.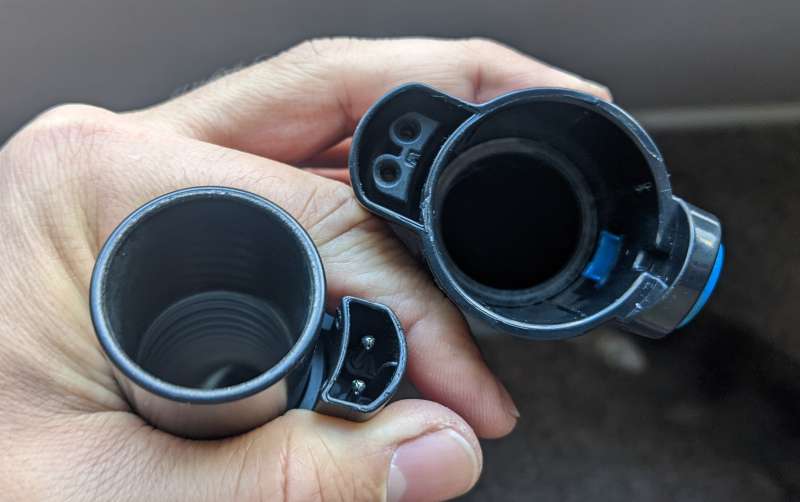 Electrical connectors in the tube and electric floor brush.
All the parts and the main unit feel solid and well made. The metal extension tube provides power to the LED lights in the floor attachment. I did not experience any issues with power cutting out so the connection seems solid and should hold up pretty well. The crevice tool was perfect for stairs and in the car but I was unable to reach a few tight spots due to the combined length of the crevice tool and the motor. I would have preferred a flexible extension tube which would have allowed me to reach some of the areas a little better.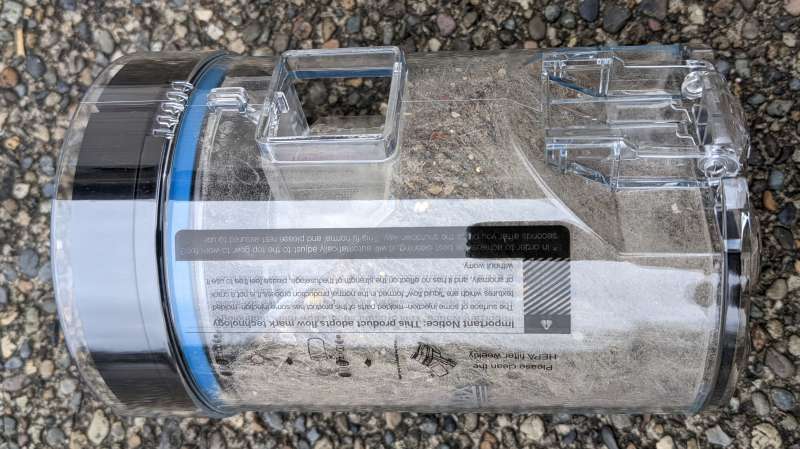 The dustbin is about the size of a 1-liter water bottle but with the filters taking up space you get 650ML actual capacity. If you have pets or a human that sheds a lot plan on emptying it after every extended use like I had to. It does a great job picking up pet hair (I have two cats) and being able to see what was in the dustbin was a nice feature since my son likes to leave his Legos around and I was able to see them and dig them out before emptying it in the trash.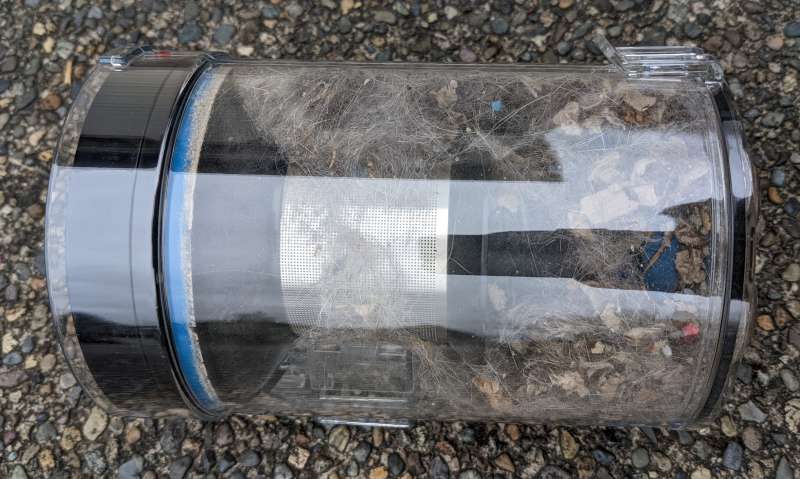 The other side of the dustbin showed there was still some room after vacuuming for about 15 minutes.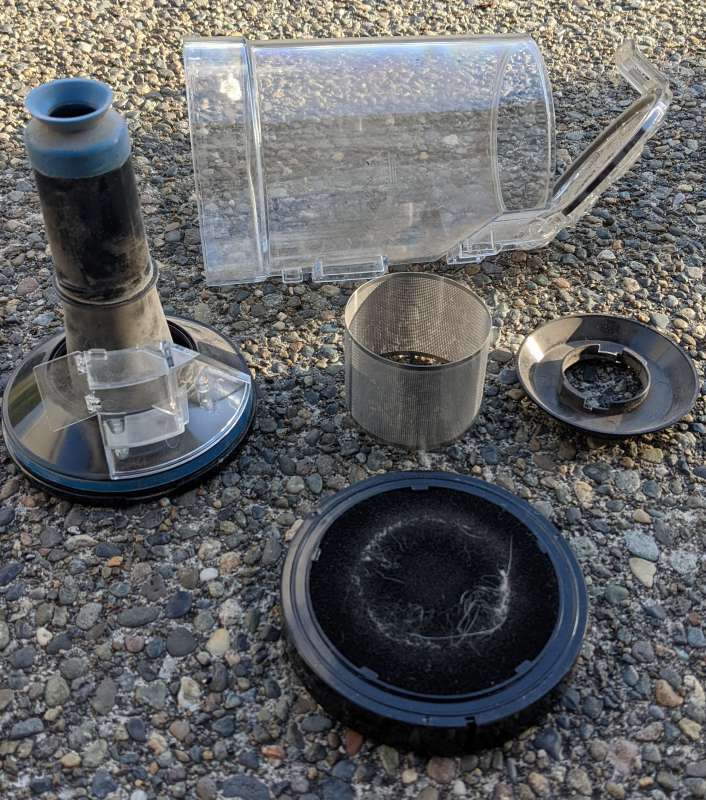 I did not have the equipment to test the 4 stage HEPA filtration claim but I did not notice any escaping dust or debris while in use. The dust bin was easy to take apart to clean and put back together.
The app was easy to set up and connect but I found it will only connect when fully charged.  Unless you are paying your teenager by the hour to vacuum or need to contact customer support it probably isn't necessary to have but is there if you want to use it. I did find that each report is each time you turn the vacuum on and off so 1o cleaning reports could be from one day depending on how often you turn it off during your vacuuming session.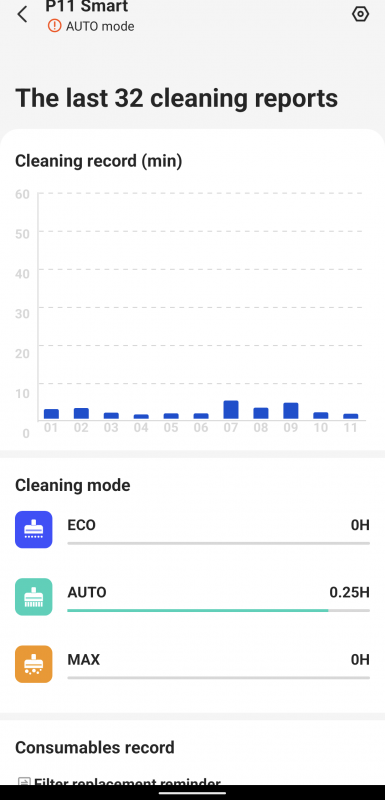 What I like
Good battery life on Auto and I liked the ability to detect carpet and adjust power automatically
Clear dust bin container lets you see when it's full and easy to empty
Battery level indicator on the display
What I'd change
My only suggestion would have been to include a flexible extension tube so that you could hold the vacuum in one hand and use the crevice brush or round brush in the other hand to get into tighter spots.
Final thoughts
Hovering around the $200 price point with a coupon, the Proscenic P11 Smart cordless stick vacuum cleaner gets a highly recommended rating from me based on its good battery life and performance. The "stick" vacuum has finally won a place in my heart and I will definitely be reaching for the Proscenic P11 a lot more now for my daily vacuuming needs.
Check out our other Proscenic reviews.
Price: $259.99
Where to buy: Amazon (there is an $80 coupon that you can click on the page)
Source: The sample for this review was provided by Proscenic.