We use affiliate links. If you buy something through the links on this page, we may earn a commission at no cost to you. Learn more.

REVIEW – Recently, I reviewed the Dyson V15 Detect+ cordless stick vacuum cleaner and it's phenomenal. However, the Dyson is über expensive and is financially out of reach of many households. But that doesn't mean a good—and affordable—cordless stick vacuum cleaner is unattainable. Far from it. There are many out there and this is a review of one of them—the Ultenic U11 cordless vacuum cleaner.
What is it?
The Ultenic U11 is a lightweight and affordable cordless stick vacuum cleaner that can vacuum a whole house or apartment between charges. It features a cyclonic suction motor with a 4-stage filtration system with HEPA that Ultenic claims will block 99.99% of dust re-entering the atmosphere. It weighs a light 5.7 lbs. 


What's in the box
Vacuum cleaner main unit
Anti-mite electric brush
Long flat tip
Round brush tip
Specs
Weight: 5.7 lbs.
Charge time: 2.5 hrs
Run time (Eco mode): 55 mins
HEPA filter

Design and features
It may be unfair to review the affordable Ultenic U11 so soon after the (not affordable) Dyson V15+, but as much as I like the V15+, the U11 (don't you just love the weird names?) has a lot going for it. 
First, it comes in an eco-friendly box with minimal, but easy-to-follow instructions. The design is similar to other stick vacuums, consisting of the main vacuum body connected to a long stick that holds various attachments. What's unique about the U11 is how it's stored when not in use.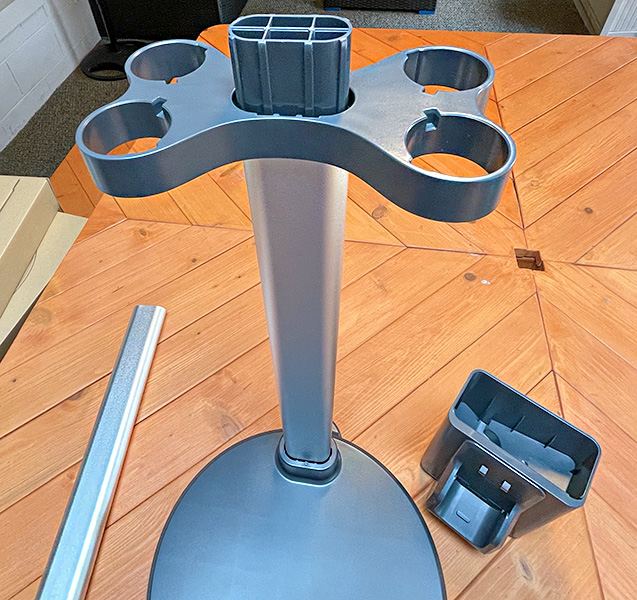 Most stick vacuums come with a wall charging mount requiring some work to install resulting in unsightly wall decoration when done. Even so, it is convenient to just grab the vac and go, knowing it will be fully charged. Ultenic cleverly converted the ugly wall mount into a stand that can be placed anywhere near an outlet and moved from room to room. A brief assembly of the stand is required.
When mounted and charging, the U11 displays an animated battery icon on its touch display. This touch-sensitive LED displays U11's three vacuum modes as used: Quiet, Auto, and Powerful. Error codes (explained in the manual) will also be displayed should they happen. The modes can be activated by tapping the main button on the screen. Ultenic included what they call "Ultra Carpet (UC) Boost"—a sensor that adjusts suction power depending on the floor type. However, I didn't notice any suction differences as I vacuumed over the tile and then carpet.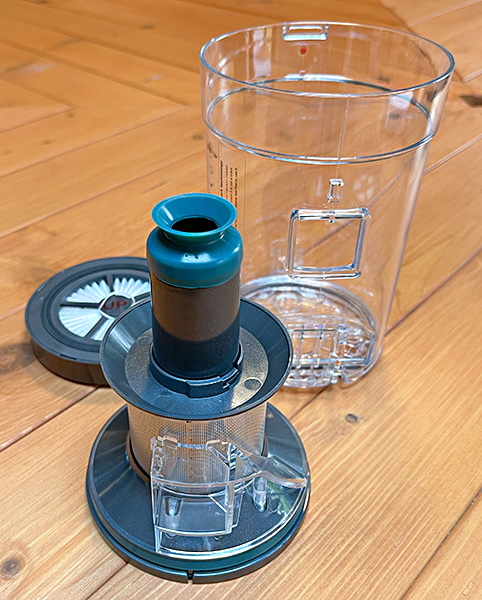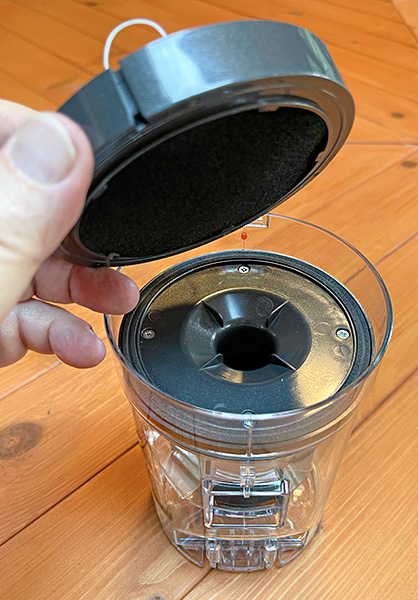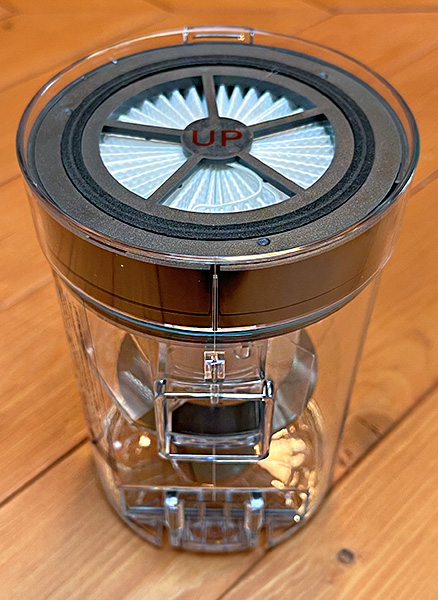 As with any stick vacuum cleaner, the U11 should be periodically disassembled and cleaned. This is easy to do and clearly explained in the manual. Each removable part is washable. It's even much easier to clean than the more expensive Dyson. It's recommended that the parts dry for 24 hours before re-installing.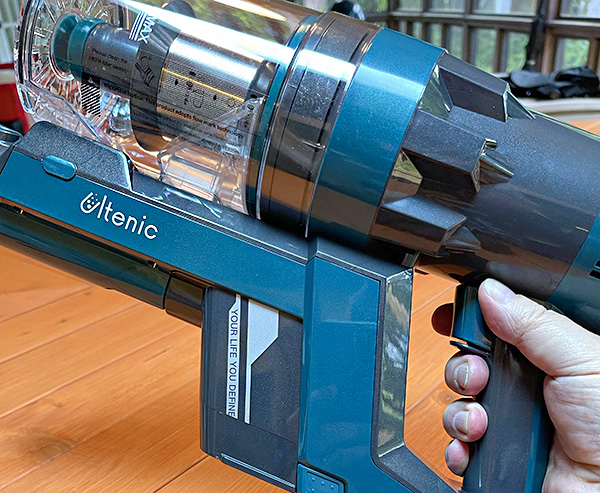 Turning the U11 on is done by simply pressing and releasing the handle trigger. Unlike many vacuums that require the trigger to be pressed at all times, the U11 stays on until the trigger is pressed a second time. This can relieve some pressure on sensitive hands and fingers, but I prefer pressing and holding the trigger to operate the cleaner.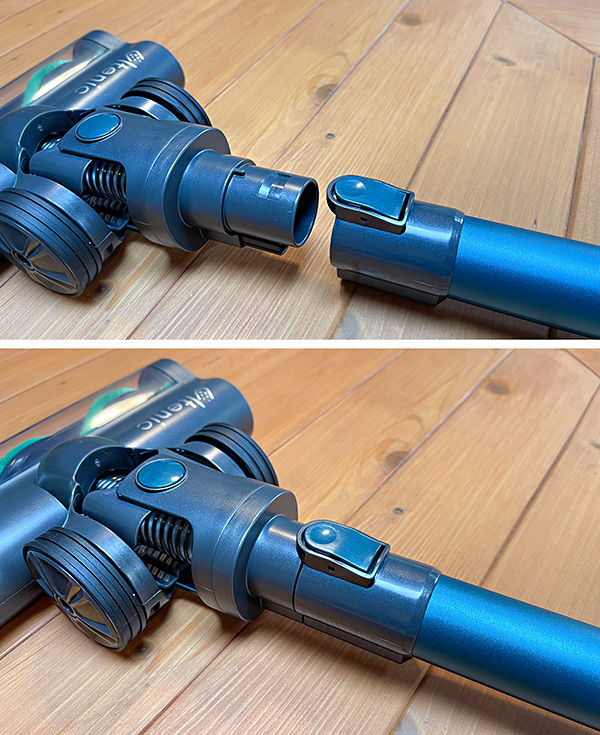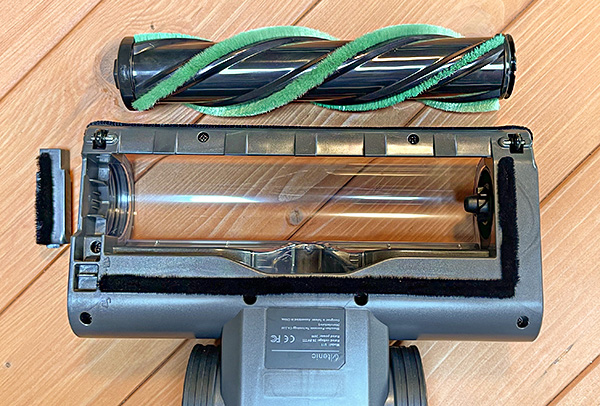 The U11 comes with a basic set of attachments. The main attachment is what Ultenic calls the electric floor broom—a rotating brush made for carpets and hard floors. I prefer a soft roller specifically made for hard floors over any rotating brush, but in this price range, you make concessions. The floor broom easily swivels around objects on the floor (like chair legs) and into hard-to-reach areas like under furniture.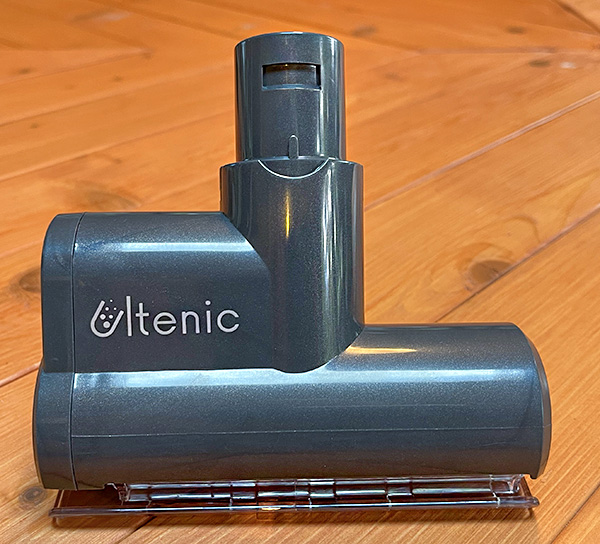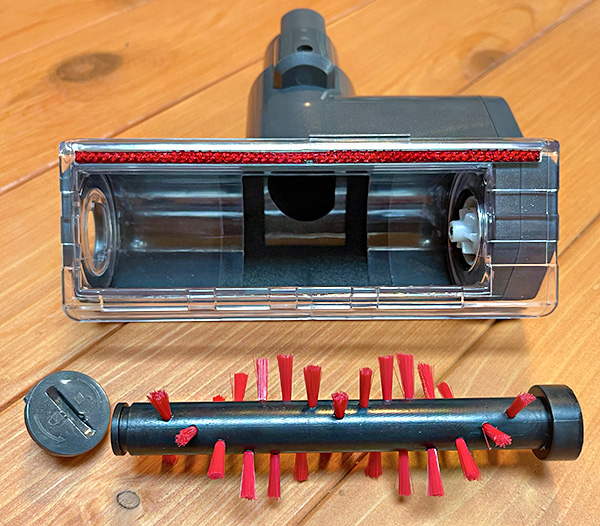 Ultenic included a mini-version of the roller called the anti-mite brush. This attachment also has an electric roller that is perfect for upholstery, mattresses, cribs, etc. Ultenic says it helps against mites. I had no way of testing for that, but I'm sure it can't hurt. This brush is great for automobile use as a portable vacuum.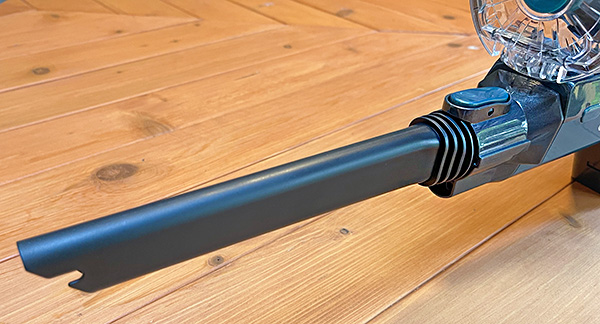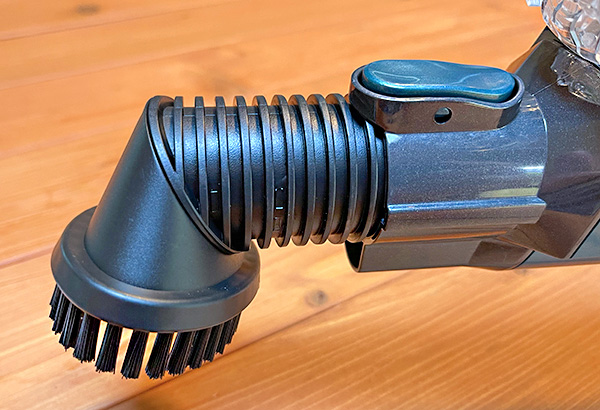 The standard long flat tip is used for reaching tight places. The round brush tip is made for cleaning desktops, keyboards, etc. It can be swiveled for horizontal and vertical use. However, the brushes are a bit too stiff for my tastes. I prefer a softer brush for vacuuming delicate electronics.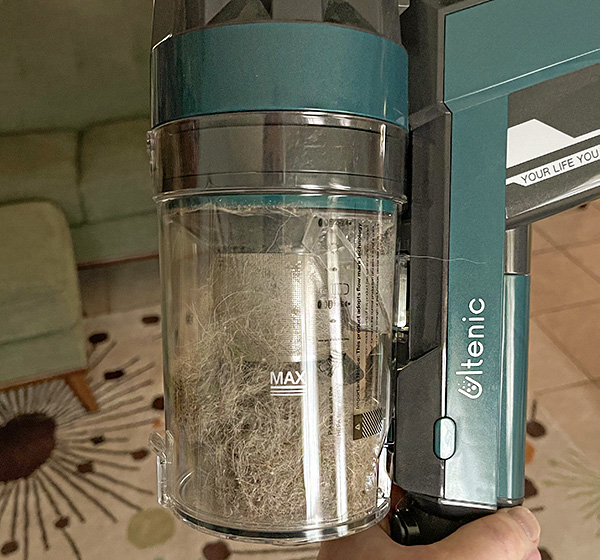 Some things became apparent while vacuuming floors with the U11. It does a good job sucking up debris on hard floors and is just okay vacuuming carpet (despite the roller brush). The U11's suction on the carpet can't match Dyson's power. After vacuuming our living room rug with the U11, I re-vacuumed it with the Dyson, which filled up its bin with dog hair—all missed by the U11. The U11 just didn't pull as hard—even in Powerful mode. But then, the Dyson costs a lot more!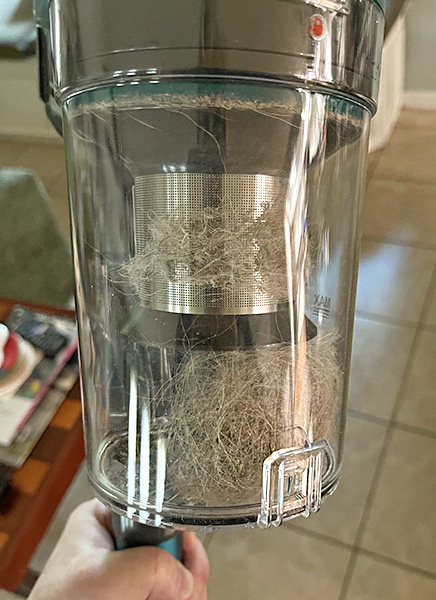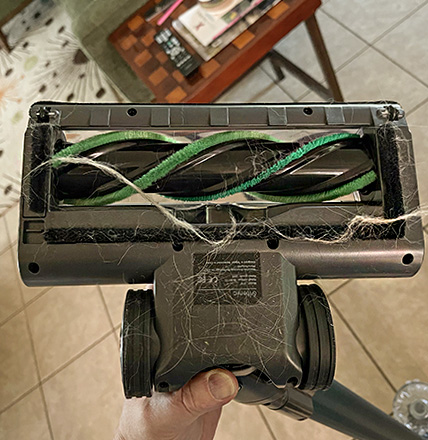 It was a different story using the U11 on our tile floor. Once again, I vacuumed an area with the U11, followed by the Dyson. Here, the Dyson only picked up a small amount missed by the U11. I attribute this to the U11's roller brush missing some debris that the Dyson's soft roller grabbed. I'm convinced that if the U11 had a similar soft roller, it wouldn't have missed anything and the Dyson would have come up empty.
The U11 has three LED headlights that illuminate what's in front of the cleaner. The lights come in handy when vacuuming in poorly lit areas or under furniture.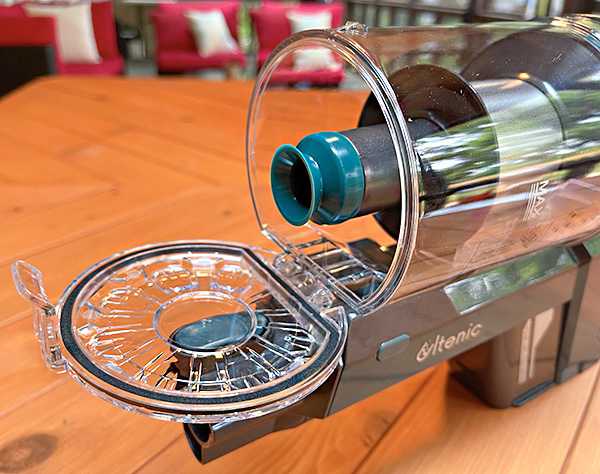 Is comparing the Ultenic U11 to a Dyson a fair test? Not really, but it did tell me a lot. The Ultenic U11 works quite well on hard floors with a spot rug here and there, but it lacks enough power if your house is all carpet. For that, you'll need a more powerful (and more expensive) vacuum cleaner. 

What I like
The mount stand
Affordable
Easy to clean
Removable battery
What I'd change
No soft roller brush option

Final Thoughts
The Ultenic U11 is no Dyson, but for gosh sakes, the V15+ costs almost 4 times more! 
My recommendation is this: If you are someone on a limited budget (like a college student, for instance) living in a small apartment or have hard floors throughout your house, the U11 is a good alternative to any other stick vacuum cleaner—Dyson included. It's powerful enough for hard floors, is easy to use, easy to clean, and affordable as heck. For many people, that's enough.
Price: $239.00 US
Where to buy: Amazon ($60 coupon code on the Amazon page)
Source: The sample of this product was provided by Ultenic.