We use affiliate links. If you buy something through the links on this page, we may earn a commission at no cost to you. Learn more.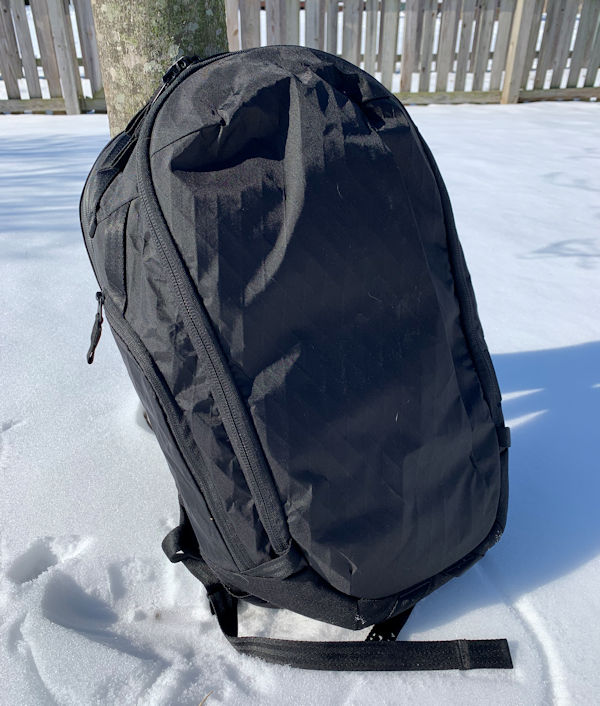 REVIEW – I was very impressed by the Able Carry Daily Pack (and accessories) when I reviewed it back in September 2020.  I found it to be a great pack for EDC, commuting, a short overnight trip, or a hiking day pack.  However, I found myself wondering what a larger Able Carry Daily Pack might be like.  The Able Carry folks must have done their Carnac the Magnificent bit on me because the Able Carry Max Pack is essentially the big brother of their Daily Pack and more.  Let's check it out.  Gadget on!
What is it?
The Able Carry Max Backpack is an everyday backpack for work, play, and travel. It's built with 30L of smart, efficient storage, engineered carry comfort, and security features.
What's in the box?
Hardware specs
Capacity:

Main compartment: 25L
Total capacity: 30L

Materials:

Surface: X-Pac + Cordura 1000D
Lining: 420D Ripstop Nylon

Colors:

Tarmac Black (reviewed here)
Ocean Blue
Earth Green
Dark Forest MCB (Multicam Black)

Backpack dimensions: 20.5 x 12.5 x 8in (52 x 32 x 20cm)
Laptop sleeve size: up to 17″ laptops
Laptop compartment dimensions: 15.7 x 11 x 1.18 (40 x 28 x 3cm)
Max recommended laptop size: 16.1 x 11 x 1.5 in (41 x w8 x 4cm)
Weight: 3.79lb (1.72kg)
Warranty:

14-day test run
Lifetime Guarantee
Design and features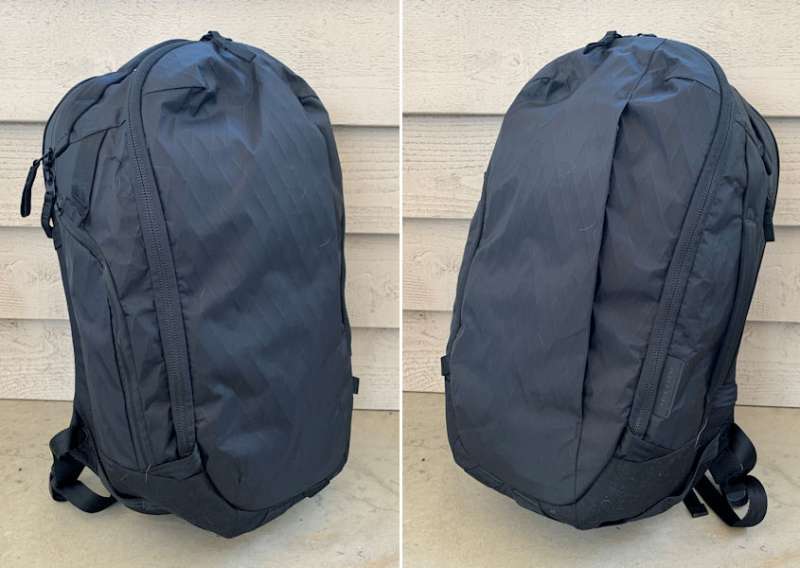 Let's do the First Impression Test.  As with the Able Carry Daily Pack, based solely on its "right-out-of-the-box" first impression, I was very impressed with the Able Carry Max Backpack.  It has the look and feel of a pack that is very thoughtfully designed and solidly constructed from high-quality materials.  Good look, good feel.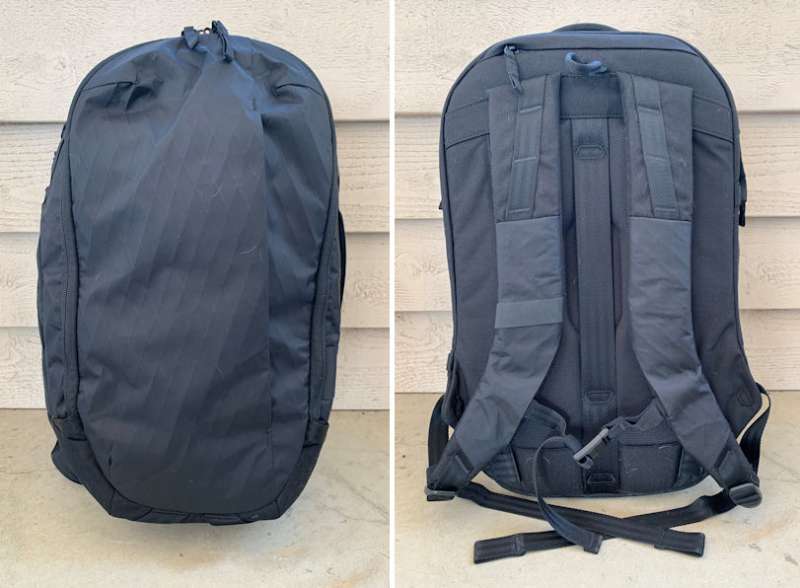 Like its smaller counterpart, the Able Carry Max Backpack has a simple, minimalist appearance with a somewhat long, narrow, rectangular form factor.  As seen in the photo above left, The Max Backpack has one exterior vertical zipper pocket which is not fully visible from the front (more description on this below).  Its shoulder harness has a few more features than the Daily Pack, so it looks a bit more complex.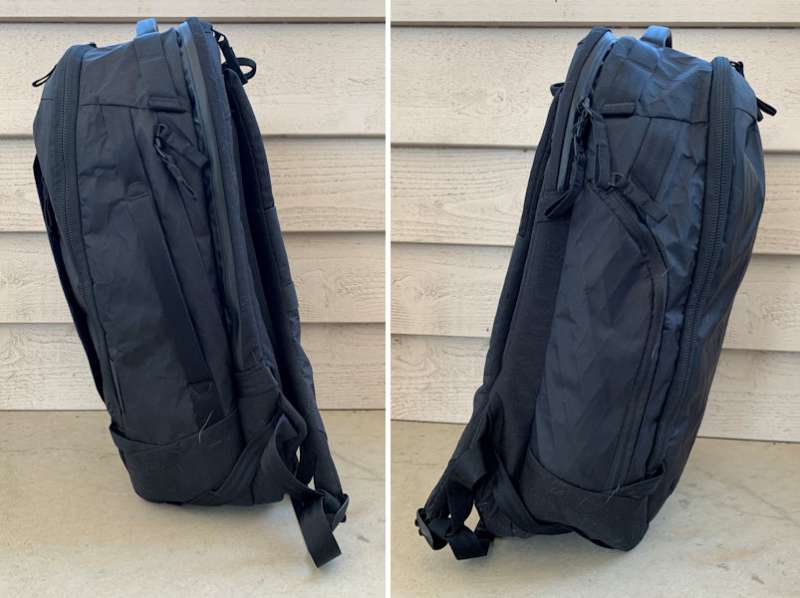 One aspect of the Max Backpack that I found a bit frustrating was that, due to its angled bottom, the pack almost can't stand on its own; I had to spend time adjusting the contents and posing it very carefully to obtain the photos above.  I'm not sure if backpack companies utilize these angled pack bottoms for aesthetic purposes, but from a practical standpoint, it's a bit annoying when you attempt to set your pack on the floor and it falls over.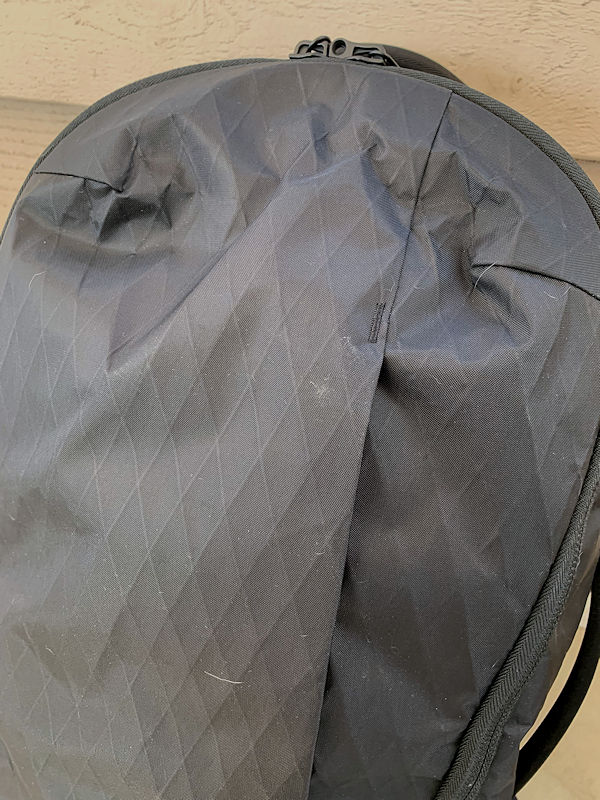 The Max Back's exterior is made from X-Pac material with a water-resistant DWR coating that looks very sophisticated yet rugged, and its subdued diamond-pattern texture gives it some subtle depth without looking obnoxious.  It is also a dog hair magnet.  Consider yourself warned.
Shoulder harness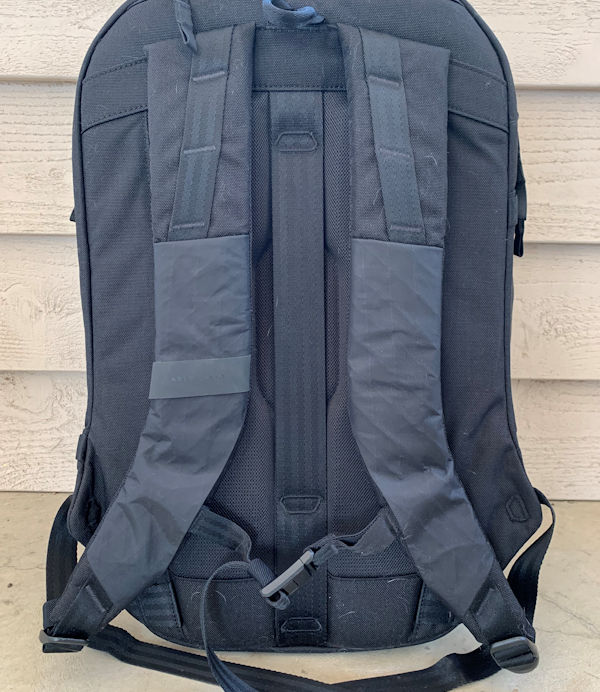 Unless I'm proven wrong (which in this case is very unlikely to happen), I'll generally argue that the two most important features of a backpack are its shoulder harness and its cargo compartment.  We'll cover the latter in detail later, but for now, we'll look at the Max Backpack's shoulder harness.  The straps themselves have several features, one of which is the strip of webbing near the top of the straps that are bar-tacked down at three locations to provide attachment points for carabiners, pouches, or other accessories.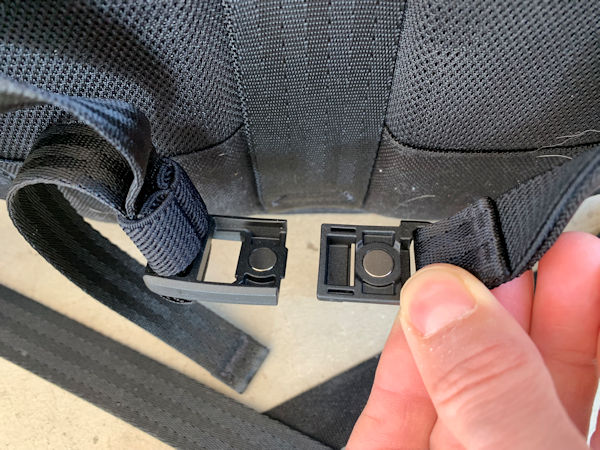 While I generally don't find a sternum strap to be a necessity on a backpack, they can come in very handy.  A sternum strap helps with weight distribution and provides additional stability and security for activities like running to catch a flight, scrambling rock-hopping across a stream, or dodging out of a downpour.  The Max Backpack has one of the best sternum straps I've ever had the pleasure of using.  It utilizes magnets to provide a quick snap latch/quick-release functionality, either of which you can perform one-handed.  Magnets rock, and Able Carry has nailed it with this sternum strap.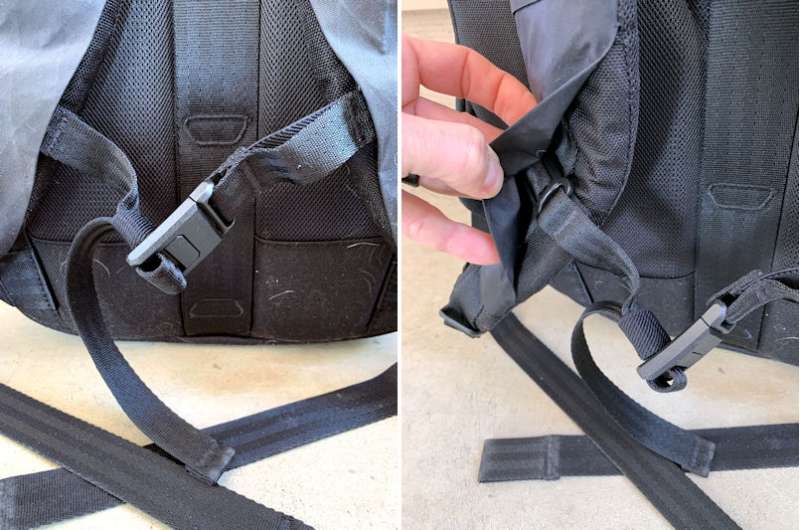 The Max Backpack's sternum strap's height position can also be adjusted up and down to suit the wearer's desire.  Sliders right on short segments of webbing that are hidden under flaps on either shoulder strap.  Hiding these sliders helps keep the Max Backpack's shoulder straps from looking cluttered while retaining full adjustability,  The sternum strap also has an elastic loop that can be used to coil up any loose webbing, keeping it out of the way.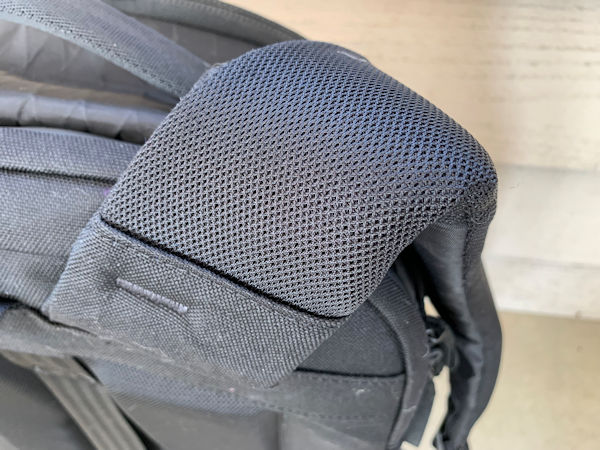 The Max Backpack's shoulder straps themselves are constructed from X-Pac as the main outside-facing fabric. The inner layer is this thick, closed-cell foam padding that helps the pack feel comfortable on your shoulders even when fully loaded.  The inner layer is a porous, breathable mesh that helps reduce sweat and keep the area ventilated.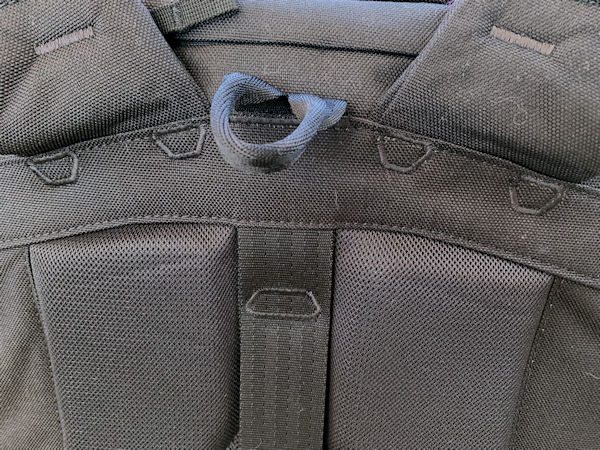 The shoulder straps are secured with two of those trapezoid-shaped bartack stitches on each strap.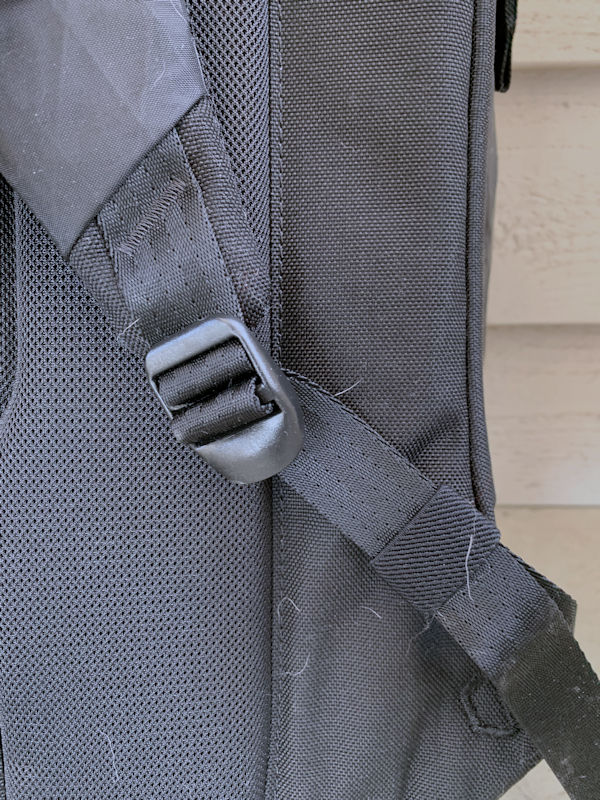 Near the bottom of the shoulder strap where its length adjustment buckles are located.  The webbing in this area is dense yet soft and flexible.  The webbing is sewn to the shoulder strap with a heavy-duty bartack stitch for added durability.  This over-stitching and anchoring into a durable material is a common theme throughout the Max Backpack's design and helps make its construction feel solid and durable.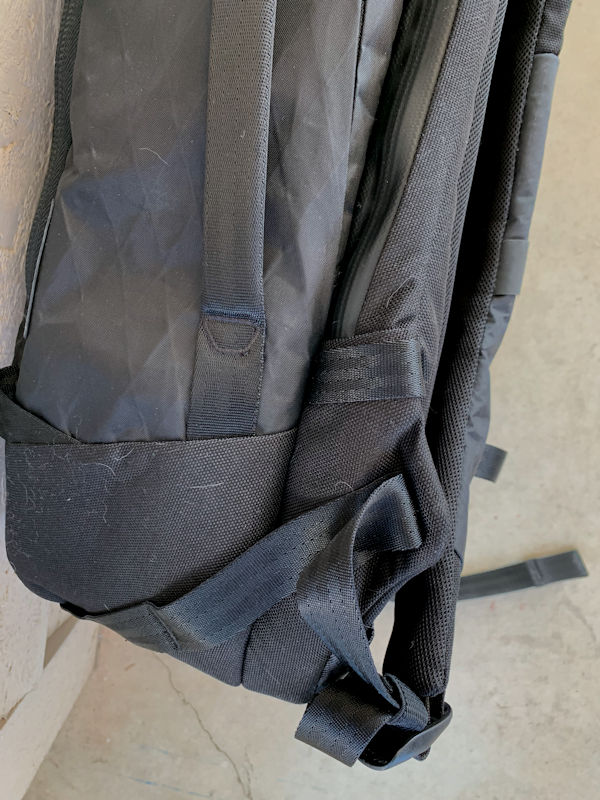 A subtle feature of the Able Carry Max Backpack is that the shoulder straps' webbing goes from the top of the pack and runs all the way underneath the pack, each in a continuous loop.  Able Carry calls this the "A-Frame."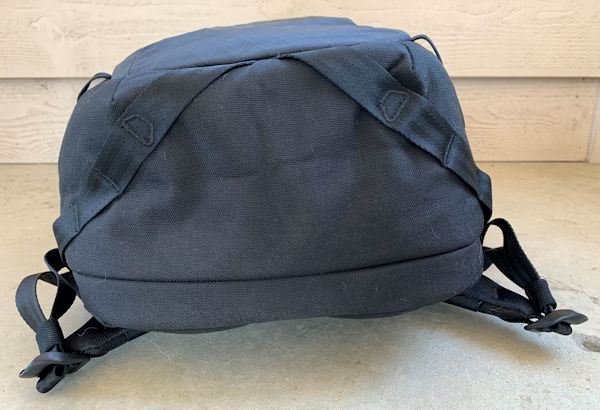 The above photo shows the bottom of the Max Backpack and the way the shoulder straps' webbing continues around the sides of the pack, and along the bottom.  This is a clever design element that adds support to the overall pack and especially when carrying heavy loads.  The bottom webbing has even more hook points as well as the characteristic trapezoid heavy bartack stitching.  You can also see the 1000D Cordura nylon base that gives added durability to the bottom of the Max Backpack in an area that is likely to see more abrasion that the rest of the pack.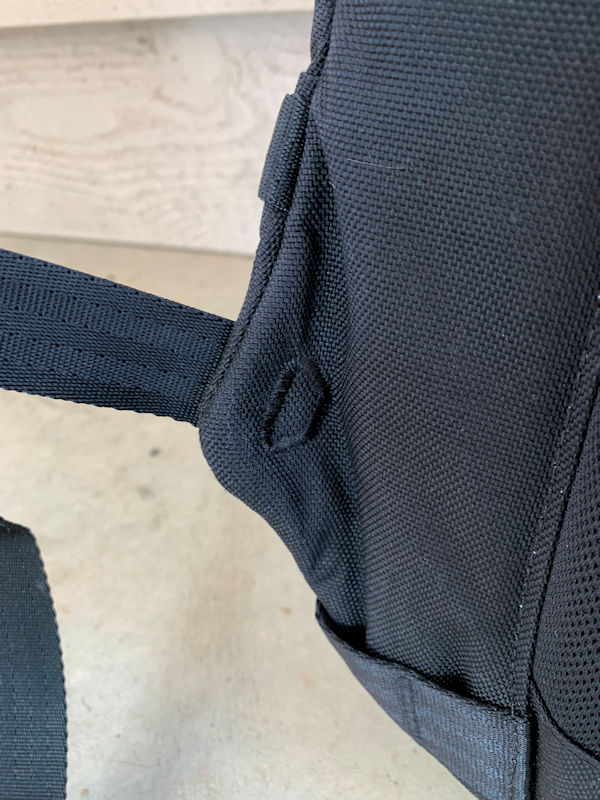 Another feature of the Able Carry Max Backpack's shoulder straps is how their lower webbing attaches to the main body of the pack, which can be seen in the above photo.  There is a heavy-duty bartack stitch in a somewhat trapezoidal shape that you will probably see in photos of other locations around this review.  As mentioned above, this type of design and construction, particularly this type of stitching, helps reinforce potential weak points like this one.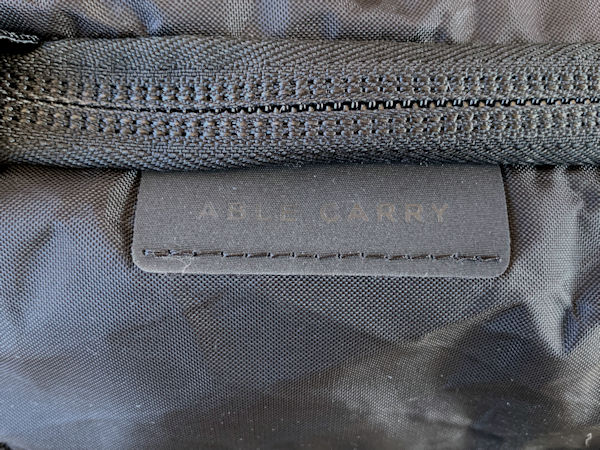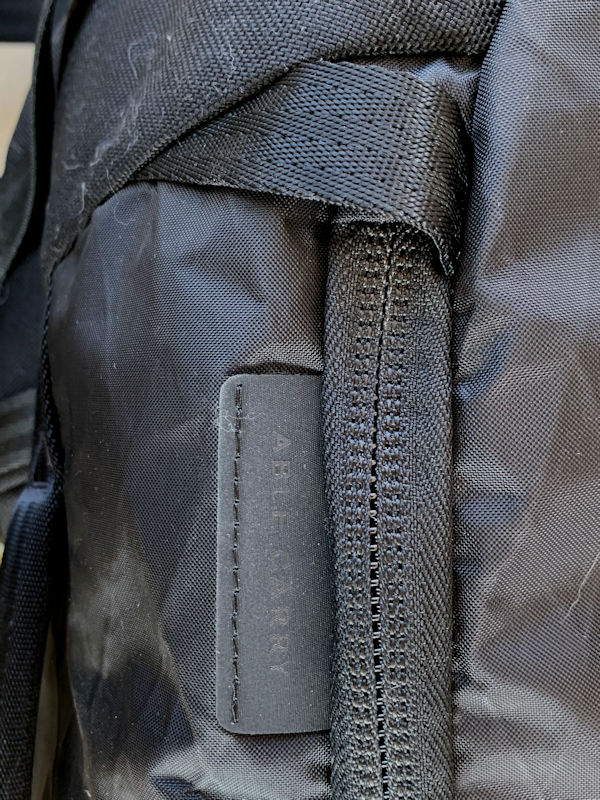 To me, a telltale sign that a company wants to let the design and quality of their product speak for itself is the use of small and/or subdued logos on their product.  Able Carry does a great job of this, as you can see from the two photos above.  The Able Carry logo tags shown in the two photos above are small and black with subdued Able Carry logos and are located alongside zippers. Very subtle, very classy.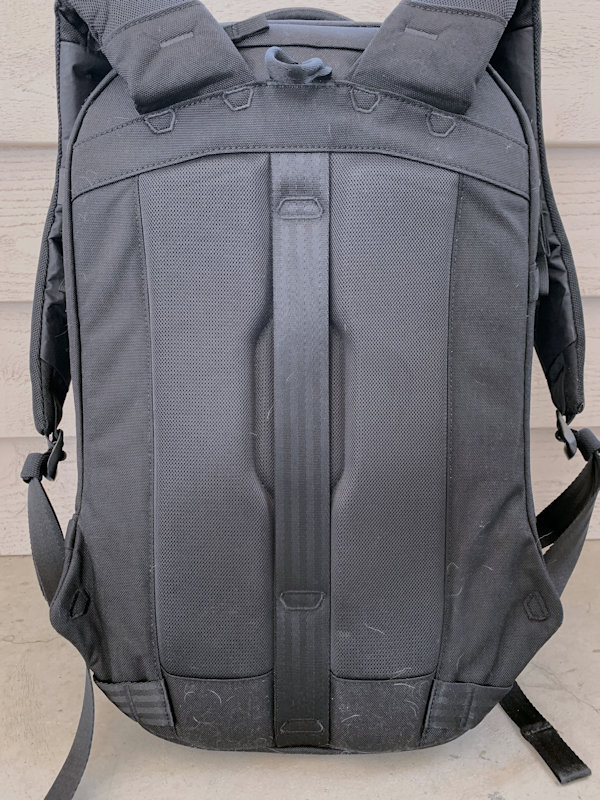 The back of the Able Carry Max Backpack has a lot going on.  For starters, a strip of webbing running along the center of the pack. This is intended to be slipped over the handle of a rolling carry-on bag, but it can also be used as a carry handle.  This strip of webbing sits down in a sort of channel between a strip of thick, closed-cell foam padding on either side that is coated with the same mesh fabric found on the underside of the shoulder straps. These padded strips give the back of the Max Backpack more cushioning, making it more comfortable to wear, especially if heavily loaded.  They also stand the pack away from your back and provide ventilation on either side as well as in the air channel that runs between them down the center. As with the underside of the shoulder straps, the mesh fabric helps reduce sweat and keep the area ventilated.  The webbing strap is secured to the back of the pack with one of the trapezoid-shaped, heavy-duty bartack stitches.  

The two strips of thick, close-cell foam padding also have notched cutouts that allow you to grab the webbing easily. All in all, a very thoughtfully-designed back panel.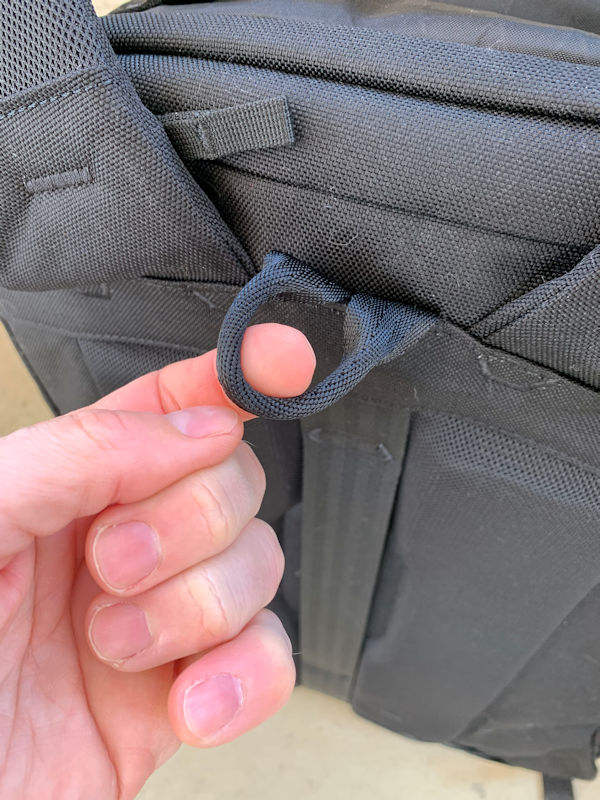 The top of the Able Carry Max Backpack's back panel has a small hanger loop made from a folded-over strip of the same webbing found throughout the pack.  Able Carry calls this the "toiler door hook."  I like this little look because it is small and unobtrusive, but looks and feels super strong and is perfectly positioned to hang the Max Backpack on a hook.  In almost every other pack I've owned or reviewed, I've had to hang it from its top carry handle.  This small, dedicated hang loop is a nice addition to the Max Backpack's design.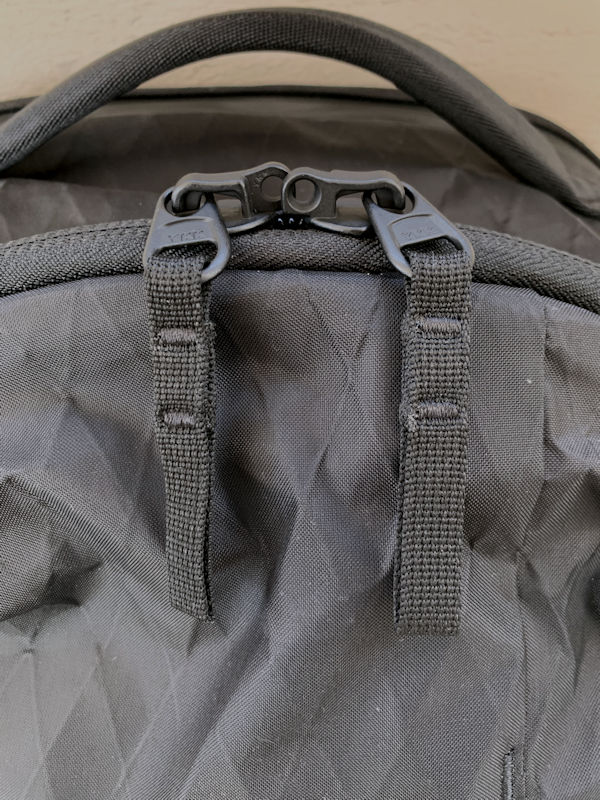 Even the zipper pulls on the Max Backpack are designed and built well.  Each zipper pull is looped through a YKK zipper pull tab and is made from a strip of tough webbing that has been folded over on itself and stitched solidly.  Their length and texture make them very easy to grab quickly. They are also black to blend with the Max Backpack's overall monochromatic aesthetic. The thick, super-duty YKK Racquet Coil Zipper on the main compartment, seen above, has the ability to attach a lock to secure the main compartment's contents.
Grab handles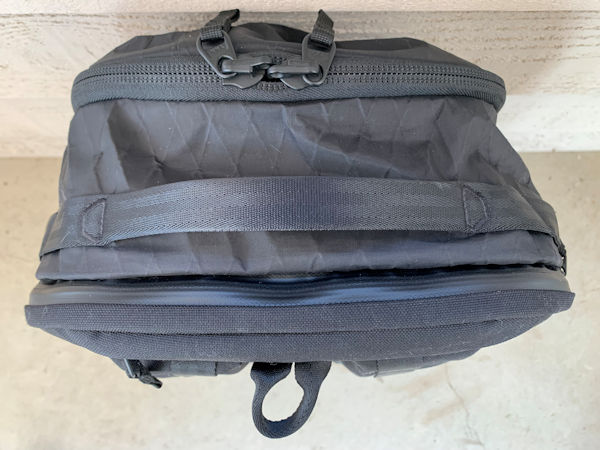 The Able Carry Max Backpack's top handle is made from a strip of webbing tubing similar to the webbing used in other locations throughout the pack. As with the other handles, they are bartack stitched securely to the pack with the little trapezoidal-shaped heavy stitch points.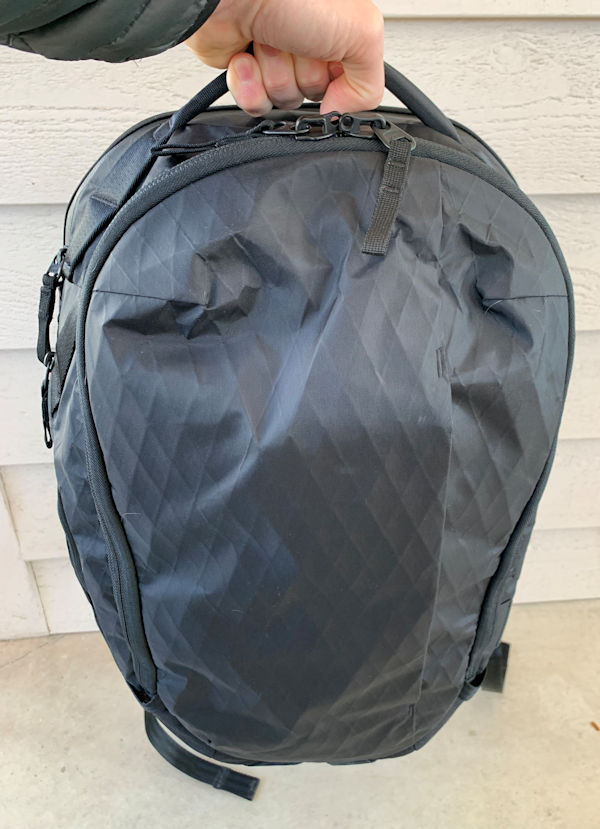 This is one of the most comfortable top handles I've had the pleasure of using.  Its width, thickness, and rounded edges give it a very comfortable feel.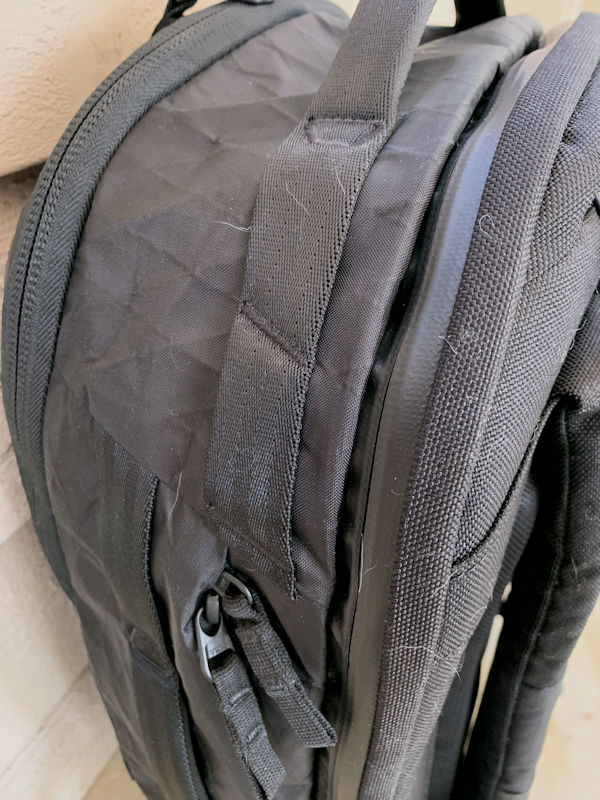 The ends of this handle's webbing extend down along the sides of the pack as seen in the photo above.  They are bartack stitched as two points, which provide a couple of hook points for items like carabiners.  In the photo above, you can also see the zipper for the Max Backpack's "work compartment," which is a YKK Aquaguard type that is intended to be more water-resistant than a standard zipper.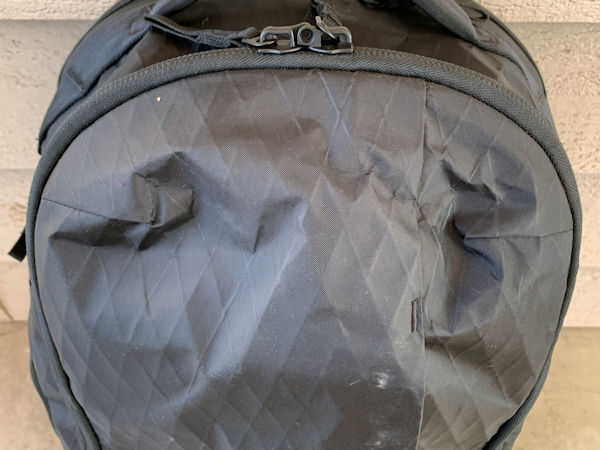 The large Front Pocket on the Max Backpack has its own dedicated space, meaning it doesn't "borrow" space from the main compartment.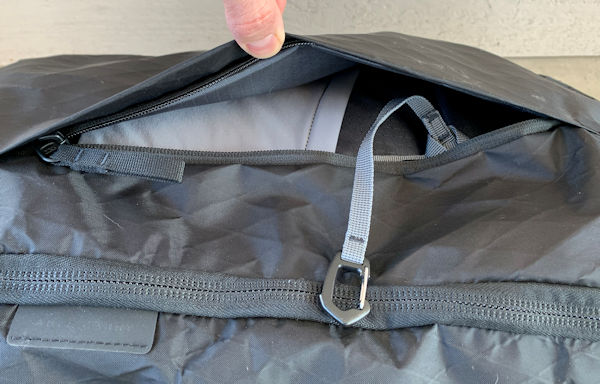 The Front Pocket opens vertically and has some organizational features inside.  There is a key lanyard with a spring hook on a length of webbing.  There are also a couple of pockets that can be used to secure smaller items.  These interior features are light grey in color which makes them easier to see in lower light conditions.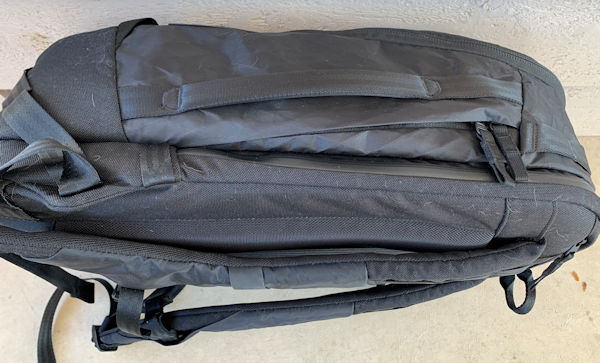 In addition to the top handle and the handle rolling carry-on strap/handle on the back, the Max Backpack has a side handle that is built similarly to the top handle, with a strong length of webbing tubing.  Just behind this side handle is the Side Pocket.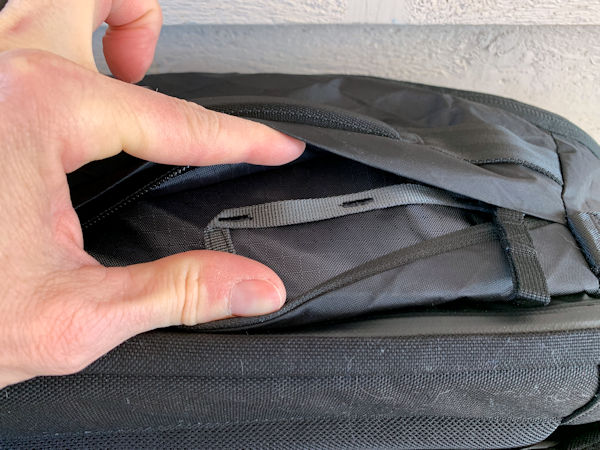 This Side Pocket's zipper opening is partially hidden under a protective flap has a strip of grey webbing inside that has attachment points for small items.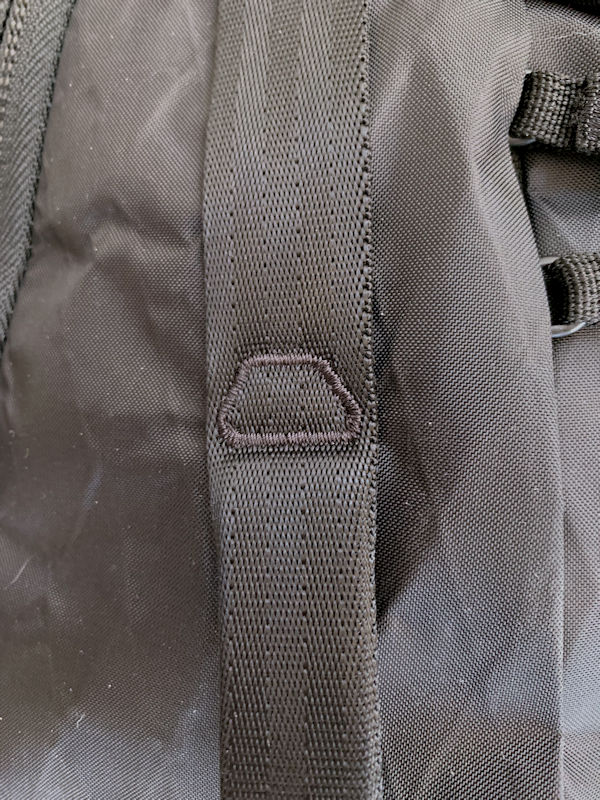 The side handle is very thoroughly bartack stitched into the sides of the Max Backpack, as seen in the image above, again reinforcing a potential weak point of the pack with that trapezoidal-shaped bartack stitching that is found all over this pack.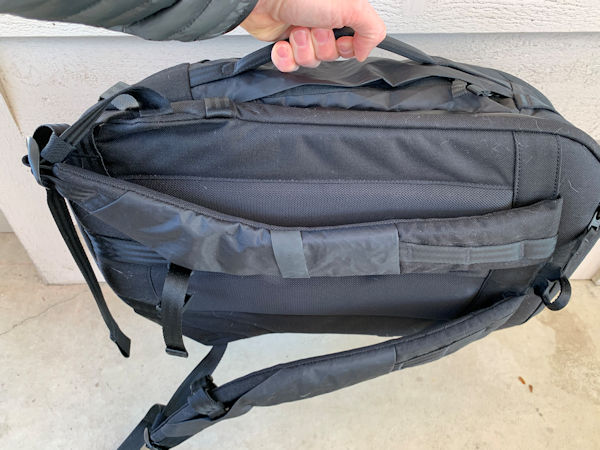 The Max Backpack's side handle allows it to be carried like a suitcase for situations when you can't easily wear it by its shoulder straps.
The Max Backpack has a side Bottle Pocket located on its left side as you are wearing it.  This Bottle Pocket has a zipper that starts vertically and angles forward.  The Bottle Pocket is a lot more spacious inside than it appears from the outside, and will accommodate a fairly large-sized bottle.  It also has a small piece of grey fabric that helps keep the bottle from falling out when the zipper is opened.
Top pocket

The top of the Max Backpack, between the top handle and the shoulder harness, has yet another exterior pocket.  With its zipper tucked under its flap, this pocket is virutally invisible.  It has enought depth to hold shades, wallet, keys, phone, and a few other items.
Work Compartment
The back of the Max Backpack is what Able Carry calls the "Work Compartment."  It contains several features intended to protect and organize your laptop and other gear you use for work or school.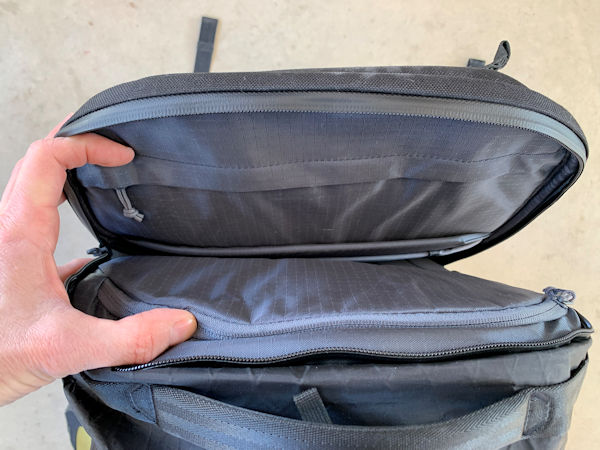 The Work Compartment runs the full length of the back of the Max Backpack and it has a zipper around three of its sides.  The interior of the Work Compartment has a grey interior which is great for visibility in lower-light situations.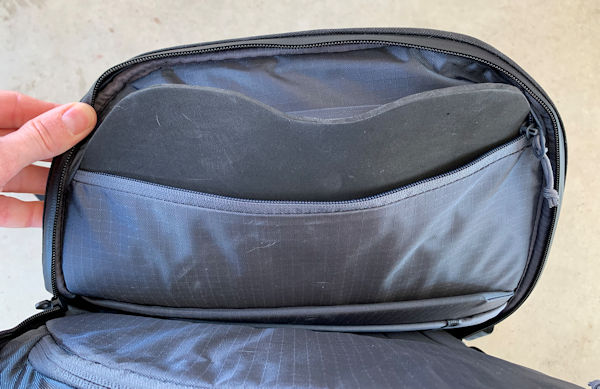 The outside flap of the Work Compartment has a sheet of semi-rigid foam material that both gives rigidity to the back of the Max Backpack and also helps protect the Work Compartment's contents.  The foam sheet can be accessed by a zipper at the top of the flap so it can be removed if you like).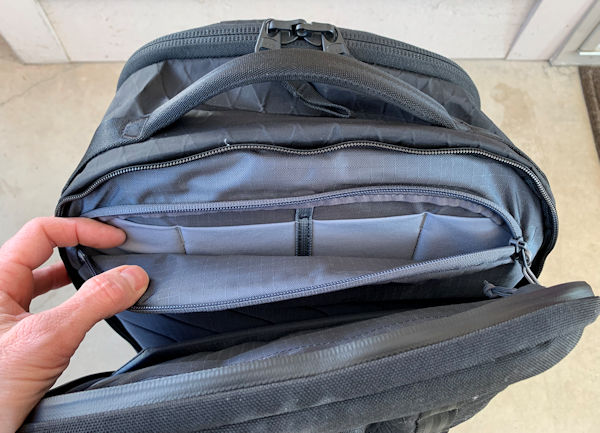 Opposite the zipper that allows access to the Work Compartment's foam sheet is another zipper pocket inside of which are four small pockets that can hold several small items like a mouse, pens, cables, and so on.
Main Compartment
In a loose reverse analog to "business in the front, party in the rear," the Max Back's main compartment is on the front of the pack.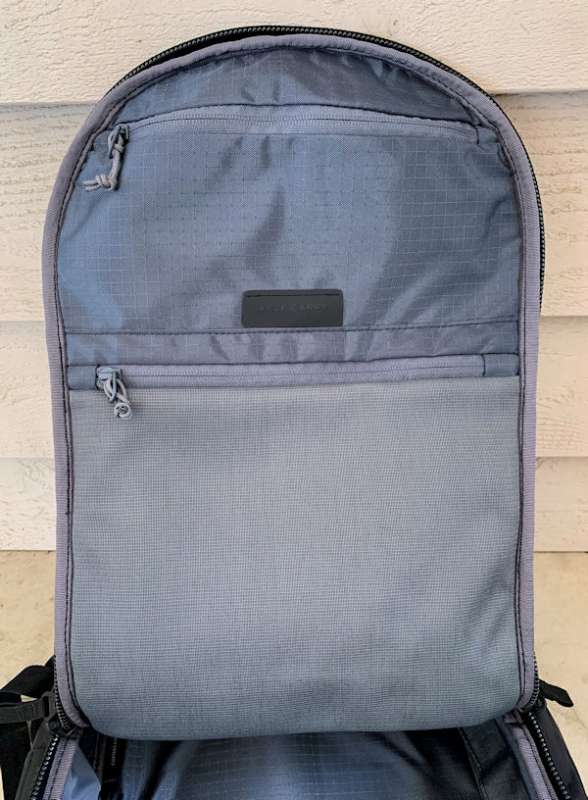 The Able Carry Max Backpck's Main Compartment is a full clamshell design, meaning it has a single zipper that zips around both of its sides and its top.  The photo above shows the inside of the fully-unzipped outer flap of the Main Compartment.  The entire interior of the main compartment is a medium grey color, which, as I've mentioned above, is a great feature for the interior of a pack because it lets you root around the inside of your pack more easily in low-light situations.

At the top of the Main Compartment is yet another zipper pocket.  This pocket is in a nice location to allow you quick access to some small items from the top of the Main Compartment without having to unzip the entire Main Compartment.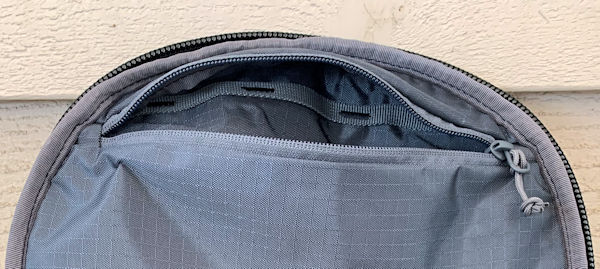 This upper interior pocket has a small strip of segmented webbing near its top, which serves as attachment points for small items.  The zipper also has a length of grey cordage as its pull.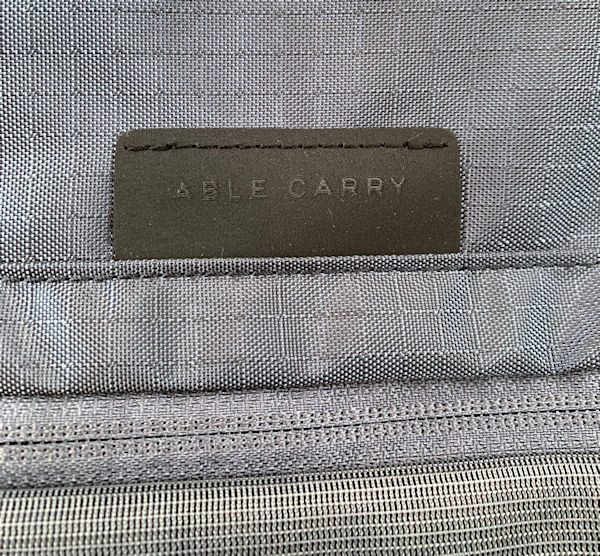 The above photo is a closeup that shows two things.  The first is one of the subtle "Able Carry" product tags spread throughout the back.  The other is the gray ripstop-pattern 420D nylon material that lines the entire interior of the pack, both the Main Compartment and the Work Compartment.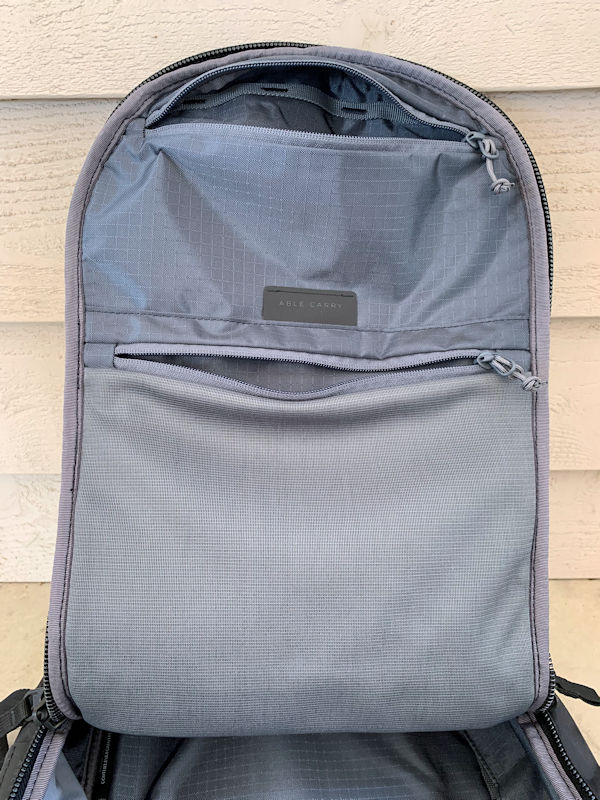 Beneath the upper interior pocket is a larger lower interior zipper pocket.  This pocket is made from a mesh material that allows you to see its contents.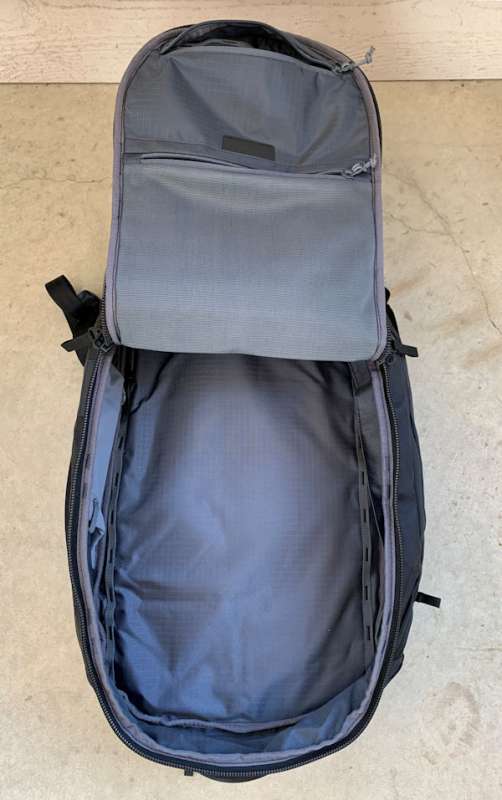 The Main Compartment's cargo space is cavernous. It is essentially just a big, open space without much organization (though there are a few organizational, which I'll describe below).  I'm well aware of the debates over whether a pack's main compartment should be completely devoid of pockets, dividers, and other organization, or should be filled with them.  It's all about personal preference.
My own opinion is that having a number of dividers, pockets, and other interior organizational features may be useful for a daily commuter tech-type pack.  But for a travel tech pack, I think it may make more sense to omit features like these so the user can decide how to best utilize this wide-open space.  Want to fill it with clothing?  Grab some compression sacks or travel cubes and load the cargo space up Tetris-style.  Prefer to just jam things in here and yank them back out at your whim?  Have at it?  Plan to carry a bunch of sensitive and delicate gear—like a DSLR and accessories for example—get yourself a protective foam cube with dividers and fit it in here.  Flexibility is the name of the game here, and having a bunch of organizational pockets and dividers just cuts down on this flexibility.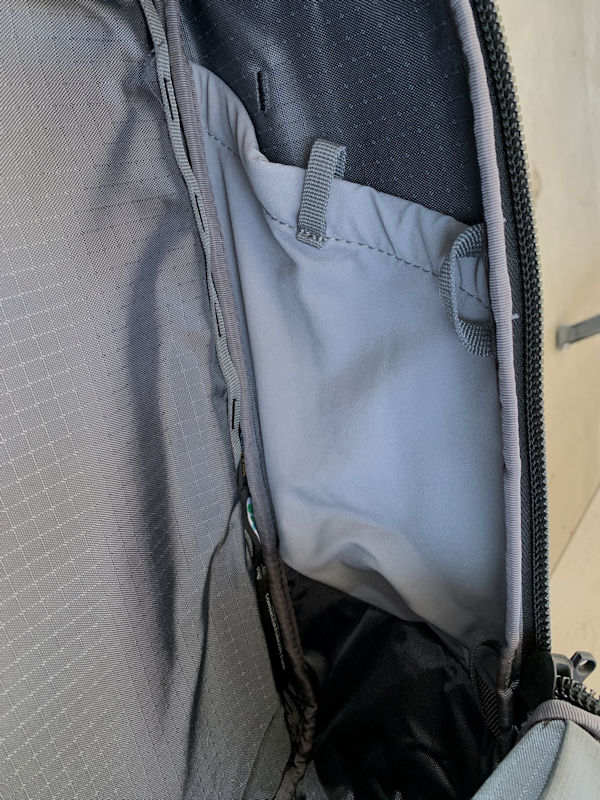 That said, the Able Carry Max Backpack does have a few small but useful pockets and features inside.  One of these is a pocket along the side of the pack made for a stretch material.  It has a short strip of webbing a pull tab to assist with opening its elastic mouth.  In the photo above you can also see a loop of webbing that can be used as an attachment point for carabiners or other items.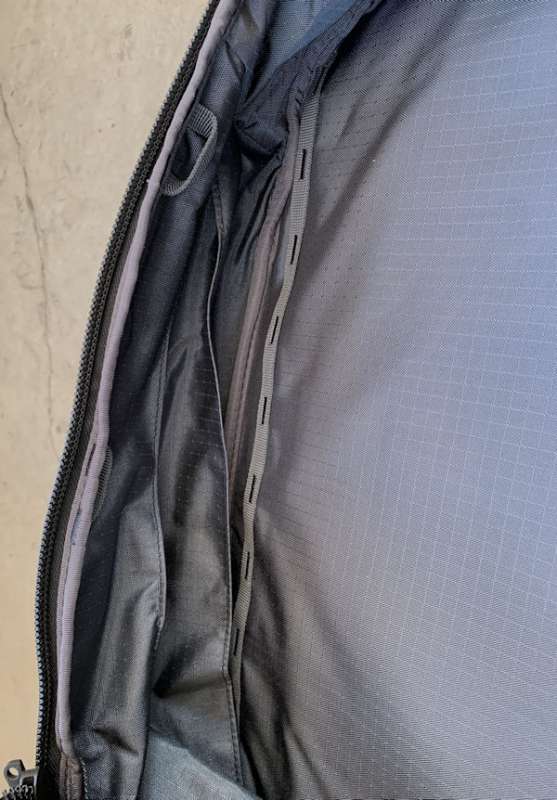 The opposite side of the interior of the pack has another webbing loop as an attachment point.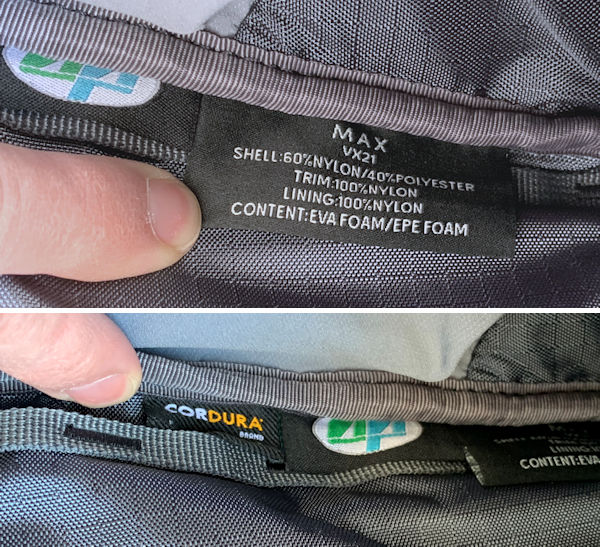 The photos of the tags above show the high-quality materials from which the Max Backpack is built.
Joey Pouch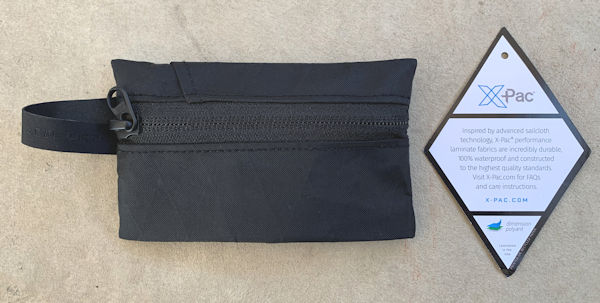 Along with the Max Backpack itself, Able Carry also included a Joey Pouch, which is an item that is sold separately from the Max Backpack.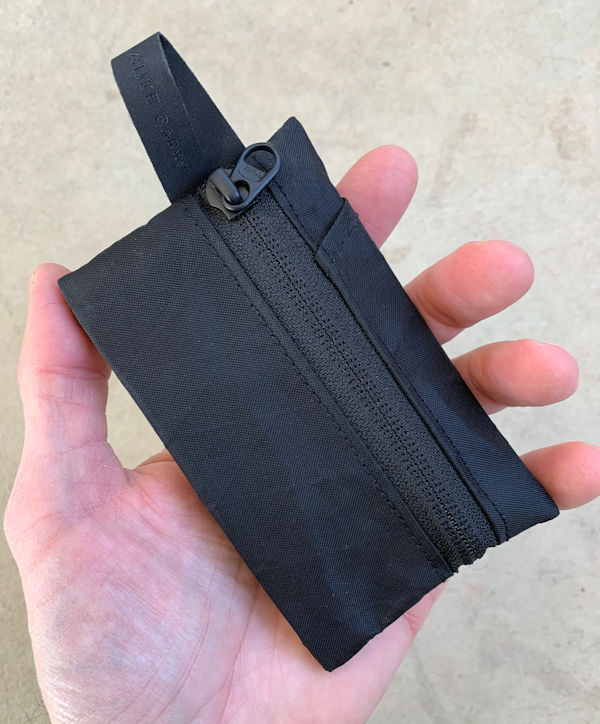 Made from the  X-PAC fabric, the Joey Pouch is a small pouch that is roughly the size of a wallet (and in fact could be used for this purpose).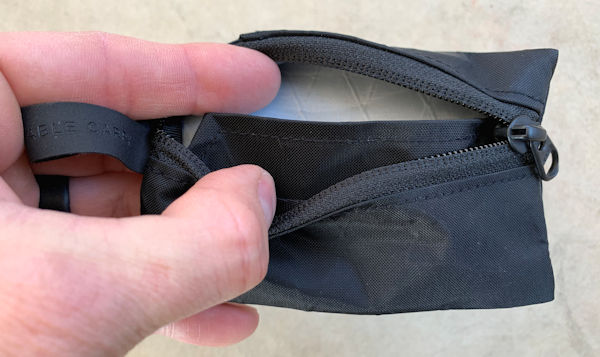 The Joey Pouch's main zippered compartment has both a divider as well as a loop for attaching items.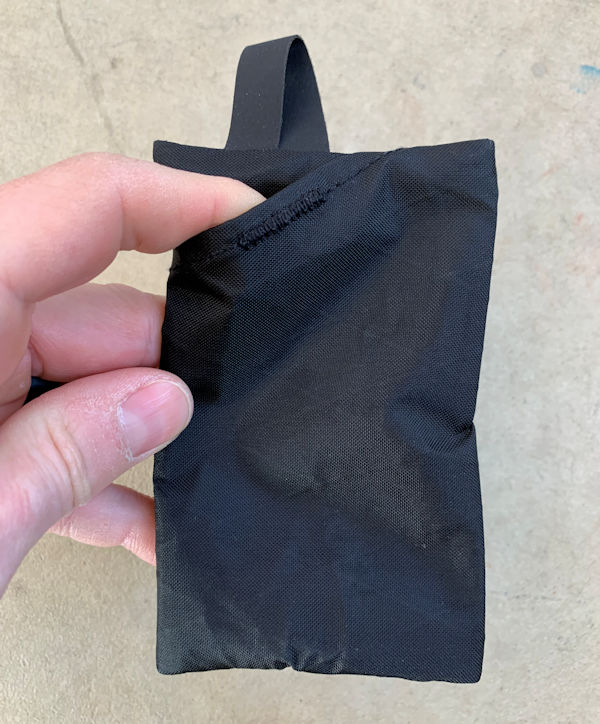 The rear of the Joey Pouch has a diagonally-oriented card pocket with a Velcro closure and a pull tab.  In the photo above you can also see the diamond pattern in the X-pac material.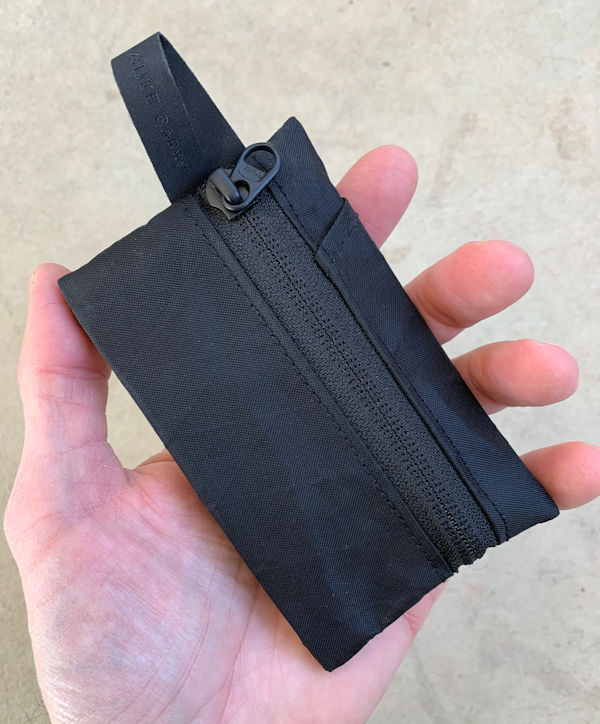 The Joey Pouch has a Hypalon exterior strap with a subtle Able carry logo printed on it, allowing it to be attached to other objects like the exterior webbing straps of the Daily Pack.
Fit & feel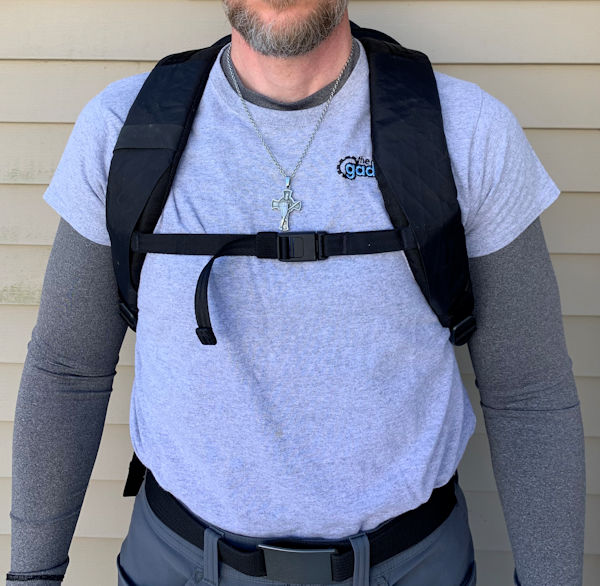 The Able Carry Max Backpack's shoulder harness system was easily adjustable and the thickly padded shoulder straps made it feel quite comfortable.  Its magnetic quick-release sternum strap was just plain fun to use.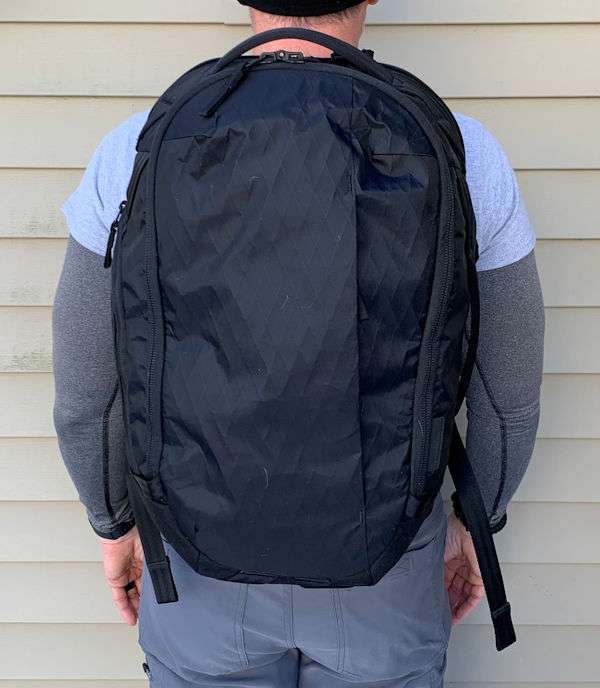 The Max Backpack is the largest pack offered by Able Carry, and at 30L of capacity, it is a fairly large pack.  However, keep in mind a pack with a 30L capacity is intended more for travel, hiking, and other similar adventures, rather than as a daily commute pack, at least for most people.  However, its size and features make it ideal for use as a travel pack for 3-4 day trips (or even longer, depending on your adeptness at packing minimalism).  It would be a great pack for One Bag Travel.  For travel of that duration, it can easily take the place of a rolling carry-on bag which, let's face it, are heavy and just a pain to maneuver.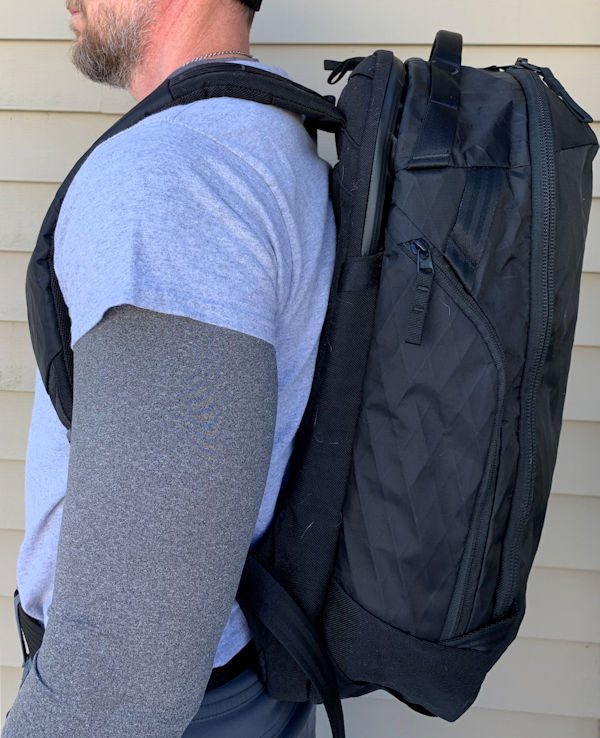 Not only are the Able Carry Max Backpack's thickly-padded shoulder straps comfortable, but the pack itself, owing to its thick back padding, is also quite comfortable.
What I like
Diamond-textured X-PAC fabric has a subtle pattern and is super durable
Looks and feels solidly constructed
Large cargo capacity in the Main Compartment
Work Compartment
Several well-placed, useful outside pockets
What I'd change
Final thoughts
So how did the Able Carry Max Backpack do?  Very well.  It's a great back, both in comparison to its smaller sibling, the Able Carry Daily Pack and on its own merits.   The Max Backpack is well-designed and solidly constructed from high-quality materials and manufacturing techniques.  Its 30L capacity makes it perfect for a long weekend getaway and it has just enough useful and well-positioned eternal pockets to help you keep track of your gear yet get to it quickly.  This is a great pack.  While I do think it's a bit pricey at $260, considering the quality materials and construction, and clever design features, I think the Able Carry Max Backpack is certainly worth a look if you are in the market for a one-bag travel backpack, or even if you're looking for a daily carry pack that is a bit larger than a typical EDC pack.
Update March 28, 2022 – I recently learned that the Able Carry Max Backpack was the winner of Best Carry-On Champion in Carryology's Carry Awards IX, and was given a High Commendation.  Not too shabby.
Price: $260
Where to buy: Ablecarry.com 
Source: The sample of this product was provided by Ablecarry.com