We use affiliate links. If you buy something through the links on this page, we may earn a commission at no cost to you. Learn more.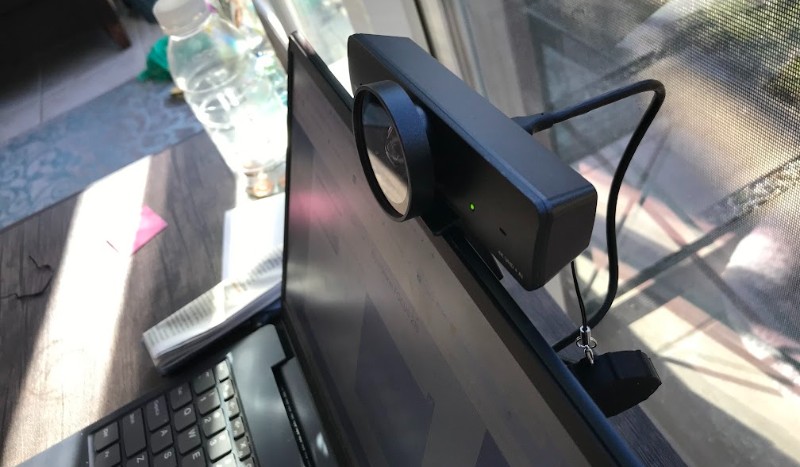 REVIEW – If you're living much of your life online right now, it's crucial to have a good webcam. The WyreStorm Focus 210 is one to consider, especially if you give a lot of online presentations where tracking would be helpful, or if you prefer a wide-angle camera where you can make a lot of adjustments. But, whereas some cameras you can plug in and forget about, this one may require more patience. 
What is it? 
The Wyrestorm Focus 210 webcam is a 4K wide-angle clip-on camera with a microphone and handy lens cap. You can download an app for additional controls, but it's not necessary to operate the camera. 
What's in the box?
WyreStorm FOCUS 210 4K AI Webcam with detachable lens cap

USB cord (type C)
Hardware specs
Supported Resolution: up to 4K/30fps, 1080P/60fps, 720P/90, 60fps, etc.

Diagonal Field of View: 120°

Image Sensor: CMOS, 8.0M effective pixel

Microphone: built-in dual mics, stereo

USB Port: 1xUSB 3.0, type-C

Driver: no drive required

USB Cable Length: 1.5m (USB 3.0 type-A to type-C)

Dimensions: 140mm x 30mm (without bracket)

FOCUS 210 webcam can stream 4K ultra HD video at 30fps, 1080P full HD at 60fps and 720P at 90fps,
Setup
Setup is virtually instantaneous for this webcam. You just attach the cord to the back of the camera and to the USB port on your computer.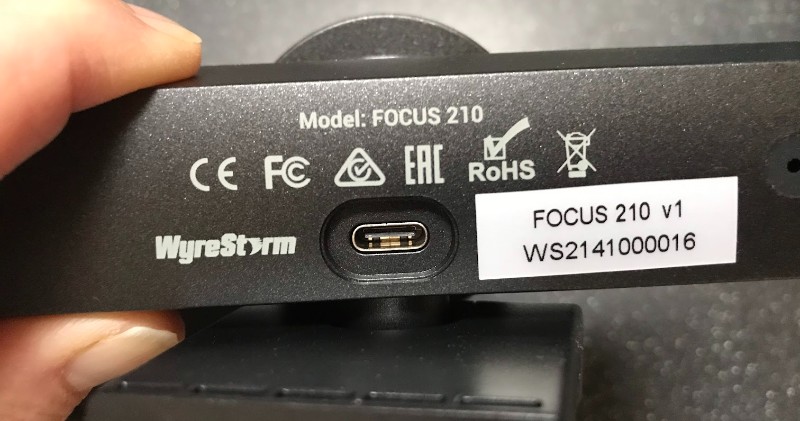 It has an adjustable clip to attach to your laptop screen (as I did) or to your monitor or stand.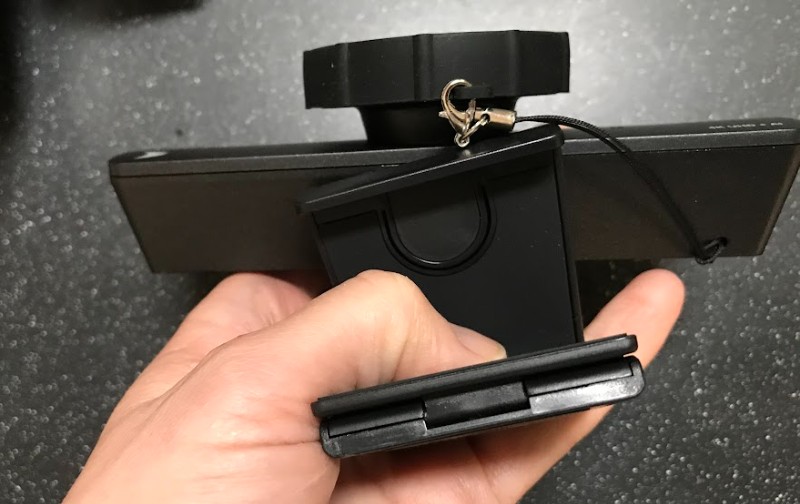 I especially like the lens cap, which I keep covered whenever the camera isn't in use.
In my computer settings, I could make adjustments to the camera's brightness, contrast or rotation, reset the camera, or disable it.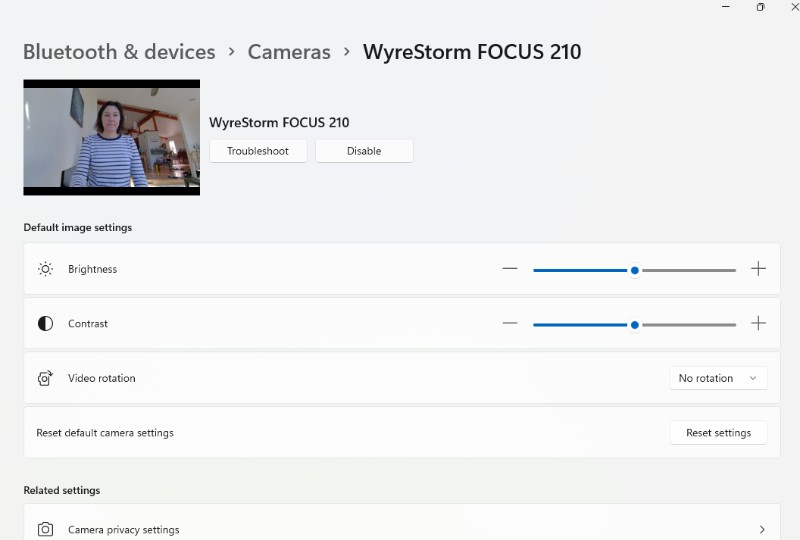 In the camera privacy settings, I could click on which programs could have access to my camera.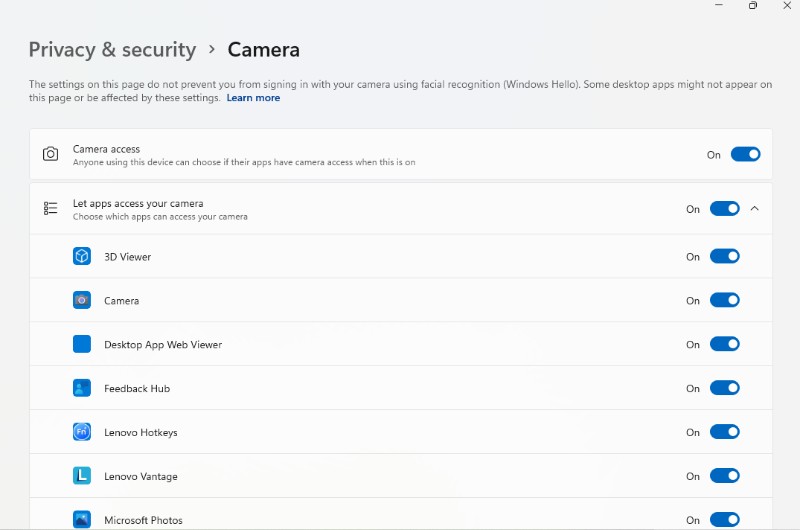 Though not required, you can also download an app from their website. The app helped me when I ran into glitches with the camera, which I will explain in a minute.
As for the overall setup, I would consider the WyreStorm FOCUS 210 4K AI Webcam to be plug-and-play, which makes it easy to share within the household, as my son and I planned to do.
Performance
The camera picture is clear and the 4K resolution is impressive. With the ultra-wide, 120-degree field of view, we could easily broadcast our entire room while playing Jackbox games remotely with our family in other states. 
The different camera settings may be useful, depending on how you plan to use your webcam. 
Ours defaulted to "auto tracking," which is constantly following the main subject, so if you move around (even a little) your camera will be constantly moving. It's strange, when chatting with a friend, to have your camera moving and refocusing nonstop,  but would make sense if you were giving a presentation and moving around. Mine defaulted to this mode, and in order to change this setting, I needed to download the app. 
The camera also has an "auto framing" mode, meaning it zoomed in on me and stayed locked in position for most of the time, though it may zoom a little and refocus. This was less jarring, but my preference was to take the tracking off completely.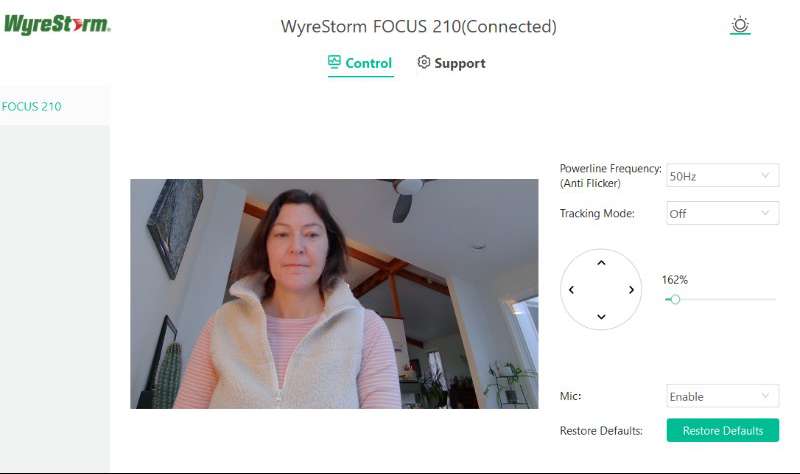 With the tracking off, you can precisely move your camera angle up, down, or side to side; you can also zoom in to exactly where you want it. That was a great option, especially if you enjoy having such precious control over your camera and appearance on screen.
It's important to note that in order to change the tracking or adjust the camera, I needed to use the app. From the app, I could also enable or disable the microphone and select the frequency (50hz, 60hz, or off).
The microphone had good sound quality and no glitches. Here's a quick sample of the video and audio quality.
However, the WyreStorm Focus 210 camera itself glitched a few times when we first got it.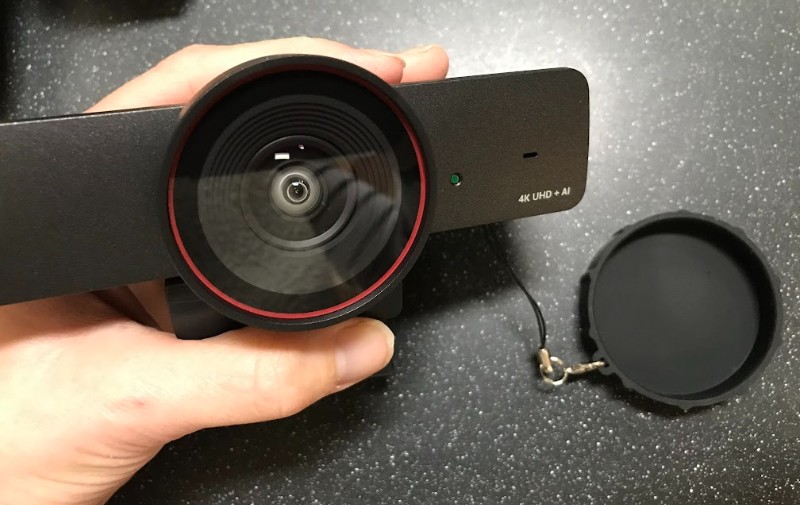 In the beginning, I had trouble getting my laptop to recognize the camera.  It helped to unplug and plug it in again, sometimes more than once. And a few times, even when the light was on, in my settings the camera picture was blank or the computer didn't register the camera at all.

In Messenger, Zoom, and Skype video calls, it would initially not work. I'd need to end the call, go into the app to make sure the camera was working, then go into my computer settings to make sure it registered the camera's presence, and then I could call again and it would work the second time around. But it was a lot of goofing around to get it to register.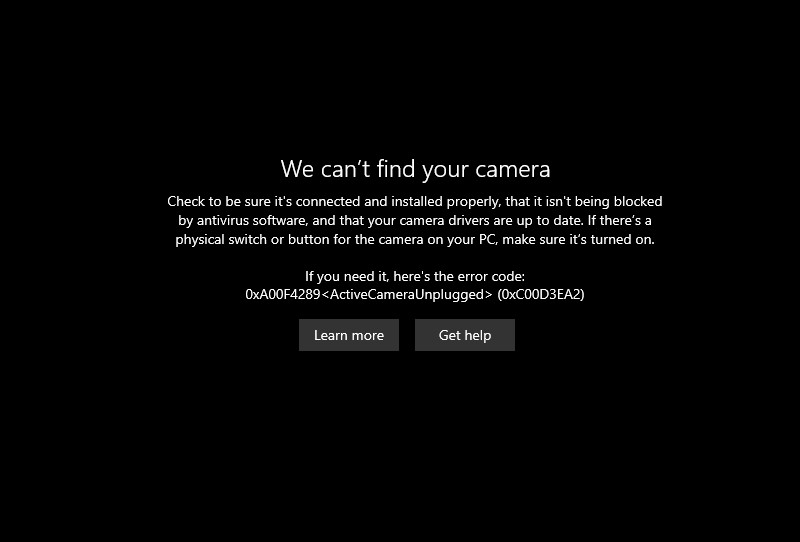 On my son's computer, he had trouble getting his desktop PC to recognize the camera at all.
Now that I've been using the WyreStorm FOCUS 210 4K AI Webcam for a few weeks, it seems to work more consistently, and I haven't needed to unplug it or exit out of a webchat in more than a week. So hopefully those initial glitches have been resolved.
For light, casual use, this camera is a solid choice.  However, I don't recommend this camera for business calls, remote medical appointments, or anything important where you don't have time to make on-the-fly adjustments or can't risk it glitching out.
What I like
Excellent picture quality

Lots of adjustment options in the app
What I'd change
Resolve glitches

More accessible controls in the camera settings, less toggling between app and settings
Final thoughts
While the picture was clear and the adjustable wide-angle was fun to play with, I found the WyreStorm FOCUS 210 4K AI Webcam to be unreliable.
Price: $159.99
Where to buy: WyreStorm website
Source: The sample of this product was provided by WyreStorm.