We use affiliate links. If you buy something through the links on this page, we may earn a commission at no cost to you. Learn more.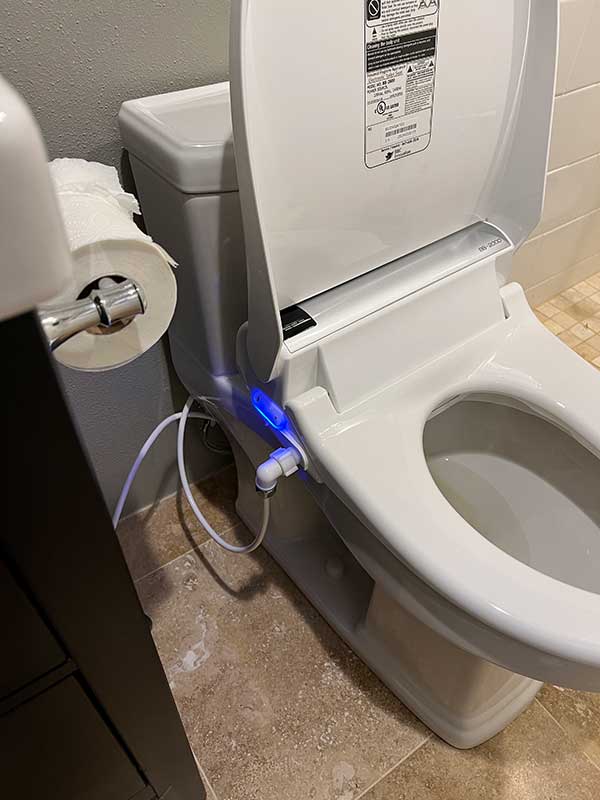 REVIEW – Over the years, I've been putting off trying many little things in life, and as I get older decided to make at least some of that bucket list a reality. From hot yoga to seeing more of the world, the clock is ticking and it's time to start making things happen. So when bio Bidet asked if we'd like to review their high-tech, feature-rich Bliss BB-2000 bidet I quickly volunteered. We here in the US rarely see or use a bidet and silly as it sounds, trying one out has been on my bucket list…so let's try it out and see if it lives up to the hype.
A bit of background – During the course of this review I learned a decent amount about the various types of bidets, why people use them, and where around the world they're used. The bidet comes in three basic styles: shower hose, separate toilet bowl, and electronic toilet seat with many of the higher-end features and functions being integrated into the fancier models of the latter two styles. But the bottom line is the main purpose of a bidet is to give your bum a quick shower after going to the bathroom.
What is it?
The bio Bidet Bliss BB-2000 is an electric bidet replacement for your existing toilet seat.

What's in the box?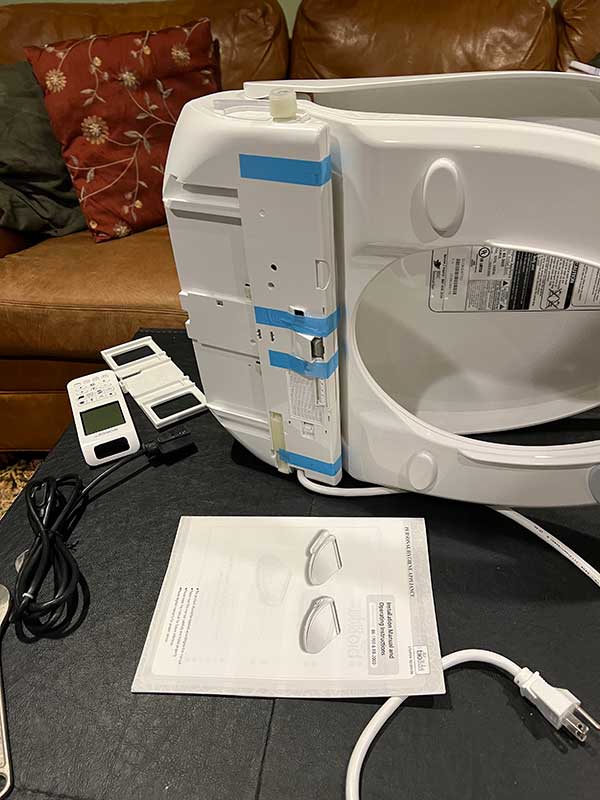 bio Bidet Bliss BB-2000 bidet toilet seat
Remote control & mount
1/2″ O.D. Compression Conversion Nut
2 x Nuts
L-Valve
Water Supply Hose
2 x Cone Packing
2 x Mounting Bolts
2 x Bolt Case
AAA Batteries
If your bathroom and toilet are set up correctly, bio Bidet includes everything needed to get the Bliss BB-2000 operational relatively quickly and easily. Though "…bathroom and toilet set up correctly…" includes a dedicated 15 amp GCFI circuit close enough to plug the unit into and fittings from the supply line are compatible with the included hoses and valve.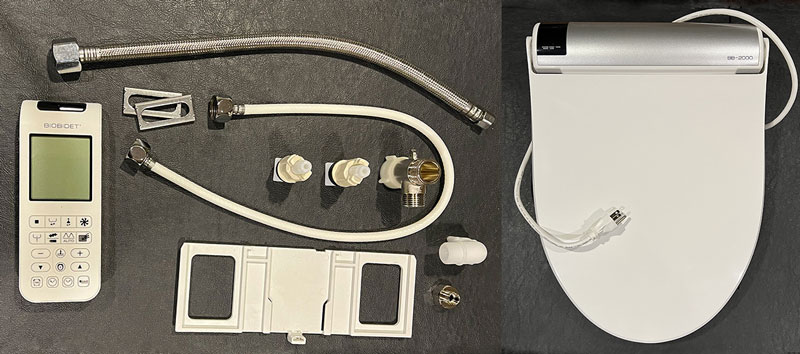 Hardware specs
Measurements
Dimensions – W 15.4in x L 20.9in x H 6in
Shipping Weight – 17 lb
Temperatures
Water Temperature – Adjustable Low – Medium – High
Seat Temperature – Adjustable Low – Medium – High
Dryer Temperature – Adjustable Low – Medium – High
Water
Water Pressure – 5 Levels
Electrical
Rated Voltage – AC 120V, 60Hz
Rated Power Consumption – 1400W
Features
Stainless steel nozzle

Patented 3-in-1 nozzle system
Auto wash
Wider water stream
Oscillating
Wide cleaning
Pulsating
Massage cleaning
Patented vortex water stream
Satisfying posterior cleaning
Soft feminine cleaning
Bubble infusion
Sitz-bath
Nozzle self-clean
U-Pick wireless remote controls (BB-2000)
Patent pending Hydro-Flush
Motorized nozzle clean
Touch screen panel
One-touch nozzle replacement
Night light
Adjustable heated seat
Powerful deodorizer
Intelligent body sensor
Adjustable warm air dry
Slow closing
Quick release for easy cleaning
Automatic power save
3 year full warranty
Design and features
The bio Bidet Bliss BB-2000 is a well-made, feature-packed seat cover electric smart bidet engineered to take bathroom luxury to the next level. The BB-2000 has a stylish design that fits nicely into a majority of bathroom decor.
Setup
If you're lucky and your bathroom has an electrical outlet close by, installing the bio Bidet BB-2000 is a snap. It took less than 30 minutes to remove the old toilet seat, shutting off the water valve, installing the new BB-2000 hardware, and finally connecting it into the water inflow. I suggest reading the PDF instruction manual (available via download from bioBliss) which saved us a bit of time. Lastly is to plug the BB-2000 into its built-in reservoir that preheats the water.
Performance
Once I figured out the remote, turned up the pressure and temperature the BB-2000 does an excellent getting the job done.
What I like
Well made with quality materials
Excellent features
Adjustable heated seat, water flow, and air drying
What needs to be improved
Expensive
Needs dedicated power outlet
Final thoughts
When it comes to the bio Bidet Bliss BB-2000 Bidet smart/electronic toilet seat, if my wife would let me, I would put one in every bathroom in our house!
Price: $699.00
Where to buy: bio Bidet and Amazon
Source: The sample of this product was provided by bio Bidet.