We use affiliate links. If you buy something through the links on this page, we may earn a commission at no cost to you. Learn more.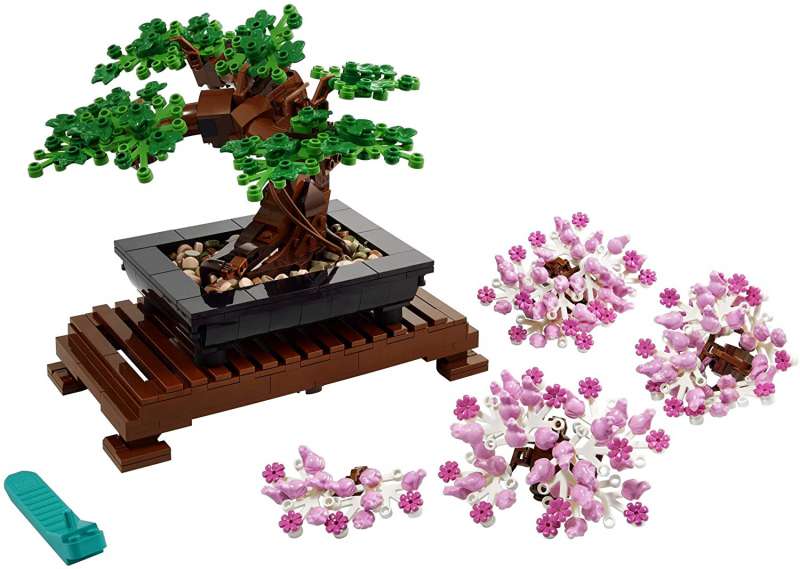 ARTICLE – I've purchased a lot of Lego sets for Christmas gifts over the years, but this year instead of getting them for my sons, I bought one for my husband instead.
My husband had a live bonsai tree that died this year. I thought about replacing it but then happened across this Lego version. Because the reviews were so positive, I decided to buy him the Lego bonsai set instead of getting him another real one.
He thought it was funny and enjoyed putting it together, but the end result is so much cooler than we even expected. It doesn't look exactly like a real, living, breathing tree. And the plastic one is smaller than our real one was. But it looks fantastic. Plus, you never have to water it or worry about it dying.
This Lego bonsai tree is now the centerpiece on my kitchen table.
It comes with a rectangular pot and a stand with a slotted appearance that you build.
And it even blooms! You can replace the green leaves with pink cherry blossoms, which are actually teeny tiny pink frogs if you look very closely.
This Lego set has an impressive 4.9 out of 5 stars on Amazon with more than 3,500 ratings and a price of $49.99.