We use affiliate links. If you buy something through the links on this page, we may earn a commission at no cost to you. Learn more.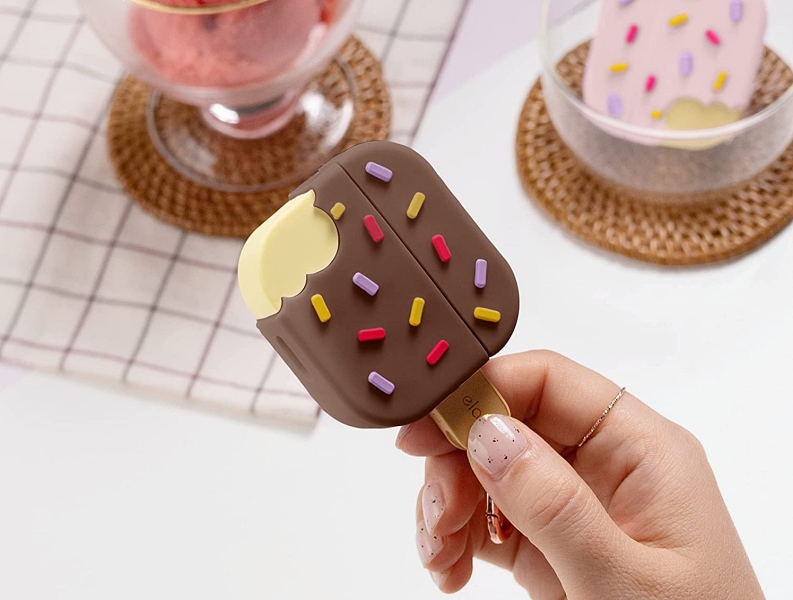 NEWS – Elago makes all matter of fun cases for Apple's AirPods. In the past, they've produced cases that resemble a retro iPod, a Macintosh monitor, and a Gameboy. All of them are super-cool and functional ways to protect your AirPods. With this year coming to an end, why not look forward to the coming summer. Elago has introduced a cute Ice Cream case for Apple's new AirPods 3. The case resembles an ice cream bar complete with a 3D stick and colored sprinkles. Aside from being adorable, these silicone ice cream bars will protect from drops, dirts, and oils from daily use. There is a cutout on the bottom of the case for charging. And the case supports wireless charging as well.
There's also a carabiner that attaches to the ice cream's stick. The Elago Ice Cream case for the AirPods 3 will have you dreaming of those warm summer days to come. Now all you have to do is choose your favorite flavor. It comes in blueberry, chocolate, mint, and strawberry. You can purchase the case from Amazon for $17.99.