We use affiliate links. If you buy something through the links on this page, we may earn a commission at no cost to you. Learn more.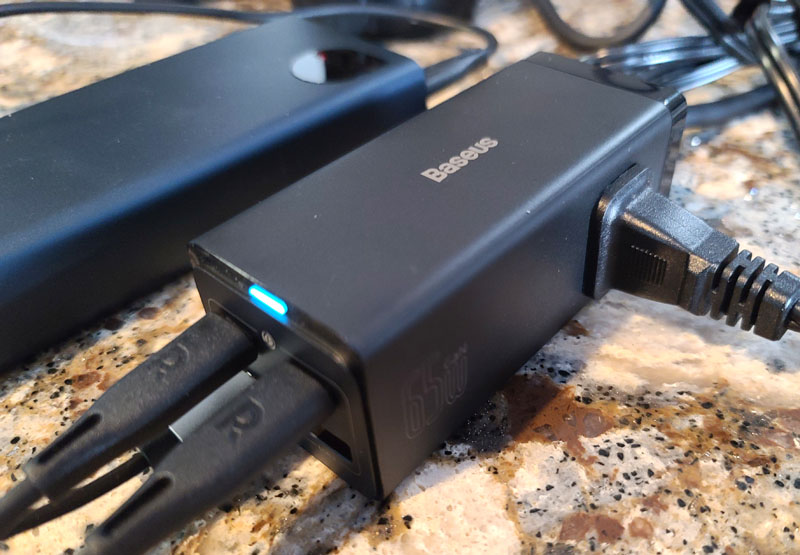 REVIEW – Baseus, a maker of accessories for audio, cell phone, and home, is changing the power accessory landscape.  We've seen power strips and we've seen chargers.  We've even seen big, clunky power strips with a couple of charging ports.  Baseus has just introduced the PowerCombo GaN 65W combination power strip and four-port, high-power charger, built on the latest Gallium Nitride (GaN) technology.  This allows Basesus to keep a 65W charger and power strip small while still giving it terrific output capability and heat management.
Let's check it out!
What is it?
The Baseus PowerCombo GaN 65W charger/power strip is a two-port 110V power strip and is also a 4-port (2x USB-C + 2x USB-A), 65W, high-speed charger.
What's in the box?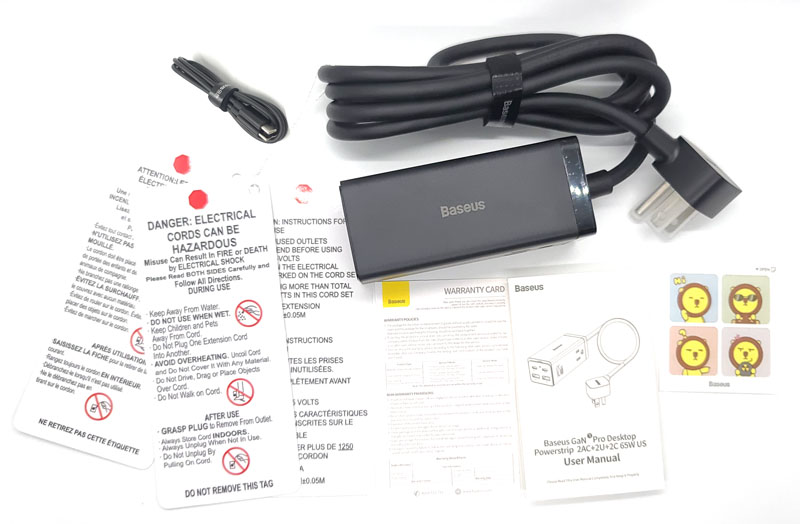 Baseus PowerCombo GaN 65W charger/power strip with 4.92ft cord and 45-degree low profile power plug
Baseus 100W (20V/5A) USB-C to USB-C cable with E-Marker chip
Warranty card
User manual
Warning tags
Baseus stickers
Hardware specs
Dimensions: 3.82 x 1.61 x 1.5 inches
Power cord: 4.92 ft
Rated voltage: 125V, 60Hz
Rated power: 1250W max
Rated current: 10A max
Outputs: 2x USB-C, 2x USB-A, 2x 110V 3-prong
USB input: AC 100-125V, 50/60Hz, 1.5A max
Type-C1/Type-C2 output: 65W max, 5V/9V/12V/15V, 3A; 20V, 3.25A
USB1 output: 5W max, 5V, 1A
USB2 output: 60W max, 5V/9V/12V/20V, 3A
Design and features
This front of the Baseus PowerCombo GaN 65W charger/power strip looks like a basic 4-port charger.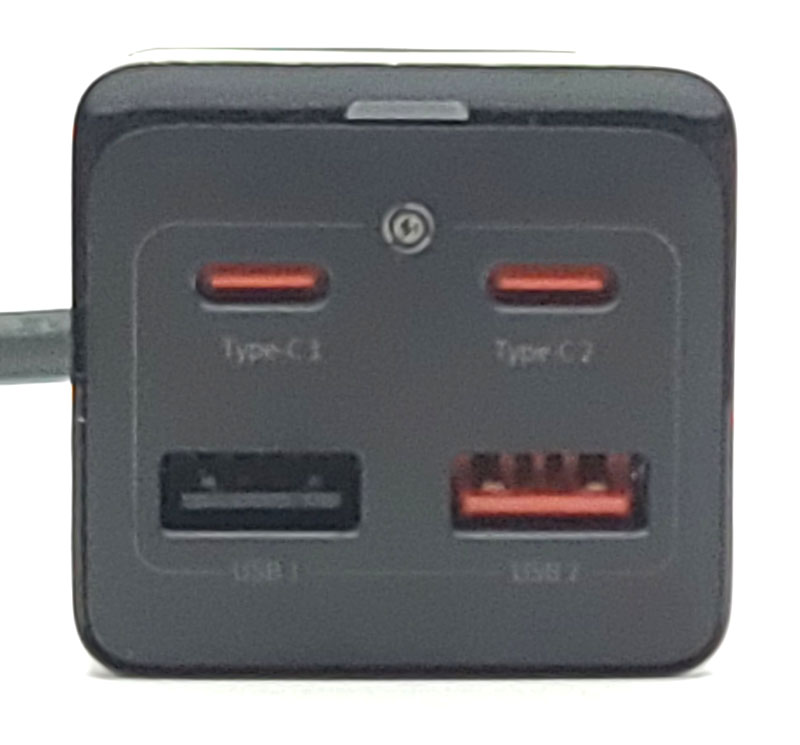 On the business end, we see the two USB-C and two USB-A ports. That white area at the top is a power LED indicator.
On the bottom, we find all the technical information and certification labels.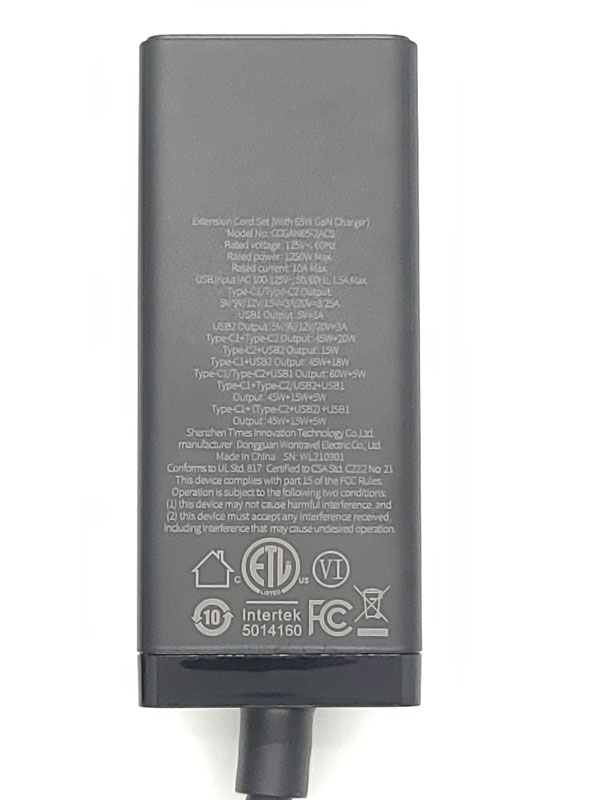 The side is where this model differs from other similar units.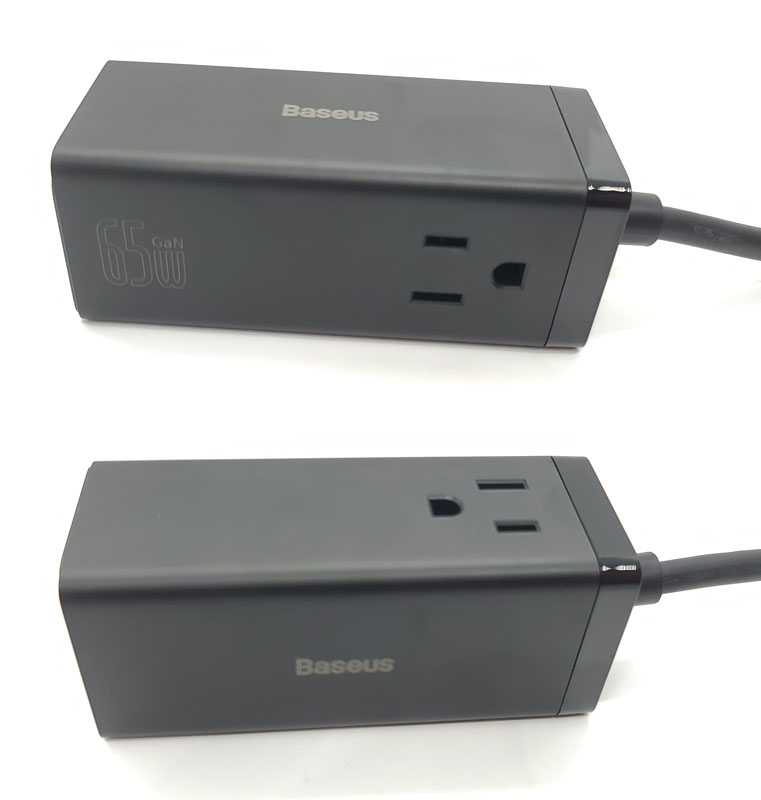 There is a three-prong 110V port on both sides of the Baseus PowerCombo GaN 65W charger/power strip.  This lets it double as a two-port power strip as well as a four-port high-speed charger.
Performance
Let's start by talking about the various output scenarios.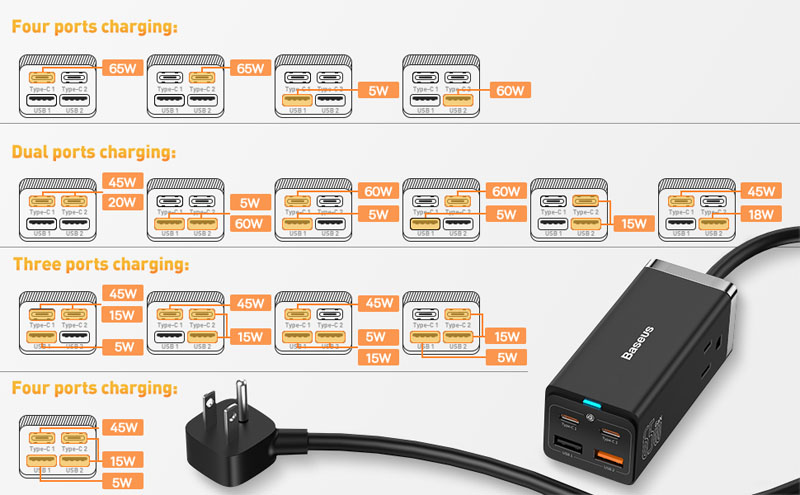 The thing to remember with this charger is that it can only deliver 65W if you are charging via USB-C and that's the only USB connection you are using.  Anything else steps the output down as it is limited to a maximum output of 65W combined across the four charging ports. If you have a power-hungry laptop that needs more than 65W, you'd have to use the original charger and plug it into the unit's 110V ports.  All in all, that's a nice option, but it does require you to carry another charger.
Still, the Baseus PowerCombo GaN 65W charger/power strip was able to charge everything I threw at it. Here it is, happily charging my Surface Book, a Baseus power bank, and a flashlight, all while also supplying 110V power to a RAVPower charger, and that was charging more stuff.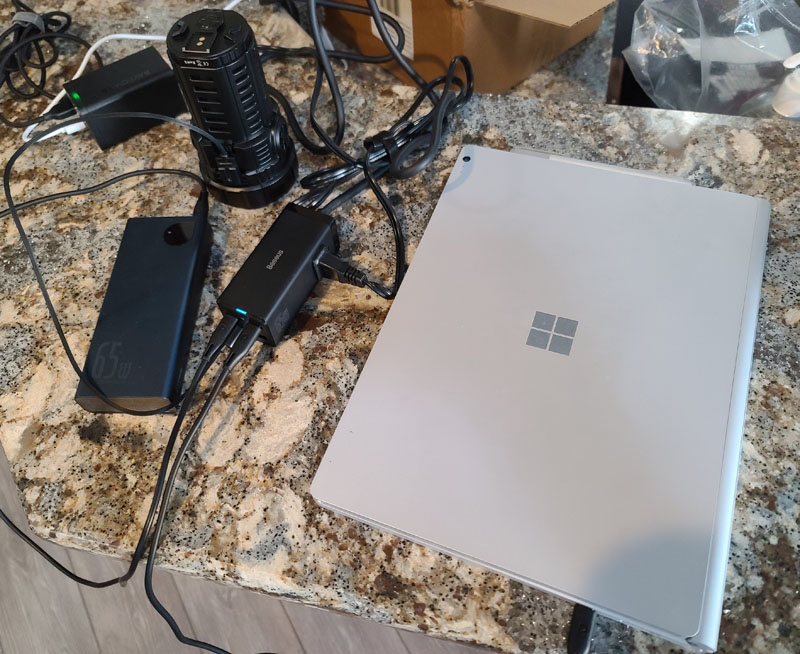 My laptop charged, my Samsung Galaxy S20 Ultra was charging in Super Fast mode – everything was working as expected.
What I like
Small size
Versatile output port selection
Good power delivery
What I'd change
I'd love it if this was a 100-120W charger and it could handle higher-power outputs – still, it's quite versatile
Final thoughts
There are always a lot of devices to charge when we travel. If you travel with a bunch of electronics, even ones that need higher charging power, and you also have items that need a wall plug, look no farther than the Baseus PowerCombo GaN 65W charger/power strip.  With its four charging ports and two wall power ports, it has the goods to charge a whole bunch of electronics simultaneously.
Price: $62.99
Where to buy: Amazon
Source: The sample of this product was provided by Baseus.