We use affiliate links. If you buy something through the links on this page, we may earn a commission at no cost to you. Learn more.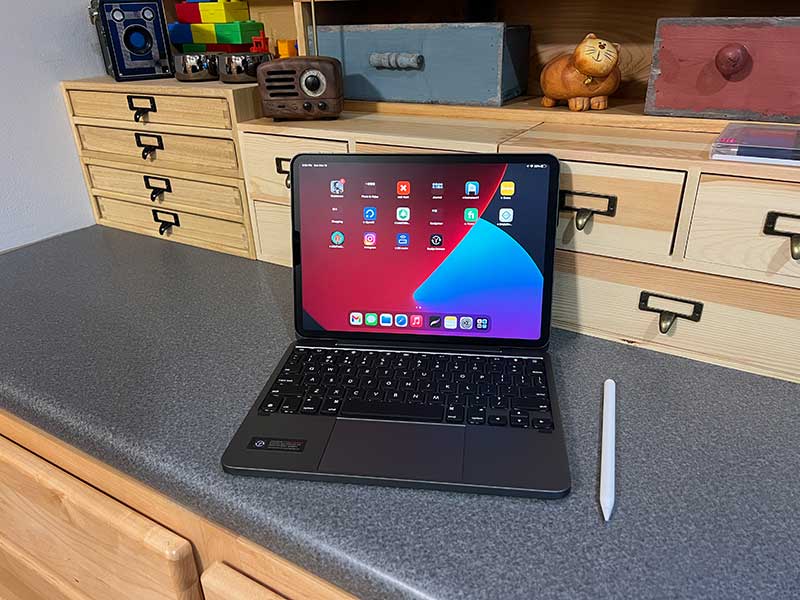 REVIEW – Some people use their iPad as their primary computer and a great way to make it more functional is to add a keyboard and a mouse. The obvious way to do this is with Apple's Magic Keyboard, but not everyone has an additional $299 in their budget for one. Today I'm going to show you a more affordable iPad keyboard. It's the Brydge 11 Max+ Wireless Keyboard Case with Trackpad and I'll be testing it with my 2021 11 inch iPad Pro. Let's get typing!
What is it?
The Brydge 11 Max+ Wireless Keyboard Case with Trackpad is a keyboard case for the 11 inch iPad Pro that turns it into a laptop for true "lapable" work. By "lapable", I mean that you can use your iPad on your lap just like you can with a traditional laptop. There's no weird kickstand on the back like some budget iPad keyboards I've seen.
What's in the box?
Brydge 11 Max+ Wireless Keyboard Case with Trackpad
User manual
Design and features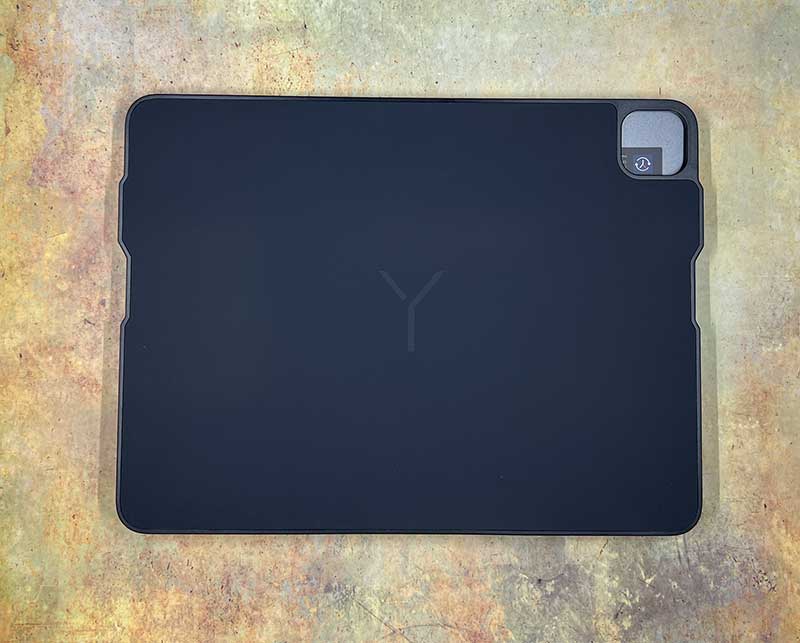 The lid of the Brydge keyboard case is made of plastic and has the Brydge logo on the top and a cutout for the iPad's camera module.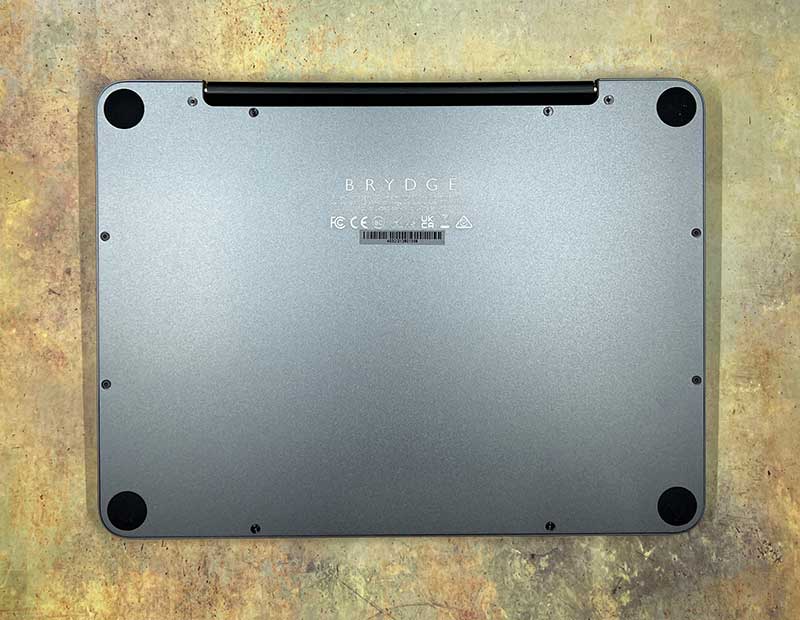 The bottom of the keyboard is made of aluminum and has rubber feet that help to prevent it from sliding around on a table.
The Brydge 11 Max+ Wireless Keyboard Case with Trackpad is available in silver, space grey, and white. I was sent the space grey version to review.

Never miss one of our posts again. Sent MON, WED, and FRI with the latest gadget reviews and news!
How do you attach your iPad to this keyboard case? I'm happy to say that you don't have to snap it into a special case or holder like other keyboards I've tested.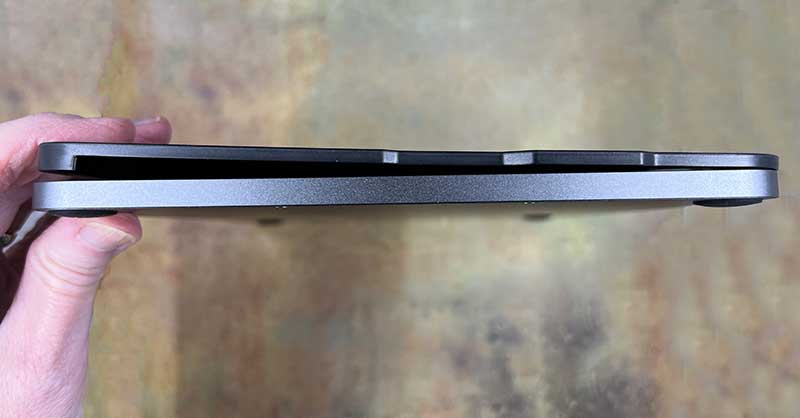 The lid of this keyboard case is magnetic, so it works great with the iPad Pro. It also means that it's fast and easy to attach and detach the iPad from the keyboard case.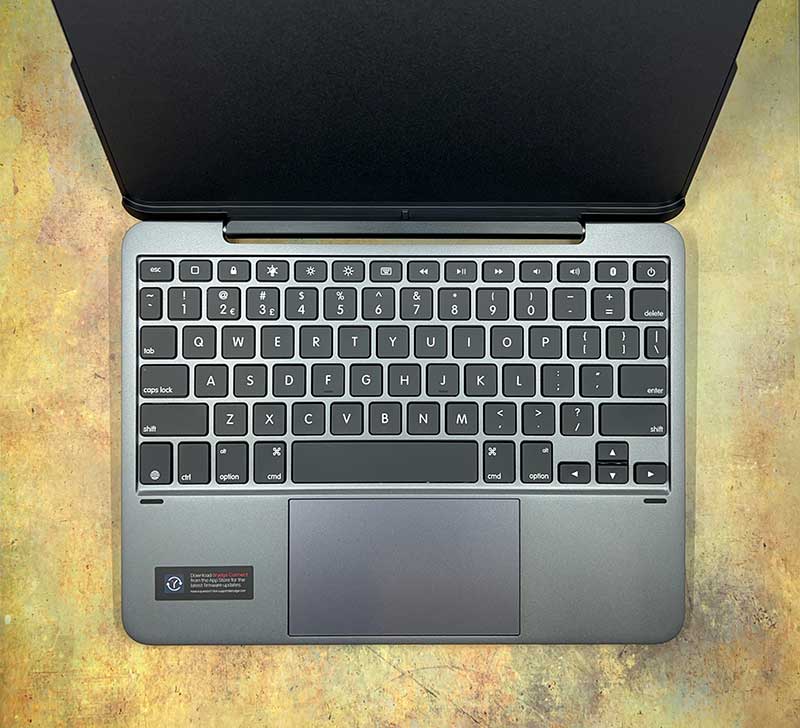 The keyboard looks small but as far as true touch typing, it didn't feel cramped.  I like that it has a full number row and above that is a row of dedicated function keys that allow you to minimize the currently opened app, toggle the keyboard backlight, adjust the screen brightness, pop up the touchscreen keyboard, and then there are media control keys, a Bluetooth pairing button, lock, and power.
The Brydge keyboard also has an inverted T arrow pad for manually moving the cursor and there is also a key that brings up an emoji selection pad.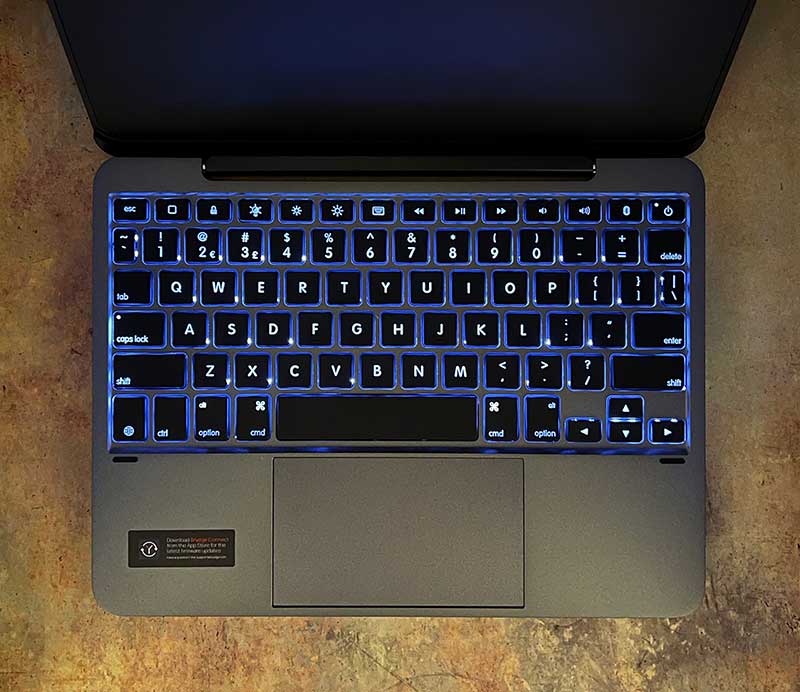 The keyboard even has backlit keys with three brightness levels.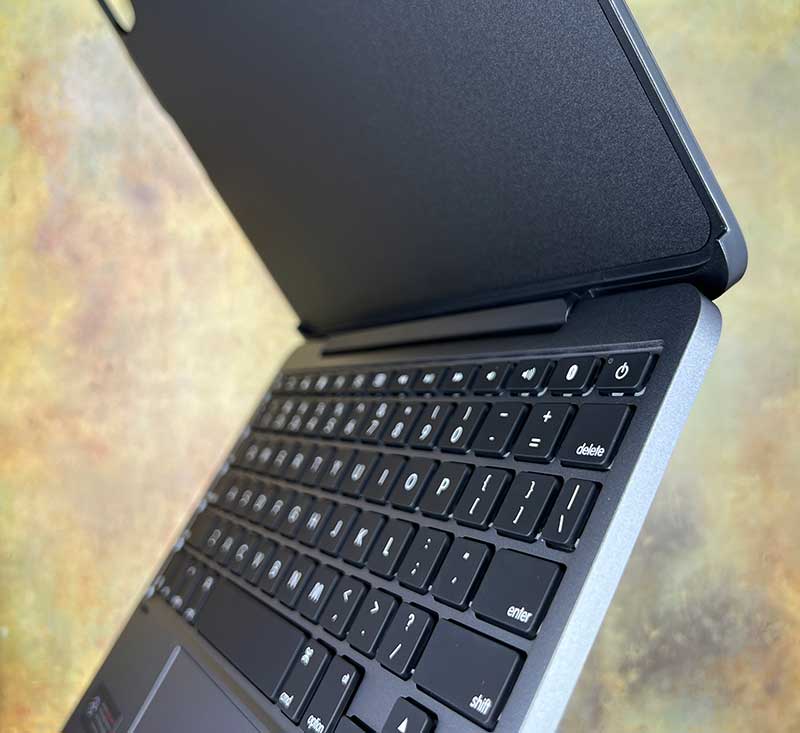 The keys themselves are a decent size and have more travel than I'm used to having after using a MacBook keyboard for years. You can check out my video below to see what it looks like to type on the Brydge Keyboard and you can also hear what typing on this keyboard sounds like.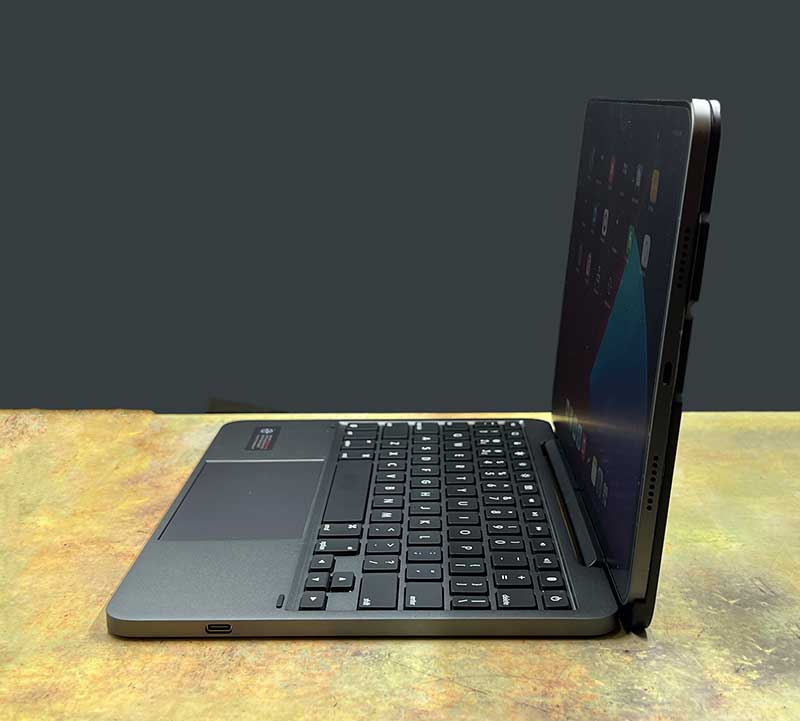 The Brydge keyboard has a large built-in trackpad so that you can have full cursor control without needing to use your finger or stylus on the touchscreen.
The trackpad works like a mouse in that you can use your finger to move the cursor dot and then click the touchpad to select. You can also use gestures on the trackpad like you would on a laptop. For example, swiping two fingers up and down will scroll the screen, and swiping with 3 fingers will minimize the open app.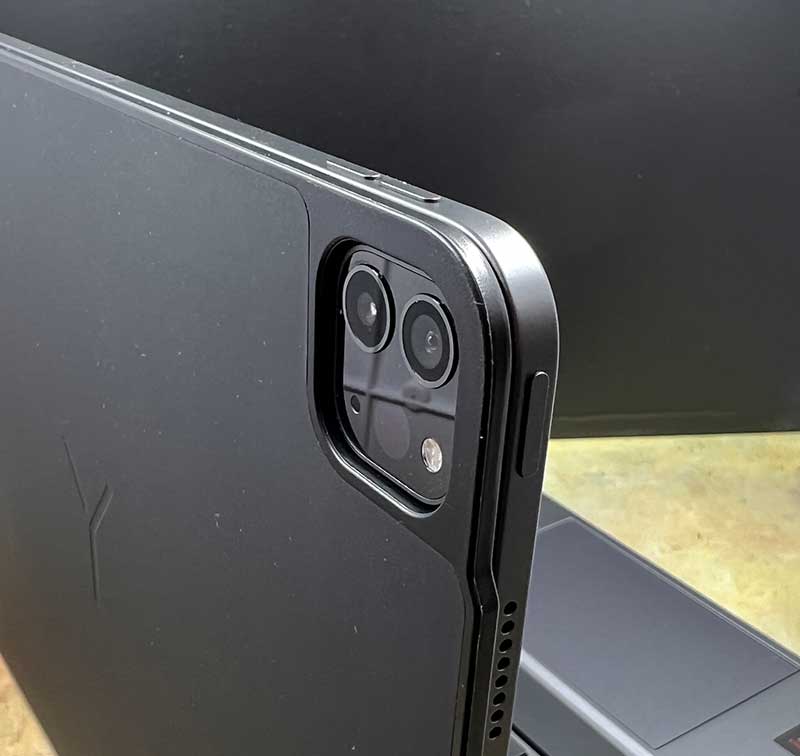 The iPad attaches to the Brydge keyboard with magnets. This means that you don't have to use a special case or snap your iPad into the keyboard. I love this because it makes it super easy to detach the iPad when you're finished typing.

You can also close everything up and carry it around like a laptop. The only small issue there is that there's no separation between the iPad's display and the keys. If your keys are dirty, greasy, etc, they may transfer the gunk to the iPad's screen when it's closed. In other words, don't eat and type ;o)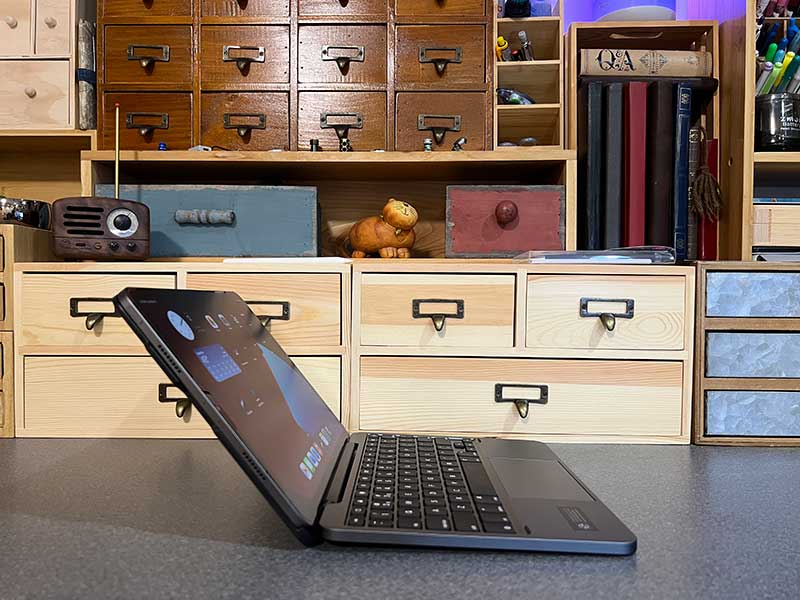 The Brydge keyboard case has a strong hinge that allows you to use the iPad/keyboard combo on your lap. The image above shows the max angle (135º) that you can open the lid.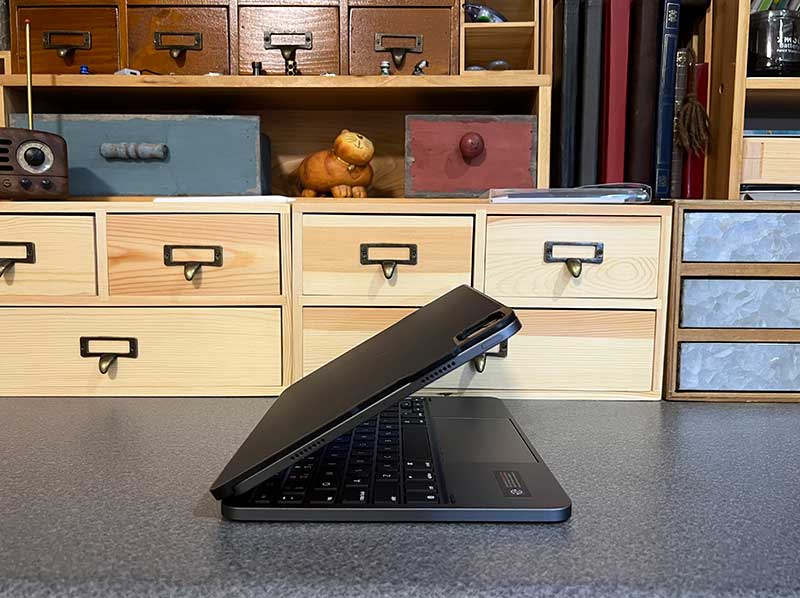 It's too bad that you can fold the lid all the way around so that you can use the iPad in tablet mode while its still attached to the keyboard case. Maybe Brydge will add this feature in the future.
The Brydge 11 Max+ Wireless Keyboard Case with Trackpad looks and feels like a solid slab of aluminum and reminds me of my all-time favorite 12in MacBook. Having said that, the Bydge keyboard case and iPad combo is heavier than the 12in MacBook. The keyboard case all by itself is about 2 lbs so the combo on my digital scale ended up being 2lbs 12 ounces. My 13in MacBook Pro weighs in at 3 lbs 6 ounces.
Battery life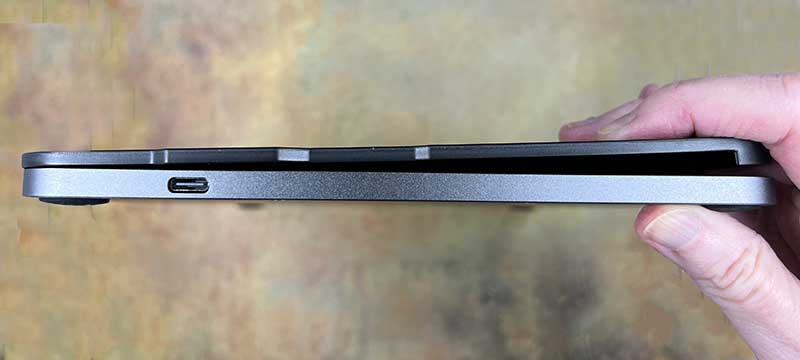 The Brydge keyboard has a USB-C connector on the right edge. That's right, you have to keep the Brydge 11 Max+ Wireless Keyboard Case with Trackpad charged. But don't worry too much, a full charge should give you up to 3 months of use if you use the keyboard 2hrs a day without the backlight on. If you use the backlight, the battery will last about 40 hours.
Hear it in action
As you can hear, the Brydge 11 Max+ Wireless Keyboard Case with Trackpad isn't too clickity clackity. You won't feel self-conscience using it in a library or other quiet environments.
I also wanted to mention that waking up the keyboard after it's been idle is almost instantaneous.
What I like
Easy to attach and detach the iPad from the keyboard case
Built-in trackpad
Very well made
Long battery life
What I'd change
Final thoughts
The Brydge 11 Max+ Wireless Keyboard Case with Trackpad is a great alternative to Apple's Magic Keyboard. At $100 cheaper thank Apple's keyboard, the only thing missing is the ability to charge both the iPad and keyboard at the same time. Other than that, this keyboard case is very well made, has a key layout that is comfortable for touch typists and is easy to attach and detach. If you want a keyboard for your iPad, you can't go wrong with a Brydge keyboard.
Price: $199.99
Where to buy: Brydge and Amazon
Source: The sample for this review was provided by Brydge.