We use affiliate links. If you buy something through the links on this page, we may earn a commission at no cost to you. Learn more.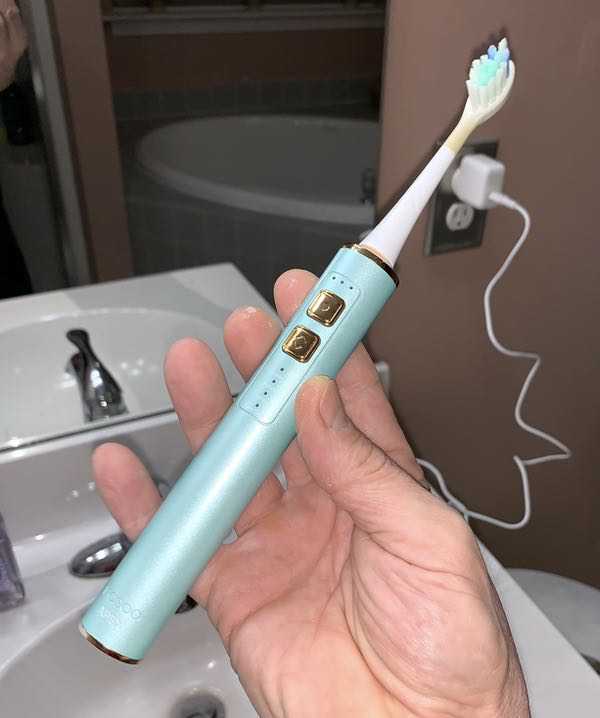 REVIEW – What's so special about the FOSOO electric toothbrush? It certainly looks pretty, which is always nice… but we here at The Gadgeteer are looking for substance behind that style. Does the FOSOO Apex Electric Toothbrush deliver the goods? Let's find out. To the review!
What is it?
The FOSOO Apex Electric Toothbrush a rechargeable electric toothbrush.
What's in the box?
Your kit comes with two brush heads, one for standard cleaning and one for sensitive teeth. You'll also get the magnetic charging base that includes a built-in USB cable.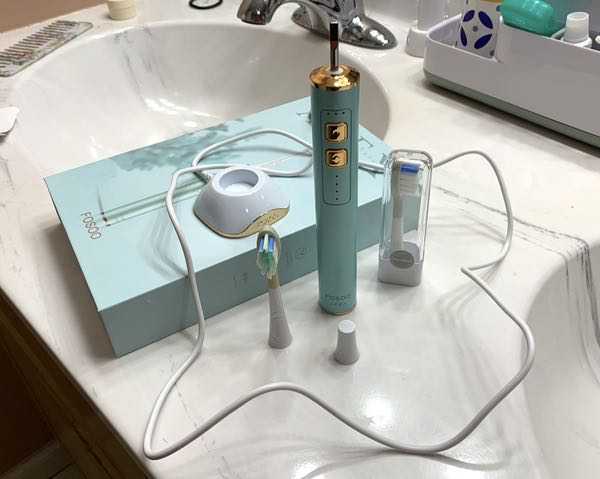 Hardware specs
4 cleaning modes (Clean, White, Gum Care, and Polish)
3 intensity settings: Low, Medium, and High
2500mAh li-ion battery
180-day battery life
IPX7 waterproof rating
Metal zinc alloy handle
Design and features
"Elegant" is a term I would use to describe the FOSOO Apex Electric Toothbrush. The metal zinc alloy barrel feels a cut above your typical white plastic cleaners. I chose the blue color, but a pink and white variant is also available. Each one carries the gold bling through in the accents, including the charging base. Look at all the fanciness!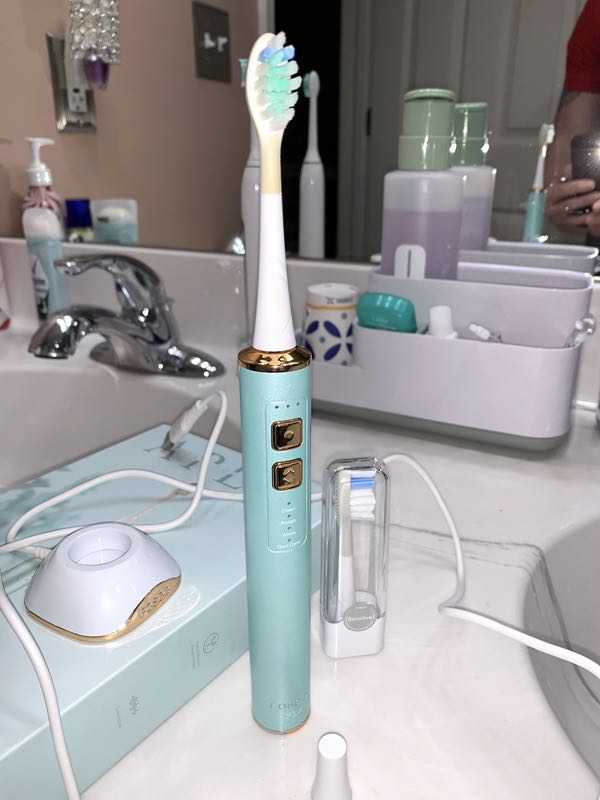 Your FOSOO Apex Electric Toothbrush is controlled by two big buttons on the barrel, with nice tactile feedback so you have a good idea of what you're pressing while engaged in cleaning your pearly whites.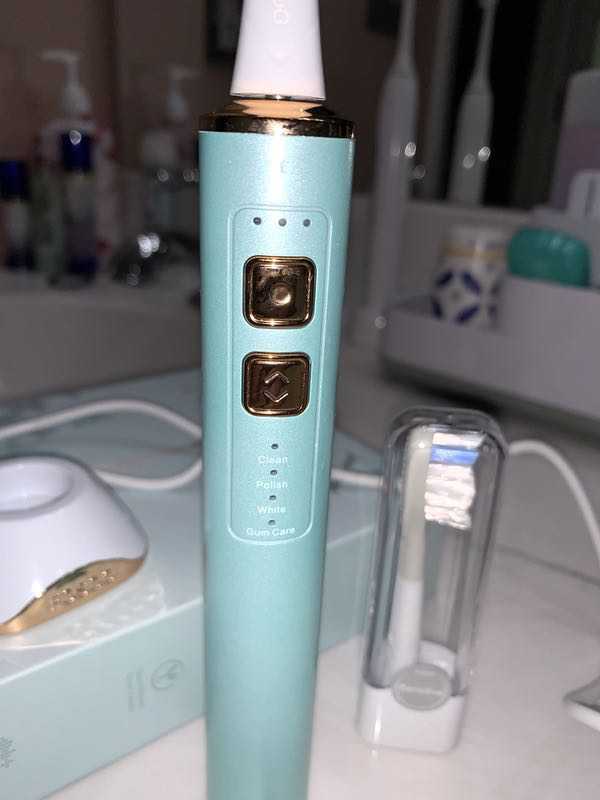 The backside of the barrel has a studded surface to help maintain your grip, even when wet. The whole unit is rated to IPX7 water resistance, which means you can use it in the shower and thoroughly clean it under running water.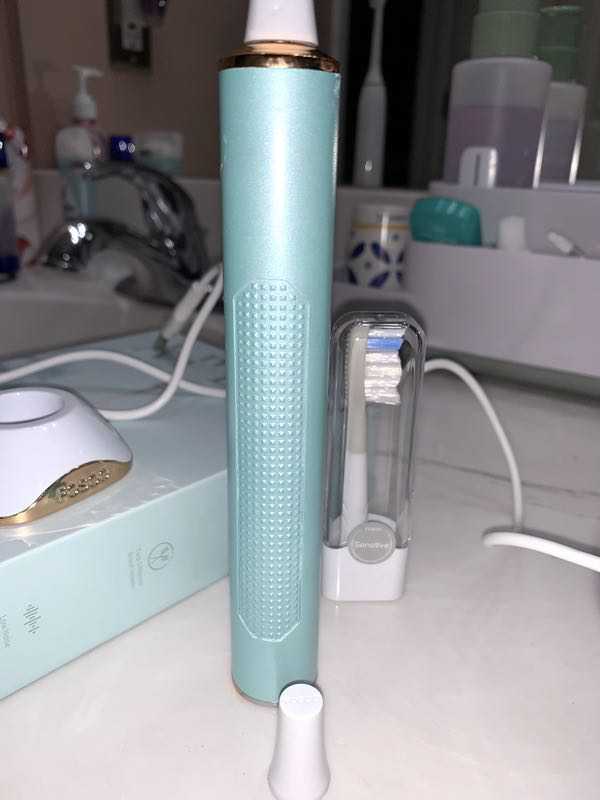 The charging base operates off of an integrated USB cable. The unit professes a 180 day battery life on a full charge, so you don't need to worry about that charging base taking up a permanent spot on your countertop.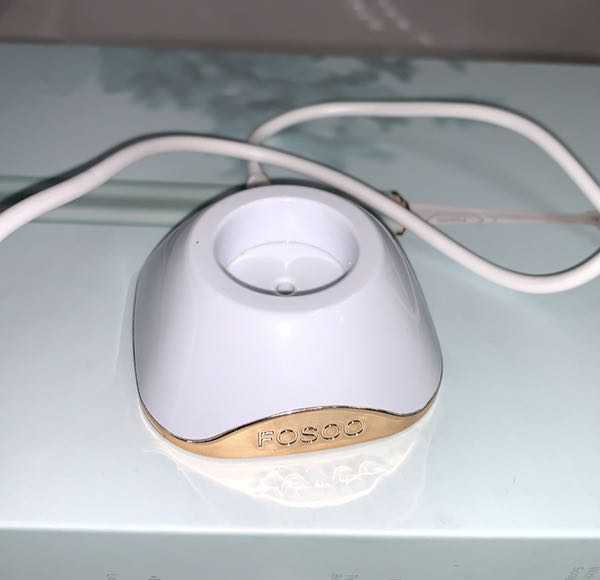 Note that the charging unit does not come with a power brick, but standard USB compatibility will let you get juice from just about anywhere. Given the long battery life, you probably won't find that to be an issue.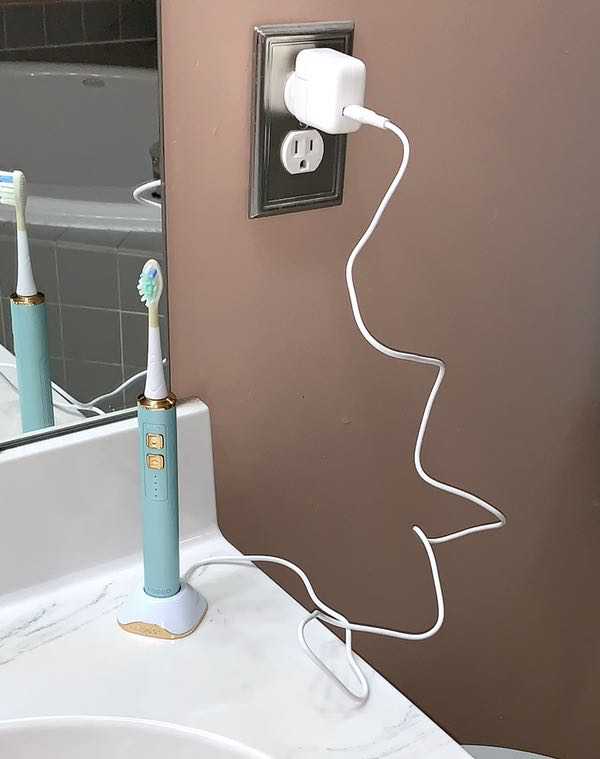 The FOSOO Apex Electric Toothbrush includes four different cleaning modes, selectable from the bottom button either when the power is off or when the unit is running. Each mode is indicated by an LED light and a label below the button.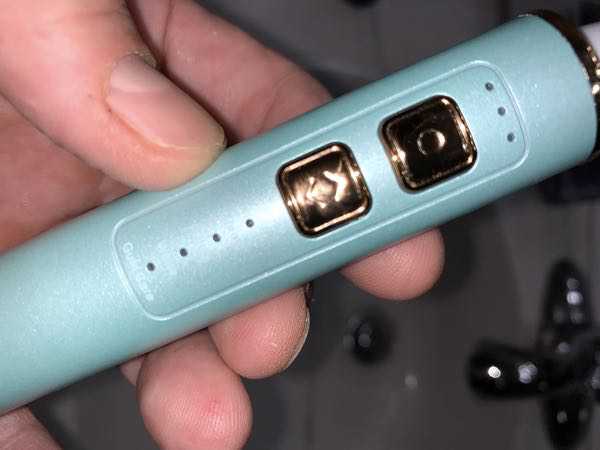 The four cleaning modes are:
Clean mode — 38,400 vibrations per minute
Polish mode — 42,000 vibrations per minute
White mode — alternates between strong and weak vibrations
Gum care – low frequency massage mode (32,400 vibrations per minute)
You can also toggle the intensity for any of these setting with the power button (low/medium/high intensity).
Performance
Don't let the fancy looks fool you. The FOSOO Apex Electric Toothbrush delivers some serious cleaning power.
I like the solid, weighty feel of the brush itself. It feels substantial, but also offers precise control from any angle.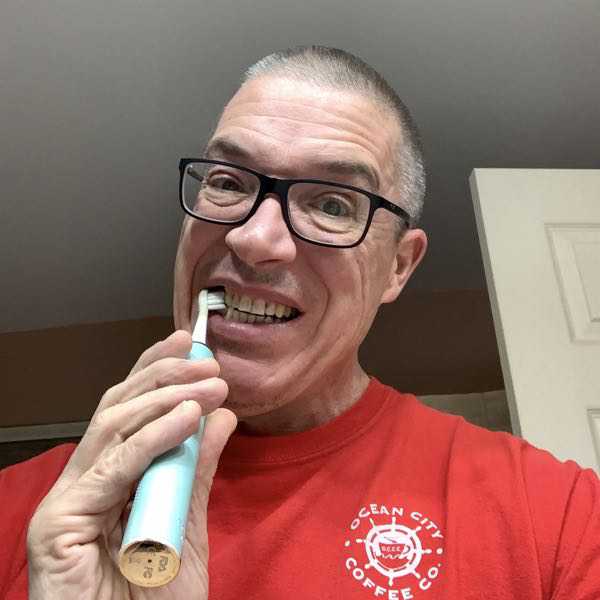 The multiple cleaning modes are great. You can get a super-powerful cleaning experience, or dial it back and switch to the sensitive tooth head for a less intense session depending on your needs and tolerance. My teeth tend to stain easily, and I'm seeing a noticeable difference in whiteness and getting into those odd corners and crevasses. You also get a 2 minute timer with thirty second intervals (indicated by a brief pulse every 30 seconds) to ensure that you follow the dentist-approved 2 minutes of brushing for each session. Some of us cheat (you know who you are), and this brush helps to fix that.
The brush heads are also well designed and substantial, with a textured backside for tongue brushing as well as multiple contours to get all those hard-to-reach places. They also include color-changing bristles that are common these days. The bristles are blue, but the blue fades over time so that you know when it's time to get a new brush head. Refills are reasonably priced at $19.99 for a four pack
I do wish that a travel case was included with the package. You get a case for your brush as well as a plug for the handle, and you don't need to bring your charger with you. But the brush and handle don't have an integrated case like I have seen on other units. This would be a nice feature to have here.
What I like
Well designed for ease of use
Solid metal handle and well-designed brush heads
4 cleaning modes and 3 intensities to meet just about every need
Long battery life
What needs to be improved
Would like to see a travel case for the unit
Final thoughts
I had my doubts when I cracked the package on the FOSOO Apex Electric Toothbrush, because it felt like a style over substance design. But the truth is that it's really good at its primary mission. A solid build, excellent design, and great usability are backed by a ton of options for cleaning that really work. The good looks are just icing on the cake.
Price: $59.99
Where to buy: Buy direct on the FOSOO Apex product page (save 10% off with code: GADGETEER10)
Source: The sample of this product was provided by FOSOO.