We use affiliate links. If you buy something through the links on this page, we may earn a commission at no cost to you. Learn more.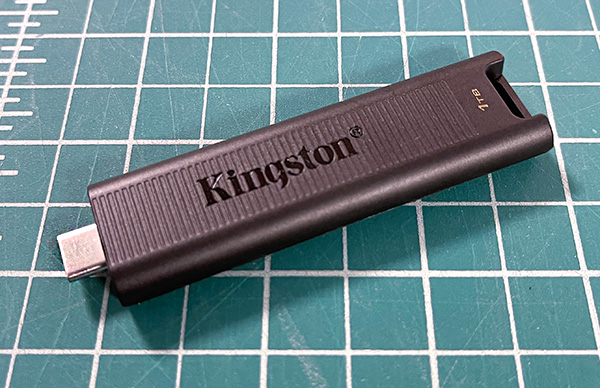 REVIEW – If you own a computer, you've probably used a thumb drive, or more accurately, a flash drive. They've been around forever, but they are (in)famous for lacking in memory, expensive (for the larger capacity versions) and slooooow to transfer data. Recently, that's all been changing as drives are getting larger and more affordable. Kingston is one of the more respected and popular brands of drives. The new Kingston DataTraveler Max USB 3.2 Gen 2 flash drive is the fastest flash drive they make. It's totally portable, easy to use, and has one possible deal-breaker design flaw. More on that later.

What is it?
The Kingston DataTraveler Max is a 3.2 Gen 2 USB-C flash drive made to transfer/store large amounts of digital data, such as photos, video text and music. Its read/write speed is rated at up to 1,000MB/900MB per second. It's protected in a hard plastic case that retracts and protects the connector. The DataTransfer Max is available in three sizes: 256GB, 512GB AND 1TB.
Specs
3.2 Gen 2 USB-C
Read speed up to 1000MB
Write speed up to 900MB
Retractable connector
Size: 3.2 in x .85 in x .35 in (LxWxD)

Design and features
Any flash drive is pretty much a one-trick pony. It reads and writes files—and that's it. The only differences are speed, capacity, and price.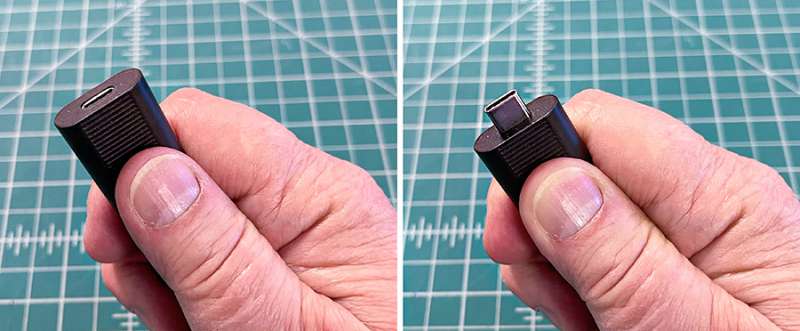 The Kingston DataTraveler Max USB 3.2 Gen 2 flash drive is long and thin at a bit over 3 inches long. It's a complete unit. There is no cap or other parts to lose. The connector slides into the body—completely out of sight. It's a cinch to plug in and securely stays in place. The only drawback is the length. You have to be careful not to bump it when connected.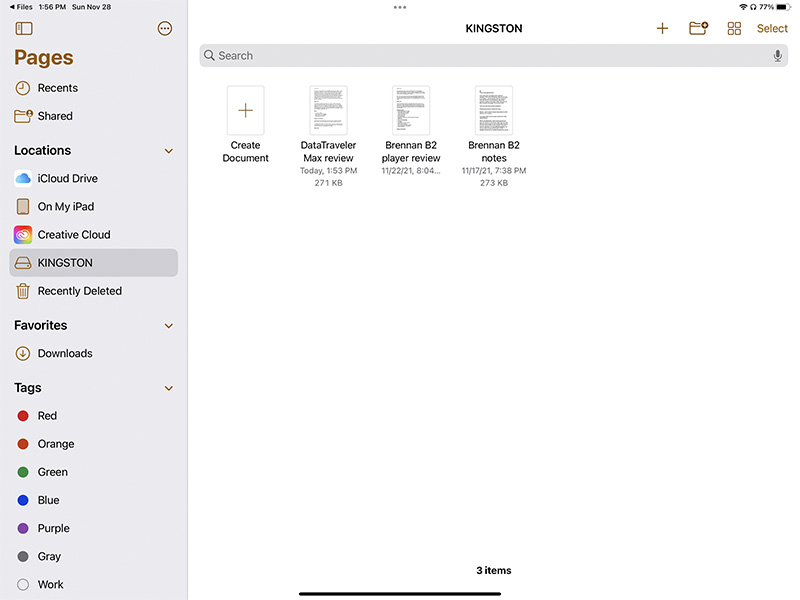 Since the Kingston DataTraveler Max USB 3.2 Gen 2 flash drive, it works flawlessly with the USB-C equipped iPad Pro. It also works flawlessly with my MacBook Pro—with one design flaw that could make it a deal-breaker for many.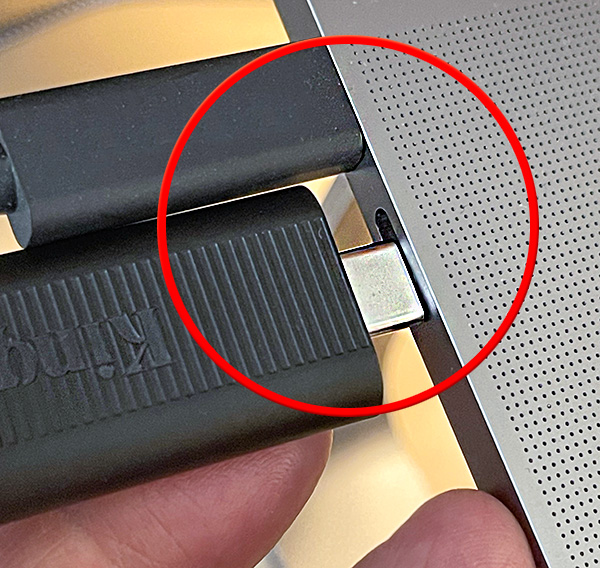 At almost an inch wide, the drive is too wide to insert another USB-C next to it. Using it takes up to two slots—not good. I need all four slots when working. The only way around it is to use a hub if you need the extra port, but you shouldn't have to. Note: This issue is for the MacBook Pro. It may not be an issue on certain PCs.
However, if you don't need to use all the MacBook ports, the DataTransfer Max is a great way to increase the storage of your laptop. The 1TB version (what I'm reviewing) can completely backup a 1TB laptop with an SSC drive, such as my work MacBook Pro.
For Photoshop artists, one particularly good use for the DataTraveler Max is to assign it as a scratch disk. This allows the Laptop or desktop PC to use its memory for files while having a massive area for storing temp files. This could speed up Photoshop quite a bit.

What I like
Fast read/write speed
Convenient to carry around
Works with iPad Pro

 
What I'd change
Width takes on two USB-C slots on MacBook Pro

Final Thoughts
Even with the design issues I have with the Kingston DataTraveler Max USB 3.2 Gen 2 flash drive, I still consider it a great way to back up files or use it as extra storage space. I just wish it were a bit narrower.
Price: $62.99 (256GB), $105.99 (512GB), $179.99 (1TB). All prices US.
Where to buy: Kingston and BH Photo
Source: The sample of this product was provided by Kingston.