We use affiliate links. If you buy something through the links on this page, we may earn a commission at no cost to you. Learn more.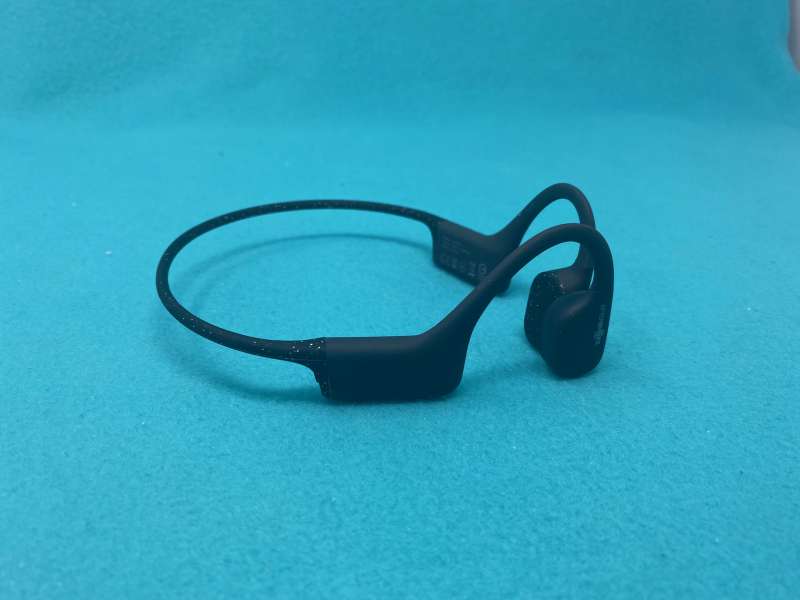 REVIEW – Listening to music can make exercising more tolerable. Witness the huge case market for sweat-resistant armbands, cases, and headphones. Listening to music when you're outside running, biking, or otherwise being exposed to environmental hazards (i.e. cars, trucks, and other motorized vehicles) can be dangerous to your situational awareness. Aftershokz, a company that specializes in bone conduction headphones, has several offerings that can mitigate these dangers. The latest is a product the AfterShokz Xtrainerz Bone Conduction MP3 Swimming Headphones review – Fill your underwater world with sound. This is a set of headphones that include memory and controls with a built-in MP3 player. I was sent one to test in the Black Diamond colorway, which is a dark base color with white flecked accents. (They also come in a Blue Sapphire.)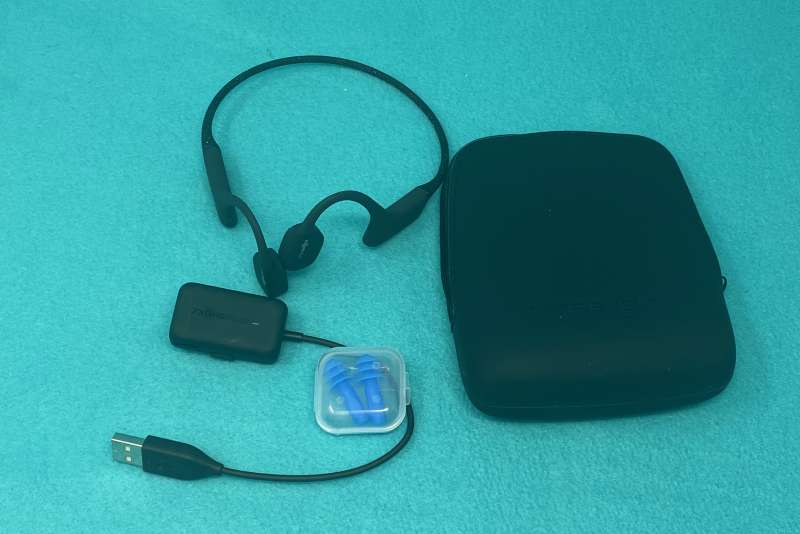 What is it?
AfterShokz Xtrainerz Bone Conduction MP3 Swimming Headphones are bone-conduction headphones with onboard sound file storage and playback.
What's in the box?
AfterShokz Xtrainerz Bone Conduction MP3 Swimming Headphones
silicone storage case
USB-A charger/transfer harness
waterproof earplugs

Hardware specs
8-hour battery life
IP68 waterproof
comfortable under a swim cap
4 GB MP3 storage
Supports MP3, WAV, WMA, AAC, and FLAC

The charging/transfer harness snaps around one of the temple pads
Design and features
The AfterShokz Xtrainerz Bone Conduction MP3 Swimming Headphones are coated in a rubberized material and are totally sealed against water and dust. The only non-rubberized surfaces are the contacts that connect to the charger/transfer harness. If you've never used bone-conduction hearing devices before, it can be a bit of a shock: the tone pads sit just in front of your ear canal, hooked over your ears for stability. They do not enter your ear canal at all, so your environmental awareness is only slightly diminished when you're listening to music. Other noises, conversations, etc. will be audible unless you have the volume very loud.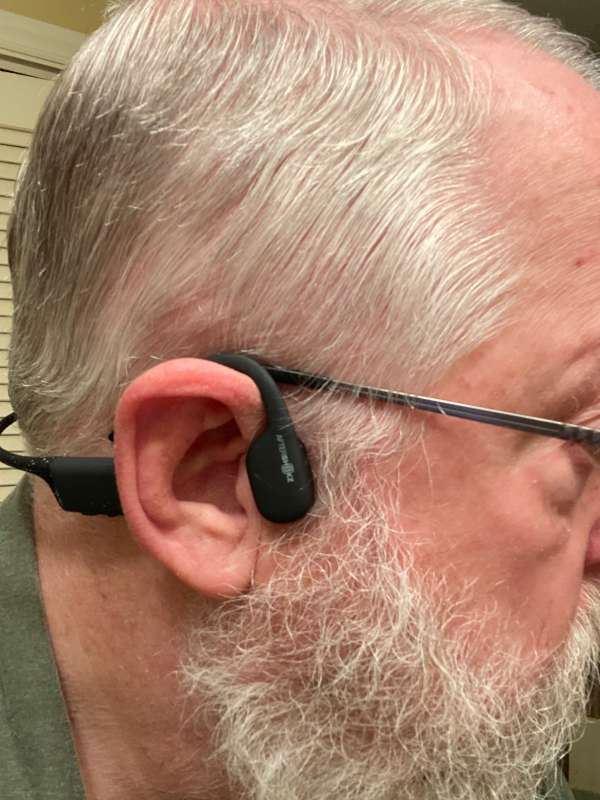 Volume, playback, and other functions are all controlled via a set of buttons grouped around the metal contacts that attach to the charger.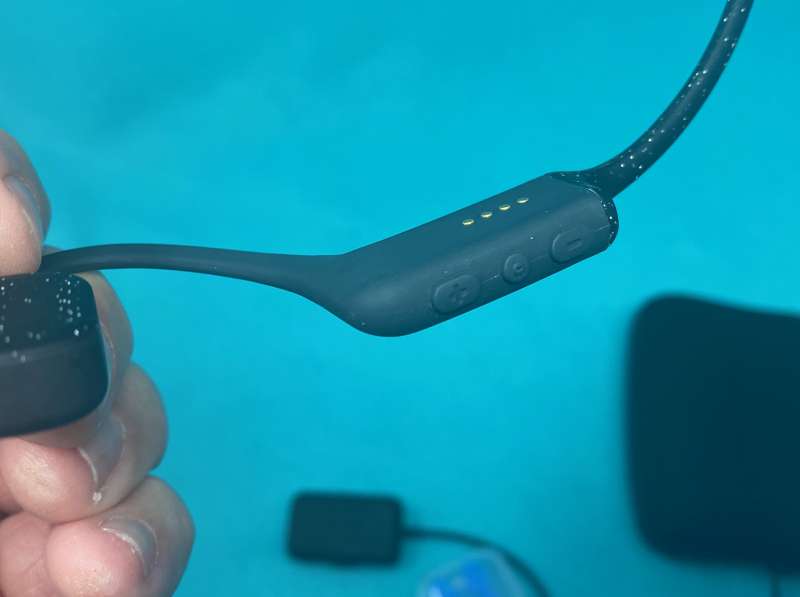 While other products from Aftershokz have Bluetooth connectivity, these do not – they can only playback files that have been uploaded to the unit via the USB-A cable included. Like other waterproof devices I've used, sealing them against water and using them underwater prevents usage as a typical Bluetooth headset. (If you need Bluetooth connectivity, rather than waterproofing, I highly recommend their OpenComm Bluetooth headset – I purchased a unit with personal funds in January after they were reviewed here. I was working at home at the time, and they were fantastic for my eight-hour shifts doing phone support.)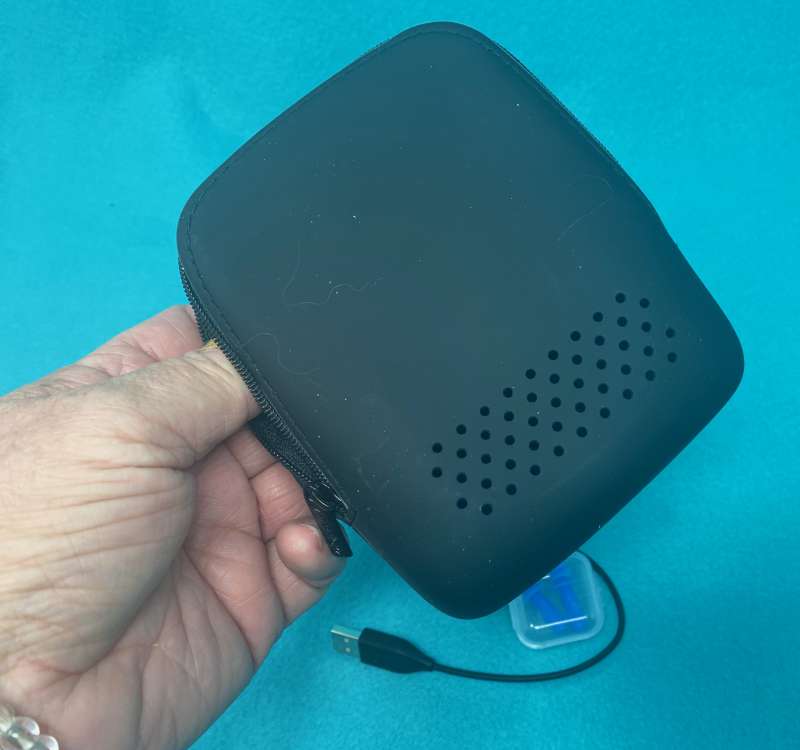 Setup
Setup is very simple. Clip the headset into the harness, plug the USB plug into your computer, and drag compatible files into the "Xtrainerz" drive that shows up.
Performance
The sound while cycling and generally working around the house and yard was excellent. It was nice to not have my music interrupted by announcements of miles pedaled or other notifications, while still getting those notifications on my iPhone.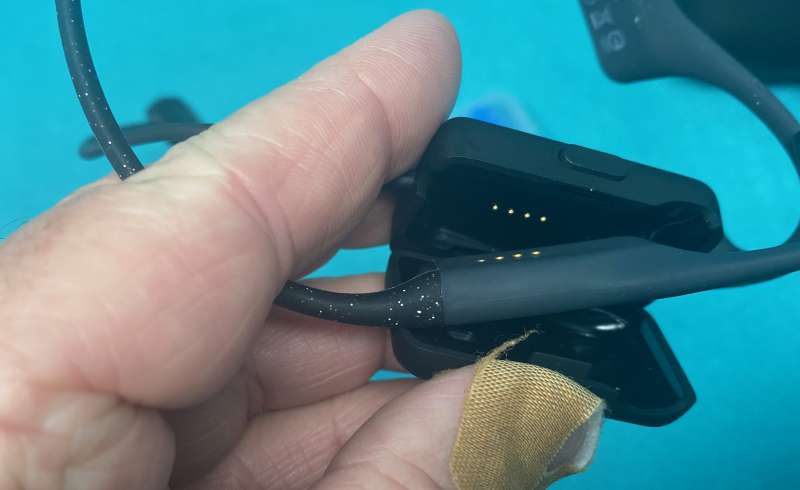 While the sound from the AfterShokz Xtrainerz Bone Conduction MP3 Swimming Headphones are clear and full, the bass response is muted, compared to external speakers or even over-ear headphones, for obvious reasons. If you can live without heart-thumping bass, though, you'll enjoy the experience as well as any other in-ear or on-ear products. To get a good bass response, there's just got to be moving air, and that takes a woofer of some size.
Due to scheduling changes brought on by the pandemic, I'm not currently a member of a pool, so could not test these during swimming like I did with the last waterproof headset I tested. Hopefully, the New Year will bring relaxed restrictions, and, for me, a less busy schedule, so that I can get back into regular laps. If that happens, I'll be sure to return and update this review with the performance, should there be any glaring items of interest. I anticipate none, but, then, no one anticipated a global pandemic and shipping crisis, did they?
What I like
Enhances safety for cycling, running, and other outdoor exercising
Full-fidelity sound
What I'd change
I wish I could connect this to my Audible account
I'd also love to use this with Apple Music
Final thoughts
We are an audio-saturated culture. From the radio in our cars to Muzak in every store, to gas pumps that play music – it's everywhere. Personalizing this constant barrage is something we've been doing since the first Sony Walkman shipped. Having this ability while we're swimming and doing other active sports requires a little more from a device than what you get with your latest daily driver phone's earbuds. AfterShokz Xtrainerz Bone Conduction MP3 Swimming Headphones, by offering onboard storage and full IP68 ingress protection has a great product here, at a very competitive price point. Adjacent to our move from tapes, discs, and iPods, however, has been our move to streaming services. Even though I'm able to download files from Apple Music to my devices, these files cannot be dragged over to the Xtrainerz. Only files that I ripped from CDs or bought online can be converted to the proper format and installed. While that's a huge dent in ease of use, at this point, many of us still have files from our "Rip, Mix, Burn" days. But I don't think that's going to last too far into the future. If there were some way to get files through the existing subscription services more easily, I'd find this device much more useful. As is, it's still great, but my listening options are a bit limited without a whole lot of work.
Price: $149.99
Where to buy: Company Webstore and Amazon
Source: The sample of this product was provided by Aftershokz.