We use affiliate links. If you buy something through the links on this page, we may earn a commission at no cost to you. Learn more.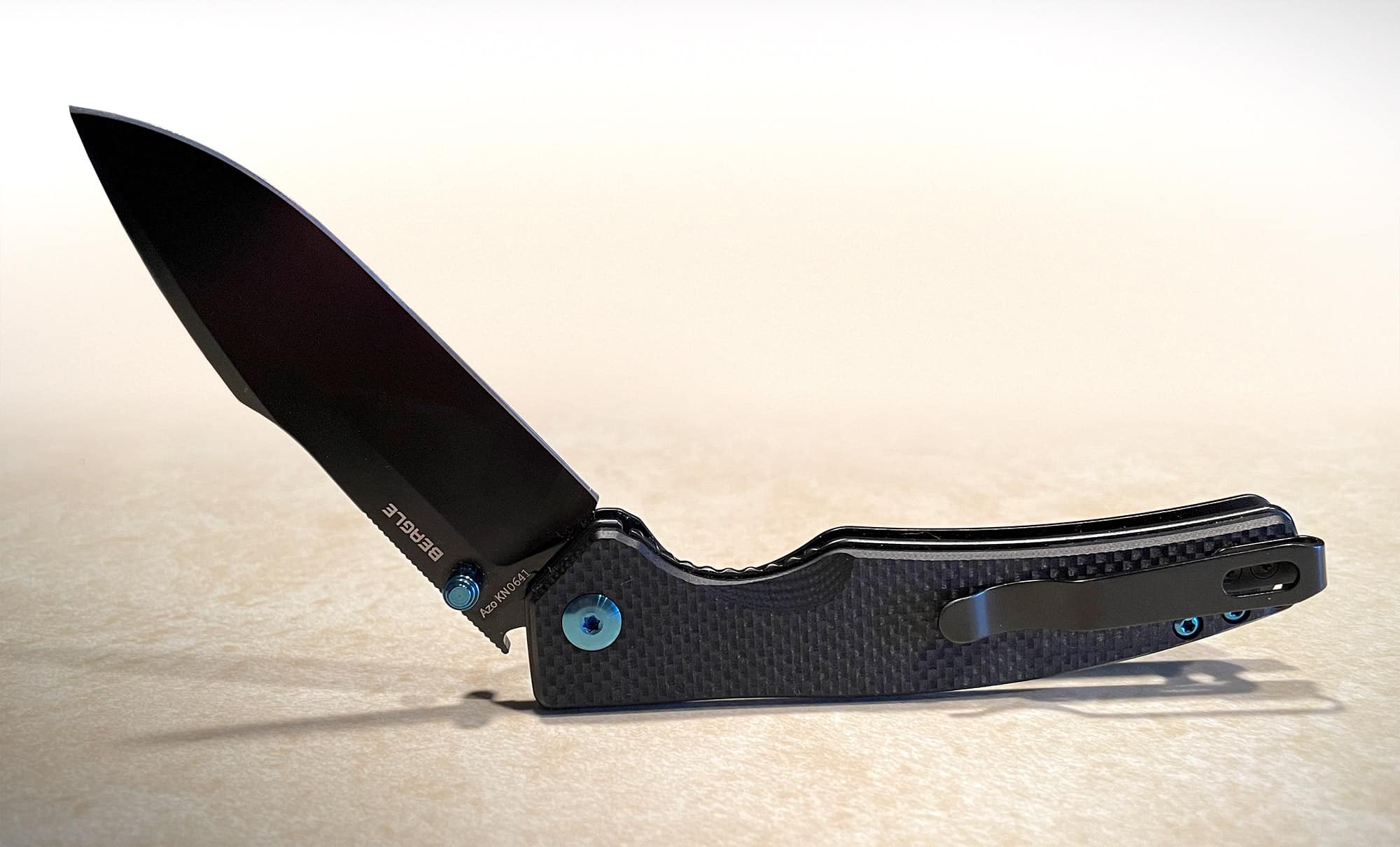 REVIEW – It was only in the last couple weeks that I learned quality EDC flashlight maker Olight also makes pocket knives. Mind blown! So when I got the chance to review the new Olight Beagle Handle Folding Knife, I couldn't wait to get my hands on it.
What is it?
The Olight Beagle is a harpoon blade style folding pocket knife, featuring 154CM stainless steel blade with a black finish and a broad G10 handle.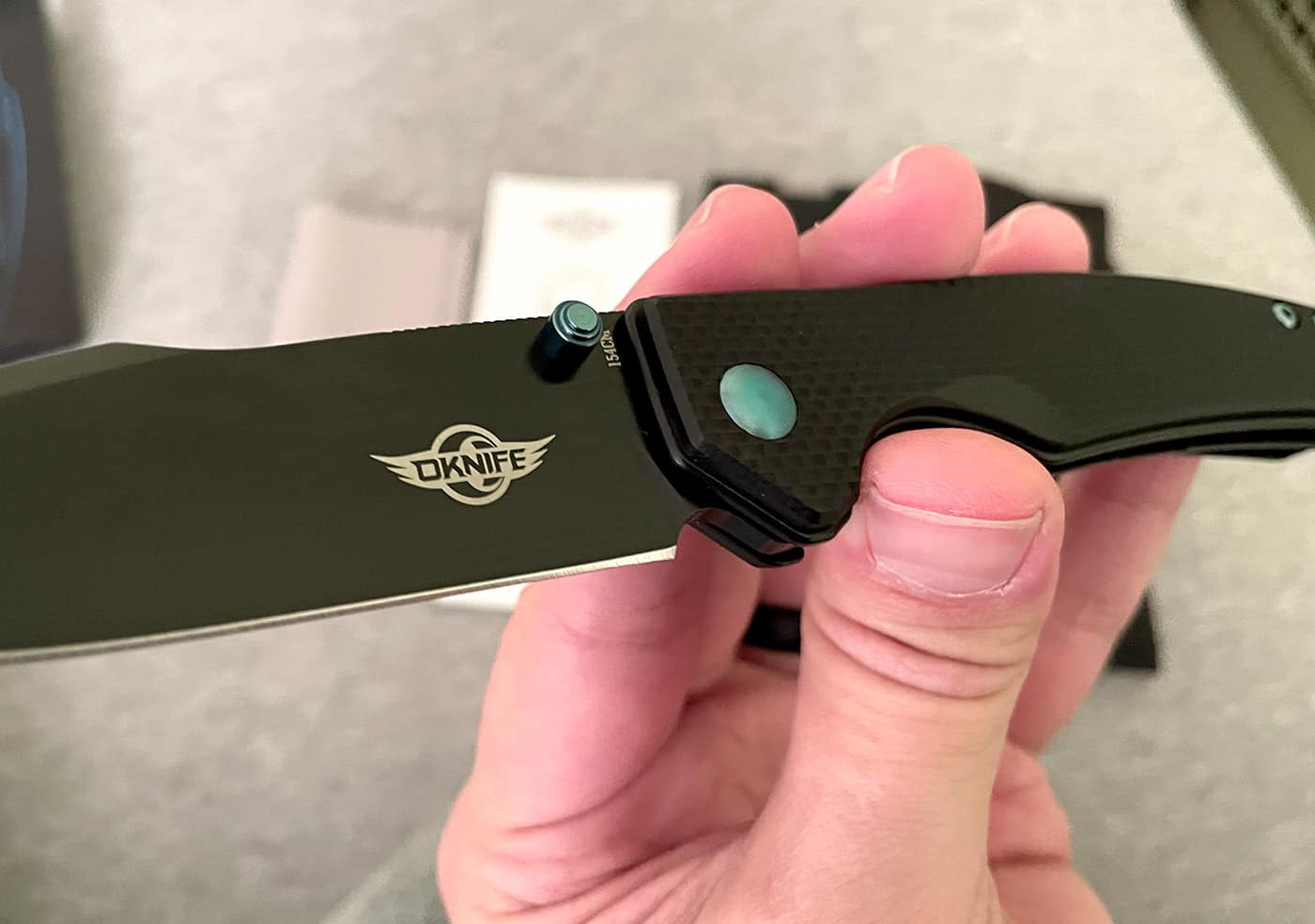 What's in the box?
Olight Beagle Handle Folding Knife
Case with embroidered Oknife emblem
Knife manual
Cleaning cloth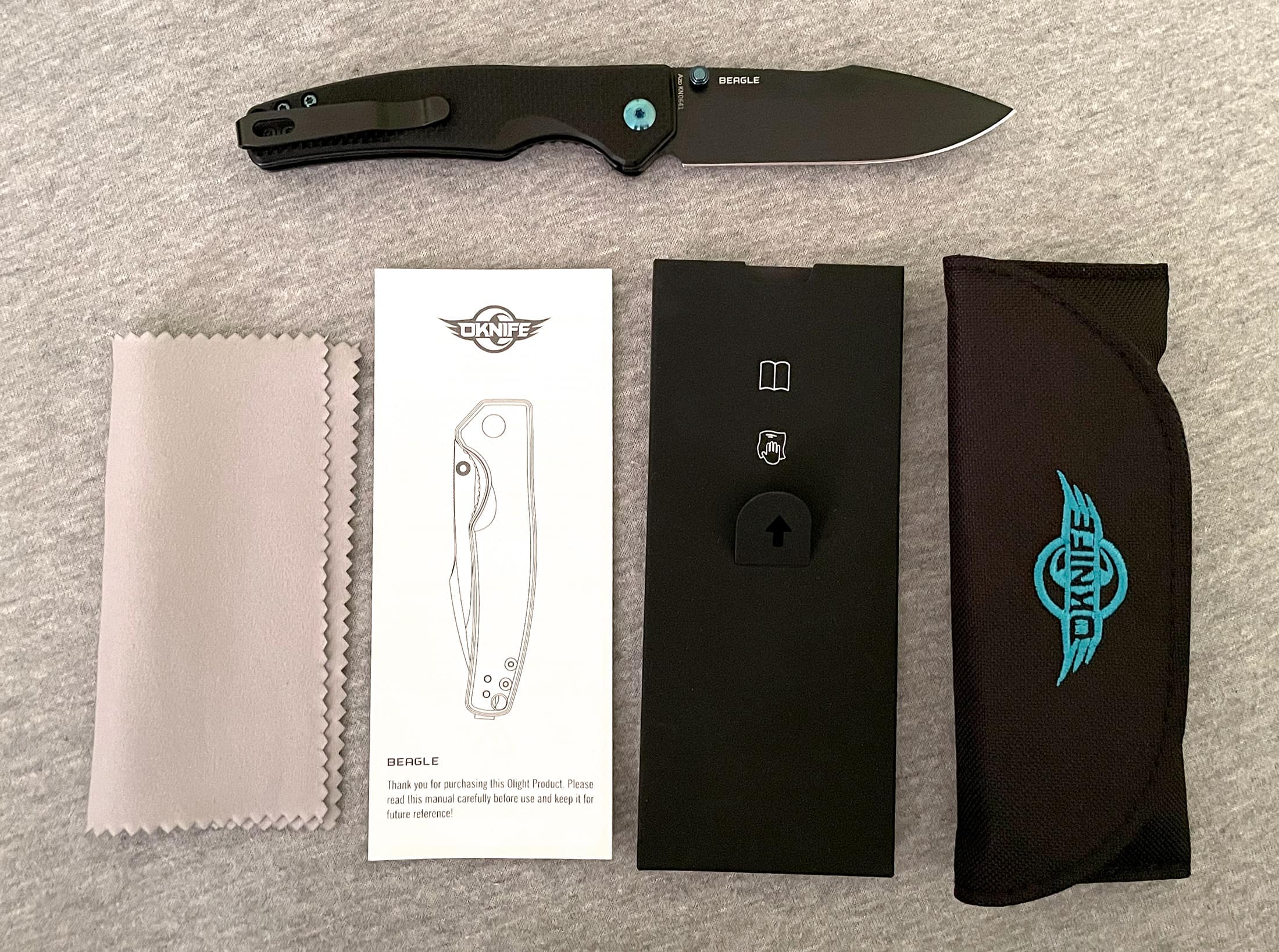 Hardware specs
Premium 154CM Harpoon Blade that offers exceptional corrosion resistance, reinforced hardness, and a super sharp tip
Matte black finish on the blade
G10 handles
Dual thumb studs
Textured liner lock
3.44oz
4.3" long when folded
3.3" blade length
Pocket clip can be positioned on either side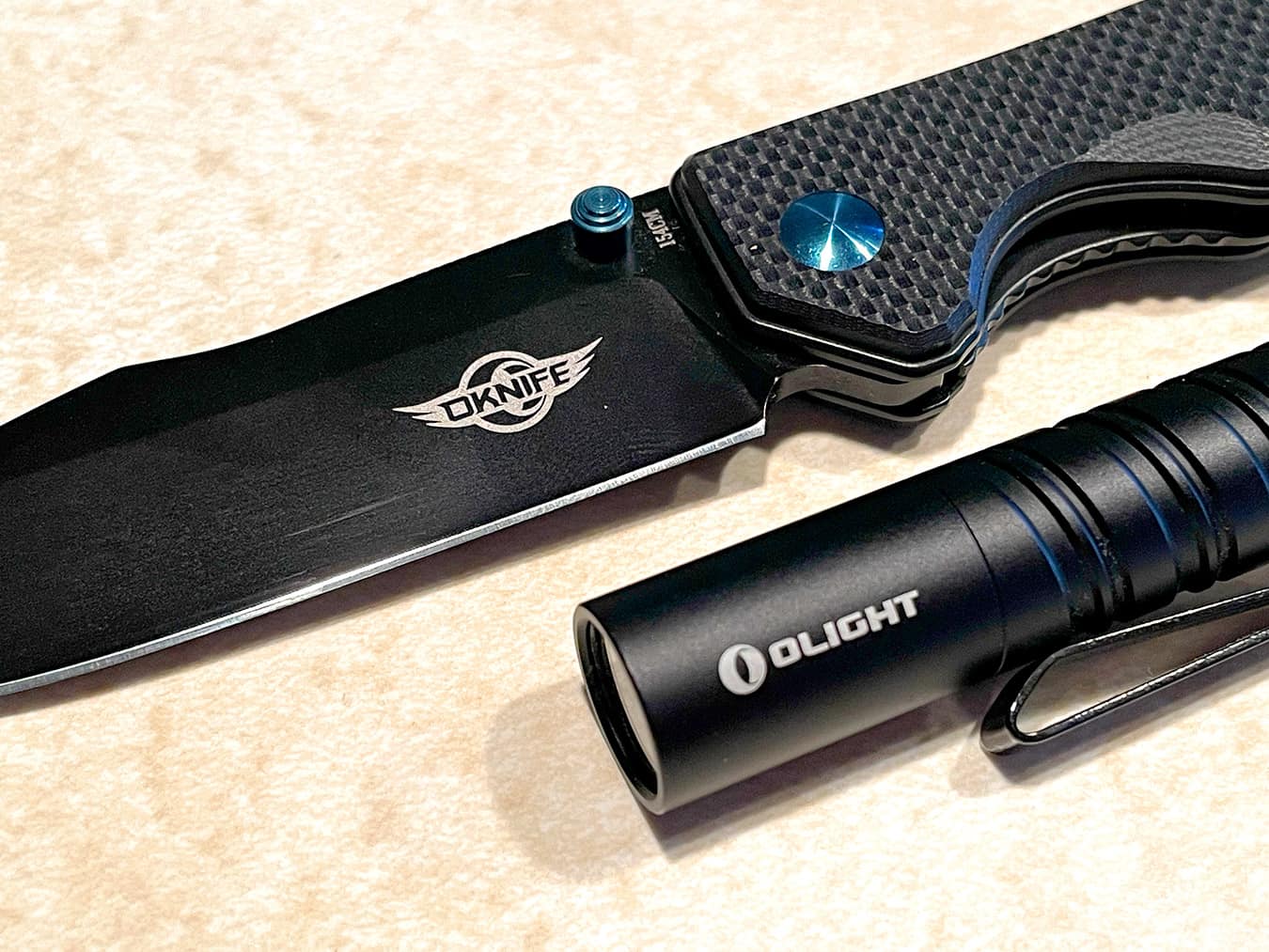 Design and features
I've been a fan of Olight's slim, eminently pocketable flashlights for a while, now. I've had an Olight flashlight in my EDC mix for a couple years and its simplicity and toughness make it my go-to.
I'm happy to say that every bit of Olight's quality and rugged design of their lights make their way into their knives. Check out Julie's review of the Olight Drever folding pocket knife.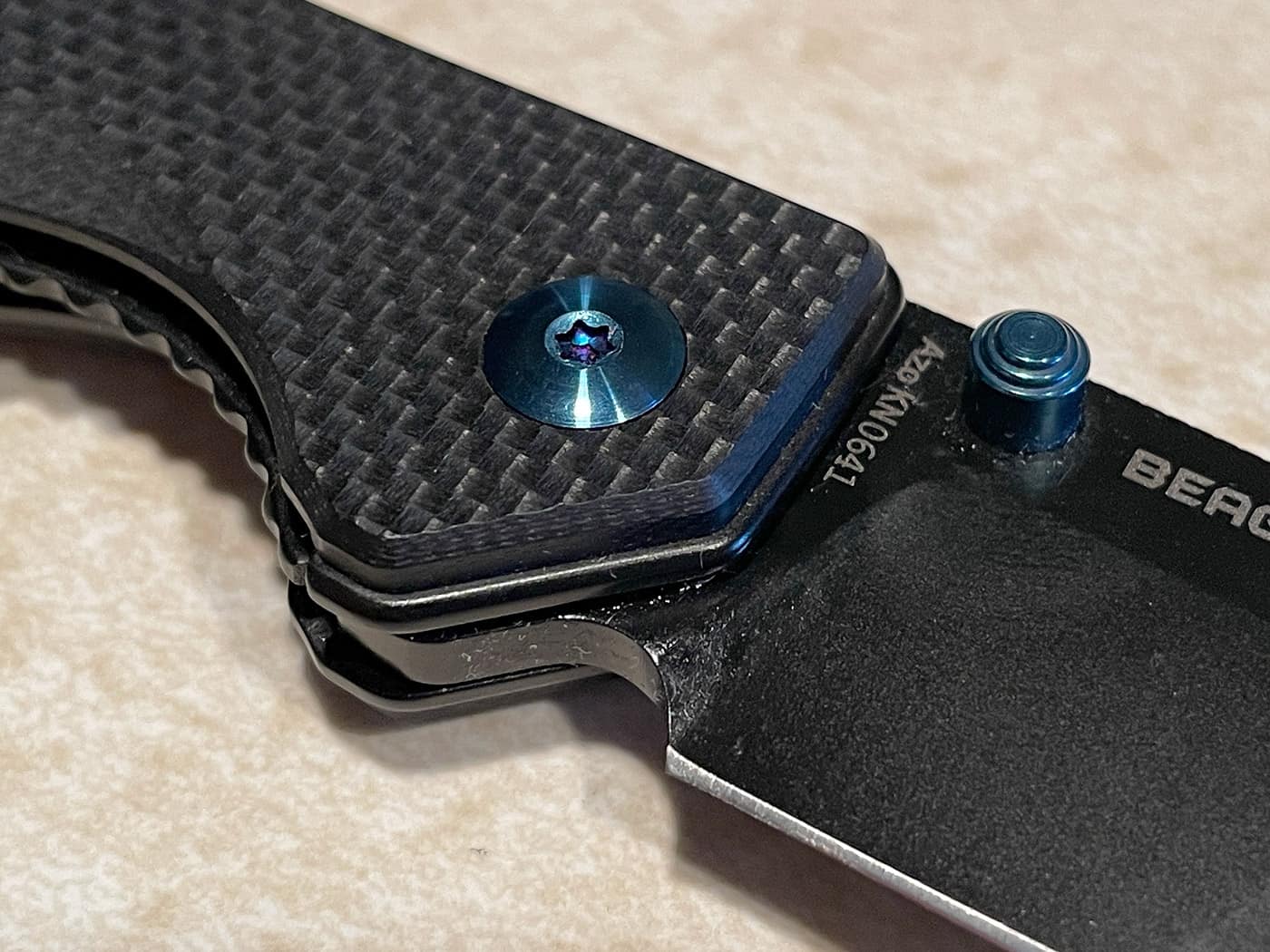 The first thing you'll notice with Olight's newest offering, the Beagle, is the wide, very textured scales on the G10 handle. The handle and blade are a tactical style matte black, with an interesting, shiny pop of blue finish on the thumb studs, pivot and screws.
There is a matte black pocket clip that can be positioned on the flip side of the handle or removed altogether. However it can only be placed on the bottom of the knife next to the lanyard hole, so the knife can only be carried in a "point-up" position.
Flipping the Olight Beagle Handle Folding Knife open takes a good bit of force on the thumb studs, I've had quite a few knives that open in such a way, and the Beagle requires much more force than I've experienced in other knives.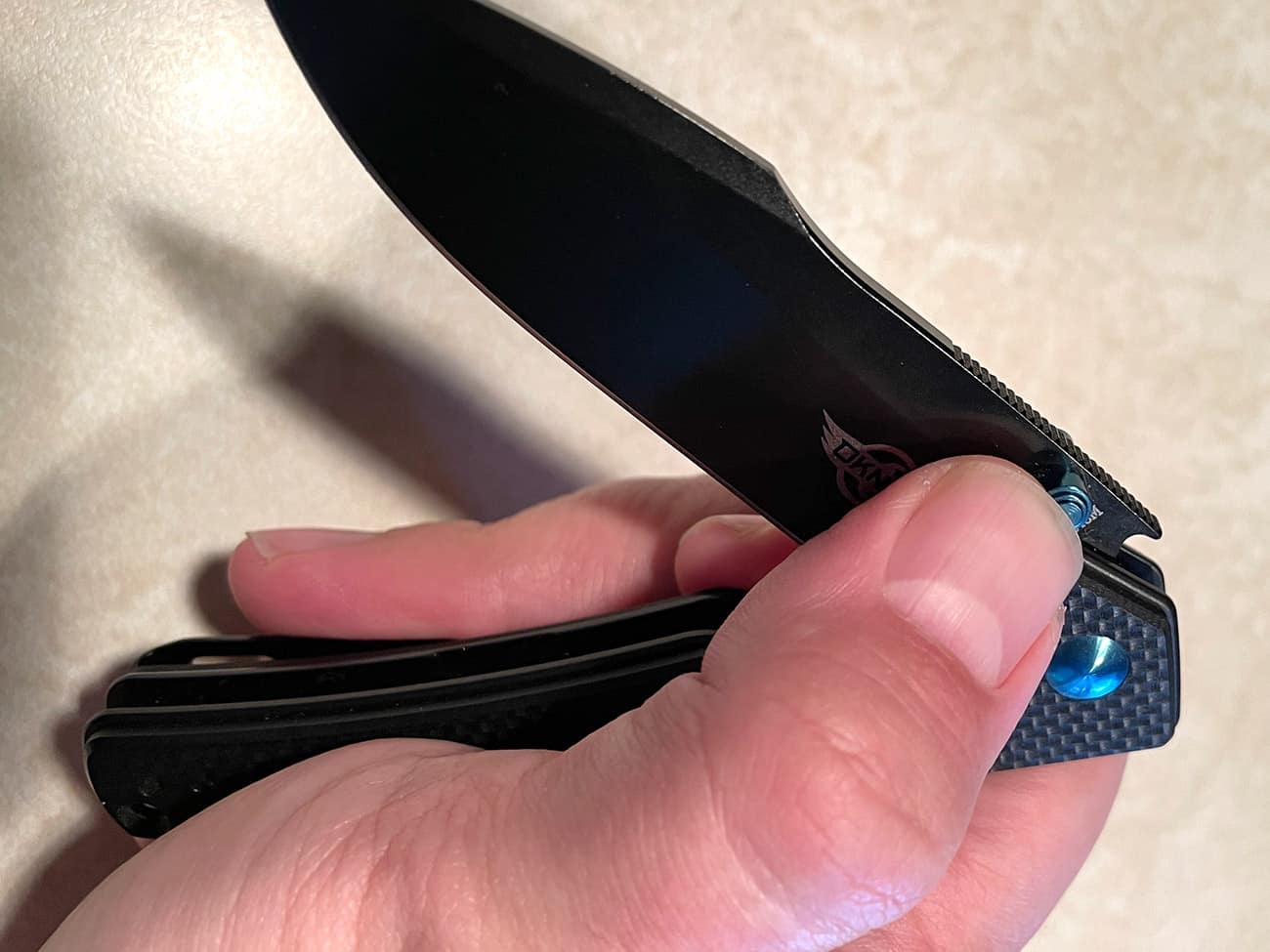 And so we've quickly arrived at my one complaint about the Beagle. I wish there was a flipper on the back of the blade to give it a little push start in the opening process. Or if the thumb studs were positioned a little further away from the pivot to increase the leverage. I think either of those options would go a long way. I did eventually get used to it, but for a while, there was just that extra hitch going from pocket to ready-to-use.
Despite this minor complaint, the action in opening the blade is extremely smooth thanks to the bearings in the pivot, and the wide, textured liner lock snaps into place with a satisfying click. When open, the lock sits just outside of center, and has a bumpy texture to it where your pointer finger naturally sits.
There is jimping that runs along about a quarter of the spine of the blade for extra grip, it sort of reminds me of a thicker version of the reeded edge of a silver dollar.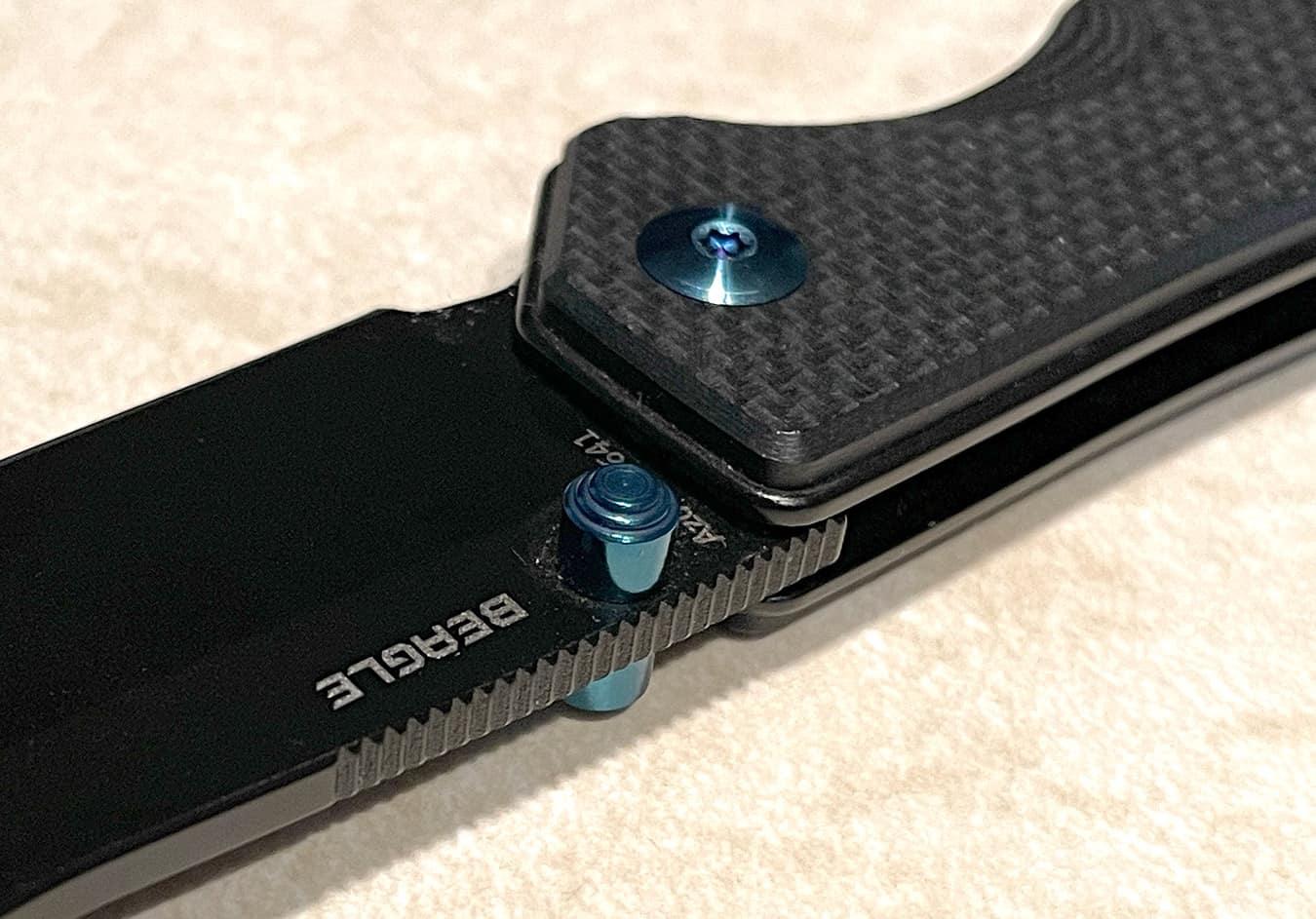 The Olight Beagle Handle Folding Knife features a harpoon shape blade that has a sharp rise along the spine before curving down the swedge to the point. The blade is mostly beveled but does have a slender flat that extends about 3/4 of the blade length from the thumb stud.
The blade is made from 154CM high-carbon stainless steel, it holds its sharpness very well and is resistant to rust, corrosion, chipping or breaking. Many high-tier knives like Benchmade and Gerber use this steel in their blades as well. It's ideal for normal EDC tasks but can handle tougher cutting applications as well. That black finish gives it a cool, tactical look to it and in my (admittedly short) time with the knife, the finish didn't scrape or scratch, though it probably will over time.
Overall, the Olight Beagle Handle Folding Knife is a spectacular, tough little knife, and a perfect addition to your pocket arsenal.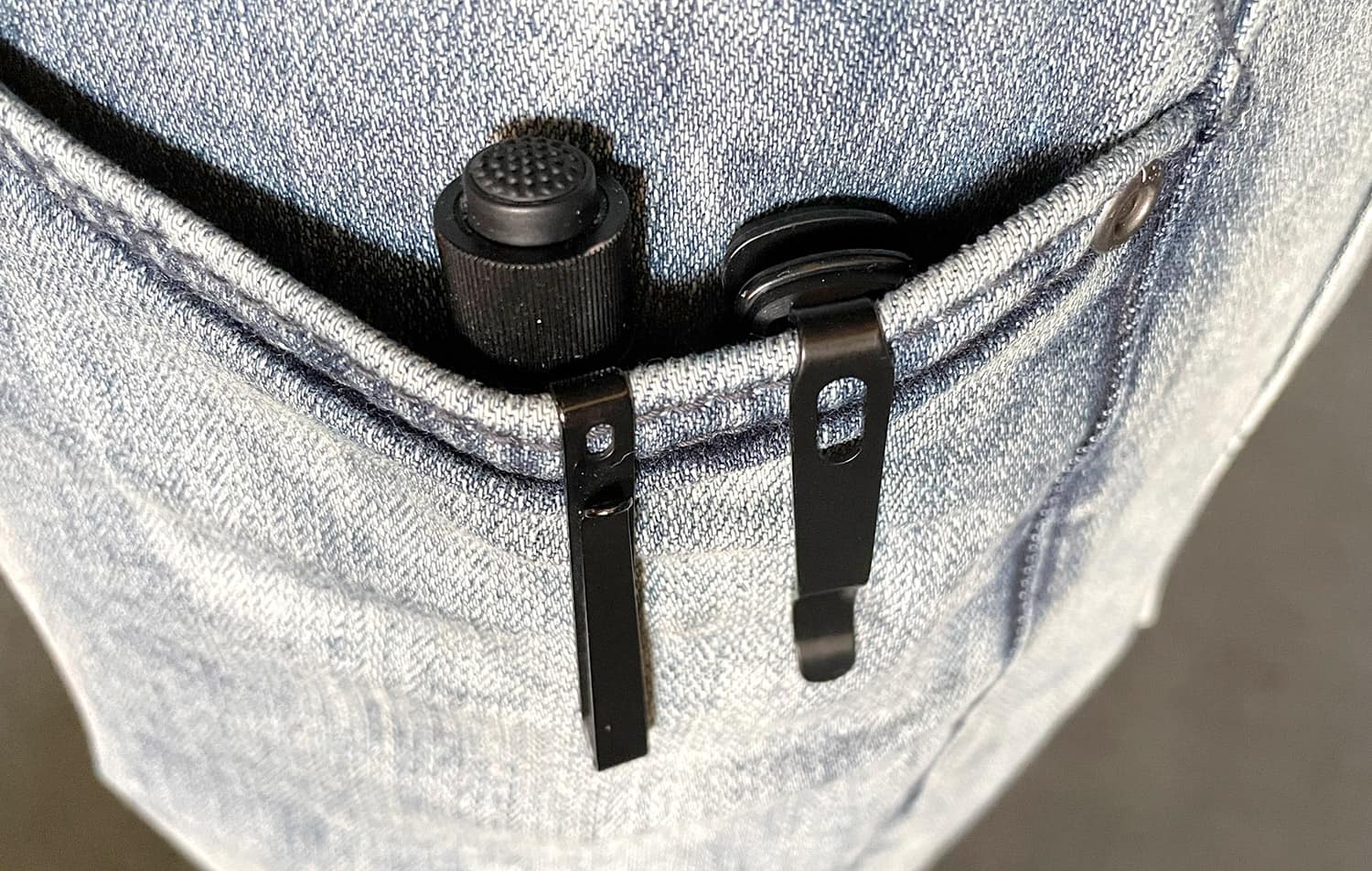 What I like
Wide textured handle
Love the stealthy black finish with blue hardware highlights
Very sturdy liner lock
Everywhere your finger or thumb touches is textured for a good grip
What needs to be improved
Wish it was a little easier to open or had a flipper tab to get it started
Final thoughts
I found extremely little to complain about and a lot to like with the Olight Beagle Handle Folding Knife. It's just about the perfect size for EDC, it's easy to grip, it looks great and it will hold an edge for a long time with easy sharpening. What else could you ask for? Other than a little extra steel for a flipper, but hey … I'll just get a stronger thumb, right?
Price: $60.76 during their Black Friday Sale through November 29th
Where to buy: You can pick up the Olight Beagle Pocket Knife directly from Olight Store.
Source: The sample of this product was provided by Olight.