We use affiliate links. If you buy something through the links on this page, we may earn a commission at no cost to you. Learn more.
---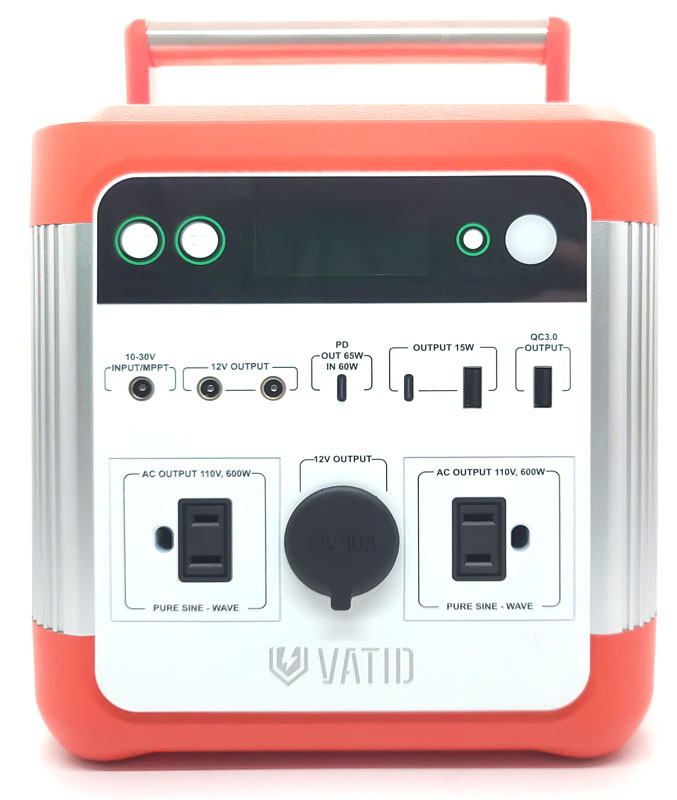 REVIEW – We've written about a number of power stations here at The Gadgeteer.  The legions of gadget-faithful rely on power to keep the geeky goodness up and running, and in the event of a power outage, these power stations can provide those much-needed electrons for the nerd accouterments.  VATID jumped into the market with their new 600 Watt power station and I agreed to take a look at it.
What is it?
The VATID portable power station is a 518Wh portable lithium-ion power station with multiple charging and power options. It supports charging via solar panels, but the solar panels are not included nor available from VATID. With a 600W output rating, it can power or recharge small electronics but isn't designed for high-draw items over 600 Watts.
What's in the box?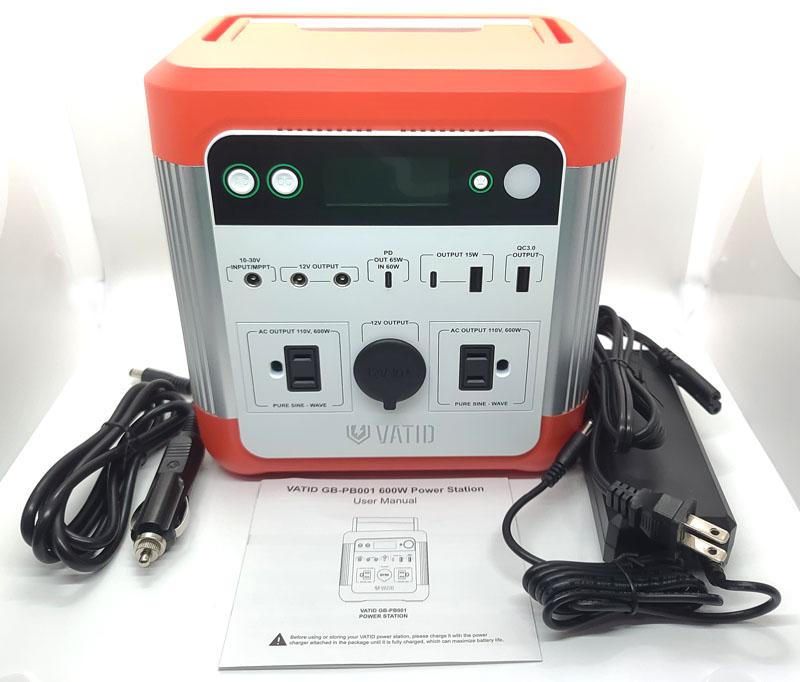 Power station
Two-part power cord and 110V charger
Car 12V charging adapter cord
Manual
Hardware specs
Dimensions: 7.9″W x 5.5″D x 8.5″ H
Weight: 11 lbs
Materials: ABS plastic cover available in orange or yellow
Output power: 600W, 900W peak
Capacity: 518Wh/140.000 mAh
Battery type: Lithium-ion Li(NiMnCo)O2
Recharge options: 110V, USB-C PD, car lighter socket, solar panel (not included) with internal MPPT controller
Recharge time:

100W AC adapter: about 6 hours via type 5521 DC input port 10V-30V, 120W
60W 5V-20V USB-C PD: about 10 hours
100W solar panel: about 10 hours via type 5521 DC input port 10V-30V, 120W
Car charger: about 10 hours
100W AC adapter + 60W USB-C: about 3.5 hours

Output options (9):

DC type 5521 12V/10A 120W (x2)
AC 110V/600W (x2) pure sine wave, 900W peak
USB:

USB-C 1: 5V-20V 65W PD3.0
USB-C 2: 5V/3A 15W
USB-A 1: 5V/3A 15W
USB-A 2: 5V-12V 18W QC3.0

Auto cigarette lighter charging port 12V/10A 120W
NOTE: All nine output ports can be used simultaneously up to max 600W output

Flashlight modes: Bright, dim, SOS – 3W LED
Display: Realtime LED showing input or output power, remaining charge time or battery life based on the current rate of use, and output function (AC, DC, or both)
Design and features
We'll start on the back where we find a vent port for the cooling fan.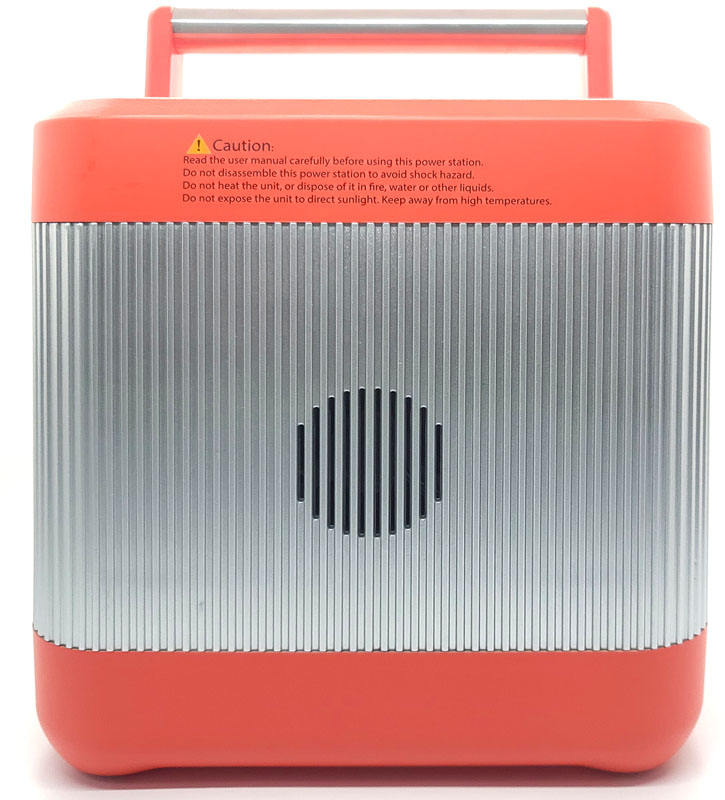 There are a couple of vents on the sides as well.  On the bottom, we see four rubber non-slip feet and all the specs.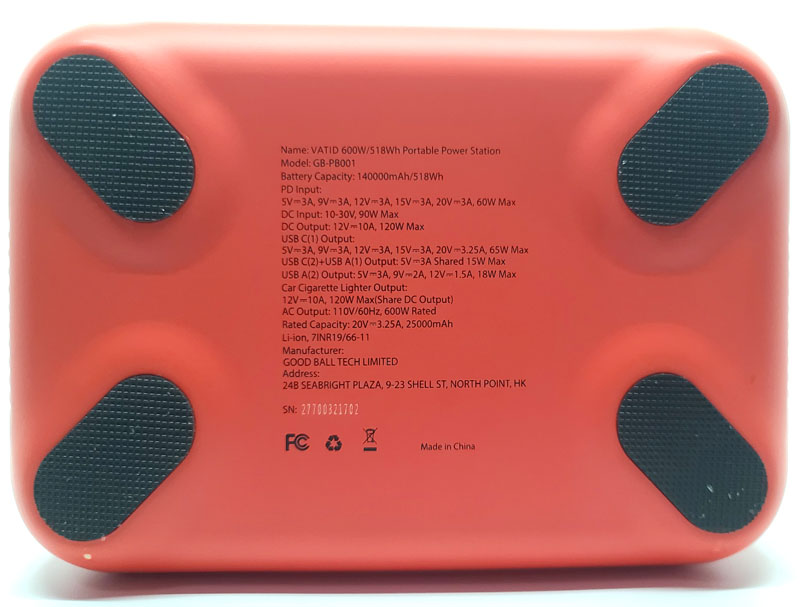 The front of the unit is where we find all the connections and status indicators.
There is a sturdy handle on top.  It folds down into the top of the unit when not in use.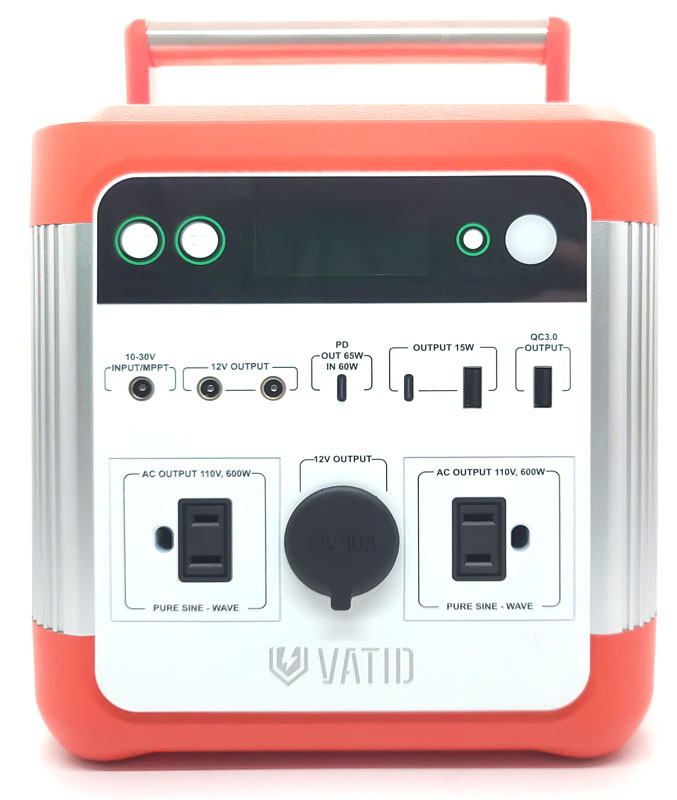 Here's a closer look at the myriad of clearly labeled input and output ports.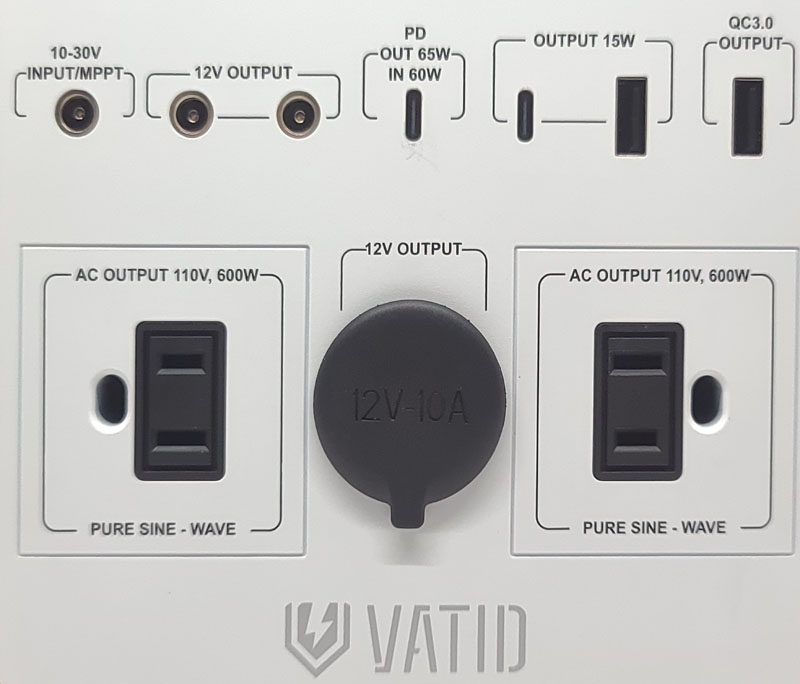 Flipping up the lid on the 12V output port, we see a standard cigarette lighter style power port to power anything with that style of a power cord.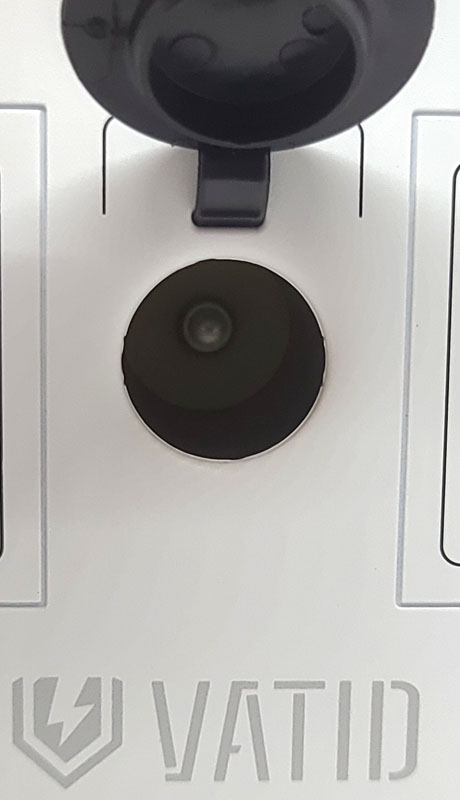 Along the top of the front panel, a comprehensive display shows all the pertinent charging/discharging details.

The two buttons on the left turn the AC and DC output ports on and off.  Holding them both down flips the AC output between 60Hz and 50Hz.  The display shows the current battery charge status, estimated remaining time until empty when discharging, based on the current load. It shows the estimated time to a full charge when charging.  It also shows the current input or output wattage.
Holding the small button on the right turns the power on/off for the built-in light to its immediate right.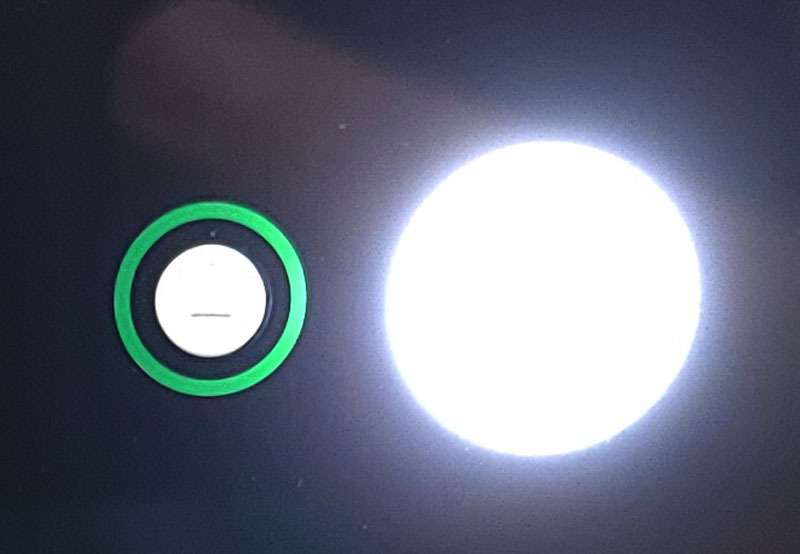 When the light is on, the button cycles the light from high to low to an SOS emergency signal (…—…).
Setup
To set up the unit, it needs to be charged. You can do that in four different ways.
The included 110V charger (about 6 hours)
The included 12V cigarette lighter adapter (about 10 hours)
A USB-C PD charging cord (about 10 hours)
A combination of the 110V charger and a USB-C PD charging (3.5 hours)
Performance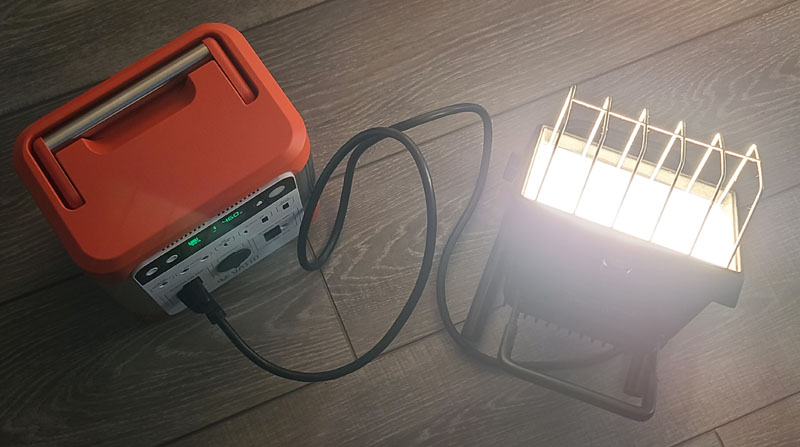 I started my test with my standard power station test – plugging in my ancient 500W halogen work light.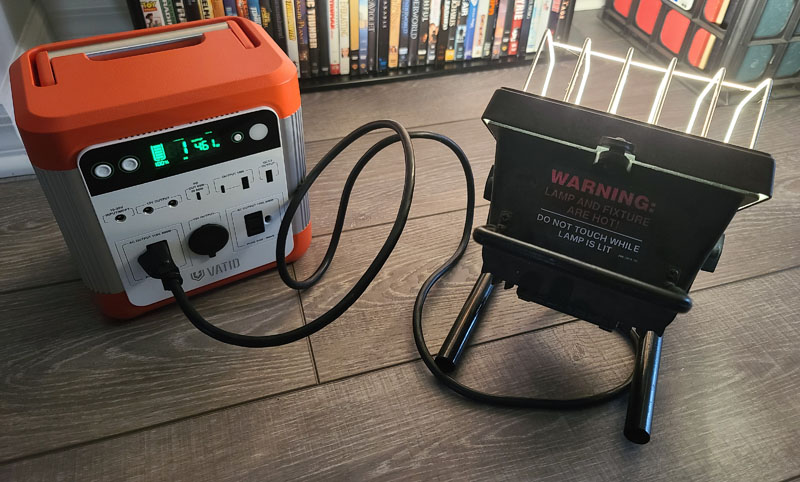 It started drawing 461W and the power station reported an estimated one-hour runtime.  As the test wore on, the light slowly increased its draw up to about 475W.  As I was watching the power station, it reported 12 minutes of estimated runtime, and then promptly shut off with the battery fully exhausted.  Total runtime: 57 minutes. One thing that impressed me was that as soon as it shut off, it was cool to the touch.  The cooling system does a great job of managing the temperature of the power station, keeping it cool.
I plugged in the AC power adapter as well as a 65W USB-C PD charger.  The power station reported it was charging at 150W.  It went from dead to 100% charger in 3:40. Not too shabby.
Checking the output ports, I plugged my Samsung Galaxy S20 Ultra into the low-power USB-A port, the quick charge USB-A port, and the PD 3.0 USB-C port.  From top to bottom, here's what I saw.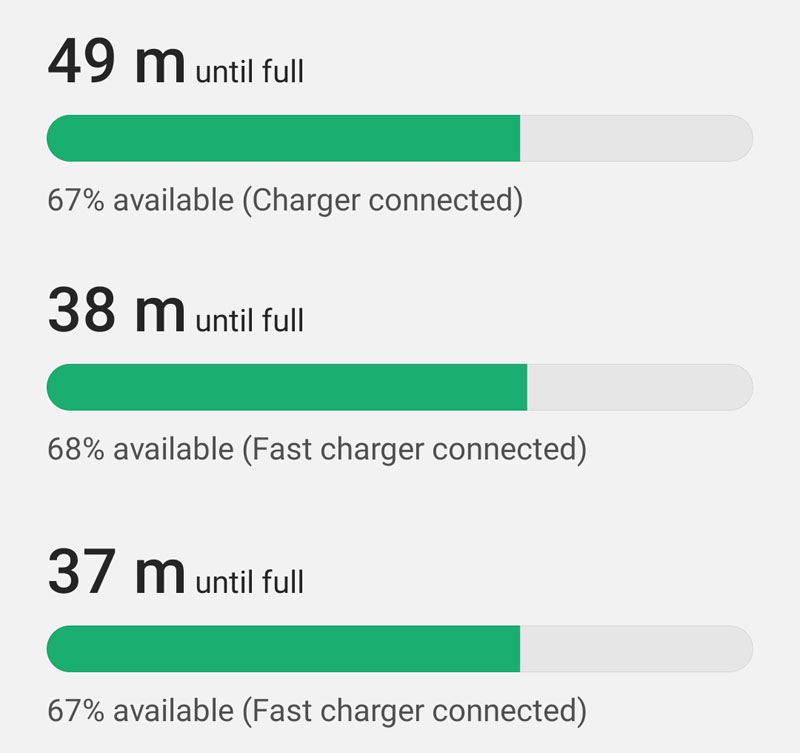 The fast charging ports seemed to be doing their thing as expected.
Since the power station supports charging via solar panel, and since I have a solar panel, I decided to give that a try.  The VATID power station has an MPPT charging controller.  MPPT charge controllers are a type of charge controller that tracks the power delivered from a variable power source like a solar panel and adjusts charging voltage so that it charges at optimum efficiency.
On a sunny central Florida morning, I set up the solar panel in the driveway and pointed it at the Sun.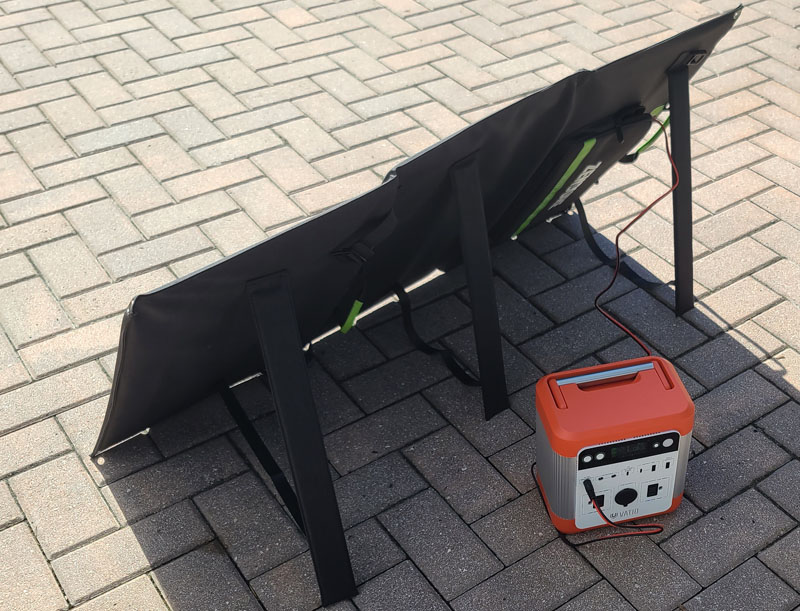 As soon as I plugged the charging cord into the panel and the power station, the power station woke up and happily started absorbing those solar electrons.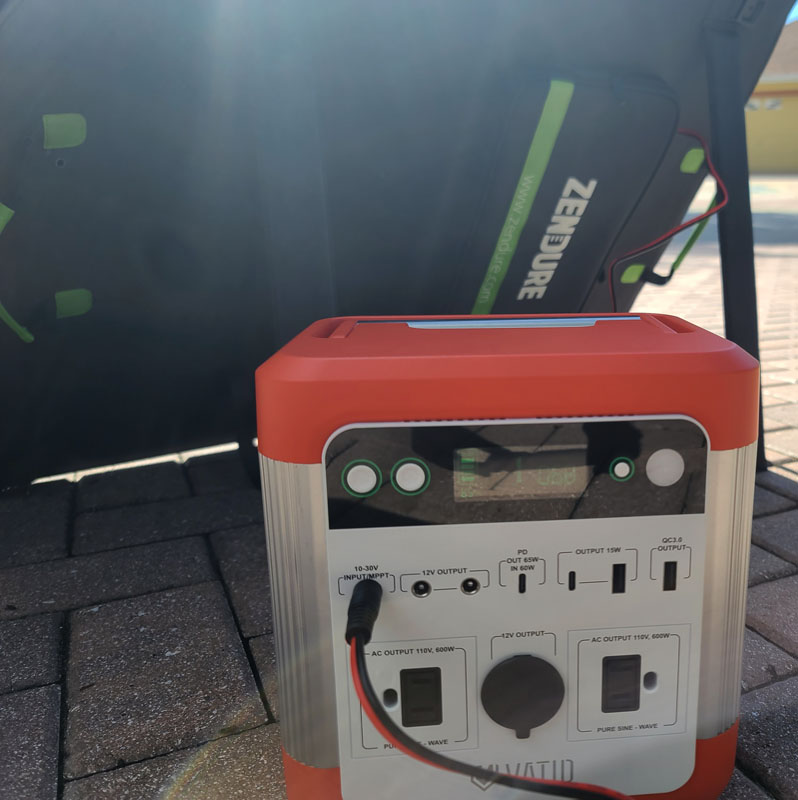 Since the lighting outside wasn't ideal for photographing quickly-refreshing LED displays, it's a little hard to read, but trust me when I said that the power station was charging at right around 65W.  Not bad for a November morning. At that rate, a dead power station should fully recharge in about ten hours, assuming you're diligent about reorienting the solar panel directly at the Sun throughout the day.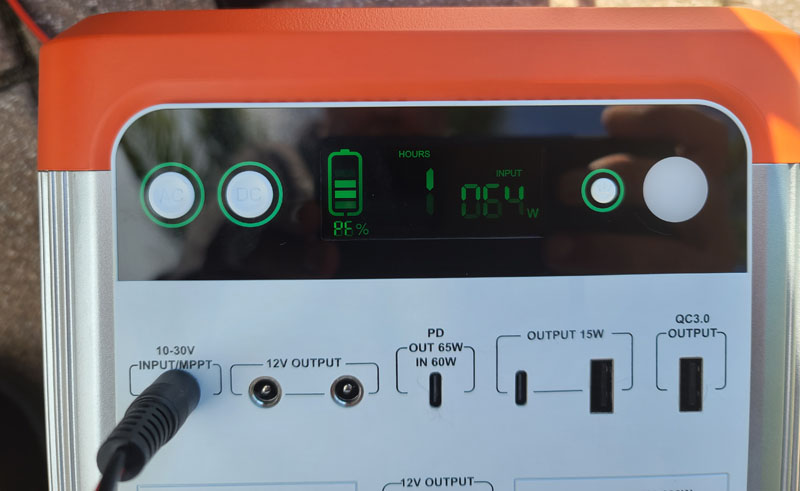 What I like
A small package that delivers a lot of power
Its 10-ish-pound weight makes it easily portable
Multiple charging options and multiple power output options make this a flexible power solution
The display provides usable information on remaining battery life based on current usage rates
What I'd change
The cooling fan can be a little loud if you're using the power station in a confined space
The displayed estimated times are just that, estimates, so don't take them too seriously
Final thoughts
As power stations go, this is a pretty nice one.  It's relatively small, especially given its large battery capacity.  With nine different ways to power your goodies, and multiple ways to juice it back up again, I think the VATID power station is certainly worth a look. I ran another test with the work light and a fan, and the power station happily cranked out 500+ Watts.  If you live in an area where you lose power on a regular basis, or if you need portable power for camping, beach trips, and such, the VATID portable power station is worth a look.
Price: $499.99 (discount codes seem to be available regularly both at VATID and Amazon)
Where to buy: VATID and Amazon
One thing to note – if you go to VATID's website to purchase, look at the lower right corner and click on the present.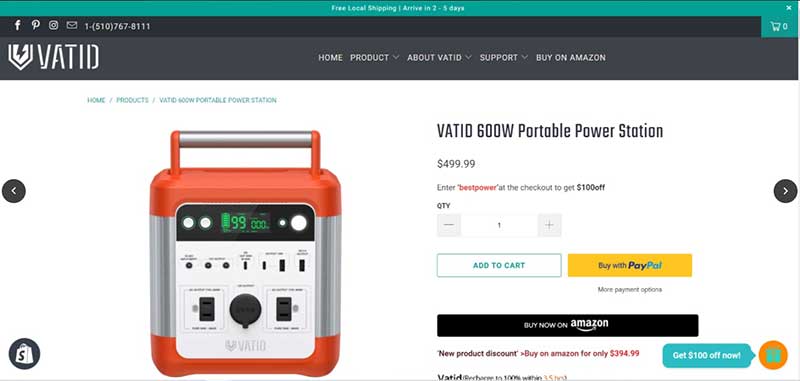 If you supply your email, they will send you a discount code good for $100 off the full retail price, bringing the cost down to $399.99. There may be discount codes available worth even more on Amazon.
Source: The sample of this product was provided by VATID Group.