We use affiliate links. If you buy something through the links on this page, we may earn a commission at no cost to you. Learn more.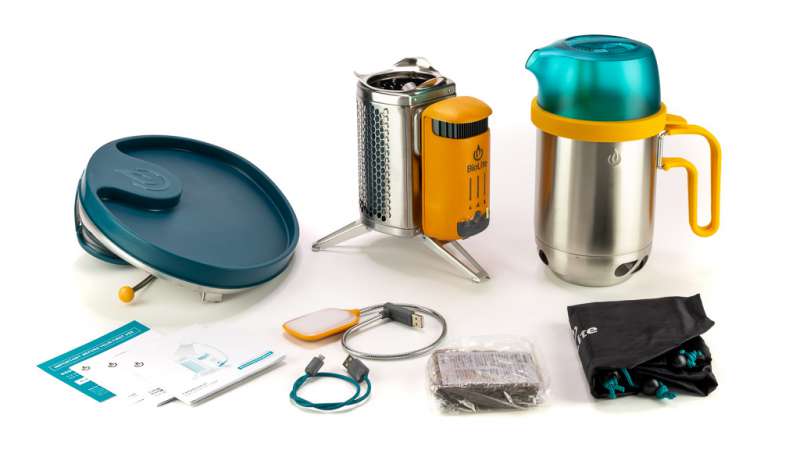 REVIEW – I've been watching the CampStove products from BioLite since they were first introduced in 2012. I was enamored by the concept of charging a device using only wood fuel. When an opportunity to test the latest BioLite CampStove Complete Cook Kit came along, I was absolutely delighted to try it out.
What is it?
The BioLite CampStove Complete Cook Kit is the award-winning electricity-generating CampStove 2+ wood stove with a lightweight Portable Grill, KettlePot, and CoffeePress accessories.
What's in the box?
Stuff Sack

Instructions

USB Cord

CampStove 2+

FlexLight 100

Firelighter

KettlePot

CoffeePress

Portable Grill
Hardware specs
Fuel: Renewable Biomass (twigs, pinecones, wood pellets, etc.)
Power Output: 3 watts peak; TEG generated 5V, 2A USB output
Battery: 3,200 mAh
Weight:
CampStove 33 oz (935 g)
KettlePot 16 oz (465 g)
CoffeePress 2.8 oz (80 g)
Grill 30 oz (850 g)
Design and features
The BioLite CampStove Complete Cook Kit consists of four main components, the CampStove 2+, KettlePot, Portable Grill, and CoffeePress. Although this review covers the Complete Cook Kit, the CampStove 2+ is also available as a standalone product.
The core component, the CampStove 2+, generates usable electricity using biomass (twigs, pinecones, wood pellets, etc.). The CampStove 2+ generates 3 watts of electricity using thermoelectric technology to charge devices in real-time, or the built-in 3,200 mAh battery can store the generated electricity for later use. The charging port is USB-A, so if you require a Type-C connector, you'll need to use a USB-A to Type-C adapter or get a new cable for your device.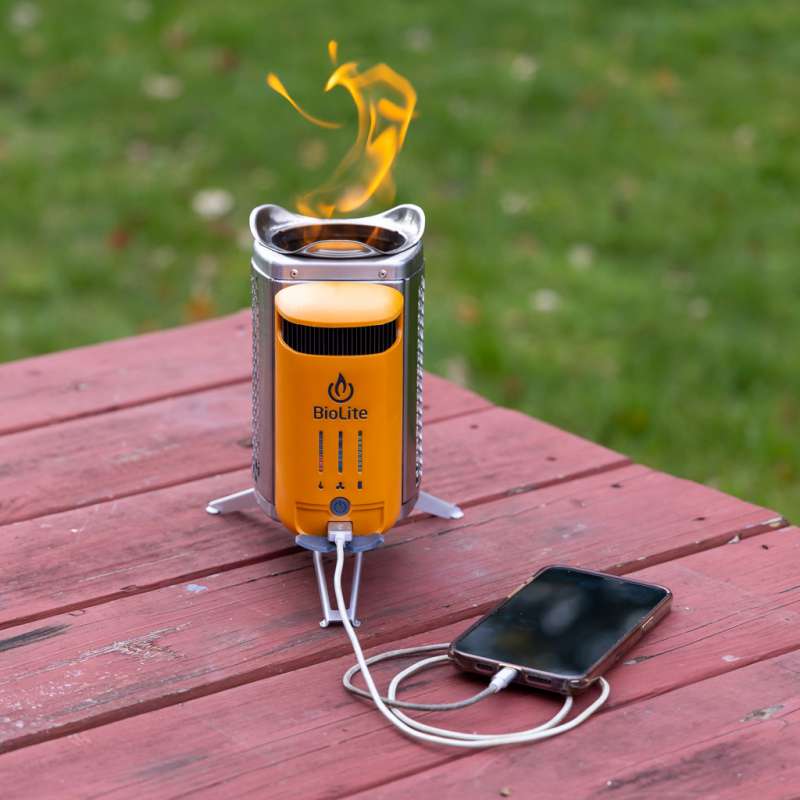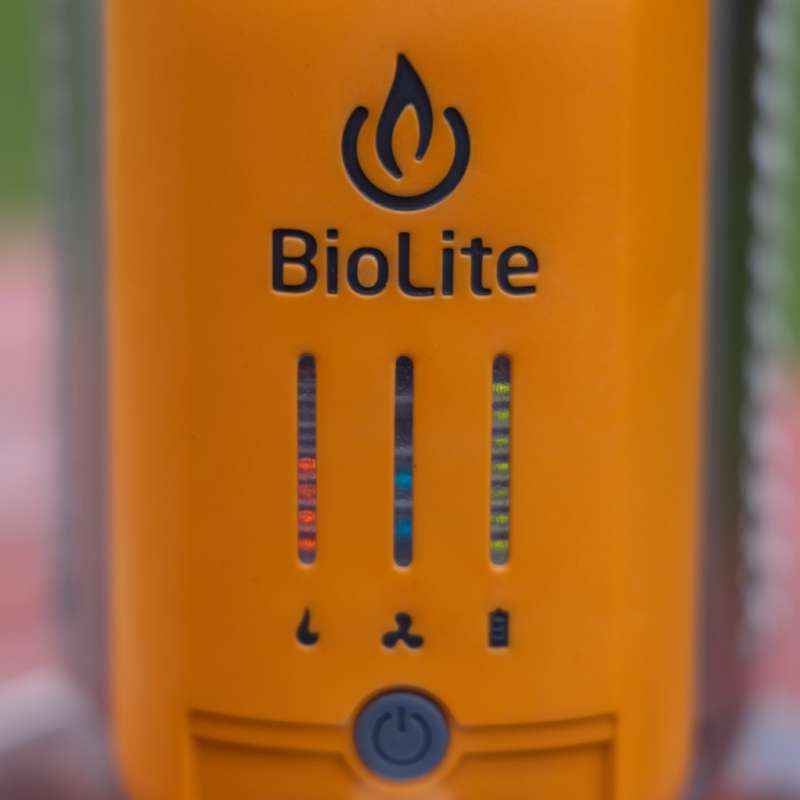 The integrated LED indicators monitor fire strength, power output, and fan speed. The included flex light provides nighttime illumination when needed. The built-in battery can be pre-charged at home using the Micro-USB port on the bottom of the unit. Pressing the power button from two times to five times adjusts the four levels of fan speed.
The top of the CampStove has integrated "fingers" that allow for the use of a pot or pan on top of it. This ingenious design permits heat and flame to rise while providing support for your cookware.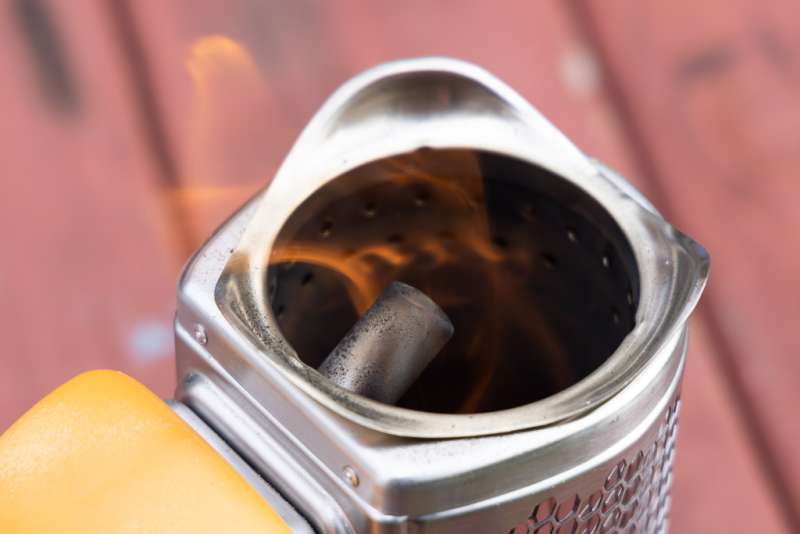 The KettlePot can boil 1L of water in 4.5 minutes under optimal conditions; however, it may take as long as 10 minutes in cooler temperatures. It can also store the CampStove 2+ inside of it, although without the CoffeePress or included bowl. Without the grill and CoffeePress, this compact configuration measures only 10.20 x 5.20″ (25.91 x 13.21 cm). Whether you're boiling water for a pouch meal, sauteing, or brewing coffee, the KettlePot is plenty large enough for the task.
The KettlePot also has holes in the base that allow you to add small pieces of fuel to the CampStove without removing the kettle. The KettlePot lid is heat-proof, so you can keep your water covered if you want.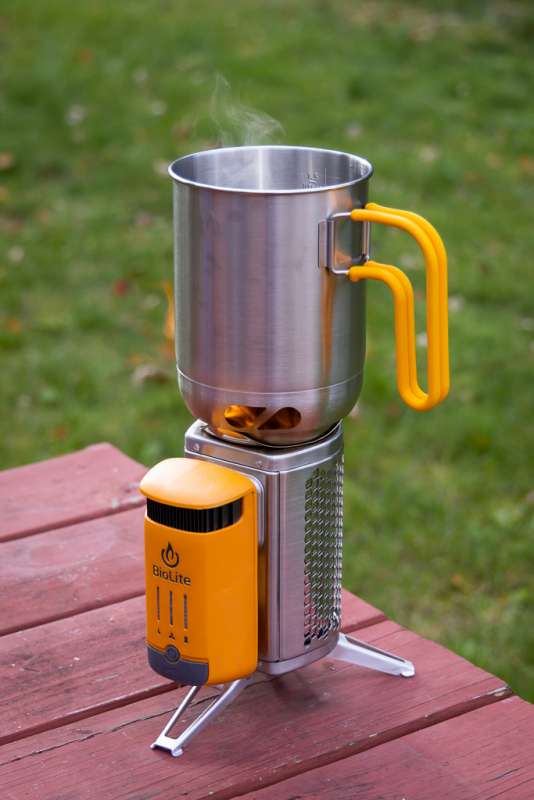 The third component is the Portable Grill. I must say that I was impressed by its simple yet effective construction. Its 12″ x 9″ (30.5 x 22.8cm) oval grilling area (minus a little for the chimney portion) is plenty of space for one or two-person camp meals. The grill can fit four burgers easily.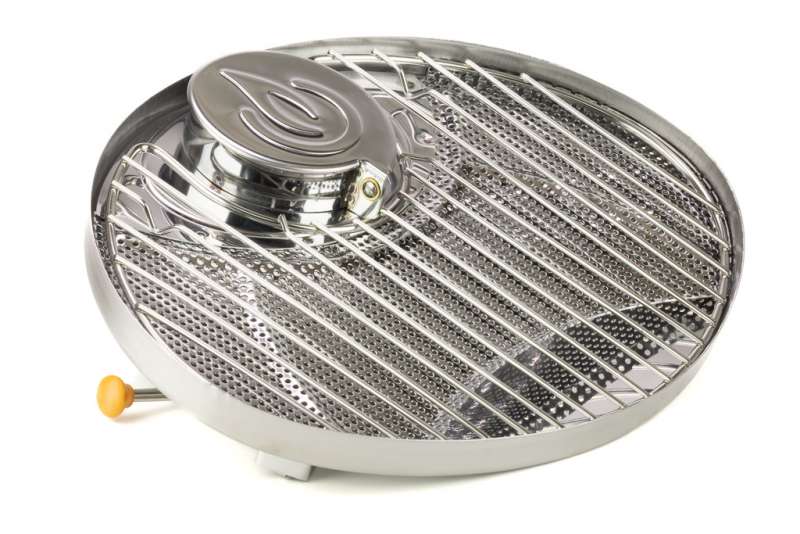 The chimney flap provides a means to add fuel and redirects heat out into the grill area. The included plastic travel cover helps keep any mess from the grill from escaping and getting on your other gear.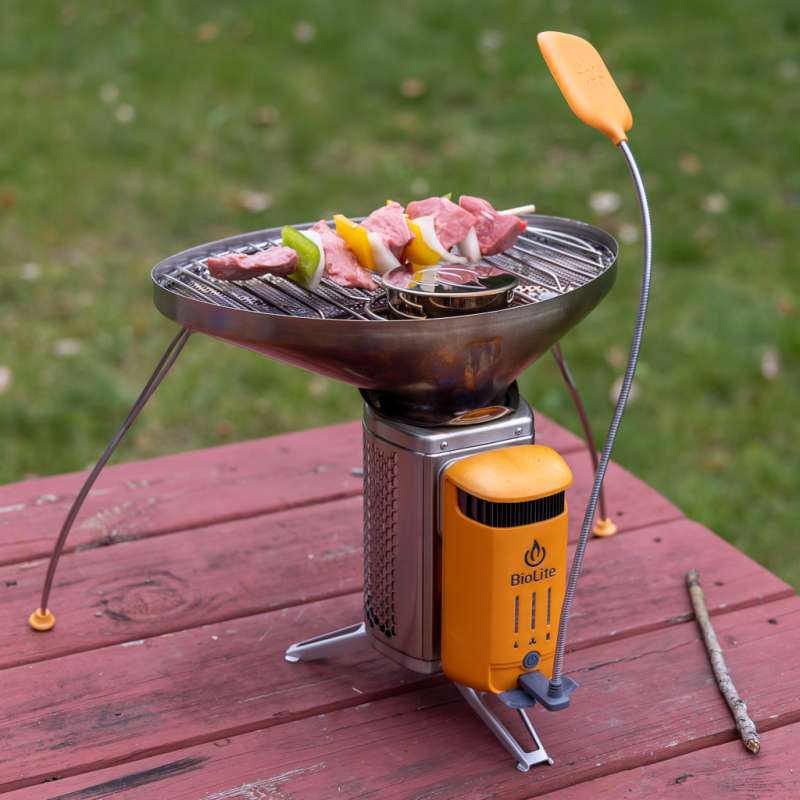 I did find that the grill did not get as hot as I thought it would, although it was only 40 F outside when I tried it. My kabob was also pretty large but cooked perfectly in about 30 minutes. I also found that there isn't a positive connection between the grill and the CampStove, it just sits on top of it so you have to make sure you have a flat level surface.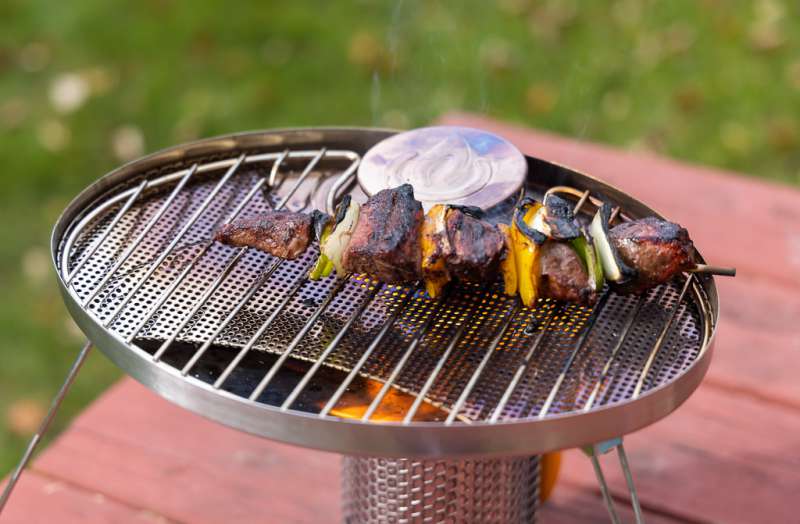 Last but not least is the CoffeePress. Its fine metal mesh and rubber seal are perfect for creating excellent French Press coffee. The integrated pour spout in the lid also pours nicely. The rubber seal not only keeps liquids in but keeps the lid on tightly. The rubber-coated handles fold away when not in use to maximize compactness. Usually, I would say anything coffee-related was my favorite thing, but the CampStove's ability to generate electricity wins out, but only by a small margin.
Starting the stove is similar to starting a campfire. You get your small fire going using a fire starter cube (9 included) or other kindling. Once your fire is started, press the power button twice to place the fan on low power. The fan helps the oxygen supply, and there's no need to blow to start your fire manually!
The BioLite CampStove Complete Cook Kit also comes with storage pouches to fit all of the items except the grill.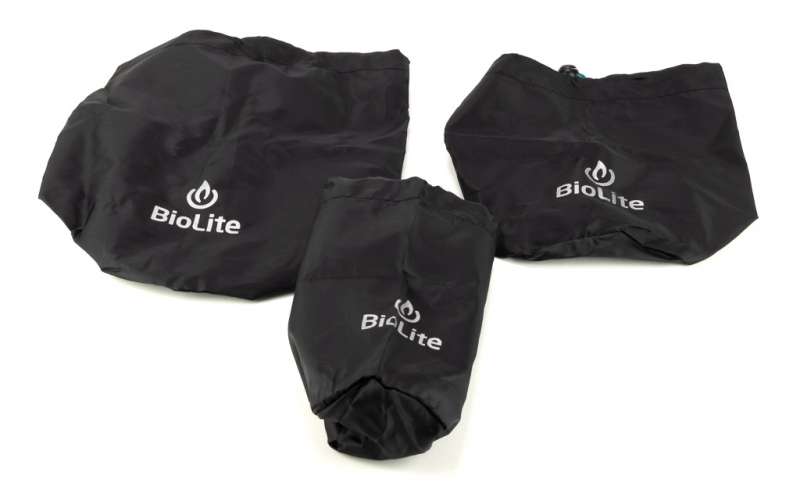 What I like
Can generate power without wind or solar
The integrated battery allows for utilizing generated power at a later time
The ability to pre-charge the device at home.
What I'd change
I would like to see the KettlePot enlarged slightly to store the CoffeePress inside of it along with the CampStove.
A Type-C port would be excellent, as USB-A is going out of use.
Better grill to stove connection
Final thoughts
I like the idea of being able to use found fuel and not having to haul gas canisters around. The BioLite CampStove Complete Cook Kit simply works as advertised. Providing power and a cooking source makes the BioLite CampStove a truly multi-purpose addition to any camping, hiking, or survival gear bag.
Price: $239.95
Where to buy: BioLite and Amazon
Source: The sample of this product was provided by BioLite.