We use affiliate links. If you buy something through the links on this page, we may earn a commission at no cost to you. Learn more.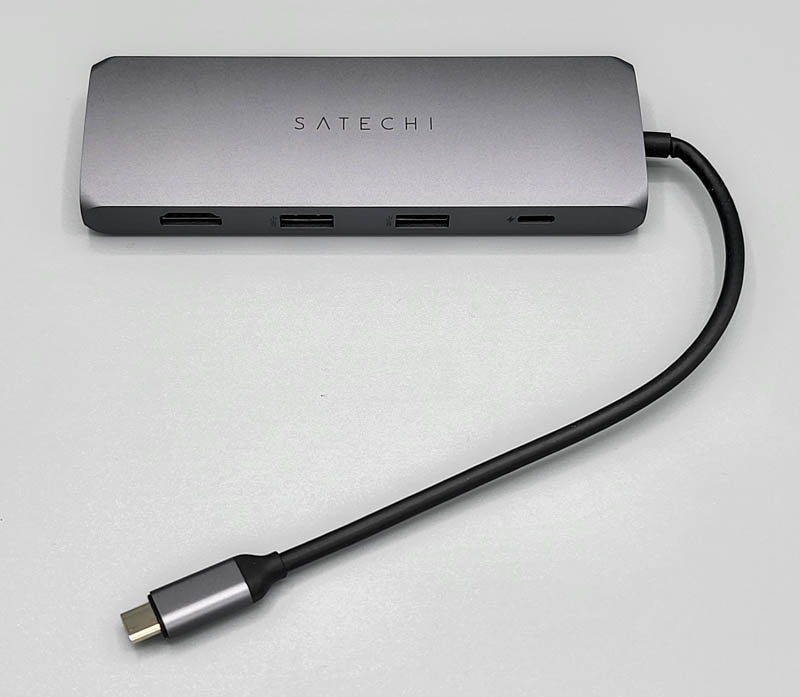 REVIEW – If you're anything like me, you always want/need more storage on your device. Certain fruit-themed brands charge a massive premium for larger storage options so many of us end up with very limited hard drives on our computers or tablets. Satechi has previously helped with that gap by providing external USB-C SSD (solid state drive) enclosures that allow you to instantly connect much larger storage drives for a fraction of the price. They also make great multi-function USB-C hubs with a variety of form factors and ports (such as the Satechi Type-C Multi-port Adapter 4K with Ethernet V2 ). Some genius at Satechi must have had a lightbulb moment and combined the two ideas into a single magical device, which gives us the Satechi USB-C Hybrid Multiport Adapter. I tested it out on both Mac and Windows laptops, and what follows are my rambling and mostly unstructured thoughts. The short version is that it's earned a place as a daily use device instead of gathering dust in a drawer after the review is done.
What is it?
The Satechi USB-C Hybrid Multiport Adapter is a USB-C hub with HDMI and USB ports. It supports Power Deliver (PD), and has an SSD-enclosure built in for additional external storage. Basically, you can plug this one device into your laptop and it can give you more storage (with a not-included SSD drive of your choice), connected USB peripherals, and HDMI video.
What's in the box?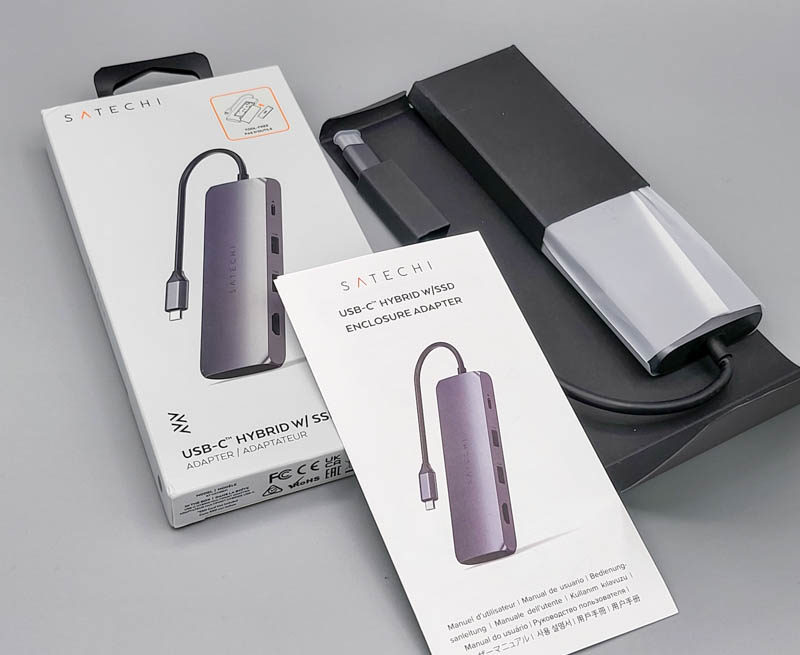 The Satechi USB-C Hybrid Multiport Adapter itself
Manual
Hardware specs
4k/60Hz HDMI display output
Fast USB-C PD charging up to 100W
2 x USB-A data ports – up to 5 Gbps
Dimensions: 5.3 x 1.8 x 0.6 inches
Weight: 3.8 oz
Material: Aluminum
SSD compatibility: M.2 SSD (non-NVME), sizes 2230/2260/2280
Design and features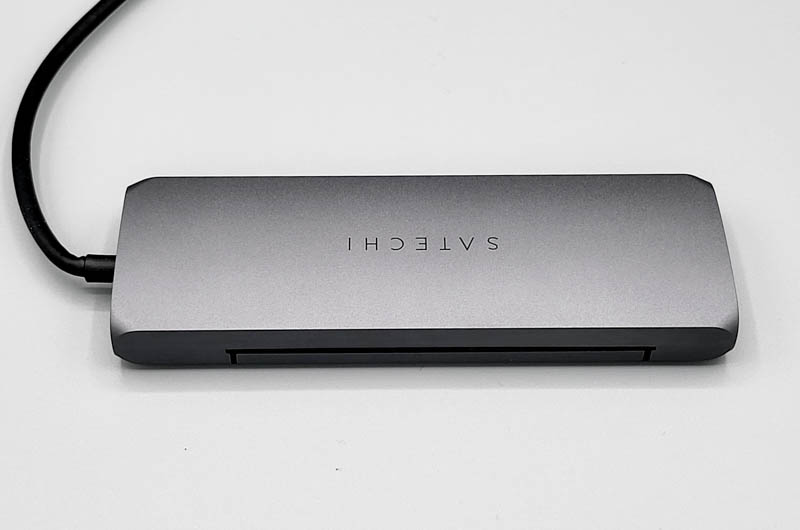 The Satechi USB-C Hybrid Multiport Adapter looks like many other USB-C dongles I've used before and seen on the market. It's a small and slim aluminum device with a single USB-C cable to connect to the device and a variety of ports on one side.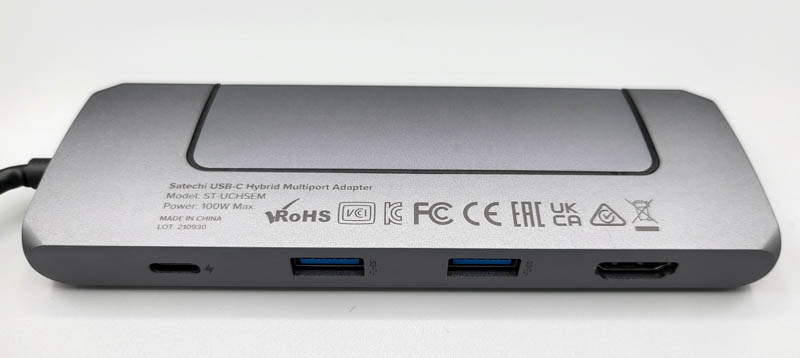 Here are the ports and underside, there's a USB-C PD port (power delivery only), two USB-A gen 3.1 ports, and the HDMI port which is capable of pushing 4k video at 60 Hz. The SSD access panel is visible in the shot above. The power delivery is optional, if it's not connected then the hub will draw power from the device itself to run the HDMI and USB-A ports.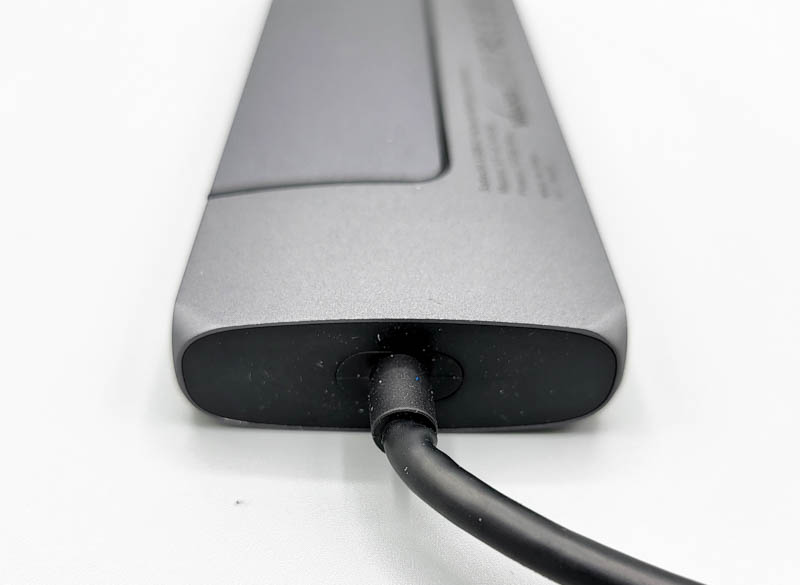 The cable seems sturdy enough to last and has reinforcement around the connection to the body of the device.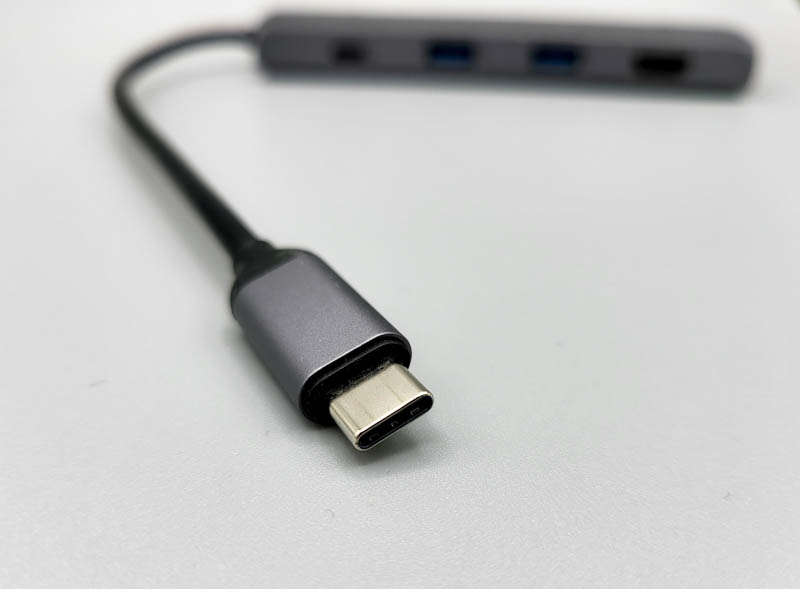 The USB-C connector itself is an industry-standard affair. I'm glad it's not too girthy (some USB-C devices and cables I have can conflict with the twin USB-C ports on my work Macbook because they are too large).
Installation and setup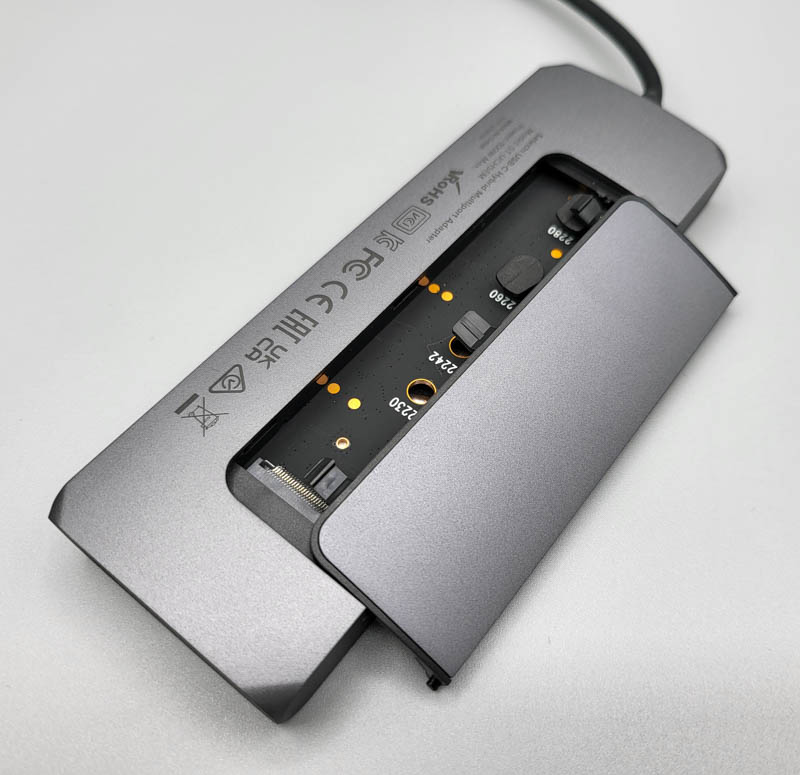 Accessing the M.2 solid state hard drive bay is very easy: you simply slide the cover off. It has enough resistance with a rubber edge to not slide off in a bag or while moving it around, but it was simple and easy to get off when I wanted access. You then pull out the rubber plugs in each hole, which are conveniently marked for different M.2 hard drive lengths. You'll only need one of these plugs for SSD installation, the rest can be stored as spares or discarded.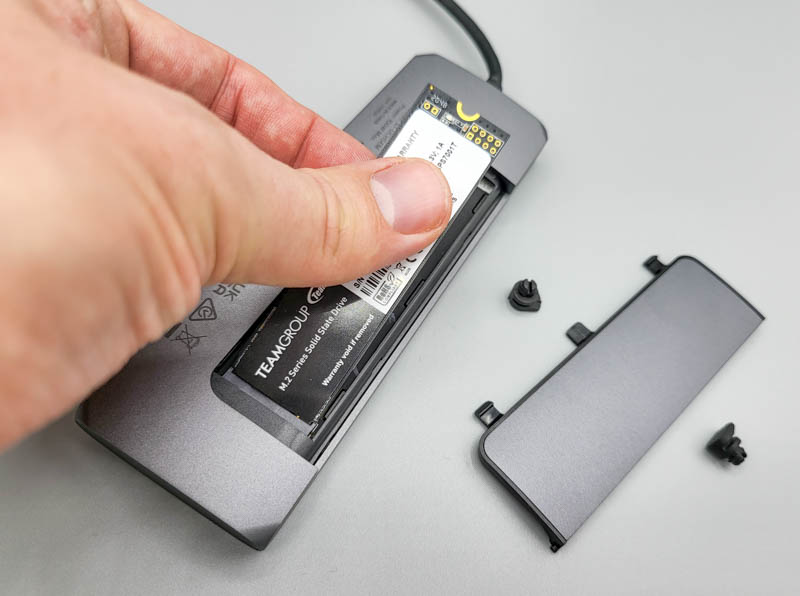 M.2 hard drives are installed by making sure the notch/key is lined up with the port's notch/key, and then pressing in while at roughly a 30-degree angle. I have my tiny Macbook hard drive split in 2 (I run quite a few Windows programs so I use Bootcamp to switch between Windows and macOS). I'm constantly having to clean files and remove programs due to space constraints, so I purchased a Teamgroup 1 TB SSD to use.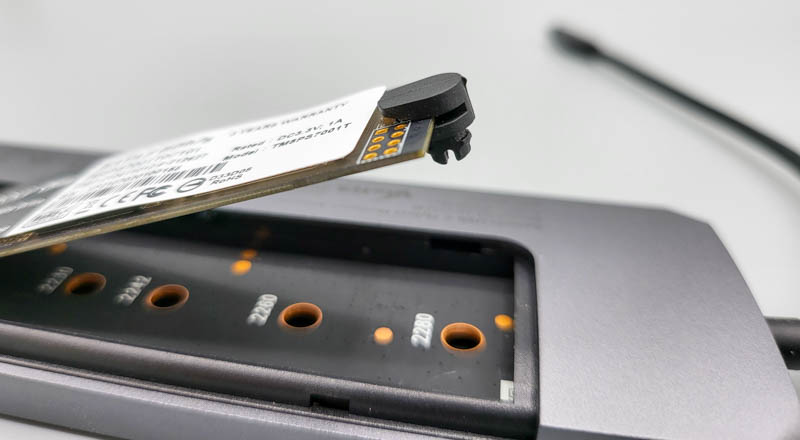 Next, you slide one of the previously removed rubber plugs onto the hard drive, and simply push it in.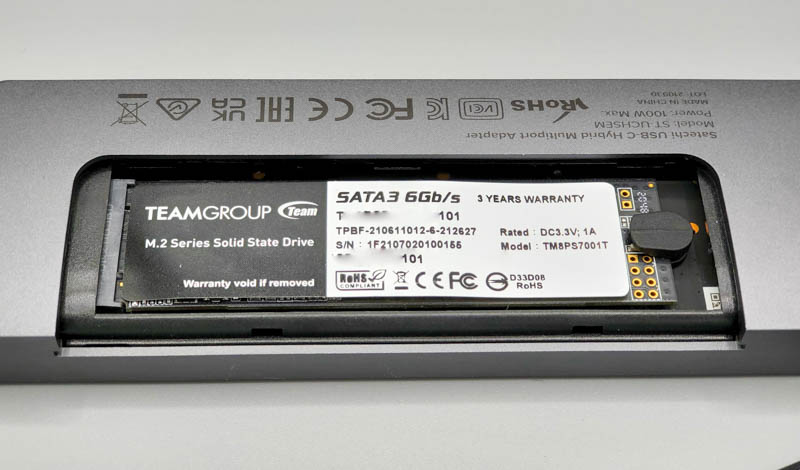 This was one of the easiest M.2 SSD installations I've done, usually, you need to screw in a microscopic screw (and sometimes even the standoff for the appropriate drive length first).  Once the drive is in, you slide the cover back on, and you're good to go.
Performance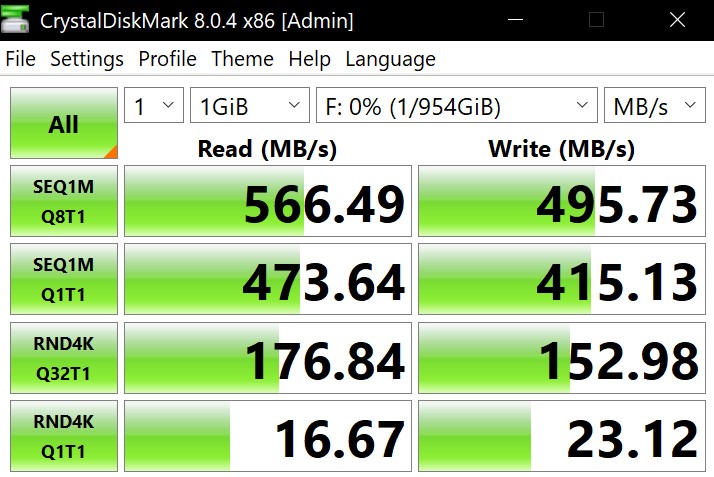 The drive performed better in the Satechi USB-C Hybrid Multiport Adapter than in my previous external USB-C SSD enclosure (by a hair), and it's within margin-of-error speeds of manufacturer stated speeds for the drive. 500+ MB/s is pretty fast for most things; it's roughly 5 times faster than older mechanical drives. I do wish it had the newest NVME speeds (which is another 3-5x jump), but back-of-napkin math tells me that 10 Gbps USB-C would only allow ~1250 MB/s hard drive speed maximum and if you're also using the HDMI port then it would be even less, so this is probably why Satechi went with the older SSD SATA-3 standard. To take advantage of NVME, you'd probably need Thunderbolt bandwidth rather than USB-C 3.1 which would limit compatibility and increase the cost. Thunderbolt and USB-C ports and cables look identical, and I tested this hub on devices that were both Thunderbolt and non-Thunderbolt. On a Thunderbolt device like my Macbook Pro, it simply operates at USB-C speeds.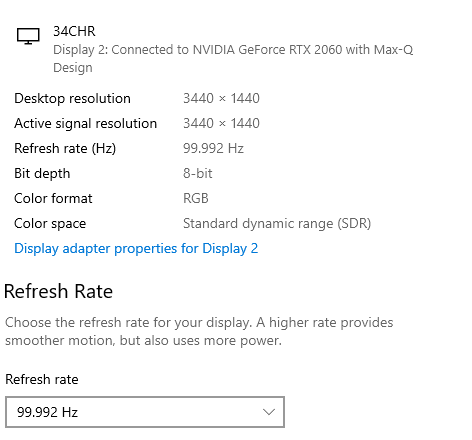 The HDMI detected various monitors perfectly and even supported 100 Hz on my 3k ultrawide main screen (this screen can go up to 144 Hz, but the Satechi USB-C Hybrid Multiport Adapter can't quite push that much). This should translate to the quoted 4k/60Hz nicely. I had no video issues at all on a variety of monitors and TVs, which is better than most dongles I've previously used.
I love that it supports Power Delivery, this means that I can connect my 100 watt Macbook charger (or you could get something like this Satechi 100W USB-C PD charger ) and then just plug the single USB-C cable into your laptop to drive the SSD storage, USB-A ports, and HDMI video output. The end result is that you can set up a desktop workstation, and simply plug one cable into your device and have everything working, which I am a huge fan of.
What I like
Additional SSD storage
Good port options given the bandwidth limit of USB-C
Easy SSD installation and support for different sizes
What I'd change
At this price point probably nothing: adding nice-to-have things like faster NVME hard drive support, gigabit ethernet, more USB-A ports, or faster screen refresh capability would all have required more bandwidth (Thunderbolt) and would cost more and work with less devices.
Final thoughts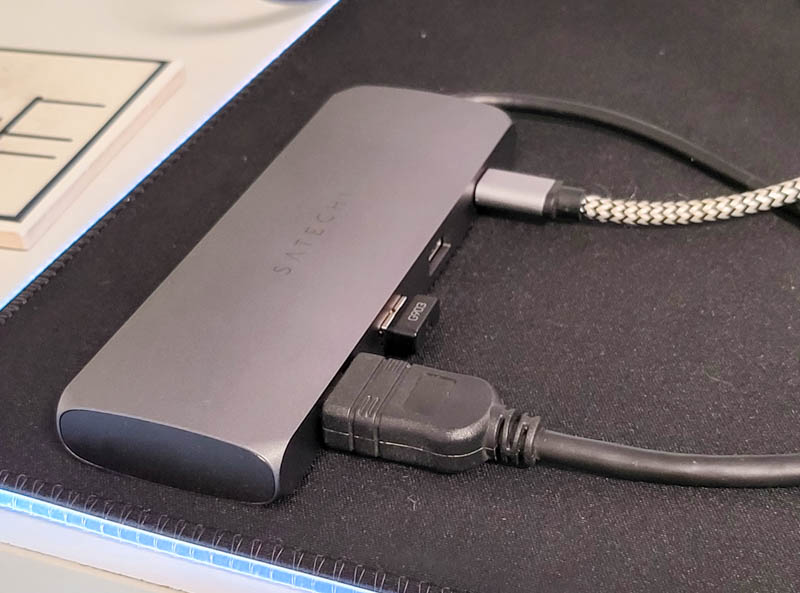 Satechi has struck a good balance with features and ports given the 10 Gbps USB-C gen 3.1 bandwidth budget. This adds exactly what I most need on my work Macbook: HDMI output, USB-A ports, and more storage. The retail price is also quite reasonable for the features and build quality, the Satechi USB-C Hybrid Multiport Adapter has become an essential part of my daily kit!
Price: $89.99
Where to buy: Satechi and Amazon
Source: The sample for this review was provided by Satechi