We use affiliate links. If you buy something through the links on this page, we may earn a commission at no cost to you. Learn more.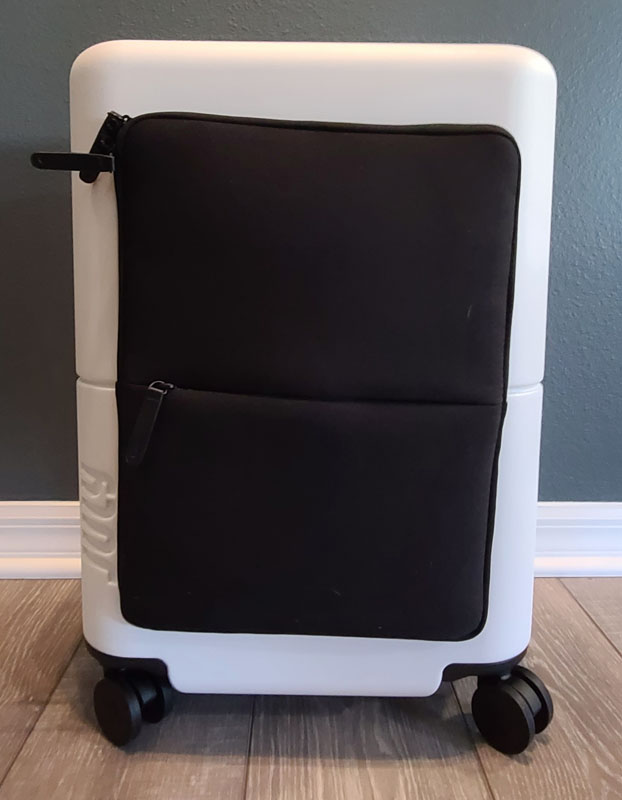 REVIEW – Carry-on suitcases are a dime a dozen.  Everybody makes one.  They all do pretty much the same thing – hold your junk and fit in the overhead bin on an aircraft.  Why should we care about any new ones that come on the market?  To be noticed in the fray, it would need some cool features that make it stand out from the crowd, right?  Oh, and it would still need to meet all the airline requirements for carry-on luggage.  Enter the July Carry-On Pro.  Does it bring some cool features and meet all the airline requirements? Well, yes, and no.  Read on…
What is it?
The July Carry-On Pro is a suitcase designed to be carried onto an aircraft.  It is sized to fit in an overhead bin and is supposed to meet airline carry-on requirements.  More on that later. It includes a detachable laptop sleeve and an ejectable battery pack.
What's in the box?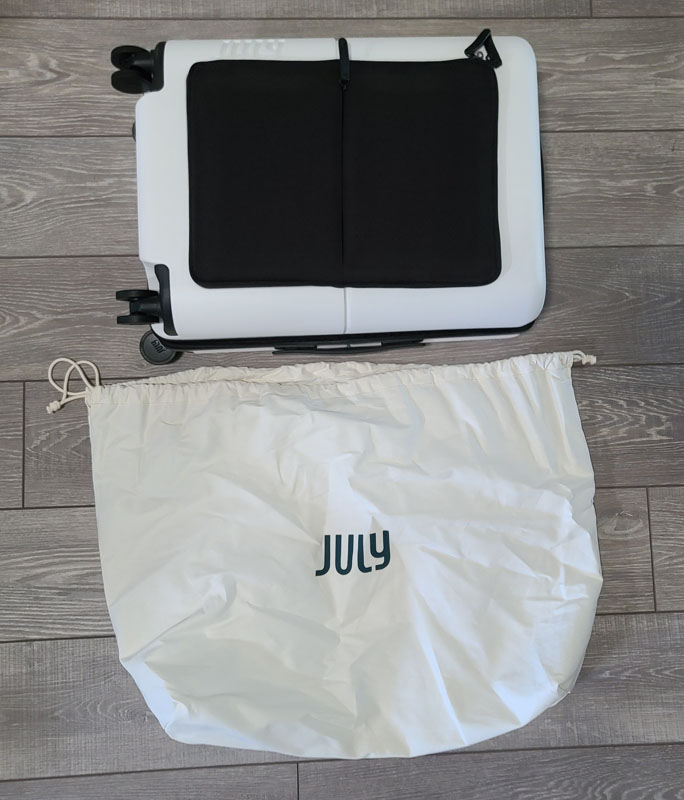 Carry-on Pro suitcase
It comes wrapped in a cloth bag that can serve as a laundry bag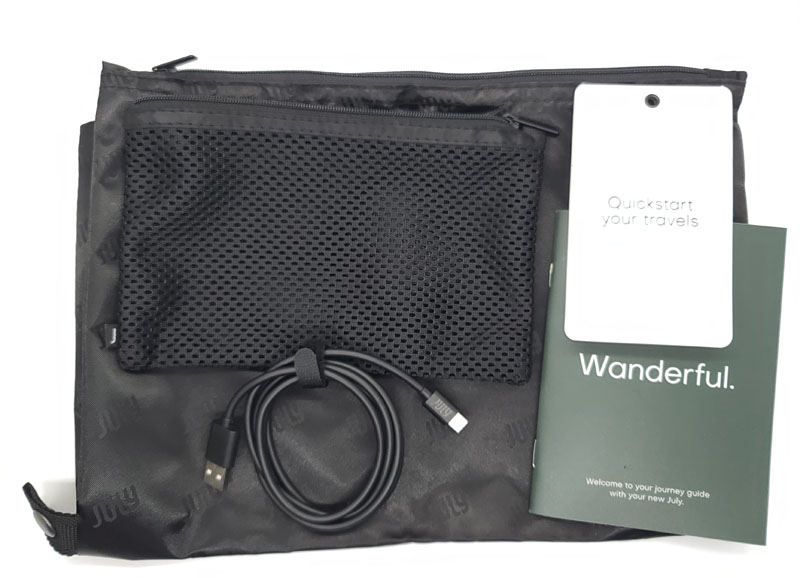 Waterproof bag (bottom)
Mesh bag
USB-A to USB-C cable
Quick start card
Manual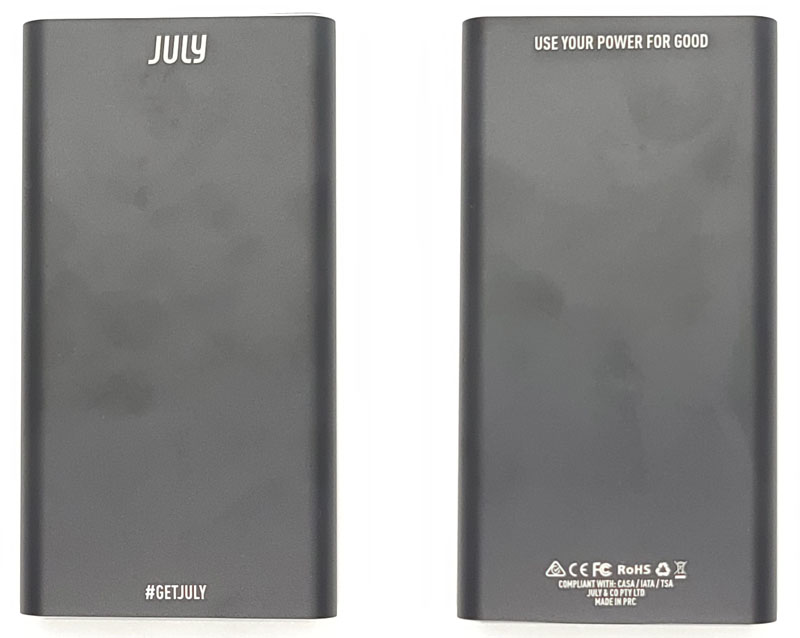 Hardware specs
External dimensions including wheels: 22″ H x 15″ W x 9″ D

Internal volume: 46L
Weight: 7.9lb
Construction:

Shell: German polycarbonate
Lining: Water-resistant and stain-proof nylon
Strap and hinge finishes: Leather
Zippers: YKK Japanese zippers
SnapSleeve™: Toughened 1000D Polyester with leather finishes and Fidlock technology

Locks: Integrated TSA lock
Colors: Four (blue, forest green, charcoal dark gray, monochrome white)
Handle: 20-height multi-stop telescopic

Warranty: 

Lifetime warranty,100-day trial with free returns, and free shipping across US and Canada
Customization choices: Nine fonts, 19 colors, three locations (cancels 100-day trial)
Ejectable battery pack

Dimensions:
Weight:
Capacity: 10,000 mAh
Ports: Fast Charge USB-C, micro-USB, USB-A high-power, USB-A
Design and features
The discussion of the design for a carry-on bag has to start with its dimensions.  Airlines are quite restrictive about their overhead bin space and have strict guidelines about allowable sizes for carry-on luggage.
For most American air carriers, the allowable dimensions for a carry-on bag are 22″ H x 14″ W x 9″ D.  Some international carriers allow larger bags.  But even Qantas, Australia's largest airline only allows bags of 22″ H x 14.2″ W x 9″ D. The July Carry-On Pro measures 22″ H x 15″ W x 9″ D.  That's too large even for the main airline that flys in July's home country of Australia. It's also too large for Allegiant, American, Delta, JetBlue, and United.  Interestingly, you'd be good to go on Spirit and Southwest as they allow larger bags. It seems like a huge design misstep.
Going beyond the size issue, what we have with the Carry-On Pro is a smartly designed bag with some very nice features.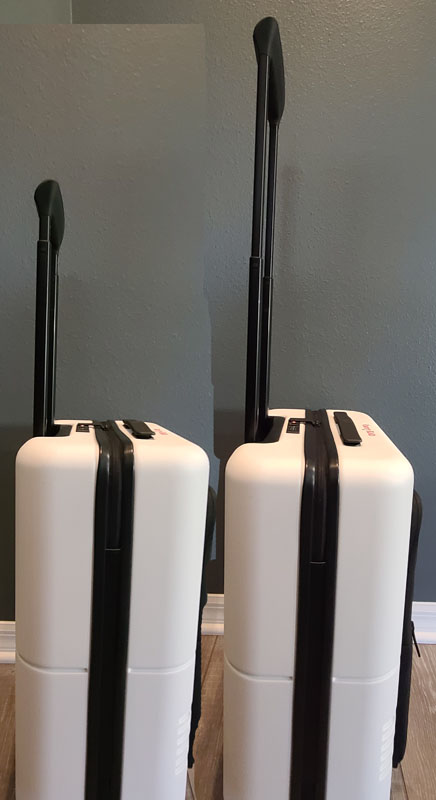 Let's start with the telescoping handle.  Unlike other bags with one or two heights, this handle has 20 individual stops between the low and high settings.  Everyone should be able to find a comfortable height for the handle.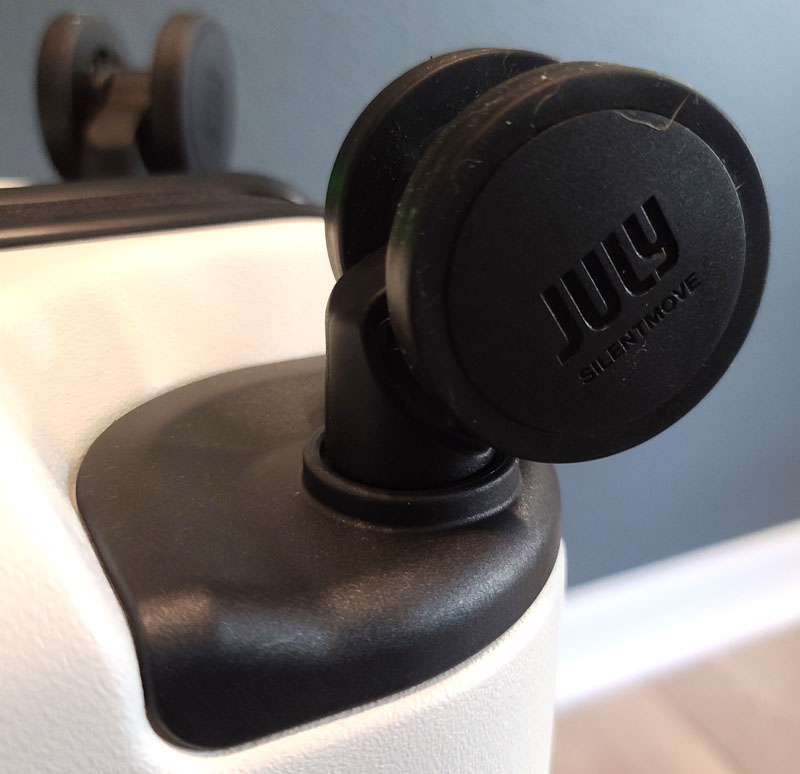 The castering double wheels at all four corners roll and spin smoothly and roll capably on hard floors as well as on carpeting.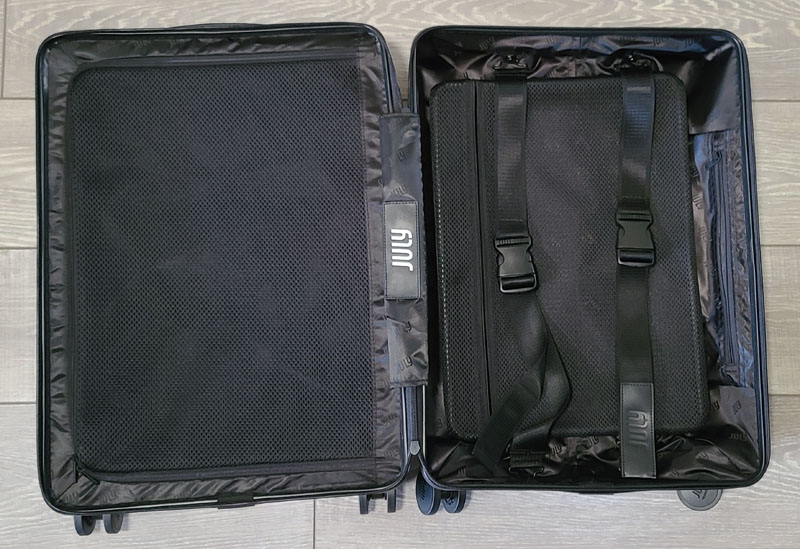 Inside the bag, we see what is becoming a fairly standard design – a zippered mesh compartment on the left and an open compartment on the right with a compression pad to secure everything.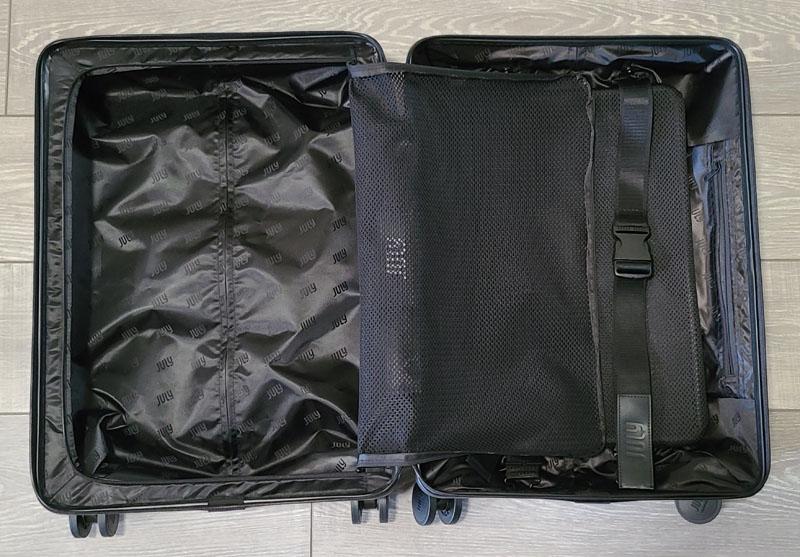 Unzipping the compartment reveals a deep, lined compartment. It is large enough to hold two pairs of my size 11.5 shoes easily. With its zippered cover, this compartment would be great for small items.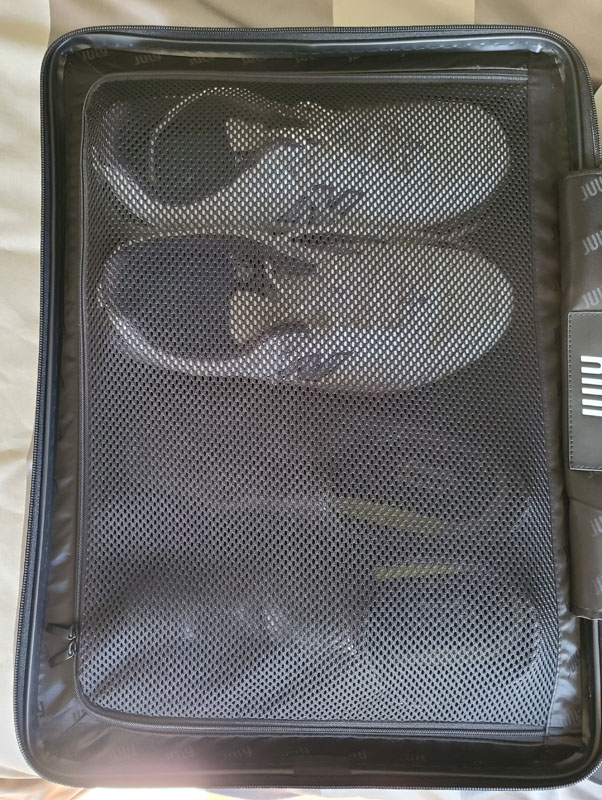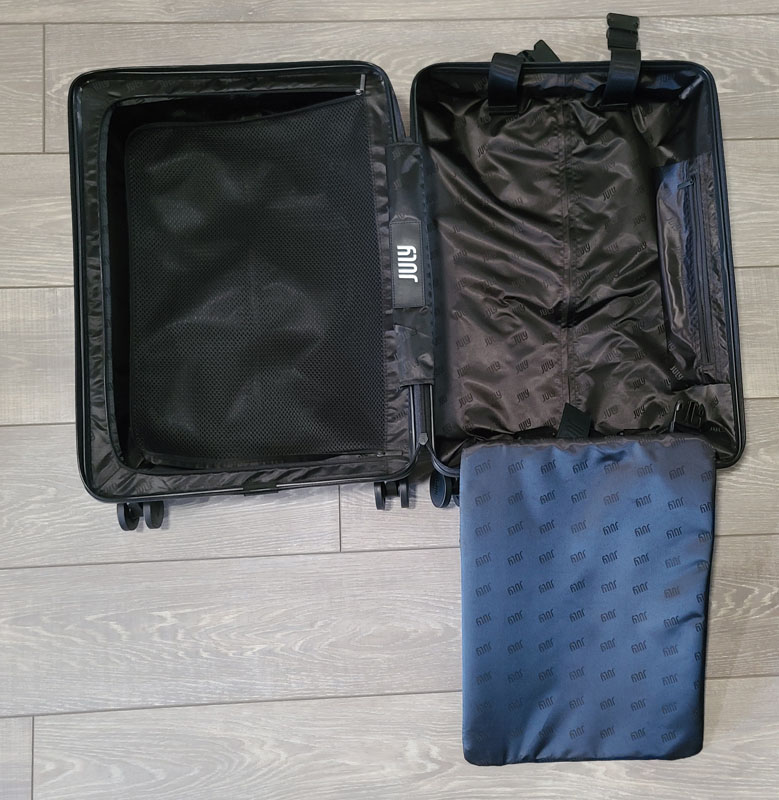 We see a similar space under the compression pad.  Look at the right side – see that little bag attached to the right side?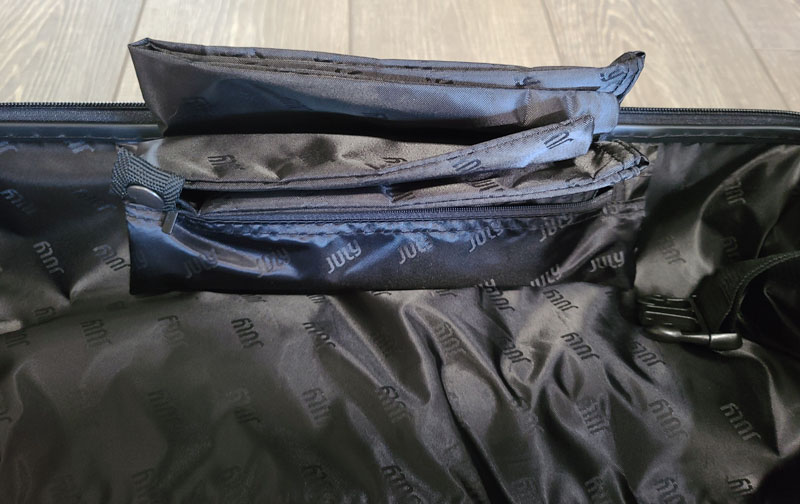 Inside that bag, July stuffs a convenient waterproof laundry bag that can hold some small laundry items or a damp swimsuit.
I roughly folded a pair of heavy jeans and a couple of bulky hoodies and tossed them in the right side.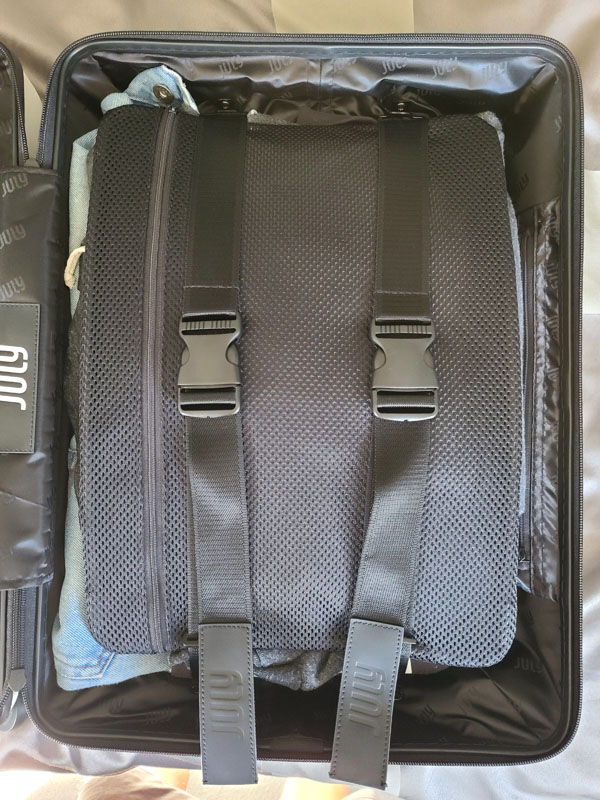 After clipping the straps and pulling on the leather-tipped straps, I was able to compress the mess down to a more manageable size.
On top, we can see the handle.  There is a matching one along the side as well.  In the middle, we see the high-quality YKK zippers neatly snapped into the standard TSA-compliant lock. Just below the lock, we see the telescoping handle.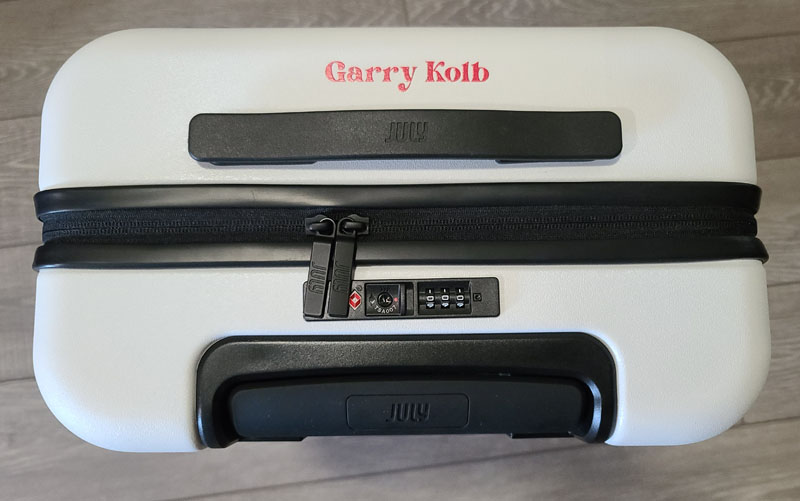 Did you notice my name on the bag?  July offers free personalization in nine fonts, 19 colors, in one of three locations on the bag.  If you choose to personalize, you forfeit the 100-day trial, for obvious reasons.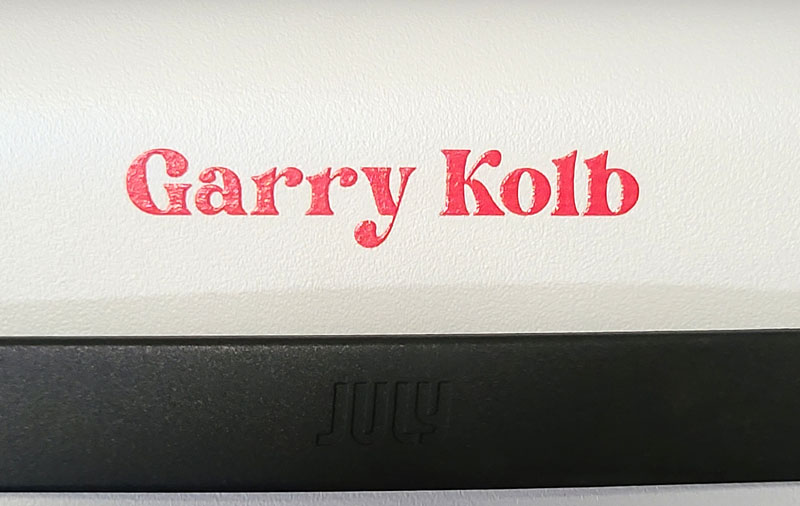 I think the personalization is a nice touch.  It looks to be a very-high quality imprint that should last.
So far, this is just a carry-on bag.  Nice, well-made, but nothing that stands out, except perhaps the 20-step telescoping handle.  That's about to change.
Let's start with the laptop sleeve.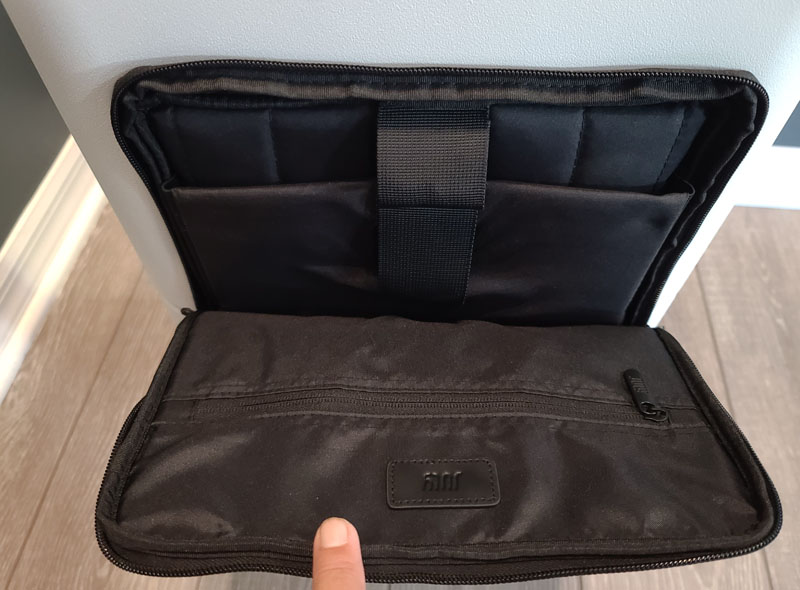 The sleeve mounts securely to the front of the case.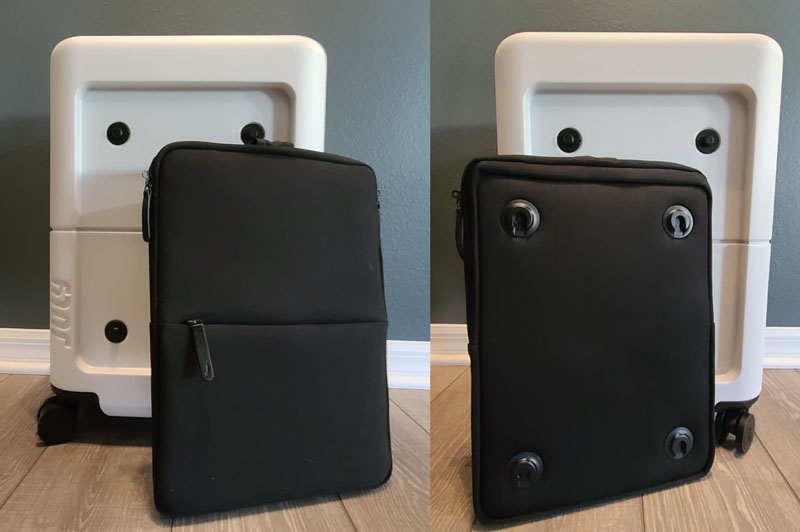 The attaching mounts are both slotted and magnetic.  The slots slide over studs on the case and are held in place quite firmly.  I thought the design looked clumsy and would be difficult to attach.  I was wrong.  I pushed the sleeve into the opening and the magnets sucked the sleeve down on the studs time after time.  I was impressed. July dubbed it the SnapSleeve™.
To remove the sleeve, you open the top zipped and slip a finger into the nylon loop inside.  Then, you pull up and the sleeve pops off the studs.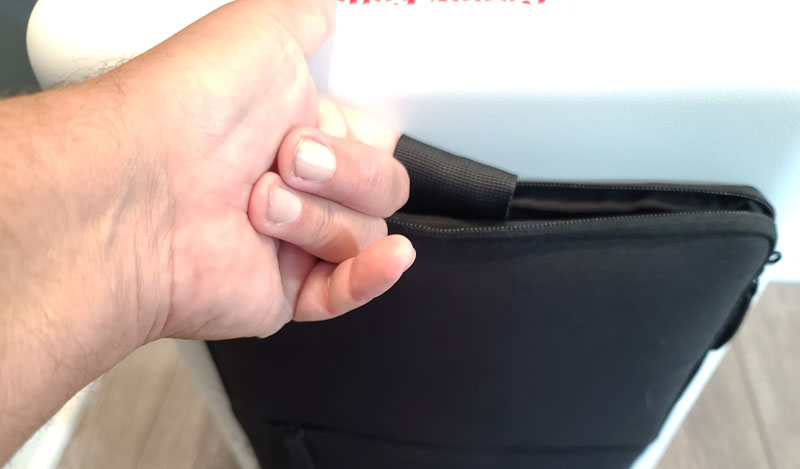 The front of the sleeve has a zippered compartment, perfect for cables or travel documents.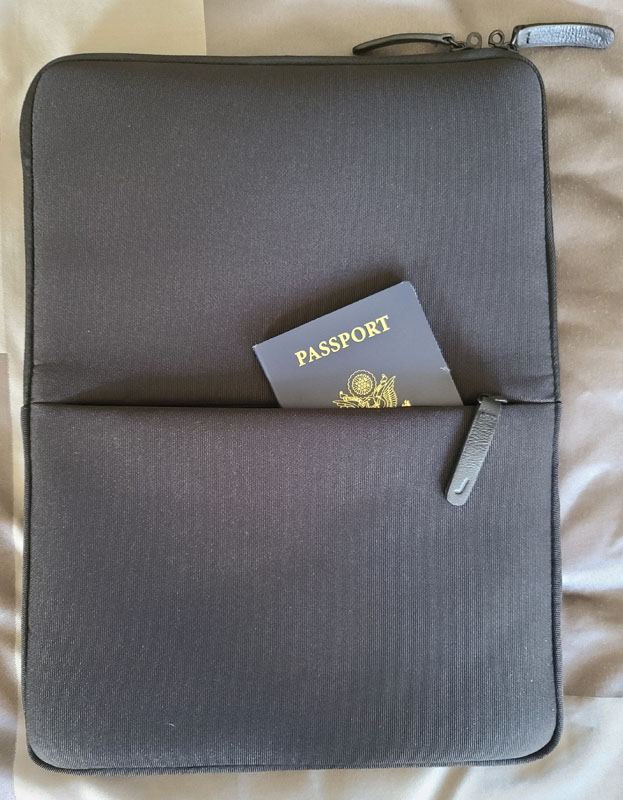 Inside the sleeve, there is another zippered compartment, a couple of mesh pouches lower in the sleeve, and a padded laptop compartment with a hook and loop strap closure.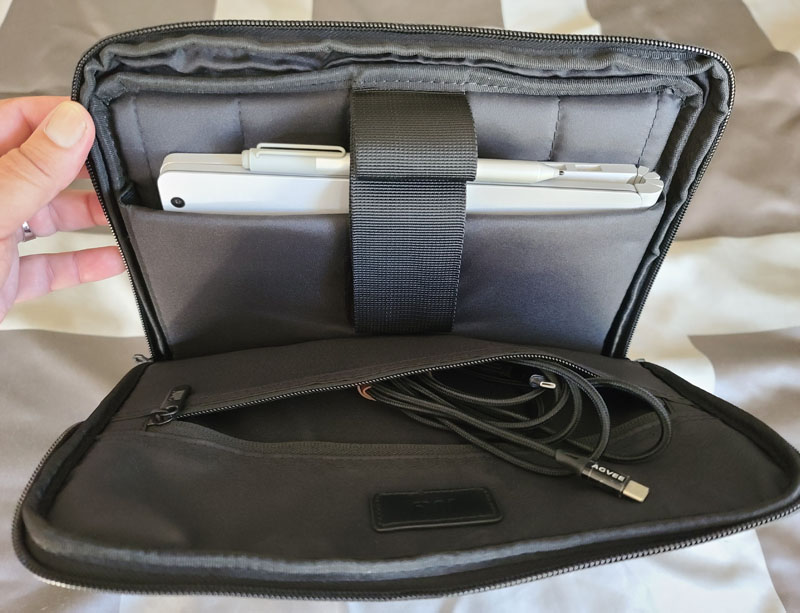 That's a 13.3″ Surface Book in there.  It should fit a 15″ laptop or 16″ MacBook Pro.
Let's look at the next innovative feature.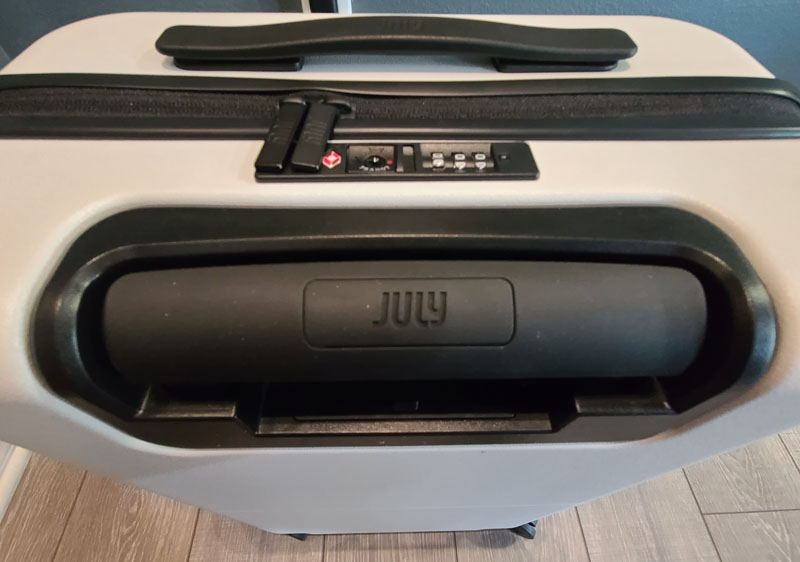 The second secret weapon is found right under the telescopic handle.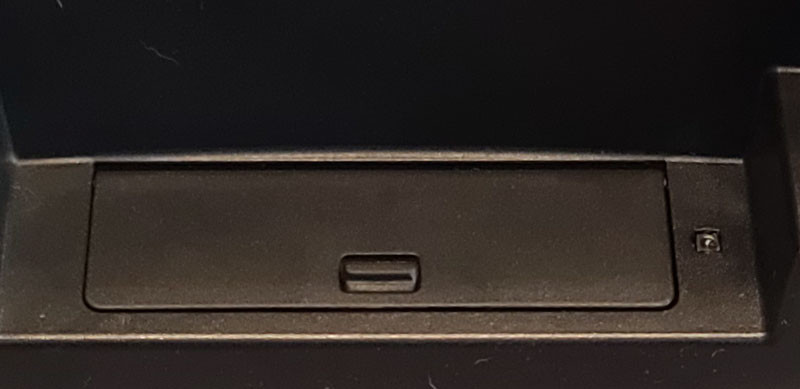 What could be lurking under that door? Power!
Pop it open and we see charging ports – a micro-USB, a USB-C, and a pair of USB-A ports.  But what happens if you have to gate-check your bag because all the overhead storage is full?  They don't allow lithium batteries in the checked luggage compartment.  What to do, what to do? No problem!  Push down on the battery pack and…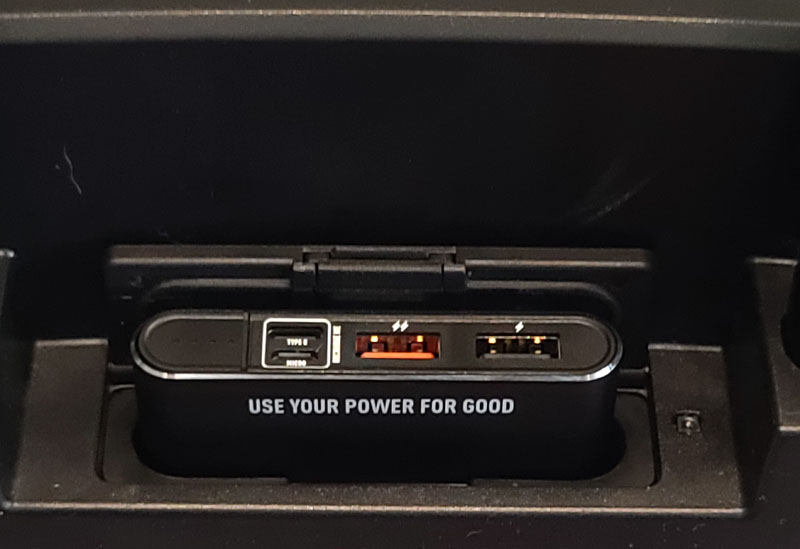 It pops up for easy removal.  To the right of the pack, there is a small button that can be pressed with a pen.  That ejects the entire battery holder.  I'm not sure why you would want to do that, but you can.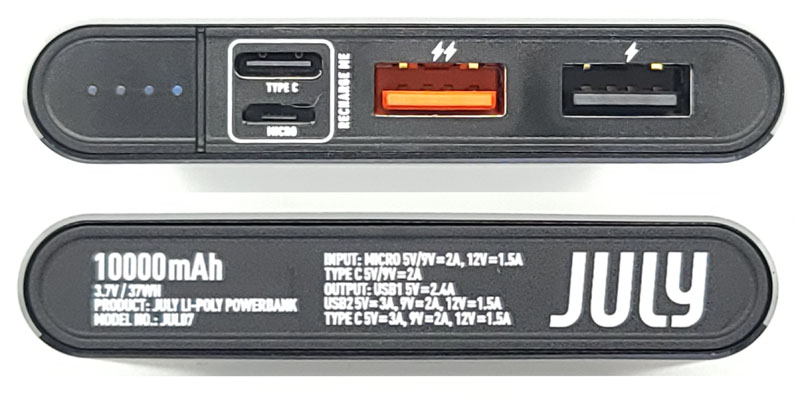 The battery packs 10,000mAh of charging goodness and has a four-LED power status indicator.
Setup
The only setup is to change the combination, assuming you don't want "0-0-0" as your combination.  like most other TSA locks, with the lock unlocked (at 0-0-0), press the button next to the dials with a pen or other sharp object.  Then, you spin the dials to your chosen three-digit combination and open the lock.  That resets the combination to your personal code and you're good to go.
Performance
This carry-on packs well rolls well and is well-made. Its polycarbonate shell should laugh off travel abuse while protecting the contents.  For a quick trip of a couple of days or so, this is perfectly sized. That is especially true with the addition of the laptop sleeve that could eliminate the need to carry anything additional.  That is, of course, if you're flying an airline that will accept this bag.
What I like
Looks good
Relatively light
Nice packing features
The laptop sleeve and battery are a nice touch
What I'd change
The 22″ H x 15″ W x 9″ D dimensions exceed most US airline's and many international airline's allowable 22″ H x 14″ W x 9″ D dimensions
It is a little pricey, but not out of line given the special features
Final thoughts
As a travel bag, this is a terrific one.  Unfortunately, its Achilles heel is its size – one inch too wide for almost every US airline and many international ones, including the main airline where this bag is made.  I don't get it. Given that the offending dimension is its width, it is likely that you won't have any issues.  But, if the gate staff ask you to put your bag in the dreaded size box, you may be forced to check the bag.  At least the battery pack will pop out to make you legal.  It's up to you if you want to take the chance.
Price: $295
Where to buy: July
Source: The sample of this product was provided by July.