We use affiliate links. If you buy something through the links on this page, we may earn a commission at no cost to you. Learn more.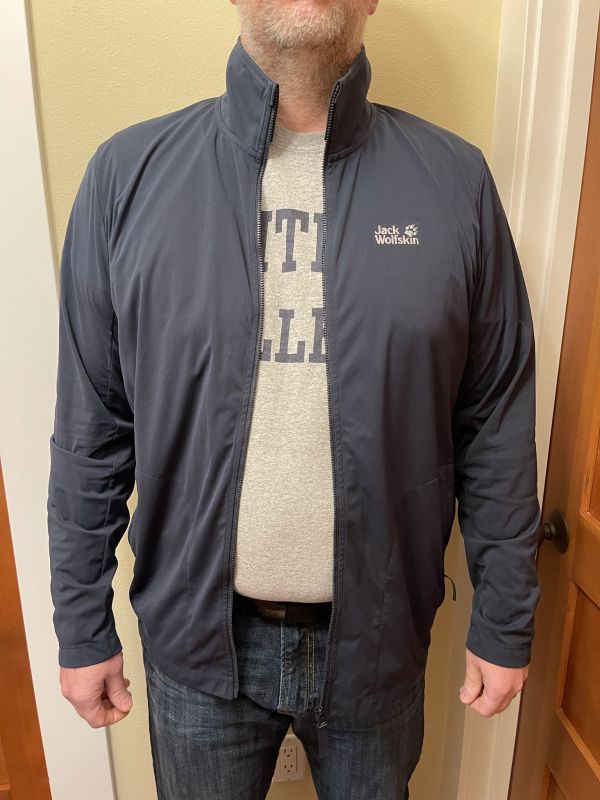 REVIEW – In the late summer and early fall, the temperature differences call for clothing layers that are versatile and adaptable. Cool mornings and evenings need some extra warmth – sunny afternoons will cook you if you are dressed solely for the morning chill. This fleece jacket offers a portable and functional option for travel and everyday jacket.
What is it?
The JWP Dynamic Fleece jacket is made for lightweight travel and everyday wear.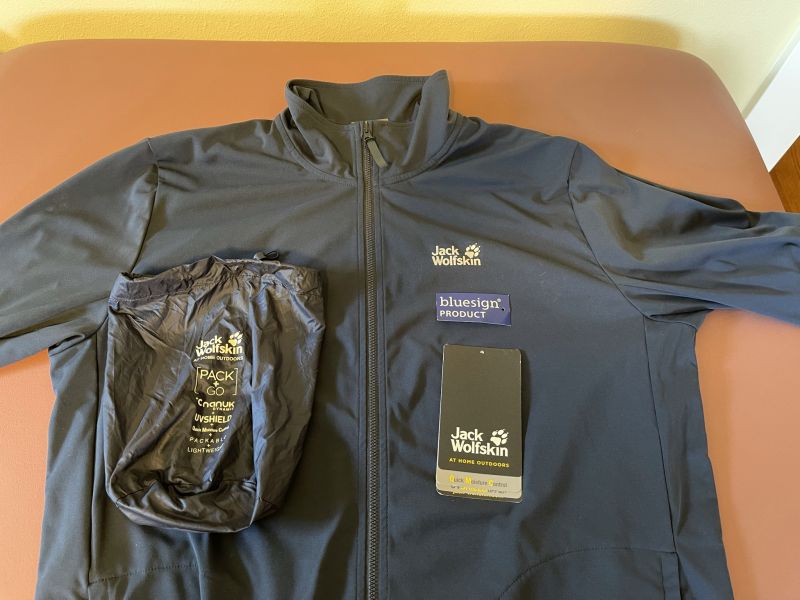 What's in the box?
JWP Dynamic M Fleece Jacket
Pack + Go Storage/Stuff Sack
Hardware specs
100% Polyester
305 grams (size Medium)
Bluesign-certified textiles
UVA and UVB Protection
Night Blue, Indigo Blue, and Black color selection
Small thru 3-XL sizing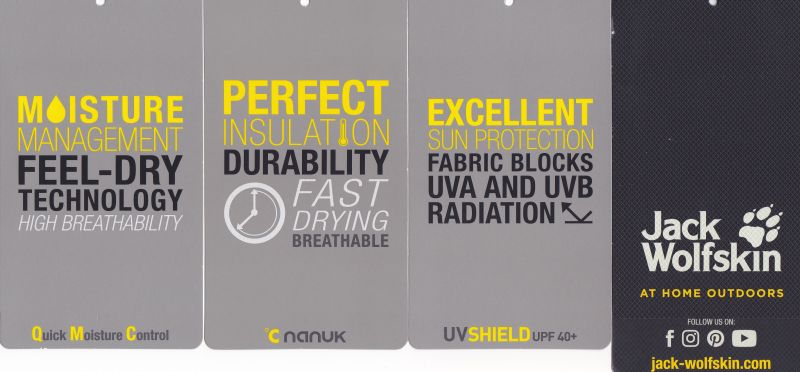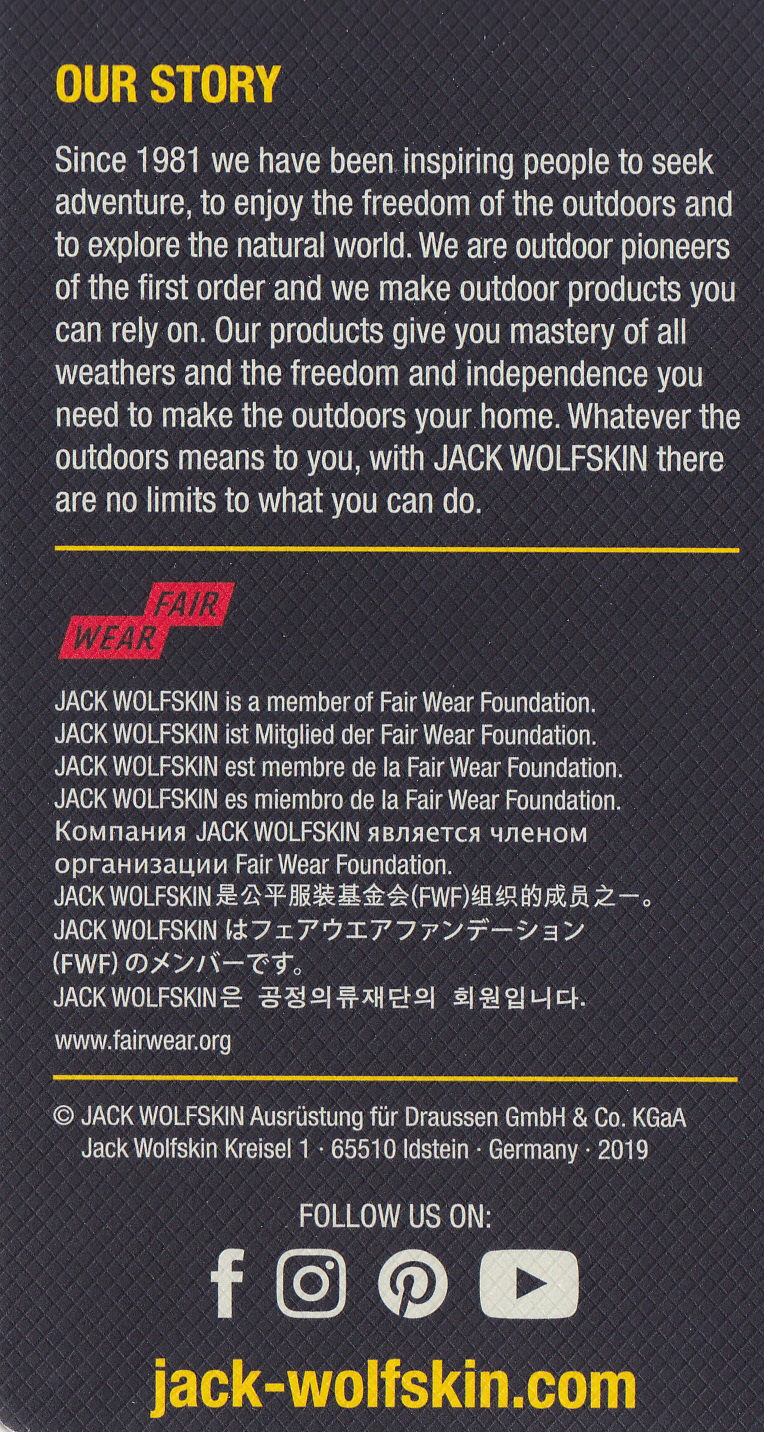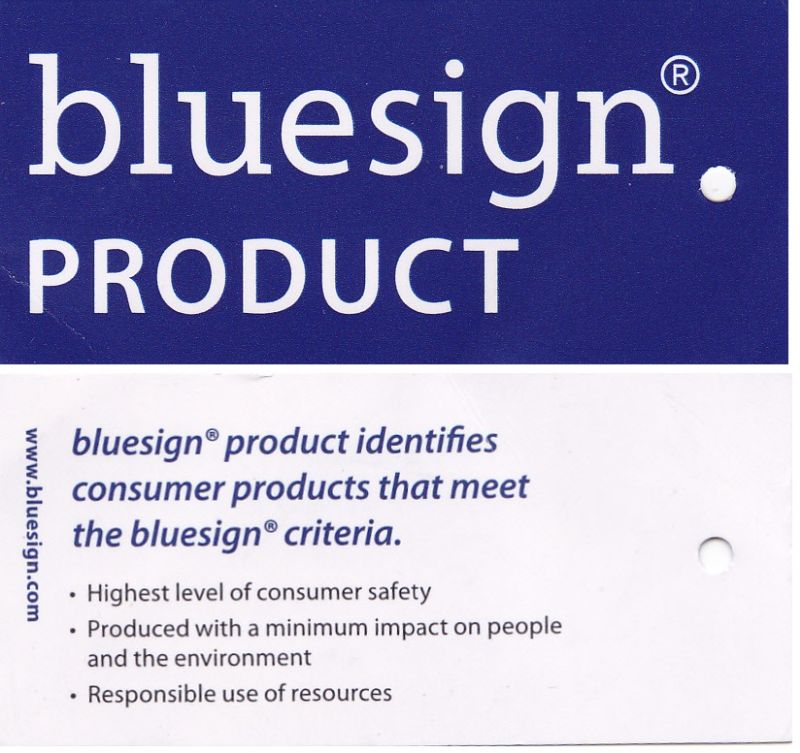 Design and features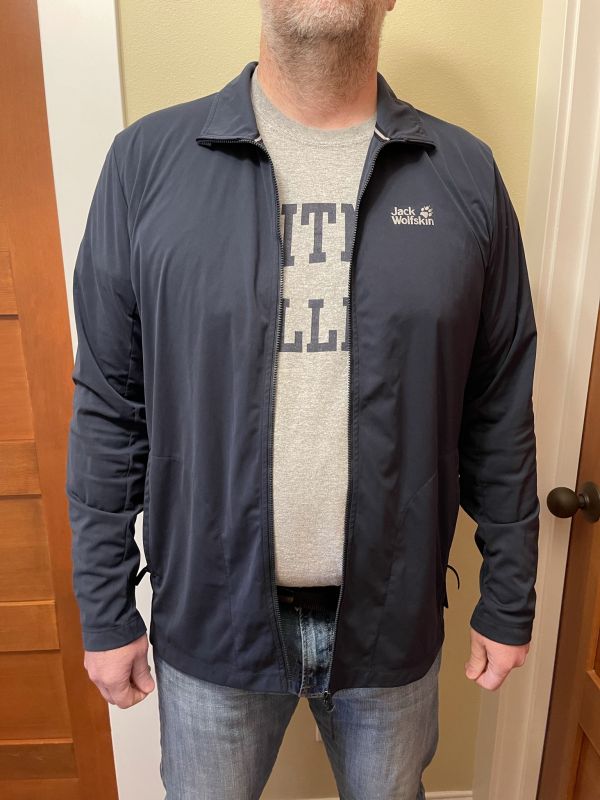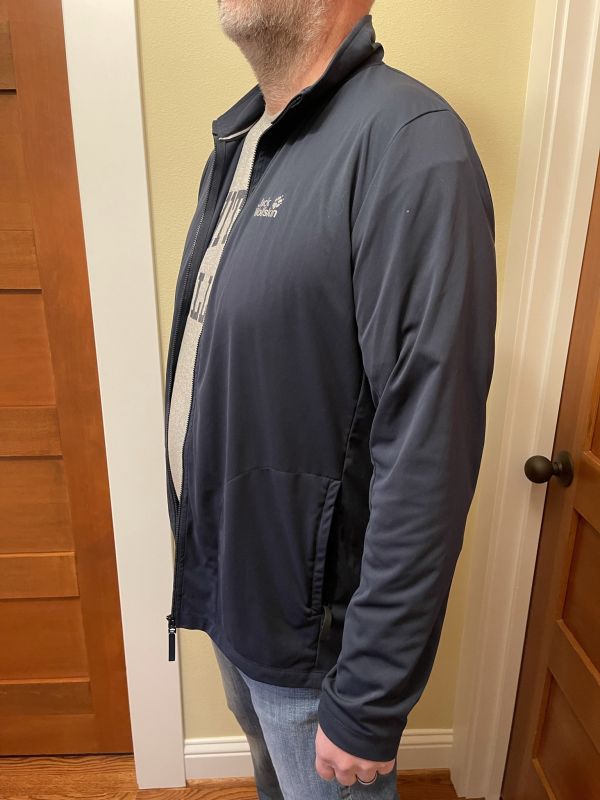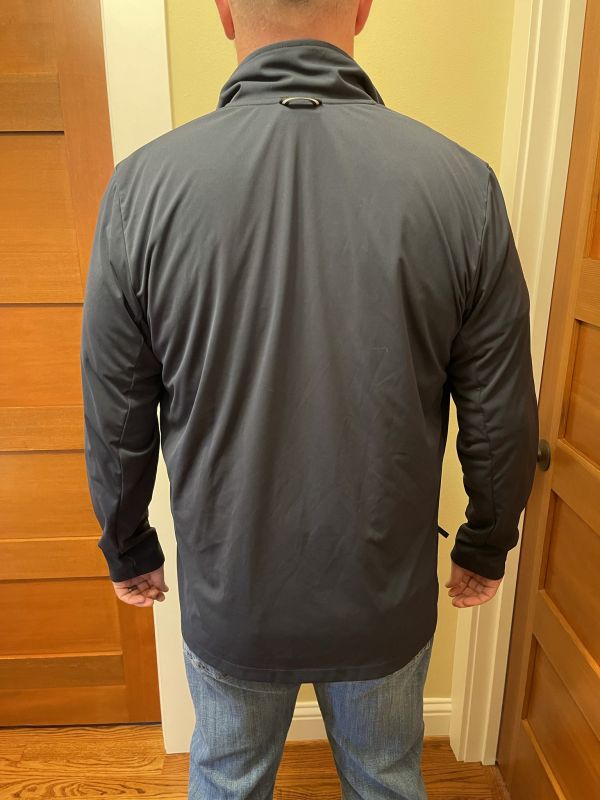 The JWP Dynamic M Fleece Jacket has a cut/pattern that is a nice blend between athletic and classic. I used this as my only jacket on a summer trip in the mountains of Colorado, which saw a range from sunny days to rain and hail. The jacket felt 'right' in every occasion – when I was hiking in outdoor, active mode; and also at an outdoor group dinner where I wanted to present a little more professionally. It fell nicely into a sweet spot between track jackets and sport coats.
While stuck for an hour or so on a bright day, I wore the Dynamic Fleece jacket for protection against sunburn. It did the job well and even with the sun-absorbing Night Blue color, didn't feel like a heat sink. I also encountered a thunderstorm with rain and hail. The jacket is good protection from wind and hail, and can handle a small amount of rain, but is quickly overpowered by heavy precipitation (especially a Colorado mountain storm). Fortunately, it also dries quickly and was functionally dry within the walk back to the cabin. I wore the jacket all over town, tied its sleeves around my waist when it was warm, crumpled it into a cargo pocket, packed it into its storage sack and mashed it into a laptop bag. It always emerged wrinkle-free and functional.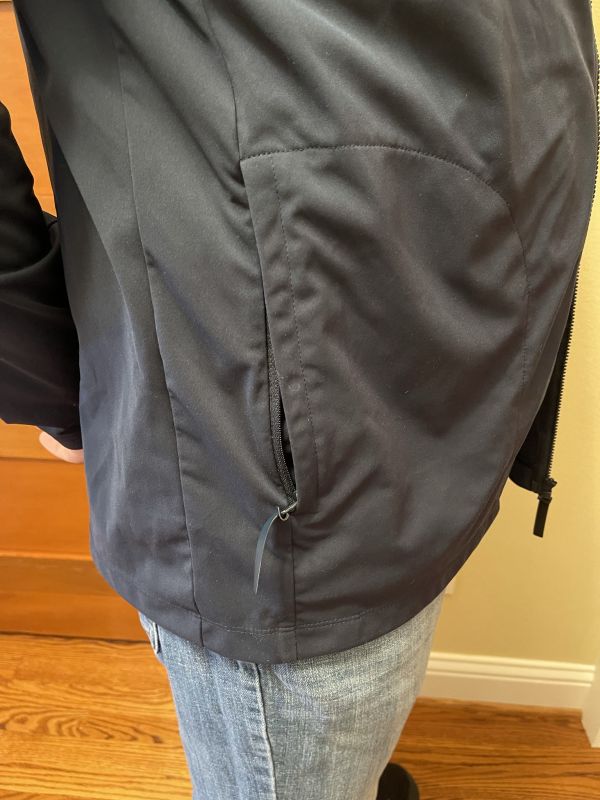 The jacket has two zip pockets with mesh liner fabric. The left front logo, the back hanging loop, and the collar edge have reflective accents, otherwise, it's all one color. I wore the collar up for sun protection, zipped fully up for wind protection, and folded down for a slightly less athletic look.
The sleeve length and body length were a good fit. I run long in the arms, and the cut at the waist gave me a wide range of motion without riding high or exposing the belt line.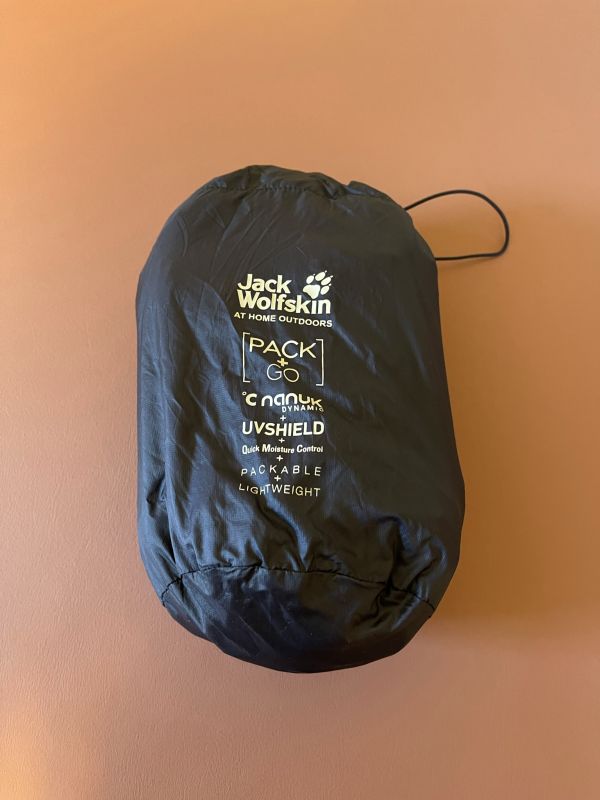 In the stuff/storage sack, the jacket packs down to the size of a water bottle.
What I like
I own several jackets made out of fleece, and most of them are thicker polar fleece material – good for a jacket or a mid-layer when the temperature turns cold, but sweaty when dealing with sunny days and being indoors. The Dynamic M Fleece jacket gave me a huge three-season temperature range and allowed me to go from t-shirt weather to cool evenings with a single, easily-packed layer. It is a jacket that fulfills a large sweet spot in the center of travel clothing and packing for a variety of conditions.
What I'd change
While it's true that Black is always in style, I'd make this jacket in a lighter heather gray – for maximum versatility in sunshine and warm weather.
Final thoughts
I enjoyed wearing the JWP Dynamic M jacket and relying on it when traveling. It will definitely have a place in my packing list when I need to keep the weight allowance low, and carry a minimum number of items that are light, versatile, and functional. The jacket has a 'functionality per gram' ratio and fashion range that beats out most of the other jackets and mid-layer shirts in my wardrobe.
Price: $99.95
Where to buy: Jack Wolfskin
Source: The sample for this review was provided by Jack Wolfskin.