We use affiliate links. If you buy something through the links on this page, we may earn a commission at no cost to you. Learn more.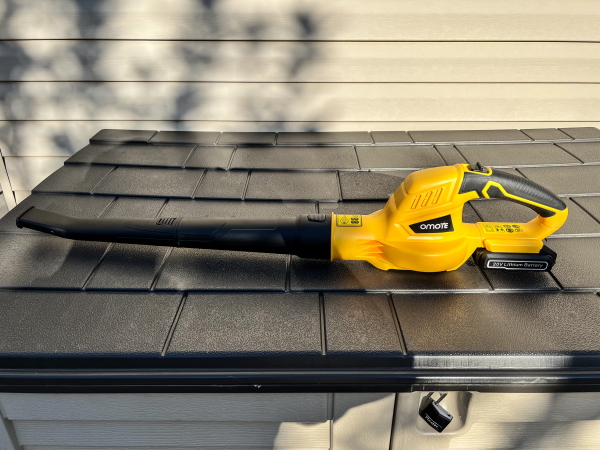 REVIEW – Several months ago I was able to test and review a leaf blower that I have been using almost every week since I got it. It is powerful and works great for leaves and pebbles and other unwanted debris around the yard. I tried it one time to blow away debris from the floor of my garage, but with so many items around, it was blowing away more than I wanted or needed to get rid of. Maybe there is a blower that has just enough power to handle leaves and other yard debris while being a better fit for the more delicate job of keeping the floor of my garage clean. Hmmm!! Let's see what this Omote Cordless Leaf Blower can do.
What is it?
The Omote Cordless Leaf Blower is a low noise, lightweight battery-operated leaf blower with one button control. It works well for lawn care, leaves, and snow blowing. It comes with a 20V 2.0Ah battery and charger.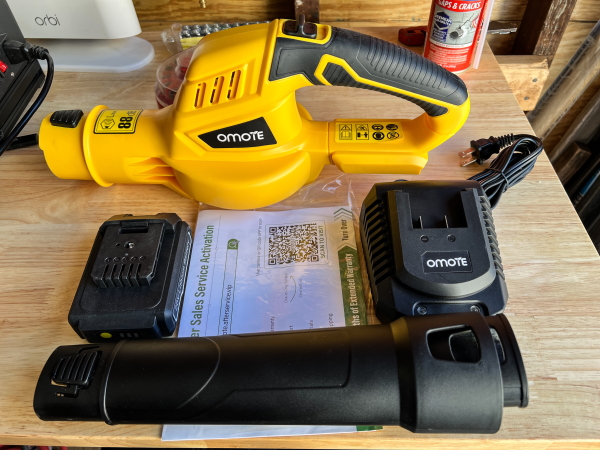 1 x Omote Cordless Leaf Blower including extension Tube
1 x 20V Battery
1 x Charger
1 x User Manual
Design and features
Features
Strong Wind and One-Button Control: Our cordless leaf blower releases a large volume of air up to 177 CFM(real measured data from the laboratory)for fast and easy cleanup of leaves and debris. The leaf blower is perfect for dealing with various jobs, complex environments, and multi-directional cleaning. The simple design of one-button control makes dust removal easier. With no complex mode of operation, it is simple and easy to operate for everyone.
Good Parts Make the Good Tools: The leaf blowers are equipped with powerful all copper motors and have adopted the most advanced turbo engine tech. The all-copper motor can provide a powerful and efficient blowing performance. Meanwhile, the cellular radiator design at the bottom effectively reduces the risk of overheating- safer and is more durable.
No More Extra Battery Required: Have you ever been in an embarrassing situation when you excitedly opened the parcel only to find that there was no battery inside at all? The leaf blower comes with a 20V battery, 1-1.5 hours of quick charging for up to 25-min operation (charger also included).
Ultra-Light Body and Ergonomic Design: Leaf blower OM-1207 owns an ultra-light body that makes it comfortable to operate using one hand. Only 3.4lbs even with the battery. The comfortable no-slip hand-grip allows you to operate for a long time without leaving your arms feeling sore or tired. With detachable blowing tubes, everyone at all heights will get a better user experience from indoor works to outdoor works.
Tailored for The Whole Family Use:  Our leaf blower -the superhero of cleaning in dead angles, liberates you from the traditional heavy labor. Tailor-made for the whole family to clean up all sorts of dead angles. Highly recommended for removing debris and for blowing the leaves away in the yard or even for fast drying items such as bicycles, motorcycles, floors, etc. The detachable and small size form facilitates storage and does not take up space.

This leaf blower is made mostly of plastic/ABS and is a simple design. The on/off power switch is on the handle and the battery holder is underneath.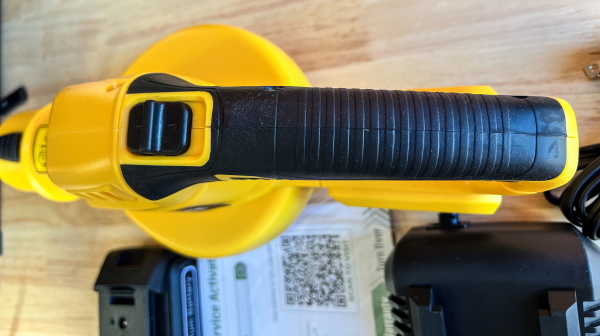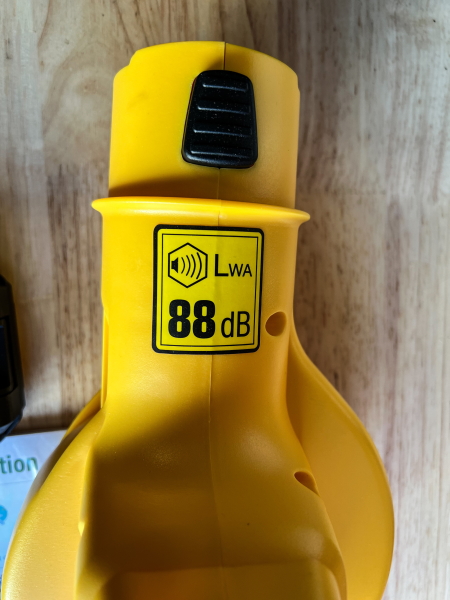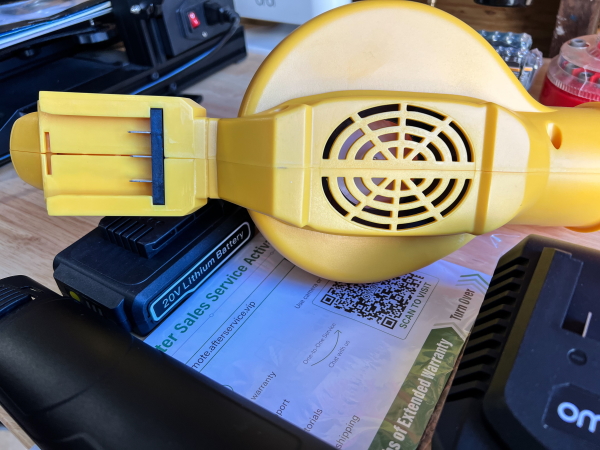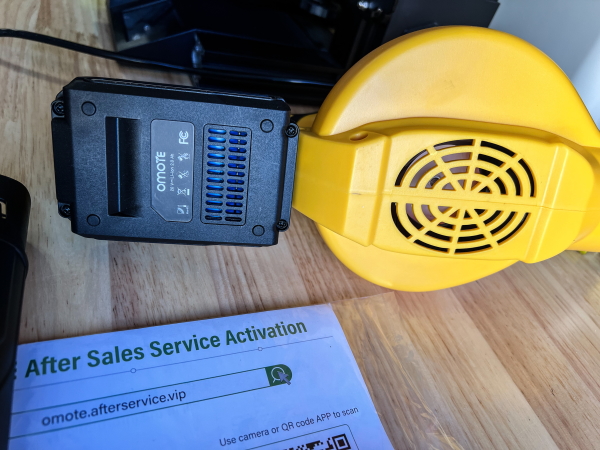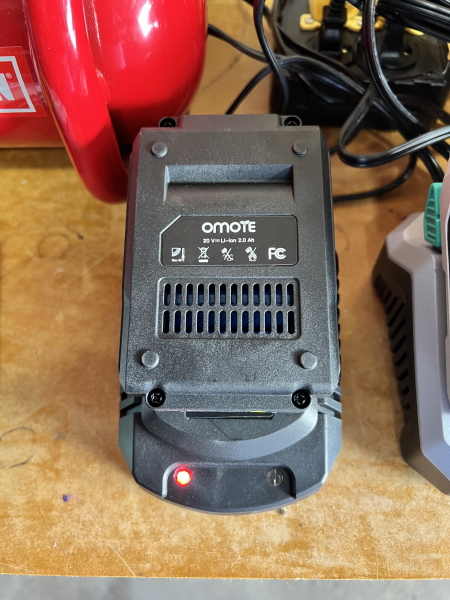 Performance
Unlike any of the other leaf blowers that I have used, this one is smaller, more compact, and much lighter. However, it still packs enough of a punch to blow away most debris even if not with the ferocity of the larger blowers. It only has an on/off switch, so there is no air adjustment.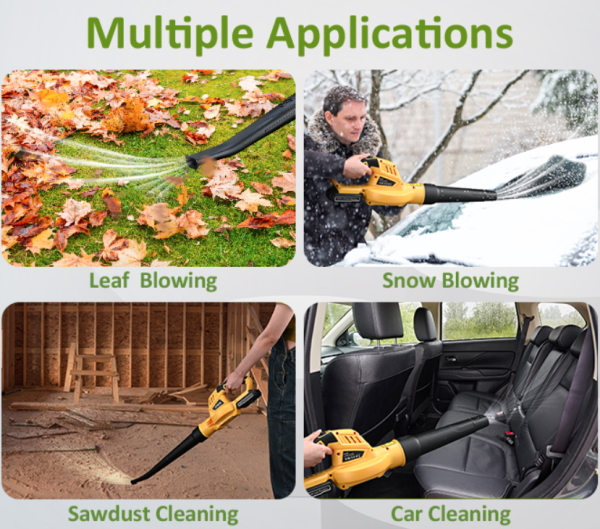 Here is the leaf blower in action:
As you can see from the video, the blower does produce a good volume of air albeit not equal to larger models. However, I find it very useful. For many tasks, I reach for this device first. I will try to validate the manufacturer's claim regarding the ability to blow away snow when the season permits.
What I like
The build quality
The style and compact design
That it is lightweight
The volume of air that it produces for its size
What I'd change
I would like to have an air volume control button
Final thoughts
This leaf blower is lightweight and compact and very convenient for many types of jobs. I like to use it in my garage workshop to blow dust out of the garage. It also works well on leaves although I am not sure if it would be the most efficient blower for cleanup after the Fall season when tons of damp leaves are on the ground. So while I will still use my larger and more powerful leaf blower for heavy-duty jobs, this blower does offer convenience for many tasks.
Price: $79.99 (Amazon is currently offering a 30% off coupon for a price of $55.99)
Where to buy: Amazon
Source: The sample for this review was provided by Omote.