We use affiliate links. If you buy something through the links on this page, we may earn a commission at no cost to you. Learn more.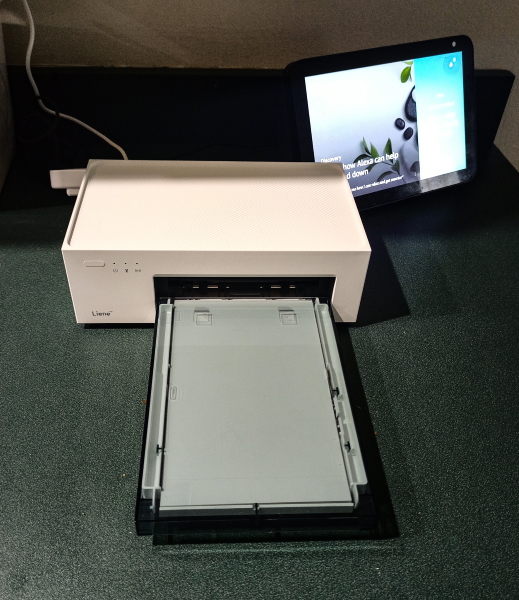 REVIEW – Whenever I get the opportunity to test and review an instant/on-demand photo printer I am always intrigued to see what the output photos look like and if it is a decent value for the price. Let's take a look at this Liene 4×6" Instant, Full-Color Wi-Fi Photo Printer.
What is it?
The Liene 4×6" Instant, Full-Color Wi-Fi Photo Printer works with IOS, Android, and the PC. It utilizes Thermal dye Sublimation and produces 4×6″ photos coupled with 4-pass process technology. To maintain the quality of the photograph it produces, it lays a protective layer that is water-resistant and smudge-resistant during the fourth pass.
What's in the box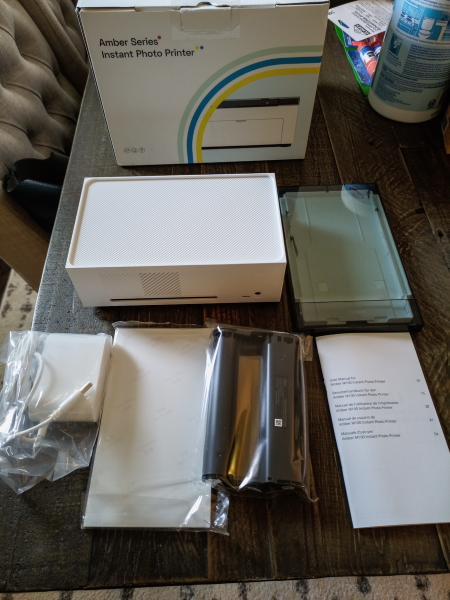 1 x Liene 4×6" Instant, Full-Color Wi-Fi Photo Printer
1 x AC Adapter
1 x User Manual
1 x Paper Cassette Tray
1 x Complimentary Pack of 4×6 Photo paper
1 x Ink Cartridge
Design and features
Features
Wonderful Photo Quality: Compared with the traditional picture printers, the Liene photo printer prints photos (4×6'') instantly with thermal dye-sublimation by which dyes can deeply penetrate the paper and makes photos vibrant. The last layer which is protective in printing covered on the photo makes it better protect photos from water, scratch, and fading. Grab this instant photo printer, grab the chance of staying these precious memories with you forever
User-friendly Design: No paper jam anymore! Photo paper can align with the picture printer and successfully thread it when printing. Check out which printing step it has been when printing via the app. Don't fear any errors, Liene app will navigate you to solve the problems step by step to keep you on track. Besides, for your best convenience, Liene has 20pcs complimentary photo papers and 1 ink cartridge(up to 40pcs printing) in the package. We are expecting you to get fun with the Liene photo printer
Easy and Stable Connection: Please cool down if you start to worry about the connection; To avoid being affected by the home network which is complicated and unstable, Liene has made the portable photo printer itself a built-in WiFi hotspot; You can connect directly to this wifi photo printer without surrounding network. Besides, this advanced design also beats when comparing with Bluetooth or Port connect; such as no damage to your device, and support up to 5 devices to connect simultaneously
Compatible with multiple devices: Liene 4X6 photo printer is designed for everyone, so it is compatible with IOS, Android, laptop, and PC. The Wi-Fi connection allows 5 devices to connect this compact photo printer simultaneously. That's a chance to invite your friends to join your printing queue. It is not only a photo printer for a smartphone but also a good fit for a PC that needs a wired connection.
More Customization on App: Download the Liene app to add more elements to photos before they come out of the picture printer. Get regular photos and ID photos printed at home. What a great photo printer for smartphones! Grab the chance to brainstorm your photos by applying various types of innovative frames and filters to your photos. When printing via the app, you will be informed if either ink cartridge or paper is run out, and find out which color of ink is being dispensed in the photo printer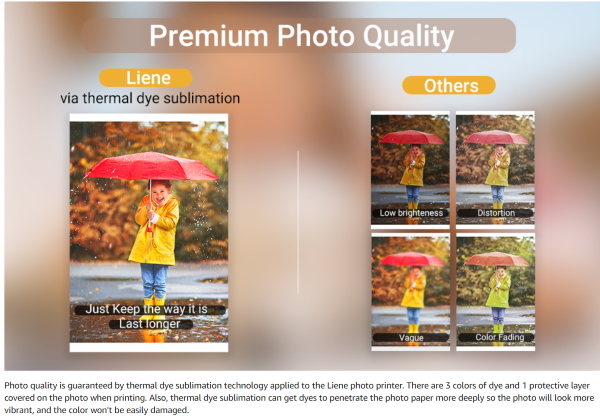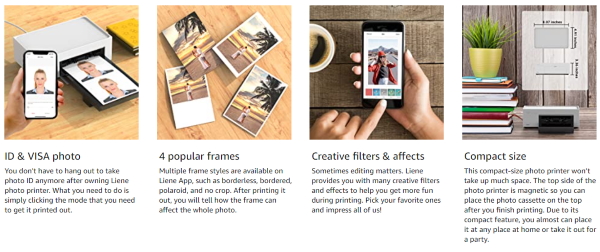 The photos below show the functional sides of the Liene 4×6" Instant, Full-Color Wi-Fi Photo Printer.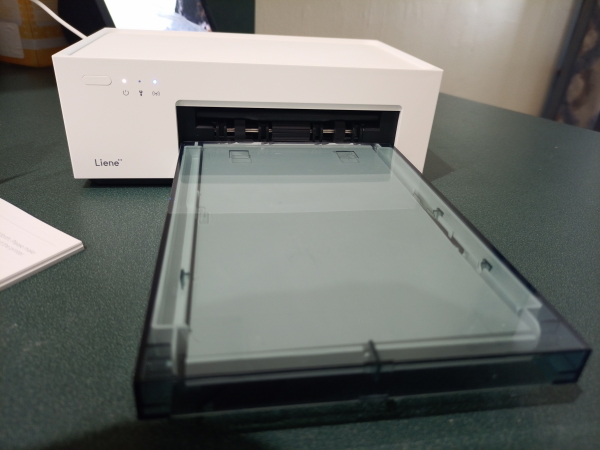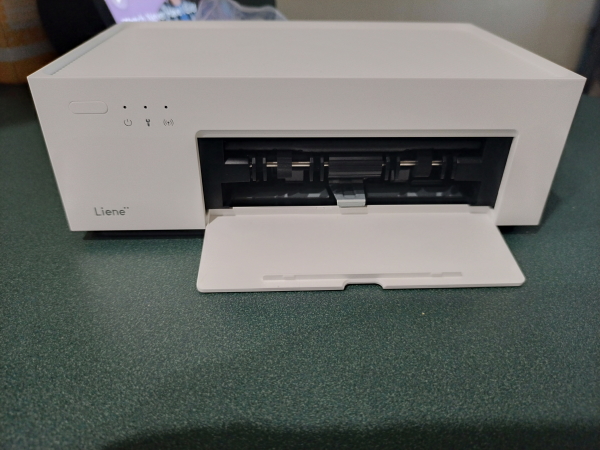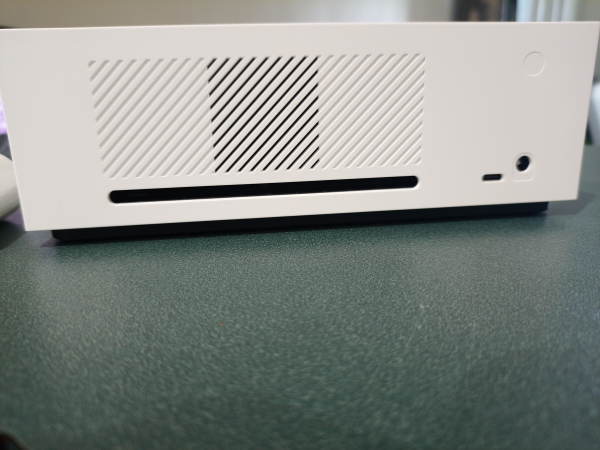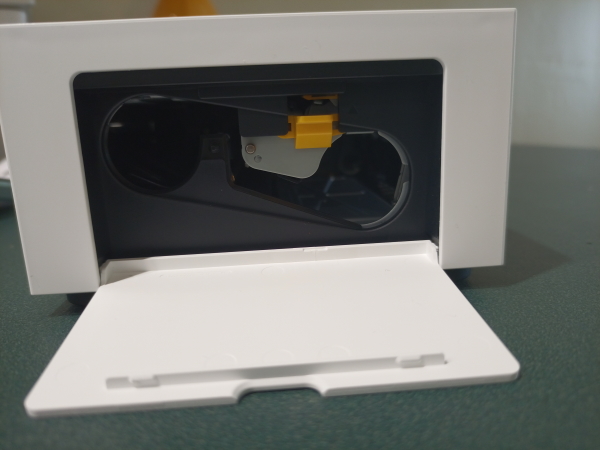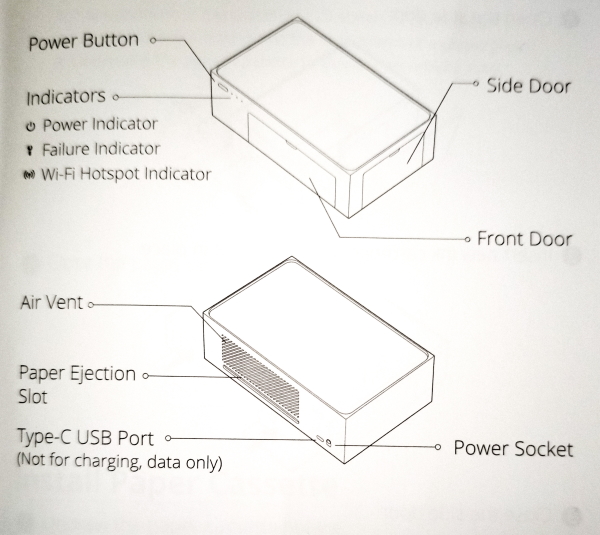 Performance
The printer is very easy to set up. Simply insert the ink cartridge and the paper tray and it is ready to go. There are multiple options for print including connecting to the printer's wifi and printing directly from the phone/device, using the Liene app, or a hard-wired USB connection.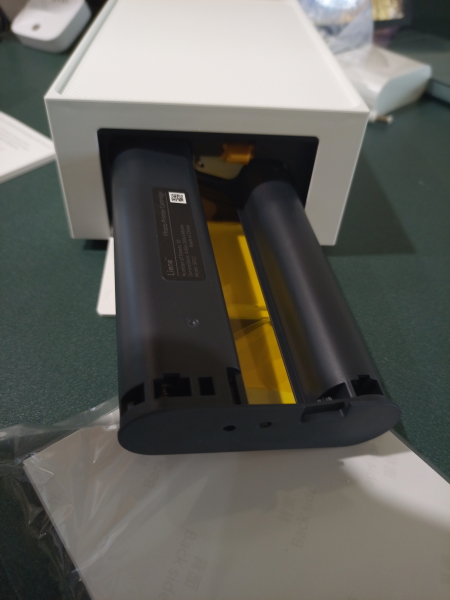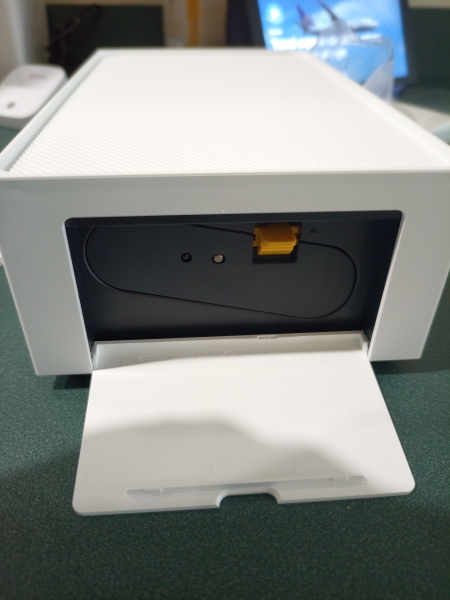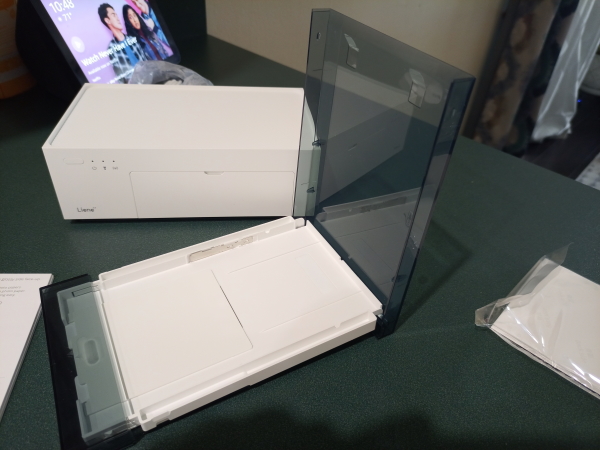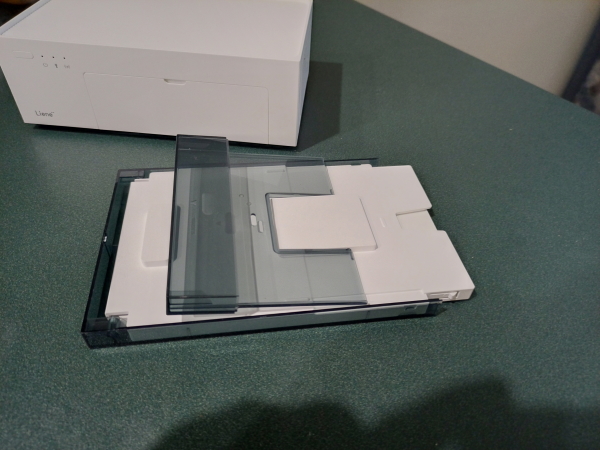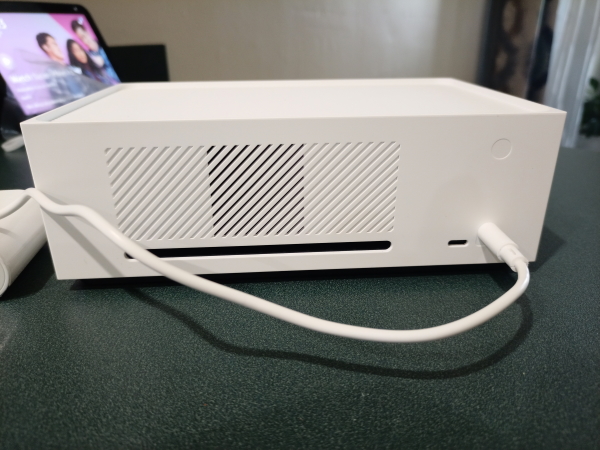 Once the Liene 4×6" Instant, Full-Color Wi-Fi Photo Printer is set up, you can power it on and connect to its WiFi, use the App or connect to a PC via USB.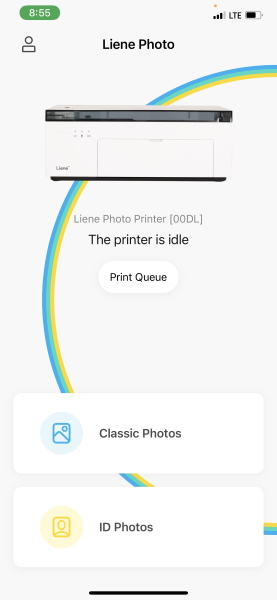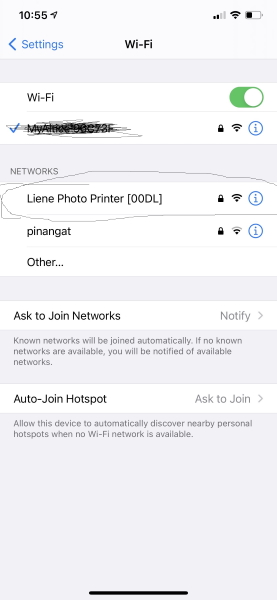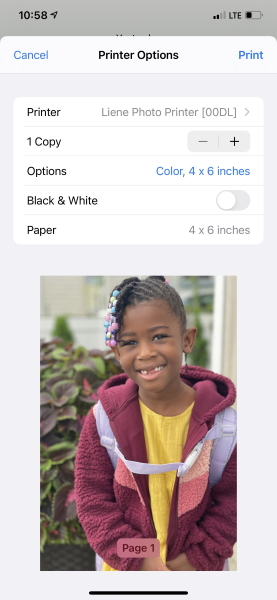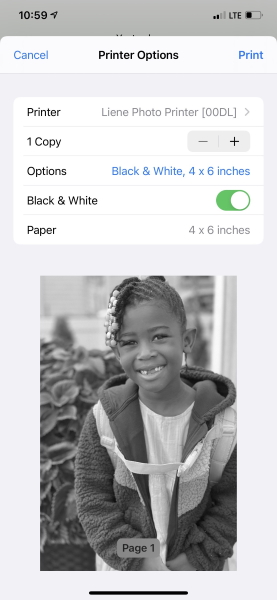 The app also includes features like filters, enhancements, adjustment, and the ability to print ID photos: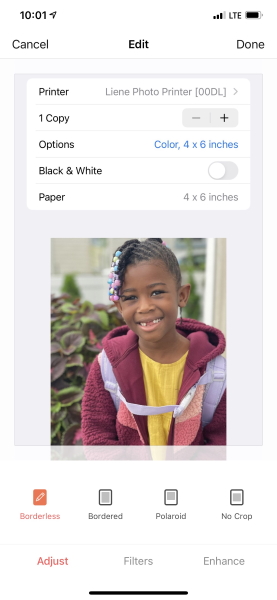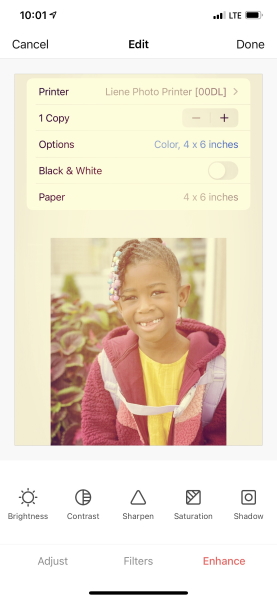 The following is a video of this printer in action:
The Liene 4×6" Instant, Full-Color Wi-Fi Photo Printer works flawlessly and prints on each attempt. The wifi connection is solid and while not the fastest printer, with just a little patience the photo is ready. For most of my printing, I chose connecting to my iPhone via the device's WiFi and printing directly from the photos app on my phone. The color accuracy of the photos is not 100%, but it is good enough to produce a nice photo and definitely good enough for anything other the professional photography.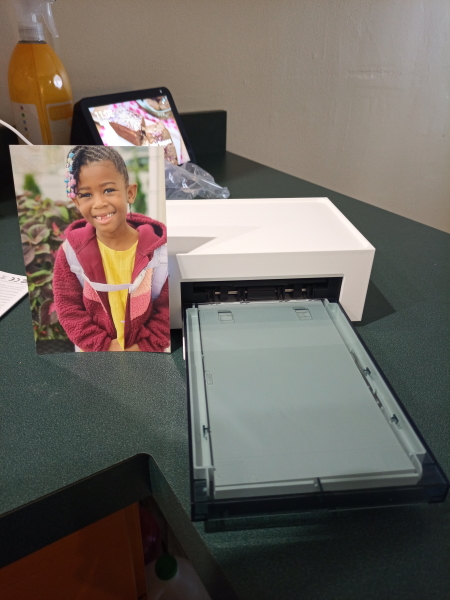 What I like
The simple but sleek look
The build quality
The simple setup process and ease of printing via multiple options
The decent quality of the photos it produces
What I'd change
It does what it is designed to do. However, it would be even better if it offered a removable and rechargeable battery for true portability.
Final thoughts
As a professional photographer, I use an expensive instant photo printer to offer my client on-site and on-demand photos from the event. While I would not rate the Liene 4×6" Instant, Full-Color Wi-Fi Photo Printer in the same category, it does produce decent photos and is great for family gatherings and events where there is a desire to capture memories. For the price, I give it a well done!!
Price: $129.99 – Amazon is offering a $30 coupon for a final price of $99.99
Where to buy: Amazon
Source: The sample for this review was provided by Liene