We use affiliate links. If you buy something through the links on this page, we may earn a commission at no cost to you. Learn more.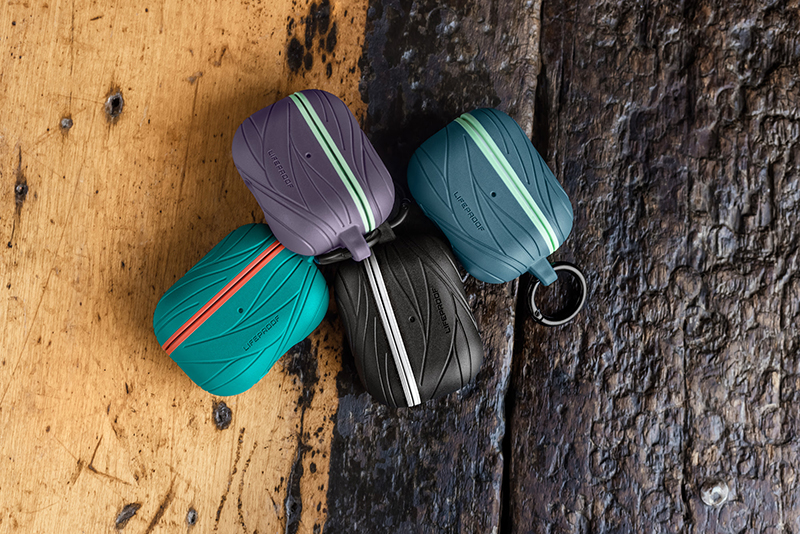 NEWS – Even though the current iteration of Apple's AirPods Pro earbuds aren't the most comfortable in my alien ears, I still love them and the little charging case. I tend to use my Apple AirPods Pro case as a fidget toy, flipping the cover open and closed just to feel that satisfying flip and click. But the charging case is crazy slippery. I've already put a big scratch on my case. 🙁 There is an easy way to avoid wear and tear on your Apple AirPods and AirPods Pro charging case, and that's with a case for the case. In the image above, you can see the LifeProof cases, and below are cases from OtterBox. Both of these companies are knowing for protective phone cases and that protection carries over to protecting AirPods.
LifeProof AirPods cases are made of 75% ocean-based recycled plastic and are available in 4 colors and are priced at $29.99 (less on Amazon) for either version of AirPods. LifeProof donates $1 to one of its nonprofit water-minded partners with every purchase. Head over to LifeProof.com to learn more and Amazon to order one.

OtterBox Soft Touch protective AirPods case covers are available in 7 colors including the 4 colors that you see above. They feature a grippy texture to make them way less slippery and and are wireless charging compatible. They are priced at $29.95 on Amazon for the AirPods and AirPods Pro earbuds.