We use affiliate links. If you buy something through the links on this page, we may earn a commission at no cost to you. Learn more.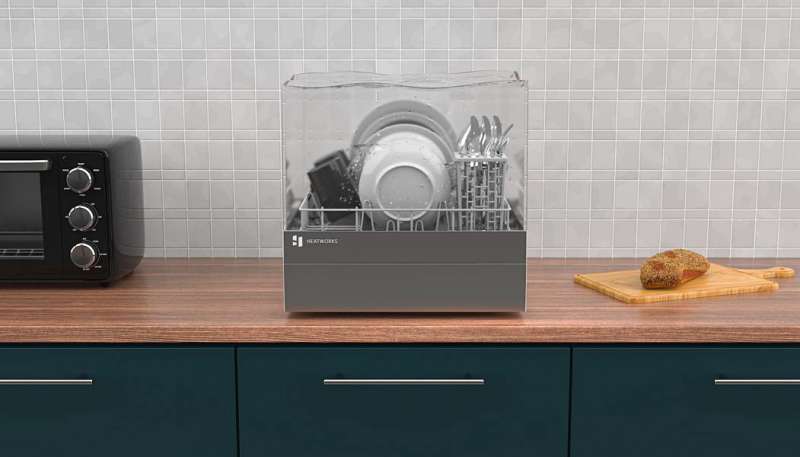 NEWS – I may be the last person on the planet who doesn't own a dishwasher. One of the main reasons I don't is size. Typical under-the-counter dishwashers take up a lot of space that I don't have. I have seen countertop models, but they usually need funky water hookups to work. Recently I came across a countertop unit from Heatworks that claims to be the world's only self-contained dishwasher.
The Tetra Countertop Dishwasher is fully self-contained, so there are no fill or drain hoses needed. Just lift the lid, pour in three liters of water, load the unit, select a cleaning cycle, and turn it on. Once the cleaning cycle is complete, remove the grey water tank, and pour out the wash water. Tetra can clean up to 3 place settings and has four cleaning settings STANDARD, ECO, GENTLE, and PLASTIC. There is even a FRUIT setting to wash produce and other household items without detergent.
To ensure proper cleaning Tetra uses a first-of-its-kind custom dosing and multi-chemistry cleaning cartridge system (think inkjet printers) that delivers the optimal amounts of prewash, enzymes, and spot removal. Once your dishes are clean, Tetra has a drying fan, which will dry your dishes. And since it only needs to be plugged into an electrical outlet to work, you can use it anywhere.
The Tetra Countertop Dishwasher is currently available for preorder from Heatworks at the special presale price of $399 (MSRP $499). However, initial quantities will be limited, and the anticipated ship date is not until May 18, 2022. But if the Tetra is all it is said to be, it may be worth that wait. To learn more about the Tetra countertop dishwasher, head over to the Heatworks website.