We use affiliate links. If you buy something through the links on this page, we may earn a commission at no cost to you. Learn more.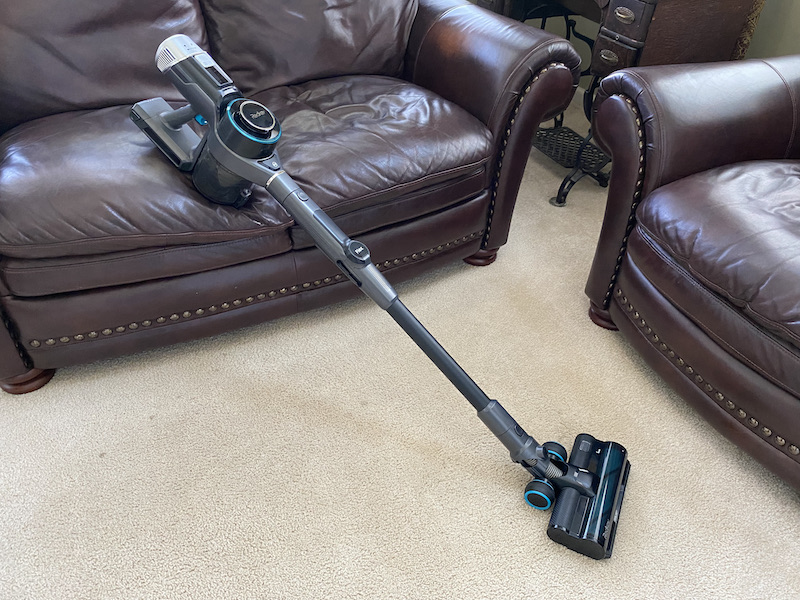 REVIEW – Cleaning the house. It's a chore we all have to deal with. Vacuuming can be a pain because you have to plug in your vacuum cleaner and drag the cord all around the house with you. Getting rid of the cord would be a benefit, making it easier to clean anywhere around the house. That's where a vacuum cleaner like the Redkey F10 comes in, enabling you to clean wherever you need to without worrying where you're plugged in or getting the cable caught on everything you walk past.
What is it?
The Redkey F10 is a cordless, foldable, battery-powered vacuum cleaner. The F10 comes in a stick-style form factor, making it easy to hold and use with one hand. In addition, it has a bendable extension tube, helping you clean under furniture without getting on your hands and knees.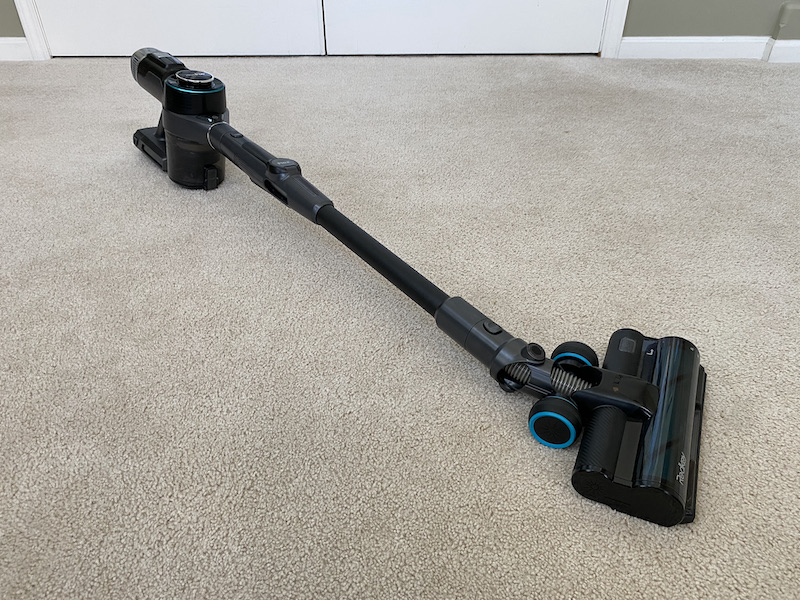 What's in the box?
Main body
Battery
Crevice tool

 

2-in-1 dusting tool
Electric brush
Docking station

 

Aluminum extension tube
HEPA filter
Manual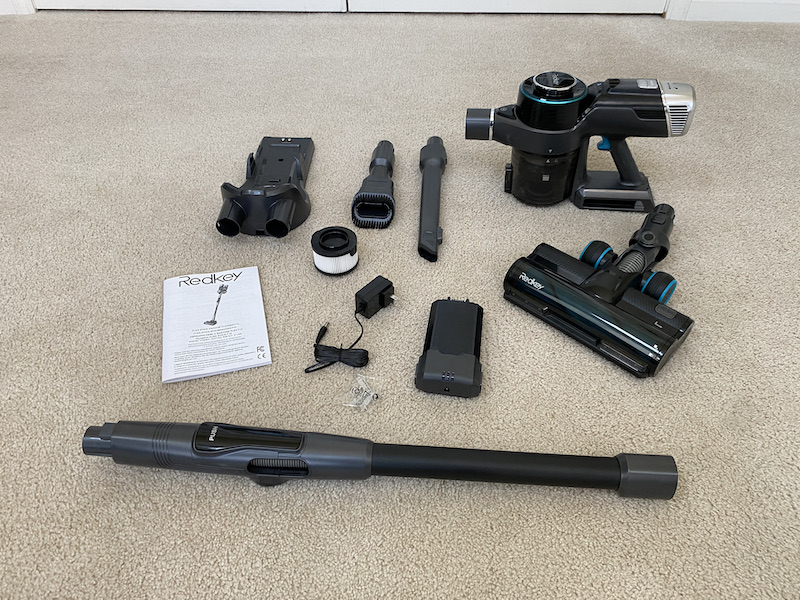 Hardware specs
23,000pa Super Suction Power
400W, 100,000 RPM Brushless Motor
Smart Dust Sensor
Dust refracting lamp
Lightweight Rollers & Elastic Disassembly
Three-layer Filtration
Folding Extension Tube
60 minute battery life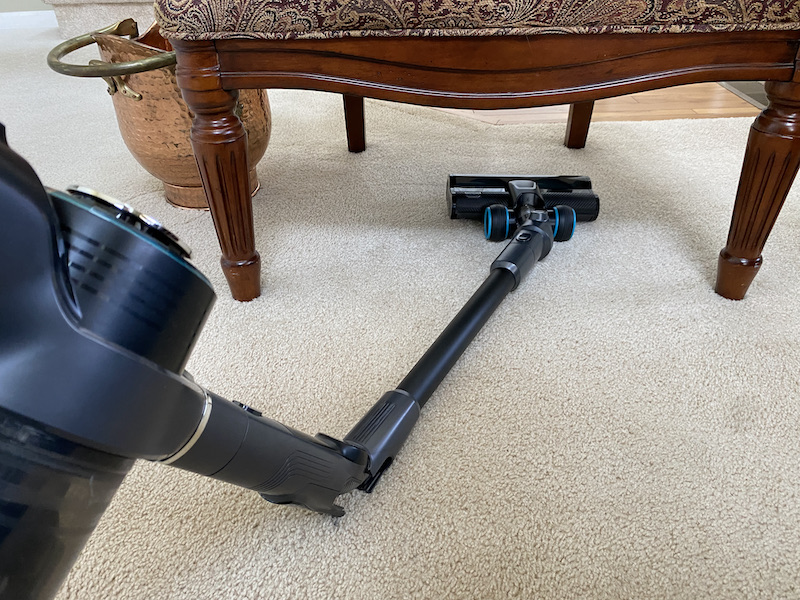 Design and features
The Redkey F10 comes in a dark gray finish with teal accents. It is a handheld, stick-style vacuum cleaner. The body of the vacuum is made out of plastic, but it doesn't feel cheap. The grip looks and feels like a cordless drill, but there's one interesting difference – you don't have to keep pressing the button to run the vacuum. One press and it turns on, another press and it turns off. This is convenient but it does take some getting used to, especially if you've spent much time with a cordless drill.
There are several attachments, including the previously mentioned foldable extension tube. With this tube you can vacuum straight, allowing you to maneuver the vacuum wherever you want it to go. When you bend it, you can easily reach under chairs, couches, and other furniture, without having to resort to getting on your hands and knees or laying on the floor to reach under everything.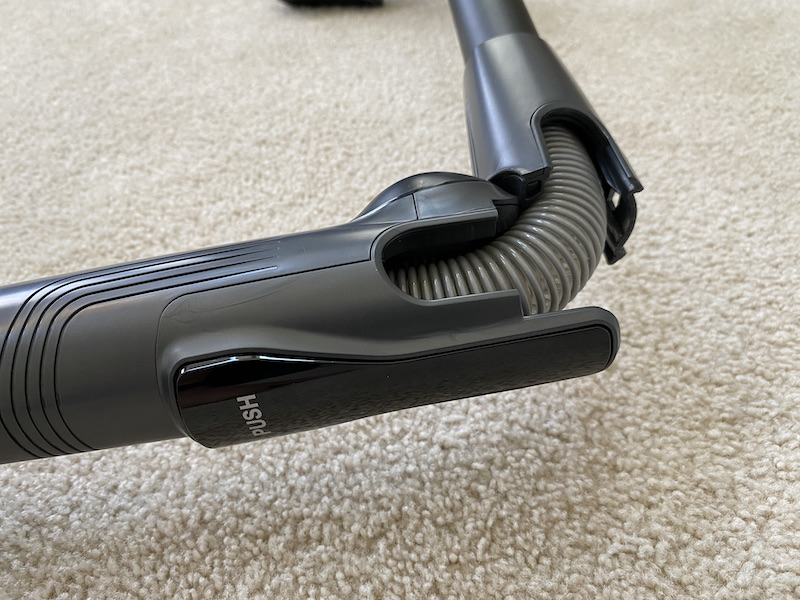 The other attachments include a 2-in-1 dusting tool, with a retractable brush for cleaning on a variety of surfaces and tight spaces, a crevice tool for reaching those hard to clean corners, as well as an electric brush for cleaning larger areas on carpet or hard floors.
Lastly, the F10 comes with a wall-mountable docking station which holds the vacuum and recharges the battery as it hangs there.  This is convenient because you don't have to remove the battery to recharge it – simply hang the F10 in the dock when you're done and it will be charged the next time you need it.
I haven't gotten a great feel for exactly how long the battery will last but it would be nice if it would last maybe 25%-30% longer. They say it's good for up to an hour and that you can cover an area of up to 200 square meters, but it seems like it wouldn't last if you're trying to clean a full two-story house. Fortunately, we have a Roomba on our main floor so most of the time we won't be cleaning both floors but it would be nice to know we could. Supposedly they'll be selling the batteries separately so you could always keep a spare charged up if the original doesn't last but a little bit more life on one battery would be welcomed.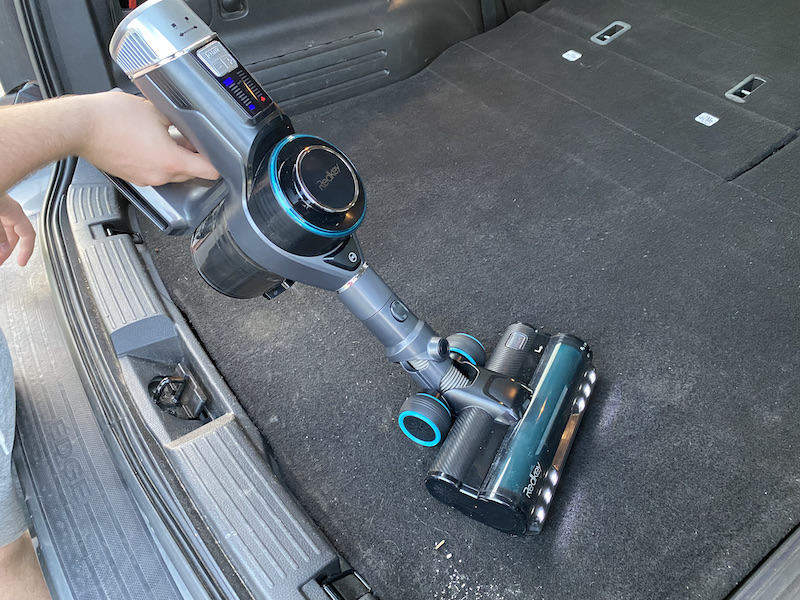 The smart dust sensor is supposed to be able to figure out what you're vacuuming and adjust the power and suction accordingly. In my testing, I wasn't really able to get this to work as well as I thought it should. I typically ended up manually turning the speed up all the way instead of letting the vacuum decide how strong it needs to be. Maybe I need to spend more time with it to get a feel for exactly how useful it can be.
Installation and setup
Installation is as simple as taking the parts out of the box and putting them together. There are no tools required (except for hanging the dock if you decide to do that). It is recommended to fully charge the battery before first use – that can take a few hours, depending on how full it is when you receive it. Other than that, switching out accessories is pretty simple – they snap together solidly and come apart easily with the press of a button and a little bit of a tug.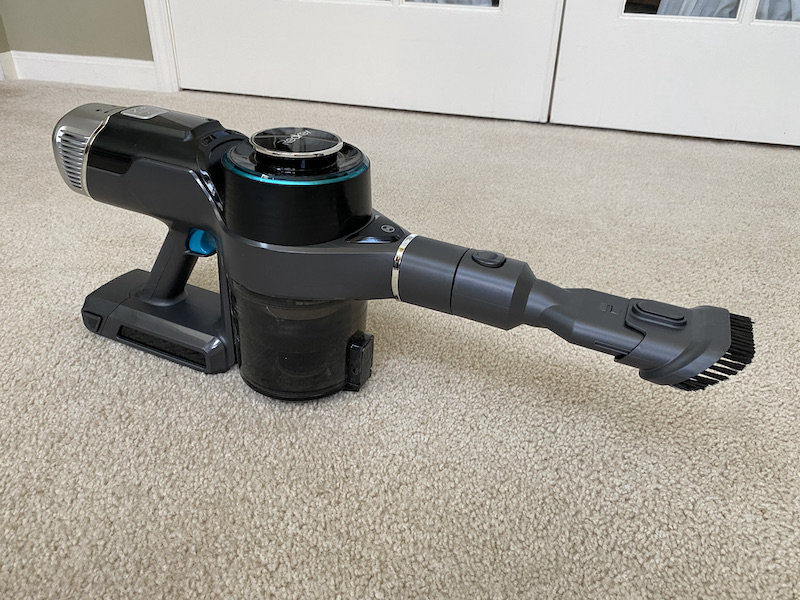 What I like
I like the portability of the F10. Being able to carry it with me and not have to worry about it being plugged in is a big plus. Another thing I enjoy is the flexibility, especially the ability to bend the extension tube to reach less convenient areas. A third thing I like is the lights at the front of the electric brush attachment – they really help you see what's ahead and help make sure you haven't missed anything. Lastly, the wall-mountable dock is a big convenience. Keeping all the attachments in one central location and being able to charge there keeps everything nice and organized. Take note that you'll need to mount this near power if you want to charge the battery in the vacuum while it's docked.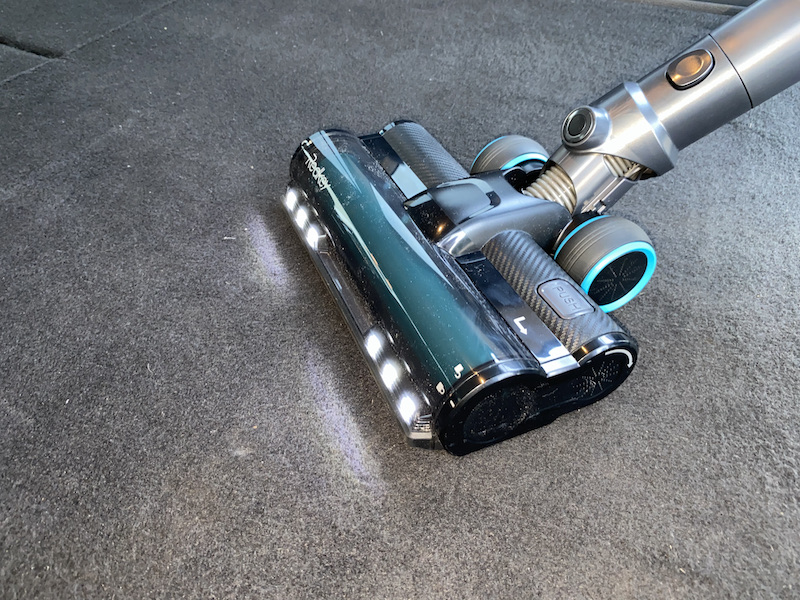 What I'd change
I wish the battery would last a little longer. Once you can buy batteries separately that will be a bonus. It would also be nice if there was a little more suction available. Sometimes you come across some stubborn dirt or crud on your floor that just won't come up. This hasn't been a big problem but a little stronger suction wouldn't hurt.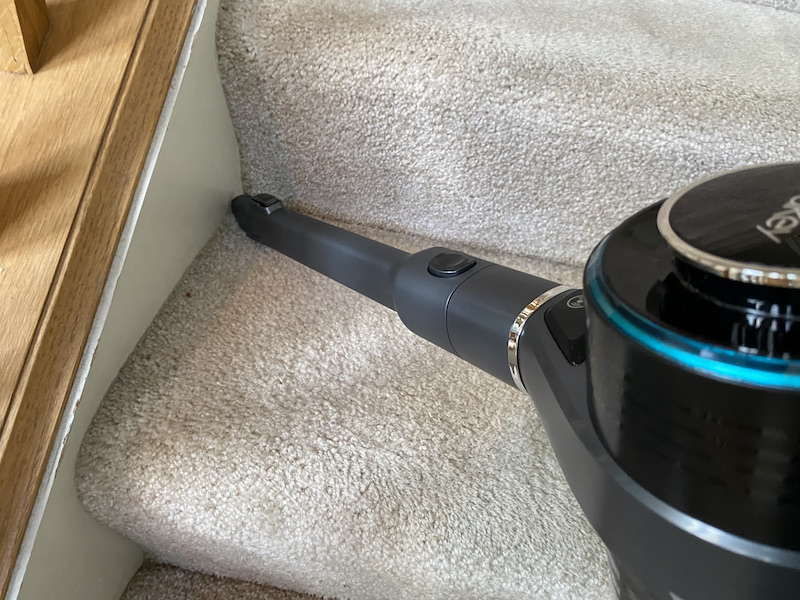 Final thoughts
The convenience of a battery-powered vacuum cleaner, with all the flexibility and attachments available, for the price, is a pretty good deal in my book. This is a great device to keep on a second floor, to use in your vehicle, or anywhere else you don't want to have to worry about plugging in a vacuum ever again.
Price: $189.00
Where to buy: Amazon
Source: The sample for this review was provided by Redkey. For more information visit www.redkeyofficial.com