We use affiliate links. If you buy something through the links on this page, we may earn a commission at no cost to you. Learn more.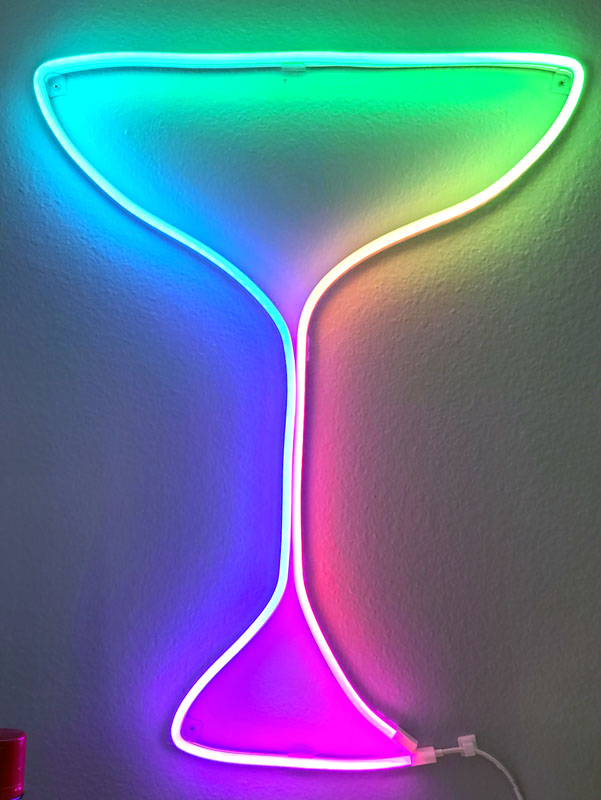 REVIEW – I'm into interesting indoor and outdoor lighting and have written too many reviews of different products to link here.  One of my favorites is the Twinkly series of app-controlled lights, like the Twinkly Strings. Twinkly is back at it, bringing new products to market.  This time, it is indoor lighting with Twinkly Flex.  Let's see if this is a lighting game-changer or just a burned-out idea.
What is it?
Twinkly Flex is a flexible LED Light tube that can be bent into different shapes.  It comes with various mounting hardware so that you are only limited by your own creativity when creating a lighting design.
What's in the box?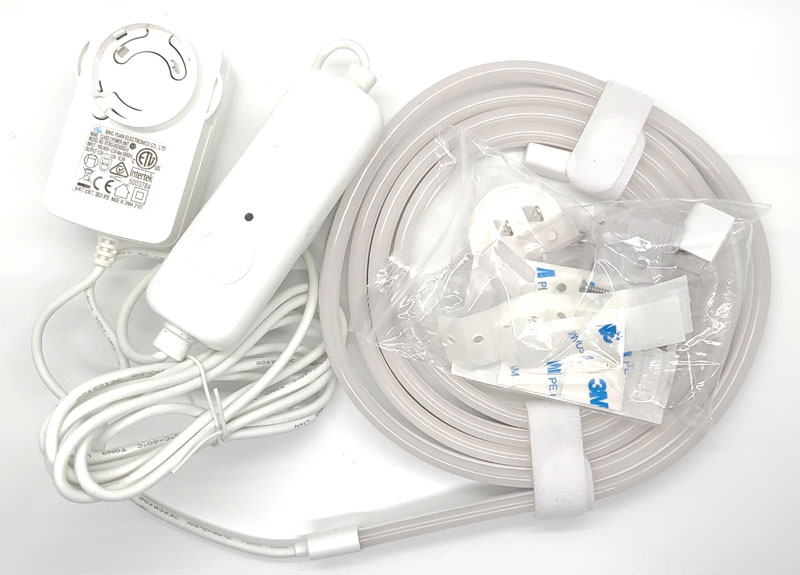 Twinkly Flex LED tube with attached controller and power pack
Snap-on US plug adapter
Straight mounting channels, 90-degree channels, screws, cord hooks, and mounting adhesive pads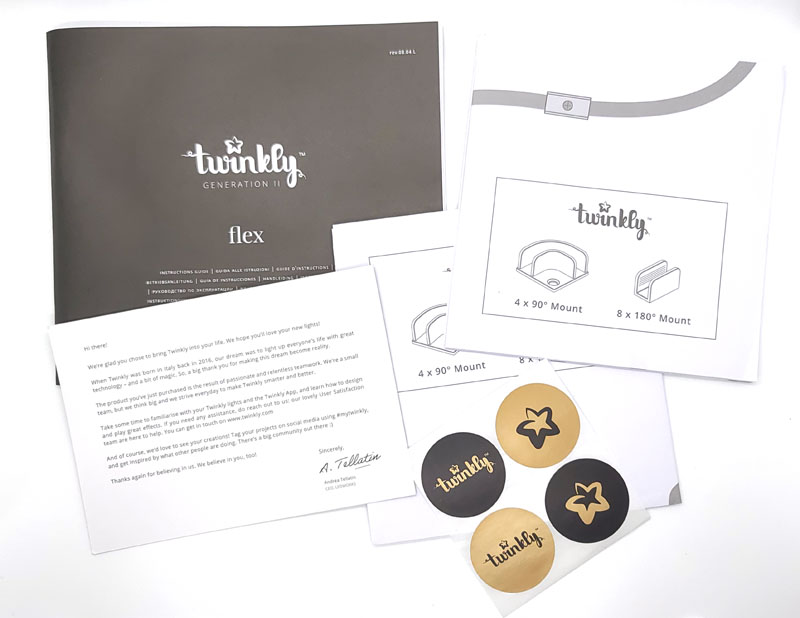 Unser manual
Thank you card
Stickers
Design templates (4) – more info below
Hardware specs
LED type: Addressable LED
LED color: RGB – Red, Green, Blue (+16 million colors)
Light tube color: White
Lighted length: 2 m | 6.5 ft
Light tube height: 14 mm | 0.55 in
Light tube width: 7 mm | 0.275 in
Extendibility: No, but can be grouped with other devices
Controller generation: II
Connectivity: Bluetooth and Wi-Fi
Controller dimensions: 12.5 * 3.8 * 2.3 cm | 5 * 1.5 * 0.9 in
Cable color: White
Lead cable length: 2 m | 6.6 ft
Power cable length: 1 m | 3.3 ft
Plug supplied: A (US)
IP rating: IP 20, Indoor use only
Adapter input voltage 120V – 50/60Hz max.
Lifespan: Over 30,000 hours
App-control: Twinkly App (iOS and Android) for mobile/tablet
Grouping: Yes, with other Twinkly RGB products, (up to 10 devices under good Wi-Fi coverage)
Timer: Yes
Dimmer: Yes
Remote power ON/OFF: Yes
Custom playlist effects: Yes
Custom effects carousel: Yes
Music sync: Yes, only with Twinkly Music Dongle
Voice Control: Google Assistant, Alexa, Apple HomeKit
Design and features
If you've ever seen an outdoor-LED tube, then you're familiar with what Twinkly Flex looks like.  The controller is attached in-line on the power cord, and that terminates with a typical wall-wart power plug.  The included straight channel clips and 90-degree clips can be stuck to or screwed onto a wall.  If you can't figure out what to make, they thoughtfully include four templates that show how to bend the tube and where to mount the clips.
Like all Twinkly lights, the controller has a button on it that allows you to cycle through the included effects.
Setup
Setup involves attaching the US plug adapter to the power pack and installing the Twinkly app.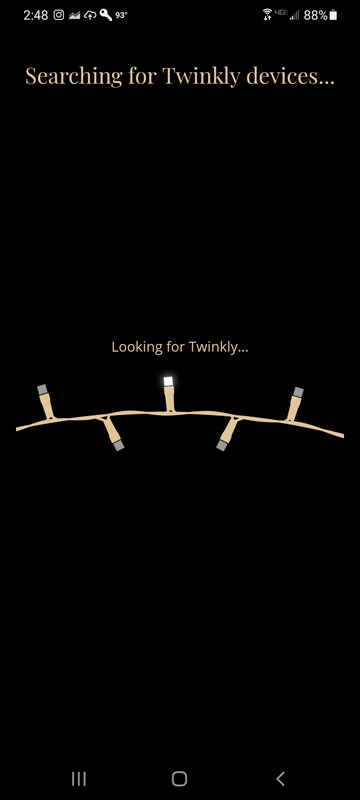 Once installed, you can have the app search for your new devices.  Once it finds them, they are available in the app and ready to go.
Performance
LED tubes and strips are a dime a dozen.  So, what's so special about Twinkly Flex?  In a word, everything.
The LEDs in Twinkly Flex are addressable, meaning that you create really cool effects for your lighting.  And, if you're lazy or creatively challenged, they thoughtfully give you a bunch of really cool lighting effects in the app!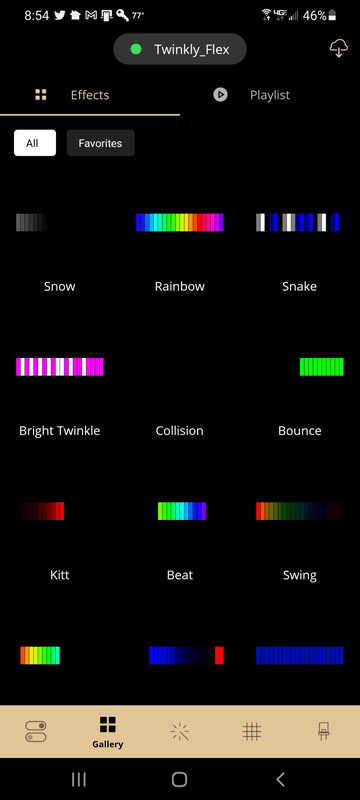 I mentioned the included templates – here they are.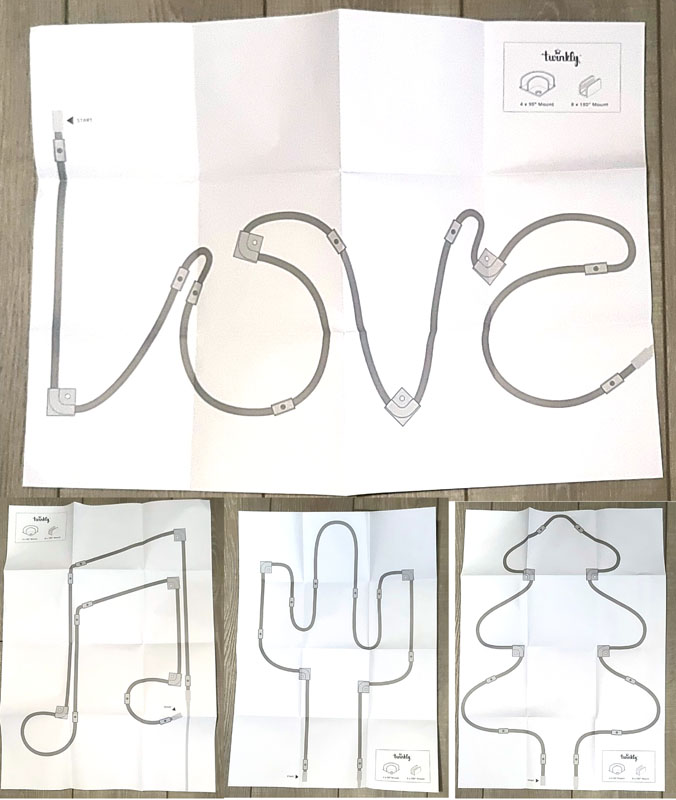 "Love", music notes, a cactus, a Christmas tree – each design shows you exactly how to bend the tube and mount the mounting clips. So, what did I do?  I opted to go rogue and make my own design.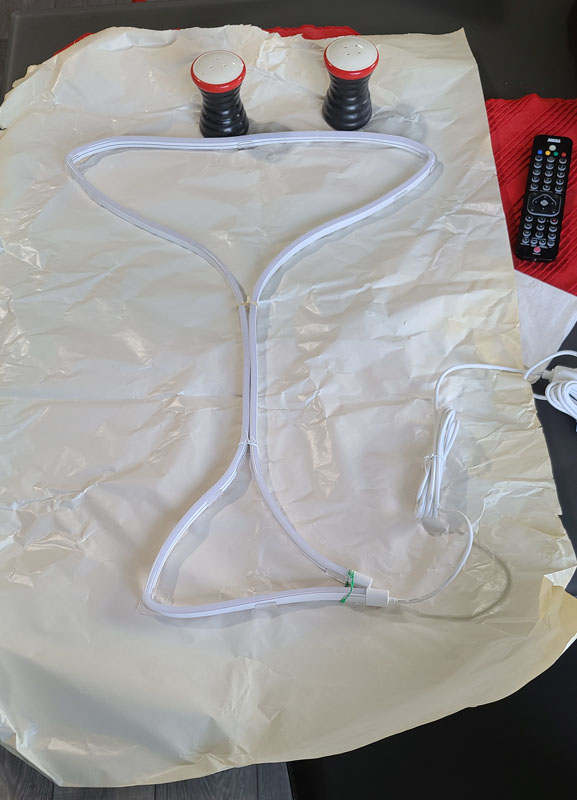 In case you can't tell, it is a martini glass.  We had some old packing paper sitting around that was sized well to make the template.  I traced the outline and marked the locations of the required clips.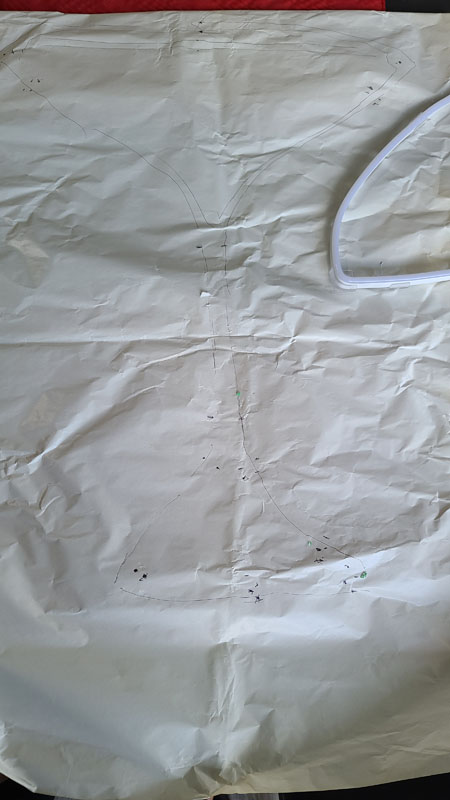 It's hard to see, but if you look closely, you can see some dots where I planned to screw the clips to the wall.
Let me say that this is not a one-person job. The tube doesn't stay bent, so you need to hold it in place.  The more bends, the more hands are needed.  If it wasn't for my lovely wife's assistance, this wouldn't have gotten done.  We taped the template to the wall and started mounting clips.  Because the tube is flexible, it was nearly impossible to 100% accurately get it fully mapped out on the template, but it was close enough.  We mounted a couple of clips, put the tube in, and then continued mounting.  Once we had everything mounted, it took a little tweaking and moving the tube to get the look we wanted.
So, how did it turn out?  Here's a look at several of the included effects.
We're pretty happy with the results and think it accents our bar area nicely.
In the app, you can control color, effects, brightness, and so on.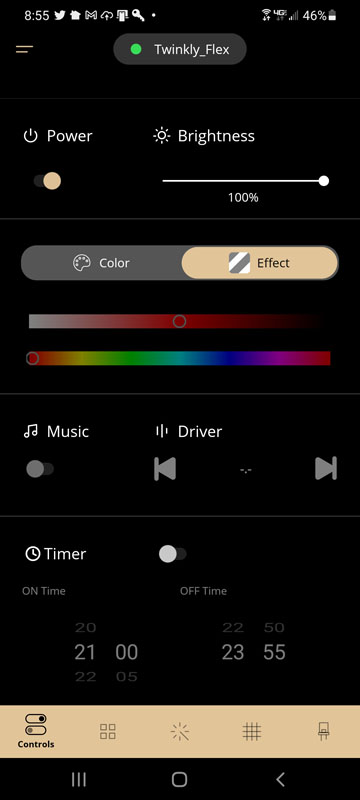 If you don't like the included effects, you can edit them and customize colors and movement.  You can also use the app to map your design and then apply completely custom effects that are specific to whatever you design.  The other really cool thing with Twinkly is that you can group different Twinkly lights and make them perform as a single light display.  That's pretty cool since you can't plug multiple Flex lights together.  But with grouping, you really don't need to.
If you're in a party mood, you can add Twinkly Music to your Twinkly infrastructure and let your design pulse to the sounds it hears.
What I like
Really cool, neon-like appearance
Brilliant, vibrant colors
Flexible tubing means that you can design anything you can dream up
What I'd change
Bends in designs are limited to 90-degrees due to the tube design, so complex bends are a challenge
It's a little pricey
Final thoughts
I am very happy with Twinkly Flex.  It looks super-cool over our corner bar.  If you have a hobby or interest and want to create an eye-catching piece of lighted wall art featuring it, all it takes is a little creativity, and a little time and you can make it happen with Twinkly Flex.  Ours is already set up with Alexa routines to turn it on with sunset and off with a voice command or time.  Now, I might just have to make a lemon drop martini to celebrate!
Price: $99.99
Where to buy: Esbenshades and Amazon
Source: The sample of this product was provided by Twinkly.