We use affiliate links. If you buy something through the links on this page, we may earn a commission at no cost to you. Learn more.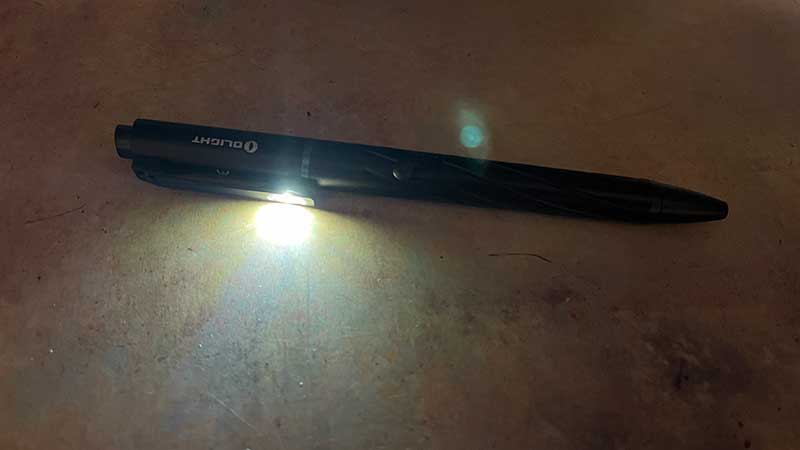 REVIEW – Olight is well known for its quality EDC flashlights and now they have something new. It's the Olight Open Pro EDC penlight. It's a pen, it's a flashlight, and it's even a laser pointer. Let's check it out.
What is it?
The Olight Open Pro EDC penlight is a ballpoint pen with a built-in flashlight and a laser pointer.
What's in the box?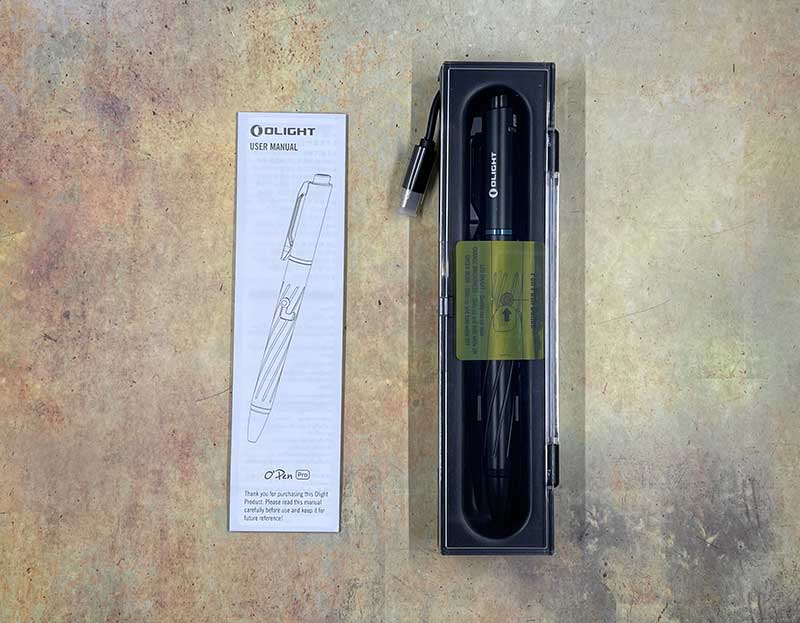 I usually don't talk much about packaging, but I have to show the interesting design of the Open Pro box. Click the images for a larger view.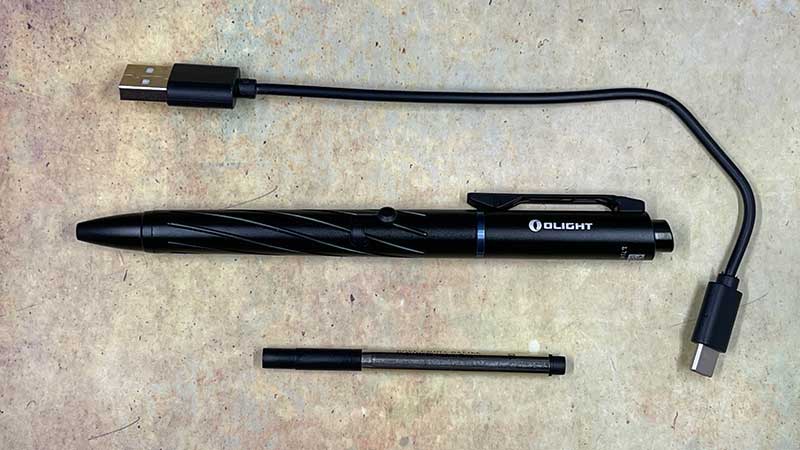 Olight Open Pro EDC penlight
2 RF-OL182X BK ink refills (one comes preinstalled)
USB-C charging cable
Specifications
Beam Distance: 45.93 ft(14 m)
Max Performance: 120 lumens
Charge Type: USB Charging Cable(A-C)
Compatible Batteries: 3.7V 110mAh/407mWh Rechargeable Lithium Polymer Battery (Built-In)
Light Source: High Performance Warm White LED (3000K)
Brightness levels: High 120 lumens – 23 minutes
Med: 60 lumens – 45 minutes
Low: 20 lumens – 120 minutes
Moon: 5 lumens – 8 hours
Strobe, SOS, Beacon: No
Weight: 1.23oz/35g (Including Battery and Refill)
Length: 6.02in/153mm (Tip Retracted)
Body Diameter: 0.5 in (12.7 mm)
Design and features

The Olight Open Pro is available in either a black or blue smooth anodized aluminum finish. The barrel of the pen has curved grooves that provide grip while writing or using the pen as a laser pointer.

The branding is a little more than I like, but that doesn't detract from the functionality of the pen itself.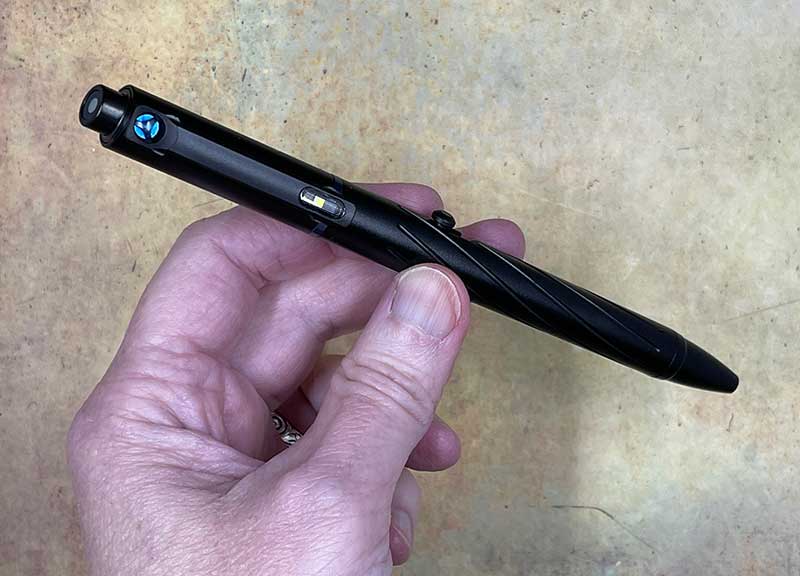 In hand, the Olight Open Pro has some heft. I've been using Uniball Signo gel pens as my daily writers for over a year now and the Open definitely feels heavy in my hand and is also somewhat top heavy.
Pen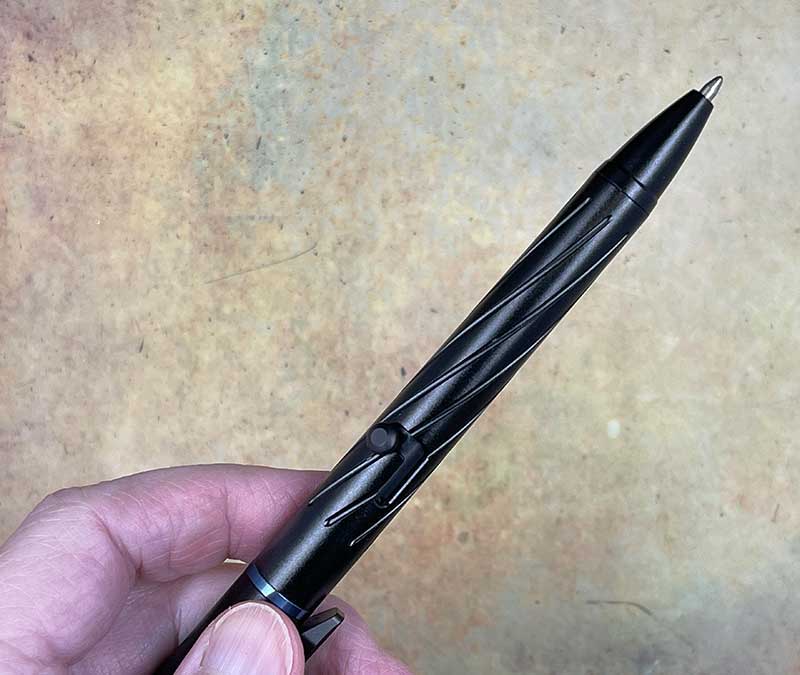 This pen features a bolt action mechanism that not only extends and retracts the writing tip, but it also controls the laser pointer and the flashlight that is built into the pocket clip.
Green laser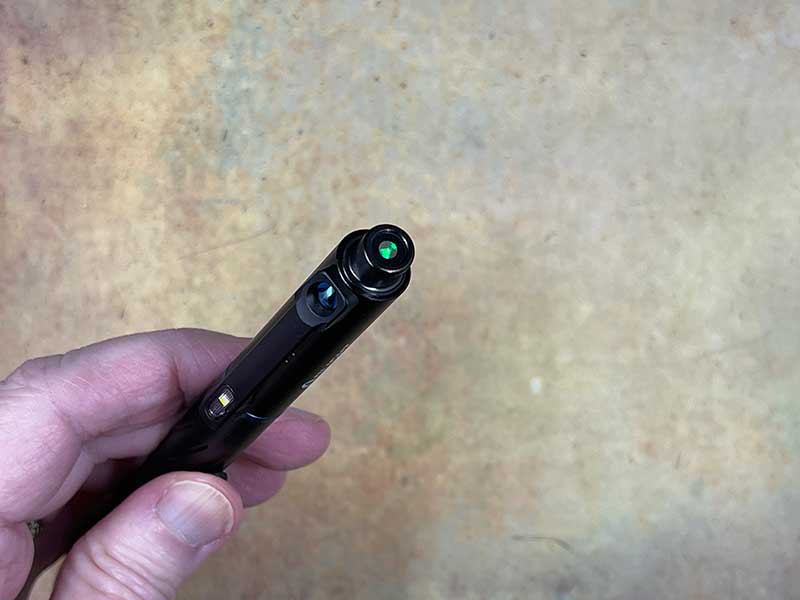 The Open has a green laser pointer that's located in the top cap.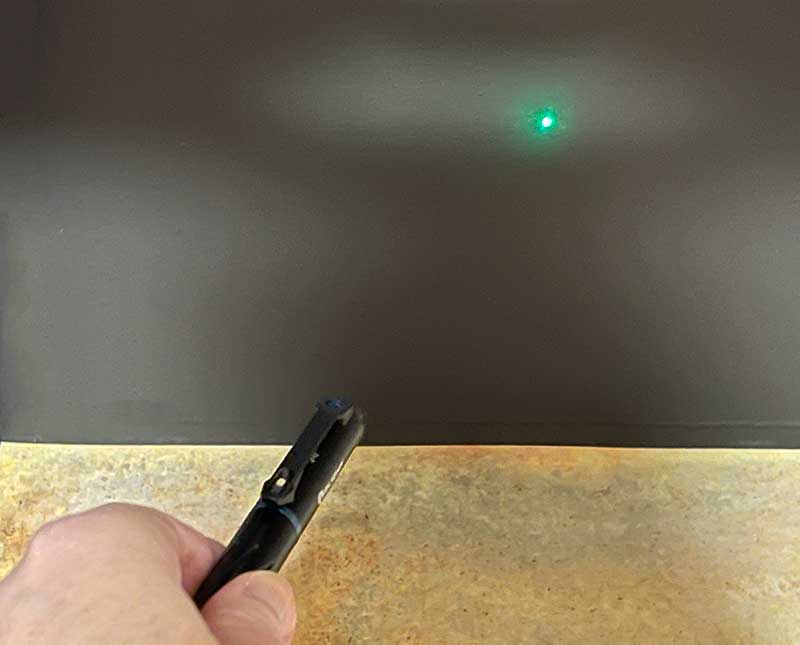 To activate and deactivate it, you slide and hold the bolt on the barrel. The laser dot is bright green making it very easy to see even when pointing it across a very large room.
Built-in flashlight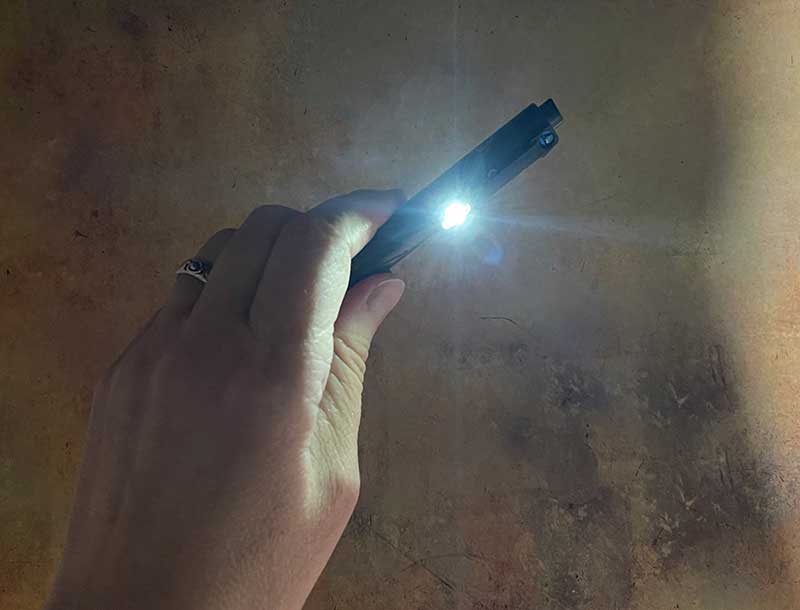 The Olight Open Pro's flashlight is built into the pen's pocket clip and like the laser pointer, it's controlled with the bolt-action slider switch on the barrel of the pen. A quick slide up activates and deactivates the light while sliding and holding the bolt while the light is on, while cycle through the 4 brightness settings. Note that the pen does not remember the last used brightness level and always defaults to the lowest brightness setting.
At first, I thought that was a strange location for a flashlight, but the top part of the pen unscrews from the barrel and can be used separately from the pen if needed.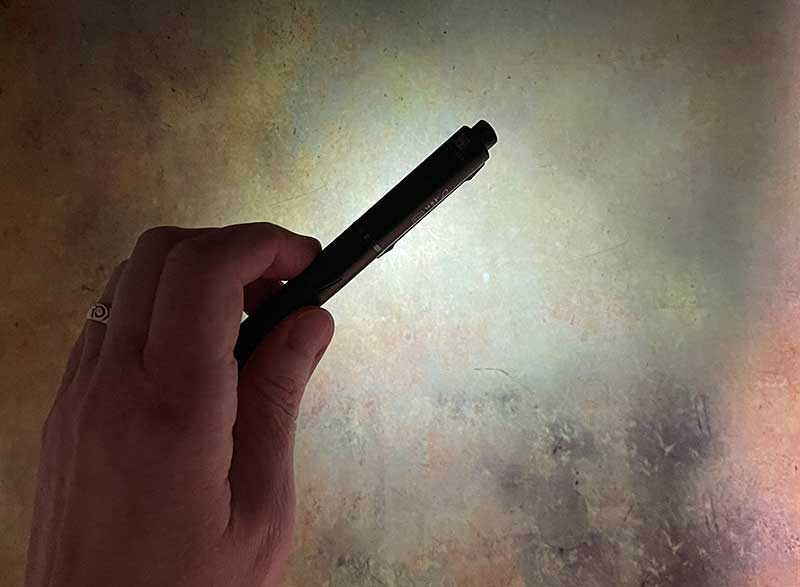 At a max brightness of 120 lumens, this penlight is surprisingly bright for such a multi-tasking device. It won't make you feel confident if you're lost in the woods, but it's perfect for spontaneous everyday tasks where you need a flashlight and just happen to have one in your pocket. Speaking of which, the pocket clip location of the light does make it convenient for using it hands-free while clipped in a pocket or on the brim of a cap.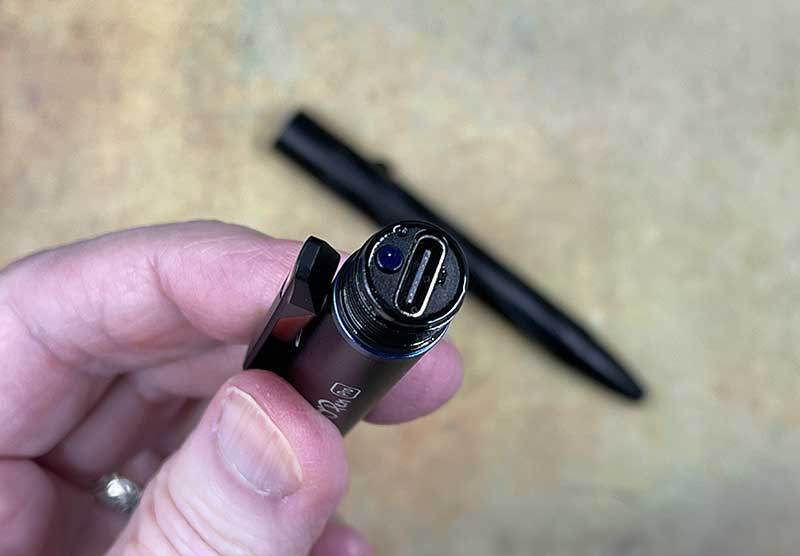 Unscrewing the top part of the pen from the barrel reveals a USB-C charging port and a small button. The button allows you to control the laser pointer and flashlight in the same manner as the bolt-action slider.
What I like
Well made
Built-in laser AND flashlight
Rechargable
What I'd change
Final thoughts
For an EDC pen flashlight, Olight has done a great job. The Olight Open Pro EDC penlight is a well-made pen that features not only an attractive writing instrument but also a laser pointer and a flashlight. The fact that it's rechargeable is nice as well. This one pen do the work of three things and is a good choice for a new addition to your EDC gear collection.
Be sure to check out all of our other Olight flashlight reviews.
Price: $69.95 (currently on sale for $48.97 until 7/30)
Where to buy: Olight
Source: The sample for this review was provided by Olight.