The Gadgeteer is supported by readers like you! If you buy something through links on our site, we may earn an affiliate commission. Thank you! Learn more.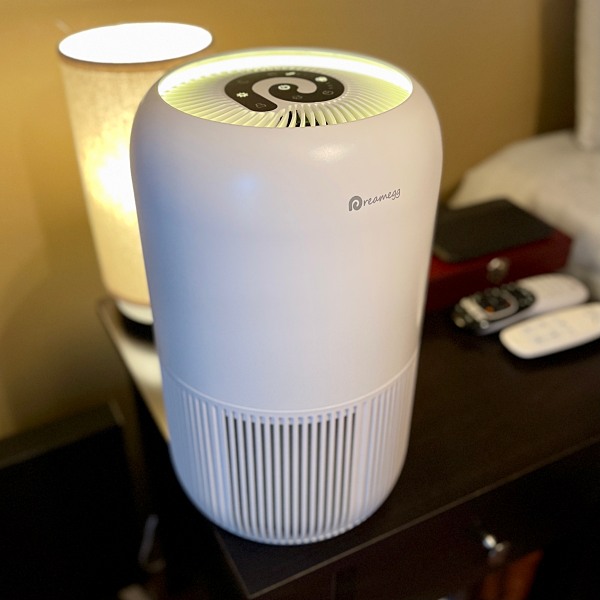 REVIEW – I have never used a room air purifier before, even though I am a prime candidate for one. I have allergies and a dog that sheds like crazy, spreading hair and pet dander everywhere. I finally decided to take the plunge and review the TR-8080 Air Purifier from Dreamegg. Because everyone deserves a little fresh air in their lives. 
What is it?
The Dreamegg TR-8080 is a true HEPA air purifier with a 360º air intake design to quickly clean rooms up to 250 square feet.
What's in the box?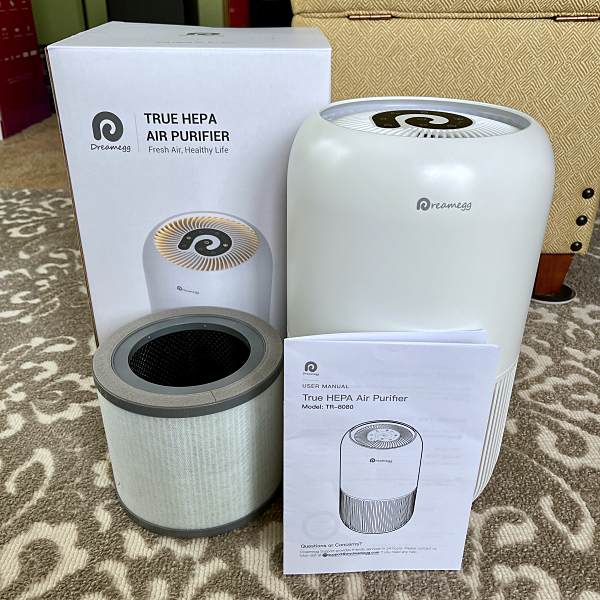 Dreamegg air purifier

4-stage True HEPA filter

Users manual
Design and features
The Dreamegg Air Purifiers design immediately reminded me of the Apple HomePod, albeit considerably larger. The bottom part of the unit is vented 360º to allow for maximum air intake. The top has vents for exhaust and a touch-sensitive control panel. Overall, the cylindrical design and rounded edges give it an aesthetically pleasing look perfect for any room. In fact, it looks more like a Bluetooth speaker than an air purifier.

Setup and use
Setting up Dreamegg could not be easier. All you have to do is remove the protective plastic covering from the air filter, and you are ready to go. To access the filter, flip the unit upside down and twist the filter cover cap counterclockwise to remove it.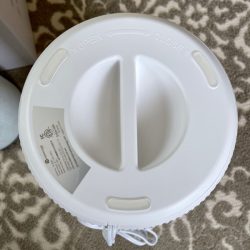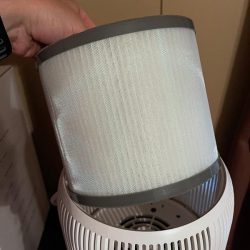 The air purifier is controlled using a touch-sensitive control panel on top of the unit. Dreamegg added a cool design twist with the control panel setting it up in the shape of the company logo. The control panel has touch-sensitive indicators for Power, Timer, Fan Speed, Pet Mode, Sleep Mode, Night Light, Child Lock, and Filter Reset. Each indicator lights up when touched, and only the modes in use remain illuminated. 

Fan speeds
The air purifier has four speeds, I, II, III, and turbo. The fan speed indicator allows you to toggle through each speed. The speed level determines how fast the air is drawn in and cleaned. At the two lowest speeds, the air purifier is barely audible. Level III and turbo are considerably louder but not annoyingly so. Although I probably would not use turbo mode while in the room.
Pet and Sleep modes
Dreamegg has two unique modes, Pet Mode and Sleep Mode. Selecting Pet Mode runs the unit on turbo speed for 15 minutes, Level III for 5 minutes, then will default back to the original settings when done. 
I have a dog, so this feature was something I was very interested in. I set the purifier up in my bedroom (approx. 132 square feet) because my dog sleeps in my bed with me every night. I run pet mode first thing in the morning and again after making the bed. I am impressed by how it quickly removes the dog smell from the room. And because it defaults back to the last used speed, I do not have to worry about going back and resetting it afterward.
Sleep Mode turns off all indicator lights and runs the air purifier at the lowest possible speed. Tapping the Sleep button again will exit Sleep Mode, and the air purifier will default back to the last used speed setting. I use Sleep Mode every night, and it is so quiet it is as if the air purifier is not even running. And I found that my overall sleep has improved. I also wake up in the morning with less sneezing and congestion.  
It is perfect for light sleepers. My only complaint is not having the ability to select different speeds. It would be nice to have the ability to choose a speed setting I am comfortable with and not be locked into using the lowest one. 
Timer
The air purifier has a convenient timer function that automatically shuts the unit off after a set amount of time. You can choose from a 2, 4, and 8-hour timer. I tested the timer function out, and it worked flawlessly. 
There are a couple more notable features on the Dreamegg:
Night Light: The two-stage warm night light is especially nice if the air purifier is used in an infant or children's room. 
Child Lock: This feature will keep curious fingers from accidentally changing the air purifier's settings. When enabled, it locks all of the buttons except power. It can be turned on/off by holding the Child Lock button for 2.5 seconds. 
Filter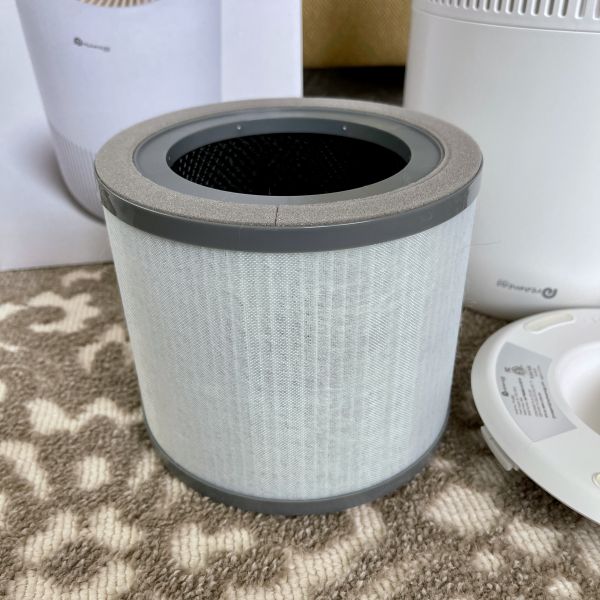 The air purifier comes with a 4-stage True HEPA filter that will clean the air of 99.97% of dust, pollen, pet dander, smoke, and household odors.
 A. Pre-Filter
Captures large particles such as dust, lint, fibers, and pet hair. 
B. Sterilization Filter
Removes bacteria and viruses in the filtered air. 
C. True HEPA Filter
Filters out small particles such as smoke, mold spores, bacteria, viruses, and allergens such as pollen, dander, and mites. 
D. High-Efficiency Activated Carbon Filter
Physically absorbs unwanted odors and fumes.
Dreamegg recommends cleaning the inside and outside of the filter once a month using a soft brush or vacuum hose. And replacing it every 6-8 months, depending on use. The Check Filter Indicator will turn yellow when it is time to replace the filter. The indicator is also used to reset the air purifier after the filter is changed. Replacement filters can be purchased on Amazon for under $25. 
Performance
As I mentioned earlier, I set the air purifier up in my bedroom. I do not spend a lot of time in my bedroom during the day, so I run the air purifier on either III or turbo. And I must say, after using it for a couple of weeks, the difference is very notable. It has done a great job of cutting down on the dog odors and the amount of dust that accumulates in the room. 
To test how rapidly the air purifier cleans the air, I lit 3 candles and blew them out. I left the room and returned approximately 45 minutes later. I could barely detect the smell of the candles, and the smoke smell was undetectable.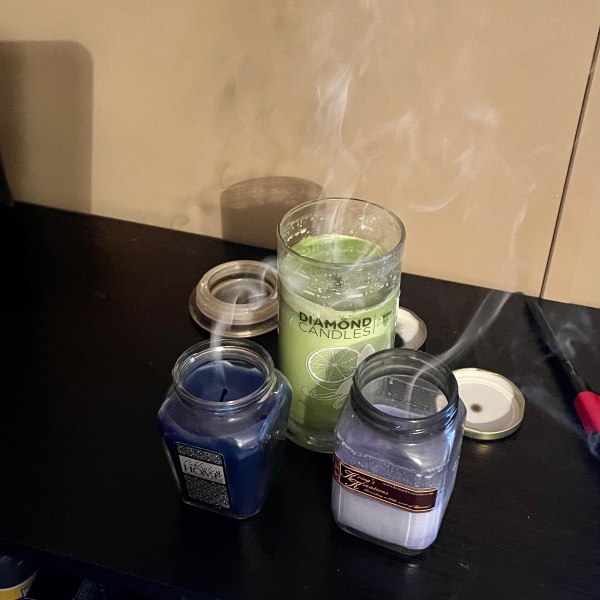 What I like
Aesthetically pleasing design

Easy to use control panel

4-stage True HEPA filter

Multiple modes and speeds

Quiet operation
What I'd change
The ability to change speeds in Sleep Mode
Final Thoughts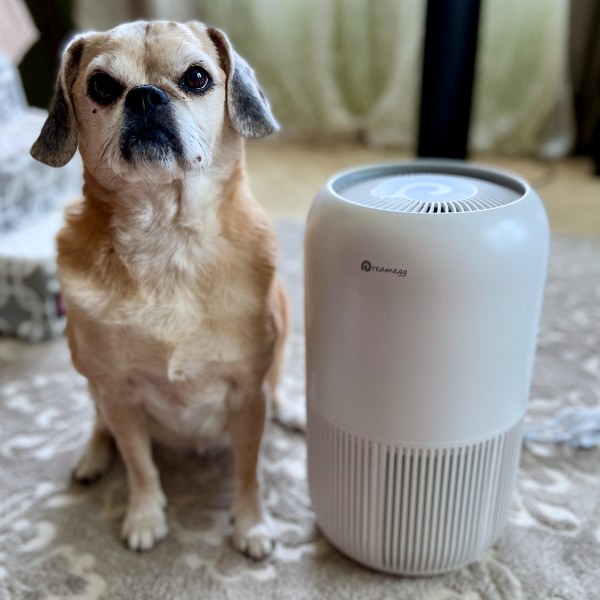 Overall, I am impressed with the Dreamegg Air Purifier. It has an aesthetically pleasing design. It has multiple speed levels and dedicated modes for both sleep and pets. The four-stage CADR 189m³/h + True HEPA Filter does a great job of filtering the air of odors, dust, pollen, pet hair, and pet dander. Plus, it's affordable and only needs to be replaced once a year. To me, the Dreamegg TR-8080 is a Dream air purifier for small to medium-sized rooms.
Price: $89.99 currently you can clip the coupon on the page and save an additional $20
Where to buy: Amazon
Source: The sample for this review was provided by Dreamegg.
Support The Gadgeteer
:
The Gadgeteer is supported by readers like you! If you buy something through the links on our site, we may earn a small affiliate commission. Thank you! Learn more.