We use affiliate links. If you buy something through the links on this page, we may earn a commission at no cost to you. Learn more.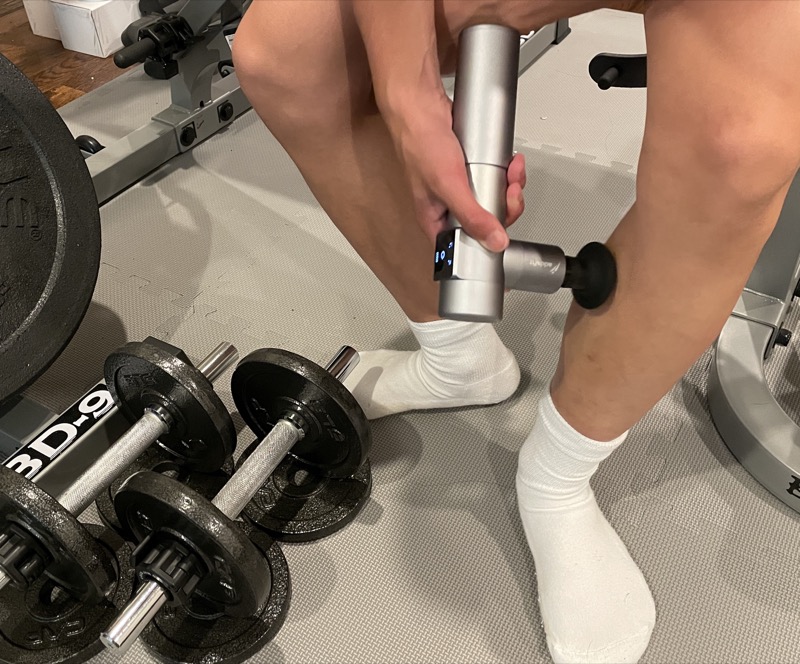 REVIEW – My son ran track in his freshman year of high school, and has been lifting weights at home. He's seen these cordless massagers at track meets, and I've seen dozens of lookalike models available online. Now we've got a chance to look at a packable model with an extendable handle. Let's take a look at the Addsfit Mini Pro Massage Gun.
What is it?
The Addsfit Mini Pro Massage Gun is a cordless massage gun with a hand grip that twists open for an extra 8cm of grip length.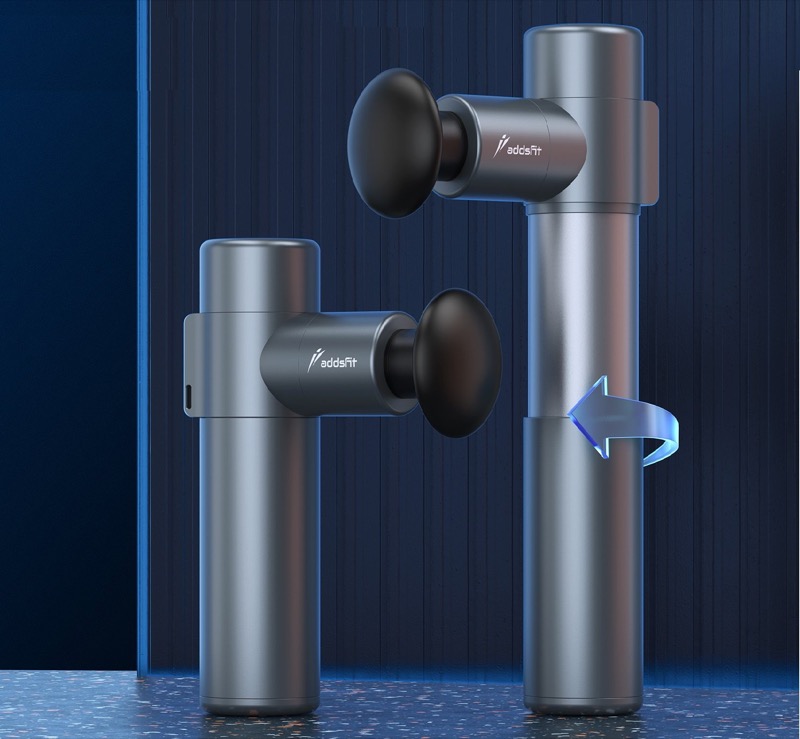 What's in the box?
Addsfit Mini Pro Massage Gun
Zippered carry case
Five interchangeable heads
Hardware specs
Size: 16.6-24.6cm*4.57cm*11.8cm
Weight: N.W. 560g, G.W 670g
Amplitude: 10mm
Force Range: 28.6 lbs
Speeds: 1100/1600/2000/2600/3000 RPM
Battery: 2600mAh, 28.86Wh, Type C IN: 5V==3A
Never miss one of our posts again. Sent MON, WED, and FRI with the latest gadget reviews and news!
Battery Life: 10H
Design and features
The party trick of the Addsfit Mini Pro Massage Gun is of course the handle. It doesn't simply slide out like a telescope, but you must give it a twist. This prevents the handle from simply collapsing in on itself.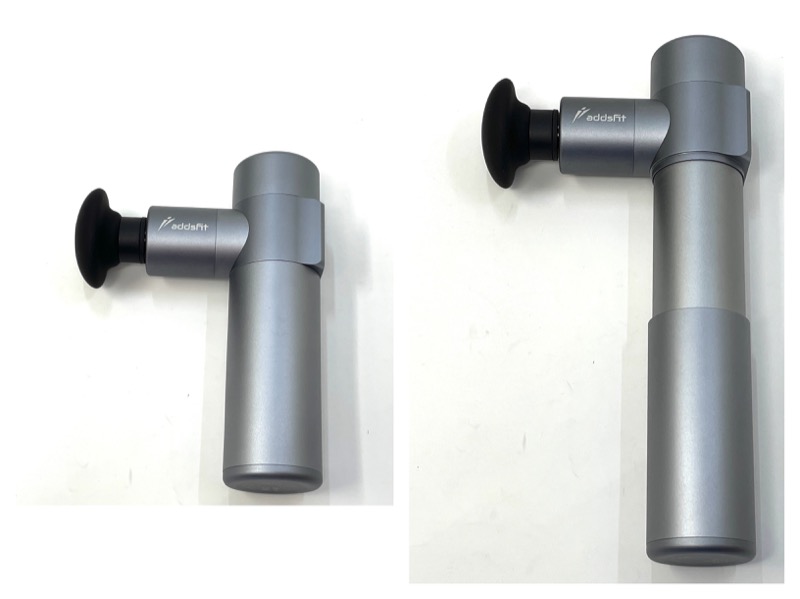 Here you can see the full 10mm of amplitude, or range of motion, for the massage head. I thought these things just buzzed like a cell phone or video game controller, but boy was I wrong!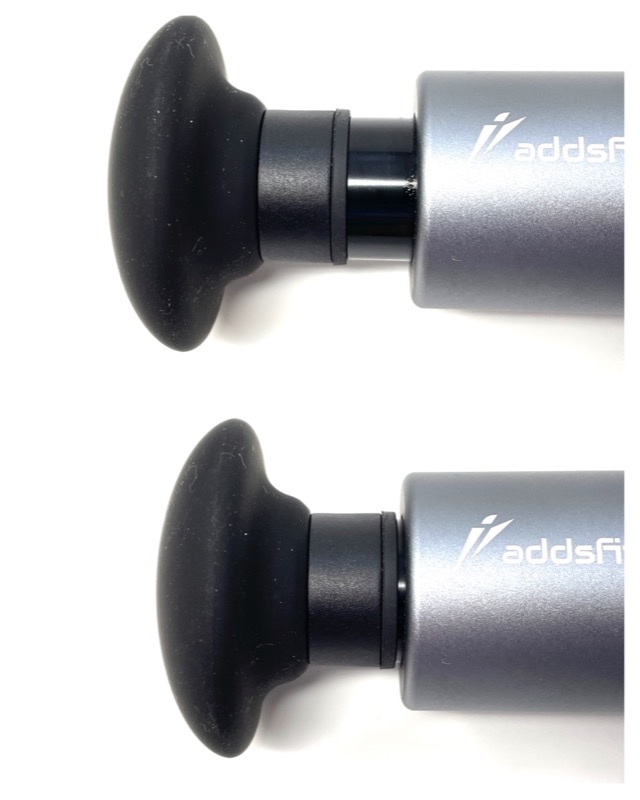 The control panel is all dark when off, but is nicely backlit when on. It looks like an OLED panel but I suspect it's just a very nice screen job with through lighting.
It's not immediately obvious, but the times on the bottom of the screen indicate how long the massager has been turned on, not a countdown to powering off.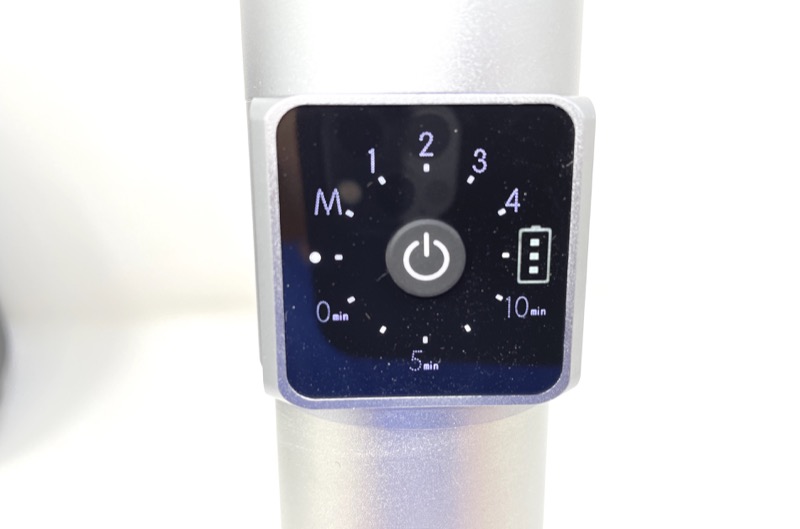 The Addsfit Mini Pro Massage Gun has five attachments. Four are silicone, one is a hard foam (the ball).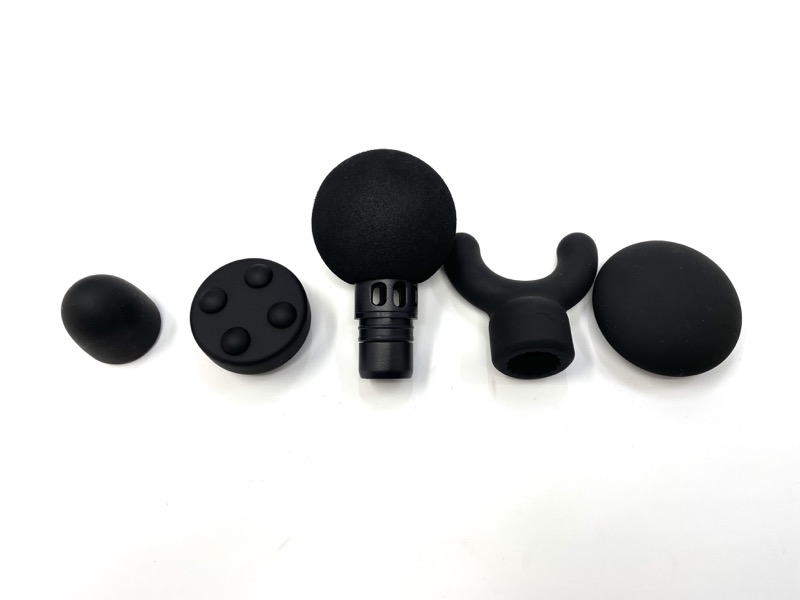 What are they for? The manual provides a little insight.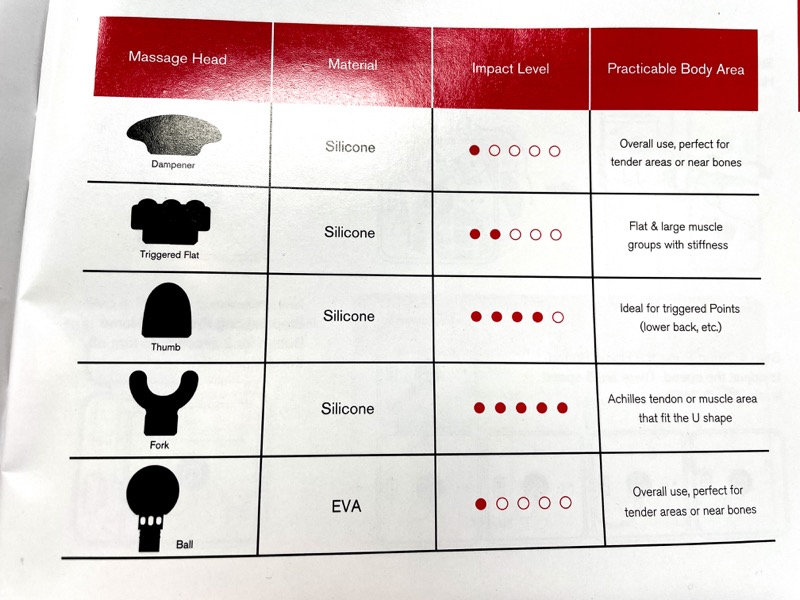 Setup
Charging is via USB-C. A short cable is provided. I really like seeing the USB-C style connector used.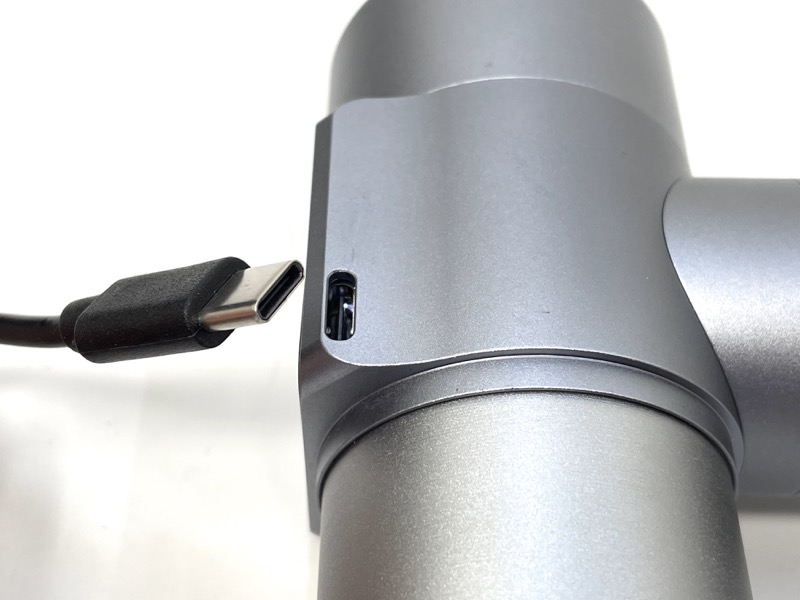 During charging, the battery icon illuminates. You can see a tiny bit of light leakage to the neighboring radial segments.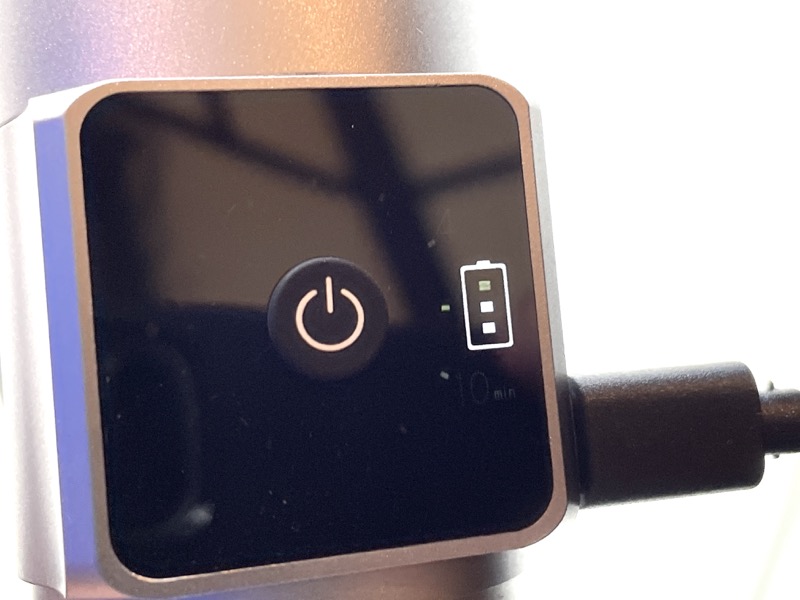 The silicone attachments snap on and off. They stay on pretty securely.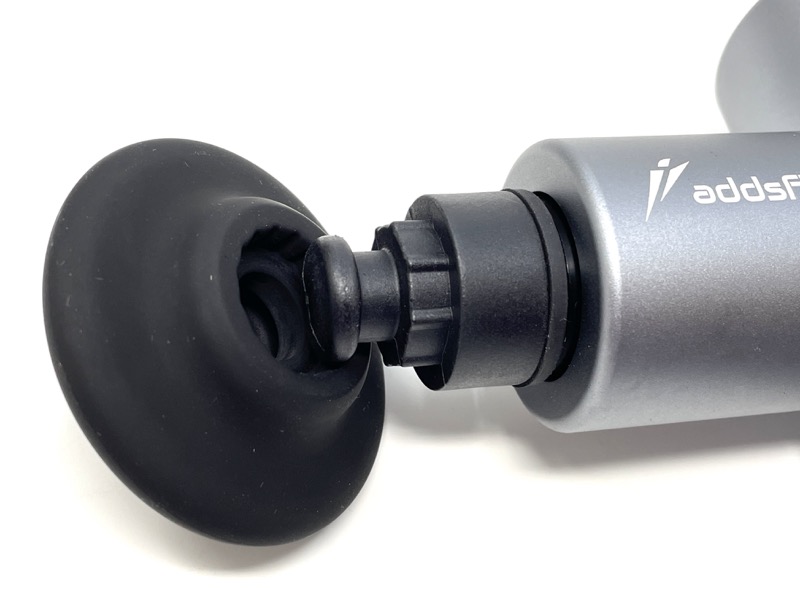 The hard foam ball is different. For that, you must remove the shaft adapter first, which is on pretty tight.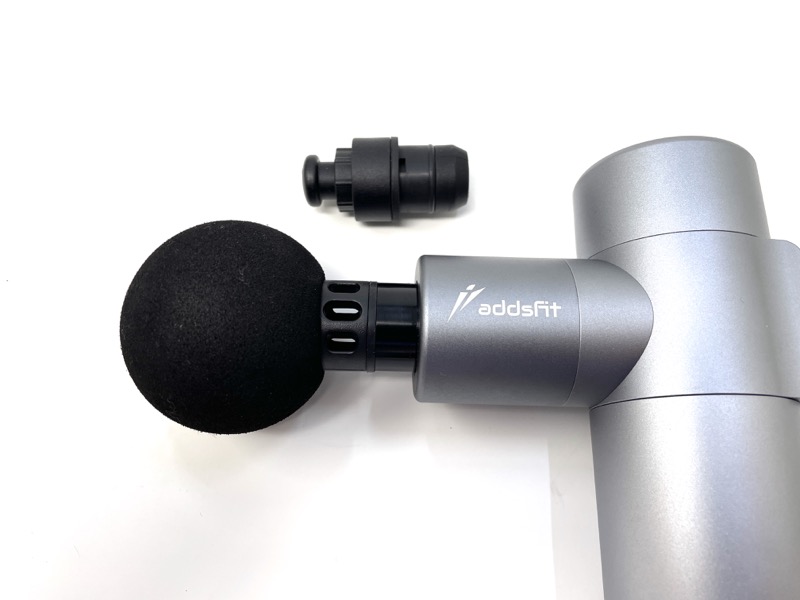 Performance
The Addsfit Mini Pro Massage Gun pushes hard! No, it doesn't just buzz around like a phone on vibrate mode. The piston genuinely pushes in and out with gusto. What's even more surprising is how quiet it is: just a very faint warble.
The gun appears to change the speed and force the harder you push, which is neat: You don't have to fiddle with buttons to get that little "extra".
Since it's currently summer, there's no high school track. But my son has been backpacking quite a bit and weight lifts at home.
My son likes the cylindrical handle. He says it feels good in the hand, and the controls are simple to use (one button!) Long hold to turn on and off. Tap to cycle through speeds.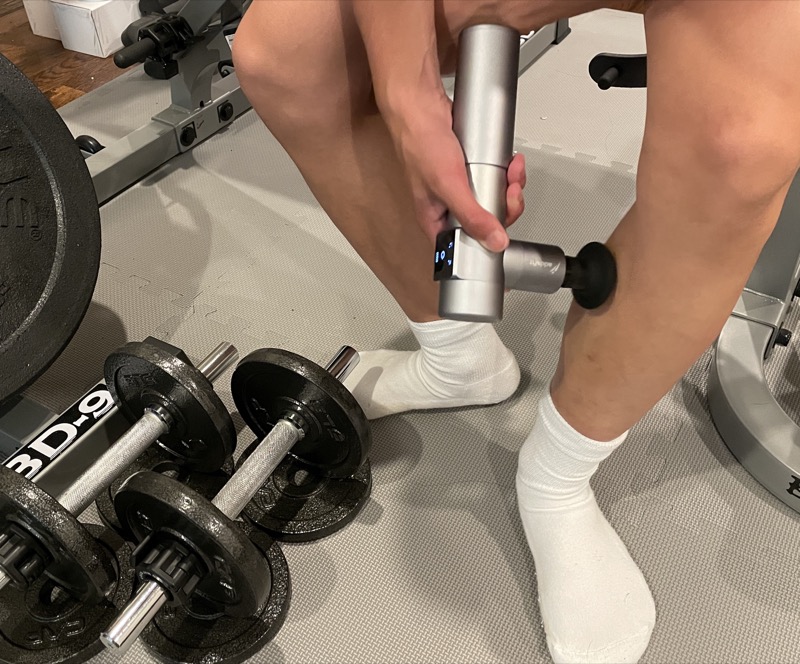 What I like
Compact (for travel)
USB-C rechargeable
Quiet
Feels solid
What I'd change
A real LED/OLED screen would have been cool, but not necessary.
Final thoughts
My son seems pretty happy with the Addsfit Mini Pro Massage Gun. It does feel remarkably solid for something that's designed to pummel back and forth, and the extendable handle makes it easy to carry around for travel.
Price: $129.00
Where to buy: addsfit.com and Amazon (use code gadgeteer20 to save 20% – expires 7/14/2022)
Source: The sample of this product was provided by addsfit.