We use affiliate links. If you buy something through the links on this page, we may earn a commission at no cost to you. Learn more.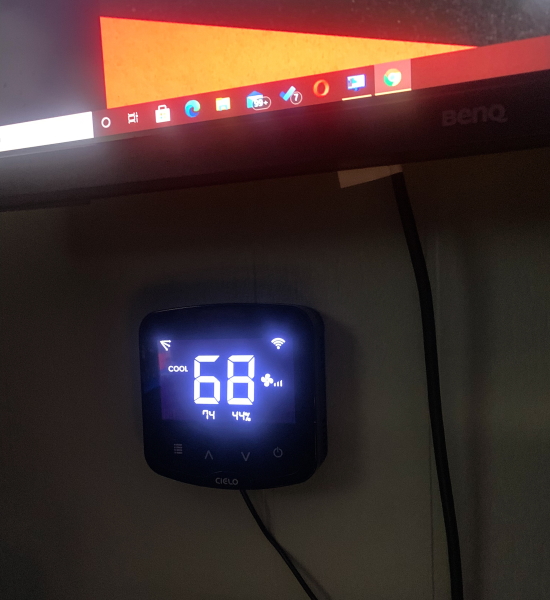 REVIEW – From the first day that I set up my home office/studio, I have been on a quest to automate as much as I can and to use as many devices that can be voice-controlled via Alexa and the Echo Show 8 device on my desktop. I recently installed and tested a new air conditioner so I was thrilled to get to test and review the Cielo Breez Smart Air Conditioner Controller.
What is it?
The Cielo Breez Smart Air Conditioner Controller is a Smart Thermostat for Mini Split, Window & Portable ACs. It is compatible with Alexa, Google, Siri, SmartThings and supports iOS & Android Apps. It also features built-in temperature and humidity sensors.
What's in the box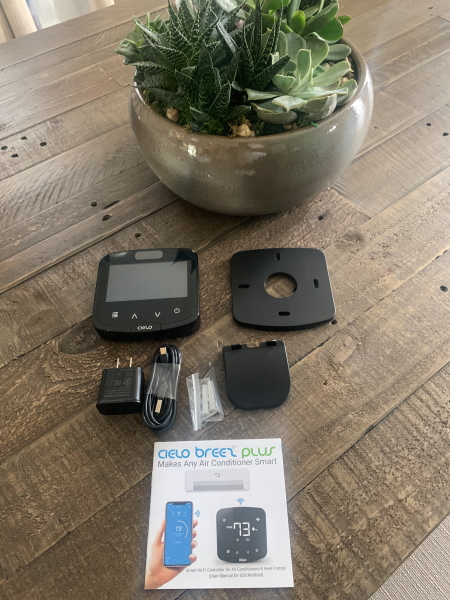 1 x Cielo Breez Smart Air Conditioner Controller
1 x USB Cable with AC Adapter
1 x Desk Stand
1 x Wall Mount
1 x Pack of Mounting Hardware
1 x User Manual
Design and features
Features
CONTROL OF AIR CONDITIONER: Cielo Breez Plus Smart AC controller works with mini-split, portable and Window ACs with an IR remote control. It connects to the Wi-Fi router and lets you control your air conditioners with a smartphone, Amazon Alexa or Google Home. Comes with all required accessories including the wall plate and even a free table stand if you prefer to place it on a desk or table. It helps you create zones for efficient heating or cooling.
iOS, Android, Web, Alexa, or Google Home – CHOICE IS YOURS: Control your ACs, set up weekly schedules as per your lifestyle and configure location-based controls for automated operation and energy savings. Cielo Breez Plus saves you up to 25% on your AC's energy bills. It enhances your lifestyle, comfort, and convenience. Cielo Apps come with a complete timeline of actions meaning you always get to know the latest. A complete timeline of air conditioning actions is available to you from anywhere.
GO GLOBAL OR REMAIN LOCAL – CHOICE IS YOURS (FIRST OF ITS KIND): Initially register the device using your Wi-Fi, afterwards you can also control your connected AC even without Wi-Fi. On-device local controls ensure that you can locally control all the functions of your connected AC even without Wi-Fi. Power ON/OFF, fan speed, swing position, modes of operation, and much more. You still have the option to control your AC from anywhere by keeping your device connected to the Wi-Fi.
SET TRIGGERS BASED ON TEMPERATURE OR HUMIDITY TO AUTOMATE THE OPERATION OF YOUR AC – ALSO LETS YOU POWER IT UP LIKE A THERMOSTAT OR with 5V ADAPTER – CHOICE IS YOURS: You have the option to power up Cielo Breez Plus through 24V OR 12V hard wiring OR through 5V adapter (included in the box).
AUTO REMOTE-CONTROL DETECTION, CONVENIENCE, SAVINGS & LIVE SUPPORT: Cielo Breez Plus automatically detects your remote control and is super easy to configure. It brings ultimate convenience and savings for you by helping you save up to 25% on your energy bills of air conditioners. In case you face any problems, Cielo WiGle has a dedicated support team to help. The support team is available 9 am-9 pm EST (Mon-Fri) – please visit the website of Cielo WiGle.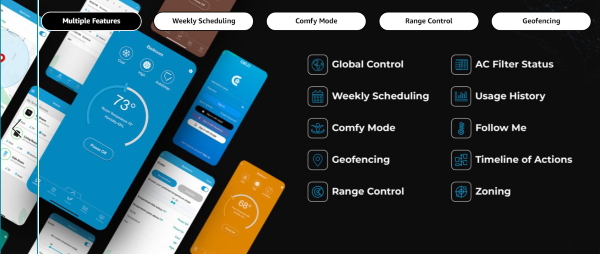 The photos below show all sides of the Cielo Breez Smart Air Conditioner Controller, including hardwire to 24 V or power via the USB port. It can also be set up to be freestanding using the included stand or wall-mounted using the included wall mount.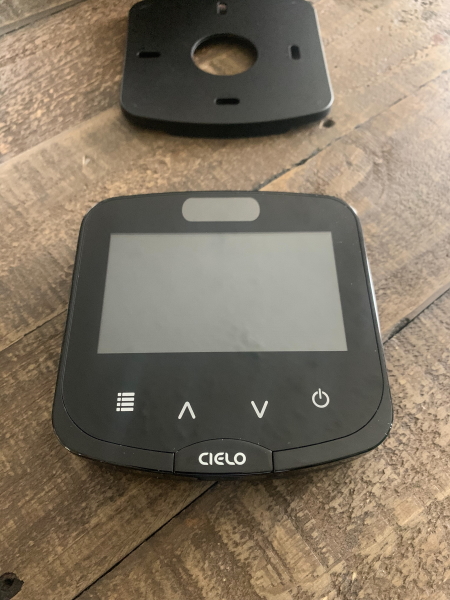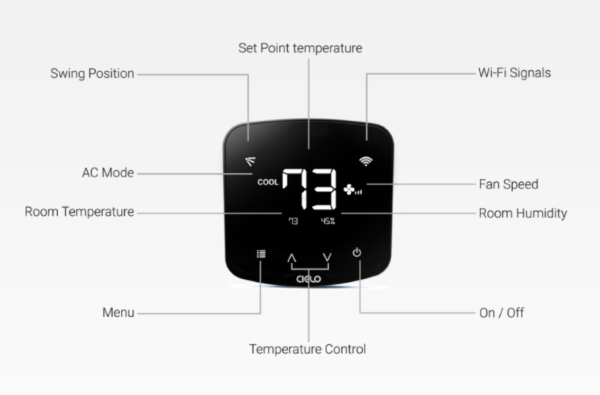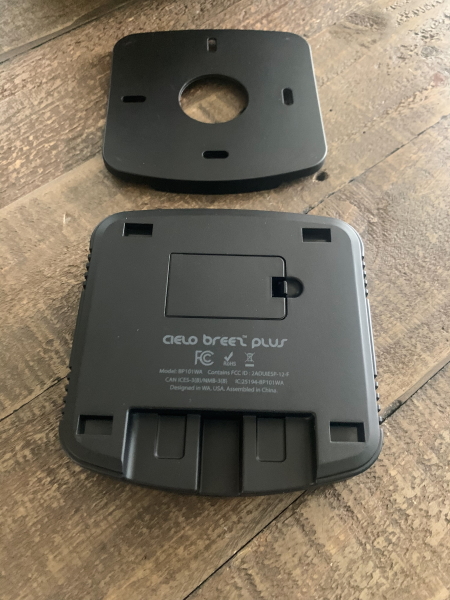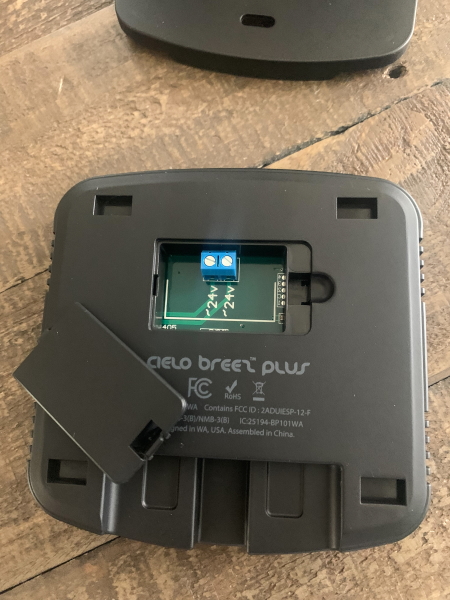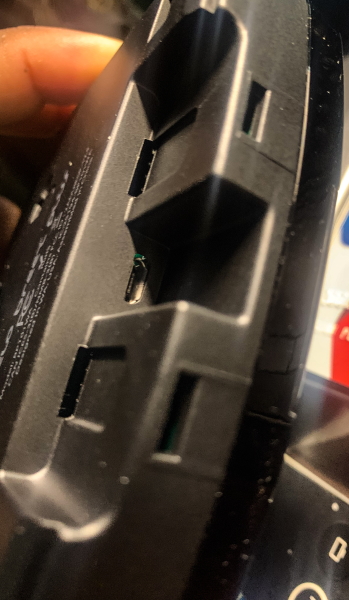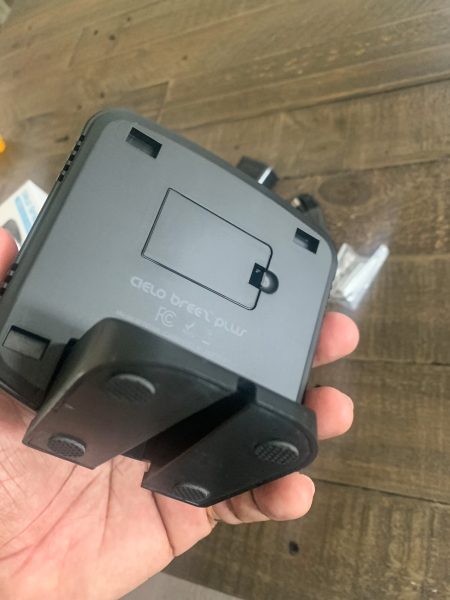 Performance
The main effort to get the Cielo Breez Smart Air Conditioner Controller working is to connect it to your network. Otherwise, it quickly and simply learns the existing remote control once you point it and press the power button for a few seconds. It is important to note that the existing remote must be an IR remote.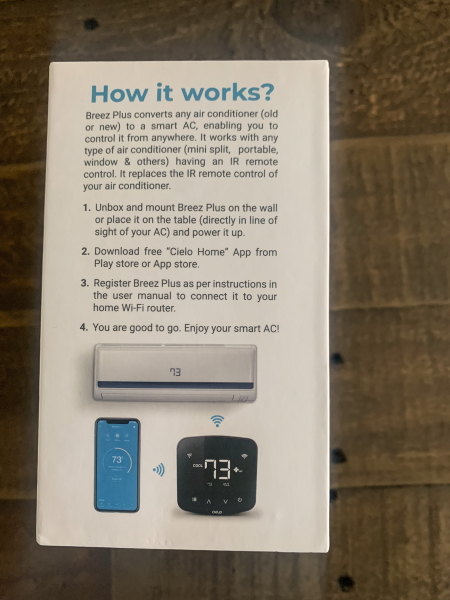 Once you download and install the app (in my case IOS), you follow the setup instructions to connect the device to your network. Also important to note is that the device will work for operating your AC or other such units without internet access. The internet access is for remote access via the app and devices like Alexa.
It is also very important to note that connecting the Cielo Breez Smart Air Conditioner Controller to a simple network with just a modem and router is easy. In my case, I have multiple network extenders, and eventually, after being unable to successfully connect the Controller to my network I called their tech support and was informed that I needed to disconnect all of my extenders from my network, leaving only the main router connected. After that, I was able to connect successfully.
Never miss one of our posts again. Sent MON, WED, and FRI with the latest gadget reviews and news!
The app provides you with much control. Here are s few snapshots of some of the app screens:
I mounted mine on the wall in front of my desk which is in direct line of sight of the air conditioner. The line of sight is also a requirement.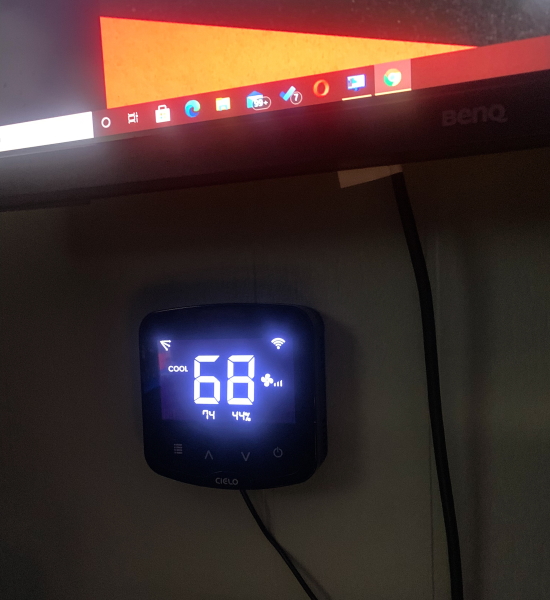 If you would like more information about the Cielo Breez Smart Air Conditioner Controller, you can read the manual by clicking here.
What I like
The sleek style
The mounting options
The multiple powerful options
The very nice LED display
The multiple access and control options functions
What I'd change
I can't think of anything major at the moment. I would like it to have the ability to connect to a complex network without having to disconnect all of the network extenders. This can be very disruptive especially given the more than 60 wireless devices that are connected to my network.
Final thoughts
I can honestly say that I am very happy with this Cielo AC controller. While I know that it is able to control more than an AC, for my testing and use, my new AC was the target. Other than the need to disconnect any and all network extenders to successfully connect it to the internet, it is simple to set up and works consistently well. Its display is large enough to be visible from across my room, and the capability of the app and use with Alexa is fantastic!! IMHO, I give it a well done and two thumbs up!!
Price: $109
Where to buy: Cielo Website, Amazon
Source: The sample for this review was provided by Cielo