We use affiliate links. If you buy something through the links on this page, we may earn a commission at no cost to you. Learn more.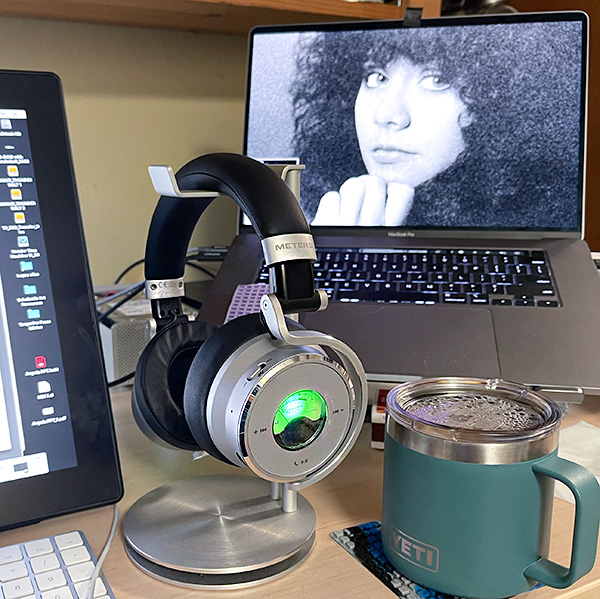 REVIEW – When you listen to music using headphones, do you crank up the volume? Hearing experts say that loud noise can leave permanent damage to your hearing. But how loud is too loud? Well, the answer is a bit complicated. Sound is measured in decibels (dB) and too high a measurement can be harmful. However, a lower number can be just as harmful over a period of time. For instance, hearing 94 decibels (an electric drill) at one hour is as harmful as 106 decibels at 3.75 minutes. Wow.
So, when listening to headphones, how do you know how loud they are and what's safe or not? There are gadgets that can measure the dB of headphone speakers, but there is a far easier way. A company called Meters has come out with a headphone with decibel meters built into each ear cup. Not only does the OV-1-B-Connect headphone sports a cool retro vibe, but it will also actually let you know how loud your music is and help keep your hearing safe.

What is it?
The Meters OV-1-B-Connect (who comes up with these names?) is a wireless, Bluetooth headphone with active noise canceling (ANC). It has 40mm speaker drivers surrounded by heavily padded earcups. Construction is faux leather, aluminum, and high-quality aluminum-looking plastic to keep weight down. The headband is also heavily padded. A hard case is included, as are micro-USB charging and 3.5 mm audio cables. The box states that a USB to Jack listening cable is included, but it wasn't in my box. An iOS and Android app are available with a 5-band equalizer and meter color controller. 

Specs
Active noise canceling
40mm speaker
IOS and Android app
3.5mm audio cable with mic
Weight: 0.8 lbs
Battery life: 16 hours — Standby: 28 hours
Bluetooth: 5.0 aptX

Design and features
There are some things I like about the Meters OV-1-B-Connect headphone, some things I don't and some I don't quite understand.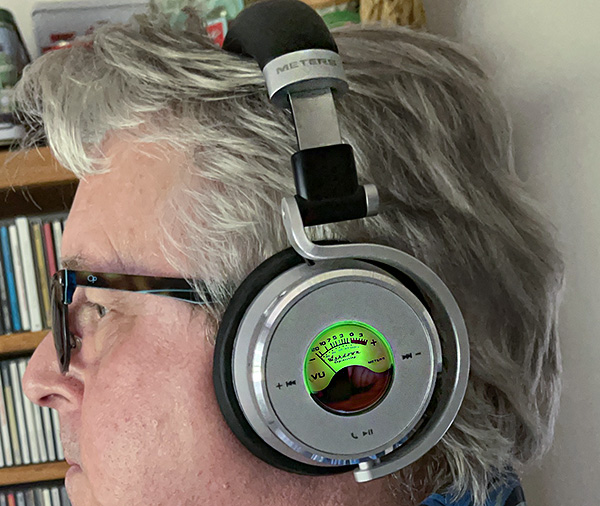 Let's be honest, you buy the Meters headphone for the cool factor with those two built-in VU Meters (Volume Unit). The meters look fantastic and work as advertised—if a bit touchy sometimes. Wear these while commuting and people will notice—they're that distinctive. Note that if you are listening at a low volume, the meters won't detect any sound and will not move with the audio. On my iPhone, volume had to be at least 50% before the meters would register any movement. Also, while you are wearing the headphone, only others will see the cool meters on your head.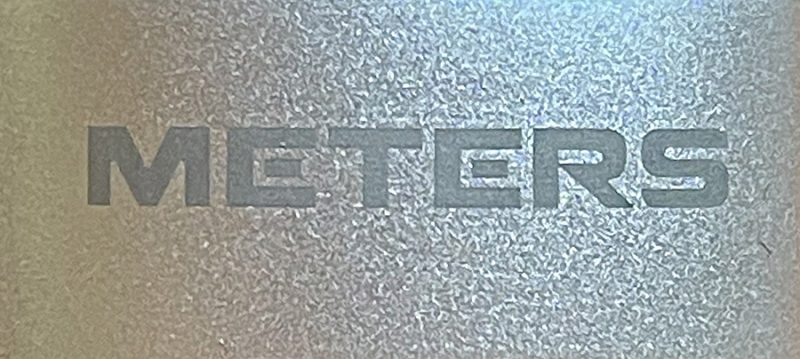 Controls are fairly simple to operate. The left ear cup has Play/pause and volume/skip/repeat buttons placed around the meter. The Play button also doubles as a call answer/disconnect button.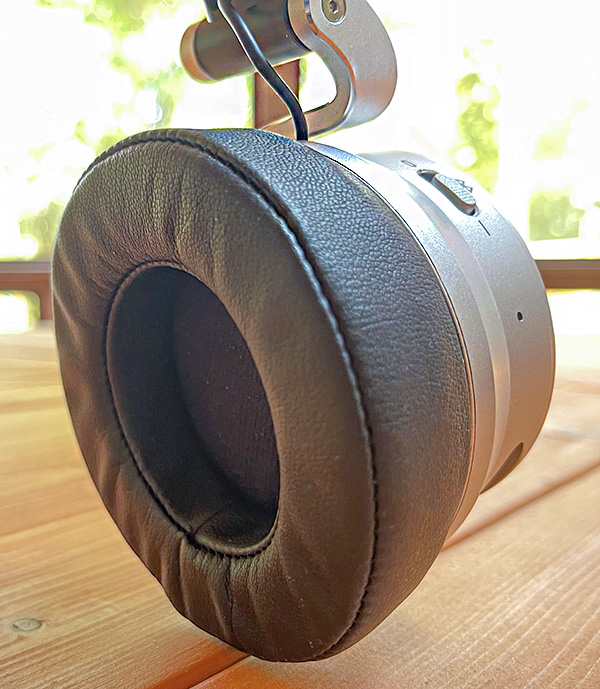 Padding on the Meters' headphone is substantial. The ear cups are super soft and super noise isolating—and that's before ANC is activated! The headband is equally softly padded. The only downside is that head clamping is a bit too tight for my head and becomes noticeably uncomfortable after an hour or so. I had my wife—a migraine sufferer—try them on and she instantly disliked them. I tried stretching the headband for a more comfortable fit, but they were still tight. Granted, I didn't stretch them too much—I didn't want to break them.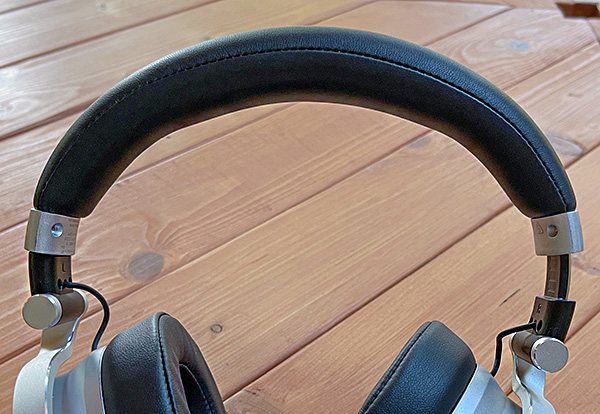 Speaking of ANC—it works quite well. A good way to test how effective noise-canceling works is to turn it off with no sound playing through the headphone and then switch ANC on. With the Meters headphone, my house's air conditioning and other humming noises disappeared. Because the Meter's have good passive noise isolation, to begin with, activating ANC with music playing, wasn't as dramatic. You could argue that ANC wasn't even necessary in my quiet house. However, ANC will obviously be welcome when commuting, during air travel, or in a noisy environment.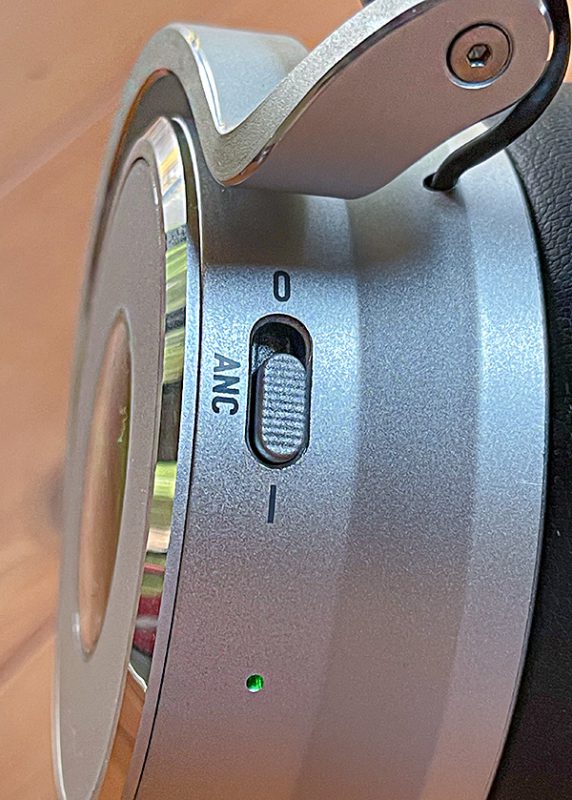 On some headphones, when ANC is on, it can degrade audio quality. That wasn't the case with the Meter's headphone. I couldn't detect any appreciable difference in music quality with ANC on or off.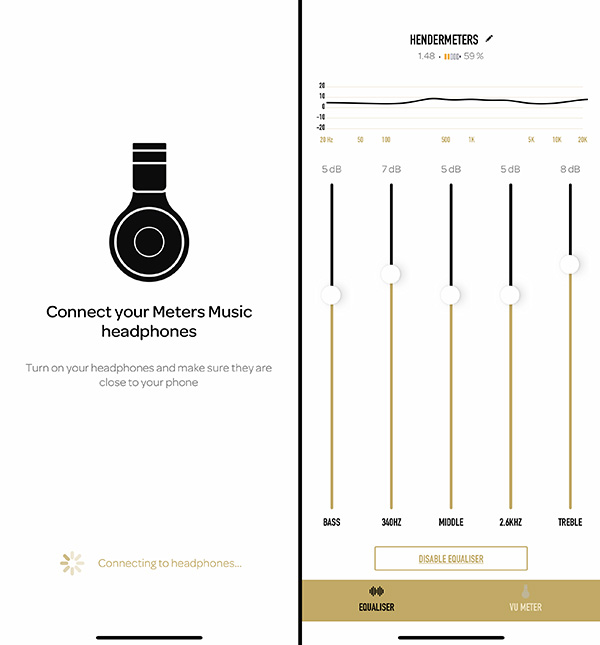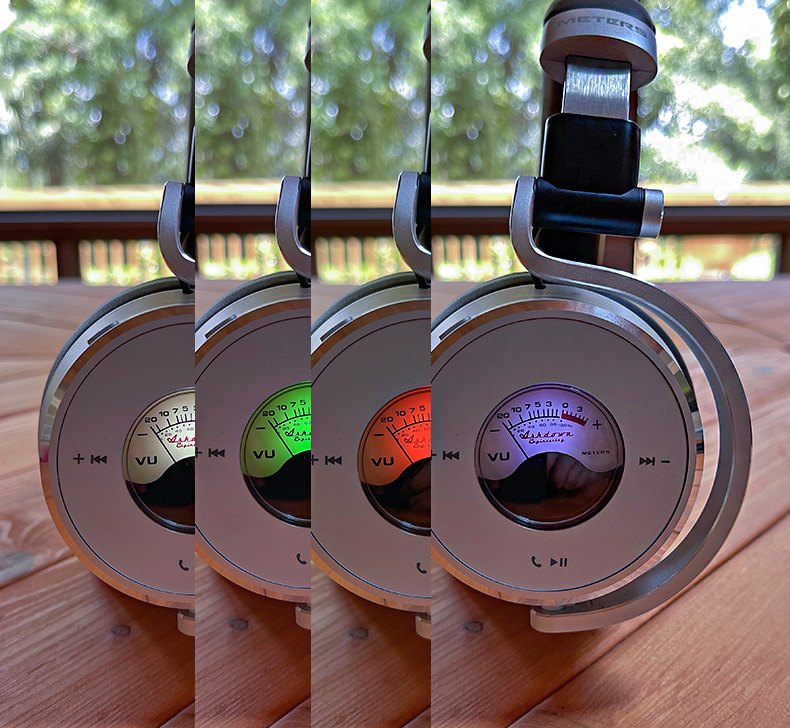 Meters provide an iOS and Android app that lets you adjust audio via a 5-band equalizer and an LED color slider that changes the color lights on the ear cup VU meters. Unfortunately, that's it. There are no ambient or ANC controls in the app.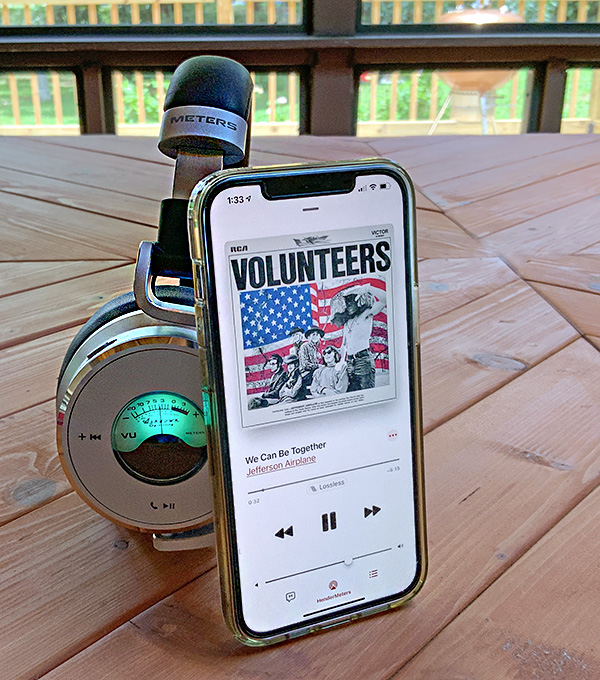 Audio quality is quite good—the OV-1-B-Connect headphone is priced in the upper tier. The Meter's 400mm dynamic speakers provide a slightly warmer bass (which is adjustable in the app). Impedance is only 32 Ohms, so they can be easily powered by any smartphone or tablet—wired or wireless. And yet, as good as they sound, they lack that "OMG!" factor I sometimes get in this price range.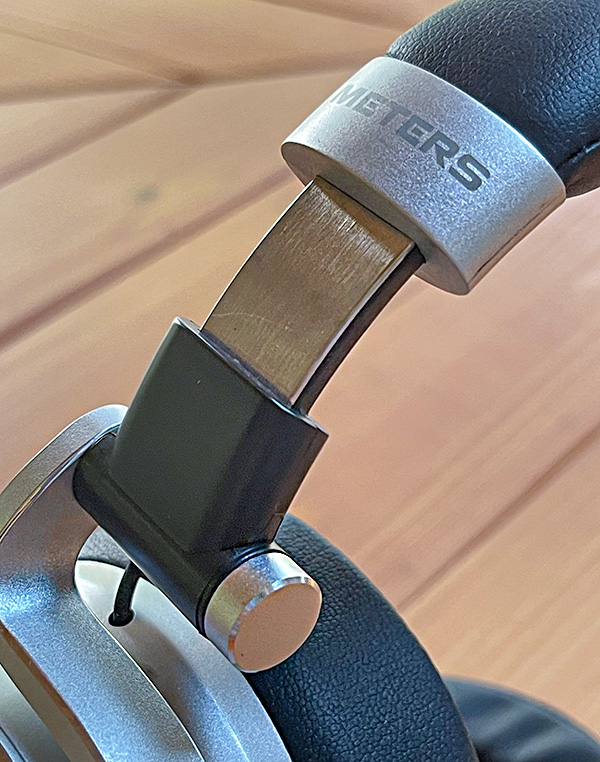 The Meters headphone includes Bluetooth 5.0 aptX HD, which helps Bluetooth sound about as good as it can. Sadly, Apple devices do not include aptX. However, most Android devices do. Over the years, aptX is becoming less important as Bluetooth improves.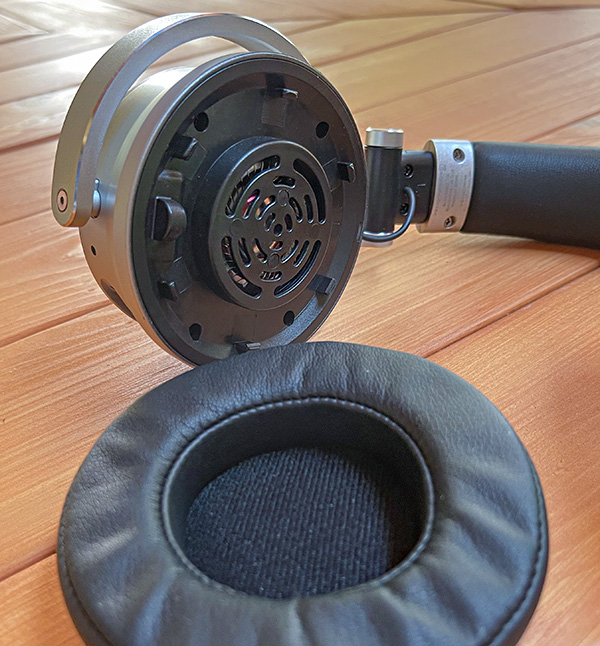 Bluetooth connection is easy—unless you connect to more than one device—then it gets complicated. One night I put the Meter's headphones on to listen to some music. My iPhone showed that the headphone was paired. The app even said it was paired. And yes, the headphone was paired—but not to my iPhone. It turns out that the Meter's headphone was paired to my iPad, which was in sleep mode … in another room. All I wanted to do was to re-pair the Meters headphone to the iPhone, but it would not pair unless I completely deleted the pairing from my iPad. Only then would the headphone pair to the iPhone—even though it said it was paired all along! Having learned my lesson, I will now only pair the Meters headphone to my iPhone. I shouldn't have to, though.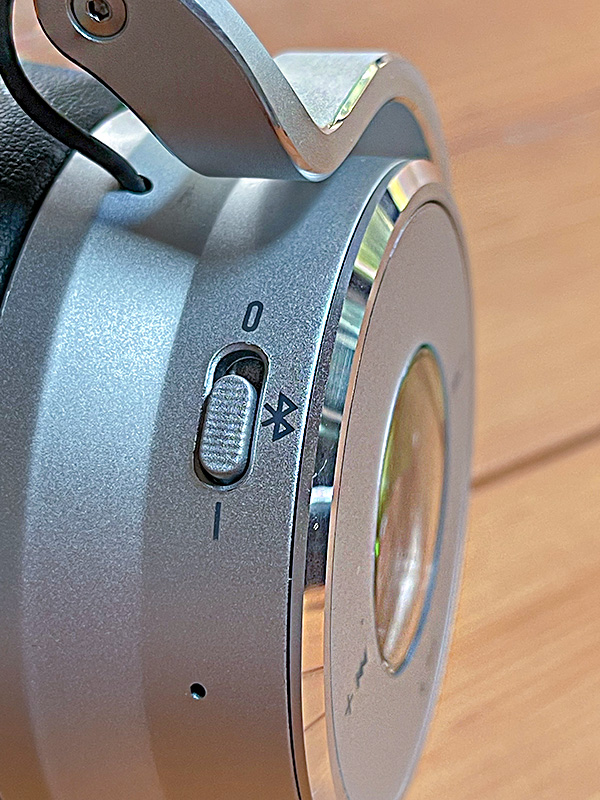 One thing I don't understand is that turning the Meters headphone on and off doesn't work as it should. Either the ANC or On/off button will turn the headphone on, but it takes both the on/off and ANC buttons to turn them off—even though a voice prompt tells you "Power Off." So, if you only switch one button to turn the headphone off, the VU meters will stay lit, wearing down the battery.

What I like
Easy to listen to audio
The VU meters are way cool
VU meter light color can be changed

What I'd change
It takes two buttons to completely shut the headphone off
Charging is via Micro USB and not USB-C
Audio cable missing from the box

Final Thoughts
The Meters OV-1-B-Connect headphone says, "Look at me!"  It isn't subtle but it is cool. Plus it sounds good. If the head clamping could be loosened and the pairing issues worked out, this headphone could become as ultra-cool as it looks.
Price: $349.99 US
Where to buy: Amazon
Source: The sample of this product was provided by Meters.