We use affiliate links. If you buy something through the links on this page, we may earn a commission at no cost to you. Learn more.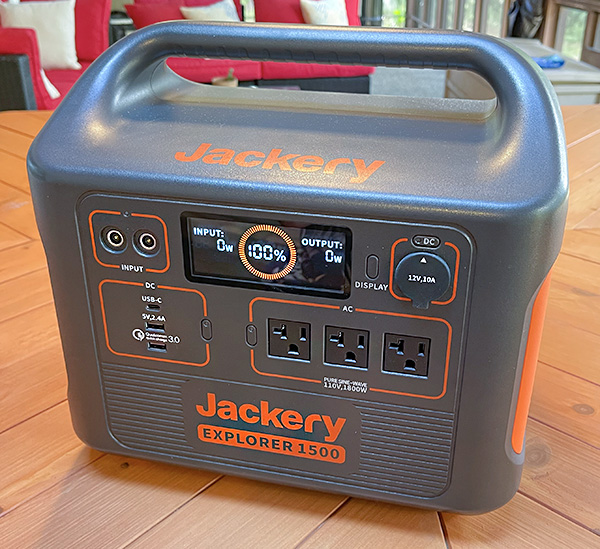 REVIEW – When the Britisher Lord Acton famously said in the 1800s, "Power corrupts and absolute power corrupts absolutely," he obviously wasn't referring to portable power stations—electricity wasn't even in homes yet. However, today the opposite is true. Getting absolute power from portable power sources like the Jackery Explorer 1500 Portable Power Station corrupts nothing. It's the safest form of power you can get. When the power goes out for a few hours during a storm or for days after a hurricane (something we've experienced many times living in Florida), you need a source of backup power. 
Many homes use gas generators and there are always tragic stories of people dying from carbon monoxide because of generator miss-use. That's the genius of the battery-powered Jackery Explorer 1500 Portable Power Station. No noise, no gas, no deadly fumes. 

What is it?
The Jackery Explorer 1500 Portable Power Station is a large and heavy power station that can power many things that require a good bit of power to run. It's perfect for appliances that 'surge" on startup (I'll explain surge later in the review). It outputs 1488 watt-hours (Wh) from 3 AC outlets, 3 USB ports (2 USB and 1 USB-C), and one 12v/10A car outlet. Any or all of these outlets can be used simultaneously. The Explorer 1500 is good for home power outages, camping trips, and running tools far from a power source. Note that Jackery makes an even larger power station: The Explorer 2000. It can be recharged from (up to) four Jackery solar panels (sold separately).

In the box
Jackery Explorer 1500 Portable Power Station
Accessory bag
Power adapter
Two solar power cable adaptors
12V cable
2 solar panels (optional-purchased separately)
User manual

Specs
Capacity: 1488 Wh
Charging time: 6 hours – outlet (can be doubled to 3.5 hours); 12V car battery – 13 hours; 2 solar panels – 9.5 hours

 

Cells: Panasonic Li-ion Batteries
Lifecycle: 500 cycles to 80% capacity
Charging Type: AC Charging(DC29.4V9A); Solar Charging(Voltage 36V); Car Charging
AC Output: AC110V/60Hz (Pure sine wave)
Output Power: Rated Power 1488W; Peak Power 3600W
DC Output: DC12V10A
Product Dimension: L14×W10.4×H12.7 inches
Weight: 33.1lbs
24-month warranty
Solar panels: 100W (each)

Design and features
Before I begin, I need to explain what I'm reviewing. Jackery sells a 1488Wh portable power station (generator) called the Explorer 1500. The Jackery Solar Generator 1500 is the 1500 power station plus 4 100W Jackery SolarSaga solar panels. Jackery sent me two solar panels along with the Explorer 1500, so technically, I'm not reviewing the complete solar generator package. So, if you only want two solar panels, then you will need to purchase them separately along with the Explorer 1500 power station. Confused? Sorry about that.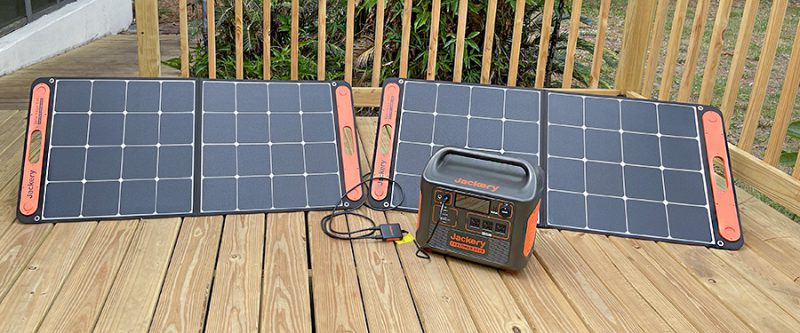 I'm reviewing the Jackery Explorer 1500 Portable Power Station apart from the included solar panels for a couple of reasons. The first reason is called … Florida. In order to re-charge a power station like the Explorer 1500, solar panels need direct sunlight—for many uninterrupted hours. Even though Florida (my home) is called the "Sunshine State", it does not provide endless hours of straight sun. Almost every day during the summer, the clouds build during the morning, and then around 2 pm, the skies open up dumping an inch of rain for about 10 minutes. The clouds then quickly disappear leaving behind a hot, thick, sticky atmosphere. This is not conducive to proper solar charging. However, those same storms can easily knock out power to a home for an hour or two, so the Jackery Explorer 1500 Portable Power Station comes in handy after the storm too!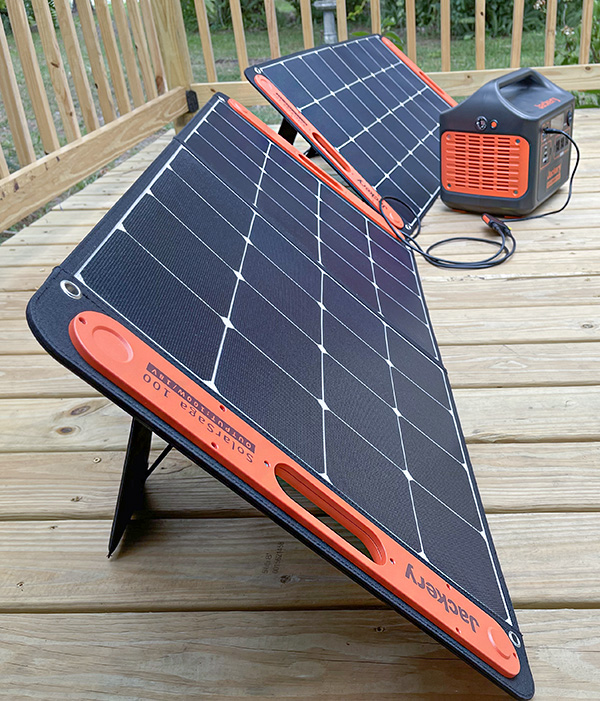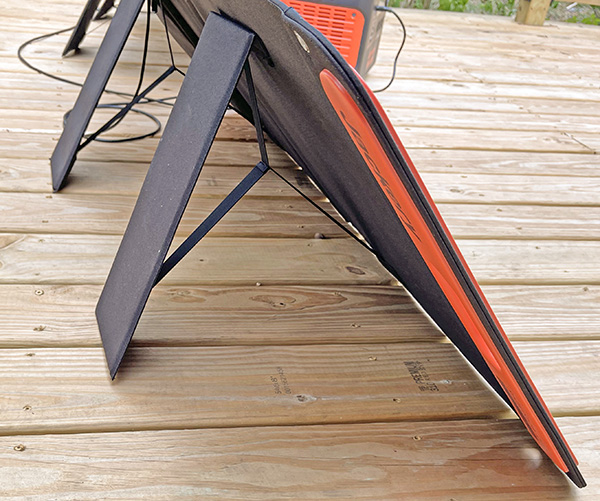 The second reason is that the panels are not waterproof, so they can't be left in the almost daily Florida rain—which means you will spend a lot of time setting up and breaking down the panels to gain only a few watts of power. I'm not saying you can't charge the Explorer 1500 in Florida using solar panels, it's just not easy. Now, if you live in the southwest where rain is scarce and the sun bakes the earth for days straight, solar panels are perfect for charging the Jackery 1500. It all depends on location. The panels have built-in easels allowing them to be pointed towards the sun in the optimum direction. The 100-watt solar panels sell for $300 each.
1488 watt-hours (let's round this up to 1500WH) means that anything needing 1500 watts will run for one hour using the Jackery Explorer 1500 Portable Power Station. A device needing 100 watts will run for 15 hours. It's easy to calculate usage vs time. Prices for power stations run at about a dollar per watt-hour, although the Explorer 1500 costs a bit more per watt-hour, coming in at $1,600. It does occasionally go on sale.
Note: The Jackery Explorer 1500 Portable Power Station is not designed to power any device rated greater than 1500 watts, but it can handle surges. A surge is an increase in power needed by a device greater than the device's power rating. A refrigerator, for instance, may need from 250-700 watts to run, but as the condenser cycles on, it draws about triple the power before it goes down to its normal running wattage. That's called a surge. Check each device's rating for power and possible surge ratings. When surges happen, the Explorer 1500 has built-in fans that will turn on, but I've only heard them a couple of times, and even then, just for a few seconds. So noise is never an issue with the 1500.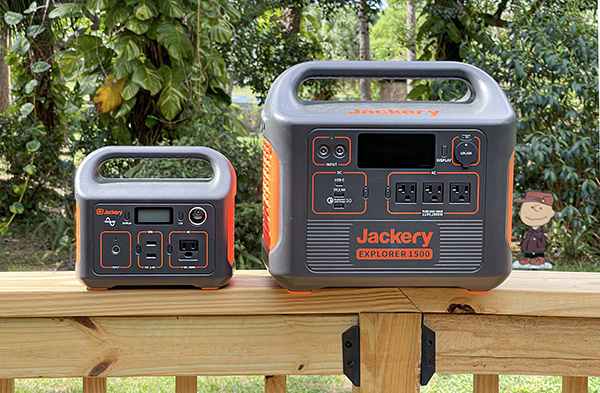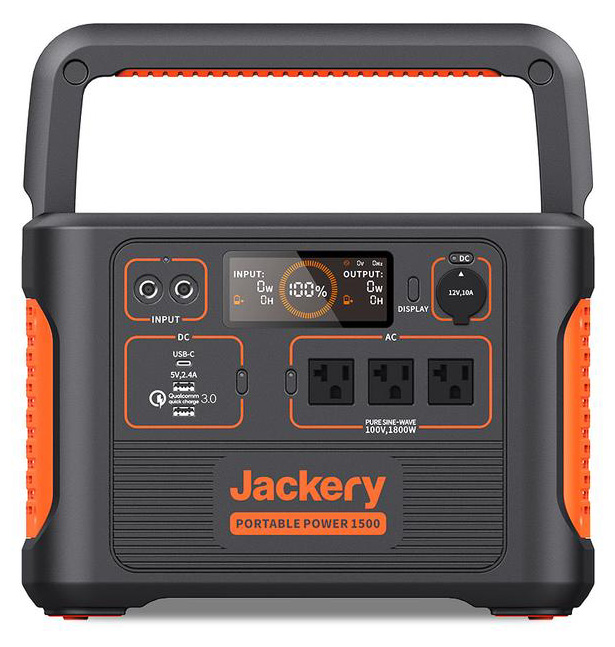 The Jackery Explorer 1500 Portable Power Station looks exactly like other Jackery models—regardless of size. There's no mistaking it's a Jackery. The Explorer 1500 is the third Jackery I've reviewed. Okay, technically it's the second, but the Generark Home Power One I reviewed is basically a rebadged (Japanese version) Jackery Explorer 1000! Actually, I prefer the Japanese Jackery handle design over the American. The Japanese version's handle folds out of the way allowing things to be stacked on its flat top. The American design has a built-in handle which can be awkward when storing—especially where space is tight, like an RV.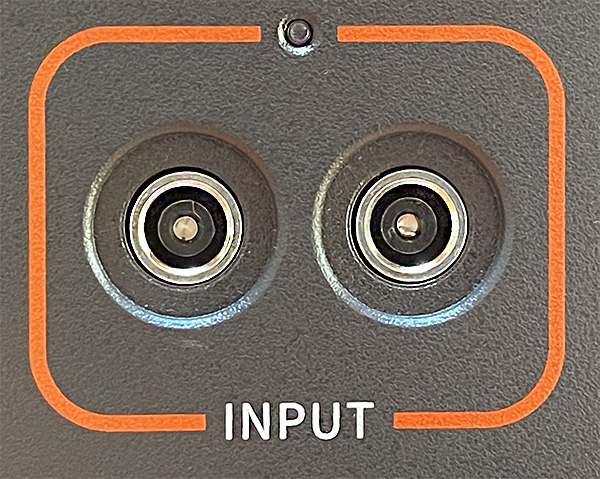 The Explorer 1500 (along with the Explorer 2000) is the newest version power station. There are some major updates to this model, notably swapping out the older—but more common—Anderson solar charging port for an additional DC port. These two DC input ports allow up to four 100W Jackery Solar panels to be used simultaneously to re-charge the Explorer 1500—in about 4 hours. When the sun is out, that's extremely efficient charging.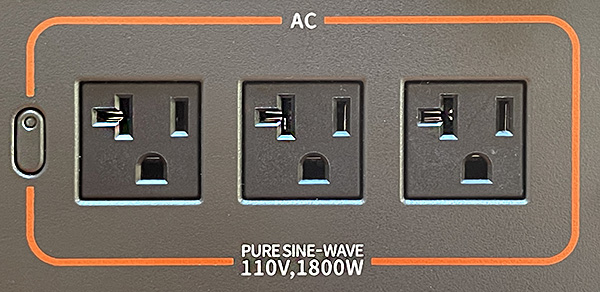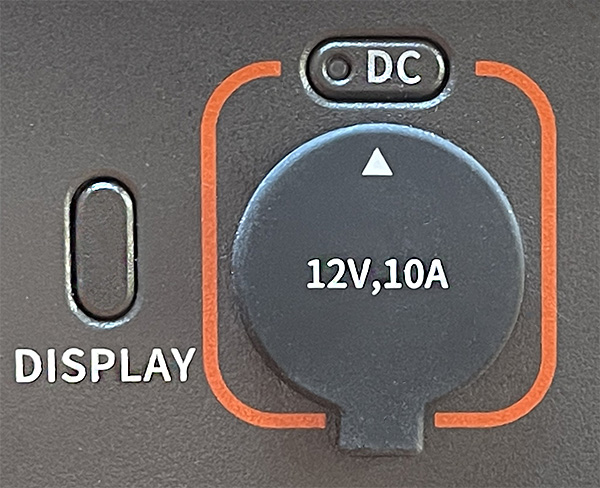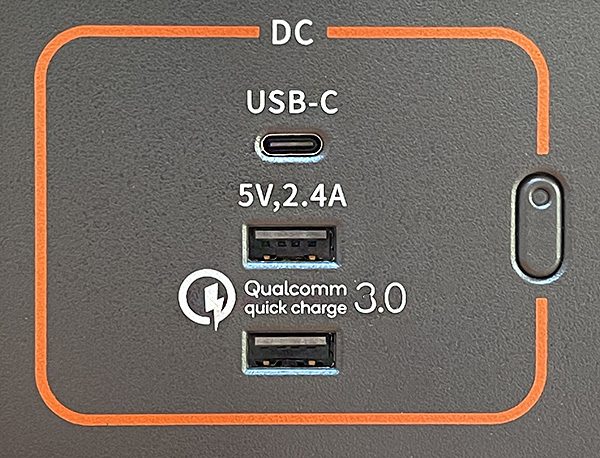 Strangely, the Jackery Explorer 1500 Portable Power Station has fewer charging output ports than the less powerful 1000. The 1500 only has one USB-C port instead of two found on the 1000. That seems odd. Along with the USB-C port, there are two USB A ports, three AC outlets, and a 12V DC port for car charging or powering a car refrigerator that uses the "cigarette lighter" plug. Jackery supplies the 12V charging cable. All the ports are on the front of the Explorer 1500, making it easier when powering multiple devices.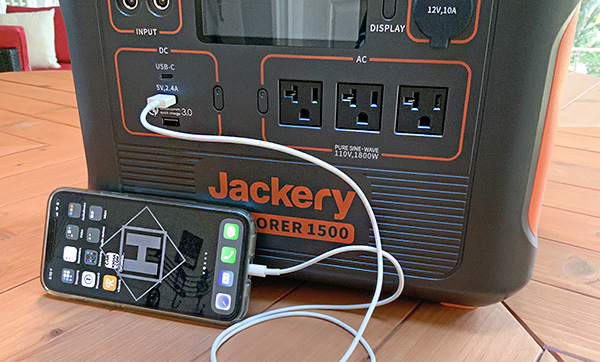 The Explorer 1500 can charge a smartphone about 130 times and a laptop about 22 times! That's overkill, but you get the idea. The Explorer 1500 can power a campsite for many days and if you have unlimited sun, indefinitely.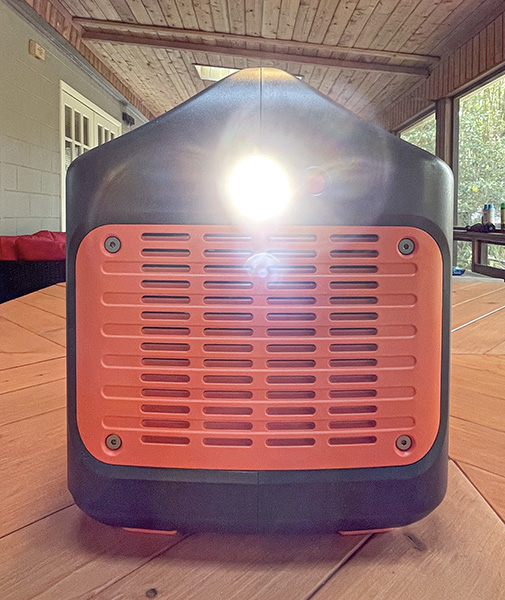 Calling the Explorer 1500 portable is a bit of a stretch. Yes, it can be carried from room to room, but it weighs 33 lbs., so it's not fun to carry around. However, it does have a built-in flashlight!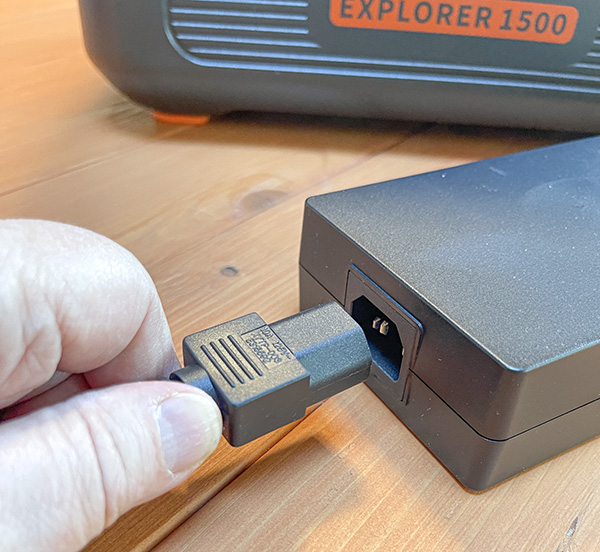 The Jackery Explorer 1500 Portable Power Station comes with a large power brick for wall charging—which takes about 6 hours from 0–100%. The brick can become quite warm during charging, so I recommend keeping it in a well-ventilated area for good heat dissipation. I recently reviewed another large capacity power station that had two built-in fans inside their charging brick, which made it much, much cooler while charging.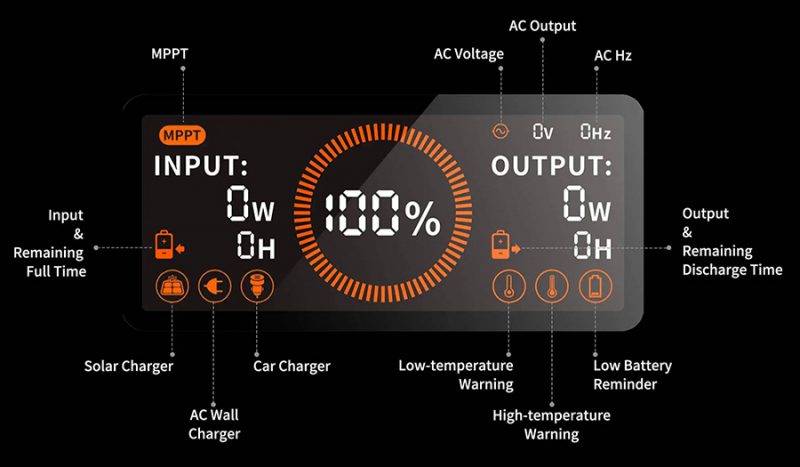 One of the major updates to the Explorer 1500 is the new color screen interface. Previous Jackerys have black on white (more like dark gray on light gray) displays which are hard to see from a distance. The 1500's display's white on black text has much more contrast which makes it easier to see. Different orange icons show what is happening. For instance, there are icons that show either solar panels, a car's 12V or wall outlets are charging the 1500. It also shows input and output watts and estimated hours until the 1500 will need recharging. A large orange segmented circle lights up clockwise when the Explorer 1500 is being charged. It would be nice if that same circle would show decreasing battery life by removing segments one-by-one. That way, anyone could check battery life at a glance. Maybe next time.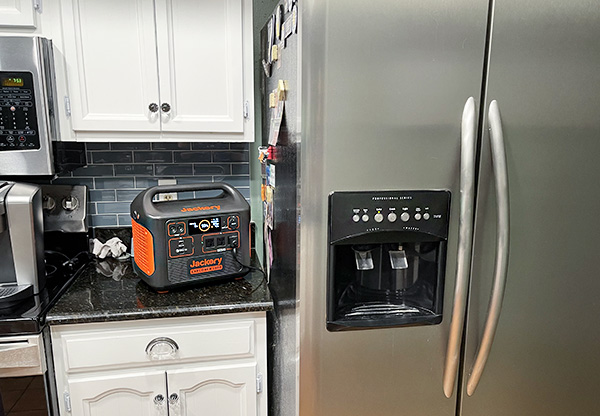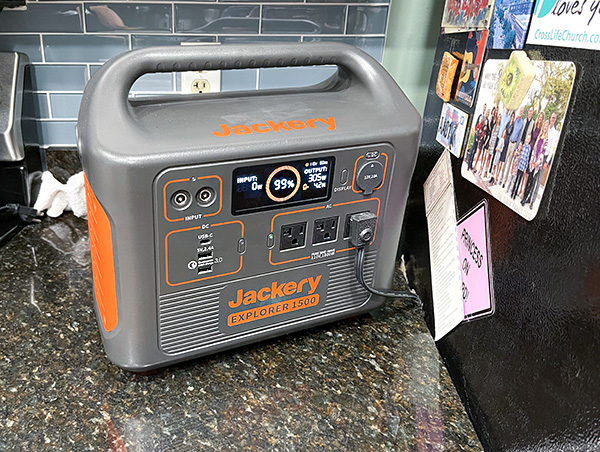 Using the Jackery Explorer 1500 Portable Power Station (or any Jackery power station) is a no-brainer. Just connect any device using the proper cable, press the power on button for ports being used and that's it! Recently, we were without power for about 5 hours because of a major electrical repair job to our house. While the power was out, we plugged the kitchen refrigerator into the Explorer 1500. It ran perfectly and we still had plenty of power left in the 1500 when the house power came back on. It's times like these where you appreciate the convenience of having backup power available.
What I like
Tough build
Great surge capability
Fan hardly ever comes on

 

That silly, but handy built-in flashlight
What I'd change

Final Thoughts
Portable power stations are getting bigger and better each year. The Jackery Explorer 1500 Portable Power Station is arguably the best version of a 1500Wh power station you can find. Add some solar panels and you can have an unlimited supply of power—as long as the sun stays out. 
It's not the cheapest, but Jackery's reputation for well-built and dependable power stations is well earned. Hurricane season is here in Central Florida and Jackery is helping us to be better prepared.
Price: Explorer 1500 – $1,599; SolarSaga 100W Solar Panel – $299.99 each
Where to buy: Amazon
Source: The sample of this product was provided by Jackery.