We use affiliate links. If you buy something through the links on this page, we may earn a commission at no cost to you. Learn more.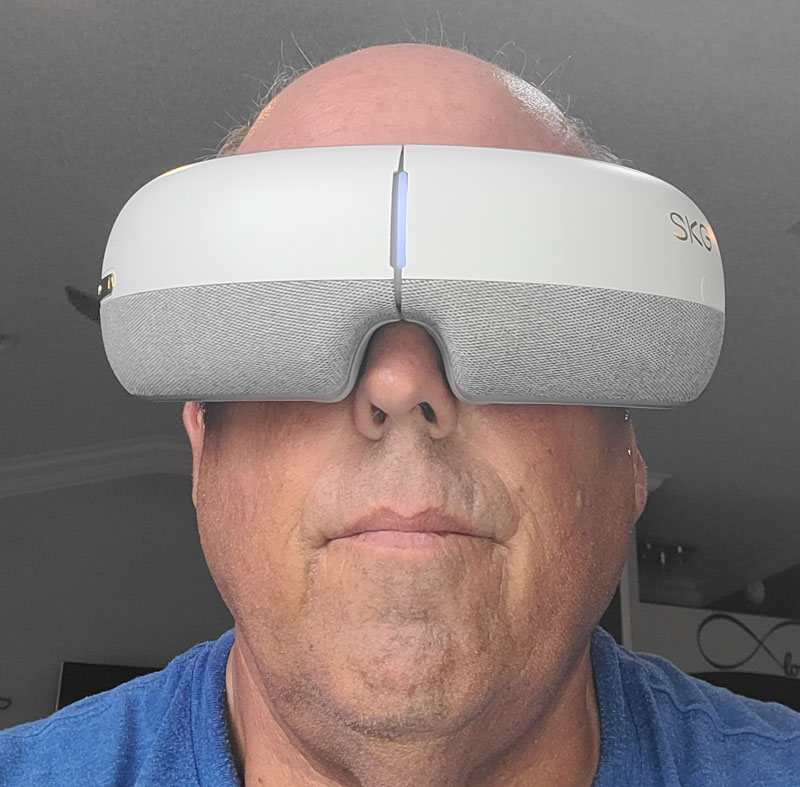 REVIEW – No, I am not auditioning for the lead in the next The Fly movie.  I'm getting an eye massage with the E3 eye massager from SKG.  Eye massage?  Well, it's really a massager for around your eyes, as well as your temples.  Let's dig in and see what all this goofy-looking device is and does.
What is it?
The SKG E3 eye massager can provide five modes of massage, sound, and heat treatment around your eyes and temples.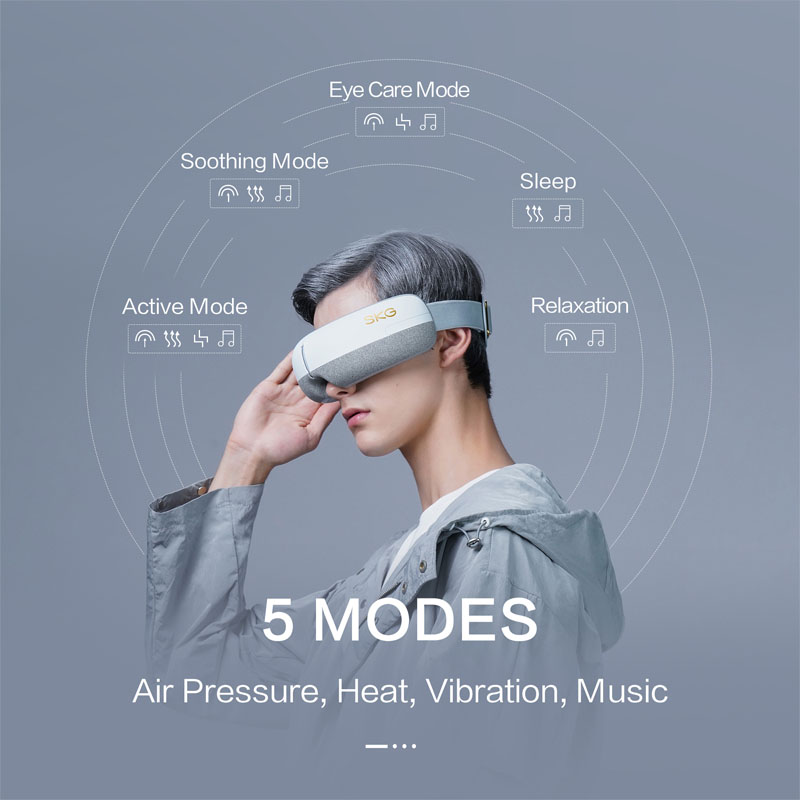 What's in the box?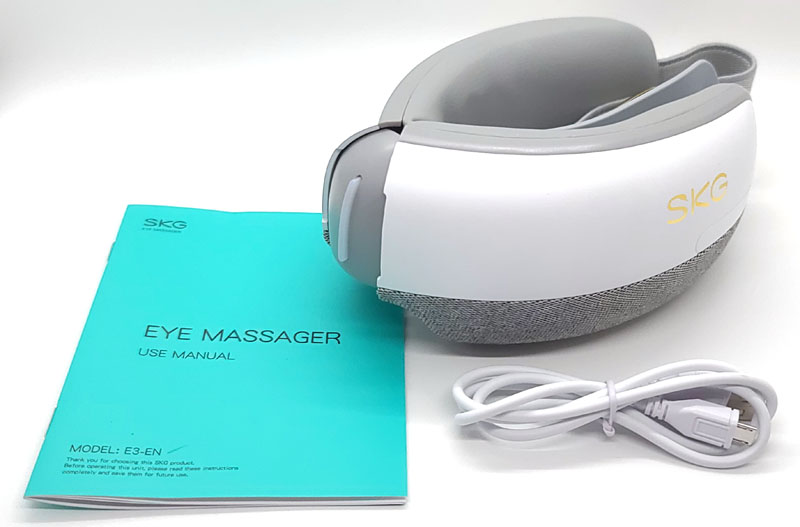 Massager
USB-A to micro-USB charging cable
User manual
Hardware specs
Weight: 0.83 lbs
Charging: micro-USB
Battery: 1,100mAh
Mode confirmation: voice prompt
Connectivity: Bluetooth for music playback
Heating: 107.6-degree F
Design and features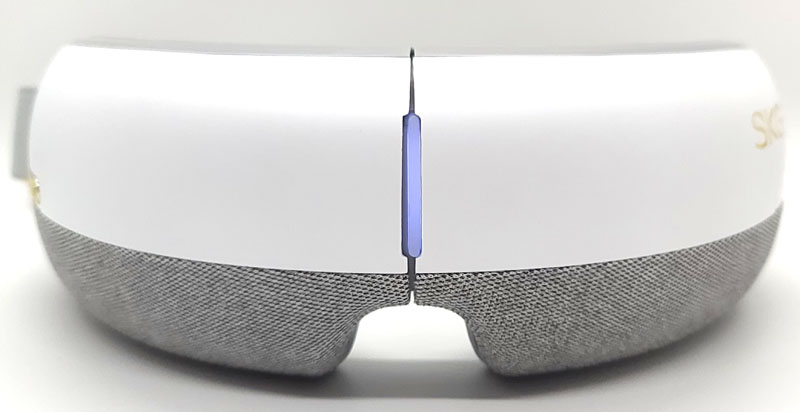 The massager is a large goggle-like device, except you can't see when you're wearing it.  A power indicator light is front and center in the hinged design.  You can see it folded in the What's in the box section above.
Speaking of folding, when you fold it, the micro-USB charging port is revealed under the hinge.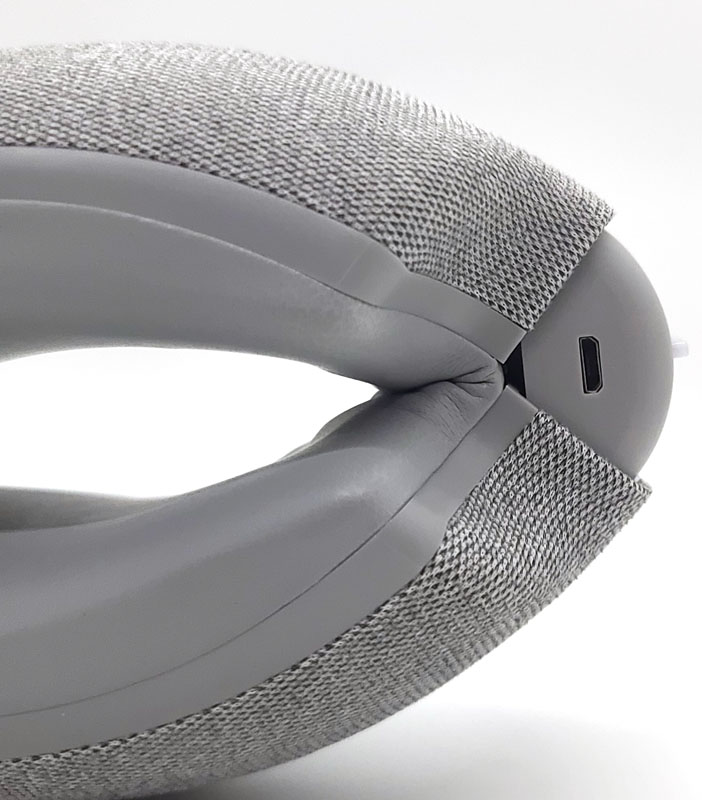 Micro-USB?  Gee, why don't they use USB-C?  Good question.
The inside is lined with either leather or something that feels remarkably like leather.  It is soft and feels good against the skin.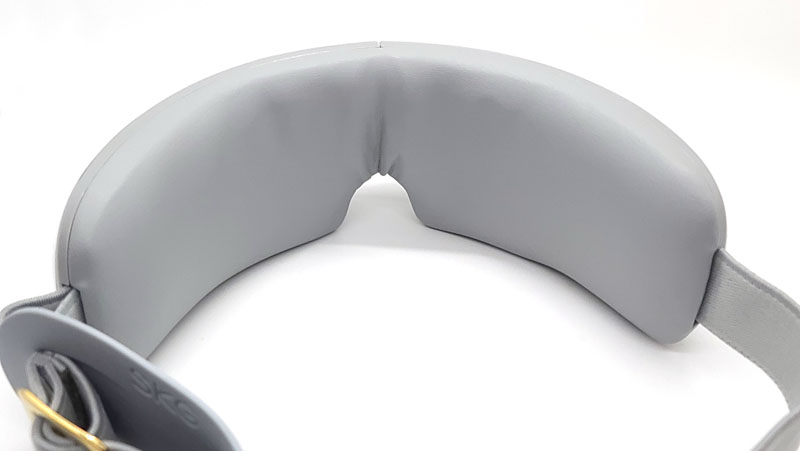 The eye massager's adjustable headband features a gold-tone buckle used to adjust the length for a snug, but not tight fit.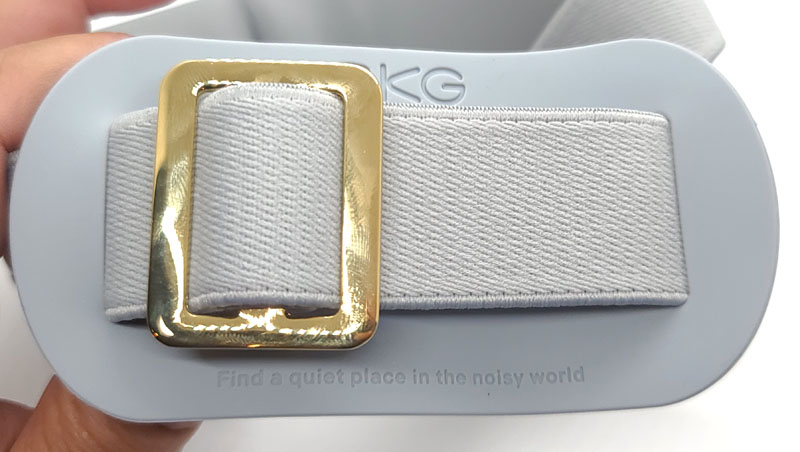 The buckle is covered with a rubber protector to improve comfort.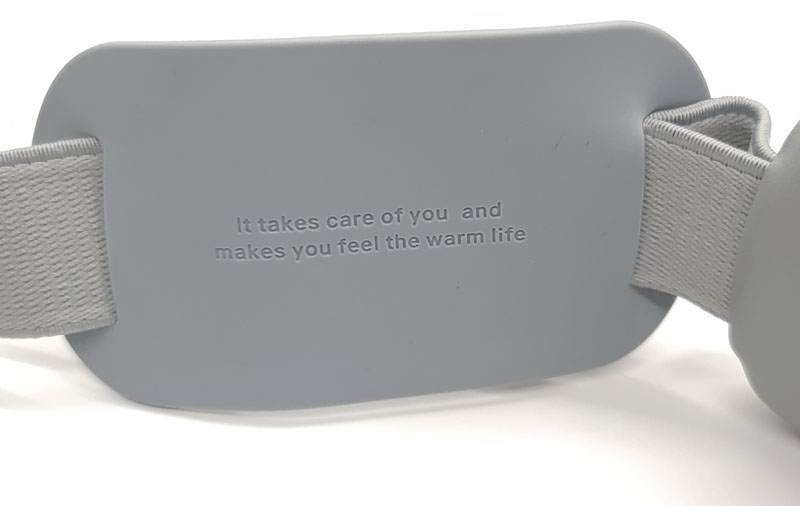 The controls are on the right side of the device.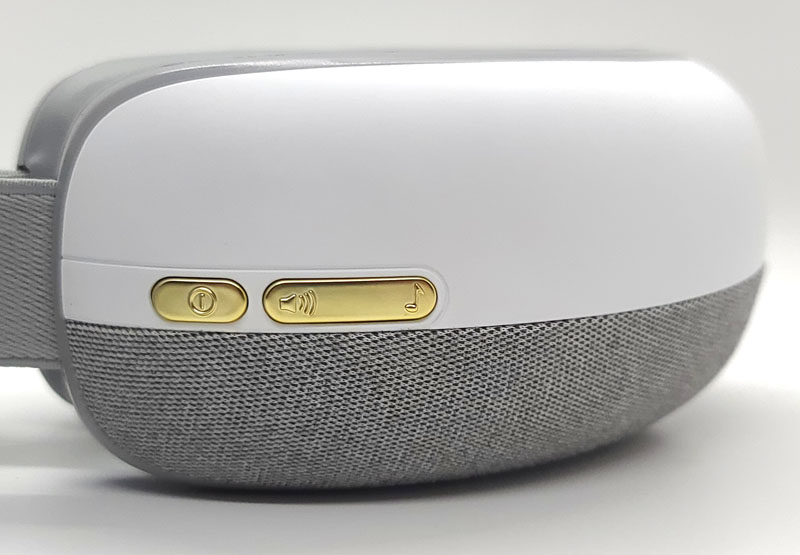 The small button is the power and mode selection button.  The left side of the longer button cycles through the sound volume settings as follows:
3–>4–>5–>off–>1–>2–>3–>repeat
The right side selects from the two built-in soothing soundtracks of nature sounds coupled with soothing music, and music from a connected Bluetooth source. Long-pressing will pause the music.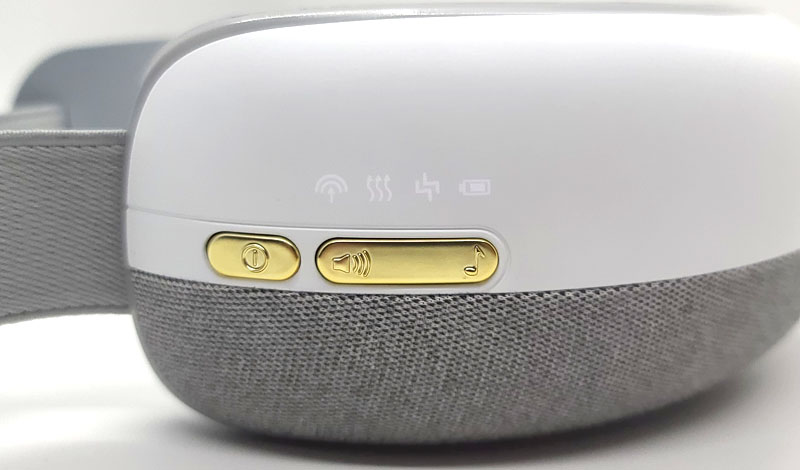 Above the buttons, you can see the lights that indicate which modes are active.  From left to right, they are massage, heat, vibration, and battery indicator.  Of course, when wearing the device, you can't see the indicators.  Luckily, there are handy voice prompts that describe the modes when you change them.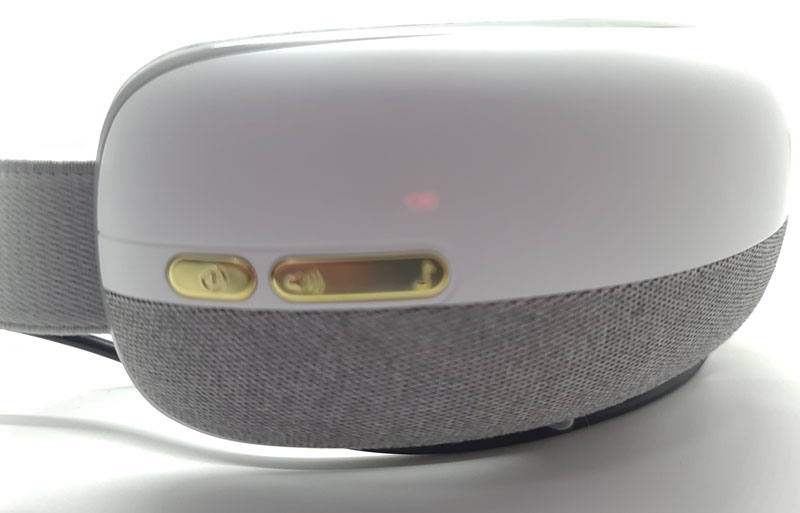 The charge indicator LED also sits just above the buttons.  It glows red during charging and green when fully charged.  A full charge takes around four hours, give or take.
Setup
Other than charging the SKG eye massager, if you want to listen to your own music rather than the included relaxation sounds, a simple Bluetooth pairing with your music device is required.
Performance
The eye massager has five operating modes.
Eye Care Mode (Air pressure, Vibration, Music)
Active Mode (Air pressure, Heat Compression, Vibration, Music)
Soothing Mode (Air pressure, Heat Compression, Music)
Relaxation Mode (Air Pressure, Music)
Sleep Mode ( Heat Compression, Music)
The massage is accomplished with a series of airbags that inflate and deflate.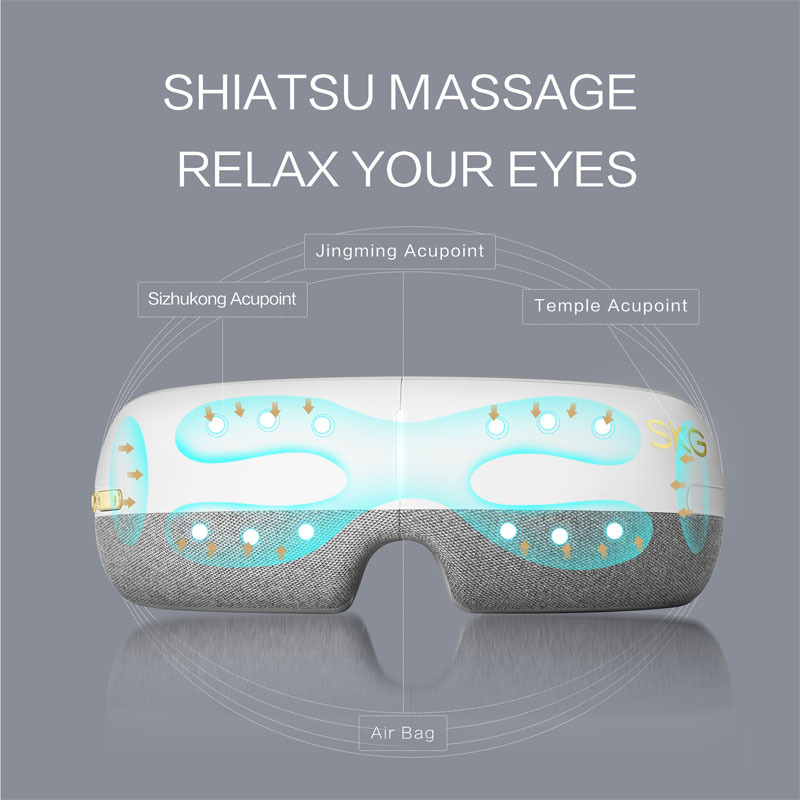 I put the eye massager on and let it work its magic.
First, let me address the sound.  This is not a great Bluetooth headset.  There are no direct connections to your ears, and the sound comes out from a non-descript location on the device.  The sound quality is about meh. I did not like the sound at all when playing music.  But…for whatever reason, the included soothing sounds sounded great to me.  The slight tinny sound added to the relaxing tones.  For me, the included soundtrack was terrific and very relaxing.
I flipped through the different modes and settled on active mode.  Active mode includes all features – massage, vibration, heat, and music.  At first, the compression felt a little strong, almost to the point of being uncomfortable.  I wondered just how hard this thing was going to squeeze.  Once I relaxed a bit and gained some familiarity, that anxiety went away and I let it work its magic.
The alternating squeezing, vibrating, and pressure point massage felt great.  The heat, while again, almost alarmingly hot at first, was just about perfect and felt like a nice hot compress. The massage around my eyes, and then to my temples really was relaxing, especially when combined with the heat and relaxing soundtrack.  In fact, when the 15-minute timer expired and the device reported by voice that it was done, I felt like I was almost on the verge of dozing off.
I wish that there was more padding across the nose bridge.  That would improve comfort dramatically.  The other thing I'm not thrilled about is the noise.  When the airbags inflate, a small compressor runs with a brrrrrr sound.  When they deflate, there is a loud pfffttt sound.  These sounds do detract from the overall relaxation experience.  And, without the compressor and release valve, I have no idea how else you could inflate and deflate the airbags.  It's a small quibble, but I felt that it is worth pointing out. And, truth be told, after a while, that repeating set of sounds almost added to the relaxation effect.
They provide quite a list of cautions that I thought are worth pointing out. This is directly from the user manual – don't blame me for the grammar. Also, don't ask me about bullet point #9…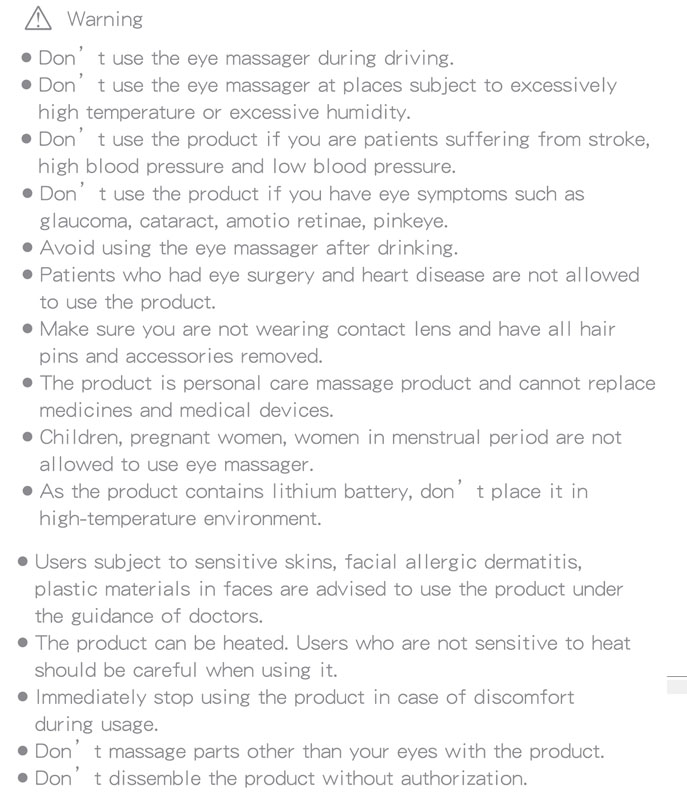 Huh – don't cover your eyes when driving.  I never made the connection.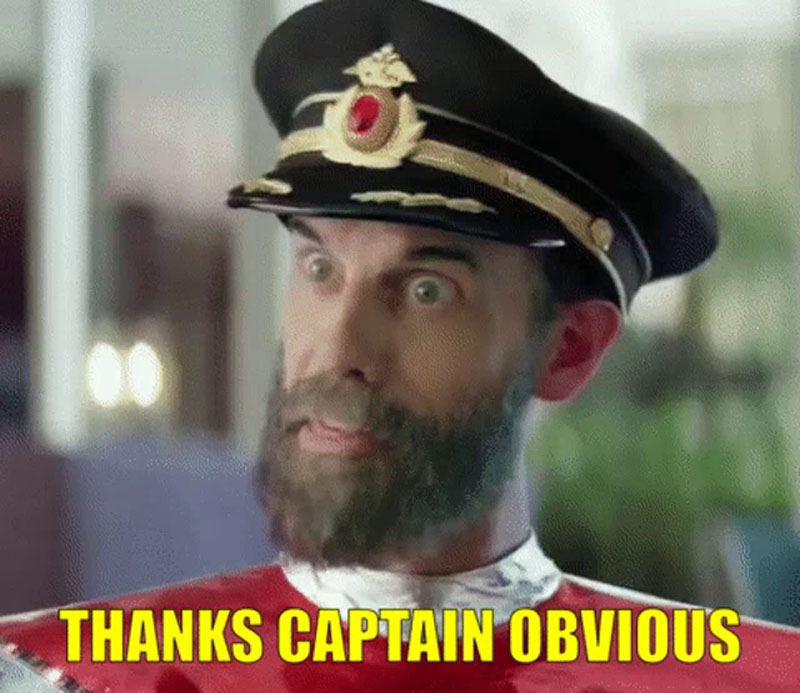 What I like
Pleasing massage and heat
Nice built-in relaxation sounds
Nice selection of modes
Voice prompts are great for switching modes when wearing the massager
What I'd change
Standardize on USB-C for charging
Better padding around the nose would improve comfort
The inflation and deflation process is a little loud
Final thoughts
I wasn't sure what to expect from the SKG E3 eye massager.  I'm happy to report that I am pleasantly surprised.  The massage feels great.  The heating mode also feels great.  The combination of the two coupled with the soothing sounds is super-relaxing.  I can see how this would feel amazing after a stressful day at work.  I, however, am retired and have exactly zero stress in my life, so I'll just use it when I want a great-feeling face massage and a hot compress.  That's still a great thing!
Price: $89
Where to buy: Amazon
Source: The sample of this product was provided by SKG.