We use affiliate links. If you buy something through the links on this page, we may earn a commission at no cost to you. Learn more.
---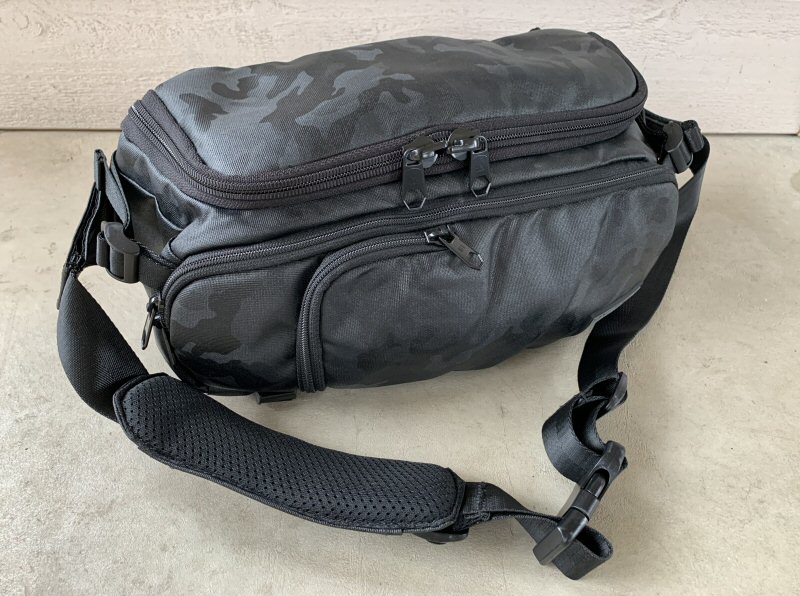 REVIEW – While ubiquitous smartphone cameras have all but driven the "point and shoot" camera market into extinction, they've not supplanted the venerable DSLR camera for serious photo hobbyists and professional photographers.  Carrying and protecting a DSLR camera and its accessories can be challenging, but there are still plenty of options on the market to do this effectively  Back in early 2019, I reviewed the HEX Ranger Clamshell DSLR Backpack and I was very impressed with it.  I'm a big fan of backpacks, but sometimes a slimmer, lower-profile carry solution is more appropriate, so I was excited to try the HEX Ranger Blackout Camo DSLR Sling V2.
What is it?
The HEX Ranger Blackout Camo DSLR Sling V2 is a cross-body sling bag designed to carry and protect a full-sized DSLR camera and accessories.
What's in the box?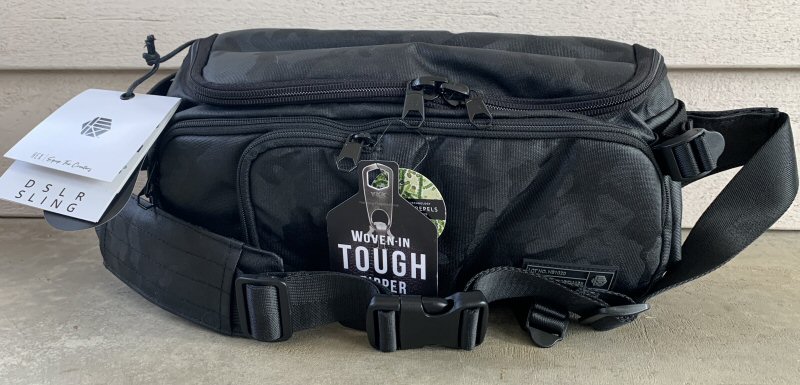 HEX Ranger Blackout Camo DSLR Sling V2
Hardware specs
Dimensions: 14.5″L x 7.5″W x 4.75″D
Weight: 1.3 lbs
Capacity: 8 L
Materials:

Water-resistant genuine Cordura® with Antimicrobial technology
YKK zippers with custom metal zipper pulls
Design and features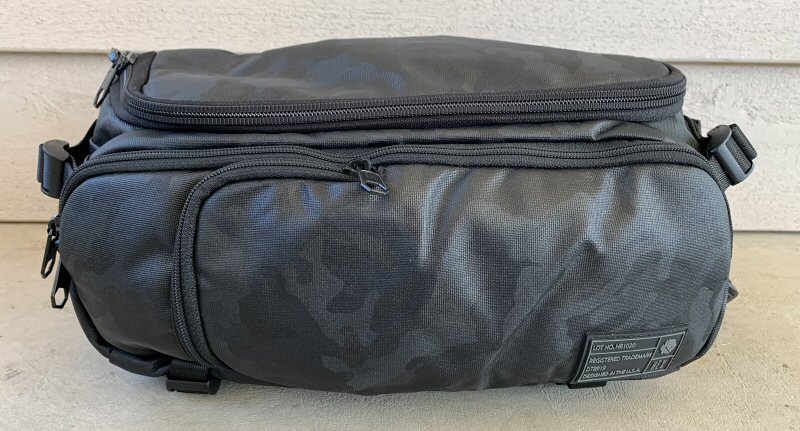 Right out of the box, the HEX Ranger Blackout Camo DSLR Sling V2 had a solid look and feel.  It's got a very compact, stout-looking form-factor and it is clearly made from durable, tough materials and construction.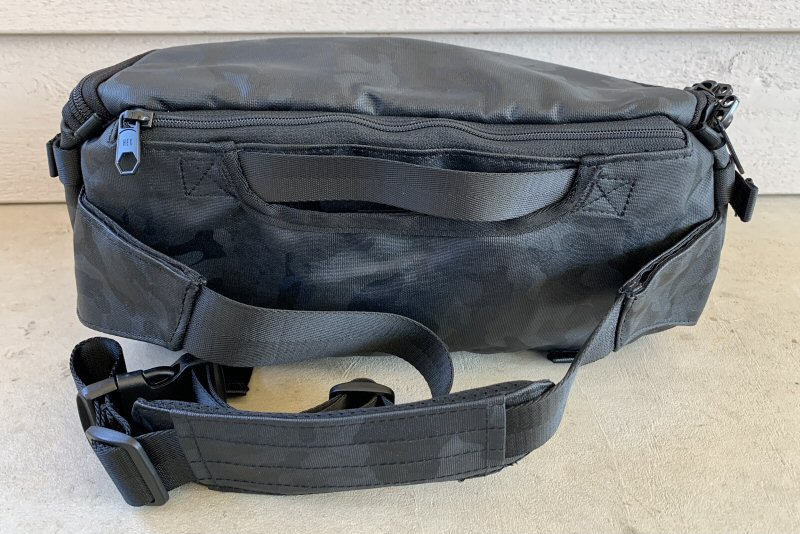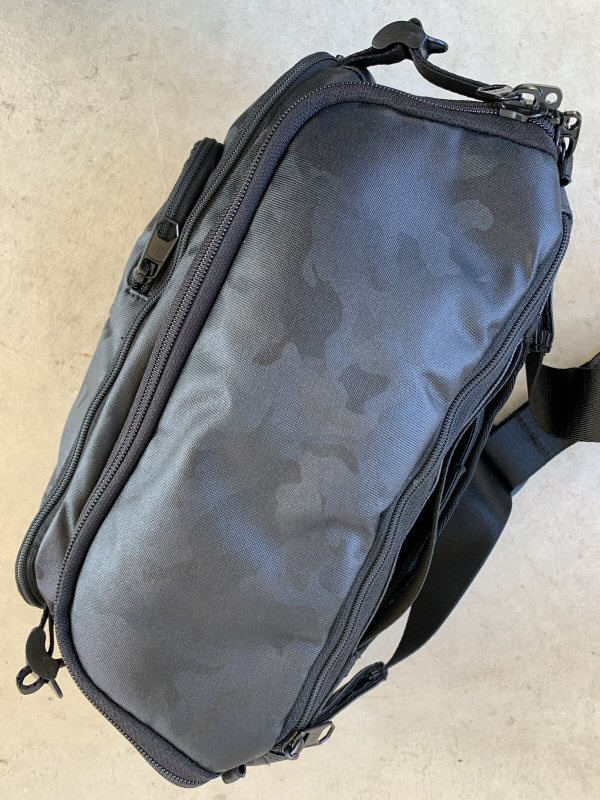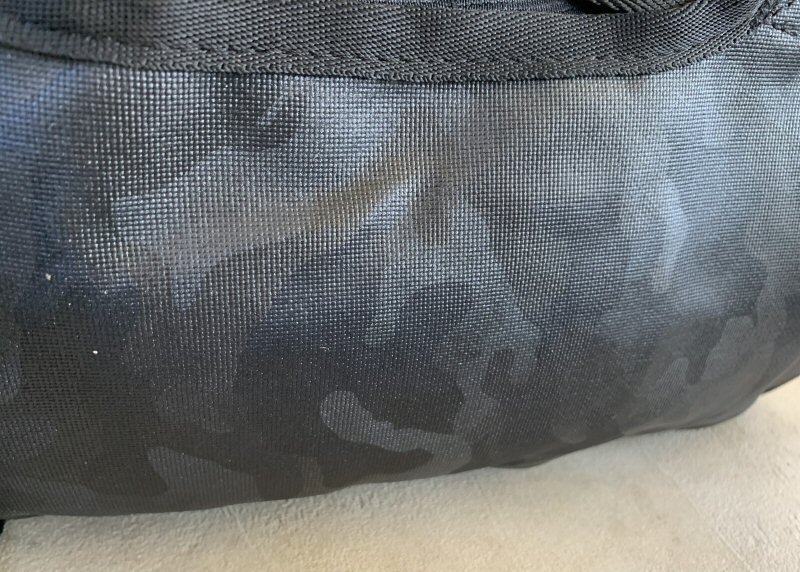 I'm a big fan of the Ranger V2 Sling's Blackout Camo color scheme.  Its various splotches of grays give it a very subdued, subtle style.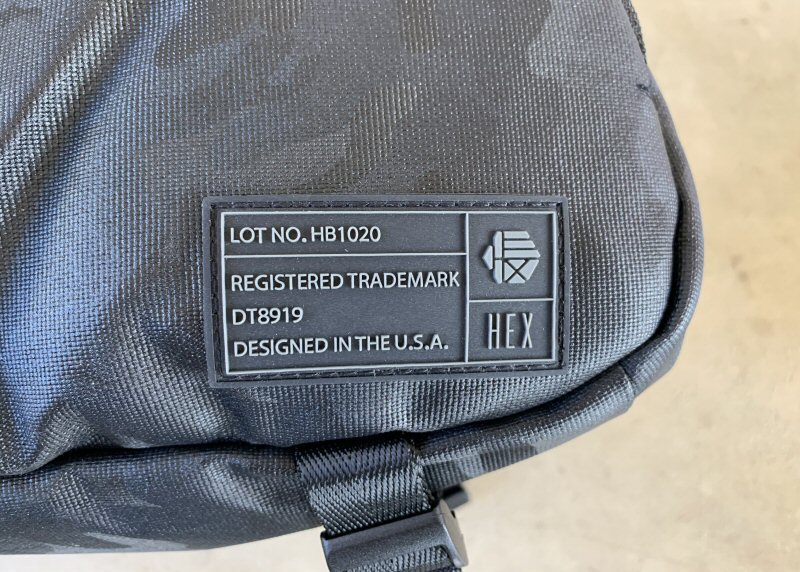 I like that HEX chose to go with a small product label rather than a huge one that screams their brand.  This label is PVC and stitched on, so I expect it to be durable for a long time.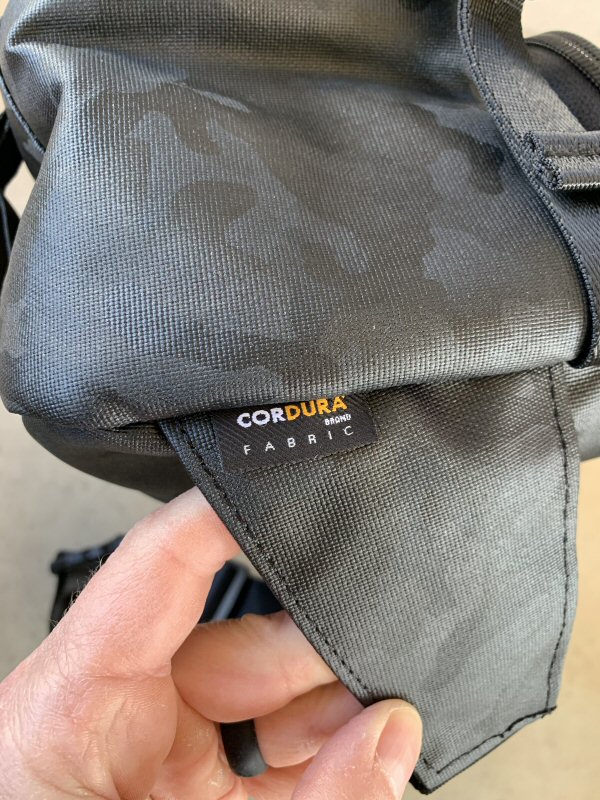 As mentioned above in the Hardware Specs, the Ranger V2 Sling is made from water-resistant genuine Cordura® with Antimicrobial technology.  Cordura variants have been proven to be some of the toughest and most durable fabrics in the bag and pack space.  This particular type of Cordura fabric feels very strong, and also has a bit of a smooth, almost glossy feel to it, more than the many other Cordura fabrics I've experienced in the past.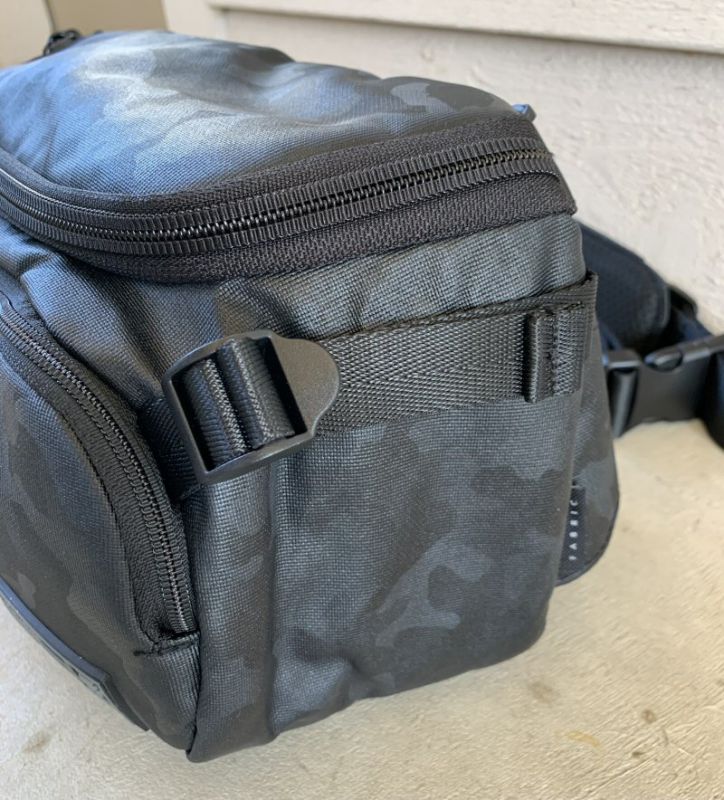 The Ranger V2 Sling has four compression straps, two on the bottom (more on this below) and one on either end that can be tightened or loosened to help compress or expand the bag depending on the contents inside.  I found this to be a handy feature, as I didn't always have the Ranger V2 Sling completely loaded and compressing it gives a narrower profile.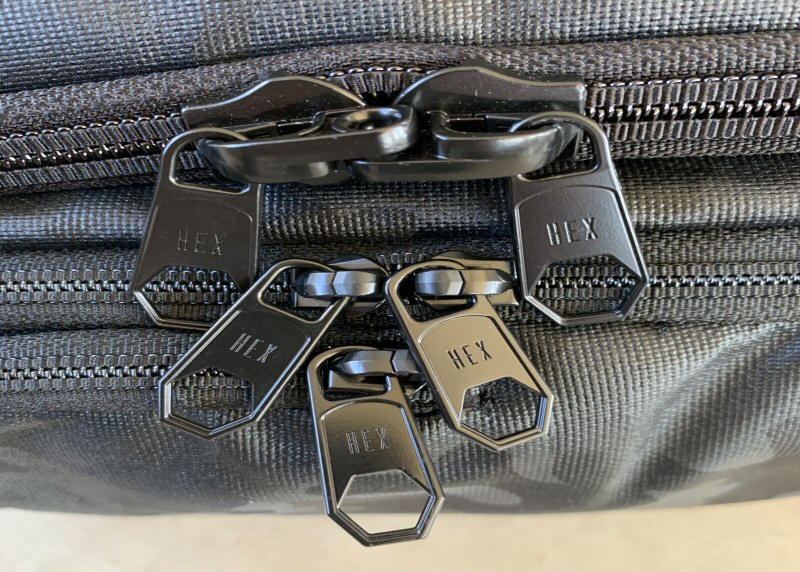 All of the Ranger V2 Sling's zippers are impressive.  All are YKK brand zippers, argued to be the best zipper brand on the market.  The zipper pulls are thick and wide to help grab them more easily, and Hex has branded their logo text and hex-shaped on each zipper pull, which I found to be a subtle but clever touch.  The main compartment has the beefiest, most heavy-duty zipper, and its zipper pull includes a feature to allow a lock to be placed on it to secure its contents.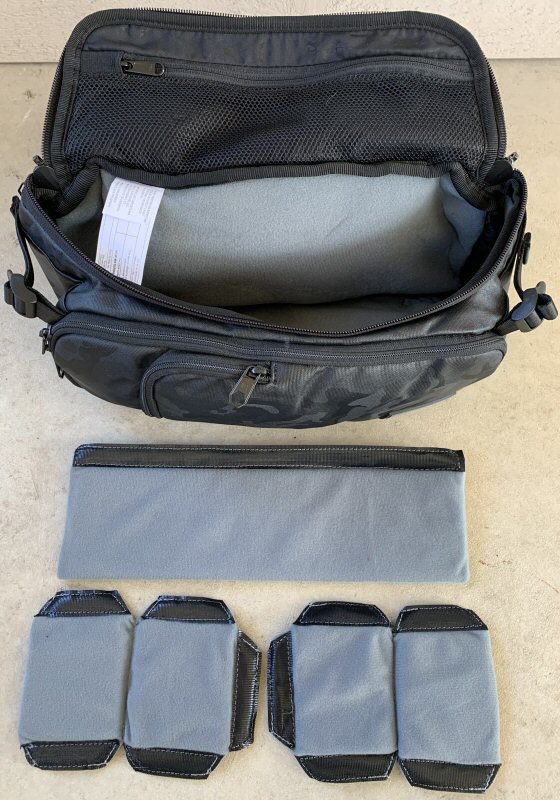 The above photo shows the three dividers that can be used to customize the Ranger V2 Sling's main compartment.  Each are semi-rigid with soft sides to help protect sensitive contents and have Velcro attachment points to secure it into the main compartment's outer walls.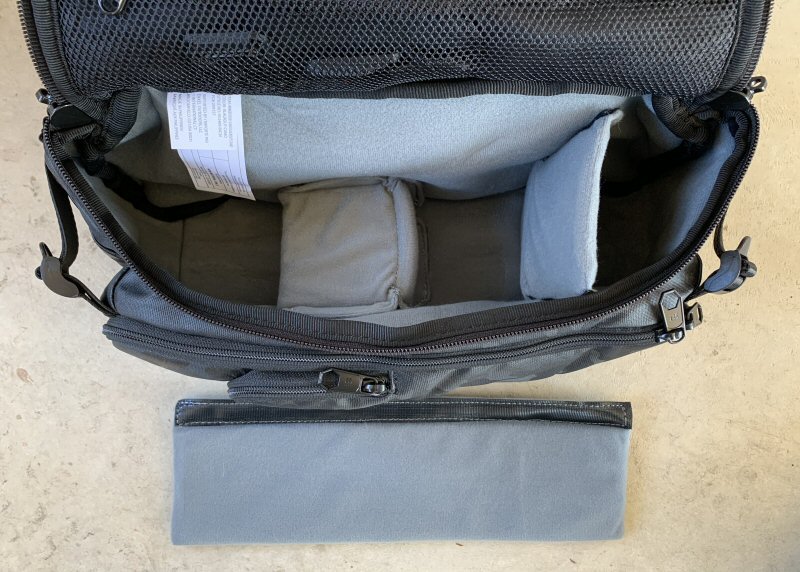 In the photo above, I've shown the divider setup that I ultimately employed in the Ranger V2 Sling.  I didn't use the long divider because I couldn't find a use for it with the items I wanted to place in the main compartment, but after looking at this pic as I write this review, I think I might have been able to place it on the top of the compartment as a sort of flap to give the contents extra protection.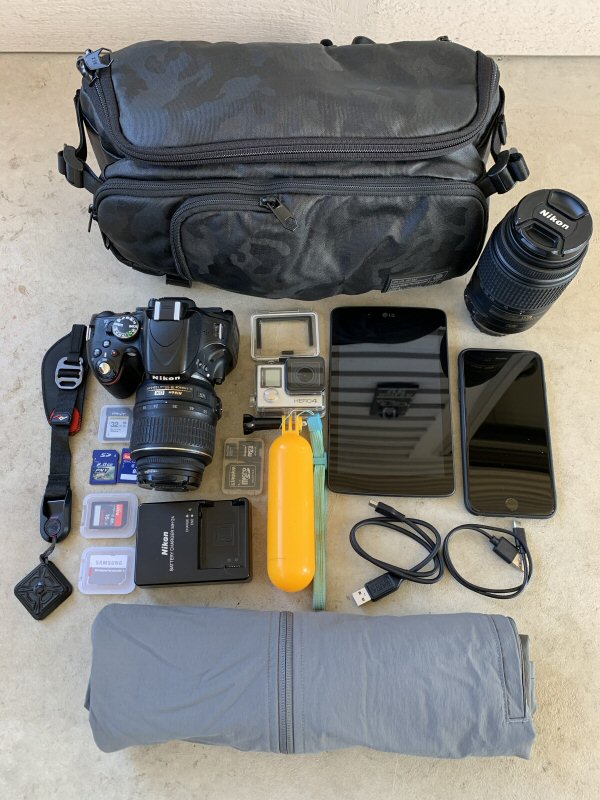 The photo above illustrates the items that I placed inside (or on, as you'll see below) the Ranger V2 Sling.  They consist of my Nikon DSLR camera body with my main lens, a longer telephoto lens, my iPhone 6 Plus (my old iPhone included here for illustrative purposes), my DSLR's battery charger, six SD memory cards, a Peak Design handle for my DSLR, a mini-tablet (borrowed from a friend and included for illustrative purposes), my GoPro camera in its waterproof protective case with spare protective case cover, and attached to a "float" handle, a couple of charging cables, and my GORUCK xxx jacket.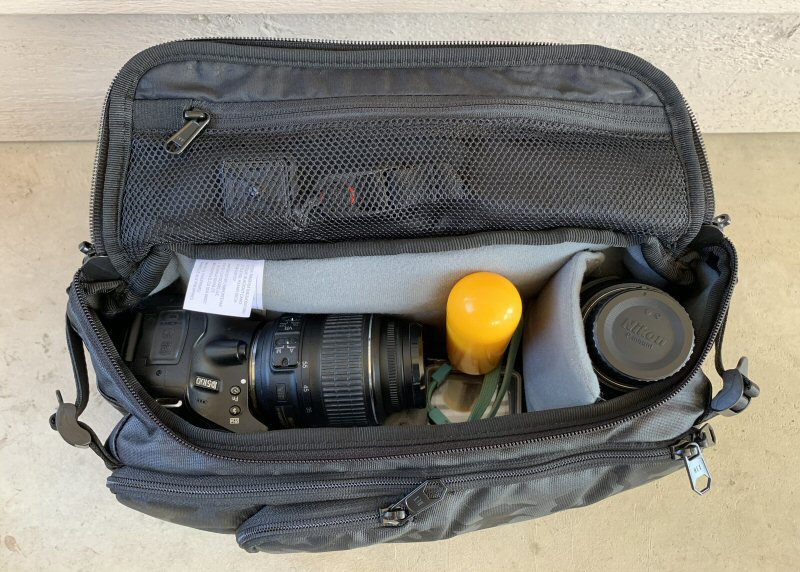 The above photo depicts all of the contents that I described above after being placed in the Ranger V2 Sling.  After loading it up, I measured the dimensions of the bag to be 15″ long x 8″ wide x 7″ high.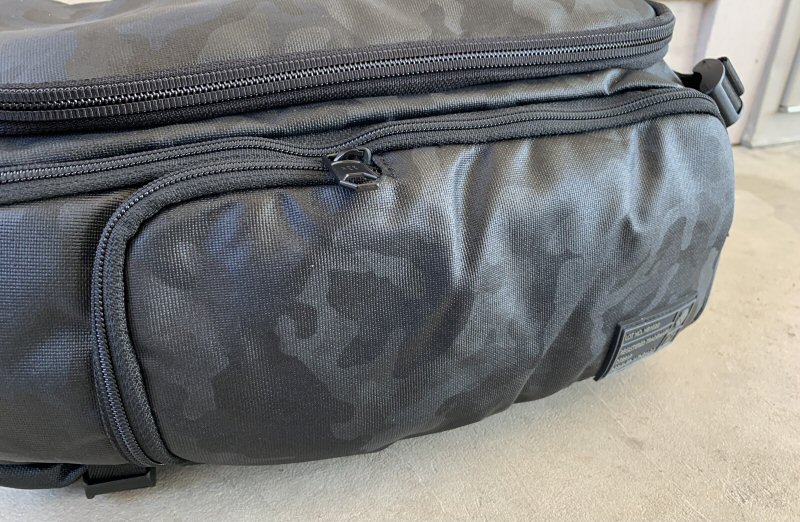 On the front of the Ranger V2 Sling is a long, horizontally-oriented zipper pocket.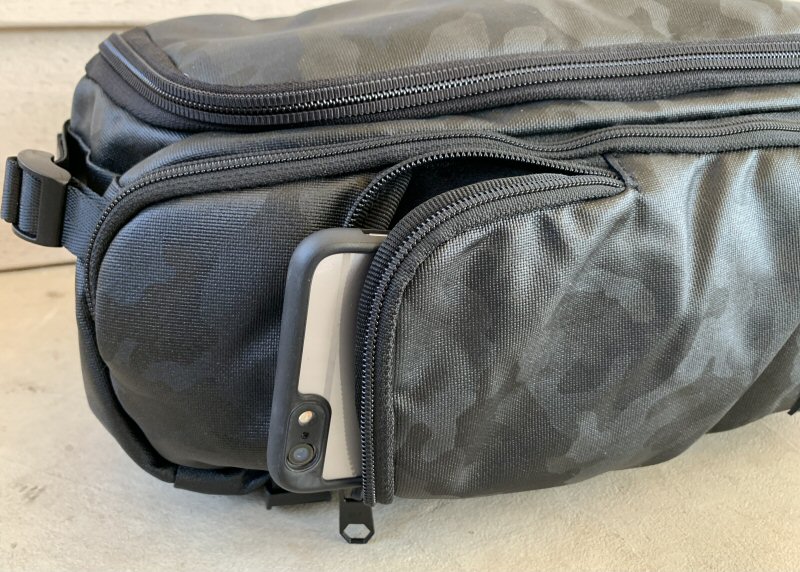 Being on the outside front, this pocket provides quick, handy access to a phone or other thin items.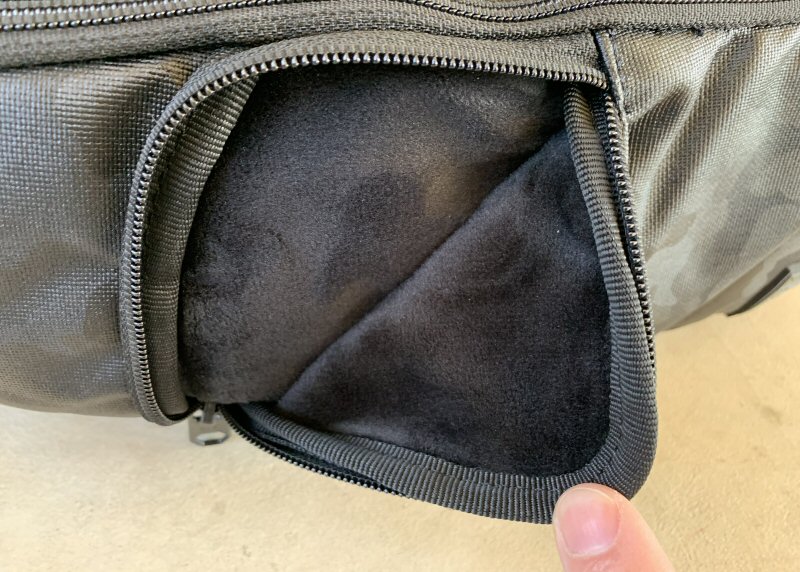 The inside of this pocket is lined with an impressively soft fleece material to help keep sensitive items from being scratched or scuffed.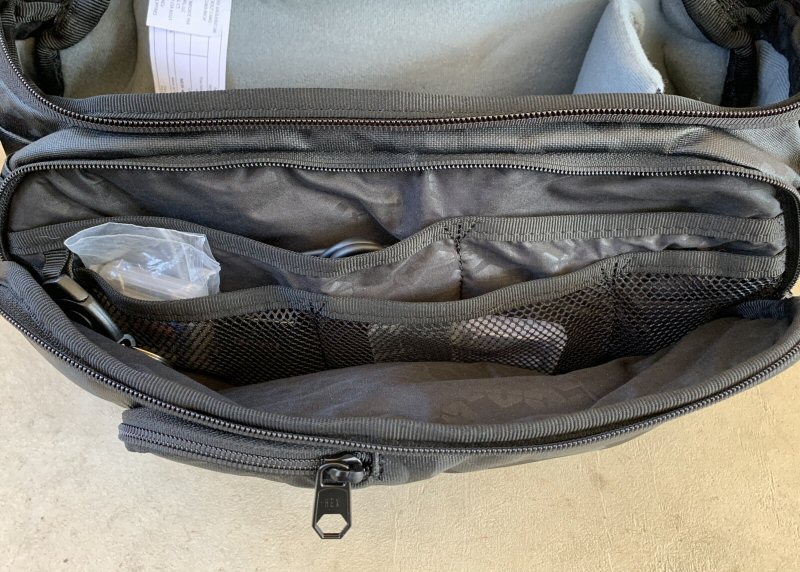 Tucked between the Ranger V2 Sling's main compartment and its long outside zipper pocket lies another zipper pocket that runs nearly the complete length and height of the bag.  This pocket contains multiple smaller pockets that can be used to organize smaller items.  I stored the memory cards and charging cables in these pockets and had room for several more items.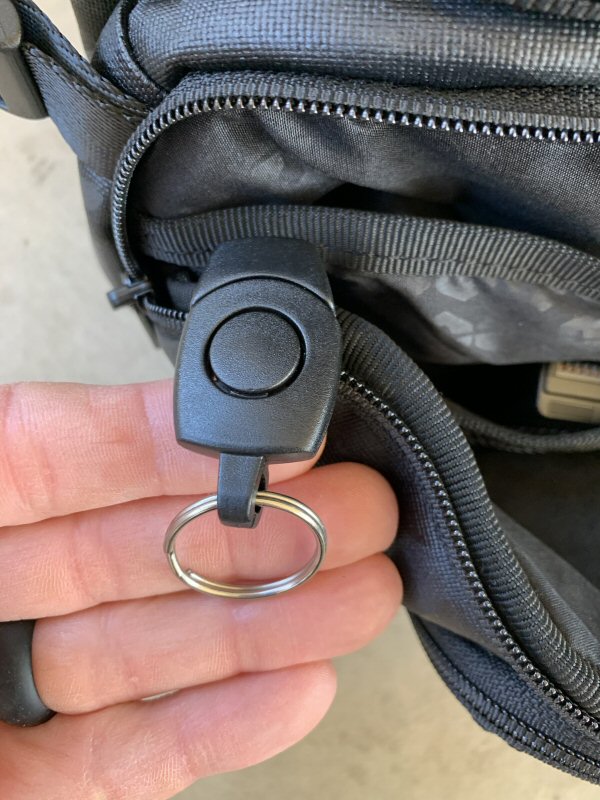 Tucked in the far end of this organizer pocket is a small lanyard with a quick-release buckle and a split ring.  I found this quick-release button just a bit easier to use than most side-release buckles.  The most obvious potential use for this quick-release lanyard is to attach keys, but other items could be attached as well, like a small flashlight or ID badge.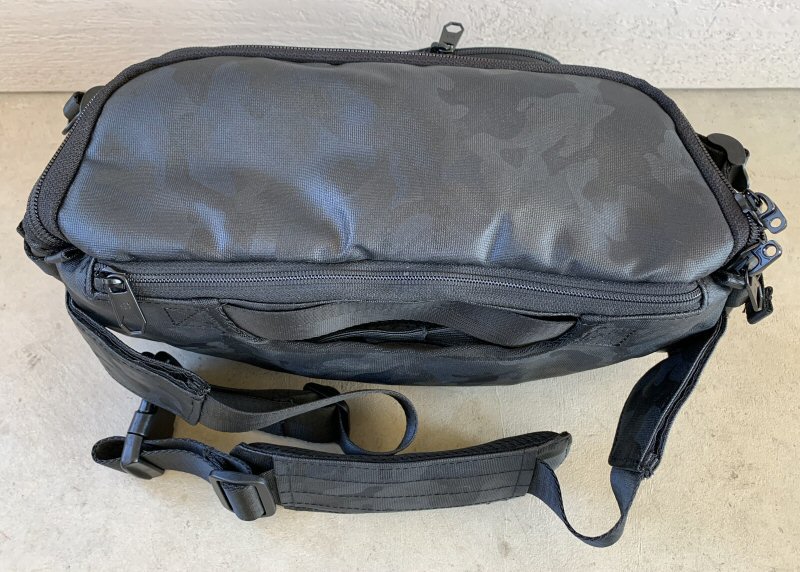 Almost hidden on the back of the Ranger V2 Sling is another zipper pocket that runs nearly the full length and height of the bag.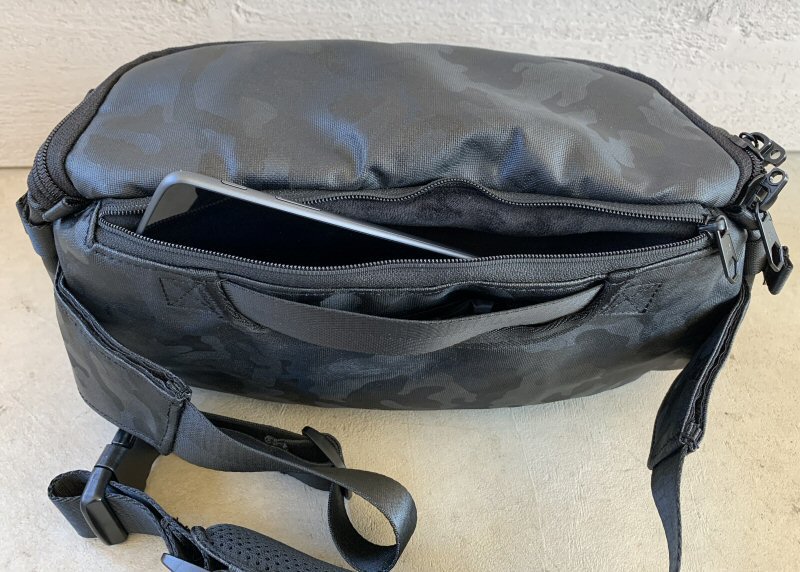 This rear pocket can fit items up to the size of a mini-tablet and could also be useful for holding a wallet, passport, airline tickets, cables, or other flat items.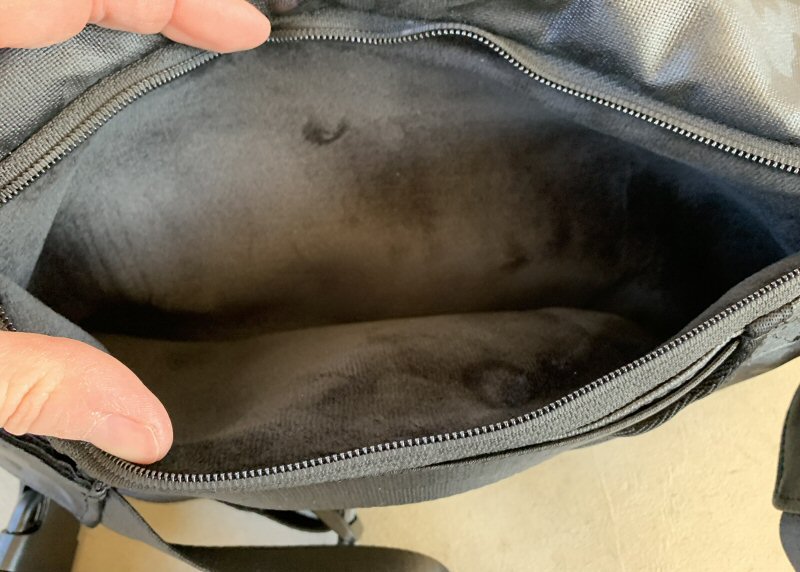 Like the long, flat front zipper pocket, this rear zipper pocket is lined with the same incredibly soft fleece material to protect sensitive items.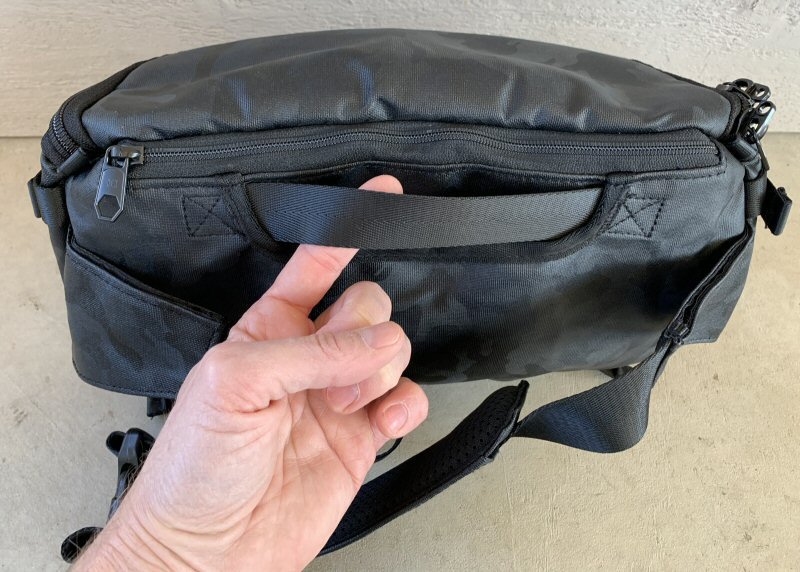 Just below the rear zipper pocket is a grab handle made from a strip of 1-inch wide seatbelt-type webbing.  In addition to this webbing being ridiculously strong, you'll also notice in the photo above that it is stitched to the rear of the bag very securely, which is emblematic of the construction throughout the Ranger V2 Sling.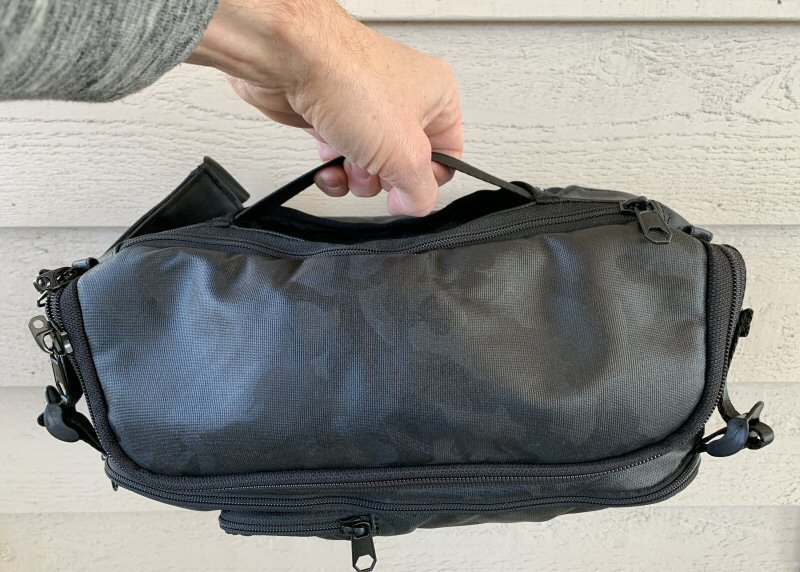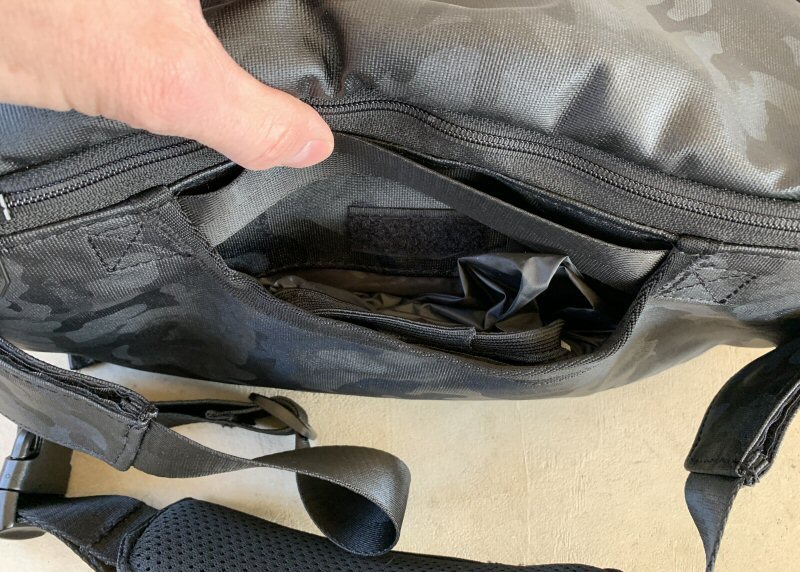 Just beneath the rear grab handle is yet another pocket that holds the included rain cover.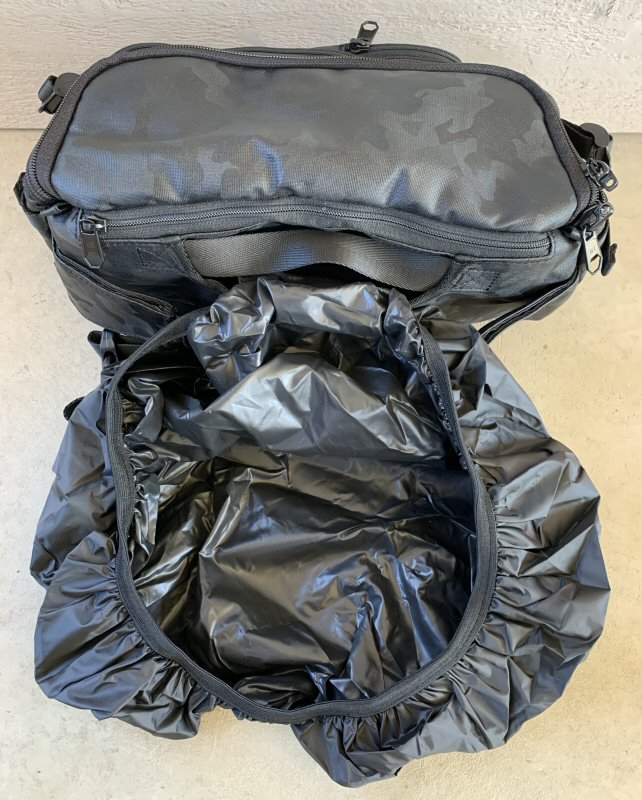 Once pulled from its pocket, the rain cover resembles a large black shower cap with an elastic ring around its edge.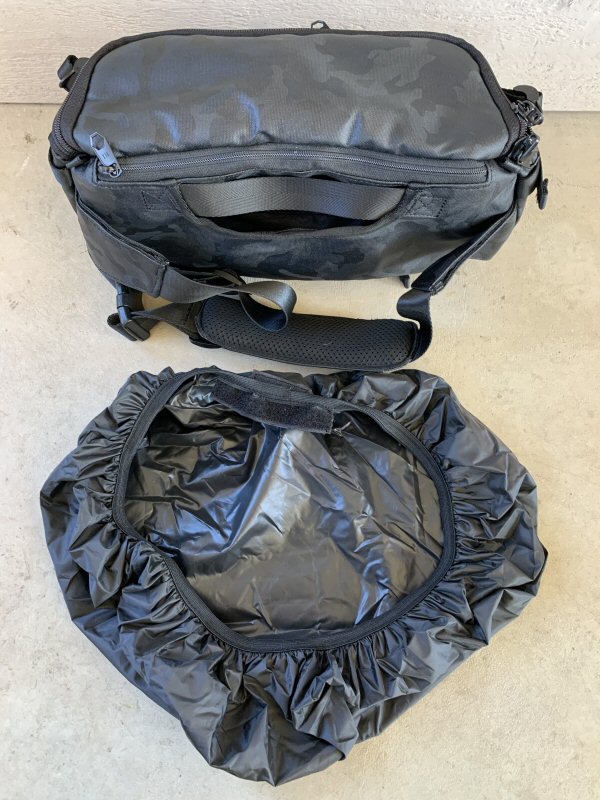 The rain cover is attached to the inside of its pocket with a strip of Velcro, but it can be fully removed if needed, in case you need to dry out the cover or would like to store other items inside its rear pocket.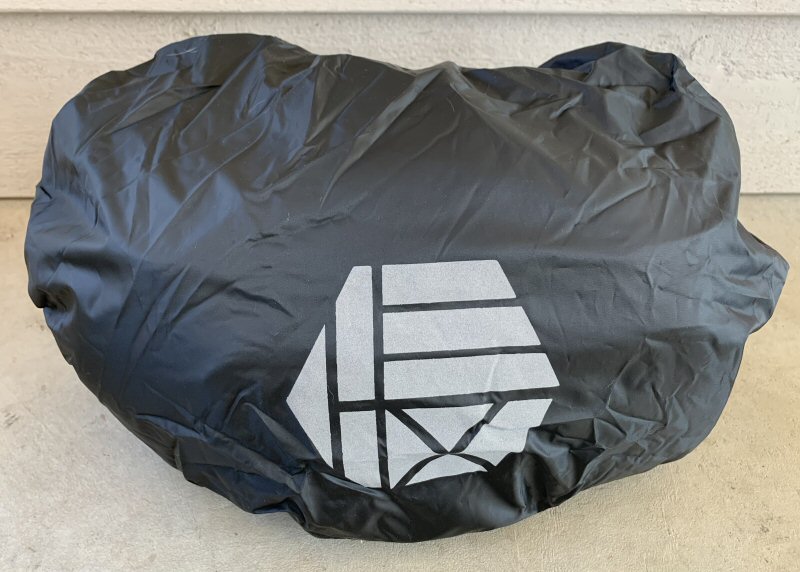 The rain cover has the Hex logo on the outside.  The rain cover itself is made from a thin, fully waterproof fabric.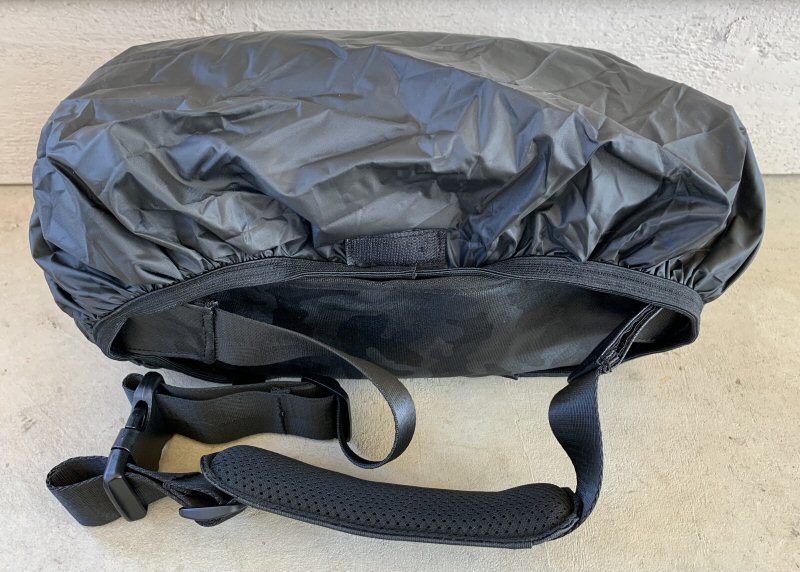 The rain cover nearly fully encloses the Ranger V2 Sling, as seen in the above photo.  In an extended, full downpour this cover probably won't keep the sling completely dry.  However, in a light rain, I think it would work very well to keep the sling almost completely free of moisture, and the sling's Cordura materials would also help with this.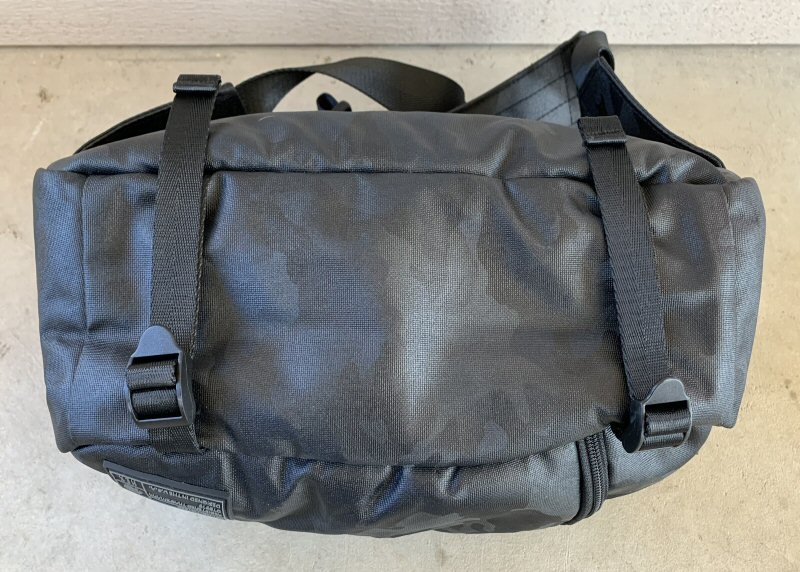 On the bottom of the Ranger V2 Sling are two more compression straps that can both help collapse the sling when not fully loaded, but can also serve as an attachment point for other items.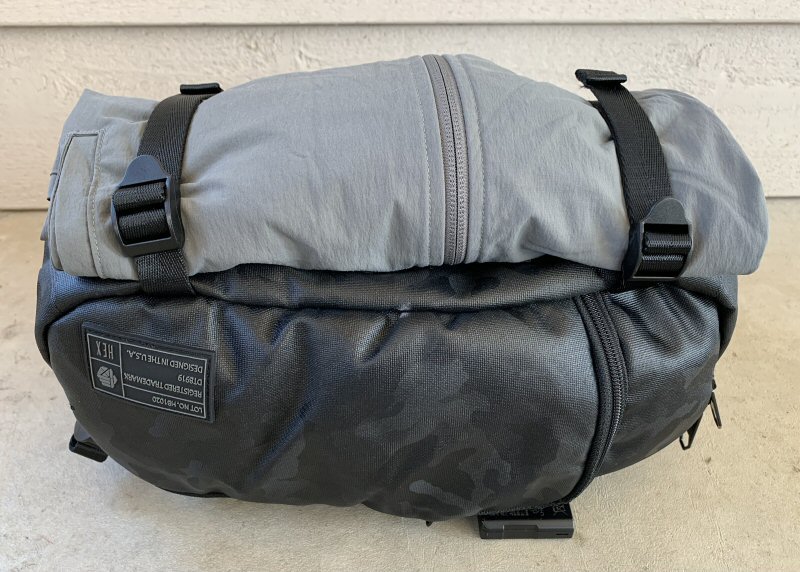 These compression straps were perfect to hold my rolled-up GORUCK windbreaker, which kept it out of the way but easily accessible.  These straps could also be used to hold a tripod or maybe a water bottle.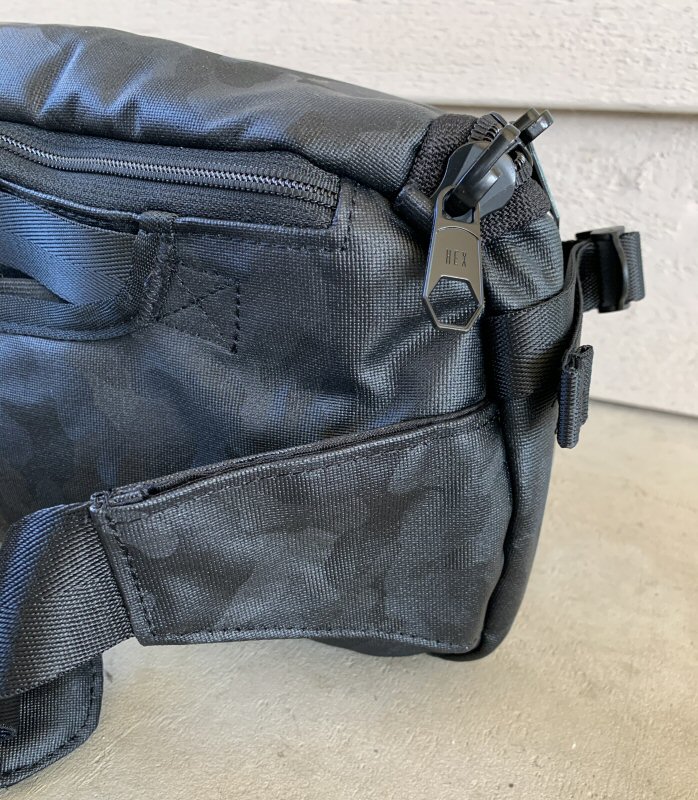 In addition to those two pockets located on the rear of the Ranger V2 Sling, another pair of pockets is almost completely hidden from view.  Did you see them in any of the previous images?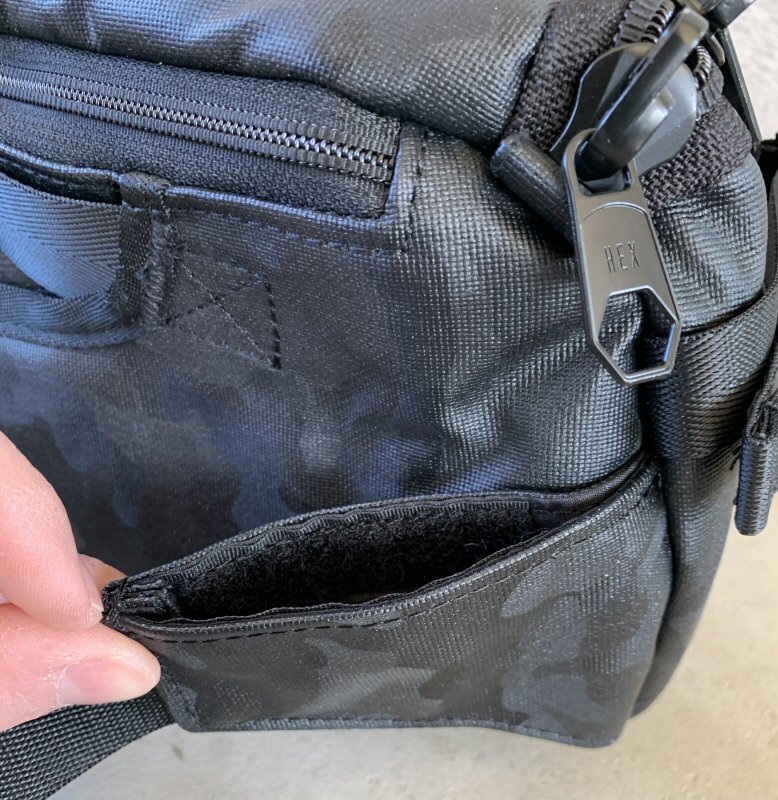 At the point where the sling's shoulder strap webbing connects to the main body of the bag, there are two "batwing"-type features, each of which forms a small Velcro-topped pocket.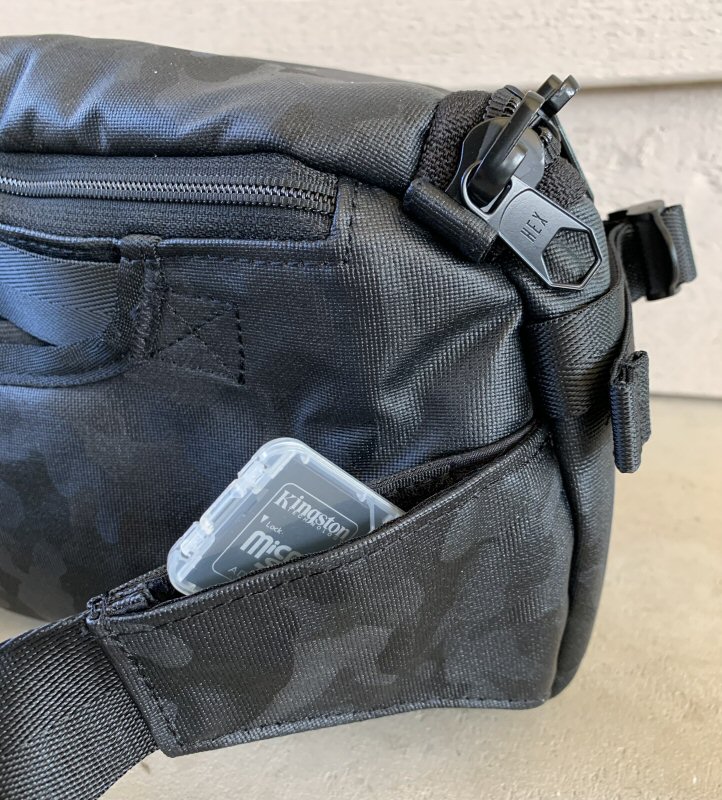 These two small pockets are great for holding a few small, thin items you might want to access without opening the main bag, such as a few memory cards, some coins, or even a few bills that would likely remain hidden and safe. Hex has designed and built these pockets quite well—I didn't even know they were there at first, and I've reviewed a fair number of bags.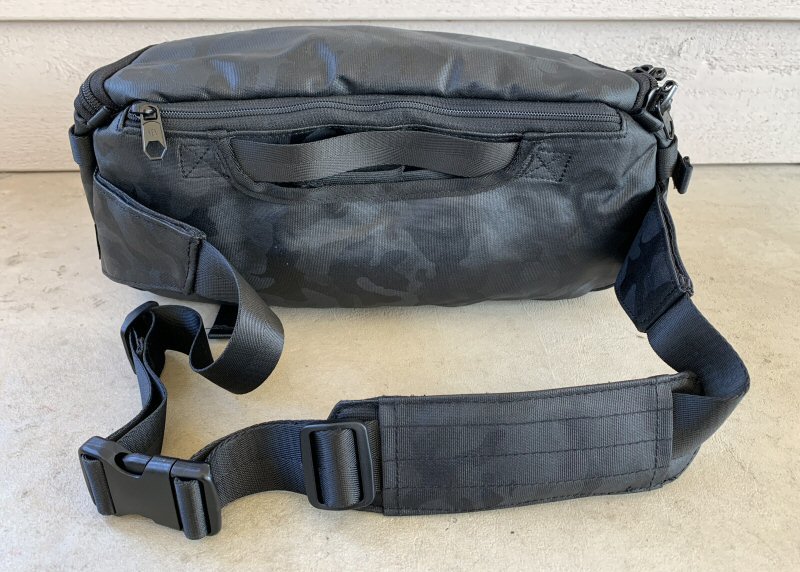 The Ranger V2 Sling's shoulder strap is made from a seatbelt-type webbing material that is very similar to, but wider than the rear grab handle.  And like the grab handle's webbing material, the shoulder strap webbing is crazy strong, but is it also very supple and not at all stiff, which makes it easier to maneuver the sling on and off your body quickly and easily.  The shoulder strap also has two sliders for extra adjustability.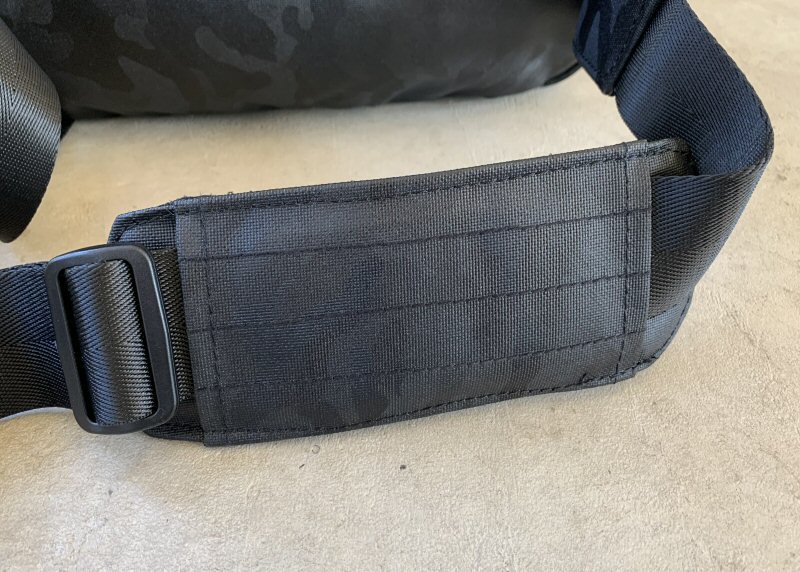 The shoulder strap has a strap pad that is made from the same Cordura fabric as the main bag.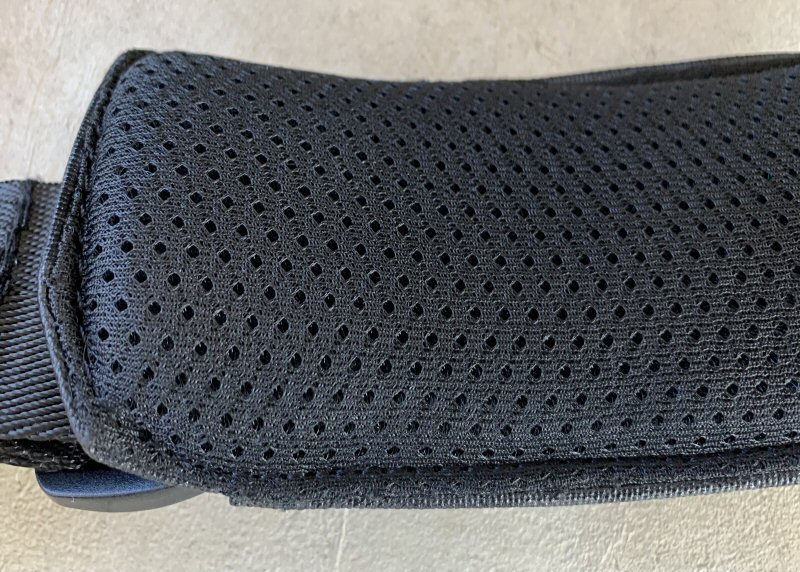 The pad has thick padding and its underside of the pad has a mesh-type material that helps with breathability and sweat minimization.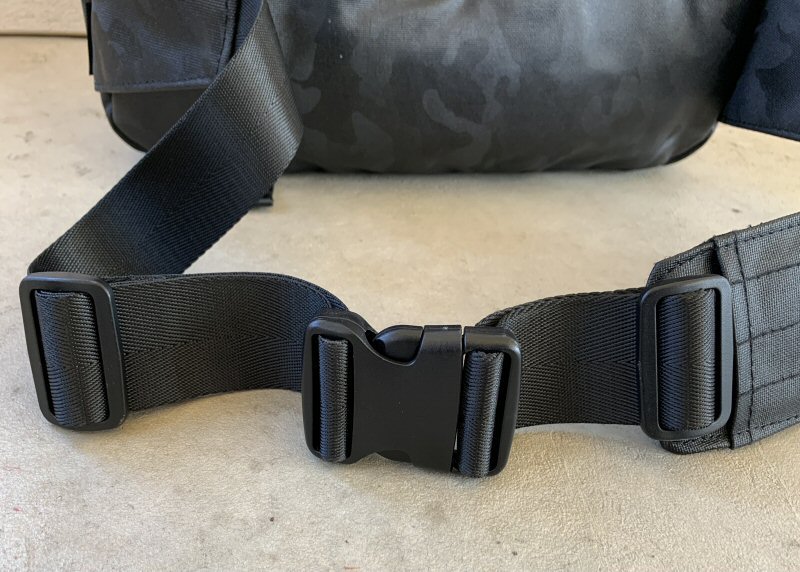 The shoulder strap also features a quick-release buckle that aids in putting on and taking off the bag without having to lift it over your head.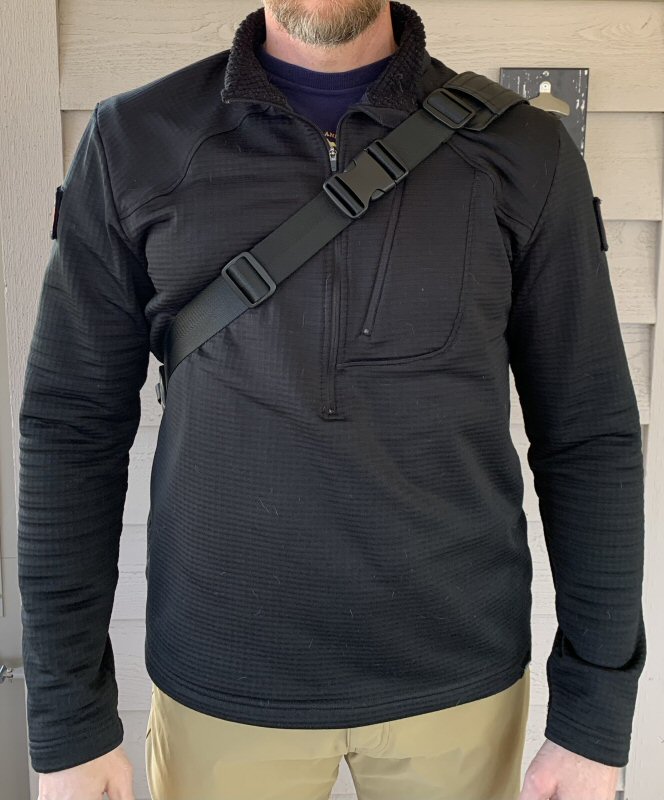 The Ranger V2 Sling is very comfortable to wear due, I think, to both its well-padded strap pad and its two adjustability sliders that allow you to customize the sling's fit to your own personal preference.  Wear it low-slung or up higher on your back, it's your choice.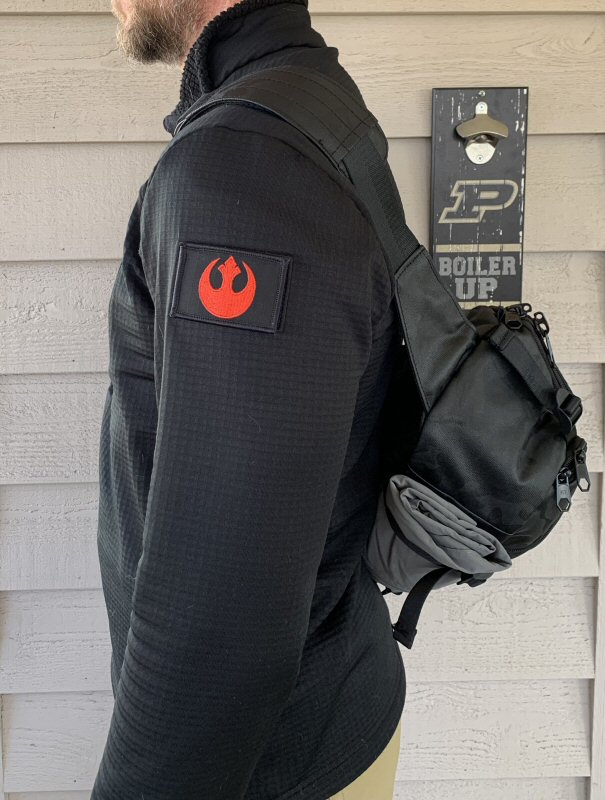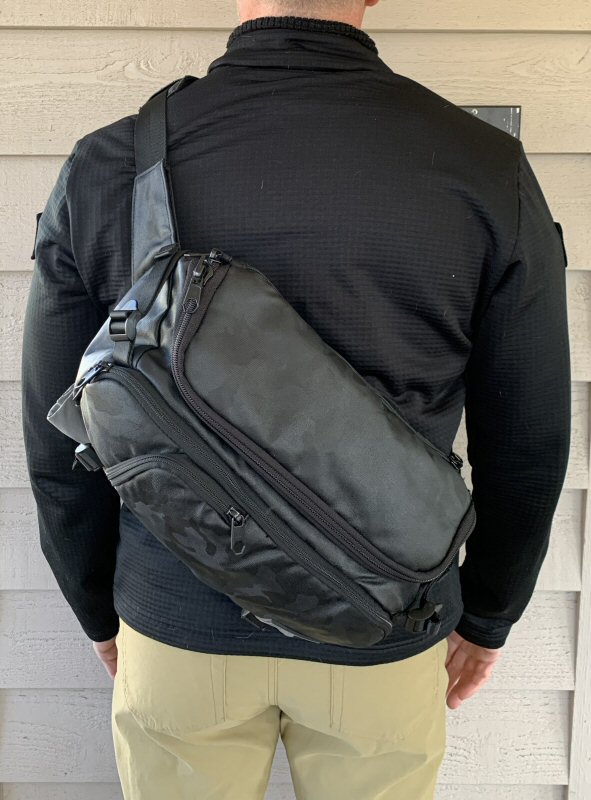 The Ranger V2 Sling is actually a decent size for a sling bag.  It can hold a lot if you choose to load it up, but even fully loaded it is not a particularly large sling bag.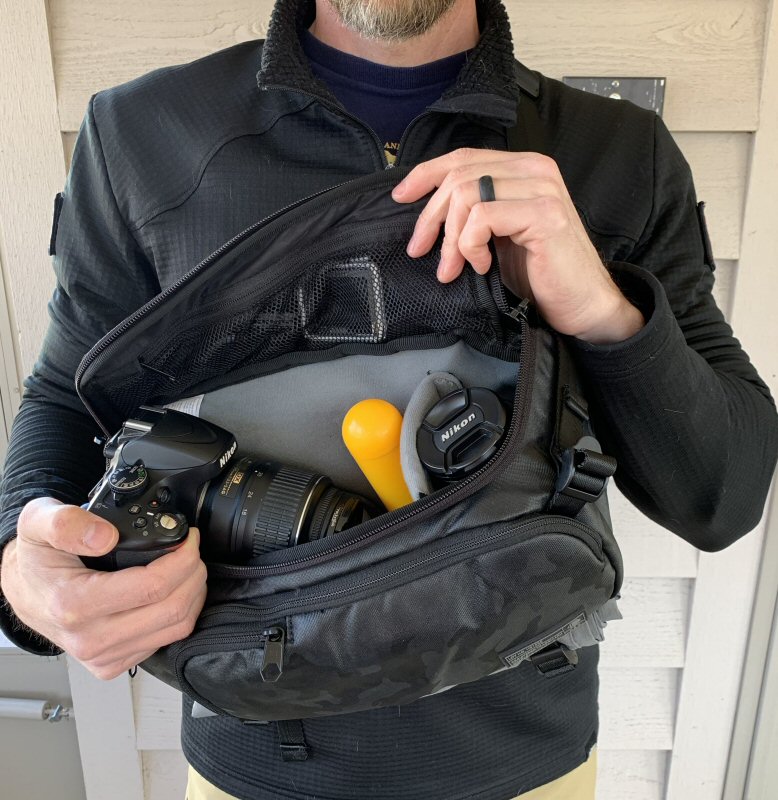 While I was able to comfortably carry all of the items shown in the photos above, I think the Ranger V2 Sling's design has enough versatility to carry lots of items other than a DSLR and accessories.  It can be a great short-range day pack, a travel carry-on, or a supplement to a larger commute backpack.
What I like
Slim and compact
Lots of customizable organizational features
Material and design effectively protect the contents
Blackout Camo pattern is subdued and understated and looks cool
Lots of versatility allows it to hold items besides a camera
What I'd change
Compression straps are a bit difficult to adjust
Final thoughts
Like the Hex Ranger Clamshell DSLR Backpack I reviewed back in early 2019, I was very impressed with the Hex Ranger Blackout Camo DSLR Sling Bag V2.  Its design is very well thought-out, its materials are of very high quality, and its construction and build are top-notch.  It is loaded to the gills with many pockets and organizational features, and although it is perfectly designed to carry a DSLR and lots of accessories, it has enough versatility to allow it to carry items beyond just a camera.
Price: $99.99
Where to buy: Hex Brand and Amazon soon
Source: The sample of this product was provided by Hex Brand.