The Gadgeteer is supported by readers like you! If you buy something through links on our site, we may earn an affiliate commission. Thank you! Learn more.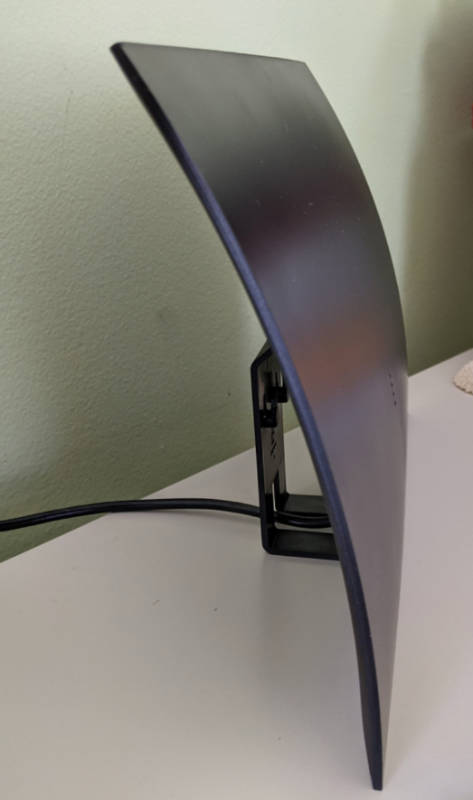 REVIEW:  I am planning a home cord-cut very soon. The opportunity to review the Mohu Arc Pro indoor TV antenna came at the perfect time. Is it better than my $20 digital antenna? Spoiler: Yes. Much.
What is it
The Mohu Arc Pro is an amplified indoor VHF-UHF TV antenna.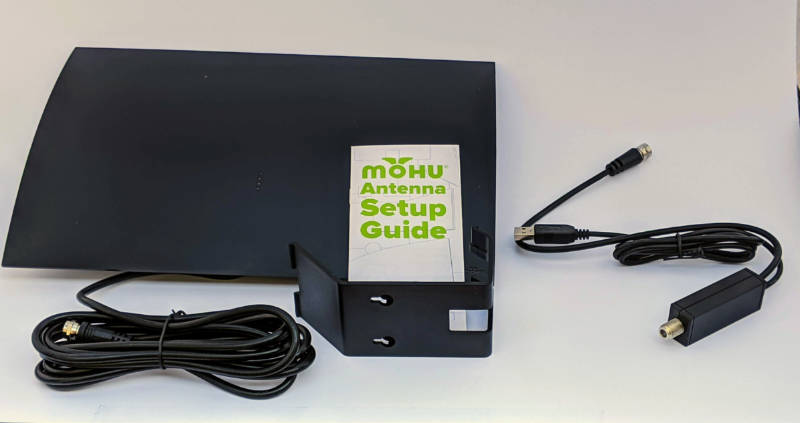 What's in the box
Mohu Arc Pro antenna

Stand clip/wall mount

'Power injector' amplifier

Setup guide
Hardware specs
10 foot length high-performance coaxial cable

Base stand

'Power injector' amplifier with 6 ft. USB cable

Measurements: 11.7" wide, 8.1" high, ~2.5" front to back of stand
Design and features
Signal indicator LEDs

FirstStage amplification mitigates signal loss

Base stand can be used for surface placement or pre-drilled holes allow for wall mounting

"Multi-directional; no aiming necessary" (maybe)

Easy installation

Installation and Setup
Connect the Mohu Arc Pro coax cable to the TV antenna jack. 

Plug the Mohu Arc amplifier into a USB port in the TV, or use any USB power source to obtain current for the amp. 

Scan for channels using the channel scan function of the TV. 

View found channels.

Testing and observations
Two of the best resources I can recommend before you shop for antennas are:
AntennaWeb   and   TV Fool
I especially like the map at both sites which identifies where broadcasters are located relative to one's address. At antennaweb.org there is lots of helpful information including videos.
TV Fool also has a mapping feature, so a comparison of your results from the two sites may be useful.  
My old $20 digital antenna yielded 22 stations on our upstairs guest room TV. The Mohu yielded 22 stations on the same TV, but 28 stations on the downstairs TV.  This might make you scratch your noggin but I must note, the weakest station group in our metro area was clearer on the upstairs TV (no pixelation) with the Mohu vs. the cheapo. 
A variable in the mix is the quality of circuitry in the TV receivers. Our upstairs TV is an older LCD unknown name TV. Downstairs sits a Samsung. Some of that could account for the better channel reception with the Mohu with the downstairs Samsung.  
The Mohu Arc Pro is listed as having a 60 mile range. TV antenna reception claims are about as reliable as cell company coverage maps. IF the signal is coming at you downhill, on a clear day, with the prevailing wind, then maybe. There are stations 40 miles from our location we cannot receive with the Mohu antenna. Antennas have to be tried where they are to be used.
If you live in a very major metropolitan area, you may receive a lot of channels even with an indoor antenna sitting on the floor. The farther you live from broadcasters the fewer channels will be available. It's all 'location, location', and the construction materials used in your home.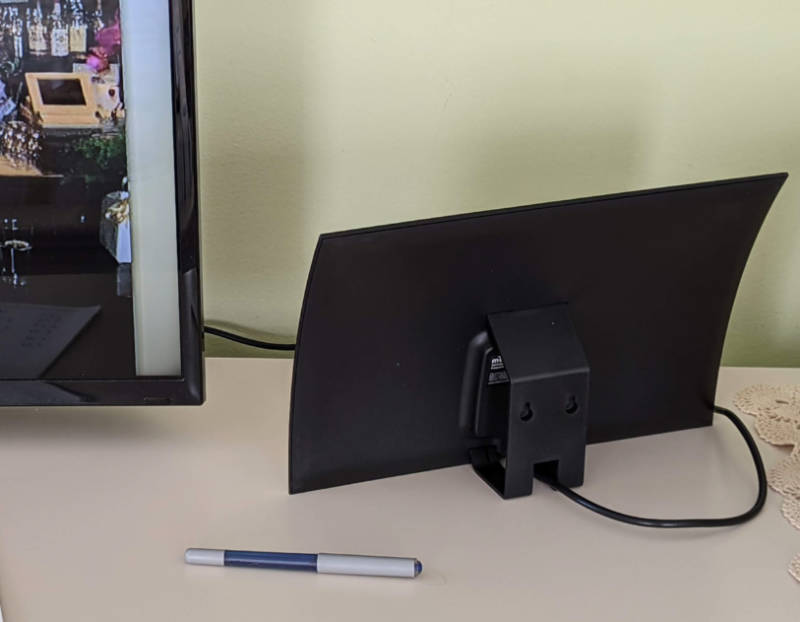 My weakest station group (most every station has several channels apart from their main one) is 10 miles southwest of my wood frame home with authentic vinyl siding. In an upstairs room, the Mohu Arc Pro received that broadcaster's station best when it was turned with its back side facing southwest. Go figure. That's how it is with indoor antennas. My weakest stations are either clear, or not receivable depending on a difference of 1-2 feet or 30 degree turns in various antenna positions. Mohu claims this antenna is "multi-directional; no pointing necessary". That does not represent my experience with any antenna, ever.
The signal indicator LED always displayed one light during my testing.  There are 4 LEDs that should light in multiples to indicate signal strength. I assume this is simply due to transmitter distance. Our reception was very good with the Mohu Arc Pro.
An observation about cord-cutting – We have a basic TV package, phone service and high speed internet through a cable company. We view most of what we watch with an Amazon Firestick. If we cut only TV, or only phone, our price goes up!  So-called 'triple play' discounts seem the main reason many people have TV, internet and phone. If we stop the TV and phone service, our bill for 'internet only' will be half of our current charge. 
What I like
The Mohu Arc Pro antenna brought in more stations than my previous digital TV antenna.

The size of the antenna is not objectionable.
What I'd change
The antenna would be more stable on certain surfaces if it was heavier.  Sometimes the antenna turns from the slightest settling of its coax cable behind furniture.

The Setup Guide packed with the antenna is for several models of Mohu antennas not clearly denoted in the directions.  I appreciate specific instructions for the product I purchase.

Final thoughts
If you need to use an indoor TV antenna, get as much antenna as your wallet will bear and your reception is likely to improve and expand accordingly. The Mohu Arc Pro increased the number of available over-the-air TV channels on our primary TV and improved viewing quality on another.
Price: $79.99
Where to buy: Mohu, and Amazon
Source: The sample for this review was provided by Mohu.
Support The Gadgeteer
:
The Gadgeteer is supported by readers like you! If you buy something through the links on our site, we may earn a small affiliate commission. Thank you! Learn more.