We use affiliate links. If you buy something through the links on this page, we may earn a commission at no cost to you. Learn more.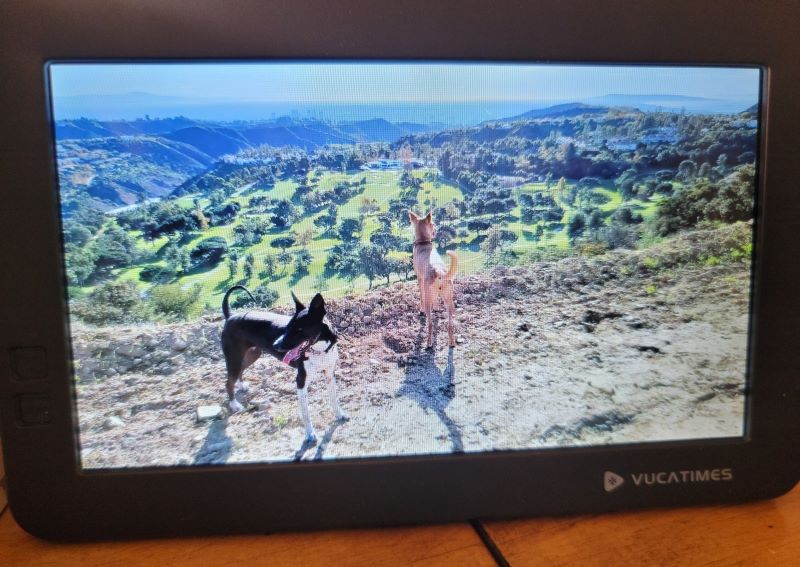 REVIEW – I love a good digital picture frame.  I mean, other than using my photos as my screensaver, I don't see them otherwise.   Unfortunately, a "good" digital picture frame is kind of hard to find if my experience is anything to go by.  I seem to have a knack for finding the frames that are all a bit fritzy.  Let's see if this one is any different.
What is it?
A 7- inch WiFi enabled digital frame with a remote control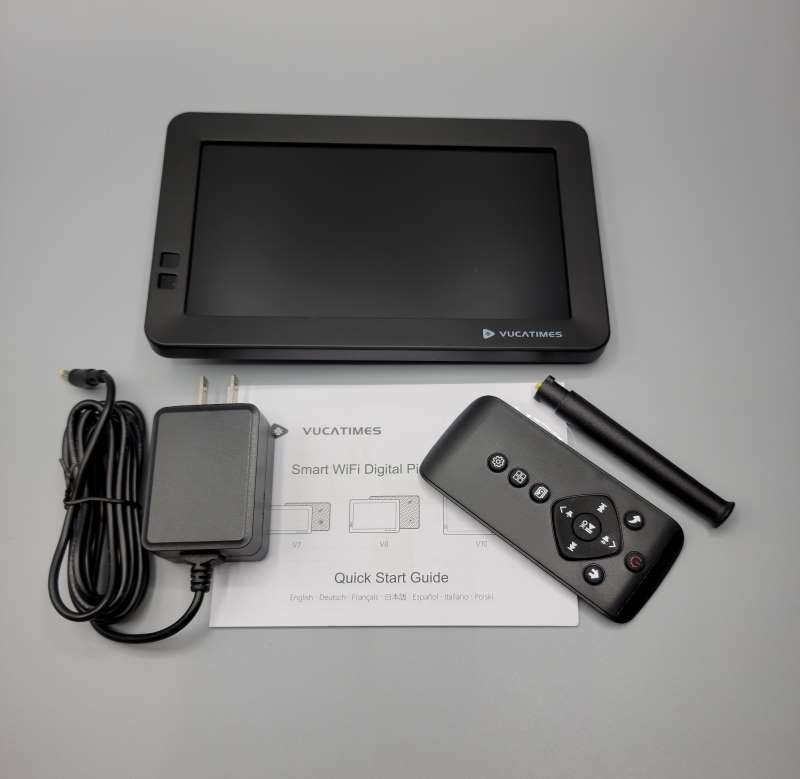 What's in the box?
A frame
A power cord
A kickstand
A remote control
An instruction booklet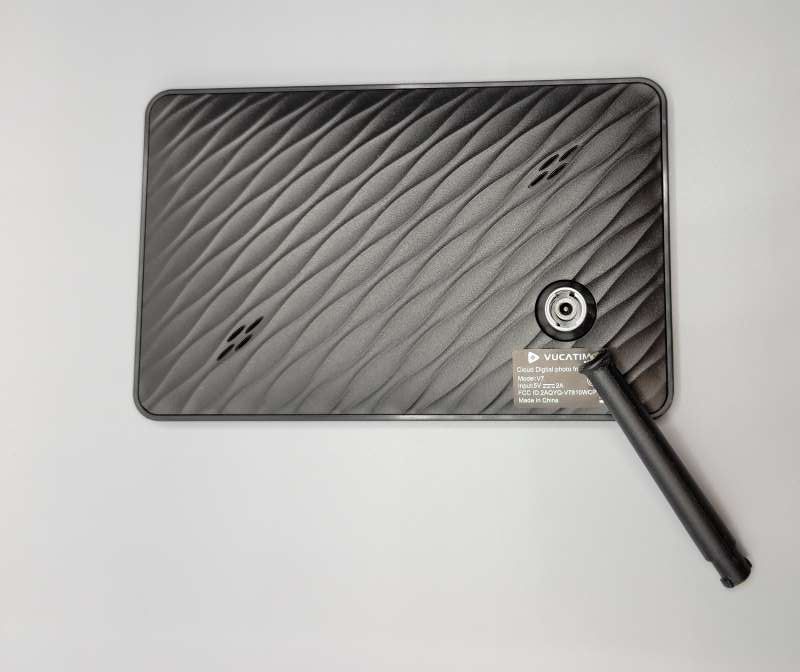 Features
The frame went together quickly because you just screw the kickstand into the back of the frame and then plug the power cord into the kickstand.  It kind of makes it look like your frame has a little tail, but it works fine.  I used the remote control to hook the frame up to my WiFi, and then tried to connect my phone to the frame via the app they recommend.   No luck — this is what I mean by my track record of fritzy frames.  I reached out to customer support.  Apparently, something had to be done on their end and I was up and running.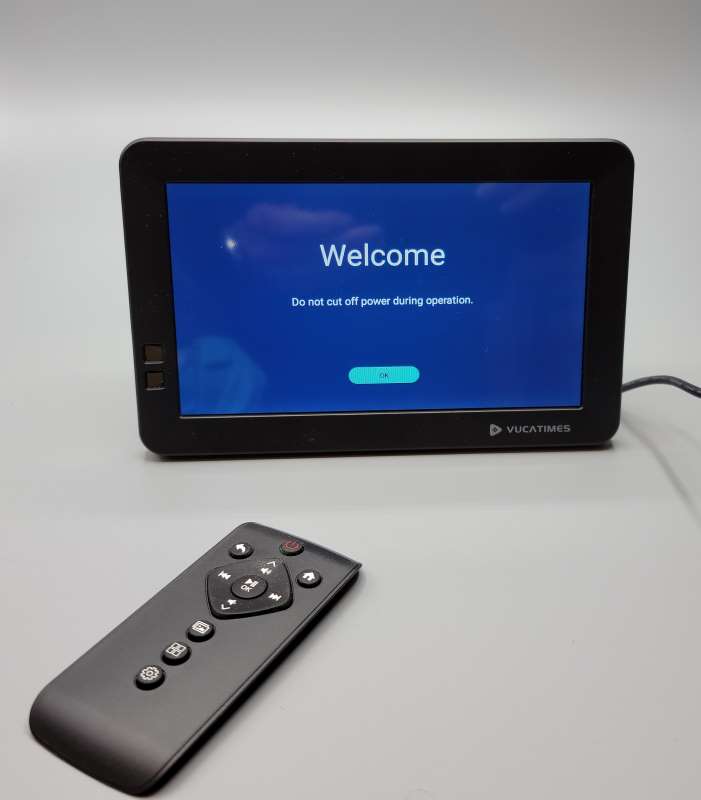 The app that allows you to load your pictures onto the frame could be a bit more streamlined, but it works.  It seems like there's a lot of clicking, so if you are loading a lot of pictures it might get tedious, but I managed to load a variety of old and new pictures and even some short videos. The frame is capable of holding up to 8GB of material and for me that meant around a hundred photos and twelve video clips.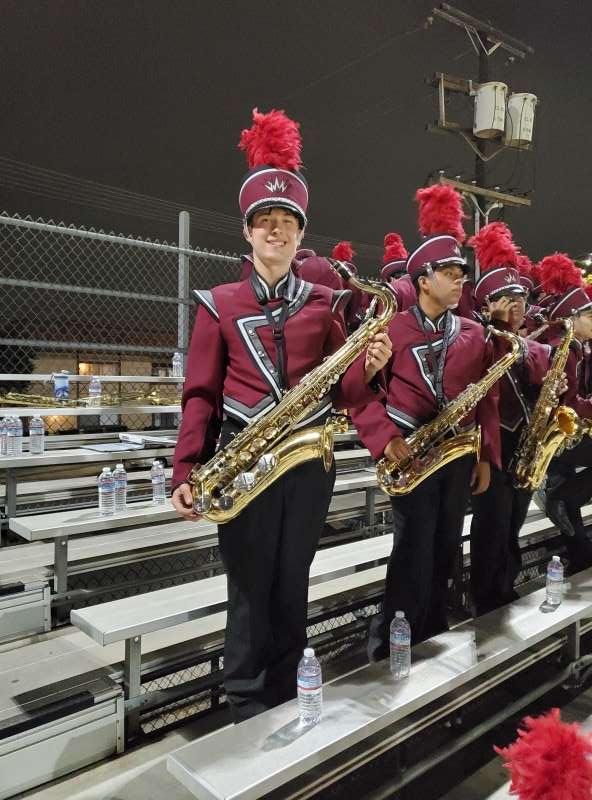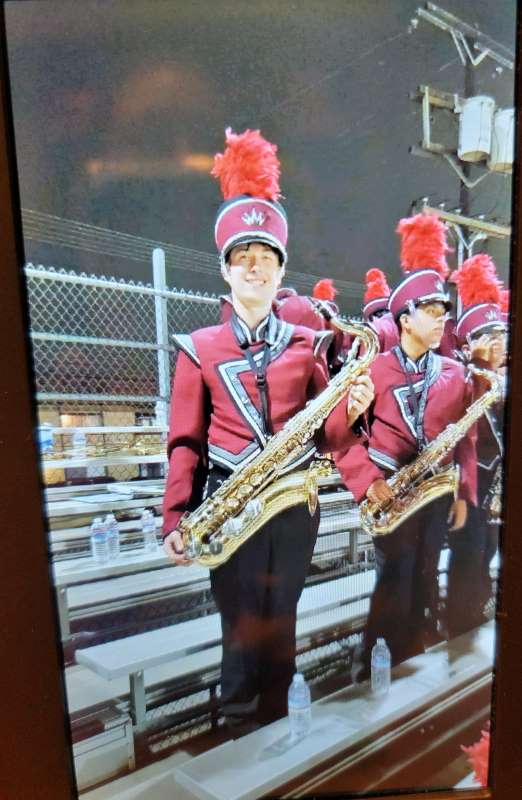 As for the actual quality of the display, it is fine.  The colors appear washed out sometimes, particularly the yellows and occasionally I'd see blacks that were a bit jagged and lacked depth, but the resolution (1024×600) looked fine on such a small frame for most of my photos.  Things improved when I went into the settings and lowered the brightness.  The display does not look as good as your iPad or average flagship phone, but then those cost hundreds (and sometimes thousands) of dollars, so I think expectations should be limited when you're talking about a $60 frame.  This is an improvement over tacking up a snapshot on the wall of your cube at work, for example.
The app is the key to one of the unique features of this frame.  The frame generates a sharable invitation code or QR code that allows your friends to download the app and load pictures onto the frame, which is kind of neat.  My mom might have a hard time setting up one of these frames, but if I could set it up and share the code with other family members, everyone could add photos when they go and visit.
Never miss one of our posts again. Sent MON, WED, and FRI with the latest gadget reviews and news!
The app also allows you to fit your videos to the frame's time limit of three to fifteen seconds.  If your video is longer than that, you can pick the fifteen seconds you want to see in the app.  There is a small speaker on the back, so if there is sound with your videos, you can adjust the volume with the remote.  I turned the volume off because I don't think there's a single video that I've ever made that I want to hear play over and over all day long.
One quirky thing about the app:  if you load pictures into the app, the frame will start showing them pretty much immediately, but if you choose to remove pictures from the app, it doesn't remove them from the frame.  To remove them from the frame, you need to use the remote control and navigate to the "manage photos" menu on the frame itself.  It's not a big deal or hard to do, but it's a bit counterintuitive that the way you add photos is not the way that you remove them.
The app also lets you add short captions.  My advice on that is to keep them short, because they are very tiny and are only displayed for a few seconds. I didn't see a way to adjust that.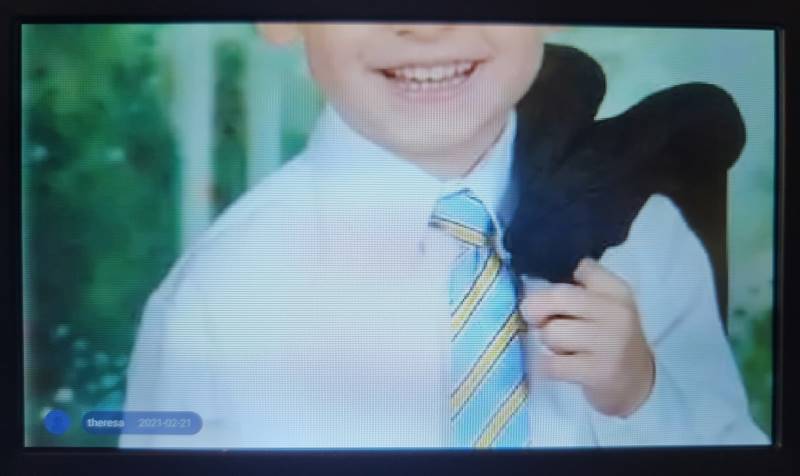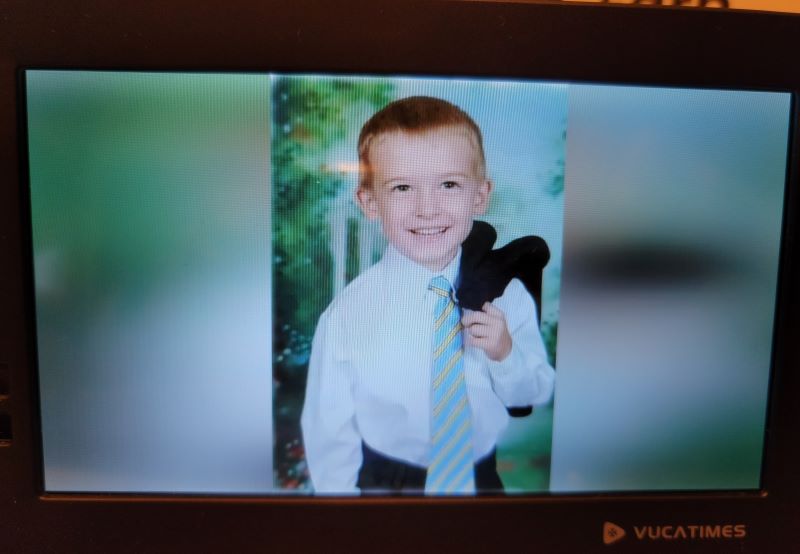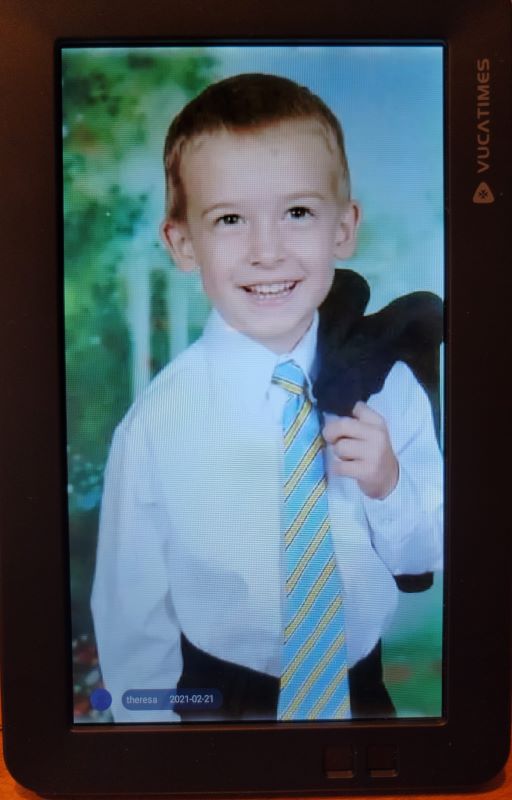 The frame will display in landscape or portrait mode (and adjust the photos accordingly), but I wasn't thinking when I loaded my pictures and I have a mix of both.  It took me a while to figure it out, but there are several ways to fix this using the remote and the frame settings.  The first way is to turn off "fill frame" which fits the photos to the frame automatically.  With that off, most of my photos have a bit of letterboxing on the edges (the aspect ratio of the frame is 16:9 and apparently most of my photos aren't) but I don't mind that because the captions and date stand out a bit more.  The other way to fix it is to press the home button on the remote and choose "adjust photo" and you can shift the area of the photo that the frame displays to wherever you want.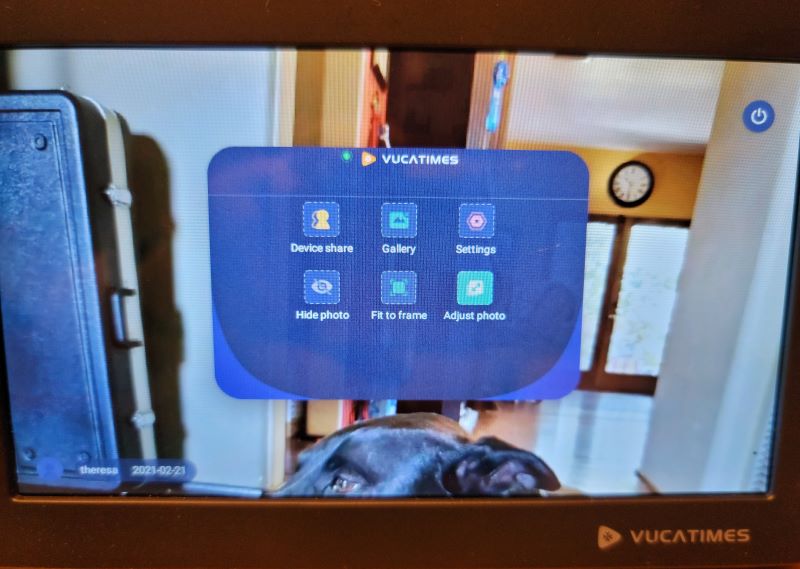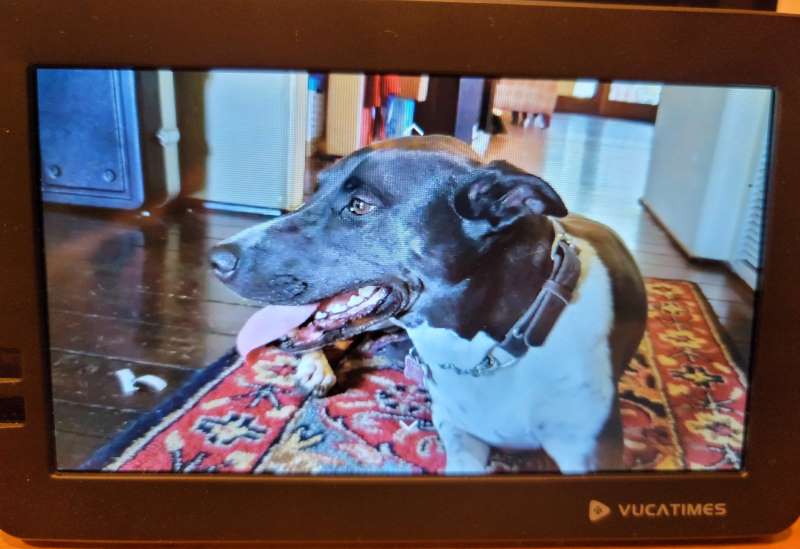 There are a lot of "fine tuning" functions that you can do with the remote, like changing how long the photos appear and whether you want the videos to autoplay, but it took me a while to explore and discover all of that.   The instruction book just covers the basics of setting up the frame.  I was a bit annoyed at the fact that you have to point the remote directly at the infra-red sensor to get it to pick up on your clicks.  And when I say directly, I mean directly.  That remote can be less than a foot away and if you aren't pointing it straight at the little infra-red box, nothing will happen.
If you are worried about losing the remote (and you should be – it's the only way to access the settings), the remote is magnetized and can be stuck behind the frame when you aren't using it.  I found the remote really attracted dust which bothers me, but I'll learn to ignore it.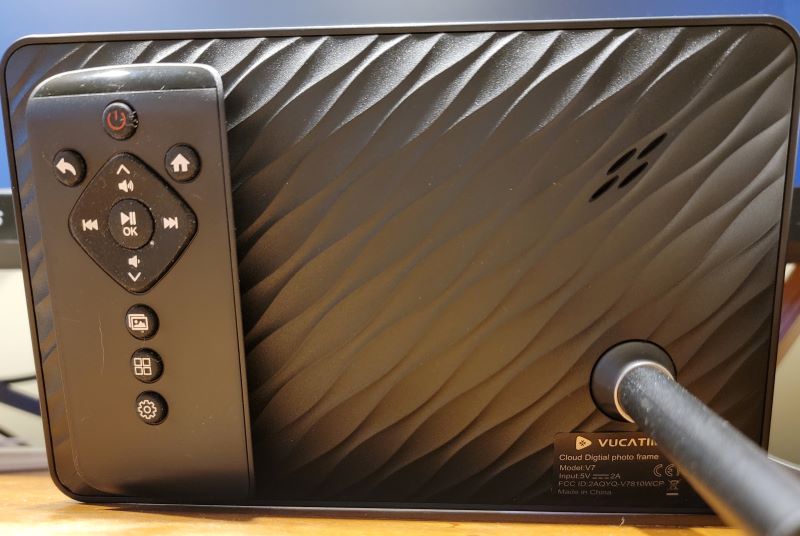 One of the things that has bugged me about my previous digital frames is they didn't last more than a year or so.  One day, they just went dark and although I send them to the electronics recycler, I'm not doing my carbon footprint any favors by buying stuff that doesn't last very long.  While I have no idea how long this frame will last, it does have a motion sensor so it's not on all the time. I'm hopeful this will help its longevity. It also has a one-year warranty.
What I like
Ability to let others load pictures onto the frame easily
Adjustable settings (lots of them!)
Magnetized remote attaches to the frame
Motion sensor
What I would change
Better color rendering
A more responsive remote
Final thoughts
The Vucatimes Smart Digital Picture Frame isn't perfect, but it has some unique features that give it an edge over the competition, depending on what you're looking for.
Price: $59.99
Where to buy: Amazon
Source: The sample for this review was provided by Vucatimes.